Request Information
About Our Degree Programs
Flexible Degree Programs With
Specialized Support For Soldiers
The University of Arizona Global Campus is committed to helping Soldiers and veterans reach their educational goals by offering a variety of programs that meet the unique demands of your military life. Whether you're seeking your associate or bachelor's degree or want to take your education even further with a master's degree or doctoral degree, UAGC offers more than 50 online degree programs from an accredited institution, taught by seasoned faculty with years of experience in their fields, that will help you gain the knowledge you need to grow in your military career and thrive beyond that time.
We know that lack of time and support can present significant obstacles to earning your degree. At UAGC, school can happen on your schedule with our flexible online format* that allows you to access your online classroom and virtual support anytime and from anywhere – on any device with internet access*. You can expect specialized support that includes knowledgeable military advisors who will help you navigate your Army Tuition Assistance through ArmyIgnitED and/or veterans benefits, as well as transfer credit** options specific to soldiers.
We're Here to Serve You
†$250 per credit applies to the Liberty Grant at the undergraduate level. Active duty master's degree students may qualify for a reduced rate of $350 per credit. Patriot Grant recipients receive a reduced tuition rate of $450 per credit at the undergraduate level. The cost per credit at the master's level is $665-$740. The reduced cost per credit at the Doctoral level is $920.
Turn Your Military Experience Into Credit
Army Training
Talk to an Enrollment Services Advisor about maximizing credits from your Joint Services Transcript (JST).
Learn More
Turn Your Military Training into Credit
Through the UAGC Prior Learning Assessment (PLA) program, you can have your Army training and experience that is not institutionally accredited and does not directly transfer though the registrar's office evaluated for college credit.
Learn More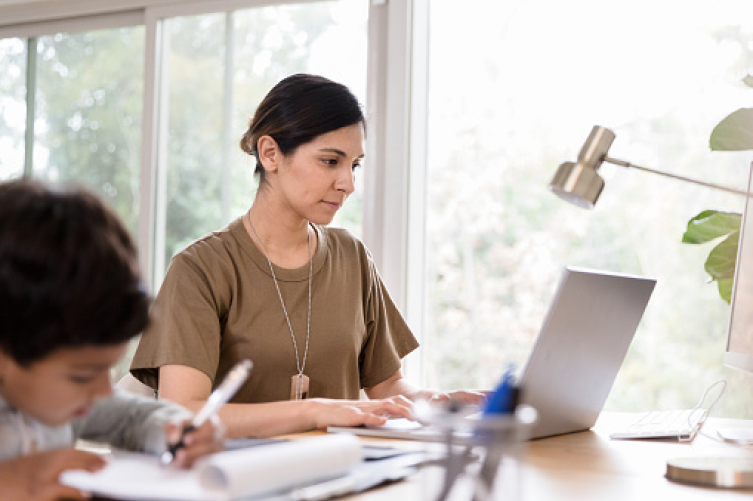 Military Grants and Benefits
Additional Military Finance Information
Members of the U.S. Army, including Army Reserve and Army National Guard on active duty, are eligible for TA for up to $250 per credit hour with a $4,000 cap per military fiscal year. TA requests must be submitted and approved before the start date of the class, without exception. All eligible soldiers will request TA through ArmyIgnitED at https://www.armyignited.army.mil.​​

ArmyIgnitED Steps

1. Visit the ArmyIgnitED website, www.armyignited.army.mil, and click on "Login." This will register your CAC.

2. Submit an education goal using the following steps:

Click on "Education Goals" on the left side menu or "Create New Goal" near the bottom of the home page.
Select your education goal type. If you see N/A by the goal you are trying to create, you are ineligible for that degree level. Soldiers can hover over the goal and they will see the reason why they are ineligible.
Select your academic institution. Enter your academic institution name and select from the drop-down list. NOTE: The University of Arizona Global Campus may appear as "Ashford University" in the portal. You may need to enter your Academic Institution Student ID if known, click "Next".
Select your degree program from the drop-down list.
Upload your evaluated degree plan. An Evaluated Degree Plan is specific to you and lists transfer credits if you have any. If you do not currently have an Evaluated Degree Plan, check the box that states, "No Degree Plan File," click "Next". Note: If you did not attach an official Evaluated Degree when you created your Education Goal, you will need to provide the Evaluated Degree Plan in PDF form to your Education Center and have it added to your account to continue using tuition assistance after completing two classes.
Enter total required credits for your degree level if not already loaded.
Submit your education goal for approval. Once approved or disapproved by your education center, you will receive a message in your student message section. Once your education goal is approved, you may apply for tuition assistance.

3. Apply for TA in the portal no earlier than 60 days and no later than 7 days prior to the class start date.

From ArmyIgnitED Dashboard, locate 'Active Education Goals' and select 'Apply for Funding'.
Verify 'Contact Information'. If information needs to be updated, select the 'yellow pencil' next to the designated area. If all information is correct, click 'Verify and Proceed'.
Acknowledge the 'User Agreement' – Read fully, check all boxes to agree to the conditions and then click 'I Agree, Continue'.
Verify current 'Education Center', identify if 'deployed' then select 'Next'.
Verify 'Education Institution' is correct; ensure correct 'Campus' is selected; input 'Institutional Student ID' then click 'Next'.
Select correct 'Start and End Dates' and click 'Next'.
Click on 'Add Course'. Courses have been added by University of Arizona Global Campus. Courses can be filtered by 'Code – Title' and/or by 'Keyword'. Select the desired course by clicking on the '+'. Note: If your desired course is not listed, please reach out to the UAGC Military Tuition Assistance team at

[email protected]

so that the course can be located and added if necessary.
If you are taking multiple courses taken at the same time click 'Add Course', otherwise click on 'Submit'.

You will receive confirmation that your TA request has been submitted. Please note your 'TA Request ID' and click 'Finish'.

4. E-mail approved TA Vouchers to [email protected]. If the approved TA Voucher is not received prior to your course start date you will automatically be dropped from the course.

5. UAGC will upload a Student Degree Plan to ArmyIgnitED before completion of six (6) credits.

6. Upon being scheduled for courses, UAGC will upload your scheduled course enrollments to ArmyIgnitED, and continue to monitor for schedule changes.

7. Once you have completed six (6) credits and you have an approved Education Path or Student Degree Plan on file, you will submit TA requests for course enrollments listed in your ArmyIgnitED account.

For questions regarding the ArmyIgnitED portal please reach out to your education center.

Should you have any questions regarding the use of your TA benefits at UACG, reach out to our TA Specialists who are ready to help at [email protected].

You can also download these instructions here.
Top Military-friendly Degree Programs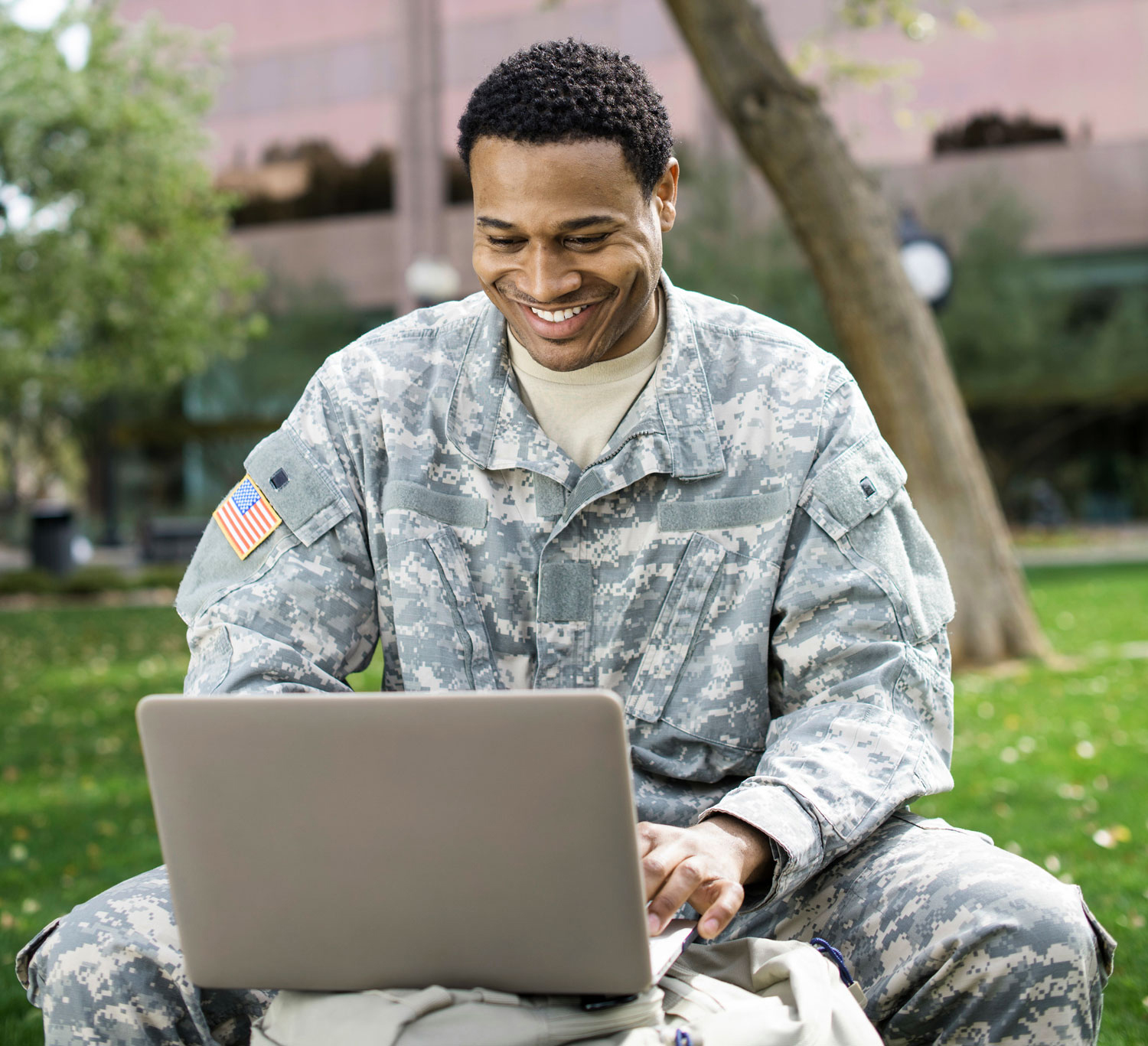 Meet Our
Military Team
Our Military Advisors are ready to help you navigate your enrollment process every step of the way. Contact a team member to set up a time to discuss your goals.
Military FAQs
No. You can enroll in an online Associate or Bachelor's degree program at the University of Arizona Global Campus if you meet all of the admission requirements, even if you have never attended a college or university before. Please note certain degree programs may have specific programmatic admissions requirements that must be met.

No, you get to choose when and where to log in for participation in your class, which allows you to fit your class requirements into your busy schedule. Your online classroom takes place in an asynchronous environment, which means that you are free to participate at your own pace, so long as you meet the minimum attendance and academic participation requirements for your courses†.

†Some courses have live learning (synchronous) sessions where attendance is highly encouraged. These sessions take place in Zoom at designated dates and time. If you cannot attend a live learning session contact your faculty member to discuss alternative accommodations including watching a recorded session.

Students taking online courses at the University of Arizona Global Campus are expected to attend every week of the course. Attendance is defined as posting in a graded discussion forum or submitting a written assignment, journal entry, quiz, or exam. In most cases, you should expect to academically participate in your course at least two times per week. Failure to meet academic participation requirements may negatively impact an assignment or course grade. 

In addition, you must meet minimum attendance requirements. Students enrolled in undergraduate introductory courses must attend at least once in any seven consecutive day period. Students enrolled in non-introductory courses must attend at least once in any fourteen consecutive day period in order to avoid being administratively withdrawn. 

Failure to meet academic participation requirements may negatively impact an assignment and/or course grade.

Yes, the University of Arizona Global Campus is accredited by WASC Senior College and University Commission, 1001 Marina Village Parkway, Suite 402, Alameda, CA 94501, 510-748-9001, www.wscuc.org.

You will have your own personal military advisors at the University of Arizona Global Campus. These advisors are trained in the unique needs of military-affiliated students.

Additionally, the Office of Access & Wellness has a dedicated Military Access & Wellness Counselor for students pursuing academic accommodations.

Your Military Enrollment Services Advisor will support you through the entire enrollment process, and to whom you can direct your questions. If you have specific questions regarding use of military education benefits, your Military Financial Services Advisor will assist, and a Military Academic Advisor will work with you throughout your educational journey.

Finally, you will find your faculty very understanding, supportive, and easy to contact. Since the University of Arizona Global Campus online degree programs are specifically designed for adult learners, these academic support systems are built in to help you succeed in your classes.

Call us today toll-free at 1.800.798.0584. An experienced Military Enrollment Services Advisor is ready for your call.

If you are eligible for military Tuition Assistance and/or Veteran Education benefits, you will have the opportunity to work with one of our experienced Military Financial Services Advisors to move through the process.

To determine your eligibility for military Tuition Assistance please consult your base education office. While you are there, many education offices provide scholarship and grant information specifically created for service members, spouses and DoD employees.

If you find you still need additional assistance, the University of Arizona Global Campus' Military Financial Services Advisors can determine whether you can benefit from the various financial aid options offered. Financial aid programs include the Federal Stafford Loan, the Federal PLUS Loan and in some cases, the Federal Pell Grant.

The University of Arizona Global Campus recognizes your military experience. Talk to your Military Enrollment Services Advisor to discuss transfer credits, and timelines for transcript review.

There are three ways to apply military transfer credits toward your degree program. 1) Transfer up to 75 credits** from approved national testing programs such as CLEP (College Level Exam Program) and DSST (DANTES Subject Standardized Tests). 2) Military and training experience is of great value and may also help you get closer to a degree. Transfer up to 75 military credits** to UAGC where experience in the military is recognized. 3) Prior Learning Assessment (PLA) allows you to earn credit for college-level learning that occurs outside a traditional classroom.

** Transferring credits is always subject to the UAGC transfer credit policies and requires the submission of official transcripts. The official transcripts will be evaluated to determine the credits that will officially apply toward a UAGC degree program.
The appearance of U.S. Department of Defense (DoD) visual information does not imply or constitute DoD endorsement.
Use of military-affiliated images does not imply endorsement of Department of Veteran Affairs (VA).
Certain degree programs may not be available in all states.
*
Computer with internet connection required.
**
The transferability of credits is subject to the University of Arizona Global Campus transfer credit policies and requires the submission of official transcripts. The official transcripts will be evaluated to determine the credits that will officially apply toward a UAGC degree program.
GI Bill® is a registered trademark of the U.S. Department of Veterans Affairs (VA). More information about education benefits offered by VA is available at the official U.S. government website at http://www.benefits.va.gov/gibill.