Request Information
About Our Degree Programs
Make Your Next Mission
A Family Endeavor
The University of Arizona Global Campus recognizes the sacrifices your entire family has made as a military spouse or dependent. Your spouse invested in your family's future with their time in the military. Now it's your turn to focus on yours. As a military-friendly college, we understand the unique challenges that come with being a military spouse, and we are dedicated to providing your family with the flexibility and resources you need to pursue your personal passions while balancing military life, including the most inclusive Patriot Grant, which has been extended to military spouses and their dependents.
Our start-to-finish specialized military support team will be with you every step of the way, from day one to graduation and beyond, to ensure you and your dependents are never alone on your mission to earn a degree. With our 100% online platform, flexible start dates*, classes that are 5–6 weeks** in length, and a full suite of resources, you will have the freedom to keep your commitments to your family and your academic pursuits.
We're Here to Serve You
†$250 per credit applies to the Liberty Grant at the undergraduate level. Active duty master's degree students may qualify for a reduced rate of $350 per credit. Patriot Grant recipients receive a reduced tuition rate of $450 per credit at the undergraduate level. The cost per credit at the master's level is $665-$740. The reduced cost per credit at the Doctoral level is $920.
Military Grants and Benefits
Additional Military Finance Information
As a spouse of an active-duty service member, member of the National Guard, or Reservist, you may be eligible to receive reduced tuition of $250 per credit as an undergraduate, $350 per credit as a master's student and $920 as a doctoral student with the UAGC Military Grant. The Military Grant also covers taxes and many of your education-related fees.

With our Patriot Grant, spouses of veterans and dependent undergraduates can take advantage of a unique opportunity to receive savings on tuition and fees at UAGC, making it the most inclusive choice for veterans and their families seeking a college degree. Undergraduates pay $450 per credit tuition††, have some fees waived, and receive free course materials and books.
Top Military-friendly Degree Programs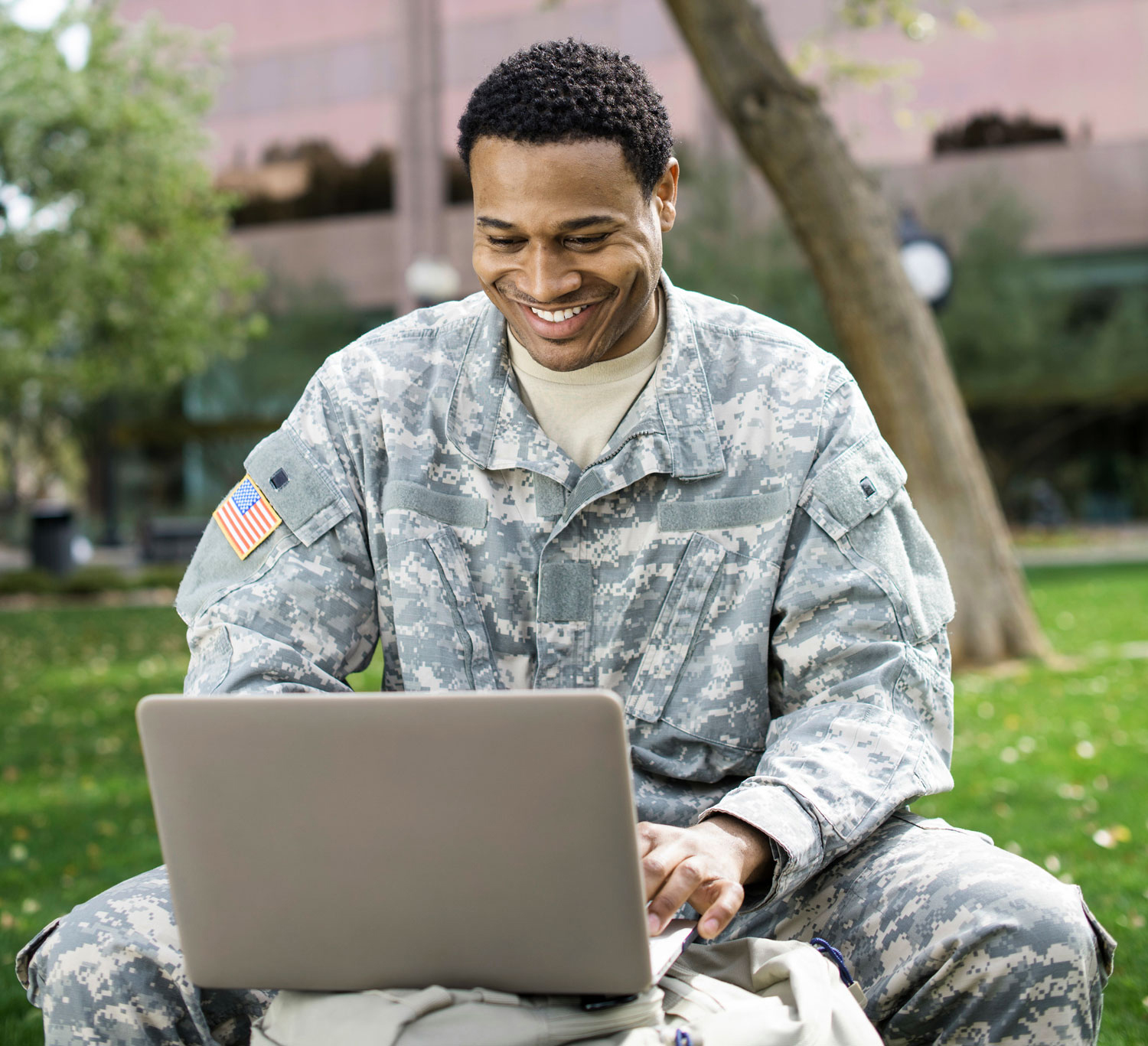 Meet Our Military Team
Our Military Advisors are ready to help you navigate your enrollment process every step of the way. Contact a team member to set up a time to discuss your goals.
Military FAQs
No. You can enroll in an online Associate or Bachelor's degree program at the University of Arizona Global Campus if you meet all of the admission requirements, even if you have never attended a college or university before. Please note certain degree programs may have specific programmatic admissions requirements that must be met.

No, you get to choose when and where to log in for participation in your class, which allows you to fit your class requirements into your busy schedule. Your online classroom takes place in an asynchronous environment, which means that you are free to participate at your own pace, so long as you meet the minimum attendance and academic participation requirements for your courses†.

†Some courses have live learning (synchronous) sessions where attendance is highly encouraged. These sessions take place in Zoom at designated dates and time. If you cannot attend a live learning session contact your faculty member to discuss alternative accommodations including watching a recorded session.

Students taking online courses at the University of Arizona Global Campus are expected to attend every week of the course. Attendance is defined as posting in a graded discussion forum or submitting a written assignment, journal entry, quiz, or exam. In most cases, you should expect to academically participate in your course at least two times per week. Failure to meet academic participation requirements may negatively impact an assignment or course grade. 

In addition, you must meet minimum attendance requirements. Students enrolled in undergraduate introductory courses must attend at least once in any seven consecutive day period. Students enrolled in non-introductory courses must attend at least once in any fourteen consecutive day period in order to avoid being administratively withdrawn. 

Failure to meet academic participation requirements may negatively impact an assignment and/or course grade.

Yes, the University of Arizona Global Campus is accredited by WASC Senior College and University Commission, 1001 Marina Village Parkway, Suite 402, Alameda, CA 94501, 510-748-9001, www.wscuc.org.

You will have your own personal military advisors at the University of Arizona Global Campus. These advisors are trained in the unique needs of military-affiliated students.

Additionally, the Office of Access & Wellness has a dedicated Military Access & Wellness Counselor for students pursuing academic accommodations.

Your Military Enrollment Services Advisor will support you through the entire enrollment process, and to whom you can direct your questions. If you have specific questions regarding use of military education benefits, your Military Financial Services Advisor will assist, and a Military Academic Advisor will work with you throughout your educational journey.

Finally, you will find your faculty very understanding, supportive, and easy to contact. Since the University of Arizona Global Campus online degree programs are specifically designed for adult learners, these academic support systems are built in to help you succeed in your classes.

Call us today toll-free at 1.800.798.0584. An experienced Military Enrollment Services Advisor is ready for your call.

If you are eligible for military Tuition Assistance and/or Veteran Education benefits, you will have the opportunity to work with one of our experienced Military Financial Services Advisors to move through the process.

To determine your eligibility for military Tuition Assistance please consult your base education office. While you are there, many education offices provide scholarship and grant information specifically created for service members, spouses and DoD employees.

If you find you still need additional assistance, the University of Arizona Global Campus' Military Financial Services Advisors can determine whether you can benefit from the various financial aid options offered. Financial aid programs include the Federal Stafford Loan, the Federal PLUS Loan and in some cases, the Federal Pell Grant.

The University of Arizona Global Campus recognizes your military experience. Talk to your Military Enrollment Services Advisor to discuss transfer credits, and timelines for transcript review.

There are three ways to apply military transfer credits toward your degree program. 1) Transfer up to 75 credits** from approved national testing programs such as CLEP (College Level Exam Program) and DSST (DANTES Subject Standardized Tests). 2) Military and training experience is of great value and may also help you get closer to a degree. Transfer up to 75 military credits** to UAGC where experience in the military is recognized. 3) Prior Learning Assessment (PLA) allows you to earn credit for college-level learning that occurs outside a traditional classroom.

** Transferring credits is always subject to the UAGC transfer credit policies and requires the submission of official transcripts. The official transcripts will be evaluated to determine the credits that will officially apply toward a UAGC degree program.
The appearance of U.S. Department of Defense (DoD) visual information does not imply or constitute DoD endorsement.
Use of military-affiliated images does not imply endorsement of Department of Veteran Affairs (VA).
Certain degree programs may not be available in all states.
*
Availability of start dates is based on program selection.
**
Bachelor's degree classes are 5 weeks, graduate degree classes are 6 weeks, and Doctoral capstone, planning and project classes are 9 weeks in length.
††
For master's degree students, some fees are waived, and course materials and books are free. Those seeking a doctorate will receive 15% tuition savings, have some fees waived, and receive free course materials and books.
GI Bill® is a registered trademark of the U.S. Department of Veterans Affairs (VA). More information about education benefits offered by VA is available at the official U.S. government website at http://www.benefits.va.gov/gibill.