Bachelor of Science in
Information Technology
Bachelor of Science in Information Technology
Questions? Request Information
Online IT Bachelor's Degree Program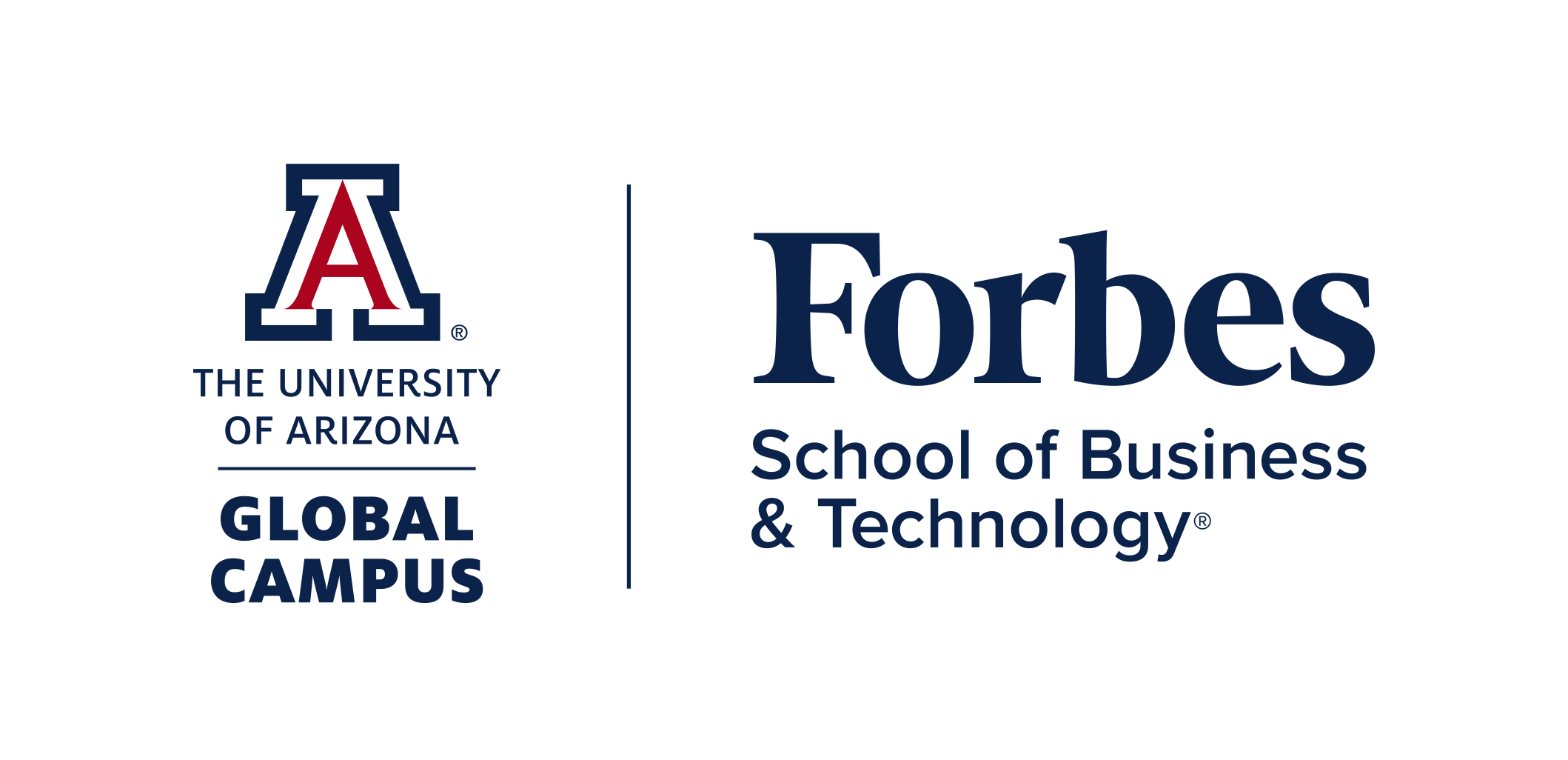 Turn technology into business solutions. With technology evolving at such a rapid rate in an increasingly globalized market, now more than ever businesses are in need of competent IT professionals who can harness the connective power of technology. The Bachelor of Science in Information Technology degree from the Forbes School of Business and Technology® at The University of Arizona Global Campus integrates technology skill development with the business enterprise acumen required in the fast-paced, rapidly changing global workplace.
This IT degree program builds a foundation in business theory and practice to help you understand the impact of information technology on the workplace. You will develop a strong blend of business, organizational, technical, and interpersonal skills to become a technological problem-solver.
What is a Degree in Information Technology?
A degree in Information Technology teaches skills for operating and maintaining computer systems. Specifically, the IT degree program's focus is on how systems collect and store information as well as understanding and controlling how information can be accessed.
IT Program Mission Statement
In support of the university's mission, the Bachelor of Science in Information Technology (BSIT) program in the Forbes School of Business and Technology® develops IT professionals through experienced faculty who design and deliver a current, relevant, and real-world curriculum. The BSIT enables technology professionals to become critical thinkers, innovative technology solution providers, and process improving agents who offer state-of-the-art resolutions to today's business problems.
Program Educational Objective
The Bachelor of Science in Information Technology program at the University of Arizona Global Campus expects graduates within a few years of graduation to attain the following:
Address the challenges of the rapidly changing information technology, ethically and responsibly
Exceed the increasing expectations of employers in solving complex problems in information technology
Attain industry required skills for technical, supervisory and management positions
Gain leadership positions in industry, academe and government
Student Outcomes for Information Technology
Graduates of the program will have an ability to:
Analyze a complex computing problem and to apply principles of computing and other relevant disciplines to identify solutions.
Design, implement, and evaluate a computing-based solution to meet a given set of computing requirements in the context of the program's discipline.
Communicate efficiently in a variety of professional contexts.
Recognize professional responsibilities and make informed judgements in computing practice based on legal and ethical principles.
Function effectively as a member or leader of a team engaged in activities appropriate to the program's discipline.
Identify and analyze user needs and to take them into account in the selection, creation, integration, evaluation, and administration of computing-based systems.
Student Enrollment and Graduation Data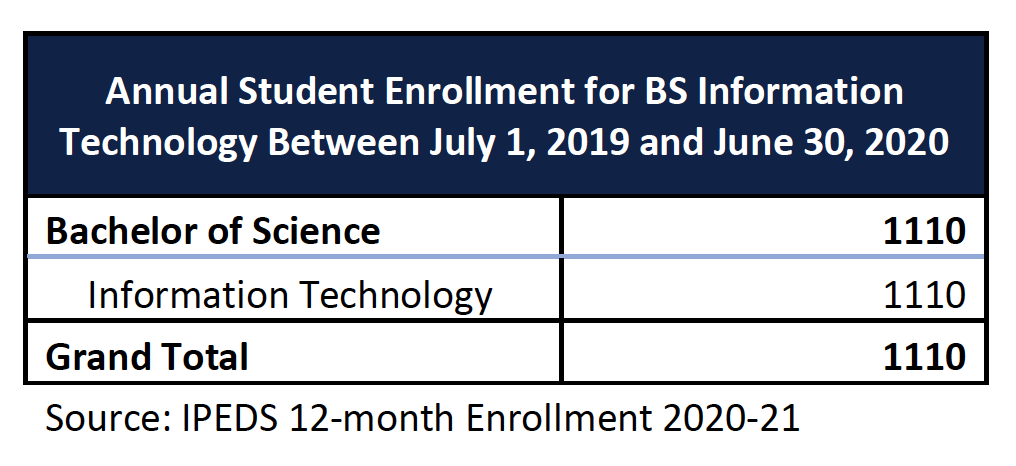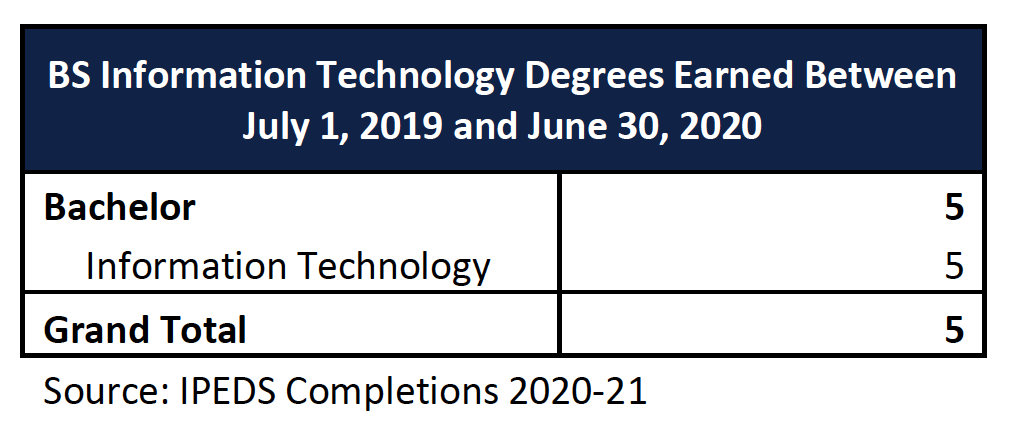 The Bachelor of Science in Information Technology enables technology professionals to become critical thinkers and innovative process improvement agents through technology solutions. The online IT program prepares students in the areas of information assurance and security, project management, data management, networking technologies, and mobile and web applications. Students who successfully complete their bachelor of information technology will be able to:
Apply information, strategies and techniques towards system improvement and the development of cutting edge Information Technology (IT) solutions
Utilize state of the art project management tools and technical skills to apply the appropriate System Development Lifecycle methods in creating and maintaining IT solutions that fulfill the organizational goals
Evaluate integration possibilities of various technologies, products, and services from multiple sources in one user environment
Develop risk-management and system security plans and procedures using best-practices and appropriate system quality standards
Assess ethical, legal, security, and social aspects and values within organizations
Your Courses
in Information Technology
The coursework for the Bachelor of Science in Information Technology degree aims to help technology professionals become critical thinkers and innovative process improvement agents who are capable of offering technology solutions. Your online information technology courses will focus on the programming, design, management, security and implementation of various technologies, as well as business topics such as economics, communications, and ethics. 
Introductory Courses
To help students acclimate to the online classroom, you may be required to complete Introductory Course requirements. Learn more about Introductory Courses. 
Major and Core Course Requirements
(57 credits, all courses are 3 credits.)
 
Emphases
for Information Technology
An emphasis provides you with additional opportunities to broaden and enrich your education that is distinct from and enhances your major. It may be taken as a way to expand career options, to prepare for graduate study, or simply to explore in greater depth an area different from your major. An emphasis consists of 9-12 credits.
Careers
in Information Technology
Your bachelor's degree in information technology will prepare you for larger opportunities in the growing IT field. Explore some potential information technology careers below.
Information Technology (IT) Degree
Why Choose UAGC
Experience an online classroom that can give you the flexibility to create your own schedule, so that you can complete your coursework more efficiently. Having a flexible online classroom can help you pursue your IT degree at any stage in your life, giving you more of a motivation to start back on the path to a higher education. Here at the University of Arizona Global Campus, you will be given access to 24/7 online support and service along with the necessary tools and technology for you to successfully complete your information technology degree coursework.
With today's technology evolving and data management systems becoming more complex, it is important to stay up to date on the most relevant and practical IT best practices and systems. Within your information technology degree, you will be introduced to current and relevant subject material that covers many different forms of modern technology, that is widely used by business organizations.
Here at the University of Arizona Global Campus, the IT faculty members not only have advanced degrees but a wealth of knowledge from their professional experiences in the information technology industry. Your IT faculty are here to support you along your education, as you can rely on them in helping you succeed in your bachelor's degree in information technology.
The UAGC Welcome Grant
Extended Through August 2021
Save up to $1,200* per academic year on your undergraduate tuition with the Welcome Grant. UAGC believes you deserve access to a quality education without cost getting in the way. As a new undergraduate student, you may be eligible to save on your tuition. Contact us today to find out if you qualify for this cost-saving opportunity
* Must be a new student enrolling in an undergraduate degree level program. This includes students who enrolled prior to July 2021, but did not matriculate in their degree program, and students who previously graduated with an associate degree from UAGC or Ashford University and are enrolling in bachelor's degree program. To maintain eligibility, cannot exceed 365 days of consecutive non-attendance. There are no additional steps for the student after completing the Online Application. This grant applies only to tuition charges and does not include any savings for books and/or fees. Cannot be receiving any other institutional offers or grants excluding the Bridge Grant, the Alumni Grant, and the Referral Offer, as applicable.