Questions? Request Information
Take the Next Step
Learn more about how to get started in your degree program.
Degree Completion Journey
Coursework for this business information systems degree includes database management, systems analysis, technology planning, programming concepts, business law, and procurement.
Freshman Year
As a new student at the University of Arizona Global Campus, there are many things to look forward to on one's academic journey. Beginning with this first course, students can look forward to acquiring tools and strategies for academic success. Students will apply personal strengths, skills, and lifelong learning strategies to career competencies, making a meaningful connection between their learning and their future professional work. The goal of this course is to enlighten and empower students personally, academically, and professionally. This course is not available for non-degree seeking students and is not available as an elective.

This course will help students gain knowledge and skills required for achieving computer and digital literacy in the twenty-first century and introduce students to information technology in three levels: basic understanding; practical applications; and implications for their lives, world, and future. Students will use operating system software, the Internet, and productivity software (word processing, spreadsheet, presentation graphics, etc.).

Learn and use key, practical skills that are applicable at home, at work, and in all UAGC courses! As UAGC students progress in their academic journey, strategies for personal, professional, and academic success continue to develop. This introductory course takes a two-pronged approach to setting students on a path to success. It merges fundamental informational literacy concepts with essential resources and skills that prepare students for college and career. Students learn how to identify, locate, evaluate, apply, and acknowledge information obtained through UAGC Library databases and internet search engines. By applying the research process, students sharpen critical thinking skills and learn to use information ethically. The final project is a practical and relevant opportunity for students to apply their learning in personally, professionally, and academically meaningful ways.

This course is designed to enable students to develop competence in analyzing, organizing, and developing ideas. Additionally, students will locate and use library resources to support ideas, and to adapt their writing to various audiences. The course focuses on instruction and practice in writing and critical reading.

This course is designed to expand students' appreciation of film and knowledge of how films are made. Through analysis of storytelling in a visual medium, students will examine the ways in which movies are shot, develop characters, evoke emotion, depict physical reality, reflect society, and have the power to influence it. Though the focus of the course is film itself, students will gain deeper intercultural fluency while growing their skills in critical thinking, written communication, and visual analysis.

This course is a study of correct and incorrect reasoning involved in everyday activities. The fundamentals of language and argument, deductive and inductive reasoning and other aspects of practical reasoning are examined.

This course examines and evaluates theories and arguments concerning ethics and moral reasoning from a philosophical perspective. By engaging with historical and contemporary sources, students will analyze theories about the meaning, nature, and justification of ethical concepts; determine and assess how different forms of moral reasoning apply to contemporary moral issues; become more reflective and informed about their own moral beliefs; and develop their capacity for critical practical reasoning.

In this course, students will develop and hone academic and professional writing skills by employing those skills to communicate with range of audiences across a range of situations and contexts. To do that, students will receive instruction and practice in writing well-structured, logical, and effective academic essays while developing critical thinking skills and effective work habits. Prerequisite: Successful completion of ENG 121 or equivalent with a grade of "C-" or better.

This course is designed to aid students in understanding the dynamics of interpersonal relationships. Verbal and nonverbal communication patterns between people in personal, social, academic, and professional settings will be examined, and the nature of those interactions will be evaluated using contemporary communication theory. The course will enable students to identify their interpersonal communication behaviors and to more critically evaluate their own oral communication and that of others. A primary goal of the course is to improve the quality of students' communication in their personal and professional relationships.

This course surveys American history from 1877 to the present. Emphasis is placed on the multifaceted experiences within American society; political, economic, intercultural, and social trends; and the impact of the United States in world affairs. Prerequisite: ENG 122 or successful completion of the Written Communication Competency II requirement.
Sophomore Year
This course introduces students to the interdisciplinary field of social sciences and some of the disciplines that comprise this field, including anthropology, psychology, economics, sociology, political science, and history. In this course, students will learn important social science concepts and theoretical approaches, along with the research methods that social scientists use to study human behavior. They will also learn how research and findings from the social sciences can be applied broadly throughout society. Throughout the course and through a summative assignment, students will examine how social factors shape social behavior and some of the consequences of current social problems.

In this course, learners deepen their understanding of the importance of natural resources to mankind. Students explore physical, biological, and ecological principles, examine how human alterations affect the environment, and reflect on the controversies surrounding various approaches to addressing environmental problems and the steps some communities have taken to address these challenges.

In this course students will explore a wider range of Algebra topics beyond the introductory level. Topics will include polynomials, functions, rational expressions, systems of equations and inequalities, operations with radicals, and quadratic equations. Emphasis will be placed on developing an awareness of the use of mathematics as it exists in the world today.

This course provides students with a cumulative and integrative learning experience grounded in their general education experience. Through the study of selected interdisciplinary topics and course-embedded assessments students will demonstrate mastery of essential competencies and application of different ways of knowing. Students will apply the general education principles informed by ethical and critical sensibility and provide evidence of growth in acquiring the habits of active citizenship. A minimum grade of "C – " is required to meet course requirements. Prerequisite: 75 completed credits or permission of the student's college or dean.

Introduction to the theory of consumer equilibrium, market structure, and wage determination. Recommended prerequisites: Fulfillment of the General Education Critical Thinking competency, Quantitative Reasoning Core competency, and Digital Literacy competency. (Equivalent to ECO 308).

Introduction to the principles and procedures of general financial accounting with an emphasis on reporting to individuals outside the organization. Development of accounting reports on an accrual basis. Students who successfully complete ACC 205 may waive ACC 201, in approved circumstances.

This course develops students' understanding of information systems, foundational technologies, and organizational application to conduct business and solve problems. This course presents information systems principles and examines how they form an integral part of modern organizations. Topics include systems concepts; organizational processes; technological aspects of information systems; Internet applications; IT security; database management; systems development life cycle; and ethical and social responsibility issues. Prerequisite: INF 103 or TEC 100; or permission of instructor.

Introduction to the legal environment of business in the United States. Examination of the Constitution, administrative law, contracts, agency, and the protection of competition, consumers, employees, investors, the environment, and international trade.

This course is a practical introduction to the concepts to the fields of statistics and its many applications in Descriptive statistics, Hypothesis testing, ANOVA, and Regression for business administration students with emphasis on Excel's tools for statistical analysis. Prerequisite: Fulfillment of Quantitative Reasoning Core Competency.

Students will develop the skills necessary for writing about scientific, environmental, medical, and technological topics. Emphasis is placed on making complex and technical information understandable to a variety of audiences. Prerequisites: ENG 122 or fulfillment of General Education Written Communication Competency II requirement and fulfillment of General Education Scientific Reasoning requirement.
Junior Year
This course is an introduction to computer programming with focus on the program development process and concepts involved in use of a higher- level, object-oriented programming language. In this hands-on, virtual lab-based course, students will analyze, design, code, and test computer programs using the JAVA programming language. Different programming language designs will be explored including building web elements, mobile applications, computer programs, and commands to different machines. Computer hardware and associated technologies are discussed. Students will acquire hands-on experience in the programming process.

This course studies the problems and needs of organizations and how business functions, staff, data, business processes, and technology can be used to achieve organizational goals and objectives. The focus is on assessment for improvement of the business and its functions. Prerequisite: Fulfillment of the Digital Literacy Competency

This hands-on, virtual lab-based course introduces students to fundamentals of database management systems, techniques for the design of databases, and principles of database administration. Database management concepts, practices, and emerging trends are evaluated. In lab sessions, students will demonstrate the ability to build databases using enterprise DBMS products such as Oracle or SQL Server. Prerequisites: INF 231 and fulfillment of the Quantitative Reasoning core competency.

A study of real-time and distributed-processing computer networks including telecommunications, data transmission techniques (protocols), design, and implementation considerations. Prerequisite: INF 231 or permission of the instructor.

An introduction to the fundamental concepts used in e-business and e-commerce. This course identifies and describes the wide range of applications in business. It explains what the Internet is and how it can be used for business applications in a competitive environment. Through Internet labs, this course will compare various Web strategies of current businesses. Students need to be proficient in using the Internet to find information.

This course provides the foundational principles and techniques to initiate, plan, execute, control, and close projects. Topics such as the project life-cycle management, project organizations and leadership, project team building will be covered. Project management methods and techniques for project charter, scope, schedule, budget, risk management, control and closeout, and project management software are also covered.

Designed to develop the basic knowledge base of project managers and project procurement managers, this course emphasizes partnering between buyers and sellers to create a single culture with one set of goals and objectives. Students will discover the key areas in procuring outside services and products—from the initial decision to buy through final contract closeout. They will recognize what must be done for success in the six key project procurement management processes: procurement planning, solicitation planning, solicitation, source selection, contract administration, and contract closeout. They will also formulate the make-or-buy decision, prepare an effective procurement management plan to guide the team, and use outsourcing for maximum benefit. Lessons and best practices from procurement theory and experience are also presented. This course can be used as a substitute for BUS 309.

In this capstone, students will integrate knowledge and practices explored in the Bachelor of Business Information Systems program core courses. The course examines how an organization can achieve competitive advantage through the strategic alignment of information systems with organizational goals, and provides an opportunity for students to develop an Information Technology Strategic Plan. The course includes use of case analysis and interactive assignments to address industry best practices and challenges in real-world applications of IT strategic planning concepts. Prerequisites: GEN 499. This course must be taken last in the program.
Credit Breakdowns
Major Credit Requirements
To earn your Bachelor of Arts in Business Information Systems at the University of Arizona Global Campus, you must complete 120 credits. You will need to complete 30 upper-division credits, of which 18 credits must be from the major program. A total of 30 credits must be completed at UAGC to meet the residency requirement. You may be able to transfer up to 90 approved credits from community colleges, other previous college coursework, or other life experiences such as military service or job training toward your degree.
*In this program, 3 credits from the major may also satisfy General Education requirements.
Special Terms and Conditions
Successful completion of this degree program by itself does not provide licensure or certification in any state, regardless of concentration or specialization. Students seeking licensure or certification in a particular profession are strongly encouraged to research the requirements before enrollment carefully. Requirements may vary by state. The University of Arizona Global Campus does not guarantee that any professional organization will accept a graduate's application to sit for any exam for the purpose of professional certification.
Quality Matters Certification
The Online Teaching Support Certification recognizes programs that require all online faculty to undergo training in best practices for online course delivery, provide faculty with ongoing pedagogical support, encourage faculty professional development to increase their knowledge and skill in online teaching, emphasize instructor availability and feedback to learners, and collect and use feedback from learners to improve online teaching. Learn More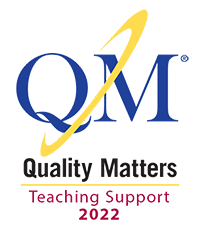 Customize Your Business Information Systems Degree with UAGC Emphases
An emphasis provides you with additional opportunities to broaden and enrich your education that is distinct from and enhances your major. It may be taken as a way to expand career options, to prepare for graduate study, or simply to explore in greater depth an area different from your major. An emphasis consists of 9 to 12 credits.
Careers in Business Information Systems
Employment of information systems managers is expected to grow faster than average* for other occupations through the foreseeable future. When you complete your Bachelor of Arts in Business Information Systems degree, you will have what you need to begin any number of careers in which diverse knowledge is a must. As a graduate with your Bachelor of Arts in Business Information Systems degree, your career options may include:
Application Development Director
Computing Services Director
Data Processing Manager
Information Systems Director (IS Director)
Information Systems Manager (IS Manager)
Information Technology Director (IT Director)
Information Technology Manager (IT Manager)
MIS Director (Management Information Systems Director)
Technical Services Manager
Computer and Information Research Scientists
Business Intelligence Analysts
*Source: https://www.bls.gov/ooh/management/computer-and-information-systems-managers.htm
Other Degrees That May Interest You
You'll find degree programs that suit a variety of interests and may enhance a wide scope of career opportunities at UAGC. Explore similar programs to find the right path for you.
Student Experience
In Their Own Words
Our students are tenacious and inspiring.
Is a Business Information Systems Degree Worth It?
All businesses contain information related to their products and internal structure. With this degree, you will learn how to comprise business information through technology. If you are interested in technology and computers but want an education that provides a solid background in business that is directed toward real-world application instead of theory, then pursuing an information systems degree can be a great fit for you. This online degree is for individuals who want to work with computers while specifically utilizing them to design, build, and evaluate business-related information systems.
Business Information Systems Degree – Why Choose UAGC?
As new technology continuously advances, the need for individuals who can understand and strategically plan around these advancements will continue to increase. While pursuing your bachelor's in business information systems degree, you will be exposed to current and relevant subject material that will keep you up-to-date on the latest advancements in business and technology. You will learn how to integrate business roles with e-commerce, enterprise systems and how they support business processes, and how big data is being used in today's economy.