Bachelor of Science in
Health Information Management
Bachelor of Science in Health Information Management
Questions? Request Information
As a student in the University of Arizona Global Campus Health Information Management online college degree program, you will be prepared to enter the healthcare industry well-versed in health information management, health data management, and management of health information services.
If you want to work in the healthcare industry, but don't want to care for people directly, then this degree might be for you. With a broad healthcare background, you may seek employment in all levels of healthcare and interact with a wide spectrum of other healthcare professionals. The health information management program mission aims to prepare learners from all backgrounds in the disciplines of health information management, health information technology, and analytics and provide qualified professionals in their community.
What is a Health Information Management Degree?
Health information management (HIM) is the practice of acquiring, analyzing, and protecting the medical information of patients. A health information management degree trains students to become skilled in the latest technology and understand the workflow of healthcare providers, from large hospital systems to private practice. Healthcare providers are required to keep their electronic patient records secure, creating a growing demand for individuals who can create and manage this process. They are vital to daily operations and managing electronic health records. With your health information management degree, you too can play a vital role in how the healthcare industry protects patient information.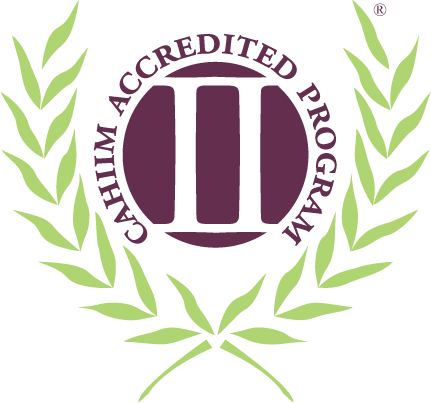 The baccalaureate degree program in Health Information Management is accredited by the Commission on Accreditation for Health Informatics and Information Management Education (CAHIIM).
Programmatic accreditation by CAHIIM is necessary in order to be eligible for the AHIMA Professional HIM Certification Exams. The BSHIM program meets eligibility requirements to sit for the Registered Health Information Administrator (RHIA) credential exam. A graduate is required to have completed an accredited CAHIIM program in order to be eligible to take the exam and become certified.
Program Outcomes
Graduation Rate
*Based on the graduation rate definition, there were no first-time, first-year undergraduate students who were expected to complete their program within the reporting period due to the initial program start date of July 2014.
Source: UAGC Data Management, 2021
Employment Rate
Source: UAGC Graduate Survey, 2021
Student Satisfaction
89% of the students responding to a survey at the end of their most recent major course during the 2019-20 academic year agreed or strongly agreed that the quality of their education met their expectations.
Source: UAGC Office of Institutional Effectiveness, 2021
As an HIM degree professional, you will learn about the latest technology and understand the workflow of healthcare providers, from large hospital systems to private practice. You will be integral to daily operations and manage electronic health records. Upon completion of the Bachelor of Science in Health Information Management online degree program, you will be able to:
Analyze health data structure, content, standards, clinical classification systems and reimbursement methodologies;
Manage strategic planning and organizational development;
Compare and contrast health statistics, biomedical research, quality management, and performance improvement strategies used in health care;
Examine driving factors influencing healthcare organization, delivery systems, healthcare privacy, confidentiality, and legal and ethical issues;
Evaluate emerging applications in health informatics;
Evaluate emerging healthcare trends in information and communication technology, information systems and data security; and
Analyze the process of job analysis, staffing, appraisal and compensation, training, career planning, and organizational development.
Your Courses
in Health Information Management
Count on success when you earn your health information management degree. Your health information management courses include topics such as statistics, information systems, and telecommunications. Learn more about your specific health information management courses below.
Major Course Requirements (70 credits)
Professional Practice Experiences
If you undertake a health Information management degree from UAGC, you will complete two Professional Practice Experiences (PPE), one that is virtual and one that is a combination of virtual and onsite at a facility. As part of the second PPE embedded in the last class of the program, HIM 495, you will complete a minimum of 40 hours of supervised health information management tasks and projects at a nearby facility with the University's approval. The 40 hours must be completed while you are enrolled in HIM 495. You can only complete your PPE in states where this program is available.
All Students enrolling in a degree program with a PPE requirement are expected to complete the PPE in the United States. If you anticipate that you will not be able to complete your PPE in the United States all exceptions must be approved prior to admission to the program.
Students who reside and/or work outside the United States may be ineligible to complete PPE hours at a facility abroad; requirements and restrictions vary by country. Students must notify the Program Chair prior to enrolling in the program to discuss a potential PPE location and obtain Program Chair permission to enroll.
Emphases
for Health Information Management
An emphasis provides you with additional opportunities to broaden and enrich your education that is distinct from and enhances your major. It may be taken as a way to expand career options, to prepare for graduate study, or simply to explore in greater depth an area different from your major. An emphasis consists of 9-12 credits.
Careers
in Health Information Management
When you complete your bachelor's in health information management Bachelor of Science in Health Information Management, you will have what you need to begin a potentially rewarding career in healthcare health information management. As our population continues to grow both in size and age, so too does the need for more medical services and qualified healthcare professionals. According to the U.S. Bureau of Labor Statistics, the demand for medical records and health information technicians is projected to grow 11 percent from 2018 to 2028, much faster than the average for all occupations. Take a look at your potential career options below.
Medical and Health Services Managers also called healthcare executives or healthcare administrators, plan, direct, and coordinate medical and health services. They may manage an entire facility, a specific clinical area or department, or a medical practice for a group of physicians. Medical and health services managers must adapt to changes in healthcare laws, regulations, and technology.
Health Information Managers are responsible for the maintenance and security of all patient records and data. They must stay up to date with evolving information technology, current or proposed laws about health information systems, and trends in managing large amounts of complex data. Health information managers must ensure that databases are complete, accurate, and accessible only to authorized personnel. They also may supervise the work of medical records and health information technicians.
Health Information Management Degree:
Why Choose UAGC
A Degree that Fits Your Schedule
Designed for the career-oriented professional in mind, this online health information systems degree can provide you with the flexibility to continue with your current responsibilities while also going back to school. 
Attend classes when it's convenient for you as you will have 24/7 online access to your course material. Take the next steps toward your professional career by pursuing your health information management degree online from the University of Arizona Global Campus. 
The UAGC Welcome Grant
Extended Through August 2021
Save up to $1,200* per academic year on your undergraduate tuition with the Welcome Grant. UAGC believes you deserve access to a quality education without cost getting in the way. As a new undergraduate student, you may be eligible to save on your tuition. Contact us today to find out if you qualify for this cost-saving opportunity
* Must be a new student enrolling in an undergraduate degree level program. This includes students who enrolled prior to July 2021, but did not matriculate in their degree program, and students who previously graduated with an associate degree from UAGC or Ashford University and are enrolling in bachelor's degree program. To maintain eligibility, cannot exceed 365 days of consecutive non-attendance. There are no additional steps for the student after completing the Online Application. This grant applies only to tuition charges and does not include any savings for books and/or fees. Cannot be receiving any other institutional offers or grants excluding the Bridge Grant, the Alumni Grant, and the Referral Offer, as applicable.