Questions? Request Information
SHRM Academically Aligned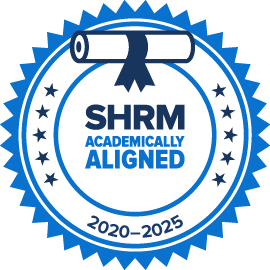 This IACBE-accredited degree demonstrates your knowledge and understanding of the human resources function within modern, complex organizations. The Society for Human Resource Management (SHRM) has acknowledged that the University of Arizona Global Campus Bachelor of Arts in Human Resources Management (BAHRM) in the Forbes School of Business and Technology® fully aligns with SHRM's HR Curriculum Guidebook and Templates, which define the HR content areas and competencies that should be studied by HR students at the undergraduate level. Students enrolled in good academic standing are eligible to apply for the SHRM Certified Professional (SHRM-CP®) examination in their final year of study.
SHRM Recertification Provider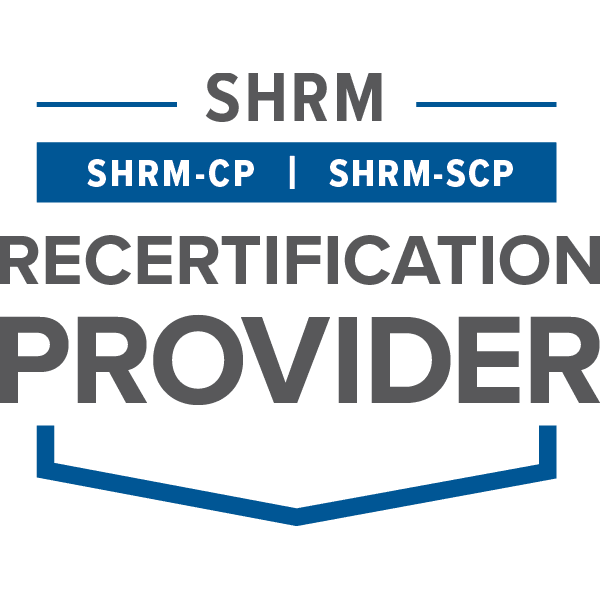 UAGC is recognized by SHRM to offer Professional Development Credits (PDCs) for SHRM-CP® or SHRM-SCP®.
All students are welcome to join the UAGC Forbes School of Business and Technology® Society for Human Resource Management (SHRM) Chapter. Statistics show that networking is the highest-rated activity in career advancement. The UAGC Forbes School of Business and Technology® SHRM Chapter is an affiliate of the Society of Human Resource Management (SHRM) and offers free membership to students as well as the opportunity to gain valuable experience as a volunteer chapter leader.
ATD Recertification Provider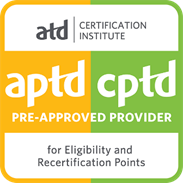 The University of Arizona Global Campus has been pre-approved by the ATD Certification Institute to offer educational programs that can be used towards initial eligibility and recertification of the Certified Professional in Talent Development (CPTD) and Associate Professional in Talent Development (APTD) credentials.
Leadership Excellence and Development Award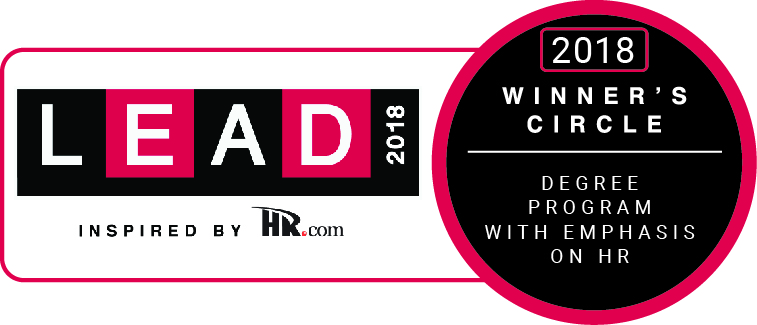 HR.com, an online resource promoting education, career development, and compliance in the HR field, awarded this program with a Leadership Excellence and Development (LEAD) Award for 2018. The program was cited as one of the top 15 degree programs with an emphasis on human resources.
Take the next step
Learn more about how to get started in your degree program.
Degree Completion Journey
In this curriculum, you will learn the business, ethical, legal, and social factors that shape organizations, with courses that focus on recruitment, training, labor laws, compensation, and benefits. You will take one course at a time as you complete your human resources online degree, with subjects that include economics, accounting, and management.
Freshman Year
In this foundational course, students explore the principles necessary for achieving personal and career success. GEN 101 serves as a road map, guiding students as they begin their academic journey. Through self-discovery, surveying available resources, connecting with UAGC groups, and engaging with Career Services, students learn the essential skills of planning and goal setting. Students apply their personal strengths, skills, and lifelong learning strategies to develop essential career competencies. By making these meaningful connections students gain a deeper understanding of how their education relates to their desired career path. Congratulations on embarking on this college journey filled with growth, exploration, and endless possibilities! This course is not available for non-degree seeking students and is not available as an elective.

This course offers an overview of digital fluency as it applies to personal, academic, financial, and professional success. Students will analyze the impact of digital technology on personal, social, and diversity issues and will develop digital skills that will assist in achieving academic, personal, and career goals. An overview of digital media is introduced with practical strategies for application in personal and professional life.

Learn and use key, practical skills that are applicable at home, at work, and in all UAGC courses! As UAGC students progress in their academic journey, strategies for personal, professional, and academic success continue to develop. This introductory course takes a two-pronged approach to setting students on a path to success. It merges fundamental informational literacy concepts with essential resources and skills that prepare students for college and career. Students learn how to identify, locate, evaluate, apply, and acknowledge information obtained through UAGC Library databases and internet search engines. By applying the research process, students sharpen critical thinking skills and learn to use information ethically. The final project is a practical and relevant opportunity for students to apply their learning in personally, professionally, and academically meaningful ways.

ENG 121 is designed to introduce students to the standards of writing in both academic and professional settings. The class will operate by first introducing, and then allowing students to practice, several written communication skills. Throughout, we will work to understand writing as a process, one that is strengthened through critical thinking, deepened by research, and built on a foundation of professional standards. Students will articulate a sense of their own skills and goals, and engage in collaborative conversations with peers and their instructor so as to be able to express their ideas more effectively. During the course, students will use the writing process to scrutinize their own perspectives while challenging them to embrace a wider conversation.

This course is designed to expand students' appreciation of film and knowledge of how films are made. Through analysis of storytelling in a visual medium, students will examine the ways in which movies are shot, develop characters, evoke emotion, depict physical reality, reflect society, and have the power to influence it. Though the focus of the course is film itself, students will gain deeper intercultural fluency while growing their skills in critical thinking, written communication, and visual analysis.

This course is a study of correct and incorrect reasoning involved in everyday activities. The fundamentals of language and argument, deductive and inductive reasoning and other aspects of practical reasoning are examined.

This course examines and evaluates theories and arguments concerning ethics and moral reasoning from a philosophical perspective. By engaging with historical and contemporary sources, students will analyze theories about the meaning, nature, and justification of ethical concepts; determine and assess how different forms of moral reasoning apply to contemporary moral issues; become more reflective and informed about their own moral beliefs; and develop their capacity for critical practical reasoning.

In this course, students will develop and hone academic and professional writing skills by employing those skills to communicate with range of audiences across a range of situations and contexts. To do that, students will receive instruction and practice in writing well-structured, logical, and effective academic essays while developing critical thinking skills and effective work habits. Prerequisite: Successful completion of ENG 121 or equivalent with a grade of "C-" or better.

This course is designed to aid students in understanding the dynamics of interpersonal relationships. Verbal and nonverbal communication patterns among people in personal, social, academic, and professional settings will be examined, within and between cultures, including both face-to-face and technologically mediated channels. The nature of these interactions will be evaluated using contemporary communication theory. The course will enable students to identify their interpersonal communication skills and behaviors and to more critically evaluate their own oral communication and that of others. The primary goals of the course are to improve the quality of students' communication in their personal and professional relationships, to enhance students' experience and. confidence with oral communication, and increase awareness of the importance of interpersonal communication that is inclusive and equitable.

This course surveys American history from 1877 to the present. Emphasis is placed on the multifaceted experiences within American society; political, economic, intercultural, and social trends; and the impact of the United States in world affairs. Prerequisite: ENG 122 or successful completion of the Written Communication Competency II requirement.
Sophomore Year
This course introduces students to the interdisciplinary field of social sciences and some of the disciplines that comprise this field, including anthropology, psychology, economics, sociology, political science, and history. In this course, students will learn important social science concepts and theoretical approaches, along with the research methods that social scientists use to study human behavior. They will also learn how research and findings from the social sciences can be applied broadly throughout society. Throughout the course and through a summative assignment, students will examine how social factors shape social behavior and some of the consequences of current social problems.

In this course, learners deepen their understanding of the importance of natural resources to mankind. Students explore physical, biological, and ecological principles, examine how human alterations affect the environment, and reflect on the controversies surrounding various approaches to addressing environmental problems and the steps some communities have taken to address these challenges.

In this course students will explore a wider range of Algebra topics beyond the introductory level. Topics will include polynomials, functions, rational expressions, systems of equations and inequalities, operations with radicals, and quadratic equations. Emphasis will be placed on developing an awareness of the use of mathematics as it exists in the world today.

The capstone serves as an opportunity to reflect upon, integrate, and showcase learning achievement. Through discussions and course-embedded assessments, students will demonstrate a mastery of essential general education competencies as they relate to their personal and professional lives and provide evidence of growth through application of competency related skills to real-world situations. Prerequisite: 75 completed credits or permission of the student's college or dean.

This course presents an introduction to management theory and practice, including the inter-relatedness that the planning, organizing, leading, and controlling functions play in the multicultural, technology-driven, and global organizations of the 21st century. The emphasis is on the application of management theory to real-life situations in the workplace.

An introduction to the field of human resource management. Topics to be discussed include
communication, motivation, and management of personnel. The course will include a review of current standards and practices as well as the legal environment as it pertains to the human resource field.

This course is designed to develop the student's skills in the understanding of factors that affect how individuals and groups act and interact with one another and with management. It also looks at how organizations manage their internal environment with the aim of improving productivity, efficiency, and communications among members. Prerequisite: BUS 201 or MGT 330.

ECO 204 is an introduction to the microeconomic principles of the market system and provides a general outline of the consumer and producer choice theories. The course also discusses other important microeconomic concepts like supply and demand, externality, elasticity, pricing and profitability. Other topics include various levels of firm and industry competition associated with different market structures. Recommended prerequisites: Fulfillment of the General Education Critical Thinking competency, Quantitative Reasoning Core competency, and Digital Literacy competency. (Equivalent to ECO 308).

In this course, students will study and apply alternative theories, models and strategies for creating and managing organizational change. The effectiveness of management tools in initiating problem solving and decision making to bring about change within organizations is evaluated.

Introduction to the principles and procedures of general financial accounting with an emphasis on reporting to individuals outside the organization. Development of accounting reports on an accrual basis.
Junior Year
Introduction to the legal environment of business in the United States. Examination of the Constitution, administrative law, contracts, agency, and the protection of competition, consumers, employees, investors, the environment, and international trade.

This course examines the evolution of the marketing philosophy. Subject matter expands on the steps marketers take to understand the customers, determine their needs and wants, and develop a marketing plan. In addition, an examination of external and internal environments impacting marketing decisions, the elements of a marketing program, and issues in ethics and social responsibility are discussed. (Equivalent to MGT 350).

The course overviews how, why, and when to integrate the behavioral sciences with human resources management principles to increase individual and organizational effectiveness. Students will also be introduced to many types of interpersonal, intra-group, inter-group, and organizational interventions that are used to effect comprehensive and lasting changes. Prerequisite: BUS 201,MGT 330 or HCA 459.

The course provides students with both the common and complex issues related to human behavior in the workplace as it relates to employee relations, and an examination of relationships among unions, workers, management, laws and government regulation. Prerequisite: BUS 303.

This course provides essential managerial-level comprehension of training theory and its practical applications in the business and management environment. Students learn the functions and duties of training: trainer/developer, the identification and assessment of training needs, program design and development, selection of delivery methods and means of instruction, the implementation of training programs, and evaluation. Prerequisite: BUS 303.

This course explores the impact of using technologies in serving HR by building an awareness of technological skills. The content investigates how information technology can be applied to strategic management, records and employee tracking for enhanced recruitment, selection, staffing, compensation, benefits administration, policies and procedures, performance evaluation, training and organizational development. Ethical and legal challenges regarding protection of human resource data are researched.

This course encompasses fundamental financial concepts and analysis. Students will learn to evaluate the financial performance of a company and analyze key financial ratios. The course will enable students to calculate the present and future value of assets using the concept of the time value of money. Additionally, the course will cover the value and risk of companies, the relationship between risk and return, and the meaning of the weighted average cost of capital. The course is designed to equip students with the technological and analytical tools they need to help businesses make sound financial decisions. Prerequisites: ACC 205 or ACC 208 or ACC 281 and fulfillment of the Quantitative Reasoning Core Competency. (Equivalent to BUS 320.)

This course reviews the fundamentals of wage and salary programs, including conducting salary surveys, defining compensable factors, adjusting pay structures, evaluating pay differentials, and relating pay to performance. Benefit programs and related employee incentive and service programs are also covered. Prerequisite: BUS 303.

This course provides a link between the traditional human resources functions (recruiting, staffing, training, performance appraisals, labor relations, and compensation and benefits), strategic planning, and meeting long-range organizational goals and objectives. Prerequisites: GEN 499. This course must be taken last in the program.
Credit Breakdowns
Major Credit Requirements
To earn your Bachelor of Arts in Human Resources Management, you must complete 120 credits. You will need to complete 30 upper-division credits, of which 18 credits must be from the major program. A total of 30 credits must be completed at the University of Arizona Global Campus to meet the residency requirement. You may be able to transfer up to 90 approved credits from community colleges, other previous college coursework, or other life experiences such as military service or job training toward your degree.
Special Terms and Conditions
Successful completion of the Bachelor of Arts in Human Resources Management degree by itself does not provide licensure or certification in any state, regardless of concentration or specialization. Students seeking licensure or certification in a particular profession are strongly encouraged to carefully research the requirements prior to enrollment. Requirements may vary by state. Global Campus does not guarantee that any professional organization will accept a graduate's application to sit for any exam for the purpose of professional certification.
Certain degree programs may not be available in all states.
While UAGC does not collect applicant criminal background, certain criminal histories may prevent students from obtaining licensure, certification or employment in their chosen field of study.
Quality Matters Certification
The Online Teaching Support Certification recognizes programs that require all online faculty to undergo training in best practices for online course delivery, provide faculty with ongoing pedagogical support, encourage faculty professional development to increase their knowledge and skill in online teaching, emphasize instructor availability and feedback to learners, and collect and use feedback from learners to improve online teaching. Learn More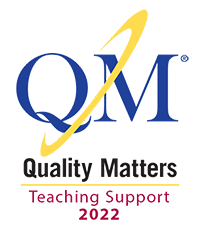 The Online Learner Support Certification recognizes programs that provide all the critical student and academic services needed for learner success and use learner feedback to continuously improve those services.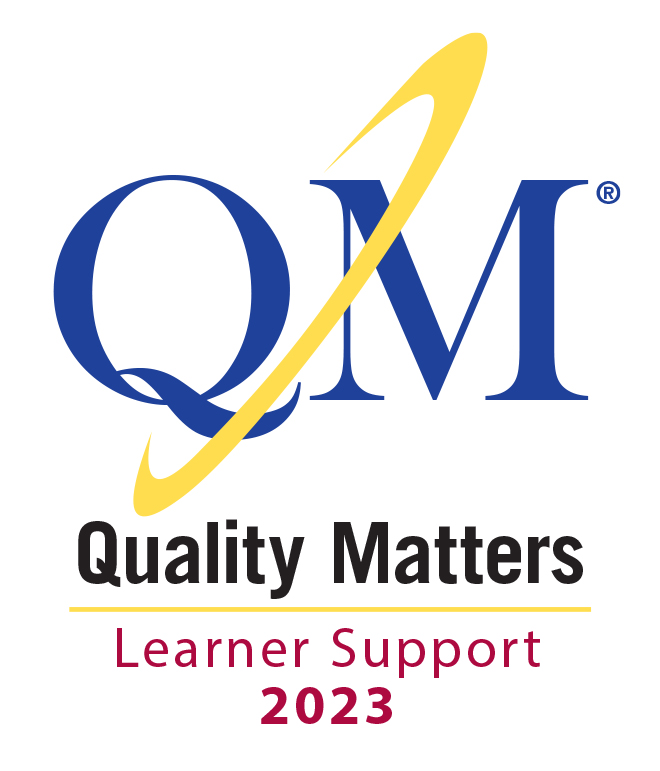 Customize Your Bachelor of Arts in Human Resources Management with UAGC Emphases
An emphasis provides you with additional opportunities to broaden and enrich your education that is distinct from and enhances your major. It may be taken as a way to expand career options, to prepare for graduate study, or simply to explore in greater depth an area different from your major. An emphasis consists of 9 to 12 credits.
Careers in Human Resources Management
Human resources management is a growing field. Business leaders increasingly see experts in human resources with college degrees as their partners in building their organizations. Graduates who have earned a bachelor's degree in HR management will be prepared for career opportunities such as:
Corporate Trainer
Training and Development Coordinators
Benefits Coordinator
Payroll Manager
Human Resource Specialists
Corporate Recruiter
Human Resource Analyst
Human Resource Coordinator
Recruiter
Human Resources Representative
Personnel Analyst
Discover more information about degree programs in business at the University of Arizona Global Campus.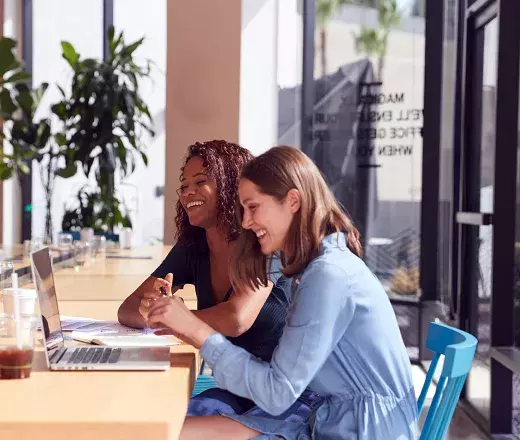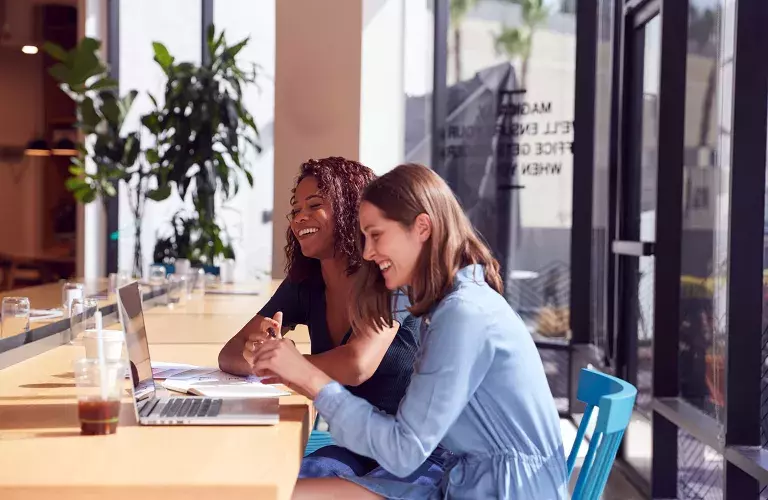 Other Degrees That May Interest You
The University of Arizona Global Campus offers a wide range of degree programs to prepare you for today's most competitive industries. Explore these programs to find the right path for your life and career.
Student Experience
In Their Own Words
Our students are tenacious and inspiring.
The Role of an HR Department
The human resources department plays an important role in maintaining employee well-being in many different business settings. Being able to solve problems that are impacting your fellow employees — while growing and developing others professionally and personally — is common in this field. You will be able to help employees solve issues and address internal staffing problems by balancing legal and ethical guidelines to keep your workforce happy and safe. Additional responsibilities can often include payroll, hiring, firing, training, and staying updated on the latest state and federal laws related to employees.
Scholarship Opportunities
Finding the necessary funds to obtain your human resources degree online can be a challenge. UAGC offers scholarship opportunities if you are pursuing one of the business-related degrees within the Forbes School of Business and Technology ®. Don't let finances get in the way of pursuing your bachelor's degree in human resources. Apply today and become an HR leader, skilled manager, or strategic thinker in your business.