UAGC Student Support
24/7 Support
Get help when you need it from writing specialists, librarians, and subject matter experts.
Get Involved
Enhance your experience and connect with peers by joining one of over 20 student organizations.
Supporting you from the day you fill out your application to your graduation and beyond is something we take seriously. Your best-in-class advising support team includes:
Enrollment Services Advisors
Academic Advisors
Financial Services Advisors
24/7 Chat Support with AVA
Career Services
Plan for what's next
Preparing you for present and future opportunities, Global Campus provides all students and alumni with lifetime access to Career Services. Our team of career specialists are there to support you with customized career planning, resume and cover letter review, one-on-one coaching, and job search assistance to help you reach your goals.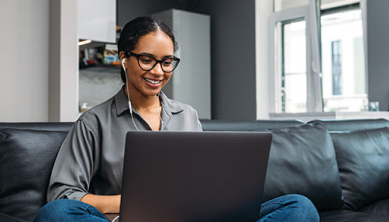 Writing Center
Strengthen your writing
Develop and improve necessary writing skills for your academic and professional life. The Writing Center is accessed directly from your online classroom and offers:
Writing & APA Guides
Writing Samples
Video Tutorials
Premium Grammarly Subscription
Writing Skills Refreshers
24/7 Paper Review and Live Writing Tutoring
The Global Campus Library
Find quality research
The UAGC Library subscribes to the scholarly and credible sources you'll need throughout your courses, and our team of dedicated librarians are standing by to help you locate, evaluate, and use quality research. The library is accessed directly from the online classroom and offers:
Scholarly journals, ebooks, business research tools, and more
Research Guides
Video Tutorials
RefWorks Subscription
24/7 Live Library Tutoring
Tutoring
On demand when you need it
In addition to faculty members, UAGC provides access to quality tutoring if you find you need an extra layer of support. Tutoring is accessed directly from your online classroom and offers:
24/7 Live online writing and library tutors available to all students
24/7 Live online subject-matter tutors in select subjects including math, accounting, and statistics
One-to-one tutoring sessions
Online access with options for chat, audio, video, and screen and file sharing
Student Tools & Technology
Find quality research
Your online learning experience includes a wide array of virtual tools you can access anytime, anywhere. As a UAGC student, your suite of technology resources includes:
Your student portal
The virtual classroom
Constellation Digital Textbooks
Waypoint assignment submission
Access to Microsoft Office 365
Request Information About Our Degrees