Questions? Request Information
Take the Next Step
Learn more about how to get started in your degree program.
Degree Completion Journey
This master's in early childhood education leadership online will give you a greater understanding of child development and the multiple influences on learning. Your advanced courses will increase your knowledge of the foundations, functions, and current challenges in the field of early childhood education.
Year 1
Students in this course will be introduced to the professional knowledge, skills, dispositions, and standards expected of early childhood education professionals and innovative leaders in the field. Further, this course will introduce several programmatic themes—social justice, 21st century teaching and learning, and leadership—to inspire students to be active early childhood advocates for children. Students will also gain insights and understanding related to the academic, personal, and professional expectations of graduate students to support their success in the MAECEL program and in their profession.

This course examines current issues, trends, theories, and research related to child development and developmentally appropriate practices in the early childhood classroom. Students generate ethical solutions to relevant issues in the field of early childhood education and social justice. Further, students will examine how various leadership models foster professional knowledge and skills within their chosen field of study. Using this information, students design a classroom environment that incorporates evidence-based and developmentally appropriate strategies that promote optimal learning and development in young children. Prerequisite: ECE 600 or EDU 650

This course provides opportunities for students to examine partnerships among early childhood professionals, families, and the communities in which they work. Throughout the course, students evaluate how their daily instructional practices promote positive outcomes for young children. Students explore the various partnerships necessary in early childhood education and discover how these partnerships can support curriculum, learners' development, and the learning environment. Course requirements provide several opportunities for students to examine and discuss the effectiveness of ethical communication and collaboration strategies. Approaching course topics as reflective practitioners, students are able to determine how these specific partnerships fit into their future roles. Prerequisite: ECE 600 or EDU 650

In this course, students examine the relationship between theory, research, and practice in creating quality curriculum for the early childhood classroom. In addition, students evaluate a wide array of approaches, instructional strategies, and tools utilized to positively influence each child's learning and development. Students also analyze their roles as leaders in evaluating curriculum materials and models that align with state and national standards. Utilizing this information, students design challenging curriculum that promotes comprehensive development and learning outcomes for all young children and across all domains of development. Prerequisite: ECE 600 or EDU 650

In this course, students examine the purpose and ethical use of assessment and evaluation strategies, tools, and procedures in early childhood education. In addition, students analyze assessment methods related to developmental concerns and intervention strategies in early childhood settings. Students also evaluate leadership roles and responsibilities in building effective learning environments and programs through assessment partnerships and action research initiatives with families and colleagues. Throughout the course, students learn how to utilize effective assessment strategies to positively influence child development.

Students enrolled in this course are introduced to action research and are provided with an explanation of the goals, rationale, and value of action research in the early childhood environment. Students will demonstrate effective use of research sources using digital tools and evaluative methods. They will apply methodologies and use ethics to evaluate various educational theories and research and acquire skills that support best practices. During this course, students will identify a problem, construct an action research proposal, collect and analyze data, and identify implications for future action research while considering their professional and leadership capabilities. Prerequisite: ECE 631, ECE 642 and ECE 657

This course provides students with an overview of the knowledge and skills necessary to develop and administrate an early childhood facility. Students will create a personal definition of leadership and evaluate high-quality early childhood programs that meet the needs of diverse children, families, and communities. In addition, students will develop a strategic plan that meets high-quality and developmentally appropriate aspects of early childhood programs. Students will also examine how early childhood administrators evaluate faculty and staff. Prerequisite: ECE 600 or EDU 650

In this course, students evaluate professional early childhood learning resources that target learning outcomes, program needs, and support family and community partnerships. Students also develop a strategic plan to foster professional learning and development for early childhood staff and teachers that includes professional learning models. In addition, students create a system that supports the development of effective personnel management practices and promotes high-quality programs. Throughout the course, students analyze ethical and professionally sound decision-making and leadership practices used in early childhood education.
Year 2
In this course, students will learn about public policy and law as it relates to early childhood education. Students will leverage leadership skills, advocacy skills, and professional knowledge to promote educational transformation, social justice, and positive change in early childhood education. Prerequisite: ECE 671

Capstone II: Culminating Project is a course in which students will demonstrate their attainment of the program outcomes through a spiraled process of skill demonstration including reflection, application, and evaluation. First, students will reflect on patterns in academic work as well as design and development challenges associated with previous coursework so as to take control of one's professional growth and become a more self-directed learner. Next, students apply the framework of 21st century teaching and learning to redesign prior coursework and then evaluate how 21st century skills influence program learning outcomes. Last, students will use digital tools to showcase their scholarly artifacts through the creation of a digital portfolio for both courses, and for professionally related purposes. Prerequisite: EDU 694 or ECE 660.
To be awarded the Master of Arts in Early Childhood Education Leadership degree, all students must complete 30 credits with a 3.0 minimum grade point average.
Applicants to the Master of Arts in Early Childhood Education Leadership must have:
Earned a bachelor's degree** from an institutionally accredited or an approved nationally accredited university in early childhood education or a related field; or Current or previous employment in the field of early childhood education.
**Unofficial or official transcripts showing an earned undergraduate degree in Early Childhood Education or a related field must be submitted with the Application for Admission.
Special Terms and Conditions
An online degree from the University of Arizona Global Campus does not lead to immediate teacher licensure in any state. If you want to become a classroom teacher, contact your state's education authorities prior to enrolling at the University of Arizona Global Campus to determine what state-specific requirements you must complete before obtaining your teacher's license. The University of Arizona Global Campus graduates will be subject to additional requirements on a state-by-state basis that will include one or more of the following: student teaching or practicum experience, additional coursework, additional testing, or, if the state requires a specific type of degree to seek alternative certification, earning an additional degree. None of the University of Arizona Global Campus online education programs are accredited by the Council for the Accreditation of Educator Preparation (CAEP), which is a requirement for certification in some states. Other factors, such as a student's criminal history, may prevent an applicant from obtaining licensure or employment in this field of study. All prospective students are advised to visit the Education Resource Organizations Directory (EROD) and to contact the licensing body of the state where they are licensed or intend to obtain licensure to verify that these courses qualify for teacher certification, endorsement, and/or salary benefits in that state prior to enrolling. Prospective students are also advised to regularly review the state's policies and procedures relating to licensure as those policies are subject to change.
Alabama Students Education Preparation: State authorization to provide a program related to the preparation of teachers or other P–12 school/system personnel does not indicate eligibility for an Alabama professional educator or professional leadership certificate. Applicants who complete an educator preparation program at a non-Alabama institution must apply for an Alabama professional educator or professional leadership certificate through the Alabama Certificate Reciprocity Approach. Current requirements may be found at www.alsde.edu
Hawaii Students: An education degree offered through the University of Arizona Global Campus online modality does not lead to teacher licensure in the state of Hawaii. In Hawaii, an alternative route to certification is not available.
Kentucky Residents: Please be advised that although the University of Arizona Global Campus College of Education offers a variety of programs aimed at preparing potential educators in diverse settings, our K–12 educator preparation programs are NOT accredited in Kentucky by the Education Professional Standards Board and are NOT recognized for initial, additional, or renewal of certification or salary enhancement (rank change) for K–12 educators in Kentucky. For more information, please visit the Education Professional Standards Board's website at http://www.epsb.ky.gov/mod/page/view.php?id=220.
Certain degree programs may not be available in all states.
Quality Matters Certification
The Online Teaching Support Certification recognizes programs that require all online faculty to undergo training in best practices for online course delivery, provide faculty with ongoing pedagogical support, encourage faculty professional development to increase their knowledge and skill in online teaching, emphasize instructor availability and feedback to learners, and collect and use feedback from learners to improve online teaching. Learn More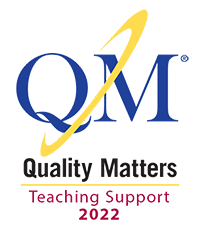 Careers in Early Childhood Education Leadership
The Master of Arts in Early Childhood Education Leadership degree program will prepare you for leadership positions in various early childhood education settings. Some of the opportunities you might pursue include:
Site Manager
Preschool Program Director
Childcare Director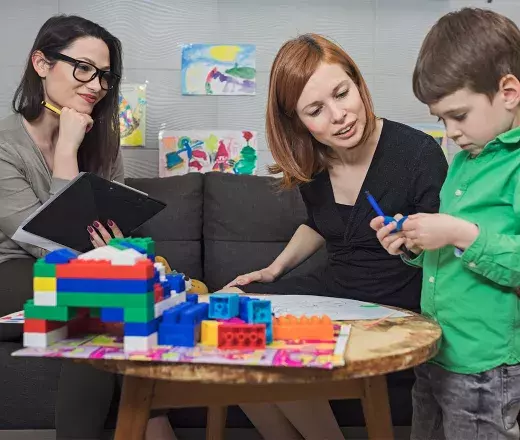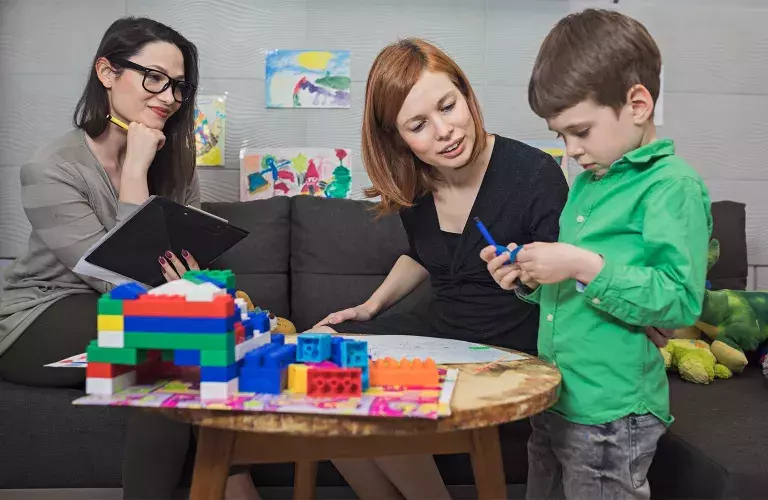 Other Degrees That May Interest You
Student Experience
In Their Own Words
Our students are tenacious and inspiring.
*Residents of California are only eligible to receive up to six (6) credits due to state regulations.