Master of
Business Administration
Master of Business Administration
Questions? Request Information
Earn an MBA Online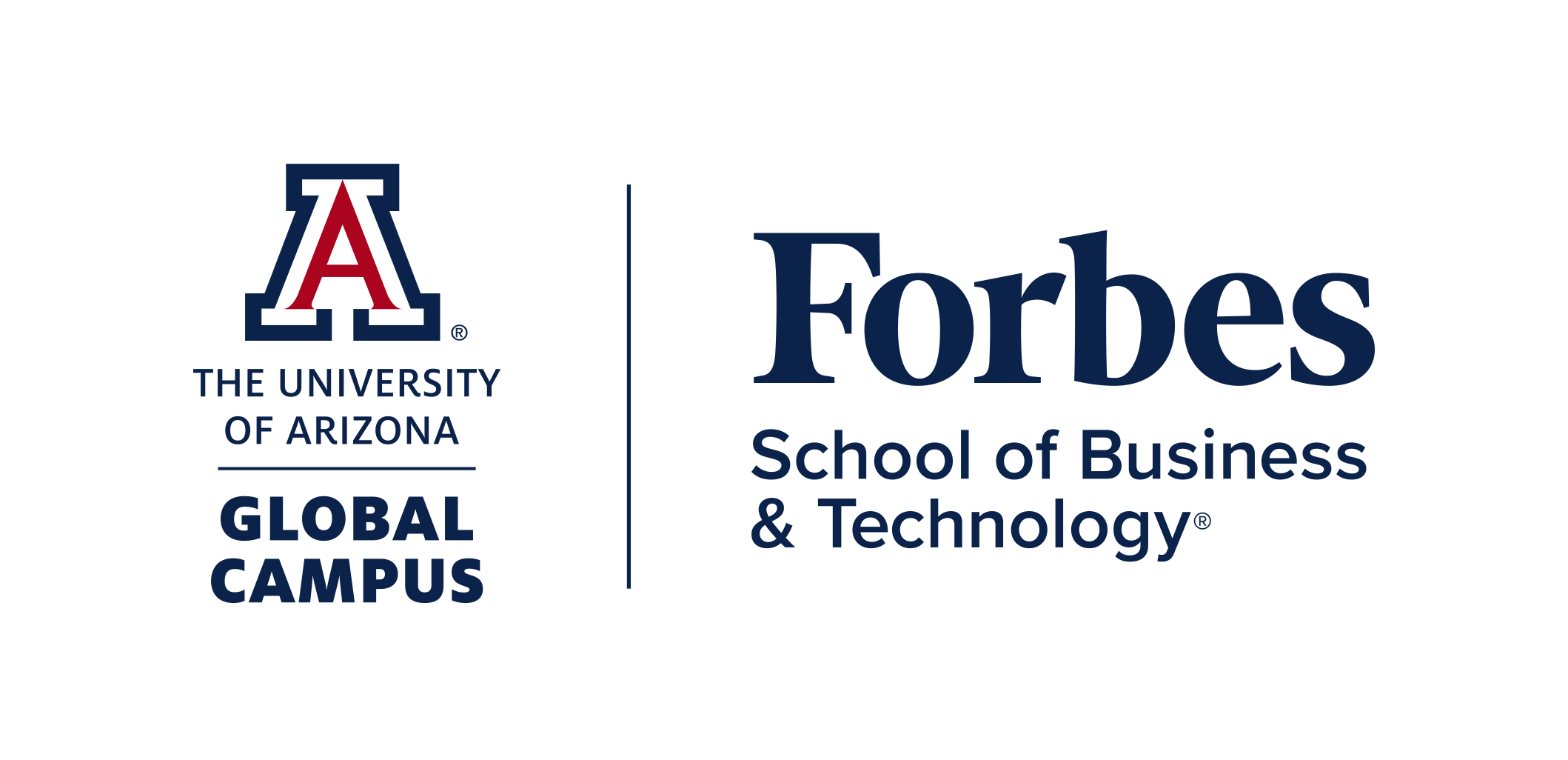 MBA the Forbes way. The Master of Business Administration program from the Forbes School of Business and Technology® at the University of Arizona Global Campus delivers a challenging, rich, and relevant academic experience with the flexibility offered by a college online. This online MBA is IACBE-accredited, giving you quality assurance when choosing your graduate degree in business administration. This online MBA program aligns with the Forbes brand, one of the most respected names in the business world. It focuses on the key attributes you'll need to excel in any business – leadership, innovation, and an entrepreneurial spirit. Additionally, the Global Campus MBA degree does not require you to take the GMAT or GRE (Graduate Management Admission Test/Graduate Record Examination) making it easier than ever to start earning your MBA.
The Master of Business Administration degree features unique courses and innovative learning tools that empower students to understand, compete, and thrive in today's global business environment. Our online MBA degree program combines leadership and business concepts with simulations, videos from leading business experts, pertinent books and publications, and industry-specific case studies. This is a modern approach to delivering a well-rounded master's-level education in business administration. Upon completion of the online MBA program, you'll be able to:
Prepare written and oral communications to create professional presence, articulate a vision, and bridge diverse perspectives and cultural differences that impact businesses
Integrate critical thinking and inventiveness to form strategies and overcome business challenges in both domestic and international business settings
Utilize leadership skills in situations involving collaboration, self-advocacy, and business-critical decisions
Formulate financial analysis and business knowledge in marketing, data analytics, economics, operations, project management, human capital management, and emerging technologies to drive decision-making
Critique the use of legal and ethical principles and the influence of politics in the business environment
Your Courses
in Business Administration
Master Competencies for Career Readiness
The coursework for the Master of Business Administration degree was designed to build the core competencies for career readiness as outlined by the National Association of Colleges and Employers (NACE). During the program, you'll achieve competency in:
Critical thinking and problem solving
Oral and written communication
Teamwork and collaboration
Digital technology
Leadership
Professionalism and work ethic
Career management
Global and intercultural fluency
The curriculum for the online Master of Business Administration program will help you develop your leadership skills, innovative mindset, and entrepreneurial spirit. Your courses focus on vital business administration topics like human resources, finance, budgeting, analysis, operations management, business management, business law, global marketing, and global economics. You will also select two (2) elective courses in entrepreneurship/intrapreneurship, international business, or technology and innovation.
Core and Elective Course Requirements
(39 credits*, all courses are 3 credits.)
*Students who waive BUS 592 Financial Business Overview are required to take 36 total program credits in order to meet graduation requirements.
Note: In addition to completing core course requirements, you must complete two (2) of the three (3) elective courses: BUS 637, BUS 638, or BUS 639.
Careers
in Business Administration
An MBA provides a broad background and general knowledge in the field of business. As there are many possible fields of employment, specific employment will depend on your undergraduate degree and work experience. Generally, an MBA graduate may work in private or public companies, nonprofit organizations, government agencies, or become an entrepreneur. Specific career opportunities may include Management Analyst, Business Development Manager, Leadership Development Manager, Executive Director, Marketing Manager, Treasurer and Controller, or Chief Executive.
Are Online MBAs
Respected
Online degrees have become more valuable and respected since their inception many years ago. In the past, hiring managers and HR professionals thought that an online MBA meant you were not receiving the same level of education as you would in a traditional classroom, but this has turned out to be a misconception. Online MBA programs provide the same rigorous education as a traditional classroom with the added benefit that you are learning how to effectively navigate a world that is becoming more and more digital. These additional skills are highly valued and can make an online MBA a great addition to your resume. Learn more about whether an online master's degree is worth it in our blog article.
Why Choose Global Campus
Online MBA Program
You'll find that pursuing an online master's degree in business administration can be an ideal alternative to a traditional college classroom, as it can provide you a flexible online format and supportive community that fits best around your busy life. Graduate classes are taken one at a time and last for 6 weeks, letting you focus on what matters most in your life. Additionally, your MBA program includes 24/7 access to live classroom support services to help make your introduction to online learning - or transition from traditional campus classes - that much smoother.
From the faculty to the curriculum, you will enjoy an online learning experience that is recognized for meeting quality standards. Whether you are looking to take the next step in your business career or you just want to expand your knowledge, Global Campus can help you get there by providing you the necessary tools and knowledge. Financial aid resources and scholarship opportunities are also available for some students.
Ready to get started? Contact our admissions department to learn more.
A Business Administration
Career
Earning an MBA can be a great addition to any jobseeker's journey. Perhaps you are interested in the potential earning increase that may accompany this degree or you are more interested in checking off this personal goal of yours. There are many business-level positions such as associate, supervisor, and manager that can all benefit from a graduate degree, as it can position you apart from the competition. Whether you are a recent college graduate looking to pursue your next degree, or you're already somewhat established in your career, earning a master's degree in business administration can be a rewarding endeavor with long-lasting benefits.
How Long Does it Take
to Get an MBA Online?
Earning your MBA online typically takes about two years but can vary depending on the type of program and how much time you are able to commit to your studies. At UAGC, you have the ability to earn your degree at your own pace. Our online MBA program offers classes one at a time, six weeks at a time, giving you the flexibility to maintain a job or take care of your family while furthering your education and career with an online MBA.