Bachelor of Science in
Nursing
Bachelor of Science in Nursing
Questions? Request Information
Enhance your credentials when you earn your Bachelor of Science in Nursing degree for registered nurses from The University of Arizona Global Campus. This online college degree program is perfect for you if you're a registered nurse who possesses an associate's degree or nursing diploma and you want to broaden your professional skills and expand your career options for an assortment of nursing practice and leadership roles in the healthcare industry. This degree is also a great stepping-stone for future graduate study in nursing.
What is a BSN Degree in Nursing?
BSN stands for bachelor of science in nursing, a degree program that provides registered nurses the education they need to stand out from the competition. By enrolling in a BSN degree program as an RN, you will receive the latest knowledge and skills needed to care for patients in an ever-changing nursing field. Additionally, a BSN can provide nurses with educational experience to take on more responsibilities and pursue management level roles that often require this in-depth training.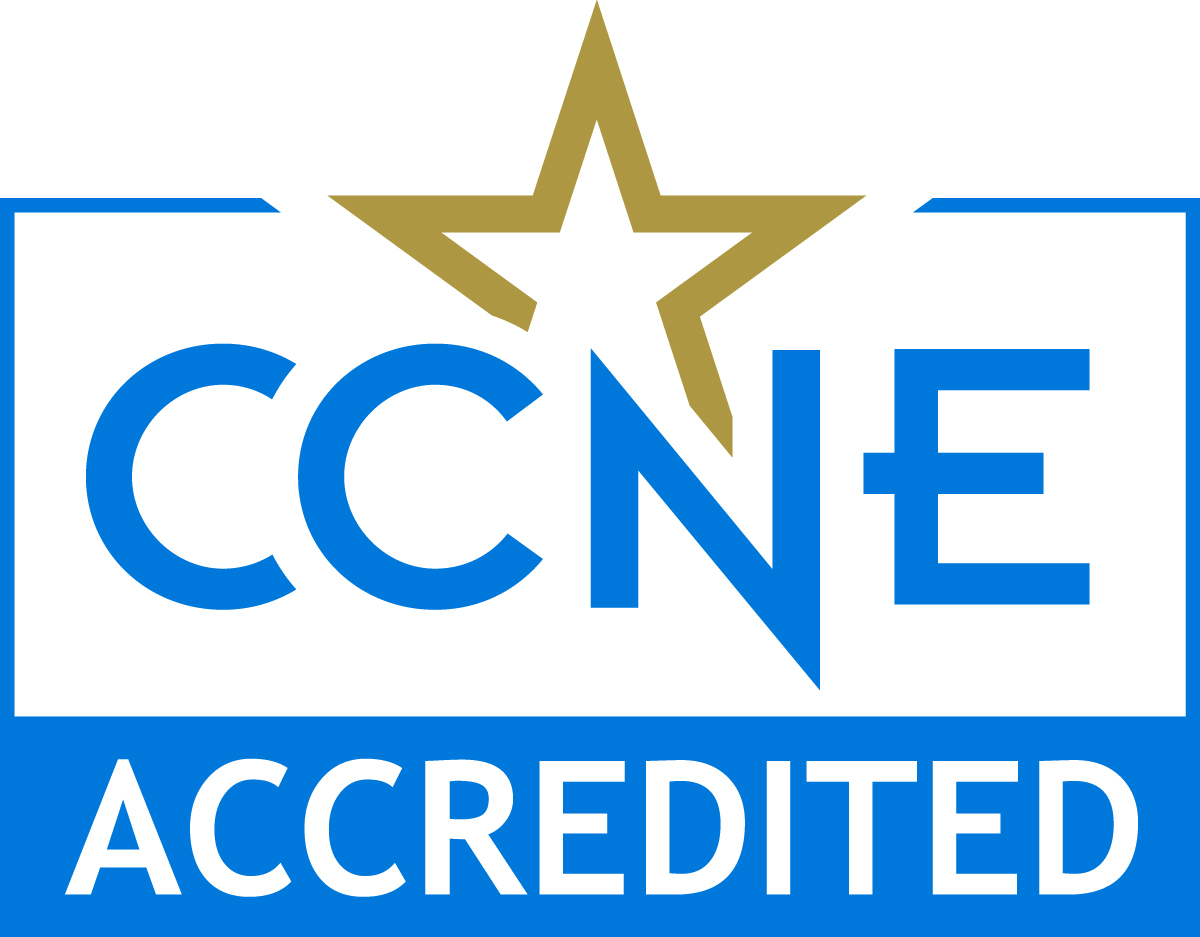 The baccalaureate degree program in nursing at Global Campus is accredited by the Commission on Collegiate Nursing Education (CCNE), 655 K Street, NW, Suite 750, Washington, DC 20001, 202.887.6791.
BSN Program Mission Statement
The mission of the BSN program is to "educate licensed registered nurses who have earned an associate's degree in nursing or completed a diploma program in nursing to further develop their ability to lead and practice with a higher level of intellectual, ethical, and critical thinking skills in order to care for a diverse and aging population." An additional facet of the program is to expand each student's worldview related to global health and population diversity.
BSN Program Goals
To develop nursing students' technology skills and the latest modalities to effectively teach patients and their families.
To foster personal development in terms of building self-confidence, ethical values, integrity, and an appreciation for the uniqueness of each individual.
To foster a more inclusive worldview as the patients/clients become increasingly diverse in ethnicities, health care beliefs, and practices.
To cultivate professionalism among nursing students within more complex health care systems as demonstrated in the practice settings.
To prepare students for graduate education.
NCLEX-RN® Exam Credit
Students in the Bachelor of Science in Nursing program at Global Campus may be eligible to receive up to 20 non-traditional elective credits through Prior Learning Assessment for completing the NCLEX-RN® exam. Students should wait until all previous post-secondary coursework has been reviewed and then contact their Academic Advisor to determine if there is a need for the exam to be reviewed for college credit. To request the credit to be applied, students must complete the Application for NCLEX-RN Exam Credit, provide a copy of their current RN license, write a 1-3 page essay, and submit all documents to [email protected].
In the rapidly changing healthcare field, the need for highly prepared and educated nurses is at a premium. Your online RN to BSN degree program will focus on developing your technology skills along with the personal skills required to meet the needs of the patient population. Your courses will be taught by faculty with real-world knowledge, who are proficient in their area of nursing practice, and who have demonstrated scholarship. You will apply knowledge gained to client/family/community concepts across the continuum through critical thinking, research, nursing skills, and theory. As a graduate of the BSN degree, you will be prepared to practice using advocacy, autonomy, accountability, ethics, and respect. Upon completion of the bachelor of science in nursing (BSN), you will be able to:
Apply nursing leadership concepts and skills to promote quality care and patient safety across a variety of healthcare settings
Apply (a) current evidence and (b) critical thinking and (c) assessment skills to professional nursing practice
Use technological and informatics systems related to health care to promote quality patient care
Synthesize local and federal policies that affect health, health care delivery, and health care management
Use inter-professional communication and collaborative skills to communicate with and educate peers, health care professionals, patients and their families, and the community
Assess health and wellness beliefs and practices to promote health and disease prevention among individuals, families, groups, communities, and populations
Articulate the value of pursuing practice excellence, through lifelong learning and engagement, to grow professionally 
Integrate holistic nursing knowledge, values, skills, and attitudes into practice across the lifespan and continuum of healthcare environments
Seize the opportunity to broaden your experience in the field of nursing. Your RN to BSN courses will foster your personal development – building self-confidence, ethical values, integrity – while cultivating your professional knowledge of technologies and modalities to effectively communicate with patients and their families. Coursework and Practice Experiences cover a wide range of content--from patient care quality and safety to leadership, community health, ethics, and technology. In your Practice Experiences, you will acquire knowledge and skills by interacting with healthcare professionals and engaging in rich learning simulations. You will also focus on developing and refining interprofessional, leadership, and assessment in intervention skills.
Introductory Courses
To help students acclimate to the online classroom, you may be required to complete Introductory Course requirements. Learn more about Introductory Courses.
Major Course Requirements (42 credits, all courses are 3 credits.)
An emphasis provides you with additional opportunities to broaden and enrich your education that is distinct from and enhances your major. It may be taken as a way to expand career options, to prepare for graduate study, or simply to explore in greater depth an area different from your major. An emphasis consists of 9-12 credits.
The bachelor of science in nursing (RN to BSN) degree provides the associate's degree or diploma-prepared registered nurse (RN) an opportunity to enhance and advance their professional nursing career. Take a look at your potential career options below.
Bachelor of Science in Nursing
Why Earn your BSN Now?
Healthcare in the US is becoming more and more complex, as many nurses need to step into managerial and leadership roles. Many hospitals are making it their policy to require their nurses to have a minimum of a BSN or at least an agreement to pursue that degree within a period of time. According to the American Association of Colleges of Nursing, all magnet hospitals require their managers to have a minimum of a BSN or MSN. The current nursing environment is becoming more competitive, which means earning a bachelor of science in nursing is now more critical than ever before.
With the current nursing environment evolving and becoming more complex, the need for qualified nurses who can understand these changes is becoming more desired. Your BSN degree will cover relevant and current subject material related to this changing nursing environment. Part of this CCNE-accredited online nursing program includes you receiving professional role preparation for practice within a complex healthcare system and better understanding the development and use of current technology in order to communicate with healthcare professionals, patients, and their families.
The University of Arizona Global Campus' online nursing degree was designed to meet the needs of the adult learner who already is a registered nurse. With this in mind, the University of Arizona Global Campus created a degree that is focused on bringing you the convenience and flexibility to continue with your current nursing and life responsibilities, all while you pursue your BSN. You will be given access to 24/7 online support along with all the tools and technology needed for you to successfully complete your online nursing degree.
Need more information? You Got It.
The UAGC Welcome Grant
Extended Through August 2021
Save up to $1,200* per academic year on your undergraduate tuition with the Welcome Grant. UAGC believes you deserve access to a quality education without cost getting in the way. As a new undergraduate student, you may be eligible to save on your tuition. Contact us today to find out if you qualify for this cost-saving opportunity
* Must be a new student enrolling in an undergraduate degree level program. This includes students who enrolled prior to July 2021, but did not matriculate in their degree program, and students who previously graduated with an associate degree from UAGC or Ashford University and are enrolling in bachelor's degree program. To maintain eligibility, cannot exceed 365 days of consecutive non-attendance. There are no additional steps for the student after completing the Online Application. This grant applies only to tuition charges and does not include any savings for books and/or fees. Cannot be receiving any other institutional offers or grants excluding the Bridge Grant, the Alumni Grant, and the Referral Offer, as applicable.