Questions? Request Information
Take the Next Step
Learn more about how to get started in your degree program.
Degree Completion Journey
Topics addressed throughout the online MHCA curriculum include finance, economics, leadership, quality improvement, risk management, health policy, law, ethics, strategic planning, information systems, statistical reasoning, and human resources.
Year 1
The focus of this course is on the application of advanced organizational principles in complex health care environments. Organizational issues, administrative processes and applications are explored. The managerial perspectives of a mid-to senior healthcare administrator are emphasized.

This course focuses upon the legal and ethical issues arising in the health care environment. Case study analysis is used to illustrate the ethical and legal implications commonly addressed in health care.

This course focuses on the analysis and evaluation of health care policy. Policy implications in organizational decision-making, strategic planning and market positions are examined.

This course provides a study on managing people in the health care workplace, focusing on the important policies and processes associated with recruiting, hiring, training and evaluating personnel in order to achieve strategic organizational goals. Prerequisite: MHA 622.

This course provides an overview of information management, health care information systems, and the strategic applications of information systems in health care organizations. The course will cover the following major areas: the evolution and role of health care information systems in the United States, health care information technology management and strategic planning, the system development life cycle, information technology value and investment, data governance, challenges in managing health care information systems, and regulatory compliance and standards. Topics such as the use of analytics and emerging technologies to support informed decision making and maximize diverse patients' experiences will be also explored.

Business Intelligence uses technology to transform and analyze data into presentable information for decision-making. Strategic planning is essential for sustainability and business intelligence tools help leaders make the decisions that will positively impact the bottom line.

This course provides the foundation for integrating health care finance and managerial accounting. Opportunities for analyzing current and emerging health care financing trends are provided. Practical cost-benefit strategies used in planning, controlling and preparing internal and external reports are emphasized.

This course focuses upon the analysis of health care operations and planning decisions derived from the theoretical concepts of demand, cost production, profit and competition. External and internal forces challenging health care services are analyzed. Organizational effectiveness and efficiency within the complex health care environment are emphasized.
Year 2
This course examines a systemic approach to health care outcomes and risk management practices. Assurance of quality health services and organizational risk control is discussed using industry benchmark and accreditation standards and processes.

This course provides a concrete foundation of managed care in the commercial market and government programs. Key topics include legal and administrative structures of managed care organizations, provider network management, provider payment arrangements, utilization management, disease management, quality, cost-containment, and accountability. Factors such as stakeholder dynamics, market forces, contractual adjustments, legal and ethical implications, and government policies are explored.

This course focuses upon the visioning and modeling of services and programs, both anticipatory and responsive, utilizing market-driven information. Students integrate theories from economics, information management, finance and leadership, culminating in the generation of a comprehensive business plan.

This course offers an opportunity for the integration of knowledge and skills developed within the program. The focus is on strategic and organizational issues unique to the health care environment. Students will complete a comprehensive, practical Capstone project for a health care-related organization.
To be awarded the Master of Arts in Health Care Administration degree, all students must complete 36 credit hours with a 3.0 minimum grade point average in all coursework attempted at the University.
Special Terms and Conditions
Successful completion of this program by itself does not lead to licensure or certification in any state, regardless of concentration or specialization. Further, the University of Arizona Global Campus does not guarantee that any professional organization will accept a graduate's application to sit for any exam for the purpose of professional certification. Students seeking licensure or certification in a particular profession are strongly encouraged to carefully research the requirements prior to enrollment. Requirements may vary by state. Further, a criminal record may prevent an applicant from obtaining licensure, certification, or employment in this field of study.
Certain degree programs may not be available in all states.
Quality Matters Certification
The Online Teaching Support Certification recognizes programs that require all online faculty to undergo training in best practices for online course delivery, provide faculty with ongoing pedagogical support, encourage faculty professional development to increase their knowledge and skill in online teaching, emphasize instructor availability and feedback to learners, and collect and use feedback from learners to improve online teaching. Learn More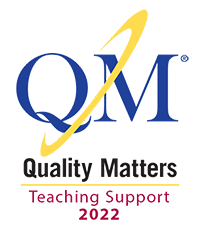 Careers in Health Care Administration
Health care is one of the largest and fastest-growing industries in America*. The demand for qualified managers who have education related to health care administration is expected to escalate*. Use your experience and knowledge as a professional to seek a health care administration career in any of these areas:
Hospital
Hospice and Health Clinic Administration
Clinical Informatics
Government Agency Healthcare Administration
While many entry-level positions in health care only require a Bachelor's degree, the Master of Arts in Health Care Administration is typically required to advance to many senior management positions. Among the many health care careers available to graduates are:
Medical and Health Services Manager
Mental Health Program Manager
Health Information Management Director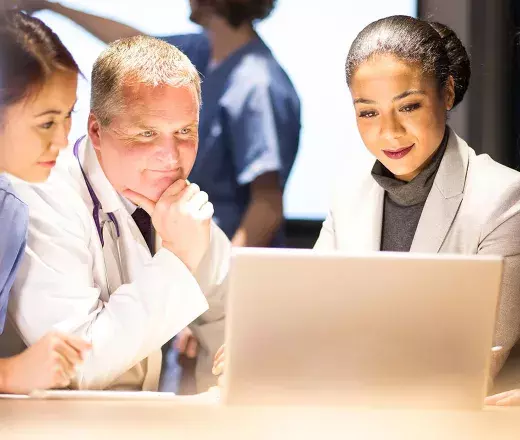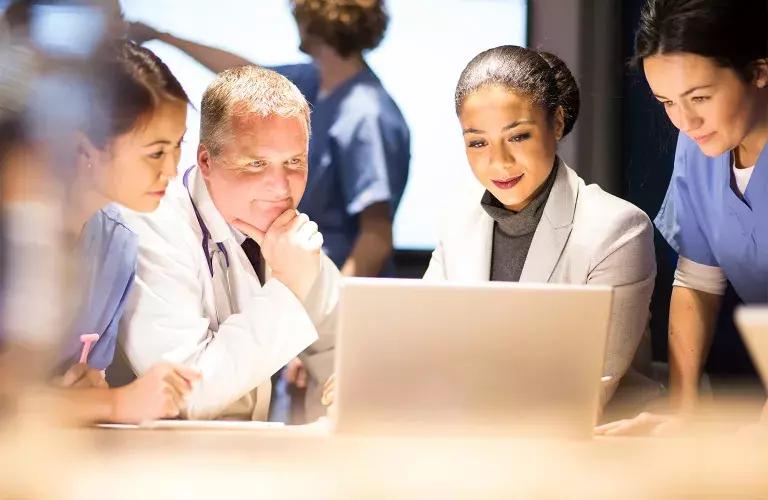 Other Degrees That May Interest You
Check out other degree programs that suit a variety of interests and may enhance a wide scope of career opportunities at UAGC. Discover similar programs to find the right path for you.
Student Experience
In Their Own Words
Our students are tenacious and inspiring.
*Residents of California are only eligible to receive up to six (6) credits due to state regulations.