Traditional schools, including most brick and mortar universities, typically operate on a nine-month academic schedule that was created before the industrial era, back when farming was many people's main source of income. This allowed students plenty of time to help out on the family farm when the planting season demanded all hands on deck. 
Luckily, for all the non-agrarian students today, online institutions such as the University of Arizona Global Campus acknowledge that modern work schedules aren't necessarily dictated by the seasons or the best time to harvest crops. 
Instead, the classes are structured to provide flexibility, allowing students to take one class at a time while still taking care of other responsibilities, such as work or family obligations. As such, there's no real need for every student to take a three-month-long summer break from their college studies. 
However, mentally and emotionally, many people still associate summer with the idea of taking some time off or they worry classes will throw a crimp in the action-packed summer social plans. 
Of course, summer can also be a time to focus on yourself and catch up on your personal goals. Frequently, this includes educational or career pursuits.
If you are wondering whether it's worth it to continue school in the summer, we've outlined the top benefits to going to summer school, as well as the pros and cons that will help you decide if taking college courses in the summer is right for you.
The Benefits of Going to College in the Summer
There are many benefits of summer school with the way courses at the University of Arizona Global Campus are structured. You can complete your degree by your intended graduation date and pace out your classes, so you don't have to double up later in the year to stay on track. 
Take a look at some of the key reasons to consider starting school or continuing with your online college classes throughout the summer.

Benefit 1: Speed to Degree 
At the University of Arizona Global Campus, the school year is set up on a rolling basis rather than in semesters, with courses running continuously throughout the year. This flexible schedule allows adult students to earn their degree while also focusing on other responsibilities, such as a job and family. Typically, as an online student, you will take one five- or six-week course (or up to nine weeks for doctoral candidates) at a time, with the only gap between studies being the two weeks off during winter break.
If you start your journey at the University of Arizona Global Campus with no previous college credits or credit transfers, you will need to earn 120 credits to graduate with a four-year bachelor's degree. By design, completing those classes without a break means you will graduate with your degree in the usual four years.
For students enrolled in a master or doctoral program, the course and credit requirements can differ somewhat, so your timeframe to graduation may vary depending on your major.
Most students find this consistently paced schedule works well for them. However, if you're itching to speed things up, the University of Arizona Global Campus does offer ways for qualified students to get their degree more quickly. 
Ways to obtain your degree more quickly can include earning non-traditional college credits for work or life experience, such as through the Experiential Learning Credit (ELC) Workshop or knocking out courses at a reduced cost (many classes are even free!) through our partnership with Sophia Learning. Take a look at this article for a more complete rundown of six ways you can get college credit for knowledge and experience you already may have. 
Likewise, if you're an eligible senior-level bachelor student who plans on continuing to get your master's degree, you may want to check out the Global Campus SMART Track. This program allows you to earn up to nine applicable grad credits toward your master's degree. You'll not only be able to shave up to 18 weeks off the time it would take to complete your graduate degree, but also save money by taking grad-level classes for the cost of undergraduate ones. 
Benefit 2: Enhanced Skills
Although any time of year is a great time to develop your skills and prepare for new career opportunities on the horizon, summer can be particularly useful if you're in a field that generally takes a summer break, such as education. 
In addition to the usual added free time that comes from not having to go to work, this summer, may be a beneficial time to take some extra classes.
"Right now, with everything that's happening in education related to COVID-19, you have a lot of educators who are working outside their comfort zone to create meaningful learning opportunities for students in an online environment," explains Dr. Tony Farrell, chair of the Department of Education and Liberal Arts for the College of Arts and Sciences at the University of Arizona Global Campus. 
"In all honesty, I would say that this summer could be really crucial for folks in education to obtain some new skills or further their education in areas such as online education, curriculum or instructional design. All the things that could have a tangible impact in the way they approach education students in the fall."
This can translate into enrolling to get a master's or doctorate or simply taking a relevant course or two as a non-degree seeking student. Either way, you'll find it easier to set yourself apart and possibly get an edge in your career by deepening your knowledge in your field. 
Benefit 3: Career Trajectory
With the enhanced skill set you can build while going to school in the summer, you will be closer to earning your degree and could have more highly desirable skills.
Although she acknowledges COVID-19 has created some uncertainty in the job market, the University of Arizona Global Campus Director of Career and Alumni Services, Grace Williamson explains that recruiting traditionally slows down during the summer months, which can make it an extra beneficial time to take classes. 
"Recruiters are looking to find the best-qualified candidates for the positions they are trying to fill," says Williamson. "Anytime a student can take time off to participate in an activity that enhances their academic learning or professional experience; it can shorten the amount of time it takes for students to achieve their personal career goals."
For those considering enrolling in college for the first time (or after a long hiatus), Williamson offers some timely career advice:
"There are so many obstacles to finding the right time to go back to school. If circumstances have allowed that now those obstacles are removed — maybe you don't have to go to work every day, you're at home, or your employment has been impacted by COVID-19 — and you're trying to determine next steps, this may be the perfect time to enroll in school and re-engineer your career."
Benefit 4: Stay Sharp Mentally
Ever heard of "summer slide"? Some people call it "brain drain" or "summer learning loss" and it refers to the way students tend to forget some of what they learned when school isn't in session for an extended period of time. 
Although it's been studied more extensively amongst students K-12, research indicates that while grade-schoolers may lose two or more months of reading and math skills during the summer, that loss is magnified even more at higher grade levels. 
For adult learners, staying in school throughout the year isn't the only way to beat the summer slide, but you may find it helps to stay in the habit of studying. It's said to take approximately 66 days to break a habit, which means taking a full three-month break (90+ days) might make it extra difficult for you to get back into school mode.
"Learning and putting new knowledge into practice each week in class is a habit you get into when you are a student at the University of Arizona Global Campus," explains the UAGC Faculty Support and Development Manager, Kate Johnson. "In order to perform at your peak level, you need to keep working those muscles that challenge you intellectually and require you to explore new subjects and apply new theories."
If you do end up taking time off in the summer, know that your first class back may feel a little more demanding.
"If you take a break, you may find that staying focused while reading, expanding upon new subjects in discussion forums, and writing academically is much more challenging when you return because your brain is not in peak shape," says Johnson. 
However, with practice, you will get better as a student.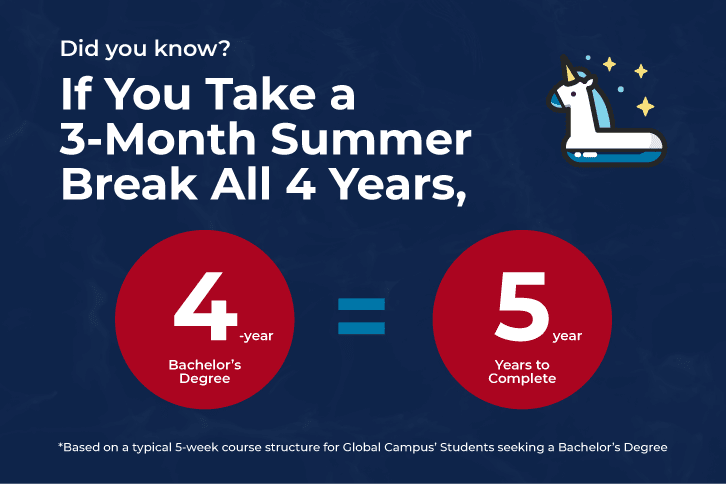 Should You Take Time Off from School in the Summer?
There's no doubt that continuing classes without a break will get you to the finish line faster. 
Despite the benefits of going to school in the summer — whether you already are a Global Campus student or considering starting college in the summer — the idea of taking some time off (or waiting to start school in the fall) still might be tempting. 
If you feel like you need some time to recalibrate in the summer, you wouldn't be alone. 76% of people who complete their bachelor's degree take at least one extended break from college.
"Regardless of the time of year, sometimes it can be beneficial to take a break to avoid burnout, recharge, and regain focus on achieving your career goals," says Williamson.
For Global Campus students earning a bachelor's degree via the typical 5-week course structure, bear in mind that taking a full three months off during your freshman, sophomore, junior, and senior years will set back your expected graduation date by an entire year. 
Much like anything else, taking time off has its own sets of pros and cons.
"First, taking a break can be a disadvantage, and it can be very difficult for you to transition back to studies," warns Williamson, adding that this should be considered heavily before choosing to put a pause on or delaying your studies in the summer.
"If the time off is not used purposefully, students may find returning to complete their degree more challenging, and they may also risk losing their academic momentum," Williamson says.
Summer 2020 has its own challenges and issues to factor into the equation of deciding what to do about school. With the COVID-19 pandemic currently taking place throughout the world and rising unemployment, students may have added incentive to complete their degrees as fast as possible. Conversely, others mentally may need some time off to readjust to the changes and disruptions the effects of this pandemic have caused in many households. 
Williamson suggests trying a mini-break if you feel like you need some time off, but not taking the entire summer off.
"The wonderful thing about the University of Arizona Global Campus is that we offer weekly class starts, making it easy for students to take a short break and transition back into taking classes quickly," explains Williamson. For some classes, this can be as short as one week off between your studies, although a three-week break is the standard for many.
As Williamson notes, however, it all goes back to the impact taking a break can have on the probability that you will return to school.
"When students are struggling academically and decide to take a break, the break is more likely to remain permanent," she warns.
Note: Taking a break longer than 14 days may mean you are dropped from your program due to attendance requirements, so it's crucial to contact your academic advisor if you're considering a break of 14-45 days in order to get the appropriate approvals on file to remain in your program.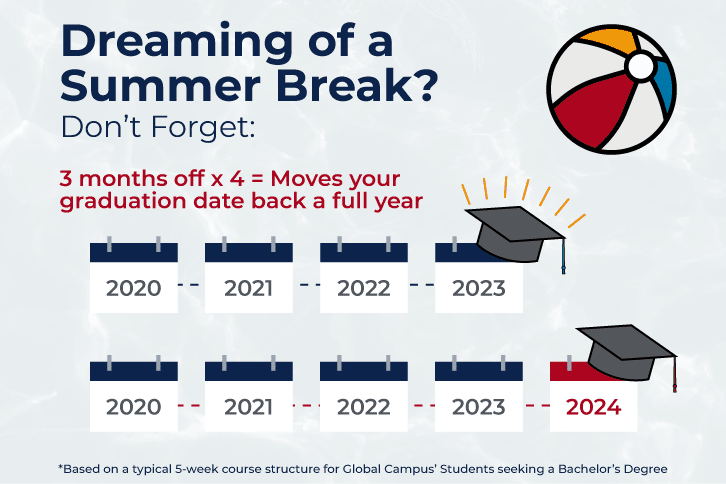 Williamson also cautions students to review their financial aid and student loan status as well. "If they have loans that are in a deferred status from a previous degree or the current degree they are pursuing, they may need to begin paying back those loans while on break. Having to make those loan payments may bring added stress and make it harder to transition back to the classroom."
As someone who returned to school as a working adult later in life, Dr. Farrell acknowledges that his path was similar to that of many UAGC students. 
"When I went back, I was making sure to put my goals out front and continue to knock out courses," he explains. "To me, that three-month period during summer was just another time during my path toward completing my goals." 
One thing he stresses for students who are considering a break is to make sure they do their research first and understand the pros and cons before they make their decision.
"If you are going to take a break, be sure you have a plan," he suggests. "Don't simply think to yourself, 'I'll come back when I'm ready.'" 
Is Summer School Right for You?
If you're wondering if going to school in the summer is worth it because you feel that you've been floundering or that life circumstances have affected your academic performance, it's crucial to reach out for support. The University of Arizona Global Campus offers a wide array of services to help students succeed. You never know which one could most benefit your situation until you reach out. 
"We are all invested in our students and want them to succeed," says Dr. Farrell. "We want to be able to shake their hands at graduation (or maybe elbow bump) when they've finally reached their goals."
Here are some critical resources to help you succeed as an online college student at the University of Arizona Global Campus:
1. Advisor Support Team – Includes your student advisor and financial aid advice. This is where you should turn to first if you're considering taking a break between your classes.
2. Office of Student Access and Wellness – Fosters equal opportunities to student success, advocacy, and support for students with disabilities and chronic health conditions.
3. Your Academic Support Team – This includes your instructors, the University of Arizona Global Campus Library  (open 24/7!), and paper and assignment support through the University of Arizona Global Campus Writing Center.
4. New Student Resource Guide – If you're a new student at the University of Arizona Global Campus, begin here to make sure you have everything you need for a successful start in your journey.
5. CHAMPS Peer Mentoring – Connect with a high-achieving student or alumni who can help you develop as a student and encourage you to do your best.
6. Career Services Support Team  – Whether you're still a student or a graduate ready to move up the corporate ladder, you'll find the guidance and resources you need on your job search.
7. Student Advocate HELPline – If you are dealing with suicidal thoughts, domestic violence, homelessness, or other hardships, please email [email protected] to connect with a Student Advocate ASAP or call 911 if you feel your life is in immediate danger.
If you are still wondering if going to school in the summer is worth it, reach out to an advisor today and find out how Global Campus can help you reach your goals.
--
Written by University Staff