One of the great benefits adult learners enjoy at the University of Arizona Global Campus is the ability to apply a lifetime of professional experience to the classroom, adding valuable perspective and wisdom to daily discussions. However, if you are an adult learner returning to school to earn a bachelor's degree you shouldn't have to re-learn something you already know.
That's why UAGC designed the Experiential Learning Credit (ELC) Workshop.
The ELC Workshop is one of several ways students can earn non-traditional college credit for work/life experience. 
"It's a way to meet the needs of our students in a new and different way," notes Vice President, University Registrar Katie Scheie.
How the ELC Workshop Works
The ELC Workshop is designed for students who come from professional backgrounds and veteran workers who want to earn a bachelor's degree in a familiar field. Rather than having to take a five-week course, you're given an opportunity to write a detailed experiential essay for credit toward your degree program. There is a one-time $275 access fee to join the ELC Workshop. This fee includes one essay submission and a $125 fee for subsequent essay submissions.
Once you have been approved for the workshop, you'll work your way through a series of five self-paced learning modules before beginning your essay on the course you have identified. For example, if you're a human resources professional who is returning to school for your bachelor's degree in Human Resources Management, you may have already mastered the lessons of BUS 303 Human Resource Management. This introductory course covers current standards and practices in HR as well as communication, motivation, and management practices – all of which may be a part of your day-to-day workflow. 
After identifying BUS 303 as your chosen course, you will begin the first module by working with the UAGC Prior Learning Assessment team to highlight the professional experience that you feel you are qualified to write about. From there, each module will guide you through the creative process.
Throughout the essay writing process, you will learn how to maximize the benefits of UAGC resources such as the Writing Center and Grammarly to ensure your essay meets all of the standards of a traditional research paper. 
"The modules are not about how to write your essay," Scheie says. "They're about the content needed in the essay."  
In other words, your essay needs to demonstrate your knowledge of the learning outcomes for your course.
The Approval Process
Once you're finished with the five modules and you have completed your essay, you will send it to your student advisor, and it will go through the UAGC Prior Learning Assessment team for approval by a faculty member. 
If your essay meets all of the conditions outlined in the ELC Workshop, you will earn three (3) non-traditional credits toward your bachelor's degree, and you can cross that course (BUS 303 in this hypothetical scenario) off your list of those needed in order to graduate.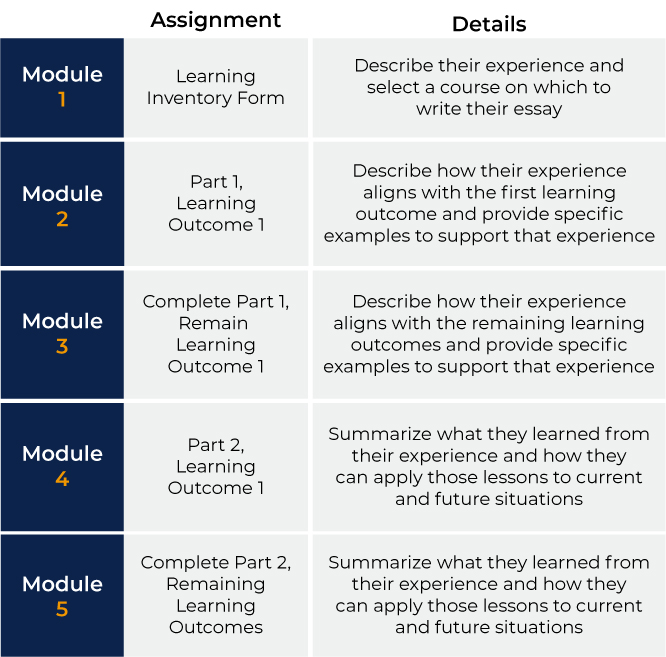 Once you have gone through the ELC Workshop once, you can submit as many essays as you want without repeating the workshop. That means you can work with your student advisor to identify additional courses within your degree program and potentially earn up to 75 non-traditional credits by writing essays that effectively showcase your professional experience and knowledge of the course material. However, it should be noted that students are only allowed to write essays that speak to learning outcomes in core courses, not electives. 
To get started, speak to your advisor about your interest in the workshop. Then, sign up for the Experiential Learning Credit Workshop in the PLA Information Center on your Student Portal, or send an email to [email protected].