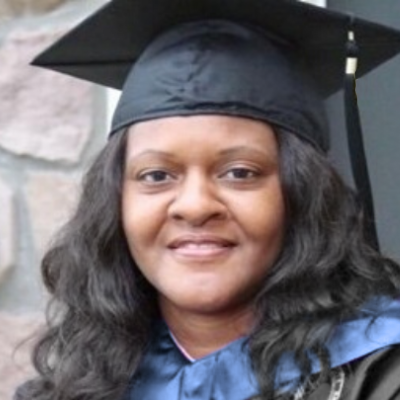 Shantay Marsh Thompson
2015
BA in Health Care Administration
2017
MA in Health Care Administration
Biography
Tenacity is a word that's been used to describe Ashford University* students, and as Shantay Marsh Thompson proves, it's not a word that's thrown around lightly. After all, she is on a path to earn her third Ashford degree.
The Alabama native first entered school in 2012 with the goal of using her Bachelor of Arts in Health Care Administration to advance her career in what's become one of America's fastest-growing industries. Yet she never anticipated that an illness would change her plans. Unfortunately, Fibromyalgia, coupled with chronic back pain, would force her to leave her job and threaten to sideline her college dreams when she only had one year left until graduation.
Undaunted, Shantay continued with her studies, and though her condition meant she could not work, Ashford's flexible online format made it possible for her to finish her degree in 2015. 
"My life experience has been challenging," she says. "My accomplishments have been returning to school and getting my degrees."
Wanting to learn as much as possible during her recovery, and to be an inspiration to her children, Shantay decided to re-enroll at Ashford less than one year after earning her bachelor's degree. This time, she would take the next step and enroll in the Master of Arts in Health Care Administration degree program. The graduate program would build upon the foundation of medical knowledge she learned while earning her bachelor's degree, while classes on managerial perspectives would prepare her for a management role in the industry. 
Along the way, Shantay was able to receive support from the Office of Student Access and Wellness. The office provides assistance for students with disabilities, such as mobility challenges or visual and hearing impairments to ensure that every student receives the education that he or she deserves. 
"I was happy that Ashford had accommodations for me," she says. "This kept me from quitting school." 
Shantay's master's degree could have been the final step in her academic journey, but in 2018 she decided to challenge herself once more, and enrolled in Ashford's Master of Arts in Psychology program.  Though she'd already completed a master's degree, having a second one in psychology would diversify her resume and make her marketable to a wider array of employers, she says. 
"I have learned a lot, and when I am able to work again, I will have my degrees to fall back on," Shantay.
In the meantime, she's already networking among fellow students in three Ashford honor societies: Golden Key International Honour Society, which reserves membership only for students with a 3.7 or higher GPA; Tau Upsilon Alpha Honor Society, which admits high-achieving students in Ashford's College of Health, Human Services, and Science; and Delta Alpha Pi International Honor Society, which is open and eligible to students with disabilities.  
Prior to her illness, Shantay performed administrative duties at a medical facility in the city of Citronelle. Her bosses, however, also wanted her to fill in as an endoscopy technician, a role that she wasn't academically qualified to perform, and one for which she was not paid. A college degree, she says, would give her the skills necessary to do the job.
Once she graduates – for the third time – and is ready to return to work, Shantay will be prepared for anything. None of her success would have been possible without her tenacity, and now she's got the degrees to prove it.
"Ashford's faculty and staff are the best, and I truly believe I have received a quality education," she says.
* Ashford University is now the University of Arizona Global Campus