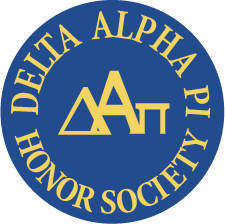 Welcome to the Gamma Upsilon chapter of Delta Alpha Pi International (DAPi) at the University of Arizona Global Campus! DAPi is an academic honor society for students with disabilities attending colleges and universities. Delta Alpha Pi Honor Society presents an opportunity to recognize students with disabilities for their academic accomplishments.
Inductees
History
Purpose
Meaning
Membership Criteria
Member Privileges
Contact Info
Inductees
Ashley Alexander Singer
Cayden Barcavage
Elizabeth Braswell
Sheenika Campbell
Yesika Cazares Rosas
Janelle Collins
Adetola Daniel
Misty Fronczak
Rhonda Gilbert
Patricia Goff
Justine Hill
Brett Humphry
Michelle Jackson
Emily Johnson
Michael Johnson
Shari King
Christopher Krcelic
Dyna Krigbaum
Rebecca Llewellyn
Vennesa Macias
Carrie Matthews
Hailey McGaw
Sheryl McGinnis
Michael Mcvay
Janise McWilliams
Kayla Moore
Erin Motter
Deborah Muldrow-ONeal
Maya Porras
John Reisler
Brenda Rentas
Belen Roman
Latisha Rue
Markeshia Shaw
Shayna Siano
Joseph Sklenar-heitzenrater
Sheredith Tebbs
Julia Thollaug
Rechancia Thomas
Dwain Trent
Synitta Walker
Brandy Washington Nelson
Melissa Weikel
Alexis White
Mary Williams
Sabrina Willis
Debra Woods
Kerem Zaragoza

Ruth Albert
Malcolm Allen
Jacquelyn Bell
Shawnee Blaylock
Heather Brown
Taylor Brown
Cameron Burnette
Rachel Cornelio
Berlyn Daniel
Felicha Early
Lynse Eby
Dorothy El
Sharlene Gaffney
Cassandra Groves
Georgette GuthrieBowes
Tammie Hamilton
Olivia Hicks
Kathy Hinton
Mary Howard
Jennifer Howard-Jones
Darlene Hutcheson
Amy Jimenez
Victoria Johnson
Jaclyn Joyce
Yanick Kendall
Karina Kendrick
Patricia King
Jazmine Ledesma
Katrina Mack
Lisa Manescu
Raelyn Marshall
James McCloskey
Luisa Mendez
Santanna Moody
Michael Moreland
Michael Noble
Kellie Pulliam
Alyssa Ratkowski
Erica Ritchie
Elaine Roble
Bertha Rojas-Carrillo
Ashley Roper
Luke schlaeger
LaTonya Singletary
Bonny Smith
Taylor Sobodash
Candace Striebeck
Cynthia Tate
Ebony Trahan
Jeremy Tyler
Colby Van Wagoner
Joey Velasquez
Claressa Willett
Yvonne Williams
Victoria Williams
Teedra Wilson

Shenequia Abby
Alva Aguilera
Schylar Aiello
Miranda Allen
Heather Alvarez
Stephanie Bartra
Kelsey Blank
Alva Bohall
Tanika Bradford
Jamie Brandon
Jason Burger
Manfred Carew
Sarah Carson
Cynthia Carter
Jamie Coleman
April Coleman
Andrew Collins
Rose Cook-Kinmond
Cassandra Cyr
April Donaldson
LaToyia Duncan
Paula Ewing
Jasmine Farkas
Jenneffer Figueroa
Lena Finley
Jamie Fitch
Jennifer Gaines
Kiara Harper
Harmony Hartung
Dominique Hawthorne
Jessika Hoffman
Dontressa Horton
Cassandra Hovde
Kimberly Huey
Ashley Humble
Bethelehem Jimma
Brenda Kyle
Christa Mackey
Courtney Marker
Christina Martinez
Cheryl Meyer
Brittany Miller
Nicole Minnis
Luna Mirabal
Emili Moreland
Janein Murray
Jamie Nink
Eli Ontiveros Gonzalez
Helen Ortiz
Daniel Paine
Jessie Parker II
Sandy Payano
Marlene Perez
Caleb Powell
Shannon Powell
Mariela Quinteros-Vargas
Monica Roberts
Michelle Roberts-Stark
Toni Ronchetti
Stephanie Ruggles
Elizabeth Samuel
Tiwanna Sanders
Melanie Schmucker
Jacqueline Seldon
Erica Simonson
Dhiraj Singh
Maria Slone
Meagan Smith
David Stanway
Abbie Stillman
Shelley Strambler
Shana Swain
Celeiam Tate
Zarifah Thompson
Heather Tremaine
Loretta Turner-Butler
Monique Valdez
Shirley Vanduyn
Christina Walton
Allison Weber
Jennifer White
Christy Williams
Mordestia York

Melissa Andrade
Lynn Arrand
Roderick Arrant
Latrice Austin
Amber Beldock
Charlotte Bocian
Katherine Bolinski
Shannida Botello
Melissa Bourque
Pamela Brewer
Kimberly Brown
Linda Cleven
Karen Collier
Tiffany Disbrow
Rhonda Duren Muhammad
Christine Gambardello
Anastacia Gonzalez
Ivan Gutierrez
Sherrie Hall
Dennis Justiniani
Shari Kern
Kallee Kiertzner
Heather MacIntyre
Angel Martinez
Gracie Miner
Betty Muirhead
Damian Nash
Raechel Parrett
Ariona Reliford
Brenda Salazar
Keya Seymore
Serina Siano
Zakeenah Smith
Nikk Van Atter
Stacy Vanorden
Demencia Vargas-Ortega
Cecelia Williams

Melissa Andrade
Lynn Arrand
Roderick Arrant
Latrice Austin
Amber Beldock
Charlotte Bocian
Katherine Bolinski
Shannida Botello
Melissa Bourque
Pamela Brewer
Kimberly Brown
Linda Cleven
Karen Collier
Tiffany Disbrow
Rhonda Duren Muhammad
Christine Gambardello
Ivan Gutierrez
Sherrie Hall
Dennis Justiniani
Shari Kern
Kallee Kiertzner
Heather MacIntyre
Angel Martinez
Gracie Miner
Betty Muirhead
Damian Nash
Raechel Parrett
Ariona Reliford
Cassie Rideaux
Brenda Salazar
Keya Seymore
Serina Siano
Zakeenah Smith
Nikk Van Atter
Stacy Vanorden
Demencia Vargas-Ortega
Cecelia Williams

Sandra Allison
Ryan Apolinario
Jessie Bardill
Julia Bardsley
Shaquana Benjamin
Sharita Bingham
Erin Bordelon
Brenda Caulder-Salters
Olivia Ceja
Catarina Chinn
Kaitlyn Connolly
Kayla Crago
Johana Crudup
Kayleigh Cyr
Denise Czado
Codie Davis
Ericka Dees
Emily Drummond
Amanda Duffy
Shannon Engelhardt
Alissa Fernandez
Hadness Fontenot
Jessica Francis
Latonya Franklin
Jack Garren
Brianna Gillaspie
Kristen Goertemiller
Amy Goodwin
Shelia Hamilton
Jill Hughes
Patricia Hughes-Pace
Nicole Jacamel
Austin Jones
Charlene Jones
Teresa Keay
Emerson Leos
Kelsha Lipscomb
Maria Lizardo-Gomez
James London
Brittany Luna
Barbara Martin
Althea McQuarters
Miray Mongeon
Lisa Mongiovi
Eboni Moss
Elizabeth Muniz
Tiffany Neely
Tracy Oskerson
Arlene Pais
Misty Price
Sandra Quintanilla
Tailer Ramirez
Leslie Ramirez
Danielle Rice
Nilzara Rivera
Nafiza Rosario
Candace Rowell
Dellora Rushing
Ashley Shults
Allison Sikorski
Troy Simons
Marilina Smith
Caleb Smith
Kimberly Starling
Deborah Terrell
Misty Walker
Kionna Watkins
Amy Wilson
Cricket Wilson
Jamie Wilson
Stacy Wiseman
Kelly Wolf
Julie Wright-Locke
Rebecka Youngblood

Colten Angellotti
Kelsey Babbitt
Samantha Barnett
Dominick Barrett
Brie-Anne Bauer
Haywood Baugh
Melanie Becker
Michole Berbick
Cynthia Boggerty
Tara Bostic
Patricia Brehm
Lynita Brown
Sharonda Bruton
Kim Carpenter
Dean Carter
Justin Carter
Tiffany Castillo
Rachael Claiborne
Camille Conley
Bertha Covington
Brittany Cravin
Andrew Dauchy
Elaine Davis
Melaney Dees
Brenda DeLoach
Tamara Drapeau
Tasheka Dykstra
Ronnie Eddings
Tina Ellis
Jennile Ernest
Lynnze Carpenter Feeney
Ramona Blackwell Fielding
Andrea Frisby
Joshua Fuller
Milton Fullwood Jr
Kristen Gelpi-Griffin
Marilyn Gentilly
Lisa Gonzalez
Nicole Green
Monique Gresham
Justin Hall
Mary Jane Harris
Amy Hernandez
Jenna Hindenburg
Brandy Hoelscher
Sabrina Johnson
Suzanne Kellner-Zinck
Janet Kitchens
Amanda Knapp
Deborah Koffler
Janelle Laford
Annette Lancaster
Constance Lynch
Michelle Mandich
Dawn Marez
Jennifer Marsh
Theresa Matthews
Catherine McGhee
Michelyn Meadows
Viria Mendez
Elijah Miles
Shayla Morton
Virginia Navarrete
Shondeleena Nillaga
Sandra Norton
Crestcencia Ortiz-Barnett
Myesha Pinkston
Cristina Powers
Ranna Quimby
Ariel Rapoza
Sonia Reed
Anthony Roberson
Katiesue Robinson
Chasitiy Roca
Marisol Rodriguez
Maria Salazar-Islas
Edith Sanchez
Sharrelga Sanders
Loni Shaw
Bambi Smith
Cortney Smith
Tye Smith
Marsha Stafford
Cheryl Stallard
Julie Taylor
Jennifer Taylor
Cynthia Torres
Gary Trautmann
Lisa Trevino
Michelle Tryon
Arley Volanti
Heather Wade
Ashley Watkins
Lizzie Watson
Demetrius West
Detrese Woolfolk
Kristie Worden

Heidi Ancar
Tristen Andrew
David Barnes
Karen Beland
Jenny-jo Bell
Emmanuel Booth
Bonnie Briggs
LaTonya Butler
Vicky Caldwell
Ileene Cardonne
Susan Carriere
Betty Carroll
Tolanda Carroll
Rayza Ortiz Cruz
Amy Dalton
Darlene Dowdy
Chandi Duran
Michelle Fitzgerald
Tiffany Fleming
Pamela Florence
Sheree Fryar
Tatijana Fugate
Avion-Olympia Garner
Ginger Gates-Munkers
Manonia Glass
Mary Goshay
Jennifer Gregorio
Elisa Gutierrez
Kathleen Halcom
Charlesha Hampton
Gena Hazelton
Christopher Held
Brittney Hill
Jennifer Hill
Terry Holyoak
Erin Saint James
Shyra Jones
Kelvin Jones, I
Alicia Jordan
Latoya Kelly
Kristen Kucera
Shawna Lathan
Patricia Lawrence
Jeanne Lizama
Aimee Mallory
Brenda Marlo
Cleo McDonald
Gwendonya Mcuin
Cecilia Mendoza
Barbara Mitchell
John Murdock
Monique Niblet
Jennifer O'Shay
Pablo Olvera
Stacy Ortega
Corey Palmer
Darlene Parker
Lisa Pavlovicz
Elois Phillips
Rhonda Pipkin
Karen Prince
Jose Quinones
Rosanne Randall
Mary Randolph
Charity Renfroe
Arraud Reynolds
Stacie Robinson
Miguel Rosario
Kayona Rowe
Damian Salazar
Edward Scholl
Anastajia Silvia
Christina Simonelli
Julia Simpson
Jeremy Smith
Deborah Smith
Anna Stalnaker
Hannah Stefanov
Veronica Stewart
Kimberlee Uejo
Jessica Van Horn
Kelly Vickers
Jessica Wagner
Delia Wallace
Jacob Warren
Ruth Zollinger

Barbara Mason
Barbara Mcgee
Bethany Grams
Bre McGeachy
Carol Ray
Cassandra Littleton
Chandra Hollins
Christina Clinton
Cilia Trejos
Clare Hart
Courtney Buford
Cynthia Johnson
Daphne Wright
Dawn Hardin
Debra LaFever
Dena Siegert
Denise Wilson
Dorothy Coleman
Evelin Morales
Francean Kennedy
Grey Hardy
Jaime Patterson
Jared Lang
Jasmine Bryant
Jennifer Brannock
Jennifer Johnston
Jennifer Navarro
Joseph Gonzalez
Judy Tullier
Kathryn Folds
Kim-Berly Kinnischtzke
Krissa Westbrook
Kristine Lopez
Lacey Conner
Lakesha Stallworth
Laura Belter
Leatha McClure
Lisa Reid
Maegan Dotterer
Melinda Regules-Machuca
Moraya Muritala
Nannette McIntyre
Nathan Howard
Octavia Baker
Olivia Griffin
Patricia Hedges
Phillip Bock
Priscilla Lofton
Rayvonda Parson
Rebbecca Martin
Richard Wiersma
Segonia Cameron
Shelton Milner
Steven Gaines
Sunshine Vilardi
Tammera Jarrell
Tosha Langston
Victor Kee
Violet Kashewa
Whitney Griffin

Adriane Rodriguez
Alana Ayres
Alisha Gneco
Amanda Damasiewicz
Ashley Horton
Ashley Kirwan
Ashley Wilson
Barbara Rathbone
Barrett Kahl
Beverly Diaab
Brian Washington
Bridget Hormann
Bridget Sheets
Cameron Fields
Cara-Shay Forgenie
Carolyn Walker
Carolyn Williams
Cassie Ruetz
Chantay Converson-Haywood
Chardeni Shelton
Cheryl Connell
Daniel Saguin
Deborah Ransom
Dianna Allison
Elindia Marczewski
Elizabeth Giles
Elizabeth Parlett
Franca Sperling-Jacox
Gabrielle Ferro
Gerald Grubbs
Iris Zamora
Isabella McCullogh
Jamie Johnson
Jeanette Perez
Jessica Farrell
Johnnisha Miles
Krystina Meyer
Lashonda Church
Linda Burch
Margie Martinez
Martia Miskel
Melissa Horton
Michael Conaway
Monya Sherman
Myra Torrence
Nichole Wesson
Nicole Allmond
Patricia Lowe
Patricia Parkes
Peggy Dirk
Rebecca Cannon
Rebekah Hardy
Robyn Lowry
Rosa Macias
Sean Beyel
Shamora Mitchell
Shana Mcmillan
Sharon Climato
Shuvonda Clark
Timothy Henry
Uvette Dowdell
William Perez Jr
Yuliam Rivero

Robin Boisseau
Eleiren Bowen
Gina Cataldo
Megan Cheffy
Rachael Claiborne
Lisa Clark
Tamanieka Clayton
Natherlene Collins
Melissa Cooper
Jennifer Cuyler
Kandie Dennis
Katina Donaldson
Christopher Donnell
Brianna Forgey
Mia Foster
Robert Foster
Randi Furlong
Shannon Gentry
Lynette Gray
Michelle Hardy
Brittney Hayes
Krystal Henrichs
Jennifer Herrington
Melissa Howe
Cynthia Hunter
Melanie Johnston
Susan Jolly
Sasha Kendrick
Annie Kirkley
Heidi Lashley
Trevica Lewis
Michael Lynn
Doreen McKnight
Angela Mercier
Trishonda Miles
Jennifer Neu
Jo Ann Nichols
Tiffany Owens
Yvonne Roche
Amy Rodriguez
Rebecca Rusnak
Ronald Smith Jr.
Percy Smith
Sidney Snyder
Christina Squire
William Stoddard
Monique Tedder
Marty Walton
Hunter Watson
Deja Williams
Danielle Wilson
Jeri Wilson
Dominique Worthington

Stephanie Allen
Brenda Bruhn
Michele Cameron
Laura Daggett
LaNeisa Davis
Shellane Demarest
Lani Jensen
Angela Jones
David Leon
Traci Lorimer
Teresita Manongdo
Deborah Pavich
Eugenia Richards
Geanene Schilling
Tiffany Benavides
Peggy Calhoun
Amanda Fagan
Shannon Fulcher
Enoe Gonzalez
Cathy Grier
Trucee Kelly
Kelly Ann MacDougal
Denise Martin
Christina McCord
Suzette Meyer
Ayana Michael
Cody Miller
James Piatt Sr
Renee Shores
Latina West
Mark Brady
Laurel Cato
Falana Cosby
Donna Douglas
Virginia Driggers
Joyce Lynn
Misty McNeill
Rachel Scholl
Beverly Stonum
Karen Suddeth
Rosina Thomas
Shantay Thompson
Desha Waller
Robin Young
Brittany Nixon
Sherene Graham
Chad Skidmore
Kimberly Bertges
Danielle Eckes
Laura Ebare
Lisa Burns
Destiny Marina
Deanna Poindexter
Sharon Davis
Veronica Flores
Lynda Hadsell
Julie Kasner
Jennifer Pluff
Heather Trumbore
Monica Jemison
Kellie Brown
Lynnette Eddins
Courtney Evans
Betany West
Terri Miller
Cytina Milner
Keisha McNeal
Tonya Hall

Pamela Bedford
Tamaran Bender
Lavoris Dorsey
Krista Hay
Brandi Hess
Chinauwa Howard
Charity Jeffery
Candace Kimble-Johnson
Reanna Peterson
Lisa Puffenbarger
Margaret Rabicki
Eileen Spetz
Krista Stump
Tammy Swenson
Caleb Taratuta
Alexandra Tennison
Linda Tipler
Terese White
Chandice Young
Kendra Craft
Mary Eaton
Gloria Gagliardi
Gerri Hiersche
Zenia Jones
Dominique Lazo-Johnson
Darlene Murray
Keri Rose
Wolf Stanley
Alexis Taylor
Stacy Upton
Kayla Waddell
Catherine Clowers
April Corona
Andrea Dick
Alexandra Fisher
Kassandra Heglund
Amanda Nolan
Derrick Rose
Robert Thomas
Takisha Verdin
Stephanie Burns
Lindsay Hamburg
Diana Kirkland
Joyce Kirkland
Brandon Simmons
Zenovia Bryant
Kimberly Niebel
Valerie Smith
Scott Davis
Heidianne Dewar
Brandy Martin
John Trentacosta
Lee Imperiale
Karen Kroon
Cheryl Reese
Jonathan Elliott
Kristi Miller
Alexandra McCallister
Kirstie Parish
Eden Otlewski
Gina Ruscigno-Collins
Michael Dyer
Angela Richardson
Adam Tidwell
Andrea Petrucci
Tennille Wilkins

Donna Alvarez
Kimberly Armstrong
Ariel Austin
Lisa Auton
Nicole Balke
James Barnett
April Buchanan Butler
John Crippen
Anthony Davis
Katie Earnest
Judy Fahle
Matthew Hetrick
Erica Jones
Brandi Lewis
Jaime Lewis
Deanna Maldonado
John Metts
Catherine Miller
Dana Patterson
Crystal Poling
Cheryl Riga
Lina Rizk
Michelle Simmons
Sherri Steward
Carmela Warren
Rashida Barnes
Joseph Champlin, Sr.
Stephen Cox
Dwayne Darling
Phyllis Deese
Bobbie Garvin
Pamela Gonzales
April Gracyk
Alexandra Hennig
Joanne Herring
Dorothy Jackson-Wright
Tamika Lipscomb
Dawn Meredith
Keri Siegel
Shawn Trujillo, Sr.
Jennifer Weichers
Marlana White
Angela Williams
Sharon Carson
Brittany Coleman
Shanta Fisher
Amy Hargis
Atanya Hassan
Crystal Jackson
Jennifer Johnson
Reginald Lawrence
Virginia Lietzke
Garry Mortensen
Barbara Nahle
Catherine Perkins
Patricia Pierce
Joanne Pike
Katherine Rosenhammer
Dawn Sites
Fonda Smith
Jamie Spencer
Kyle Thelen
Daniel Whitten
Dineen Wodicka
Beverly Yates-Tese
Torie Santos
Victoria Schultz
Lillian Wilkins-McMoore
Natalie Bermea
Arlett Woods
Deborah OConnor
Mary LaVaque
Amber Lewin
Tracie Ritchey
Michael Gray
Jessica Bethune
Stephanie Callier
Teresa Campbell
Natasha Crowley
Shavonne Hayes
Jamye Perry Scott
Regina Tucker
Yvonne Armstrong
Angel Cole
Taylor Fink
Amy Kearney
Carmen Lozada-Anker
Brenda McNeely
Alayne Santiago
Audrey Muratore
Leonard Edwards
Paula Jay
Tonia Santee
Edna Canty
Ikeda Barrett
Deborah OConnor
Manijeh Mohebaliyan
Clifford Smith
Shawn Trujillo, Sr.
Ariel Austin
Teralyn Johnson
Morrison Tracy, III
Marlana White
Dana Patterson
Nicole Balke
Jaime Lewis
Alexandra Hennig
Tonia Santee
Katie Earnest
Cheryl Riga
Erica Jones
Anthony Davis
Jamie Spencer
Dawn Meredith
Lillian Wilkins-McMoore
Catherine Perkins
Teresa Campbell
Atanya Hassan
Tamika Lipscomb
Dorothy Jackson-Wright
Mary LaVaque
Jamye Perry Scott
Teralyn Johnson
Arlett Woods
Matthew Hetrick
Shawn Trujillo, Sr.
Catherine Miller
Katie Earnest
Clifford Smith
Audrey Muratore
Manijeh Mohebaliyan
Jessica Bethune
Teresa Campbell
Kyle Thelen
Morrison Tracy, III
Erica Jones
Tonia Santee
Ikeda Barrett
Matthew Hetrick
Bobbie Garvin
Jessica Bethune
Audrey Muratore
Anthony Davis
Garry Mortensen
Erica Jones
Victoria Schultz
Matthew Hetrick
Dwayne Darling
Barbara Nahle
Catherine Miller
Manijeh Mohebaliyan
Patricia Pierce
Anthony Davis
Tonia Santee
Angel Cole
Paula Jay
Brandi Lewis
Carmen Lozada-Anker
Dawn Meredith
Sherri Steward
Kyle Thelen
Marlana White

Linda Diaz
James Dooling
Reginald Elaban
Susie Farkas
Shanika Humphrey-Battee
James Ingalls
Jeanine Kelley
Helen Kreiser
Andrew Lambert
Veronica Malone
Stacey Meisinger
Ashley Moore Cruz
Violet Murrill
Marcos Ortiz
Nashali Pietri
Krystal Pipkin
Joan Quintal
Tonitta Sanders-Love
Amy Shepard
Valerie Silva
Heidi Simmons
Marilyn Smith
Ananda Sykes
James Thicksten
Cara Warren
Laurence Watkins
Deanna Watson
Jason Watts
Deidre Zeh-Rahk
Danielle Buettner
Evelyn Callison
John Casillas
Elizabeth Cirko
Bobbie Cochrane
Jodi Crosby
Megan Defenbaugh
Dylan Emery
Ricardo Fogel
Megan Gregory
Dee Hall
Kimberly Hammonds
Raphael Holmes
Frances Joe
Selenia Jones
Rene Kicklighter
Ryan Koryciak
Annette Lancaster
Teddra McNeill
Richard Merkert
Valerie Moran
Theresa Morgan
Joseph Naszke
Faith Oglesby
Sylvia Owens
Preston Ragland
Brenda Rouse
Joseph Rowe
Patricia Saucier
Tina Sawyer
Richard Smith
Abigail Snow
Tina Tapia
Shelly Thompson
Ravyn Violette
Judy Wieber
Latasha Wilks
Amanda Williams
Teresa Brasaemle
William Ford
Stephani Marlow
Olivia Rastello
Candice Taylor
April Burdine
Kelly Smith
Darrin Bush
Tiffany Byrd
Timothy Berry
Shasta Morales
India Trapp
Danylle Langoski
Nicole Plott
Natasha Unland
Jaymie Perez
Ashley Lucente
Angela Milton
Laura Preston
Antoinette Carter
Yaxaira Rodriguez
Roberta Vaught
Nicole Altadonna
Steven Lizardi
Robin Satterwhite
Rosemary Randol
Tracy Dilling
Cheri Fleming
Holly Haire
Rataucha Heard
Willie Paranal
Leah Taube
Esther Bakeberg
Jennifer Massey
Sarah Hawks
Alice Melton
Kristin Porter

John Adderly, Sr.
Philesia Allen
Braulio Almonte
Melinda Anders
Kathryn Anderson
Karen Antonelli-White
Melissa Arnold
DeAnn Bartley
Sarah Bean
Jennifer Becker
Dustin Beckley
Sarah Burch
Linda Cash
Ellen Chavez
Jessica Chavez
Debra Crawford
Suzet Crawford
Alicia Crenshaw
Lori Crutchfield
Kathy Cuthbert
Robin Dinger
Diana Dobie-Snober
Donna Douglass
Grace Durbin
Shawn Elam
Angela Everett
Anne Fischer
Debra Fowler-Mills
Maribel Franco
Dale Fundak
Victoria Gaudette
Shameka Gilbert
Rebecca Giles
Rebecca Gilman
Tracy Gilmore
Shakia Gordon Hutt
Harry Greene
James Guggenheim II
Lisa Halyard
Heather Harding
Debra Harris
Sallie Harris
Christopher Harvey
Ann Hendrickson
Angelia Henson
Helen Hill
Jermica Hood
Brandy Horton
Shatia Howard
Tammy Jenkins-Carr
Cumbledmda Johnson
Jeanne Johnson
Lorri Johnson
Cassandra Jones
Justin Jones
Kywan Jones
Sandra LaMasa
Sheila Larson
Erica Lawson
Latasha Lee
Cynthia Lorette
Lauralee Mahoney
Shelby Martindale
Irma Martinez
Lisa Mathews
Robert Maxson
Argenia McCray
Jennifer Mcgee
Tina McNear
Latricia Miller
Laura Miller
Latoyoa Monroe
Heather Moore
William Morrow
Mary Mosher
Lydia Mulcare Harris
Tamylin Nesmith
Jon Newman
Julia Noalis
Jennifer Norton
Leesha Nush
Monica Ochoa
Tiffani Pearson
Lynsey Peterson
Jimmy Phillips Jr
Robin Phillips
Thomas Poon
Angela Primiano
Christina Rester
Jennifer Robbins
Loretta Roberts
Simone Rohan
Richard Rowland, Jr.
Jennifer Seamans
Nicholas Skaggs
Dianalyn Slavin
Jenna Sobelman
Matthew Spagnuolo
Colleen Spahn
Sabrina Stewart
Brandi Stump
Derek Summers
Kimberly Swauger
Vera Tabb
Elton Thomas
Leslie Thomas
Rita Tong
Jamie Torrigino
Diane Tripp
Vanessa Troth
Roy Turnwall
Sherry Tynan
Jennifer Vargas
Adrienne Wanless
Carla Williams
Kenyatta Williams
Tanyau Williams
Christina Worl
Arthur Worthington
Benjamin Young

April Adams
Patricia Adkins
Sharron Akers
Rmzey Allen
Heidi Ancar
Angela Andre
Tiffani Arnold
Judith Atkinson
Teri Aubin
Kathey Austin
Brian Barker
David Barnes
Angela Begovac
Karen Beland
Jenny Bell
Katherine Berry
Lynette Berry
Gina Black
Desiray Bland
Bonita Bligh
Susan Bluett
Melinda Blunk
Margaret Boardman
Debra Bolin
Cynthia Bradley
Penny Britton
Lauren Marie Brown
Nadira Brown
Rochelle Buckingham
Bradley Cade
Mary Cade
Darnell Campbell
Carroll Canfield
George Canney
Daveta Chapman
Yolanda Cherry-Nelson-Brown
Gazala Chhapgar
Heather Clark
Sandra Clark-West
Theresa Cline
Connie Closure-Corbin
Susan Cobas
Patricia Coleman
Sara Collier-Byrd
Kirk Collins
Terri Cooper
Lisa Copley
Christopher Corbin
Sandra Corder
Christa Couch
Sidney Crouch
Michael Cuellar
Tamika Culpepper
Julie Davis
Nathania Davis
Susan Davis
Brandy Day
Michelle Day
Kimberly Dees
Matthew Devlin
Shalea Dixon
Frances Donofrio
Louanne Dufour
Sharon Dumbleton
Kendra Durham
Alexis Ellis
Sarita Ellis
Vanda Ferreira
Teresa Fleming
Dominick Floyd
Gloria Forbes
Janet Forest
Ashley Franks
Jill Freebairn
Lincoya Freeman-Lindsey
Regina Gagnon
Andrew Garber
Venus Garcia
Rebecca Garner
Lisa Gattone
Tiffiny Germann
Kimberly Gilbert
Gina Giombetti
Kelly Goodman
Caledonia Gordon
Tina Graham
Lee Ann Grandpre
James Greathouse
Krista Griffin Bullard
Teresa Hales
Robert Hall, Sr.
Daniela Harmon
Christina Hartman
Charlene Heck
Tamela Hedgpeth
Jennifer Hicks
Angela Hilton
Latisha Hinton
Audrey Hodges
Kim Hogue-Mccord
Shawna Hopkins
Juliann Horvath
Susan Hubbart
Kimberly Huett
Amber Irwin-Michiels
Natene Jackson
Sharon Jackson
Heather Jacobs
Monica Jenkins
Roch Jimenez
Frances Johnson
Tammies Johnson
Arless Jordan
Margarita Jorge
Patricia Judware
Kai Kafferly
Charity Keith
Jenna Kendall
Ashley King
Brenda King
Amy Kirby
Tyrone Kirk
Jennifer Kirkpatrick
Michoelina Kloppenburg
Patrick Knebel
Lois Knoke
Sue Kozarevich
Katherine Krause
Kourtlyn Krottinger
Tia Laflesh
Crystal Lamb
David Lane
Sylvia Lanier
Julia Laughlin
Aaron Leasure
Vania Lemus
Christopher Lipps
Mary Lupardus
Kimberly Mandava
LisAnn Marcum
Susan Marley
Sara Mayer
Melissa Mcclinnis
Heather McCoy
Erika McDowell
Crystal McFarland
Sean Mcglynn
Denise Meares
Susan Middleton
Kathleen Mills
Michael Mingus
Lamanda Moore-Garcia
Vanessa Morasky
Caridad Morgan
Maryam Moulds
Joann Mumaw
Lori Newman
Juanita Nielsen
Robin Norman
Lori Null
Sara O'neill
Natasha Orsini
Debra Page
Debra Pamperin
Kimberly Paris
Jill Paulson
Lisa Payton
Corinne Perkins
Michael Peterson
Jo-Ann Petosa
Jacquelyn Petrovic
Cynthia Poe-Pitcher
James Powell
Stephen Ramsey
Ellie Faith Renfro
Stacie Reske
Keta Rinne
Katherine Rios
Brenda Roberts
John Roberts
Debra Robertson
S G Robinson
Sheila Robison
Allyson Rocha
Angelique Romano
Gabrielle Rounsaville
Sharon Rucker
Linda Runyon
Carlese Russell
Linda Russell
Dawnmarie Sampson
Janie Sanbower
Michele Sanders
Elizabeth Schimmel
Jennie Settles
Dawn Shepherd
Shenique Shine
Kenneth Sigler
Joseph Simmons
Lauren Slade-Harrison
Gloria Slezak
Karen Smith
Mark Smith
Nicole Smith
Sarah Smith
Sylvia Smith
Heidi Stanley
Carol Staron
Angela Sturgill
Margaret Surratt
Francine Sweet
Thomas Swope, Jr.
Claudine Szczepaniak
Jaclyn Taylor
Stephanie Taylor
Maria Tensley
Joyce Terry
Doris Thomas
Elizabeth Thompson
Ronda Thompson
Mark Vaughn
Mary Vinson
Catherine Vivi
Elizabeth Walker
Nathaniel Wallace
Melanie Ward
Joseph Warren
Tracy Wassman
Vincent Webb, Sr.
Kimberly Webber
Sherry Webster
Autumn Weiss
Cindy Wells
Lisa White
Debra Wiarek
Tamara Wilhite
Juanita Wilkinson
April Williams
Cynthia Williams
Cynthia Wilson
Charles Wing, Jr.
Kelly Wolf
Amber Worley
Susan Worth
Jason Wright
Michael Yalch
Tracy Zellous
Roy Zenon, Jr.
History
The University of Arizona Global Campus provides accessible, affordable, innovative, high-quality learning opportunities and degree programs that meet the diverse needs of individuals pursuing integrity in their lives, professions, and communities. The University of Arizona Global Campus' Office of Student Access and Wellness fosters equal opportunities to student success through accessible educational programs, disability-related advocacy, faculty and staff education, and an enhanced awareness of individual abilities and contributions. We are committed to an environment that respects and values diversity and encourages self-advocacy and self-determination. As a result of our work with students, we see the impact of the negative stereotyping associated with disability, specifically that students with disabilities may be reluctant to identify themselves publicly resulting in limited access to educational opportunities. Additionally, this reluctance diminishes opportunities for successful students with disabilities to share their stories, inspire others, and positively impact societal stereotypes. Delta Alpha Pi International Honor Society presents an opportunity to change that perception by recognizing students with disabilities for their academic accomplishments and the University of Arizona Global Campus is thrilled to have the opportunity to partner in supporting its eligible students toward that end.
Purpose
Because of the negative stereotyping associated with disability, students have been reluctant to identify themselves publicly.
DAPi Honor Society presents an opportunity to change that perception by recognizing students with disabilities for their academic accomplishments.
In addition, this honor society facilitates the development of skills in leadership, advocacy, and education for participating students.
Meaning
The three Greek letters have specific meaning.
Delta – D for Disability, but also the triangle, symbol of strength. Members of Delta Alpha Pi Honor Society demonstrate strength as leaders on campus to help break down the barriers of negativism. Also, they serve as mentors and role models for other students with disabilities.
Alpha – A stands for Achievement. Alpha is the beginning, and academic achievement must come first. But A also stands for advocacy because students must advocate for themselves before they can advocate for others. Members of Delta Alpha Pi Honor Society enhance advocacy skills for themselves and for the rights of all individuals with disabilities to be included fully in society.
Pi – P represents Pride, pride in academic achievement and in other accomplishments, not just as students with disabilities, but as members of the university community. Pi is a mathematical symbol that we learned to use in elementary arithmetic classes. So Pi is an appropriate symbol for education. Members of Delta Alpha Pi Honor Society participate in activities designed to educate the community and society regarding disability issues and the need to apply the principles of universal design in learning.
Members of Delta Alpha Pi Honor Society participate in activities designed to educate the community and society regarding disability issues and the need to apply the principles of universal design in learning. Members of Delta Alpha Pi Honor Society work for an "aDAPtable" world.
Membership Criteria
Membership in Delta Alpha Pi Honor Society is by invitation only and open to all eligible University of Arizona Global Campus students. To qualify for membership in Delta Alpha Pi, students must meet the following criteria as of January 1 and July 1:
Be a student with a documented disability through the Office of Student Access and Wellness.
Demonstrate an interest in disability issues.
Be an undergraduate student currently enrolled and have completed a minimum of 24 credits with a minimum GPA of 3.10, OR
Be a graduate student currently enrolled and have completed 18 credits of graduate coursework with a minimum GPA of 3.30.
Member Privileges
Delta Alpha Pi International Honor Society offers members valuable opportunities for individual growth through leadership, advocacy, and education. In addition, any Delta Alpha Pi member who participates in the University of Arizona Global Campus in -person commencement ceremony will be distinguished by Delta Alpha Pi regalia in the form of Honor Cords.
Contact Information
For general inquiries [email protected]
Nikki Huber, Student Access and Wellness Counselor
Delta Alpha Pi Advisor
[email protected]
Questions? Request More Information