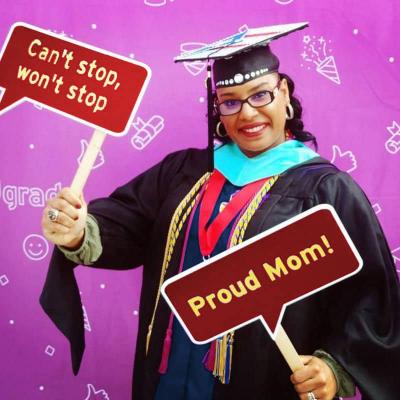 Renata C. Franklin
2018
MA in Special Education
2019
MA in Special Education
Biography
Renata C. Franklin never let outside opinions or obstacles get in the way of what she describes as a "burning desire" to pursue higher education.
"I wasn't encouraged by anyone, but that nagging feeling stayed in the back of my mind and would not go away until I made a conscious decision to take school seriously," she says.
The 12-year Army veteran explored several academic options before ultimately finding the right fit with Ashford University* in September 2015.
Initially, Renata says she wanted to prove to herself that she could do it.
The proof came in spades. Renata soon found herself on the dean's list and was ultimately invited to join various honor societies, including SALUTE Veterans National Honor Society, Golden Key International Honour Society, and Alpha Sigma Lambda. In 2018, armed with a newfound confidence and a BA in communication studies, she continued to push herself.
Inspired by her middle daughter, who was diagnosed in 2010 as autistic with a speech delay, Renata enrolled in the master's degree program in special education. Determined as ever, she received her master's in just one year.
"My journey became more focused and blossomed into a career ambition," she says.
While studying at Ashford, Renata relied on ambition to carry her through some of the more challenging moments. 
"Online schooling is not for the faint of heart," she insists. "This path takes determination and the desire to succeed. You have to motivate yourself to complete tasks." 
Renata motivated herself to make what she says were necessary "mental alterations" in order to receive constructive criticism from professors. 
"I had a chip on my shoulder," she says. "That feeling eventually subsided, and I stopped looking at criticism as a bad thing. It helped me grow into a better student."
Renata credits several instructors for providing guidance that pushed her to strive for more. 
"Their feedback just made me want to give my all, plus some," she says. "They made me feel like they expected me to be great."
Renata also says several resources helped her throughout her studies, including the Ashford Writing Center, Career Services, Student Access and Wellness, and Ashford Library.
"Using these services means the difference between 'good enough' and 'exceptional,'" she advises. 
In terms of career, Renata plans to get the most out of her education, describing the skills she relied upon to finish each course as "desirable and necessary in the workforce." Using these skills, she recently interviewed for and accepted a position teaching** special education. 
"The professional world is really starting to take notice of us online students," says Renata. "They know we are a self-driven group of people."
That drive continues to propel Renata, who now wants to achieve her doctorate and make a difference in her field. 
In addition to her new role, she also volunteers as a Peer Parent Mentor with Texas Parent to Parent and works with families of children who have disabilities or chronic illness. 
Renata hopes her journey will inspire other women looking to build a better future for themselves and their families and offers the following words of advice to those who follow in her footsteps:
"Earning an Ashford degree, in regards to life-altering experiences, is ranked right up there with marriage and becoming a mother," she says. "It will be so worth your time to experience walking across that stage. You will have days when you want to give up. You have to find the strength in yourself to keep going. Pray and praise your way through the storm. Those moments mold you into the professional you are destined to be." 
* Ashford University is now the University of Arizona Global Campus
** Certification and Licensure Terms and Conditions: An online degree from the University of Arizona Global Campus does not lead to immediate teacher licensure in any state. If you want to become a classroom teacher, contact your state's education authorities prior to enrolling at the University of Arizona Global Campus to determine what state-specific requirements you must complete before obtaining your teacher's license. The University of Arizona Global Campus graduates will be subject to additional requirements on a state-by-state basis that will include one or more of the following: student teaching or practicum experience, additional coursework, additional testing, or, if the state requires a specific type of degree to seek alternative certification, earning an additional degree. None of the University of Arizona Global Campus's online education programs are accredited by the Council for the Accreditation of Educator Preparation (CAEP), which is a requirement for certification in some states. Other factors, such as a student's criminal history, may prevent an applicant from obtaining licensure or employment in this field of study. All prospective students are advised to visit the Education Resource Organizations Directory (EROD) and to contact the licensing body of the state where they are licensed or intend to obtain licensure to verify that these courses qualify for teacher certification, endorsement, and/or salary benefits in that state prior to enrolling. Prospective students are also advised to regularly review the state's policies and procedures relating to licensure as those policies are subject to change.