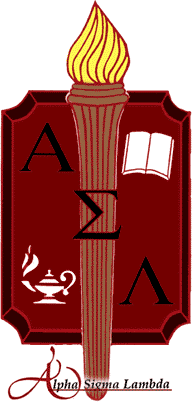 Welcome to the Alpha Lambda chapter of Alpha Sigma Lambda at the University of Arizona Global Campus! Alpha Sigma Lambda is an honor society that partners with colleges and universities to celebrate the scholarship and leadership of adult students in higher education. If you're an online student, you deserve recognition for your academic achievements and contributions. Look to Alpha Sigma Lambda as an inspiration for continuing scholastic growth and to build pride through recognition.
Inductees
Janita Aalto
Michelle Aaron
Kimberly Abad
Michelle Abadie
Alan Abadie
Christian Abary
John Abatecola
Jeanette Abbas
Braden Abbey
Michelle Abbott
Lorie Abbott
Christine Abbott
Sharon Abbott
Jeffrey Abbott Jr.
Balkissa Abdoulaye
Marwa Abduljawad
Samantha Abdulla
James Abdulla
Muna Abdullah
Muhammad Abdullah
Ali Abdullah
Yasmin Abdul-Qadir
Aziza AbdusShaheed
Emily Abeel
Tonya Abel
David Abell
Arlen Abella
Alexandra Aberle
Courtney Abernatha
Robert Abernathy
Rosemary Abisia
Leia Able
Michael Ables
Bessie Abner
David Aboytes
Patricia Abramowicz
Jessica Abrams
Nessia Abrams
Sayuri Abreu
Aaron Christian Abreu
Makayla Abrigo
Annissa Abston
Melissa Abts
Omar Abual-Eis
Rola Abualhassan
Ajina Abu-Bakr
Tamara Aburish
Miguel Acevedo
Linda Acevedo
Micaella Acevedo
Maria Acevedo
Erica Acierno
Danielle Acker
Jennifer Acker
Kristine Ackeret
Deanne Ackley
Edward Ackley
Christine Acosta
Kristhyna Acosta
Rebekah Acosta
Richard Acosta II
Kelly Acree
Barry Acton
Cynthia Acuff
Debra Acuff
Jeremiah Adam
Janet Adam
Sierra Adami-Koll
Brandon Adams
April Adams
Teresa Adams
Brandon Adams
Elizabeth Adams
Tekiley Adams
Ann Adams
Cindy Adams
Maria Adams
Justin Adams
Michelle Adams
Regina Adams
Jason Adams
Benjamin Adams
Kirsten Adams
Heath Adams
Mikki Adams
Valencia Adams
Kimberly Adams
Katrina Adams
Naomi Adams
Mary Adams
Kelli Adams
Megan Adams
Robert Adams
Sheila Adams
Teresa Adams
Lisa Adams
Lee Adams
Angela Adams
Mendy Adams
Victoria Adams
Brandon Adams
Janie Adams
Crystalyn Adams
Donna Adams
Beverly Adams
Rechena Adams
Katie Adams
Whitney Adams
Brittany Adams
Stephanie Adams
Amber Adamson
Marina Adamson
Stephen Adams-Smith
Brandee Adcock
Tim Adcock
John Adderly
Terry Addington
April Addington
Jessica Addison
Candice Addison
Valerie Adegoke
Lydia Adeleke
Adeola Adeyemi
Gregory Adgers
Sajana Adhikari
Georgina Adjei
Amber Adkins
Patricia Adkins
Della Adkins
Jeremy Adkins
Kimberly Adkins
Michelle Adler
Phyllis Adler
Alafia Adman
Meghan Adolphsen
Matthew Aeschlimann
Buck Afalava
Alicia Affeld
Brandon Afonso
Susana Agapie
Angelique Agee
Alexis Aggazio
Alan Aggson
Joseph Agnew
Kay-Dee Agonoy
Jillian Agosta
Aurora Agostini
Barbara Agron
Arnie Agsaoay
Brittany Aguayo
Stacy Aguiar
Jose Aguilar
Aimee Aguilar
Moises Aguilar
Jennifer Aguilar
Crystal Aguilar
Debra Aguilar
Theresa Aguilar
Dinorah Aguilar
Cynthia Aguirre
Mara Aguirre
Tyson Aguirre
Mabel Aguirrechu
Serwa Agyeman
Jerry Ahanobi
Ronald Ahlstrom
Samia Ahmed
Kathleen Ahmed
Abdulrehman Ahmed
Maggie Ahrens-Nichols
Regina Ahtes
Royal Aidala
James Aiello
Adam Aiello
Ariel Aiken
Doreen Aiken
Ramonia Aites
Bryan Aitken
Gwenn Aits
Grace Aiyegbokiki
Isaac Ajayi
Yvette Akau
Bob Ake
Sharron Akers
Samantha Akers
John Akers
Michelle Akey
Shawn Akey
Kristin Akin
Adenike Akinbiodun
Sabrina Akins
Jennie Akins
Jeannine Akiyama
Katherine Akland
Aminah-Ture Al Amin
Jasmina Alagic
John Alam, Sr.
Shae Alamo
Mysti Al-Amro
Jennifer Alaniz
Hwaida Alasas
Dominic Alati Jr
Mercedes Albanez
Nicole Albanez-Ferreira
Avis Albee
George Albero
Dawn Albers
Jessica Albert
Nadine Albertelli
Sherrie Albertie
Nisha Alberty
Christy Albillar
Ashley Albney
Alan Albo
Jason Albrecht
Cynthia Albrecht
Terry Albright
Mary Albright
Crystal Albright
Rebecca Alby
Oscar Alcala
Mayra Alcantar
Cynthia Alcantar
Jeremy Alcon
Christine Isabel Alcordo
Mirella Aldaba
Necita Jennifer Aldan
Lydia Aldana
Manuel Aldava
Jared Alday
Cynthia Aldridge
Sarah Aldridge
Tiffany Aldridge
Laura Aldridge
Mayura Alegre
Jesus Alejandre
Anita Alejandro
Karla Aleman
Anna Aleman-Scaife
Elleni Alemu
Mercede Alexander
Ashley Alexander
Karen Alexander
Rebecca Alexander
Robyn Alexander
Ernest Alexander
Felecia Alexander
Taletha Alexander
Timothy Alexander
Bruce Alexander
Melissa Alexander
Lisa Alexander
Boston Alexander
Emily Alexander
Suzanne Alexander
Timothy Alexander
Jamie Alexander
Melissa Alexander
Julrene Alexander Hughes
David Alfaro
Luis Alfaro
Benjamin Alfonso
Erick Alfonso
Andrew Alfonso
Denise Alford
Keith Algeo
Khadijah Ali
Yvette Ali
Eman Ali
Vivian Alianell
Angeliz Alicea
Dennise Alicea-Lopez
Cameron Alipour
Adrian Alireza
Melissa Allaband
Aramide Allah
Apryl Allamong
Jennifer Allas
Michael Allbee
Brenda Allbee
Baylie Allegro
Mckenzie Allely
Jonathon Allen
Koreen Allen
Nicole Allen
Lashonda Allen
Danielle Allen
James Allen
Sharon Allen
Tiffany Allen
Ruth Allen
April Allen
Carol Allen
Peter Allen
Melissa Allen
Steven Allen
Jacqueline Allen
George Spencer Allen
Antoinette Allen
Derrick Allen
Bobbi Allen
Keric Allen
Janessa Allen
Scott Allen
Tina Allen
Stas Allen
Carmen Allen
Christina Allen
Jackson Allen
Pamela Allen
Lynn Allen
Regina Allen
Kimbali Allen
Deborah Allen
Yolanda Allen
Clifford Allen
John Allen
Jennifer Allen
Melissa Allen
Clinton Allen
Christi Allen
Kerry-Ann Allen
Christine Allen
Toshiba Allen
Gregory Allen
Tiffany Allen
Elizabeth Allen
Tiffany Allen
Freddy Allen
Ashley Allen
Andrea Allen
Latonya Allen
James Allen
Nanette Allen-Bisgaard
Patricia Allende
Stephanie Allen-Potupchik
Stephanie Alley
Mark Alley
Jessica Alley
Rachel Alleyne
Jessica Allison
Pamela Allison
Danielle Allison
Christopher Allison
Krystal Allison
Nicole Allmond
Mary Allnutt
Allyson Allo
Donald Alloway
Matthew Allred
Samantha Allred
Aj'a Alls
Thomas Almaguer Jr
Samantha Almeida
Leanne Almon
Braulio Almonte
Nathalie Almonte Nunez
Anthony Alo
Alonso Alonso
Amanda Alonso
Kortney Alonso
Giuseppa Alonzo
Savannah Alphin-McPhink
Kristina Alsobrooks
Leann Alsop
Dion Alston
Matthew Alston
Brittney Alston
Dorothy Alston
Erik Alston
Nancy Alston
Nicole Altadonna
Robert Altenbernd
Dawn Altenburg
Toni Altenburg
Jillian Alteri
Christopher Alteri
Jennifer Altherr
Jennifer Althof
Wayne Altig
DeAndra Altimus
Stephanie Altland
David Altman
Bryan Alvarado
Alexis Alvarado
Katharine Alvarado
Canelita Alvarado
Miranda Alvarado
George Alvarado
Ricardo Alvarado
Miguel Alvarado
David Alvarado
Norma Alvarenga
Jose Alvarenga Sanchez
Robert Alvarez
Donnie Alvarez
Joanna Alvarez
Jenny Alvarez
Amy Alvarez
Angelo Alvarez
Evangeline Alvarez
Raymond Alvarez
Carlos Alvarez
Melinda Alvarez
Manuel Alvarez Jr
Avigail Alvelo
Kassandra Alverio
Esperanza Alvillar
Anthony Alvo
Dusty Alynn
Evergreen Am
Kathleen Amabile
Mary Amacker
Gracie Amador
Michael Amador
Hamenyimana Amandine
Scarlet Amaro
Nicole Amato
Solibella Amaya
Alberto Ambriz Delgado
Christopher Ambro
John Ambrosius
Mary Ambrosy
Monica Americano
Quantavious Amey
Benjamin Amice
Erin Amirkhiz
Lynda Ammons
Gwendolyn Ammons
Bradley Amo
Michael Amorose
Adrieanne Amos
Adrienne Amos
Olivia Amosun
Rhema Amous
Taara Amrine
Benjamin Amrine
Heather Amstutz
Bridgette Amy
Oluchi Anaele-Dibia
Dave Anand
Brittany Anastase
Kimberly Anastasi
Cynthia Anaya
Heidi Ancar
Lee Ancona
Lisa Anctil
Erin Anders
Melinda Anders
Alyssa Anders
Katherine Anderson
Heather Anderson
Keshun Anderson
Paul Anderson
Adam Anderson
Kristin Anderson
Heidi Anderson
Michele Anderson
Ryan Anderson
Rebecca Anderson
Ashley Anderson
Travis Anderson
Jessica Anderson
Geoffrey Anderson
Erica Anderson
Jimmie Anderson
Janice Anderson
Theresa Anderson
Rani Anderson
John Anderson
Melissa Anderson
Jess Anderson
Cody Anderson
Jennifer Anderson
Brittany Anderson
Lacey Anderson
Christopher Anderson
Shannon Anderson
Ashley Anderson
Christopher Anderson
Rotashia Anderson
Elizabeth Anderson
Brittney Anderson
Kathryn Anderson
Katie Anderson
Chad Anderson
Jamie Anderson
Gloria Anderson
Stacy Anderson
Chandra Anderson
Dorothy Anderson
Michele Anderson
Penny Anderson
Daniel Anderson
Anja Anderson
Krista Anderson
Malissa Anderson
Kristina Anderson
Holly Anderson
Kelly Anderson
MJ Anderson
Angela Anderson
Janet Anderson
Tiffany Anderson
Kameena Anderson
Bruce Anderson
Carl Anderson
Staci Anderson
Debra Anderson
Julia Anderson
Douglas Anderson
Tracy Anderson
Brittany Anderson
Meghan Anderson
Dawn Anderson
Cynthia Anderson
Samantha Anderson
Kristin Anderson
Teresa Anderson
Jessica Anderson
Melissa Anderson
John Anderson
Cathy Anderson Perez
Michael Andrade
Tammy Andrade
Jose Andrade Cuevas
Patricia Andre
Kayli Andre
Saundra Andre'
Sidney Andreasen
Ryan Andreasen
Saniford Andree
Larissa Andres
Lina Andres
Barbara Andress
Michelle Andrew
David Andrews
Jennifer Andrews
Matthew Andrews
Desirre Andrews
Eric Andrews
Jessica Andrews
Dawn Andrews
Brittany Andrews
Marlene Andrews
Tamieka Andrews
Stephanie Andrews
Shawn Andrews
Tracey Andrews
James Andrews
Jennifer Andrews
Natira Andrews
Shavon Andrews
Paul Andrews
Jeanelle Andrews
Kelvin Andrews
Aaliyah Andrews
Sidney Andrews Jr.
Tashina Andrus
Jason Andula
Candice Anella
Dayansky Anez
Johnathan Angarone
Alex Angell
Alysia Angell
Jillian Angello
Rebecca Angelo
Rebecca Anglin
Michael Anglin
Sharon Angove
Jenny Angst
Jean Anicetti
Kathleen Anich
Kimberly Anis
Kara Ankeney
Amy Ankeny
Antoinette Annani-Akollor Austin
David Ansley
Michael Ansley
Magaly Anteola
Benjamin Antes
Cassandra Anthony
Shawntay Anthony
Cheryl Anthony
Courtney Anthony
David Anthony
Kenneth Anthony
Jeffery Antichevich
Luke Antin
Melissa Antizzo
James Anton
Anthony Antonangeli
Tereza Anyan
Madisyn Anzelone
Karina Aparicio
Denise Aparo
Andrea Aplin
David Apodaca
Robert Aponte
Dwayne Aponte
Debra Apple
Tracey Applegate
John Appleton
Marshakie Applewhite
Amberlie Applewhite
Stanley Applewhite
Chris Aquila
April Aquino
Nyel Aquino
Dawn Arabie
Jose Aragon
Matt Aragon
Lucas Aragon
Zachary Aragon
Corey Aranaydo
Margarita Aranegui-Lindsey
Sarie Arar
Lee Arbach
Iliana Arbelo
Kara Arbogast
Elsie Arbogast
Kayla Arbuckle
Candace Arcade
Lesley Carole Arcala
Henry Archbold
Christine Archer
Peggy Jo Archer
Kimothee Archer
Jason Archer
Nancy Archibald
Michael Archibald
Margaret Archuleta
Tammy Archuleta
Geralyn Arcieri
Gina Ardissoni
Eleonor Arehart
Beth Arel
Vanessa Arellano
Joshua Arellano
Tania Arenas briseno
Jenna Arends
Jasmine Arevalo
Jennifer Arevalo
Malania Arezzi
Tammy Arfmann
Joseph Argen
Margaret Argento
Armando Argiz
Cori Arguellez
Yasmin Arias
Elizabeth Arketa
Kelly Arlington
Anthony Armand
Stephanie Armel
Jamie Armendariz
Jorge Armendariz
Bianca Armenta
Anna Louise Armes
Bruce Armes
Bianca Armijo
Leslie Armijo
Andrea Armile
Cynthia Armistead
Kristin Armistead
Reina Armold
Donald Armond
Laurissa Armstead
Angela Armstead
Yvonne Armstrong
Corey Armstrong
Lorraine Armstrong
Dana Armstrong
Jessica Armstrong
Monique Armstrong
Diane Armstrong
Tammy Armstrong
Sheryl Armstrong
Betty Jo Armstrong
Shannon Armstrong
Jamie Armstrong
Jeffrey Armstrong
Adam Armstrong
Robert Armstrong
Pamela Armstrong
Mikela Armstrong
Sara Armstrong
Jennifer Armstrong
David Armstrong Jr
Jennifer Arnaud
Leif Arnesen
Lisa Arnett
Lynn Arnett
Heather Arnold
Tiffani Arnold
Rene Arnold
Kathy Arnold
Karin Arnold
Jessica Arnold
Shannon Arnold
Walter Arnold
Thomas Arnold
Carrie Arnold
Jennifer Arnold
Anne Arnold
Linley Arnold
Frances Arnold
Curtis Arnold
Kathleen Arnold
Christine Arnold
Kristi Arnot
Dena Arnote
Racha Arnous
Emily Arnwine
Marcella Aronson
Terissa Aronson
Kayla Arp
Lynn Arrand
Philip Arras
Michelle Arredondo
Linda Arredondo
Melanie Arreola
Eric Arrington
Carmen Arroyo
Rukhsana Arshad
Mary Arterberry
Violet Arthmann
Jamey Arthur
Andrea Arthur
Stephanie Artiaco
Carla Artis
Heidi Artley Hansen
Sherri Artrup
Cheryl Lynn Artugue
Elizabeth Aruja
Heather Arundel
Victor Arzola
Juliana Asamoah
Angela Asaro
Scott Asay
Story Asbell
Jenifer Asbell
Erica Asble
Valerie Ascencio
Lynne Aschenbrenner
Katherine Asel
Kelly Ash
Cherish Ash
Dawn Ashanti
Christopher Ashby
Aaron Ashby
Cynthia Ashby
Tammy Ashby
David Ashby
Sharon Ashcraft
Leanne Ashcraft
Sherry Ashe
Andrea Ashford
Laura Ashley
Walter Ashley
Richard Ashley
Melvin Ashley Jr
Mary Ashmore
Brandie Ashton
Joseph Ashwood
Ronald Ask Jr
Scott Askew
Lindsay Askin
Robert Aspinall
Anastasia Assianina
Baseem Astiphan
Jason Asuncion
Rachell Atchley
Andrea Atef
Brandy Ates
Noor Atighi
Fabiola Atilano
Brenda Atkerson
Janice Atkins
Joshua Atkins
Andrea Atkins
Steven Atkins
Paul Atkins
Teresa atkins
Jacqulyn Atkinson
Cinetitta Atkinson
Shannon Atkinson
Joel Atkinson
Austin Atkinson
Chrystal Atkinson
Kim Atkinson
Chelsea Atnip
Crystal Attardo
Jessica Attaway
Michael Attaway
Dani Atto
Andrew Atwater
Jennifer Auble
Cara Auble
Kristy Aubry
Ryan Aubuchon
April Audet
David Audette
Melissa Audilet
Doris Aught
Nichole Auguster
Mary Augustine
Leonard Auler
Stephen Aulino
Dolores Austin
Michael Austin
Stacy Austin
Melissa Austin
Jeannie Austin
Christopher Austin
Scotty Austin
Kayla Austin
Amber Austin
Tasha Austin
Donna Austin
Lee Austin
Joanne Austin
Jamiliah Austin-Graves
Troy Autin
William Autman
Faison Autrey
Kory Autrey
Jason Autry
Candace Autry
Anna Avalos
Ramon Avalos
Teresa Avant
Benjamin Avecilla
Christopher Avellino
Geovanny Avendano
Krystle Avens
Brian Averhart
Carlos Averhart
Rebecca Averill
Richard Averitt
Shannon Avery
Jennifer Avery
Tammy Avery
Julie Avery
Jennette Avery
Hayley Avgeres
Monica Avila
Ana Avila
Stephanie Aviles
Rowena Avillanoza
Esperanza Avina
Lauretta Avina
Daniel Avins
Michelle Avis
Robin Awalt
Evelyn Ayala
Cynthia Ayala
Jill Ayala
Alexandra Ayala Crespin
Jesus Ayaquica-Martinez
Laura Aycock
Marcos Ayende
Carly Ayers
Angela Ayers
Jonathan Ayers
Shakar Ayers
Ellen Ayers
Amber Ayers
Angela Ayers
Abalo Ayo
Alana Ayres
Tonya Ayris
Ismail Aytekin
Alexina Azotea

Susanne Baake
Stacey Baakko
Kelsey Babbitt
Thomas Babcock
Elizabeth Babcock
Richard Babcock III
James Babeckis
Joseph Babin
Joseph Babkiewicz
Leilanie Baca
Angela Baca
Patricia Bachus
Phyllis Back
Rebecca Back
Rebecca Back
Brea Backes
Sharon Backman
Kimberly Bacon
Kellie Bacon
Denise Bacon
Aaron Bacon
Angie Bacon
Nacole Bacon
Donna Bada
Cara Badalamenti
Shawna Badillo
Amanda Baehr
Angela Baer
Mark Baesch
Stephanie Baessler
Hector Baez
Kevin Baez
Katie Bafford Walker
Sharon Bagby
Krystin Baggerly
Grant Baggett
Melanie Baggett
Craig Bagley
Marla Bagley
Wayne Bagwell
Preston Bagwell
Kelsey Bagwell
Edward Bahr
Ladan Bahramnia
Brooke Baig
Chad Bailey
Candice Bailey
Teesha Bailey
Aura Bailey
Faith Bailey
Bradley Bailey
Gary Bailey
James Bailey
Ashley Bailey
Janette Bailey
Amy Bailey
Lauren Bailey
Travis Bailey
Jennifer Bailey
Julia Bailey
Quinton Bailey
Dara Bailey
Charmin Bailey
Beth Bailey-Keener
Kimberly Bailon
Brian Baim
David Bain
Kristy Bain
Scott Bain
LaRon Bainbridge
Meghan Baine
Amy Bains
Terri Baiocco
Alex Baird
Tiffany Baird
Dawn Baird
Kaycie Baird
Sajal Bajracharya
Amy Bakehouse
Martha Baker
Brady Baker
Brian Baker
Amy Baker
Melanie Baker
Deborah Baker
Anita Baker
Kevin Baker
Tiffany Baker
Stephen Baker
Teri Baker
Jennifer Baker
Allison Baker
Heather Baker
Margaret Baker
Belynda Baker
Jessica Baker
Wesley Baker
Corey Baker
James Baker
Anthony Baker
Jean Baker
Stephanie Baker
Patty Baker
Jonathan Baker
Holly Baker
Joshua Baker
Daryl Baker
Nichole Baker
Tamara Baker Edwards
Hassan Bakhshandeh
Britney Bakken
Joan Balagasay
Conrado Balbin
Wesley Balch
Suzanne Balch
Natalie Balderama
Sofia Balderas
Sergio Balderas
Melanie Balderrama
Mary Baldino
Kati Baldwin
Rahjohn Baldwin
Ryan Baldwin
Ronda Baldwin
Bradd Baldwin
Timothy Baldwin
Jason Baldwin
Courtney Baldwin
Joyce Baldwin
Mark Baldwin
Jason Bales
Todd Bales
Courtney Bales
Ivey Bales
Enza Balestrieri
Beth Balk
Dawn Ball
Nikole Ball
Rebecca Ball
Stephen Ball
Tonia Ball
Kathryn Ball
Mary Ball
Michael Ballance
Aaric Ballard
Tiffany Ballard
Kimberly Ballard
Shelly Ballard
Trisha Ballard
Dana Ballard
Scott Ballauer
Lora Ballengee
Kristina Ballenger
Sa'Kina Ballenger
Katrina Ballesteros
Ronald Ballesteros
Kathleen Balli
Raymond Ballou
Nicolle Ballou
Kristy Ballough
Jamie Ballowe
Jessica Ballweg
Lori Balog
Ann-Marie Balsamo
Marissa Balsamo
Jill Balthazar
Joseph Baltz
Kevin Baltzley
Samantha Bambino
Jamie Banaszewski
Maria Banderas
Bret Bandick
Peter Bandstra
Joshua Baney
Sara Bangura
Danielle Banks
Erika Banks
Novia Banks
LaRonda Banks
Carol Banks
Glenda Banks
Adrian Banks
Heidi Banks
Tenia Banks
Randy Banks
Jennifer Banner
Randi Banning
Courtney Bannister
Trevor Bannon
Leanna Bannon
Rebecca Banta
Stephanie Banting
Kristyna Baptista
Shemica Baptiste
Mackenzie Baquiran
Robin Bar
Shannon Baranski
Janet Barany
Ryan Barba
Jennifer Barbay
Chasidy Barber
Matthew Barber
Charlene Barber
Christian Barber
Eric Barber
Katherine Barber
Roland Barber III
Billy Barbier
Mark Barbieri
Christopher Barbieri
Richard Barbosa
Cora Barbour
Joshua Barbour
John Barcala-Felix
Marie Barclay
Susan Bare
Alissa Bare
Ruben Barela
Rodney Barfield
James Bargar
Alissa Bargesser
Kathleen Barhorst
Rina Barkai
Auldon Barker
Colby Barker
Susanne Barker
Jennifer Barker
Jaslynn Barker
Melissa Barker
Julia Barker
Dorlinda Barker
Sharon Barker
Jason Barkey
Donna Barkley
Quanisha Barkley
Ann Barley
Kathleen Barlow
Matthew Barna
Cynthia Barnard
Kimberly Barner
Michelle Barner
Brandi Barnes
Cynthia Barnes
Christopher Barnes
Pamela Barnes
Amy Barnes
Sherry Barnes
Tony Barnes
Hartley Barnes
Marlee Barnes
Stephanie Barnes
Kris Barnes
David Barnes
Raymond Barnes
Mark Barnes
Lorrie Barnes
James Barnes
Kesha Barnes
Cody Barnes
Shanda Barnes
Sarah Barnes
Nicholas Barnes
Tanya Barnes
Tomica Barnes
Glenn Barnes
Virginia Barnes-Salas
Robert Barnett
Jennifer Barnett
Marshall Barnett
Stacy Barnett
Erik Barnett
Shanta Barnett
Sarah Barnett
Sandra Barnett
Samantha Barnett
Stephanie Barnett
Tyler Barnett
Brian Barnett
Heike Barnett
Karlene Barnett
Teresa Barnett
Rhonda Barnett
Javoris Barnett
Trezure Barnett
Jennifer Barnette
Heather Barney
Shane Barney
Sydney Barnhart
Luke Barnhart
Jennifer Barnheart
Carrollyn Barnhouse
Jennifer Barnickel
Jose Barocio
Sherri Barone
Liia Barone
Ivan Baros
Jennifer Baros
Bridget Barr
Tanya Barr
Saranethia Barr
Michael Barr
Samuel Barra
Nicole Barrackman
Stacey Barraco-Polka
Savannah Barrandey
Patricia Barraza
Cynthia Barraza
Patricia Barrera
Roxana Barreras
Renee Barrese
Patrick Barrett
Jon Barrett
Brandi Barrett
Natasha Barrett
Thalia Barrett
Michael Barrett
Charles Barrett
Don Barrett
Erwin Barrientos
Nicole Barrier
Travis Barrino
Rodney Barrios
Milton Barrios
Binyamina Barrios
Tomas Barrios
Catherine Barron
Vashita Barron
Amanda Barron
Jacqueline Barron
Lisa Barros da Silva
Jesus Barroso
Sherwana Barrow
Christy Barrow
Scott Barrow
Denby Barrow
Ruston Barrowes
Larry Barry
Nicole Barry
John Barry
Clarence Barry
Deborah Barry
Aaron Barry
Janice Barstow
Ronald Barteau
Cherryl Barteau
Tammy Bartels
Heather Barth
Kaylee Barth
Fadeline Barthelemy
Julia Bartholomew
Amanda Bartlett
LaTerica Bartlett
Gilda Bartlett
Amanda Bartlett
Tammy Bartlett
Nancy Bartlett
April Bartlett
Corie Bartley
Lucia Bartoli
Catherine Bartolo
Daniel Bartolucci
Hilary Barton
Stacy Barton
Jackie Barton
DeAnn Barton
James Barton
Stephanie Bartra
Amy Bartram
Amber Barutcu
Neeli Barwick
Jocelyn Bascomb
Leon Bascue
Tamara Basham
Stacey Basham
Tina Basharel
Derek Bashaw
Lynn Bashline
Lani Bashor
Selby Basker
Courtney Baskwell
Jordan Basnight
Nancy Basoah-Scott
Cassandra Bass
Tammye Bass
Jeffrey Bass
Anthony Bassett
Michael Bassi
Latonya Bassia
Kellie Basso
Rachel Bastida
Kay Bate
Polly Bateman
Sarah Bates
Jennifer Bates
Christina Bates
Daniel Bates
Brian Bates
Justin Bates
Jessica Bath
Lacie Batovsky
Toshi Batteford
Colleen Batten
Kenneth Battersby
Brenda Battle
Jonique Battle
Terrell Battle
Sheila Battle
Crystal Battles
James Battles
Erica Batto
James Battocchio
Saundra Batts-East
Janette Bauchou
Mason Bauder
Christopher Baudo
Donna Baudoin
Barbara Bauer
Brie-Anne Bauer
Sarah Bauer
Rachel Bauer
Richard Bauer
Christina Bauer
Becky Bauer
Michael Baugh
Joseph Baugh
Haywood Baugh
Ashely Baugh
Lance Baughman
April Baughman
Jennifer Baughman
Matthew Baughn
Amanda Baum
Lori Bauman
Shanease Bauman-Caldwell
Calvin Baumann
Jennifer Baumbach
Whitney Baumgartner
Carolyn Baun
Tygen Bausman
Teresa Bautista
Jennifir Bautista
Charles Baxley Jr
Atabia Baxter
Kristy Baxter
Anthony Baxter
Jeremy Bayer
Jeremy Bayer
Holly Bayle
Haleigh Bayles
Deborah Bayliss
Rochelle Baylor
Machelle Bayne
Steven Bayne
LISA BAYONNE
Kristen Bays
Alicia Bayse
Jennifer Baysinger
John Bayudan
Mary Bazal
Dana Bazaldua
Anyaielle Bazile-Adams
David Bazinet
Karen Beabout
David Beach
Beverly Beach-Goebel
Jeremy Beachy
Brandy Beachy
Frances Beadles
Jacquelyn Beagan
Brett Beagley
Christine Beaird
Tracy Beal
Kimber Beal
Olha Beal
Heather Beal
Robin Beale
Chelsi Beale
Chassity Beals
Colleen Beals
Zachariah Beaman
Marcie Beamer
Kevin Bean
Sarah Bean
Jaazmine Bean
Christina Bean
Karin Bean
Leslie Bean
Lauren Bean
Emery Beard
Angela Beard
Andrea Beard
Heather Bearden
Jane Bearer
Dale Beasey
Paige Beasley
Melissa Beasley
Brandy Beasley
Jennie Beasley
Kaylee Beasley
Laci Beasley
Rickey Beasley Jr
Fiola Beason-Miller
Kelli Beats
Adalberto Beattie
Thomas Beattie II
Paige Beatty
Gregory Beaty
Brian Beauchamp
Jessica Beauchamp
Andrea Beauchamp
Denise Beaudet
Kelsey Beaudion
Leonard Beaudry
Sydney Beaune
Cheryl Beaver
Susan Beaver
Jessica Beavers
William Beavers
Joshua Bebout
Debora Bechard
Stephen Beck
Randall Beck
Michele Beck
Glenna Beck
Lester Beck
Glen Beck
Cindy Beck
Gabriella Beck
Heather Beck
Jennifer Beck
Rebecca Beck
Ryan Beck
Dwight Beck
Christopher Beckelman
Joanna Becker
Thomas Becker
Charlene Becker
Jesse Becker
Kimberly Becker
Colleen Beckett
Karen Beckford
Gary Beckford
Angela Beckner
Kelly Becks
Crystal Beckstead
Andre Bedeau
Roger Bedeker
Bradley Bedenbaugh
Pamela Bedford
Summer Bedgood
Blake Bednar
Judith Bedner
Monica Bedsole
Lucinda Bedwell
Marcus Bee
Lorraine Beebe
Jason Beebe
Kristelle Beecher
Carmaria Beeke
Donald Beeler
Brian Beeler
Jason Beem
Danele Beeman
Erin Beeman
Diana Beery
Mignon Beeson
Debra Beeson
Sandra Beeson-Grose
Leslie Beets
John Begin
Angela Begovac
David Begunich
Jenna Begyn
Clarence Behl
Nicholas Behler
Tasha Behnke
Lindsey Behr
Derek Behring
Tyler Behrmann
Beth Beichey
Angela Beichler
Ashley Beichler
David Beidelman
Marcus Beier
Rebecca Beil
James Beilman
Priscilla Beirola
Randy Beith
Johnna Beitler
Julie Bekeleski
Karen Beland
Karen Beland
Travis Belcher
Rachel Belcher
Adrienne Belcher
Todd Belcher
Randall Belcher
Tonya Belcher
Richard Beldyk III
Sandra Beletsky
Ben Belflower
Nicholas Belflower
Dominique Belge
Joseph Belger
Michael Beling
Sharon Bell
Adrion Bell
Kathryn Bell
Heidi Bell
David Bell
Lakeshia Bell
Jeremy Bell
Marcielo Bell
Frederica Bell
Robert Bell
Jermel Bell
Porscha Bell
Jenny Bell
Latoya Bell
Megayle Bell
Whitney Bell
Henry Bell
Vera Bell
Tracy Bell
Lori Bell
Nadia Bell
David Bell
Damien Bell
Michael Bell
Shannon Bell
Brianna Bell
Alice Bell
April Bellamy
James Bellar
Rodney Bellber
Shaunna Bell-Clark
Dorothy Bellcour
Lewis Bellcour
Kelly Bellendir
Rocky Bellew
Frances Belli
George Bellinger
Michael Bellingham
Noah Bello
Joseph Bellome
Agnes Bellot
Karen Bellow
Olivia Bell-Ward
Cynthia Belmonte
James Belonge
Smirne Belot
George Belt
Laura Belter
Amanda Beltran
Javier Beltran
Mario Beltran
Iliana Beltran Luna
Robin Beltz
Michelle Belyeu
Melissa Belz
Jessi Benanti
Shannon Benavente
Maria Benavente
Tiffany Benavente
Joanna Benavidez
Tamaran Bender
Chantel Bender
Kate Bender
Arthur Bender
Deborah Bendick
James Bendickson
Shaun Benedetti
Jill Benedict
Christine Benedict
William Benedict
Rene Benedit
Trecia Benefield
Ollisia Bengall
Patricia Benge
Dafiya Benibo
John Benight
Tricia Beninato
Chelsea Benish
Janel Benish
Nicole Benitez
Kathy Benitez
Jennifer Benitez
David Benitez
DeJuan Benjamin
Jo Ann Benjamin
Valencia Benjamin
Kyle Bennehoff
Michael Benner
Gillian Benner
Joseph Benner
Kayla Benner
Karna Bennett
Penelope Bennett
Ashley Bennett
Kelly Bennett
Brittany Bennett
Larry Bennett
Jessica Bennett
Elizabeth Bennett
Antonella Bennett
Cheryl Bennett
William Bennett
Lyndsey Bennett
Kia Bennett
Ellen Bennett
Lori Bennett
Christopher Bennett
Joshua Bennett
Kristy Bennett
Jason Bennett
Michelle Bennett
Lolita Bennett
Alisha Bennett
Ralph Bennett
Tracy Bennett
Chloe Bennett
Brigitte Bennett
Caren Bennett
Donna Bennett
Imani Bennett
Sincerae Bennett
Julie Bennington
Miranda Benoit
Joseph Bensie
Carolyn Benson
Lorri Benson
Candi Bent
Adam Benters
Lawrence Bentham
William Bentley
Edith Bentley
Rebecca Bentley
Bradley Benton
Christina Benton
John Benton
Philina Benton
Matthew Benton
Shantee Bentzen
Glen Beran
Edward Berg
Elaine Berg
Donna Berg
Curtis Berg
Jaime Berg
Laura Bergeaux
Jennifer Bergen
Derek Bergeon
Rebecca Berger
Sarah Berger
Jessica Berger
Kathryn Berger
Vanessa Berger
Amanda Bergeret
Alyssa Bergeron
Jennifer Berges
Steven Bergeski
Melissa Bergfeld
Jennifer Berghers
Joshua Bergman
Macey Bergman
Cassandra Bergmann
Nicole Bergschneider
Shirley Bergstresser
Kevin Bergstrom
Bridget Berigan
Dollie Berkbigler
Jacquelyn Berke
Robert Berkenkemper
Allison Berkenpas
Corey Berkimer
Stephanie Berman
Marisa Bermudez
Veronica Bermudez
Rosanne Bernal
Bertha Bernal
Denise Bernal
Hugo Bernal
Michael Bernard
Jeanie Bernas
Caitlin Bernhard
Christy Bernier
Lori Berogan
Ryan Berray
Anthony Berrien
Vannell Berrien
Tanya Berrios
Mindy Berrisford
Yasel Berrocal
Timothy Berry
Dana Berry
Krystin Berry
Anthony Berry
Dawn Berry
Timothy Berry
Cori Berry
Eric Berry
Kyra Berry
Jaymie Berry
Ashley Berry
Elizabeth Berry
Susan Berry
Genesis Berry
Carol Berry
Jacquelyn Berry
Roger Berry Jr.
Shannon Berry-Geralds
Augustine Berry-Gillespie
Christopher Berryhill
Tracie Berryhill
Constance Bersch
Randee Bershad
Malinda Bershing
Shea Bert
Kimberly Bertges
Laurie Berthel
Felicia Berthelot
Melissa Bertoch
Nigel Bertrand
Michele Bertrand
Ryan Bertz
Samantha Berzanske
Krystal Besaw
Jennifer Besselievre
Laurie Bessette
Kevin Bessy
Charles Best
Makayla Best
Christopher Best
Donna Beszhak
Mark Bethel
Dori Bethoulle
Christopher Bethune
Jessica Bethune
Hannah Betke
Kiara Bettencourt
Joseph Bettencourt
Edith Bettis
Emma Bettison
Alexander Betts
Tashonda Betts
Richard Betz
Jennifer Beuter
Gretchen Beverly
Mamie Beverly
Bobbi Bevers
Hassan Beydoun
James Beyea
Sandra Biache
Kimberlee Biagini
Katrina Bialobrzeski
Jeri Bianca
Gloria Biancardi-Goodrich
Melanie Bianchi
Monica Bianco
John Bibb
Lisa Bickett
Barbara Bickett
Eleanor Biddle
Jareth Bidwell
Justus Bieber
Dale Biederman
Amanda Bielefeld
Natosha Bielefeld
Tawnya Bier
Cathleen Bierman
Sherry Bierman
Ryan Bierschbach
Laura Biersdorff
Ann Bieszke
Vanessa Bievenue
Melissa Bifulco
Kewanna Bigelow
Johnathan Biggers
Roy Biggerstaff
Jason Biggs
Kelsey Biggs
Jennifer Biggs
Heather Biggs
Kerry Biggs
Carlos Bigler Jr
Lori Bigwood
Jaimie Bilbrey
Alfred Bilbro
Amy Bill
Vicki Bill
Jolene Biller
Teresa Billinger
Shannon Billings
Laura Billings
Amanda Billings
Jennifer Billings
Beau Billings
Rosetta Billingslea
Mindy Bills
Jacinda Bilyeu
Jason Binagia
Stacey Binetti
Quantisha Biney
Mikiala Bingham
Lindsey Biocic
Christine Biondich
Donna Biondo
Bryan Birch
Tonya Birch
Sherry Birck
Geoffrey Bird
Thomas Bird
Claudette Bird
Christina Bird
Colin Bird
Ryan Bird
Christopher Birdsong
Lea Birdsong
Christine Birtja
Melissa Bischoff
Wesley Bisconer
Jarred Bishop
Tammy Bishop
Shannon Bishop
Nathan Bishop
Bruce Bishop
Eric Bishop
Earle Bishopp
Denise Bisirri
Jennifer Biskin
Loryn Bisner
Jennifer Bissell
Terrie Bissell
Jason Bissinger
Alan Bisson
Tanya Marie Bitanga
Roberta Bitler
Michaelanna Bittel
Lisa Bitterman
Jennifer Bittle
Nicole Bittner
Renikko Bivens
Achevia Bivens
Traci Bivens
Sonja Bivins
Destinee Bivins
Blake Bivona
Saundra Bixler
Cynthia Bjorge
Susann Bjork
Ricardo Black
Jonathon Black
Cynthia Black
Pauline Black
Patricia Black
Megan Black
Chatanna Black
Ronesha Black
Robert Black
Eileen Black
Tara Black
Christie Black
Wendy Black
Keri Black
Michelle Black
Cyrilla Black
Cassandra Black
Sonya Black
Sheri Black
Jason Black
Jonathon Blackburn
Karen Blackburn
Christopher Blackburn
Teri Blackburn
Lisa Blackman
Norah Blackmer
Affrika Blackmon
Adrian Blackmon
Conetra Blackmon
Tomika Blackmon
Kenneth Blackmon
R'Banney Blackmon
Pamela Blackshire
Christie Blackwell
Aris Blackwell
Roy Blackwell
Crystal Blacquiere
Kirsten Blade
Timothy Bladel
Eli Blades
Kristin Blades
Micaela Blain
John Blain
Dorsey Blaine
Stacy Blair
Daniel Blair
Stephanie Blair
Vanessa Blair
Angela Blair
Eastlyn Blair
Joshua Blair
Amber Blair
Cheryl Blair
Melissa Blais
Jonathan Blaisdell
Amber Blake
Christine Blake
Tracy Blake
Wendy Blake
Thomas Blake
Sally Blake
Michael Blake
Shaharlee Blake
Keisha Blake
Alicia Blake
Peter Blake
Mitchel Blake
Ann Blake
June Blakely
Jeremy Blakemore
Leonard Blakeney
Wesley Blalock
Sara Blanchard
Susan Blanchard
Roy Blanchard
Sergio Blanchet
Jason Blanco
Alexander Blanco
Mary Joe Bland
Jeffery Blanda
Ashlee Blandford
Bethany Blank
Cristal Blank
Kimberly Blankenship
Caleb Blankenship
Cecily Blankenship
Tracy Blankenship
Shane Blankley
Alan Blanton
John Blanton
William Blase
Allison Blasingame
Daniel Blask
D'Ann Blatt
Jolene Blauert
Natasha Blaydes
Tasha Blaylock
Heidi Blazak
Dana Blazina
Phyllis Blech
Linda Blecher
Mary Bleecker
Carlenia Bleeker
Jason Bleick
Scott Bleile
Keith Bleim
Stephen Blell
Brittany Blell
Leslie Blendermann
Christina Blessing
Nicole Blews
Tricia Blinson
Brian Blisard
Wayne Bliss
Michael Blizzard
Melony Block
Lindsey Blocker
Amanda Blodgett
Pamela Blomenkamp
Inta Blomquist
Debra Blong
Cindy Blood
Kristi Blood
Kezah Bloodworth
Michael Bloodworth
Justin Bloom
Sue Bloom
James Blount
Melissa Blount
Leslie Blount
Sherra Blue
Geraldine Blue
Brandon Blue
Zachary Bluestein
Susan Bluett
Atly Blum
Larry Blume
Karah Blunk
Melanie Boalch
Cheryl Boaldin
Rebekah Boardman
Alonzo Boardman
Mandy Boarman
Tiffany Boateng
Leola Boatright
Brandy Boatright
Ramon Boatwright
Brian Boatwright
Chelsey Bobbitt
William Boberg
Brittney Bobian
Nimi Bob-Manuel
Donald Bobo Jr
Charlotte Bocian
Brittany Boddington
Dan Bodelson
Adam Bodenhamer
Malcolm Bodison
Richard Bodo
Michael Bodtker
Shirley Boedeker
Amy Boegel
Richard Boehmer
Josalynn Boeke
Wendy Boelens
Mikel Boettcher
Gayle Boettger
Tammi Boettger
Mary Bogacki
Daniel Bogard
Nicole Bogatitus
Misty Boggs
Lorrie Bogle
Katrina Bogman
Rhea-Dawn Bohall
Eileen Bohlin
Kelly Bohling
Renea Bohnen
Lisa Bohnert
Melissia Bohnet
Aaron Boileau
Arlene Boilore
Robin Boisseau
Michelle Boisvert
Neil Bokamper
Stephany Bokman
Amanda Bolan
MiChellie Bolar
Toyca Bolden
Jessica Bolden
Meghan Boldenow
Marc Boldurian
Jeffrey Bolen
Laura Boles
Felicia Boles
Nicole Bolhuis
William Bolick
Lea Bolin
Vanessa Bolin
Jinny Boling
John Bolle
Melissa Bollendorf
Jami Bollett
Bonnie Bolt
Kelly Bolt
Jeanne Bolt
Chad Bolt
Kylie Bolte
Sidney Bolte
Adam Bolthouse
Dynesha Bolton
Allen Bolton
Lindsay Bolton
Le'Cher Bolton-Mick
Mark Bommarito
Gary Bonaccorso
John Bonacorda
Frances Bonagura
Andrea Bonavia
James Bond
Wendy Bondi
Michelle Bonds
Aaron Bondurant
William Bonebrake
Jennifer Bonenberger
Theresa Boney
Kimberly Bonfield
Nick Bongiorno
Heather Bonham
Mona Bonick
Alisha Bonifant
Nelson Bonilla
Sarisha Bonilla
Keith Bonjour
Cidney Bonneau
Nicole Bonner
Trevor Bonner
Cortney Bonner
Jessica Bonnet
Thomas Bonsall
Michael Bookbinder
Leah Bookwalter
Steven Boone
Tracy Boone
James Boone
George Boone
Michele Boone
Amy Boone
Sean Boone
Heather Boone
Jessica Boone
Susan Booth
Destine Booth
Christine Booth
Melinda Boots
Sheila Booty
Shawnacey Booz
Lindsay Booze
Eric Boozer
Louise Boquet
Tara Borchansky
Amanda Borchardt
Jill Borchardt
Carlton Borcherding
Kevin Bordeaux
Danielle Bordeaux-Horn
Angela Borden
Cynthia Bordenave
Breanna Borders
Jovian Boreland
Michael Borella
Catrina Borger
Carlos Borja
Graciela Borjon
Robert Borka
Urszula Borkowska-Esposito
Jennifer Borne
Justin Bornholtz
Dana Borowiec
Biagi Borrero
Nicholas Borresen
Patrick Borroum
Kristina Borton
Johanna Boscarello
Diana Bosch
Christina Bosch
Mark Bosco
Steve Bose
Deanna Bose
Wadis Boseman
JuliAna Boses
Kathleen Bosgraaf
Megan Bosland
Tiesh Bosland
Melissa Bosley
Daniel Bosques
Wendy Bosquez
Douglas Bosted
Sarah Boster
Michael Bostic
Rick Bostock
Jessica Bostock
Shelley Boston
Ian Bostrom
Aaron Boswell
Lillian Boswell
Emily Boswell
Anita Bothwell
Almira Botic
Hope Bott
Elvia Bottino
Jackie Bottoms
Timothy Bottoms
Nicholas Botts
Adam Boubede
Adam Bouchard
Norma Bouchard
Alexis Boucher
Michael Boucher
Mark Boucher
Geraldine Boucher
Sarah Boucher
Heather Bouchez
Denise Boudreaux
Maureen Bough
Charles Boughan
Rodney Boulware
Crystal Boulware
Andrew Bounds
Nefeteria Bourda-Bellaire
Andrea Bourgeois
Phillip Bourgeois
Christy Bourland
Dana Bourland
Maggie Bourland
Corbitt Bourne
Kyle Bourner
Devron Bourque
Brandon Bourque
Laura Bourquin
Jeffrey Bousman
Jason Bousman
Tracy Boutges
Tommy Boutin
Diane Bouton
Christina Boutte
Dana Bouvet
Heather Bove
Tristin Bovee
Richard Bowden
Judith Bowen
Rebecca Bowen
Gena Bowen
Melissa Bowen
Pamela Bowen
Renee Bowen
James Bowen
Shane Bowen
Patrick Bowen
Janet Marie Bowen
Jennifer Bowen
Eleiren Bowen
Loni Bower
Timothy Bower
Susan Bower
Whitney Bower
Tracey Bowers
Jennifer Bowerson
Christina Bowersox
Brianna Bowles
Rhonda Bowles
Tracie Bowley
Brian Bowlin
Charles Bowlin
Sara Bowling
Jacqulyn Bowman
Lisa Bowman
Melissa Bowman
Leigh Bowman
Levi Bowman
Bunny Bowman
Lisa Bowman
Lorraine Bowman
Meredith Bowman
Codi Bowman
James Bowman
Margret Bowman
Angela Bowness
Shanna Bowser
Mary Bowser
Patricia Bowyer
Jeremy Boxley
Jareace Boxley
Misty Boyce
Edmund Boyce
Audrey Boyce
James Boyce
Erica Boyce
Kevin Boyce
Djoanna Boyd
Brian Boyd
Amanda Boyd
Jakayla Boyd
Annie Boyd
Stormi Boyd
Tommy Boyd
Datrise Boyd
Kym Boyd
James Boyd
Chelsea Boyd
Sharita Boyd
Gabrielle Boyd-Gilbert
Kimberly Boyer
Shanna Boyer
Michele Boyer
Shannon Boyer
Brianna Boyer
Jennifer Boyer
Debra Boyer
Anthony Boyer
Marsha Boykin
Julia Boykin
Dante Boykin
Robert Boykin
Christopher Boykin
Susan Boylan
Gisele Boyle
Francine Boyle
Bonnie Boyle
Carla Boyle
Amber Boyle
Kieran Boyle
Wendy Boyle
Robert Boyles
Samantha Bozarth
DeMetri Bozeman
Hansja Braam
Karen Brabec
Beth Bracale
Mary Bracamontes
Joshua Bracke
Anthony Brackett
Keri Brackett
Dianne Brackett
Sheldon Bradberry
Sandra Bradburry
Elijah Bradbury
Jerome Braden
Collins Bradford
Rachel Bradford
Herbert Bradford
Nathan Bradley
Adrienne Bradley
Mack Bradley
Barbara Bradley
Keith Bradley
Sheri Bradshaw
Ellen Bradshaw
Kwamika Bradshaw
Kelsey Bradshaw
Christopher Bradshaw
Autumn Bradshaw
Carol Brady
Dorette Brady
Aaron Brady
Lorie Brady
Jonathan Brady
Christina Brady
Ann Brady
Mark Brady
Suzanne Braff
Bobbi Brafford
Angie Braga
Bryan Braga
Eddie Bragdon Jr.
Deborah Bragg
Deanna Braggs
Phillip Brake
Mona Bram
Nathan Brammer
Mark Bramson
Melissa Branam
Kristan Branch
Chantel Branch
Jeffrey Branch
Jimmy Branch
Merle Branch
Patrick Branch
Michelle Branch
Stephanie Branco
Richard Brand
Kristal Brandenburg
Kimberly Brandon
Jamie Brandon
Lori Brandon
LaQuwana Brandon
DelMarie Brands
Terry Brandt
Karen Brandt
Carla Brandy
Tracy Branham
Lynn Branham
Randall Branham
Cory Branham
Christopher Braniff
Sylvia Branigan
Robert Brann
Alvin Brannan
LaRae Brannan
Kristy Brannen
Jennifer Brannock
Shauna Brannon
Julie Brannon
Jason Branske
Laura Branson
Karen Branson
John Brant
James Brant
Amy Brantley
Ronald Brantley
Teresa Brasaemle
Robert Brashier
Terese Brasile
Jocelyn Brassell
Jeri Brasseur
Jessica Braswell
David Bratanov
Michael Brathole
Kasey Bratt
Linda Bratton
Mark Brault
Jennifer Brault
Brian Braun
Lawrence Braun III
Stephanie Brausey
Lori Brautigam
Michael Bravata
Karen Braverman
Dulce Bravo
Paula Bravo
Virginia Bravo
Edwin Bravo
Amanda Brawley
Clinton Brawley
Myra Braxton
Shanda Bray
Amy Bray
Caitlin Bray
Lauren Brayman
Rachel Brazell
Tamara Brazell
Yuliya Brazina
Donna Brecht
Dawn Brecke
Kristi Breder
Kimberly Breeden
Stephanie Breeding
Cynthia Breeling
Amanda Breitenbach
Noele Breitenbruck
Floyd Breithaupt
Destiny Breitkreutz
Donald Breitkreutz
Rachel Bremer
Michelle Bremseth
Tiffany Brennan
Scott Brenneman
Lisa Brenner
Jennifer Brenner
Sarah Breshears
Tara Bressie
Jeffrey Bresyn
Nicole Bretag
Kathy Breton
Peter Bretz
Lee Brewer
Cheryl Brewer
Ameravathy Brewer
Cynthia Brewer
Onawa-Maria-Louise Brewer
Thomas Brewer
Thomas Brewer
Pamela Brewer
Adam Brewer
Breona Brewer
Erin Brewer
Stephanie Brewer
Billy Brewington Jr.
Kimberley Brewster
Gordon Brewton
Allyson Brezniak
David Brian
Chelsea Briar
Randy Brice
Karrisha Brickhouse
Kim Brickhouse
Marie Brickley
Christine Brickman
Samantha Bricknell
Anna-Marie Brickner
Jennifer Bridge
Jessica Bridge
Sherry Bridgeford
Jennifer Bridgeforth
Samantha Bridges
Jesse Bridges
Chassidy Bridges
Angela Bridges
Matthew Bridges
Debra Bridges
Ayanna Bridges
Laura Bridges
Rubystine Bridges
Shawn-Marie Bridges
Kimberly Bridges
William Bridgewater
Charlotte Bridgman
Lee Bridwell
David Briggs
Rebecca Briggs
William Briggs
Erin Briggs
Michael Briggs
Angela Briggs
John Bright
Jeana Bright
Shaunnette Bright
Rebecca Bright-Jones
Krista Brill Ellis
Michael Brillon
Matthew Brimmer
Marybeth Briney
Patrick Brink
Kathryn Brink
Rachel Brink
Megan Brink
Cheryl Brinkley
Brandy Brinkley
John Brinkley
Barbara Brinkman
Amy Brinkman
April Brinson
Yolanda Briones
Alesha Brisbay
Brittany Brisbon
Debra Brissette
Aria Brister
Katrina Bristol
Amanda Brito
Jamie Britt
Kimberly Britt
Mitchell Britt
Leanne Britt
Barbara Brittain
Johnathan Britten
John Britton
Joshua Broadhead
Cheryl Broadhurst
Penny Broadwater
Hillary Brobst
Angela Brock
Lauren Brock
Kimberly Brock
Sunny Brock
James Brock
Ciara Brockett
Kayla Brockhaus
John Brockliss
Michael Brocksmith
Stephenie Broden
Carol Broderek
Kimberly Brodeur
Michelle Brodkin
Vicky Brodt
Harmon Brody
Shannon Broesder
Ryan Brogan
Joseph Brom
Dorothy Bromlow
Matthew Brong
Kristen Bronnenberg
Kevin Bronson
Brandon Brookins
Calvin Brooks
Martie-Jo Brooks
Tony Brooks
Tasha Brooks
MaryAnn Brooks
Lynn Brooks
Julie Brooks
Perris Brooks
Loren Brooks
Antoinette Brooks
Nicole Brooks
Ashley Brooks
Elizabeth Brooks
Charnayne Brooks
LaChevia Brooks
Demica Brooks
Cedric Brooks
Jennifer Brooks
Janie Brooks
Jonathan Brooks
Kimberly Brooks
Jesire Brooks
Carolina Brooks
Onthatile Brooks
James Brooks
Elizabeth Brooks
Constance Brooks
Amanda Brooks
Susan Brooks
Angelica Brooks
Frederick Brooks II
Melissa Brookshire
Melody Broome
Elyse Broome
Benjamin Brorson
Andrea Brosseau
Heather Brossett
Kathy Brossette
Judy Brothers
Tiffany Brothers
Andre Broudreaux
Jeannie Broussard
Hope Broussard
Kevin Broussard
Lisa Broussard
Bailey Browder
Loreal Browder
Jeri Browder
Derek Brower
Stephen Brown
Kevin Brown
Shumane Brown
Anthony Brown
Angela Brown
Kim Brown
Elizabeth Brown
Joveida Brown
Michelle Brown
Dana Brown
Lucas Brown
Cynthia Brown
Wagner Brown
Kevin Brown
Robert Brown
Carrie Brown
Christie Brown
Rebecca Brown
LaLi Brown
Daena Brown
Joshlynne Brown
Shontell Brown
Judy Brown
Pamela Brown
John Brown
Kenneth Brown
Steven Brown
Loren Brown
Keith Brown
Cynthia Brown
Eric Brown
Lenister Brown
Karrie Brown
Jaime Brown
Tyrone Brown
Mark Brown
Delandrick Brown
Joan Brown
Sheri Brown
Victoria Brown
Roslyn Brown
Rachel Brown
Jason Brown
Jason Brown
Amanda Brown
Lisa Brown
Lisa Brown
Noni Brown
Amanda Brown
Terissa Brown
Katryna Brown
Samantha Brown
Silvia Brown
Diondrea Brown
Tammie Brown
Chicnee Brown
Clarissa Brown
Christine Brown
Curtis Brown
Regina Brown
Isaiah Brown
Cheryl Brown
Shannon Brown
Ashley Brown
Stephen Brown
GayLynn Brown
Danice Brown
Tiffany Brown
Tanishia Brown
Kierra Brown
Leslie Brown
Stephanie Brown
Barbara Brown
Charlotte Brown
Victoria Brown
Jimmie Brown
Tristen Brown
Rhea Brown
Tamyra Brown
Latoyia Brown
Melissa Brown
Melissa Brown
Zedakiah Brown
Marlene Brown
Lorenzo Brown
Erika Brown
Shanae Brown
Alan Brown
Julia Brown
Lexi Brown
Elaine Brown
Demetris Brown
Elaine Brown
Robert Brown
Terrilynn Brown
Morgan Brown
Richard Brown
Kris Brown
Adam Brown
Lisa Brown
Derek Brown
Jamie Brown
Jessica Brown
Steven Brown
Kendra Brown
Rodney Brown
Tara Brown
Kevin Brown
Charlie Brown
Jeremy Brown
Tom Brown
LaTonya Brown
William Brown
Randy Brown
Channy Brown
Amy Brown
Leslie Brown
Ida Brown
Trisha Brown
Genita Brown
Ltanya Brown
Tiffannie Brown
Troy Brown
Timothy Brown
Lakesha Brown
Jamie Brown
Angela Brown
Julia Brown
Duane Brown
Stacee Brown
Lisa Brown
Betsy Brown
Kara Brown
Steven Brown
Michelle Brown
Melinda Brown
James Brown
Zsanece Brown
Nancy Brown
Caitlyn Brown
Nadira Brown
Sondra Brown
Shanakay Brown
Barbara Brown
Jason Brown
Thomas Brown
Garcia Brown
Jamie Brown
Kimberly Brown
Kellie Brown
Kevin Brown
April Brown
Marcy Brown
Jenna Brown
Lydia Brown
Kimberly Brown
LaDedria Brown
Shalon Brown
Emily Brown
Nicole Brown
Amber Brown
Jeremy Brown
Joyceann Brown
Veronica Brown
Pamela Brown
Allen Brown Jr.
Jennifer Brown-Carrillo
Cheryl Browne
Dwayne Browne
Arthur Brownell
James Brownell III
Timothy Brownfield
Deborah Brown-Hopkins
Cheryl Browning
Jared Browning
Shellie Browning
Charles Browning
Diane Browning
Amanda Browning
Brittany Brownlee
Donna Brownlee
Russell Brownlee
Allen Brownlee
Charlene Brown-Reid
Halie Broyles
Justin Brubaker
Kristina Brubaker
Rachel Bruce
Cecilia Bruce
Tricia Bruce
Amber Bruce
Linda Bruce
Rose Bruce
Janae Bruce
Scott Bruder
Marc Bruder
Mark Bruhn
Kimberly Brumm
Ernest Brummitt
Goldsherdine Bruney
Vinnette Bruney
Melissa Bruney
Jordan Brungardt
Seth Bruni
Daynon Brunk
Jessica Brunner
Suzanne Brunner
Leslie Bruno
Teresa Bruns
Jake Bruns
Linda Brunson
Jody Brunson
Cidney Brunson
Michele Brunton
Kristen Brust
Sharonda Bruton
Sarah Bryan
Steven Bryan
Kayla Bryan
Kimberly Bryan
Matthew Bryan
Nazarene Bryant
TeNita Bryant
Lynn Bryant
Doris Bryant
Shanika Bryant
Adam Bryant
Claudine Bryant
Syrena Bryant
Elizabeth Bryant
Lisa Bryant
Marianne Bryant
Tonya Bryant
Barbara Bryant
Clarence Bryant
Rachel Bryant
Janet Bryant
Cynthia Bryant
Titus Bryant
Rebecca Bryant
Johnnie Bryant
Melissa Bryant
Donna Bryant
Jason Bryant
Kimberly Bryant
Shelby Bryant
Letitia Bryant-Geames
Nycole Bryce
Frances Bryson
Rebecca Bryson
Barbie Buchanan
Rebecca Buchanan
Christina Buchanan
Leslie Buchanan
Linda Buchholz
Justin Buchholz
Tracy Buchholz
Marie Buchhorn
Rebecca Bucio
Jessica Bucior
Beth Buck
Rochelle Buckingham
Susan Buckland
Jessica Buckland
Brian Buckler
Christopher Buckles
Quincy Buckles
Marisa Buckley
Melina Buckley
Abby Buckley
Zarcar Buckner
Sophia Budd
Michelle Budden
Michele Buehler
Lealan Buehrer
Michelle Buell
Jennifer Buell-Nogues
Angela Bueno
Libia Bueres
Rhonda Buesgens
Danielle Buettner
William Buettner
Margaret Buffin
John Buffin
Taminka Buggs
Kimberley Bugiel
Colleen Buglio
Pierre Buie
Dylan Buik
Rebecca Bujack
Mychael Bulford
Dennis Bulham
Mikell Bull
Daniel Bulla
Sandy Bullard
Richard Bullen III
Camille Buller
Jamie Bullock
Benjamin Bullock
Ronald Bullock
Byron Bullock
Kelli Bullock
Kristen Bullock
Marchelle Buman
Michael Bumgardner
Susan Bumgardner
Amanda Bumgarner
Thomas Bumpass
Candice Bunch
Rachel Bunch
Dolores Bundy
Darlene Bunevac
Debra Bunszel
Markeyla Bunton
Derek Bunyan
Juan Buractaon
Pamela Burbach
Tracey Burch
Kristina Burch
Daniel Burch
Amy Burch
Sylvia Burch
Andrew Burchard
Jonathon Burchard
Aaron Burchette
Angela Burd
James Burden
Jarcella Burden
Jessica Burdick
Christie Burdick
Leidy Burdie
Elisha Burge
Sarah Burge
Brittany Burger
Casondra Burger
Donna Burgess
Lynda Burgess
Alicia Burgess
Loretta Burgess
Rebecca Burget Snyder
Ashley Burgett
Gary Burghart
Allison Burgos
Adam Burhani
Beth Burhans
Robert Burk
Kazen Burke
Dustin Burke
Virginia Burke
Lenreya Burke
Chelsea Burke
Akmuny Burke
Terri Burke-Darling
Michelle Burkepile
Shameka Burkes
Regan Burkett
Christina Burkett
Tanya Burkhardt
Amy Burkhart
Ashley Burkhart
Laura Burkins
Deanna Burkins
Patricia Burkland
Zenetra Burkley
Denise Burks
Charmane Burks
Jerry Burks
Charles Burks
Kiana Burks
Jessie Burleson
Stephanie Burlet
Samuel Burley
Jennifer Burlo
Nicholas Burmood
Lisa Burmood
Jacob Burmood
Tim Burnaman
Sabrina Burner
Erin Burnett
Stasia Burnett
Darren Burnett
Lorraine Burnett
Antwane Burnett
Kyle Burnett
Cara Burnett
Justin Burnett
Cameron Burnette
Holly Burnette
Hurley Burnette
Kimberly Burney
Carolyn Burnham
Sheilah Burnham
Melvin Burns
Mechele Burns
Tameka Burns
Lisa Burns
Brittney Burns
Rachelle Burns
Trevonn Burns
Kayla Burns
Nicole Burns
James Burns
Linda Burns
Deborah Burns
Ellen Burns
James Burns
Jessica Burns
Roger Burns
Melissa Burns
Jack Burns
Melissa Burns
Michael Burns
Sharece Burns
Kristen Burns
Stephanie Burns
Kimberly Burns
Ryan Burns
William Burns
Richard Burns, Jr
Michelle Burns-Beale
Toni Burnsed
Dawn Burnside
Stephen Burnside
Randolph Burnum
Miranda Burr
Ieashia Burr
Tara Burr
Holly Burrage
Ssanyu Burrell
Kati Burres
Wosheka Burriel
Jason Burris
Drenda Burris
Andrew Burris
Patrick Burris
Timothy Burrone
Tiffany Burroughs
Shaquanna Burroughs
Christopher Burroughs
Jennifer Burroughs
Kimberly Burrows
Lori Burrows
Gail Burski
Nicholas Burt
Thomas Burt
Vonche Burt
Amber Burton
Joan Burton
Marissa Burton
Thad Burton
JaLauna Burton
Tia Burton
Dawn Burton
John Burton
Stella Burton
Jared Burton
Van Burton
Timothy Burton Jr.
Mercedes Buruca
John Burwell
Connie Burzynski
Kim Busby
Jamie Busby
John Busby
Teresa Busch
Heather Buschmann
Michael-Francis Bush
Chelsea Bush
Emmette Bush
Albert Bush
Stacy Bush
Michele Bush
Angela Bush
Fawn Bush
Paul Bush
Kendall Busha
Erica Bushnell
Tobias Bushong
Regina Busman
Dustin Bussard
Aaron Bussard
Laura Bussard
Vincent Bustamante
Kayla Bustos
Gregory Butcher
Denice Butcher
Marsha Butler
Anna Butler
Thaddeus Butler
Anthony Butler
Glenda Butler
Jack Butler
Kayla Butler
LaTonya Butler
Nina Butler
Emily Butler
Nicole Butler
Alaina Butler
Amanda Butler
Jana Butler
Sabrina Butler
Courtney Butler
John Butler
Krystal Butler
Daphne Butler
Kerri-Mignon Butler
Sheila Butler
Dianne Butler
Dominique Butler
Napoleon Butler
Janee Butler
Latonia Butler-Clark
C. Marie Butler-Goble
John Butorovich
Julie Butterbaugh
Michael Butterfield
Brandy Butterfield
Joseph Butts
Connie Butts
Barbara Butzen
Katie Buus
Lorraine Buzzard
Sylvia Buzzi
Jennifer Bye
laverna byfield
Dorothy Bygrave
Stefanie Byk
Jessica Bylsma
Angela Bynaker
Christopher Bynum
Cynthia Bynum
Brittany Byrd
Jimmy Byrd
Wayne Byrd
Jeffery Byrd
Patricia Byrne
Marilis Byrnes
Victoria Byrnes
Regina Byrom
Kelly Byron
Leslie Byron
Najah Byron

Milagro Connie Caballero
Marco Caban
Christine Caban
Sumaris Caban
Julia Cabanillas
Carlos Cabanillas Abundis
Paul Cabano Jr.
Estrella Cabassa
Dona Cabela
Kayla Cable
Jacqueline Cabralez
Alejandro Cabrejos
Jeffrey Cabrera
Ian Cabrera
Jose Cabrera II
Tracy Cabuco
Krista Cacace
Ralph Caccavale
Kathryn Cacia
James Caco
Thomas Caddell
Joshua Cade
Adrianna Cadena
Lillian Cadena
Eli Cadena
TraVae Cadiz
Caroline Cadogan
Bobbie Cadwalader
Diane Cadwallader
Colleen Cady-Taylor
Lori Cafferty
Kelly Caffey
Christopher Caffey
Tammy Cagle
Magnolia Cagle
Marjorie Cagley
Michelle Cagliano
Shannon Cagney
Kimberly Caguitla
Janet Cahail
Robert Cahalan
Darlene Cahill
Matthew Cahill
Elkan Cahl
William Caillier
Tracy Cain
Gail Cain
Verlene Cain
Daniel Cain
Brandon Cain
Lauren Cain
Christine Cain
Angelia Cain
Bernadette Cain
Moneish Cain
John Cairney
Sheri Cakir
Breanna Calahan
Rebekah Calala
Kimberly Calame
Melissa Calame
Ashley Calaway
Seneca Calbert
Jennifer Calcote
Shannon Calcote
Ivonne Calderon
Kristy Calderon
Jerry Calderon III
Shelli Caldwell
Vicki Caldwell
Mark Caldwell
Sara Caldwell
Nicholas Caldwell
Daniel Caldwell
Monique Caldwell
Alicia Caldwell
Ester Caldwell
Patricia Caldwell
April Caldwell
Michele Caldwell
LaReta Caldwell
Danny Caldwell Jr.
Cameron Calhoon
John Calhoun
Avis Calhoun
Lisa Calhoun
Kristi Calhoun
George Calhoun
Marcus Calhoun
Robert Calin
Jay Calkins
Kimberly Call
Rebecca Callahan
Ramilletta Callahan
Krista Callahan
John Callahan
Samuel Callahan
Bradley Callahan
Beaudrea Callahan
Jennifer Callanan
Tracy Callaway
Michael Callender
Thomas Callewaert
Frank Calloura
Kenkeesha Calloway
Crysten Calvert
Angelica Calvillo
Arielle Calvillo-Ramos
Melinda Camacho
Brandy Camacho
Abraham Camacho
Erika Camacho
Crystal Camacho
Nicole Rose Camacho
Wendy Camacho
Maggiemarie Camacho
Michael Camacho
Felisa Camanag
Michelle Camara
Kathy Camara
Sharlyn Camara
Rachael Camargo
Keila Camarillo
Jacqlyn Camarota
Tiffany Camejo
Josue Camejo Camacho
Christopher Cameron
Kimberly Cameron
Joyce Cameron
Stephanie Cameron
Segonia Cameron
Erica Cameron
Wallace Camis Jr.
Robert Camnetar
Yolanda Camp
Corrie Camp
Frank Campagna
Kristen Campanile
Ronald Campbell
Jason Campbell
Andrew Campbell
Kamala Campbell
Richard Campbell
Karen Campbell
Julie Campbell
Stacey Campbell
Kelly Campbell
Towanda Campbell
Christian Campbell
Sheenika Campbell
Amy Campbell
Kathryn Campbell
Amanda Campbell
Kimberly Campbell
Russell Campbell
Brittany Campbell
Kayla Campbell
Brianna Campbell
Rochelle Campbell
Brandon Campbell
Mallory Campbell
Rhian Campbell
Jenissa Campbell
Kellie Campbell
Gregory Campbell
Lori Campbell
Julie Campbell
Tunde Campbell
Becky Campbell
Natasha Campbell
Kristina Campbell
Camille Campbell
Michelle Campbell
Zachary Campbell
Fern Campbell
Nicola Campbell
Tasha Campbell
Bonnie Campbell
Nicole Campbell
Keith Campbell
James Campbell III
Ashley Campbell West
Christopher Campbell-Acosta
Cassandra Campbell-Bonas
Roddy Camper
Stacie Campo
Pedro Campos
Manuel Campos
Anibal Campos
Jonathan Campos
Eduardo Campos
Tangarika Canada
Misty Canada
Gary Canada
Jasmine Canady
Daniel Canaveral
Wilfredo Canaya
Sarah Cancel
Lorrie Canciller
Leslie Cancino
Ryan Candelaria
Carla Candelaria-Harris
Michael Candello
Elizabeth Cane
david canela
William Canfield
Amanda Canfield
Ragan Canfield
James Cangialosi
Laurie Canjar
Christina Cannady
Jessica Cannella
Catherine Cannella
Laurie Canney
George Canney
Damaris Cannon
Rochelle Cannon
Jason Cannon
Pamela Cannon
Denise Cannon
Jackie Cannon
Manuel Cano
Leia Cano
Michael Canoles
Lidia Canova
Katrina Canter
Kayla Cantley
Barbara Canton
Dorothy Canton
Kristi Cantor
Paulette Cantos
Stephanie Cantrell
Amanda Cantrell
Amanda Cantrell
Jaime Cantrell
Aaron Cantrell
Austin Cantrell
Cameron Cantrell
Marquia Cantu
Brenda Cantu
Thomas Cantu
Kathleen Cantu
Mary Cantu
Daniel Cantu
Mark Cantwell
Martin Canzona
Laura Capel
Marisa Capellan-Battle
Raymond Capetillo
Michael Capil
Larry Caplinger
Eliza Caponetto
Sarah Caporaso
Angela Capps
Lisa Capps
Debra Caprella
Louis Capuano
Alyssa Caraciolo
Lydia Caravas
Caterina Caraza
Xiomara Carballo
Jessica Carbon
Karen Carcanague
Theresa Card
Angela Cardenas
Timothy Cardinal
Ginger Cardinal
Luis Cardona
Margaret Cardot
Nicole Cardoza
Jill Cardoza
Jennifer Carello
Samuel Carew-Jones
Brandon Carey
Patrice Carey
Crystal Carey
Lisa Carey
Melisa Carey
Angela Carfino-Hines
Rebekah Cargill
Alexandrea Cargill Edwards
Kiristian Carhee
Marguerite Carideo
Amanda Carle
Megan Carlile
Patricia Carlino
Cameron Carlisle
William Carlisle
Stephanie Carlisle
Chris Carlisle
Rosalind Carlisle
Susanne Carlsen
Jack Carlsen
Amanda Carlson
Connie Carlson
Lisa Carlson
Jacqueline Carlson
DawnMarie Carlson
Kelly Carlson
Sara Carlson
Carolyn Carlson
Tiffany Carlson
Redriche Carlson
Christopher Carlton
Roger Carlton Jr
Heather Carman
Melissa Carman
Stepheni Carman
Sarah Carman
Jennifer Carmichael
Lydia Carmickle
Lavar Carmon
Melissa Carmon
Karla Carnarius
Candice Carnegie
Samantha Carnell
Laverne Carnero
Brandy Carnes
Tanya Carney
Kellee Carney
Lisa Carney
Prairie Carney
Stephanie Carney
Diane Carnovsky
Jason Caro
Andrea Caro
Tony Carolla
Monique Caron
Misty Carpenter
Kerry Carpenter
Michael Carpenter
Jackie Carpenter
Ryan Carpenter
Heather Carpenter
Meredith Carpenter
Micah Carpenter
Carolyn Carpenter
Stacy Carpenter
Rachel Carpenter
Rachel Carpenter
Brian Carpenter
Kristina Carper
Darlene Carper
Richard Carpio
Darren Carr
Ryan Carr
Hali Carr
Mindy Carr
Samantha Carr
Ryan Carr
MiLicia Carr
Leslie Carr
Barbara Carr
Jessie Carr
Joe Carranza
Heather Carranza
Jaquetta Carrasco
Luciano Carrasquillo
Gloria Carreira
Diana Carrejo
Shannon Carreras
Carlos Carreras III
Katie Carrier
Christina Carriero
Connie Carrigan
Constance Carrillo
Michelle Carrillo
Roberto Carrillo
Monica Carrillo
Maria Carrillo
Alya Carrillo
Anna Carrillo
Terri Carrington
Janisel Carrion
Evelyn Carrion
Lisa Carroll
Sherquanda Carroll
Rebecca Carroll
Ashton Carroll
Sandra Carroll
Michelle Carroll
Samuel Carroll
Kimberly Carroll
Brittany Carroll
Casey Carson
Tina Carson
Alisha Carson
Sarah Carson
Ashley Carson
Christy Carson
Pamela Carson
Kristine Carson
Andrew Carson
Ben Carson
Teri Carstensen
Jenny Cartagena
Curshaun Carter
Carmela Carter
Shoshana Carter
Dosheia Carter
Angela Carter
Christina Carter
Korena Carter
Penny Carter
Lona Carter
Bambi Carter
Tracy Carter
Daniel Carter
Sherry Carter
Antoinette Carter
Gregory Carter
Jessica Carter
Willnar Carter
Mary Carter
Crystal Carter
Bradley Carter
Pamela Carter
Jocelin Carter
Latesha Carter
Robert Carter
Holly Carter
Willie Jean Carter
Jennifer Carter
Caroline Carter
Courtney Carter
Jane Carter
Laura Carter
Layne Carter
Felicia Carter
Daniel Carter
James Carter
Nicole Carter
Brittney Carter
Regina Carter
Tawnia Carter Hanson
Nicole Carteret
Ronald Carti
Jane Cartlidge
Jeannie Cartmel
Ryan Cartmel
Shaquella Cartwright
Shaundra Cartwright
Kristi Cartwright-Palmer
Kedeisha Carty
Jana Carty
Gina Carver
Richard Carver
Heather Carvey
Geoffrey Carwein
Rebekah Carwile
Michelle Cary
Kristin Casas
JoAnn Casavant
Dominick Caserta
Myra Caserta
Stacey Casey
Tracy Casey
Matthew Casey
Robin Casey
Tina Casey
Betina Cash
Shayna Cash
Jenna Cashman
Stephanie Casias
Jerry Casiquin
Paul Casola
Leigh Cason
Shelley Cassaday
Nicole Cassano
Melody Cassel
Shannon Cassel
Beverly Casselberry
Thomas Cassell
Michaela Cassens
Larry Cassidy
Shelley Cassidy
Erin Cassidy
Monica Cassinelli
Cheyenne Cassini
Vincent Cassone
Patrick Cast
Malissa Castaneda
Jami Castaneda
Evelin Castaneda
Carlos Castaner
Brandy Castano
Stephanie Castanon
Samantha Castañon
Keith Casteel
Elaine Casteel
Martha Casteleiro
Cherrelle Castille
Brittney Castille
Lili Castille
Lance Castille
Shauna Castilleja
Michelle Castillo
Tammy Castillo
Orlando Castillo
Tammy Castillo
Lorena Castillo
Natalie Castillo
Rachel Castillo
Crystal Castle
Kristjana Castleberry
Jermald Castleberry
Veronica Castro
Moses Castro
Jennifer Castro
Elizabeth Castro
Michelle Castro
Arlene Castro
Luisa Castro
Jeffery Castro
Francisco Castro
Nora Castro
Eileen Castro
Virgil Castro
Gilbert Castro Jr.
Ofelia Castro Larsen
Alejandrina Castruita
Jaleesa Catalan
Anna Catano
Shree Catapano
Carla Cater
Stephanie Cates
Keenan Cates
Narita Cathcart
David Cathcart
Whitley Cathon
Laura Catlett
Leigh Caudill
Jeffery Caudill
Michael Caudill
Vicki Caudill
Jason Caudill
Pauletta Caudill
Brenda Caulder-Salters
Kennith Causey
Cheryl Cauthon
Lynne Cavallaro
Jeffrey Cavallo
Nicole Cavazos
Douglas Cave
Marshell Caveney
Scott Cavin
Amber Cavin
Andrae Cavoto
Suzanne Cawley
Janet Cayce
Carlos Cazares
Moses Cazares
Yesika Cazares Rosas
Becky Cederwall
Elias Cedillo
Gustavo Cedillo
Juan Cedillo
Vicente Cedillos
Lisa Ceja
Olivia Ceja
Rodrick Celaya
Samuel Celestine
Aaron Celiceo
Tara Celis
Cathy Centabar
Luis Centeno
Cynthia Centeno
Alyssa Cenzi
Erica Cepeda
Tricia Cephas
Biljana Cepic
Victor Cepin
Diana Cerciello
Heather Cerda
Zulma Cereceres
Sandra Ceremuga
Scott Cermak
Mindy Cerny
Alexis Cerrillo
Ryan Cerutti
Kaizen Ceruvian
Stephanie Cervantes
Brenda Cervantes
Everardo Cervantes
Maritza Cervantes
Victoria Cervantez
Christopher Cervini
Sandra Cerwinsky
Jeremy Cesena
Carol Cevaer
Kathryn Cha
Inti Chabert
Patricia Chabot
Matthew Chabot
Brisa Chacon
Jerilynn Chadwick
Bart Chafe
Ashley Chaff
Raphael Chaffin
Leroy Chaisson
Avynelle Chaitan
Cassandra Chalkley
Ashley Chamberlin
Mary Chambers
Steven Chambers
Christiene Chambers
Jeffrey Chambers
Olivia Chambers
Sharyl Chambers
Robbie Chambers
Zeta Chambers
Jason Chambers
Virginia Champ
Rachel Champagne
Cory Champagne
Steven Champion
Jason Champlin
Michael Champs II
Samantha Chan
Tracy Chan
Po Chan
Leilani Chan
Anson Chan
Theresa Chance
Leanne Chance
Barbara Chance
Paige Chandler
Nicole Chandler
Nicole Chandler
Shelby Chandler
Jessica Chandler
Rebecca Chaney
Tara Chaney
Melissa Chaney
Nikki Chaney
Miriam Channavong
Farida Chapman
Daveta Chapman
Julieanna Chapman
Laurie Chapman
Justin Chapman
Michael Chapman
Janelle Chapman
Marjorie Chapman
Jodi Chapman
Cara Chapman
Angelica Chapman
John Chapman
William Chapman
John Chapman
Mindy Chapman
Timothy Chapman
Monique Chapman
Cody Chapman
Charles Chappell
Arlene Chappell
Kristin Chappell
Celeste Chappell-Bates
Gary Charbonneau
Pamela Chard-Thomas
Cheryl Charest
Cris Chargualaf
Jason Charles
Margaret Charles
Kevin Charles
Malika Charles
Shelleen Charles
Patrice Charles
Marlene Charles
Rob Charles
Louguens Charles
Pauline Charles-Thomas
Tayon Charleston
William Charleton
Danielle Charlot
Joanne Charlot
Melissa Charlton
Gail Charow
James Charters
John Chartier
Bonnie Chartier
Michael Charvat-Jobson
Radley Chase
Chris Chase
Tina Chase
Juatawna Chase
Randy Chase
Shelly Chase
Lisa Chase
Christopher Chastain
Swannie Chastain
Stacy Chasteen
Catherine Chatham
Peter Chatham
Steven Chatman
Savannah Chatman
Scarlet Chatman
Sonja Chatman
Rasheen Chatmon
Agni Chatterjee
Julia Chatterton
Jennifer Chatwell
Kathryn Chatwin
Lori Chauvin
Ann Chauvin
Mark Chavez
Christina Chavez
Crystal Chavez
Hannah Chavez
Mayra Chavez
Sandra Chavez
Melanie Chavez
Marta Chavez
Melissa Chavez
Yigael Chavez
Patrick Chavez
Patricia Chavez
Liszet Chavez-Johnson
Rosa Chavis
Willie Chavis III
Julie Chavoya
Faith Cheatham
Chaunika Cheatham-Fields
Michele Chebahtah
Amy Cheek
Sherri Cheeseboro
Joseph Chege
Justine Chelette
Eric Chenevare
Rachel Cheney
Tammie Cheney
James Cheney
Destiny Cheney
Robert Chenier
Emmanuel Chenny
Kaci Chenoweth
Kelly Chenoweth
Larrie Cherrey
Kimberly Cherry
Melisa Cheshier
Amy Chesla
Jason Chesler
Ronald Chesney
Tracie Chesney
Theresa Chesser
Megan Chesser
Marc Chesson
Misti Chester
Jeremy Chester
Anthony Chew
Lauren Chew
Shannon Chezick - Phillips
Danielle Chiaro
Angelina Chiavini
Margo Chilcott
Tori Childers
Jenifer Childress
Karen Childress
Karen Childress
Teresa Childs
Tambreia Chiles
Gladys Chilson
Susan Chilton
Nicole Chin
Larissa Chin
Donna Chin Loy
Marc Chinama
Aron Ching
Nicole Chinn
Janet Chinn
Catarina Chinn
Mariel Chinouyazue
Jack Chipman
Nicholas Chira
Audrey Chisholm
Timothy Chisolm
Crystal Chisum
Don Chitry
Lee Chiz
Danielle Chizmadia
Stephanie Chmielewski
Joseph Cho
Andrew Cho
Christopher Choate
Chong Choe
Nu-Unique Choice
Michael Choplin
Jurina Chounthala
Alicia Chovan
Garrett Christ
Moriya Christabelle
Stephanie Christensen
Jessica Christensen
Andrea Christensen
Michelle Christensen
Katherine Christeson
Ricardo Christian
Amanda Christian
Jesse Christian
Esther Christian
King Christian
Ashley Christian
Brittany Christian
Rose Christian
Charlene Christian
Catherine Christian
Debra Christians
Jody Christiansen
Travis Christiansen
Hollie Christiansen
Sara Christiansen
Shawn Christiansen
Lisa Christianson
Dalton Christie
Eric Christie
Stephanie Christie
Robert Christman
Jason Christman
Christy Christmas
Michael Christoferson
Timothy Christoni
Misty Christopher
Alicia Christy
Vanessa Chromi
Amanda Chroniger
Roman Chrostowski
Marites Chua
Nicole Chubb
Shawana Chubet
Nadine Chudoba
Sherman Chum
Carla Chumbley
Natalyn Chumley
Thanh-Nhan Chuon
Shawn Chura
Joel Church
Benjamin Church
Mary Church
Christian Church
Mallory Church-Hammond
Mariana Ciaburri
Cynthia Cibo
Michael Cichowicz
Kelina CiegoSimms
Christopher Ciervo
Julianne Ciesielski
Erik Ciesinski
Jeffrey Ciferri
Jami Cimbolo
Heather Ciminelli
Randy Cimprich
William Cinnamon
Janice Cintron
Kevin Cintron
Anne Ciolek
E.A. Lizard Cisco
Candace Cisman
Veronica Cisneros
Carlos Cisneros
Marissa Cisneros
Anna Cisneros
Amanda Ciszewski
Rachael Claiborne
Andrea Clairmont
Lindsay Clanagan
Amanda Clapp
Sharia Clardy
Melissa Clark
Dennis Clark
Shane Clark
Latavia Clark
Danielle Clark
Heather Clark
Robert Clark
Byron Clark
Simon Clark
Michael Clark
Lori Clark
Michael Clark
Charles Clark
Kimberly Clark
Tracey Clark
William Clark
Robert Clark
Yvonne Clark
DeAnna Clark
Aiyhana Clark
Jessica Clark
Jaie Clark
Kara Clark
Theron Clark
Monica Clark
Antony Clark
Amy Clark
Lisa Clark
Kirk Clark
Kyle Clark
Nathan Clark
Rachel Clark
Josey Clark
Sabrina Clark
Karen Clark
Christine Clark
Christopher Clark
Alden Clark
Nedra Clark
Kimberly Clark
John Clark
Durrell Clark
Marion Clark
Deborah Clark
Cristen Clark
Austin Clark
Michael Clark
Felicita Clark
Norman Clark
Samantha Clark
James Clark
Melissa Clark
Kendra Clark
Heidi Clark
Jayla-Lee Clark
Shawna Clark
Katherine Clark
Samuel Clark
Felechia Clark
Gregory Clark Jr
Brenda Clark-Duffie
Christine Clarke
Adam Clarke
Marissa Clarke
Jeremy Clarke
Sharon Clarke
Laura Clarke
Crystal Clarke
Sandra Clark-West
Patricia Claros
Geraldine Classen
Darlene Classen
Pedro Claudio
Crystal Claus
Chad Clauson
Kristin Clavon
Bryan Claxton
Rachel Clay
Samantha Clay
Crystal Clay
Anthony Clay
Phyllis Clay
Marcus Clay
Linda Clay
Anthony Clay
Chantel Clayborn
Regina Clayborne
Robert Claypoole
Tina Clayson
Dominique Clayton
Douglas Clayton
Tonya Clayton
Janette Clayton
Jennifer Clayton
Toi Clayton Soh
Monica Clayton-Moore
Brenda Cleary
Christina Cleary
Joseph Cleary
Meredith Cleaves
Joseph Clegg
Jennifer Cleis
Jennifer Clelland
Dale Clem
Emily Clem
Brandi Clemens
Rikki Clemens
Carrie Clement
Thalia Clement
Cindy Clement
Michelle Clemente
Victoria Clements
Lindsey Clements
Brent Clements
Deanna Clements
Daynora Clements-Caul
Sonda Clements-Davis
Donald Clemons
Ovelita Clemons
Haley Clesh
Lyndsey Cleto
Phillip Cleve
Jessica Cleveland
Rachel Cleveland
LaToya Cleveland
Jessica Clevenger
Tishonda Clevenger
Kelly Clevenger
James Clevenger
William Cleworth
Debra Click
Luther Cliett
Amber Clifford
Bridgette Clifford
Kelly Clifton
Stephanie Clifton
Linda Clifton
Nikkie Clifton
Sharon Climack
Debra Climer
Angela Clinage
Daisie Cline
Teri Cline
Lilliana Cline
John Cline
Ruby Ann Cline
Brenda Cline
Alex Clinesmith
Jessica Clinkinbeard
William Clinton
Jabbar Clinton
Alyssa Clive
Jamie Cloe
Mary Close
Sherrie Close
Erica Close
April Cloud
Frederick Cloud
Misty Clough
Jeffrey Cloutier
Tiffany Cloutman
Catherine Clowers
Chrystal Clues
Zelda Clune
Jason Clute
Sandra Clutter
Rebecca Clymer
Kara Coachman
Jose Coakley
Quintin Coakley
Felisa Coan
Brenda Coates
Arthur Coates
Stephanie Coates
Cathy Coates
Sara Coates
Kamilah Coats
Jerold Coats
William Coats
Katherine Cobb
Tangerine Cobb
Dominic Cobb
Christopher Cobb
Ronneka Cobb
Yonna Cobb
Amy Cobb
Lauren Cobb Hensley
Tracie Coberly
Jose Cobian
Roxanna Coble
Paul Coblentz
Melanie Coburn
Stacey Coburn
Twyla Cocciolone
Rodney Cochran
Stephanie Cochran
Nick Cochran
April Cochran
Patricia Cochran
Niolopuahokuahi-ahi Cockett-Saito
Nathan Cockrum
Lynda Coddington
Jacob Cody
Tawny Cody
Abigail Coe
Joseph Coelho
Shahe Coello
Avery Coen
Michael Coerper
Keith Coetzee
Jolisa Coffee
Georgia Coffey
Tianna Coffey
Mitchell Coffey
Shelly Coffman
Amber Cogill
Martine Cognet
Jeffrey Cogswell
Benjamin Cohen
Arnold Cohen
Nikki Cohen
Clarence Cohran
Cecelia Cohron
Kelli Coile
Ashley Coker
James Coker
Judith Coker
Blake Coker
Derrick Coker
Anthony Coker
Nathaniel Coker
Renie Cokus
Joshua Colaci
Constance Colandrea
Japhia Colandrea
Gianina Colasacco
Brian Colatrella
Michael Colbert
Donna Colburn
Amanda Coldren
Bonnie Cole
Jennifer Cole
Alexandra Cole
Martin Cole
Cheryl Cole
Betty Cole
Janice Cole
Lanette Cole
William Cole
Scott Cole
Lisa Cole
Shelley Cole
Staci Cole
Kinya Cole
Eva Cole
Cynthia Cole
Christine Cole
Douglas Cole
Linda Cole
Wesley Cole
Hannah Cole
Jon Cole
Ann Marie Cole-Maitland
Casey Coleman
Barry Coleman
Stacie Coleman
Cheybrel Coleman
William Coleman
Laurie Coleman
Sharon Coleman
John Coleman
Brittany Coleman
Jasmine Coleman
Tia Coleman
Janis Coleman
Tiffany Coleman
Henry Coleman
Mariella Coleman
Graciela Coleman
Mary Coleman
Patricia Coleman
Janel Coleman
Kahreemah Coleman
Amanda Coleman
Krystal Coleman
Maylynn Coleman
Roslynne Colen
Tammy Coles
Wayne Coles
Kim Coles
Sharon Coles
Ericka Coles
Brandi Coles
Michaela Coles
Michele Coletti
Mary Coley
Kenneth Coley
Ellis Coley Jr.
Lisa Colgan
D. Roxanne Collachi
Ricardo Collado
Alexander Collazo
Johnny Collett
Scott Collette
Sonya Colley
Larry Colley
William Collier
Carrie Collier
Michael Collier
Jennifer Collier
Karen Collier
Bridgette Collier
Sara Collier-Byrd
Michael Collings
Kimberly Collins
Chad Collins
Quindolyn Collins
James Collins
Carol Collins
Sarah Collins
Erin Collins
James Collins
Janelle Collins
Carl Collins
Jeremy Collins
Christy Collins
Destiny Collins
Stephen Collins
Natherlene Collins
David Collins
Cherice Collins
Teniya Collins
Timothy Collins
Amy Collins
Robert Collins
Eugene Collins
Valarie Collins
Nicole Collins
Christopher Collins
Mariah Collins
Mary Collins
Alyssa Collins
Kathy Collins
Ryan Collins
Debra Collins
Eric Collins
Eddie Collins
Jeffrey Collins
Kimberly Collins
Connie Collins
Dorothy Collins
Christina Collins
Christina Collins
Brenda Collins Brown
LaVera Collins Okoh
Jennifer Collins-Wing
Lauren Colombo
Jessica Colon
Jose Colon
Yolanda Colon-Pabon
Claudia Colon-Zamago
Lindsey Colston
Daniel Colter
Holly Colton
Melissa Colvin
Chad Colvin
Daryl Colyer
James Comardelle
Ida Combast
Michael Combs
Stella Combs
Vernessa Combs
Lori Comeau
Tamiko Comeaux
Elizabeth Comella
Yvonne Comesario
James Comfort
Heather Comfort
Daniel Comfort
Joseph Comilla
Dana Commans
Roseanna Commini
Christy Compeau
Laci Compton
Ilhwa Compton
Katie Compton
Shari Comstock
Howard Comstock
Ramona Comstock
Sarah Conaghan
David Conant
Brandy Conarroe
April Conaway
Emily Condori
Amanda Condry
Michael Confair
Terra Confer
Stacy Conger
Terry Conklin
Amber Conlee
David Conley
Shaleen Conley
Kale Conley
Camille Conley
Delores Conley
Gretchen Conley
Andrea Conley
Dana Conley
Kathryn Conley
Calvin Conliffe
Mary Connaughty
Jonathan Connaughty
Angelia Connell
Grace Connelly
Valerie Conner
Billy Conner
Courtney Conner
Randi Conner
Lacey Conner
Lee Conner
Connie Conner
Daniel Conner
Sandra Conner
Kelly Connerton
William Connery III
Shealee Conningham
Ryan Connolly
Kaitlyn Connolly
Shannon Connor
Ann Connor
Amanda Connor
Jessica Conolly
Kathy Conrad
Tara Conrad
Crystal Conrad
Janice Conrad
Timothy Conrads
Kimberly Conrey
Logan Conroy
Marti Conroy
Peter Consiglio
Kyle Constable
David Constantini
Matthew Conti
Stephanie Contino
Sydney Contorno
Juan Contreras
Jenni Contreras
Joanna Contreras
Marsha Contreras
Jennifer Conway
Susan Conway
Thomas Conway
Tiara Conway
Jo Conway
Angela Conway
Michele Conyer
Janice Conyers
Duron Conyers
James Coody
Cratina Coody
Rosalind Cook
Julia Cook
Ahliah Cook
Tina Cook
Michael Cook
Crystal Cook
Donald Cook
Thomas Cook
Jessica Cook
Megan Cook
Andriea Cook
James Cook
Sean Cook
Tara Cook
Rebecca Cook
Tracy Cook
Teneka Cook
Corinthia Cook
Jennifer Cook
Christine Cook
Donald Cook
Brian Cook
Janice Cook
Paul Cook
Dawn Cook
Robert Cook
Christine Cook
Nathan Cook
Nicole Cook
Jenielle Cook
Elizabeth Cook
Christopher Cook
Margaret Cook
Claudia Cook
Shondra Cook
Krystal Cook
Victoria Cooke
Samantha Cookman
Andrew Cookston
Tanya Cooley
Jennifer Coomes
Mark Coon
Jessica Coon
Laura Coon
Lorianne Coon
Myra Coon
Clinton Coonce
Orlando Coons
Amanda Coons
Miesha Cooper
TeNeasha Cooper
Terri Cooper
Dale Cooper
Kyle Cooper
Trinity Cooper
Robin Cooper
Adrienne Cooper
Dwayne Cooper
Christa Cooper
Pamela Cooper
Heather Cooper
Cinnamon Cooper
Daniel Cooper
Michelle A. Cooper
Kim Cooper
Samantha Cooper
Lawrence Cooper
Tracy Cooper
Jonathan Cooper
Shawna Cooper
Marian Cooper
Nicholas Cooper
Milton Cooper II
Jeffrey Coots
Shalyn Copas
Melinda Cope
Cathryn Cope
Craig Cope
Riki Copeland
Dana Copeland
Karen Copeland
Amanda Copeman
Jason Copes
Lauren Copland
Elizabeth Copley
Joseph Copp
Brian Copp
Deborah Copper
Amy Coppernoll
Matthew Coppersmith
Janet Coppini
Margaret Coppins
Vera Coppola
Cassandra Coray
Amanda Corbett
Tracy Corbin
Amanda Corbin
Jonathan Corbin
Rose Corbin
Tomika Corbin-Roberson
Kenneth Corbitt
Shawn Corbitt
Amy Corcelius
Sofiah Corcoran
Holly Cordell
Randi Cordell
Katheleen Cordero
Nancy Cordova
Amy Cordova
Steven Cordova
Jessica Cordova
Michela Cordova
Nicole Corey
Christiana Corfee
Lewis Corlew Jr
Carol Cormier
Trista Cormier
Audrey Cornejo
Ruby Cornejo Salas
Rachel Cornelio
Deanna Cornelison
Amanda Cornelisse
Ariel Cornelius
Justin Cornelius
Karlene Corneliusen
Justin Cornett
Kara Cornish
Laura Corona
Aileen Coronel
Travis Corpin
Rachele Corpuz
Rosa Corral
Amora Correa
Andrew Correira
Erin Correll
Anthony Correnti
Samantha Corrie
Dalia Corrigan
Jaime Corriveau
Stacy Corry
Cyndee Corry
Emerson Corson
Morgan Cortani
Gloria Cortes
Nadine Cortes
Karina Cortes
Regina Cortez
Edward Cortez
Thomas Cortez
Ernesto Cortez
Veronica Cortez
Jamie Cortright
Daniel Corum
Lisa Corwin
Marguerite Cosey
Luis Cosme
Dustin Coss
Elizabeth Costa
Loretta Costa
Meredith Costa
Michael Costa
Carlo Costanzo
Morrisa Costanzo
Michael Costello
Tamara Costilla
Stephanie Coston
Kendra Coston
Jennifer Cota
Audrey Cota
Frederick Cote
Thomas Cote
Dustin Cote
Derek Cote
Eric Cothran
Angela Cotner
Jennifer Cotter
Rachael Cottingham
Susan Cottingham
Mikki Cottle
Stacey Cotto
Matthew Cotton
LaKe Cotton
Laurie Cotton
Doneisia Cotton
Lisa Cotton
Robert Couch
Paul Couch
Angelina Couch
Angelique Couch-Wilson
Jason Couden
Joseph Coughlin
Natasha Cougle
Patrick Coulter
Brooke Coulter
Samuel Councell
Jedon Counts
Lisa Courkamp
Virgil Courneya
Gwen Courter
Cassandra Courtney
Noah Courtney
Ketrah Courts
Latisha Courts
Glenn Cousins
Lynn Coutee
Aaron Couture
Stephanie Covarrubias
Michael Covey
Quinette Covington
Jhanaya Covington
Michael Cowan
Daniel Cowan
Krishonda Cowan
Lawrence Coward
Dennis Cowart
Charles Cowart
Sarah Cowart
Melinda Cowen
Elizabeth Cowen
Shannon Cowens
William Cowger
Nicole Cowlin
Brandi Cowling
Clint Cowser
Patricia Cox
Michael Cox
Ruth Cox
Lorenzo Cox
William Cox
Benjamin Cox
Edward Cox
Carolynn Cox
Ruth Cox
Cheyenne Cox
Shelley Cox
Alesha Cox
Jennifer Cox
Phillip Cox
Veronica Cox
Traci Cox
Rachel Cox
Daryl Cox
Sarah Cox
Sally Cox
Joel Cox
Stephanie Cox
Lindsey Cox
LaShawndra Cox
Kasey Cox
Tiandra Cox
Jennifer Cox
Charmaine Cox
Ginger Coy
Amanda Coy
Alyssa Coye
Brandy Coyle
Andria Coyle
Deborah Coyle
Michelle Cozad
Kasey Cozzi
Michael Cozzie
Mayra Crabb
Jonnie Crabb
Freya Crabtree
Nicole Crabtree
Allen Cracknell
Paula Craddock
John Craddock
Cameron Crader
Trudi Craft
Samantha Craft
Karen Craft
Vivienne Craft
Shayla Craft
Chandra Craig
Amber Craig
James Craig
Samantha Craig
Annamarie Craig
Angela Craig
Josie Craighead
Conchetta Crain
Jeffrey Cramer
Bradley Crane
Eric Crane
Douglas Crane
Bryan Crane
Kristi Cranford
Michael Crank
Rebecca Crass
LaToyia Cravanas
Stefanie Craven
Ciara Cravens
Brian Cravo
Sonja Crawford
Carissa Crawford
Heather Crawford
Norma Crawford
Vistea Crawford
Donald Crawford
Steven Crawford
David Crawford
Shannon Crawford
Lateresa Crawford
Todd Crawford
Carlotta Crawford
Daniel Crawford
Zane Crawford
Frieda Crawford
Ashlie Crawford
Ja'mita Crawley
Sandra Crawshaw
Paula Crayne
Janis Creech
Allison Creech
Gregory Creel
Kimberly Creel
Rhonda Creger
Jose Crego
Josefina Creighton
Johnny Crenshaw
Neville Crenshaw
Kimberly Crenshaw
Denisse Crespo
Brian Crewe
Jennifer Crews
Erin Crews
Vandalyn Cribb
Rhonda Cribbs
Christella Crickard
Lateka Crigler
Christy Crigler
Tara Crim-Thomas
Leigh Cripe
John Crippen
Kathleen Crippin
Hope Cripps
Danielle-Marie Criss
Briana Cristobal
Logan Criswell
Stephen Criswell
Brandon Critchfield
Shelby Crites
Kevin Crocchi
Carol Crocker
Tonna Crockett
Petrice Crockett
Leslie Crockwell
Tyler Croft
Eric Croft
Deborah Croft
Patsy Croinex
Jonathan Cromack
Rebekah Cromer
Dixie Crompton
Sandra Cronin-Tassi
Alyssa Cronk
Jennifer Cronk
Aaron Cronkright
Nicole Cronkright
Mary Crook
Tristan Crook
Ernest Crook
Daniel Crook
Charles Crooks
Jamie Crooks
Jodi Crosby
Luke Crosby
Christina Crosby
Tamera Crosgrove
Julie Crosier
Crishuna Cross
Christinia Cross
Alicia Cross
Carsten Cross
Lori Cross
Kathryn Cross
Karen Cross
Jonathan Cross
Alexis Cross
Teresa Cross
Kelley Cross
Amy Crosse
Donald Crossland
Randy Crosslin
Christopher Crossmoore
Kody Crosson
Caleb Crotts
Savanah Crouch
Kelly Crouch
Kari Crouch
Carmen Croucher
Sarah Crouse
Jeannette Crouse
Debra Crouse
Melissa Crouse
Concetta Crout
Sarah Crow
Becky Crow
Brittany Crow
Julie Crow
Rene Crow
Tasha Crowder
LaShonda Crowder
John Crowe
Wendy Crowe
Ellissa Crowl
Sara Crowley
Gina Crowley
Matthew Crowley
Michael Crowley
Melinda Crown
Aurora Crowther
Angela Croxton
Johnna Croy
Amy Cruchelow
John Crucianelli
Dorothy Cruikshank
Adam Cruise
Rachel Crum
Michelle Crumb
Nathaniel Crump
Linda Crump
Melissa Crump
Michael Crump
Lisa Crusberg
Kelly Cruse
Nichole Cruse
Rebecca Crusselle
Kenyatta Crutchfield
Sylvia Cruz
Yessica Cruz
Susan Cruz
Johanna Cruz
Thomas Cruz
Lara Cruz
Rosanna Cruz
Carmen Cruz
Ylduara Cruz
Patricia Cruz
Robert Cruz
Brandon Cruz
Sherrie Cruz
Rebecca Cruz
Maribel Cruz
Lavina Cruz
David Cruz Castellanos
Jose Cruzbarbosa
Merissa Cruz-Flores
Anastasia Csahiouni
Joe Cuaresma
Roxanna Cubero
Suzanne Cuccio
Jocelyn Cuesta-Siu
Brandy Cuevas
Lisa Cuevas
Melissa Cuevas
Rebekah Cuevas
Nychole Cuevas
Ferdinand Cuevas III
DeeAnna Culbertson
Tonia Culbreth
Tyler Cullen
Angela Cullum
Lauren Culpepper
Chad Culter
Rhonda Culvahouse
Kelley Culver
Jonathan Culverhouse
Mary Cumberbatch
Peter Cumming
Robert Cummings
Phylis Cummings
Eric Cummings
Stephanie Cummings
Ashley Cummings
Arcie Cummings
George Cummings
Emily Cummings
Uthana Cummings
Chylander Cummings
Andrew Cumplido
Maurice Edison Cunanan
Nguyen Cung
Jennifer Cunningham
Theresa Cunningham
Paul Cunningham
Vicky Cunningham
Beyyinah Cunningham
Jill Cunningham
Jon Cunningham
Holly Cunningham
Kevin Cunningham
Tyron Cunningham
Susan Cunningham
Cheryl Cunningham
Nadia Cunningham
Crystal Cunningham
Christina Cunningham-Battl
Jacob Cuomo
Cristina Curbey
Catherine Cureton
Amber Curl
Michele Curley
Michele Curran
Kristi Curran
Joseph Curran
Brett Curran
Melissa Currie
Lisa Currier
Amanda Currier
Marrianne Currier
Karen Curry
Katherine Curry
Michelle Curry
Gary Curry
Aimee Curry
Thomas Curry
Kathy Curry
Beatrice Curry
Keith Curtin
Janet Curtis
Racheal Curtis
Marquita Curtis
Christy Curtis
Justina Curtis
James Curtis
Derek Curtis
Cindy Curtiss
Enzamarie Cusenza
Ryan Cushing
Joel Cushing
Diane Cushing
Melissa Cushman
Melvin Cushman
Michael Cusson
Tyler Custer
Tina Custer
Raymond Custin
Mary Cuthbert
Elizabeth Cuthbertson
Judy Cuthbertson
Carol Cuthrell
Breanna Cuticchia
Patricia Cutler
Kathryn Cutler
William Cutler
Carolyn Cutter
Heidi Cutter
Hilary Cuvar
Renee Cuyler
Halldora Cuyler
David Cyphers
Rebecca Cyphers
Kayleigh Cyr
Rena Cyvas
Amber Czupik

Rebecca Dabbs
Valerie Dabel
Laura DaCorte
Andrea DaCosta
Anthony Daemke
Jovanni Daep
Deanna Daffner
Traci Dagley
Jennifer Dague
Dianna Dahl
Terri Dahl
Tabatha Dahlstedt
Michelle Dahlum
Faida Dahman
Kimberly Daigle
Gerard Daigle II
Tanya Daigre
Danielle Dailey
Robert Dailey
Dustin Dailey
Shannon Dailey
Ashley Dailey
Aleper Dailey
Arlea Daily
William Daily
Angie Dais
Deborah Dakan
Henry Dalbec
Jacquelyn D'Albero
Corey Dale
Joseph Dale
Stephanie Dale
Laura Daleiden-Altmaier
Anthony Dalessandro
Rande Dalessio
Brandie D'Alessio
Jesse Dalewalker
Joseph Daley
Shauna Daley
Shannon Daley
Brent Daley
Elizabeth Daley
Randi Dalfonzo
Deanna Dallmeyer
Marian Dalmon
Virginia Dalsasso
Valerie Dalton
Marie Daly
Deanna Dalzell-Chan
Robin Dalziel
John Damasco
Michael D'Amato
Wendy Damman-Bednar
Phillip Dancy
JoAnna Dandino
Charles Dandridge
Norma Dandridge
Leona Danger
Melanie Dangzalan
Bashar Danial
Kaneil Daniel
Nicole Daniel
Bianca Daniel
Laura Danielczyk
Melissa Danielczyk
Rhonda Daniels
Christina Daniels
Rashana Daniels
William Daniels
Carolyn Daniels
Serenity Daniels
Diane Daniels
James Daniels
Tracy Daniels
Troy Daniels
Logan Daniels
Deborah Daniels
Kristy Daniels
Kathryn Daniels
Clifford Daniels
Len Dannhaus
Susan Dano
Janet Dansbury
Hai Dao
Christeen Daoust
Jordan Dappert
Kanit Dararutana
LaSonya Darby
Matthew Darby
Erin Dardar
Sheila Darden
Contessa Darden
Holly Dare
Jessica Darensbourg
Matthew Dargan
Tabatha Darilek
Karen Darity
Isaac Darko
Nathaniel Darling
Jenifer Darling
Kristy Darling
Katherine Darling Hebert
Thomas Darnell
Angela Darrall
Linda Darrow
Mark Darvill
Brandy Darville
Ghada Darwiche
Stacey Dascoulias
Francis Daskowski
Tameka Daste
Cyncha Dato
Stacey Dattilo
Amy Dauberman
Brian Daubert
Yuridia Davalos
Brandi Davan
Paula Davault
Vernon Davenport
Raquel Davenport
Ashley Davenport
Elizabeth Davenport
Alexis Davenport
Desiree Davenport-Dessus
Alexjandro Daviano
Maurice David
Rahni David
Deliris David
Nathan David
Christine David
John David Jr
Tonya Davidge
Pamela Davidson
Jennifer Davidson
Janet Davidson
Shannon Davidson
Sharleene Davidson
Carl Davidson
Christina Davies
Christine Davies
James Davies
Anthony Davila
Benito DaVila
Maria Davila
Angela Davis
Phyllis Davis
Felicita Davis
Kezia Davis
Susan Davis
Kevin Davis
Larhonda Davis
Zena Davis
Cynthia Davis
Rebeccah Davis
La Kiesha Davis
Jaime Davis
Bernard Davis
Veronica Davis
Tina Davis
Jeremy Davis
Christopher Davis
Monique Davis
Tammy Davis
Alaina Davis
Avis Davis
Angela Davis
Sammy Davis
Kenneth Davis
Natosha Davis
Steven Davis
Sue Davis
Jeanne Davis
Melissa Davis
William Davis
Sharon Davis
Christopher Davis
Jason Davis
Kevin Davis
Katie Davis
Jason Davis
Debra Davis
Alanda Davis
Christa Davis
Ashley Davis
Elaine Davis
Laura Davis
Sandra Davis
Christopher Davis
Justin Davis
Jamelle Davis
Tyler Davis
Michelle Davis
Lisa Davis
Bettina Davis
Kayleigh Davis
LeMarcus Davis
Denise Davis
Zachary Davis
Grace Davis
Felicia Davis
Joyce Davis
Lamontica Davis
Jahara Davis
David Davis
Stacy Davis
Justin Davis
Devoira Davis
William Davis
Alice Davis
Lisa Davis
John Davis
Clare Davis
Linda Davis
Patrick Davis
December Davis
Vanessa Davis
Michaela Davis
Beulah Davis
Xang Davis
Kristina Davis
Tiffany Davis
Jacqueline Davis
Cori Davis
Ayanna Davis
Fatumetta Davis
Ronald Davis
Sandra Davis
Karyn Davis
Jennifer Davis
Irene Davis
Michael Davis
Elizabeth Davis
Carlo Davis
Tom Davis
David Davis
Katherine Davis
Kathy Davis
Dorothy Davis
Patricia Davis
Sylvia Davis
Jamie Davis
Leanna Davis
Rhonda Davis
Larry Davis
Tasha Davis
Shelly Davis
Melissa Davis
Scott Davis
Brian Davis
Lee Davis
Lakisha Davis
Julie Davis
Jennifer Davis
Laverne Davis
Anthony Davis
Scott Davis
Andre Davis
Lisa Davis
Melody Davis
Deveen Davis
Llyssa Davis
Tierra Davis
Mark Davis
Stella Davis
Danielle Davis
Christopher Davis
Adam Davis
Lucious Davis
Mindy Davis Ergott
Rose Davis Gietschier
Larry Davis II
Rema Davis-Bynoe
Vache Davis-Johnson
Rhonda Davis-Kaenan
Saundra Davison
Andrea Davison
Jeffrey Davison
Deborah Davison
Judith Davis-Rice
Rickey Davis-Turner
Annette Davita-Pratt
Heather Daw
Cynthia Dawicki
Travis Dawson
Keith Dawson
Maxwell Dawson
Joseph Dawson
Michael Dawson
Suvonne Dawson
Jehramie Dawson
Edna Day
Molly Day
Edna Day
Susan Day
Amy Day
Janet Day
Velicia Day
Cristal Day
Tara Day
Dorothy Day
Amy Day
Christina Day
MyNga Day
Matthew Day-Reyes
Cassandra Dayrit
Leslie Dayson
Stephani Dayton
Tambra Dazey
Sunnie De Bearn
Arlene De Cardenas
James De Grande III
Rowelyn De Guzman
Amanda De Haan
Hector De Jesus
Tammy De La Cruz
Jasmine De La Cruz
Roel De La Fuente
Nohea De La Fuente
Candy De La Garrigue
Federico De La Garza, Jr.
Sindy De La hoz Ocampo
Moises De La O
Deidra De La Riva
Sarah De la rosa
Christina De La Torre
Tarsicio De La Torre
Matthew De Lair
Carlos De Leon
Diana De Leon
Lezli De Leon
Cala De Leon
Kristin De Long
Ted De Loy
Jason De Luca
Edgar De Luna
Judith De Mello
Jordan De Oliveira
Ricardo De Souza
Christine De Souza
Ashleigh de Wit
Tara Deaguiar
Annette Deakins
Damon Dean
Mary Dean
Allura Dean
Jody Dean
Brett Dean
Michael Dean
Shauna Dean
Eric Dean
Dominique Dean
Martin Dean
Gregory Dean
Cynthia Dean
Bridget Dean
Amy Dean
DaVron Dean
Zan Dean
Amanda Deaner
Sage Dean-garrett
Suzanne Dearing
Floyd Dearing
Kristine Dearman
Fawn Deason
Theresa Deater
James Deatley
LaVerne Deatrich
Larry Deberry
Michael DeBlaere
Odie DeBlume
Terry DeBoer
Alyssa Debray
Keisha Debro
Angela Debruyn
Matthew DeCarlo
Andrew DeCaro
Heather December
Kellie DeChant
Ryan Dechent
Stephanie Deck
Amy Deckard
Deborah Decker
Teresa Decker
Emily Decker
Rachel Decker
Rolando Decker
Ellen Decker
Robert Decker II
Kristopher Deckman
Elizabeth Decou
Catherine Deddeh
Frank Deddeh
Virginia Dee
Austin Deel
Donald Deem
Debra Deering
Margaret Deering
Paul Dees
Belinda Dees
Melaney Dees
Valorie Dees
Lester Deese
Devon Deese
Victoria Defalco
Lorraine Deffendoll
Roberta Defoor
Russell DeFord
Lori Defuso
Nicholas DeGeest
Geraldine DeGennaro
Shaun Degges
Renee DeGiule
Amanda DeGood
Michael DeGore
Daniel DeGouveia
Laurie DeGrace
Craig DeHaan
Gerard Dehner
Theresa Dehnert
Karen Deibert
Leanna Deimund
Tori Deines
Lynzie Deiters
Candice Deits
Daniel Deitz
William Dejarnette
Paul Dejesus
Veronica DeJesus
Allison Dejesus
Janny Dejesus-Thompson
Samia Dekonor
Rudolfo Del Barrio
Nicole Del Calvo
Elaina Del Pozzo
Chito Del Rosario
Michael Del Soldato
Katrina Dela Serna
Janelle DelaCruz
Jeni Delacruz
Glenda Delamerced
Nicholas DeLand
Christopher Delaney
Leilani Delannoy
Grace Delano
Synitta Delano
James Delano
Frank DeLapo
Joseph DeLarco
Latina DeLaRiva
Deidre Delarosa
Donica Delarose
Olivia Delashmitt
Chachere Delaurente
Erika Deleon
Randy Deleon
Francisco Deleon
Krista Deleon
Annette Delgado
Theresa Delgado
Erick Delgado
Jose Delgado
Jolee Delgado
Patricia Dell
Nicole Dell
Ann Dell
Aletha Della Rocco
Jennifer Dellasanta
Kimberly Dellinger
Leslie Dellinger
Mihaela Delorenzo
Sondra DeLorenzo
Todd DeLoy
Carol Delozier
Rachael Delp
Isaac Deltoro
Louis DeLuca
Joseph DeLuca
Keri Delucia
Itxel Delucy
Ayysleth Delvalle
Nicole Delvecchio
Rhonda Demar
Shellane Demarest
Kelly DeMarre
Erik DeMay
Mallory DeMello
Tangela Demeritte
Naomi Demers
Desiree Demmith
Stephanie Demmy
Miranda Demonbreun
Kristine Demonbreun
Terry Dempewolf
Sonya Demps
Mary Johanna Dempsey
Deborah Demus
Christal Demydowich
Christina Den Ouden
Sarah Dencarnacao
Melissa Denewellis
Susan Denison
Yvonne Denmark
Nathan Denn
Brittany Dennard
Keith Denner
Amy Denner
Stephanie Denney
Joshua Denney
Corey Denney
Lavoshia Dennie
Kathryn Denning
Teresa Dennington
Jeffrey Dennis
Ronda Dennis
Chris Dennis
Candace Dennis
Robin Dennis
Candice Dennis
Linda Dennis
Rhonda Dennison
Penny Dennison
Cecil Denny
Katelyn Denny
Jessica Denny
Alessandra DeNofio
John Denovi
Kelly Densel-Ohm
James Dent
Timothy Denton
Todd Denton
Danielle Denton
Brian Deorocki
Chasity DePaula
Megan Depping
Sandra Derby
Amy Derby
Madeline Dereta
Joseph Derevage
Siobahn Dermody
Stephen Derohn
Pamela DeRosier
Deborah Derrick
Robert Derryberry
Tyler Dervin
Suzzanne DeSha
Camille Deshotel
Heather Deskins
Kathleen DesMarais
Pauline DeSomma
Tara DeSousa
Rebecca Despain
Nicole Despines
Jane DeTorre
Kortney Dettloff
Brian Dettmer
Amber Detty
Joshua Detwiler
Lori Deuel
Heather Devall
Erika Develasco
Brandy Devenport
Donna DeVenuto
Onalee Devereaux
Alan Devernoe
Dawn-Marie DeVido
John DeViese
Pamela DeVine
Denise Devine
Patrick Devito
Michael Devito
Deborah DeVito
Jessica Devlin
Ernie Devlin
Mayra Devora
Shayla Devore
Chad Devries
Chadwick Devries
Denise DeWan-Bottinger
Heidianne Dewar
William Dewease
James Deweerdt
Robin Dewey
Barbara Dewey
Eldon Dewitt
Sara DeWitt
Drew Dewitt
James Dewitt
Kimberley Dewitz
Barbara Dewolf
Erin Dews
Ramandeep Dhillon
Mari Dhingra
Cecile Dhuyvetter-Cox
Angelina Di Mauro
Nadia Di Nesta
Shabnam Di Pilato
Di-Anne Di Re
Beverly Diaab
Mark Diamond
Kendall Diamond
Allyson Diana
Gary Dias
Gabrielle Diaz
Ciera Diaz
Sandra Diaz
Krystal Diaz
Carlos Diaz
Jessica Diaz
Richard Diaz
Derek Diaz
Vicky Diaz
Amber Diaz
Yasunari Diaz
Lorimar Diaz
Linda Diaz
Danielle Diaz
Petronila Diaz
Miguel Diaz
Luis Diaz De Arce
Elmer Diaz Soto
Neysa Diaz Torres
Angel Diaz-Reyes
Pamela Dibble
Tiffany Dibenedetto
Lindsey DiBlasi
Tina Diblasi
Ana Diburgo
Candace Dice
James DiCindio
Amber Dick
Atlanta Dick
Andrew Dickens
Margaret Dickens
Elizabeth Dickerson
Caitlynn Dickerson
Kellie Dickerson
Larae Dickerson
Nichole Dickerson
Monica Dickerson
Kathleen Dickerson
Katelynn Dickerson
Heather Dickey
Kimberly Dickinson
Thaddeus Dickinson
Melanie Dickinson
Matthew Dickinson
Jessalyn Dickinson
Peter Dickinson
Larry Dickinson
Denise Dicks
Crista Dickson
Christa DiCriscio
Corianta Dicus
Carrie DiDonato
Jordan Diederich
Adam Diehl
Darin Diehl
Kitrina Diehlmann
Aleah Diemand
Angela Dietrich
Meg Dietsch
Loni Dietz
Nicole Dietz
Christine Dietz
Heather Diffenderfer
Carol Difrischia
Joseph Difusco
Brittany DiGenio
Justin Diggins
Cathy Diggs
Amanda Diggs
Erica Diggs
Jennifer DiGiorgio
Anna Digirolamo
Anita DiGloria
Danielle Dignin
Lanie Dikitanan
Kelly Dill
Shanelle Dill
Judy Dillard
Marcus Dillard
Heather Dillingham
Shawna Dillingham
Lorna Dillman
Jennifer Dillon
Delain Dillon
Diana Dillon
Sarah Dilorenzo
William Dimartino
Ivie Dimaya
Eva DiMichael
Laura Dindial
Easter Dingle
Ryan Dingman
Mari Dingus
Brooke Dinkins
Tiffany Dinkins
Vanessa DiNobile
Ryan Dinsmore
Dana Dioguardi
Jessica Dionne
Annie Diotte
Micaela DiPiero
Cristiana DiPietro
Heather Dirgo
Peggy Dirk
Michael DiSalvo
Amanda Disch
Carla Dishanni
Sarah Dishman
Zoila Disla
Peggy Dismuke
Dorothy Distler
Deidre Distler
Carol Ditmars
MaLinda Ditonno
Joshua Dittler
Brittney Ditto
Matthew Ditto
Lauren Divine
Dean Dixon
Brandie Dixon
Melana Dixon
Jessica Dixon
Amy Dixon
Drand Dixon
Esther Dixon
Adrienne Dixon
Sheila Dixon
Marnita Dixon
Brian Dixon
Angela Dixon
Camilya Dixon
Rajheem Dixon
Colin Dixon Jr
Raymond Dixson
Diana Dizmang-Espy
Jennifer Djimtoloum-Baidoum
Tammy D'Lugin
Barbara Doak
Gretchen Doane
Robin Doaty
Larterious Doaty
Samantha Dobbins
Matthew Dobbins
Veronica Dobbs
Gabrielle Dobbs
Douglas Dobler
Rebecca Dobry
Shelby Dobson
Gwennan Dobson
Stacey Dockstader
Alvin Doctolero
Lindsey Dodd
Jessica Dodd
Cecil Dodd III
Patricia Dodds
Suzanne Dodds
Danielle Dodge
Jennifer Ann Dodge
Sharlee Dodge
Kristin Dodson
Amy Dodson
Christine Dodson
Maura Doebbler
Kenneth Doerksen
Kimberley Dogan
Dee Adrianne Doherty
Zachary Dohmann
Ashton Dolan
Nicole Dolan
Bayley Dole
Steven Dolengewicz
Kelly Dolezal
Shannon Dolgos
Alexey Dolgov
Nancy Dolin
Cynthia Dolin
Teresa Doll
George Dollenger III
Cammy Dollins
Jessica Dolph
Heather Dolphin
Tracey Dolphin
Mitchell Domeier
Lynn Domenici
Veronica Dominguez
Michelle Dominguez
William Dominguez
Stephanie Dominick
John Dominy
Jill Donahue
Kathleen Donahue
Katina Donaldson
April Donaldson
Poreese Donaldson
Rochelle Donaldson
Selena Donati
Peter Donato
Mandi Donayre
Andre Donegan
Rachael Donelson
Jacqualyn Dones
Timothy Donna
Christopher Donnell
Melissa Donnell
Nicole Donnellon
Stacey Donnelly
Jennifer Donnelly
Gregory Donohoe
Robert Donohue
Paige Donovan
Kellie Donovan
Michael Donovan
Rosangela Donovan
Amber Doolen
Tsiporia Dooley
Joseph Dooley
Barbara Dooley
James Dooling
Nellie Doornbos
Angela Dorenkamp
Nicole Dorland
Paige Dorley
Lisa Dorminey
Michelle Dornor
Cynthia Dorough
Connie Dorrell
Kathryn Dorsett
Tina Dorsette
Thomas Dorsey
Amie Dorsey
Louise Dorsey
Jeron Dorsey
Martana Doser
Amanda Doss
Angela Dossey
Theresa Doten
Deloise Dotson
Shelia Dotson
Darryl Dotson
Gigi Dotson
Pamela Dotson
Maegan Dotterer
Becky Doty
Brittany Doty
Jason Doublett
Debra Doucet
Constance Doucette
Joy Doucette
Annette Douds
Kristi Dougay
Jon Dougherty
Jennifer Dougherty
Samantha Dougherty
Marie-France Dougherty
Donna Doughty
Michelle Doughty
Samantha Doughty
Donna Douglas
Tara Douglas
Taneka Douglas
Catherine Douglas
Wendell Douglas
Rachel Douglas
Tamara Douglas
Daniel Douglas
Lisa Douglas
Brigitte Douglas
Lori Douglas
Timothy Douglas
Donna Douglass
Amanda Doutree
Destinee Doutry
Rachel Dove
Brittany Dove
Justin Dove
Angelena Dove
Anthony Dover
Gerald Dow
Bradley Dow
Terry Dowda
Priscilla Dowdell
Belinda Dowdell
Erica Dowdy
Angela Dowell
Toni Dowers
Angela Dowless
Brian Downer
Lori Downey
Tammy Downey
Cherilyn Downey
Kristi Downham
Clark Downing
Candace Downing
Michelle Dow-Williams
Brenna Doxsee
Sheila Doyle
Elizabeth Doyle
Amy Doyle
Kimberly Doyle
Jerri Doyle
Paul Doyle
Scott Doyle
Gareth Doyle
Holli Doyle-Sautbine
Bradford Doyon
Kimberly Dozier
Stephanie Dozier
Brittany Dozier
Alesia Draggon
Andrew Drake
Amanda Drake
Shareece Drake
Tamara Drapeau
Deanna Drapeau
Teri Draper
Daniel Draper
Edward Draper
Charlotte Drawdy
Mary Drawhorn
Amber Drechsler
Brian Drechsler
Sandra Dreer
Storey Dreessens
Madelyn Drehmer
Joseph Dreiling
Colleen Drennan
Dawn Dress
Stephanie Drew
Jeramiah Drew
Allysha Drew
Russell Drewes
Sara Drews
Chelsea Drews
Gary Dreyer
Jessica Driscoll
Lisa Driscoll
Amanda Driscoll
Kirsty Driver
Sarah Drlik
Heather Droessler
Dawn Drongowski
Dustin Drorbaugh
Nathan Drost
Tonya Druckenmiller
Richard Drullinger
Amy Drum
Sarah Drum
Kristin Drummond
Sharleen Drummond
Nicole Drury
Kimberly Drury
Richard Dryden
Susan Dry-Shepherd
Carryl Du Bois
Clarence Du Bose
Bradley Duarte
Miriam Duarte
Denia Duarte
Janeen Duarte
Israel Duarte
Jacqueline Duarte
Patricia Dube
Vickie Dube
Samantha Dubert
Rafael Dublin-Francis
Erick Dubon
Zeyry Dubon
Monica DuBose
Charlton DuBose
Janet Dubre
Melanie Duby
Karen Duca
Noah DuCasse-Daley
Amy Duce
Heather Duck
Justin Duckett
Mary Dudley
Kyle Dudley
Pamela Dudley
Douglas Duehr
Sally Duenas
Toodyann Duenas
Jennifer Duessing
Brent Duff
Cynthia Duff
Eddie Duff
Bethany Duffrin
Robin Duffy
Gregory Duffy
Melanie Dufresne
Michele Dugan
Jaime Dugan
Thomas Duggan
Molly Duggan
Kayla Duggie
Kimberly Duggins
Laura Duginski
Brittany Dugre
Renee Duguay
Shelly-Ann Duhaney-Barnett
Michelle Duke
Kyle Duke
Wanda Duke
Katie Duke-Rose
Shirley Dukes
Robert Dukes
Kwesi Dukes
Alice Dukes
Sujata Dukes
Margaret Dula
Heather Dulin
Nicole Dulin
Nicole Dumas
Christopher Dumas
Nicole Dumas
Kristina Dumas
Sharon Dumbleton
Bianca Dumbrique
Michele Dumbrowsky
Karin Dumit-Kisor
Mandi Dumlao
Patricia Dumont
Anna DuMont
Steven Dumont
Regina Dumpson
Vera Madelene Dunahee
Thomas Dunahoo
Krista Dunbar
Latasha Dunbar
Kimberly Dunbar
Shawna Dunbar
Amber Duncan
Susan Duncan
Summer Duncan
Gary Duncan
Douglas Duncan
Arielle Duncan
Christopher Duncan
Deborah Duncan
Grady Duncan
Taylor Duncan
Amanda Duncan
Matthew Duncan
Christie Duncan
Tiffany Duncan
Jennifer Duncan
Carol Duncan
Jennifer Duncan
Tiffany Duncan
Bobbie Duncan
Karen Duncombe
Cheri Dunford
Jessica Dung
Joyce Dunham
Bradley Dunham
Sara Dunham
Jason Dunham
Leah Dunigan
Nancy Dunlap
Stephanie Dunlap
Kathleen Dunlap
Larry Dunlap
LaShonda Dunlap
Janney Dunlavey
James Dunleap
Dustin Dunleavy
Virginia Dunmire
Jonni Dunn
Jackie Dunn
Sam Dunn
Sophia Dunn
Jonathan Dunn
William Dunn
Michael Dunn
Krista Dunn
Michael Dunn
Laura Dunn
Gerald Dunn
Joann Dunnavant
Ashley Dunn-Broadway
Maureen Dunne
Michael Dunne
Lakeisha Dunning
Demetria Dunning
Carley Dunphy
Kristina Dunson
Sennice Dunson
Keith Dunton
Maureen Dunton
Cory Dunwoodie
Ngoc Hong Duong
Doan Duong
Jessica Dupee
Stacy Dupont
Christopher Dupras
Mindy Dupre
Jessica Dupree
Ronald Dural
Monique Duran
Tania Duran
Danny Duran
Chandi Duran
Wilfredo Duran
Francisco Duran
Crystal Duran
Patricia Durán
Maria Duran
Timothy Durant
Syreeta Durant
Anthony Durante
Amanda Durbin
Cordarreo Durden
Christopher Durette
Mary Durham
Stephanie Durham
Amanda Durham-Barnes
Deborah Durio
Lorna Durish
Alexandra Durning
Nancy Durousseau
Stacey Durrell
Elizabeth Durrell
Theresa Durrence
Lorrie Durso Byers
Susan Durst
Sharon DuShane
Christine Dussault
James Dussliere
Kaylee Dutoit
Sanjay Dutt
Theresa Dutton
Ashley Dutton
Amanda Dutton
Brian Dutz
Elisabeth Duvall
Jodi Dwyer
Patrick Dwyer
Christina Dyben
Ethan Dye
Michael Dyer
Shannon Dyer
Danielle Dyer
Cathy Dyer
Diana Dyer
Lorri Dyer
Vaneisha Dyer
Pamela Dyess
Justin Dyess
LaManda Dykema
Anna Dykeman
Steven Dykhuis
Tasheka Dykstra
Ryan Dykstra
Amberlee Dykstra
Paul Dymit
Carolyn Dyson
Terri Dyson
Krystal Dzimiera

Kelin Eachus
Renae Eacker
Dennis Eades
Cassandra Eades
Cindy Eagler
Timothy Eakes
Carolann Eakin- Bridgman
Amanda Eanes
Joan Earhart
Desirey Earick
Mark Earl
Betty Earl
Owen Earl
Douglas Earle
Curtis Earle
Jahnny Earle
Ammy Earle
Michele Earles
Charles Earnest
Katie Earnest
Stacey Earwood
Melissa Easley
Felicia Easley
Holly Eason
Veronica Eason
Michelle East
Brittany East
Dawn Easterbrook
Michael Easterly
Hajar Eatman
Ronnie Eaton
Rebecca Eaton
Mary Eaton
Sunshine Eaton
Janelle Eaton
Jennifer Eaton
Lindsay Eaton
Jeffrey Ebel
Rickey Eberhardt
Gayle Eberhardt-Mitchell
William Eberle
Karla Eberle
Sharon Eberlein
Erika Eberlein
William Eberly
Jill Eberly
Richard Ebert
Shonna Ebert
Jennifer Ebert
Heather Ebhardt
Christopher Ebner-Myhers
Patty Eby
Daniel Echaves
Elizabeth Echevarria
Keith Echeverri, Jr
Domonique Echols
Catherine Echols
Margaret Echols
Charis Echterling
Jeffrey Eck
Melinda Eck
Amanda Eckard
Debra Eckenrod
Dale Ecker-Gordon
Stephanie Eckert
David Eckland
Tina Eckroth
Daniel Eckstrom
Cresta Eddinger
Jessyca Eddy
Makala Eddy
Michael Edelen
Scott Edelman
Darren Edem
Candee Edgar
Ruby Edgar
Gloria Edgar
Samantha Edge
Charles Edgerton
Laurie Edlund
Wydedra Edmond
Britney Edmond
Abbie Edmonds
Jami Edmonds
Christina Edmonds
Steven Edmonds
Angel Edmondson
David Edmondson
Sherry Edmon-Oliver
Varidell Ednilao
William Edson
Barry Edward
Courtney Edwards
Virginia Edwards
Michael Edwards
Kerri Edwards
Michele Edwards
Aliki Edwards
Racquel Edwards
Rebecca Edwards
Jarvis Edwards
Micheal Edwards
Jacob Edwards
Eric Edwards
Shaynalee Edwards
Twiana Edwards
Theresa Edwards
Justin Edwards
Michelle Edwards
Audrey Edwards
Shannon Edwards
Latonia Edwards
Tyrice Edwards
Cynthia Edwards-Rogers
Maria Edwards-Ward
Patricia Effenberger
Thomas Effertz
Brittney Egan
Eric Egan
Janette Eger
Stacy Egerton
Josh Eggers
Christy Eggleston
Takeenia Eggleston
Lara Egle
Takara Egleston
Mary Ehlers
Ashley Ehret
Nina Ehrlich-Foley
Brad Ehrmann
Richard Eichman
Shawn Eicholz
Jenny Eidenbrook
Elizabeth Eikmeier
Reginald Eiland
Theodore Eilert
Lori Eischen
Myong Hwan Eiselstein
Elizabeth Eisenhauer
Tina Eisenmenger
Ian Eishen
Angela Eisnaugle
Siobhan Eith
Tamara Ekholm
Bryce Ekman
Reginald Elaban
Bridget Elam
Gwendolyn Elam
Satiya Elam
Crystal Elam
Ethan Elam
Leslie Ann Nicole Elameto
Tamara El-Amin
Nicole Elbin
Jessica Elder
Christopher Elder
Tiffany Elder Kirkum
Martha Eldridge
Nancy Eldridge
Brenda Elensky
Jason Elersic
Charles Elgin
Perla Elhard
Ray Elias
Morgan Elias
Charles Eliason
Kathleen Elizaga
Enedelia Elizalde
Adalberto Elizondo
Amy Elizondo
Keren Elizondo
Jason Elkin
Donna Elkins
James Elkins
Justin Elkomy
Elizabeth Ellenberger
Brandi Ellenberger
Kalena Eller
Crystal Ellett
Whitney Ellington
Maureen Elliott
Donald Elliott
Mark Elliott
James Elliott
Jessica Elliott
Allison Elliott
Angela Elliott
Chastidy Elliott
Sean Elliott
Thomas Elliott
Lucius Elliott
Kaitlyn Elliott
Sierra Elliott
Keyes Elliott
Stacie Elliott
Traci Elliott
Nakeya Elliott
Christina Elliott
Sonja Elliott
Shauntia Elliott
Shannon Elliott
Candace Ellis
Stephen Ellis
Jake Ellis
Troy Ellis
Amie Ellis
Lashanda Ellis
Christopher Ellis
Jesse Ellis
Jane Ellis
Dee Andrea Ellis
Yulita Ellis
Alanna Ellis
Brian Ellis
Cindy Ellis
Stacey Ellis
Heidi Ellis
Shawna Ellis
Tara Ellis
Denicia Ellis
Diana Ellis
Michael Ellis II
Nicole Ellison
Tiffanie Ellison
Daphne Ellison
Tamara Ellison
Jacqueline Ellrich
Scott Ellsworth
Ashlei Ellzey
Waiel El-Maadawy
Angeline Elmer
Curtis Elmer
Barbara Elmore
Brent Elmore
Shaun Elmore
Kristine Elmore
Jessica Elmore
Laura El-Mousa
Karla Elms
Keri Elmstedt
Kathryn Elrod
Monique Elroi
Annalyn Elsas
Jennifer Elsberry
Angelina Elser
Elizabeth Elsmore
Sheila Elting
Janet Eltzroth
Maureen Ely
Johnathan Elzie
Guillermo Emanuelli
Michael Embrey
Michelle Emeigh-Bordeaux
Michelle Emeneger
Rachel Emerson
Chelsea Emerson
David Emerson
Nancijo Emerson
Jennifer Emerson
Jody Emert
David Emert
Jennifer Emery
Mikka Emick
Ryan Emmons
Robin Emory
Isaac Encarnacion
Chad Endecott
Reign Endo
Rebecca Endres
Lauren Engel
Evangeline Engelbird
Amanda Engelkes
Megan Engelman
Kristen Enghusen
Christopher England
Jennifer England
Karen England
Joshua Engle
Joshua Engle
Brianna Engles
Regena English
Maria English
Vicki English
Ashlie English
Stephanie English
Sharon English
Lakeisha English
Stephanie Englund
Elizabeth Engmann
Tonya Ennis
Rachel Ennis
Kara Enos
Brooke Enos
Kelly Enriquez
Eric Enriquez
Jason Ensign
Jeffery Enslin
Misty Enterline
Troy Episale
Micah Epley
Kurtrinea Epperson
Adrienne Epps
Jonnine Eras
Ashley Erasmus-Bracey
Nicole Erbel
Tiffany Erb-Robins
Jeri Ercanbrack
Robert Ercanbrack
Courtney Ergott
Mary Eric
Alyssa Erichsen
DeNeal Ericksen
Melanie Erickson
Cathern Erickson
Alicia Erickson
Breanne Erickson
Randall Erickson
Jennile Ernest
Paul Errico
Barbara Error
Andrea Ertle
Judith Ervi
Adrienne Ervin
Adara Ervin
Jeremy Erwin
Barbara Erwin
Douglas Erwin
David Erwin
David Escalante Reyes
Nadine Escalera
Grace Escalona
Nicole Escamilla
Nicolas Escandon
Teresa Escarsega
Zane Esche
Stephanie Esche
Travis Eschette
Gilbert Escobales
Kimberley Escobar
Jesus Escobar
Anwar Escobar
Hector Escobedo
Matthew Eshelman
Charles Eskew
Joey Espanola
Yadira Esparza
Elizabeth Esparza
Beatrice Esparza
Frank Esparza IV
Jon Espersen
Ramiro Espinosa
Arthur Espinoza
Johnny Espinoza
Manuel Espinoza
Jesse Espinoza
Ricardo Espinoza Jr.
Edwin Espiritu
Reynaldo Esplana
Pauline Espree
Heather Esquivel
Jesse Esquivel
Deniese Esquivel
Rene Esquivel
Cecilia Esquivel
Sophia Essary
William Essertier
Swanzy Essien
Victoria Essig
Heidi Essinger
Harold Estabrooks
Tiffany Esteban
James Esteem
Allegra Esteen
Brenda Estep
Cynthia Estep
Paul Estes
Allison Estes
Jonathan Estes
Erasmo Esteves
Ramon Estevez
Angel Estevez
Ja Naye Estlick
Jennifer Estok
Josue Estrada
Alejandro Estrada
Robert Estrada
Celeste Estrada
Mark Estrada
Maria Estrada
Kimberly Estrada
Victor Estrella
Brice Estrella
Dion Ethell
Ashley Etheridge
Adrian Ethridge
Johnny Ethridge
Lance Ethridge
Winy Etienne
Bernard Etienne
Jessica Etten
Nicole Etter
Megan Ettling
Michelle Eubank
Bobbie Eubanks
Malayna Eubanks
Christine Eudy
Matthew Eurich
Jaime Eustace-Tecklin
Mabel Evangelista
Debra Evangelista
William Evangelista
Brett Evanicki
John Evans
Fannie Evans
Alexandar Evans
Gail Evans
Gregory Evans
Amy Evans
Sarah Evans
Sara Evans
Dwayne Evans
Joyce Evans
Lacey Evans
Christopher Evans
Loren Evans
Chunte Evans
Wendi Evans
Tameka Evans
Angela Evans
Sakethia Evans
Watonja Evans
Heather Evans
Jeffrey Evans
Linda Evans
Jennifer Evans
Blane Evans
Matthew Evans
Katherine Evans
Jessica Evans
Richard Evans
Charles Evans
Kayla Evans
Renee Evans
Januari Evans
Carissa Evans
Wanda Evans
Jessica Evans
Tiffani Evans
Terri Evans
Shandara Evans
Lukas Evans
Catrina Evans
Courtney Evans
Gage Evans
Sean Evans
Jennifer Evans
Randall Evans
Gail Evans-Wade
Melissa Everage
Mary Louise Everett
Carol Everett
Tanya Everett
Amber Everett
Kristen Everett
Annette Everett
Anthony Everette
Jeffery Everette
Christian Everts
Mark Evitts
Shannon Evjen
Kristy Ewald
Robyn Ewalt
Geneva Ewart
Chad Ewell
Theresa Ewell
Brooke Ewing
Marcella Ewing
Pamela Ewing
Jared Ey
Dawn Eyanson
Emily Eyerly
Erin Eyre
Julia Ezernack
Nikolas Ezzell

Salina Faaborg
Heather Faas
Cathy Faas
Natalie Faas Gerber
Jason Faber
Ryan Fabian
Rebecca Fabian
Christopher Fabin
Abayomi Fabiyi
Natalya Fabyanchuk
Gerald Facer
Scott Facto
Nicholas Faella
Darrell Fagan
Amanda Fagan
Melanie Fagan
Katryna Fahlgren
Stacey Fahmy
Sheila Faigle
Kaitlyn Fain
James Fain
Jackie Fair
Maria Fair
Robert Fairbanks
Darren Faircloth-Sparkman
Willie Faircloth-Sparkman
Ashala Faircrest
Marion Fairey
Lisa Fairfax
Grant Fairman
Toni Fairs-Coleman
Tamika Faison
Richard Faison II
Alnisa Faiz
Jose Falche
Dante Falco
Maria Falcon
Mary Falcon
Tara Falcon
Abigail Falcon
Heather Falk
Kevin Falk
Ashley Falkenberg
Velma Falkins
Patrick Fallis
Mario Fallon
Heather Fallon
Daniel Falls
Renata Falls-Jefferson
Rebecca Falzarano
Ileana Falzolgher
Justin Fanatia
Crystal Fancher
Dereck Fandel
Michael Fann
Marshall Fannin
Scott Fanselow
Joshua Fant
Barbara Faraji
Lyndell Farey
Jasmine Farhad Costa
Vicki Farhat-Wren
Anthony Farias
Gabriel Farias
Jasmine Farkas
Patrick Farley
Patricia Farley
Lesly Farley
Rocky Farley
Vanna Farley-Ackers
Timothy Farmakis
Brandi Farman
Vincent Farmer
Sherry Farmer
Tammi Farnsworth
Andrew Farnsworth
Cathie Farr
Todd Farr
Steven Farrah
Aimee Farrell
Lorea Farrell
Deborah Farrell
Julie Farrell
Jessica Farrell
Brian Farricy
Michael Farrington
Sunshine Farris
Sahar Faruki
Summer Farwell
Bridget Fasheru
Jennifer Fassler
Sherif Fathy
Shannon Fatigante
Rose Fatton
Edward Faucett
Robert Faucher
Marvin Faulcon
Megan Faulkner
Becky Faulkner
Martin Faulman
Betty Faust
Reika Faust
Jody Faust
Robin Faux
Corrine Favata
Heidi Favia
Ashleigh Favors
Matthew Favory
Sabrina Fayaz
Heather Fazio
Diana Fazzare
Rebekkah Fazzolari Miller
Shane Feasel
Avril Featherstone
Brett Feauto
Martha Feazell
Emilee Fecht
Stuart Fedderson
John Fedeles Jr
Daphne Feeney
Hugh Fegely
William Feger
Stacy Fehr
Kristen Fehrenbach
Andrew Feigal
Kathy Feil
Lynda Feir
Donovan Feist
Jeremy Feistner
Eric Felan
Adrian Felan
Rhonda Felan
Raquelle Felder
Lydia Feldman
Adam Feldman
Carla Feldmeier
John Felger
Judith Felice
Shawna Feliciano
Santos Feliciano Jr.
Shannon Felicies
Sabrina Felise-Sinapati
Jalyn Felix
Claudia Felix-Matias
Matthew Felker
Cynthia Felker
Patricia Fell
Bonni Fellows
Mark Feltner
Christopher Feltner
Juana Felton
Dora Felton
Steven Fencl
LaTrina Fenison
Esther Fenlon
Cristy Fenn
Danita Fennessee
Donna Fenyes
Reyes Ferdin
Lauren Ferdinando
Kathleen Ferenchak
Michael Ferguson
Sarah Ferguson
Robin Ferguson
Christina Ferguson
Tina Ferguson
Nelson Ferguson
Mary Ferguson
Amanda Ferguson
Blake Ferguson
Terri Ferguson
David Ferguson
Jennie Ferguson
Stephen Ferguson Jr
Stephanie Ferguson-Dunn
Linda Fermin
Stefanie Fernandes
Anthony Fernandes
Adolfo Fernandez
Alissa Fernandez
Jenny Fernandez
Dawnnetta Fernandez
Wendy Fernandez
Delmis Fernandez
Shawn Fernandez
Yavelin Fernandez
Dan Rey Fernandez
Teresa Fernandez
Shaya Ferner
Verlisha Ferrand-Foley
Frank Ferrante
Osmar Ferrari
Kylie Ferraz
Vanda Patricia Ferreira
Patricia Ferreira
LaKrischa Ferrell
Anedra Ferrell
Gayle Ferrell
Lisa Ferrell-Karides
Edward Ferrer
Annette Ferrer
Kathleen Ferreri
Diane Ferreri
Phyllis Ferrigno
Lisa Ferris
Michael Ferris
Gabrielle Ferro
Marcia Fervienza
Terry Rae Fesler
Christine Festa
William Festing
Thomas Fetherolf
Cherie Fetkenhauer
Keela Fett
Linda Fetter
Chad Fetyko
Melissa Feurtado-Alexander
Lori Feyka
John Fichtel
Jason Fick
Kellie Ficke
Christine Fickes
Amanda Fidler
Amber Fidler
Brittany Fidler
Laura Fiedler
Malinda Field
Marion Fielder
Frances Fielder
Giavonia Fields
Melissa Fields
Yobachi Fields
Nicole Fields
Cameron Fields
Jennifer Fields
Tonya Fields
Britney Fields
Tabitha Fields
Rebecca Fields
Mary Fields
Nicole Fields-Pierre
Brian Fieleke
Heather Fiero
Martin Fierro
Marcella Fierro
Candice Figaro-luk
Maria Figirova
Tammy Figueiredo
Nilda Figuereo
Felecia Figueroa
Neried Figueroa
Jenneffer Figueroa
Junior Figueroa
Julio Figueroa
Andrew Figueroa
Yesenia Figueroa-Rodriguez
Diana Fijalkowski
Douglas Fike
Tessa Filback
David Fildew
Angela File
Sarah Filep
Jessica Filipovich
Danielle Filler
Kimberly Filley
Dawn Fillo
Sandra Filomeno
Jessica Filoramo
Tabbatha Fimpel
Melissa Finborg
Nathan Finch
Latoya Finch
Roland Finch
William Finch
Melissa Finch
Clifford Fincham
Lonny Fincher
Marie-Christine Finck
Amanda Findlay
Dorian Fines
Jo Fink
Christopher Fink
Vincent Finlay
Cedric Finley
Ruth Finley
Tiara Finley
Michael Finley
Cubie Finley III
Tara Finn
Joseph Finnegan
Karen Finnelle
Ryan Finnerty
Derek Finster
Frank Fiol
Daniel Fiore
Jodi Firestone
Misti Firlotte
Amanda Fischer
Lisa Fischer
Taunya Fischer
Nicholas Fischer
Tally Fischer
Jamie Fischer
Marta Fischer
Sonya Fischesser
Sherry Fish
Jessica Fishback
Kristina Fisher
Mary Fisher
Lance Fisher
Melissa Fisher
Ramona Fisher
Darnelle Fisher
Stephanie Fisher
Cheryl Fisher
Phyllis Fisher
Riana Fisher
Elma Fisher
Steven Fisher
Ronnie Fisher
Kristopher Fisher
Brian Fisher
Cory Fisher
Harriet Fisher
Lindsay Fisher
Marsha Fisher
Dianna Fisher
Madison Fisher
Jerel Fisher
Athena Fisher
Lawrence Fisher
Shandi Fisk
Andrea Fitch
Jordin Fitch
Michael Fitchette
Elena Fite
Valarie Fitzgerald
Nicole Fitzgerald
Keith Fitzgerald
Gabrielle Fitzgerald
Michelle Fitzgerald
Heidi Fitzgerald
Douglass Fitzgerald
Aiyanna Fitzgerald
Kimberly Fitzgerald
Rose Fitzgerald
Charles Fitzgerald Sr.
Deborah Fitzgibbons
Roger Fitzpatrick
Tami Fitzpatrick
Holly Fitzsimmons-Johnson
Elizabeth Fitzsimons
Joshua Flagg
Patricia Flagler
Heather Flaminio
Harry Flanagan
Nikki Flanary
Loraina Flanders
Mae Ella Flanders
Donna Flavinney
Jennifer Fleagle
Kellie Flechtner
Marilyn Fleck
Dennis Fleenor
Daniel Flegal
Brian Fleischmann
Adlin Fleites
Damon Fleming
Benjamin Fleming
Marylin Fleming
Carol Fleming
Amy Fleming
Kathryn Fleming
Elizabeth Fleming
Tyra Fleming
Tasha Fleming
Summer Fleming
Juliette Fleming
Samantha Fleming
Dawn-Marie Fleming
Robin Fleming
Justin Fleming
Cheri Fleming
Erica Flenoury
Samantha Flesher
Karen Flessner
Todd Fletchall
Lakeisha Fletcher
Michelle Fletcher
Tiffany Fletcher
Martha Fletcher
Sherry Fletcher
Susane Fletcher
Jo Ellen Fletcher
Sharon Fletcher
Meghan Fleury
David Flick
Alexander Flinn
Katherine Flippo
Lizabeth Flitcroft
Albert Flitcroft
Elizabeth Flogerzi
John Flood
Debra Flood
Beate Floor
Andrew Flor
Jason Flora
Kelly Floreno
Jennifer Florentin
Delfino Flores
Merlen Flores
Alexandra Flores
David Flores
Quanekqua Flores
Savannah Flores
Ramsey Flores
Anthony Flores
Byrnadette Flores
Stephanie Flores
Tiffany Flores
Tara Flores
Jaime Flores
Tina Flores
Jose Flores
Carl Flores
Mark Flores
Veronica Flores
Alexander Flores
Valerie Flores
Andrea Flores
Lourdes Flores-Pritchard
Noelle Flores-Smith
Vicente Florez-Zapata
Jeremy Flory
Robert Flory
Leanora Flournoy
Ellen Flower
Tina Flowers
Ryan Flowers
Shaunteria Flowers
Janice Flowers
James Flowers II
Harriet Flowers-Hill
Dwendolyn Floyd
Melissa Floyd
Rodney Floyd
Harry Floyd
Ollie Floyd
Stephanie Floyd
Lauren Floyd
Darren Floyd
Kimberly Floyd
Kayla Floyd
Heath Fluent
Joshua Flurry
Stacey Flury
Jason Focht
Jennifer Fodge
Shaun Fogarty
Melissa Fogelsonger
Jacqueline Fogerty
Lizbeth Fogleman
Anne Foglio
Charlene Foley-Schwartz
Jessica Folk
Michelle Folkers
Lincoln Folkers
Patricia Folkes
Camille Follet
Beau Follett
Michael Follick
Paul Folta
Nicole Folwick
Lynn Fonda
Eric Fonseca
Bianca Fontanez
Jerediah Fontanos
Melissa Fontenot
Stephanie Fontenot
Roger Fontinel
Lemoyne Fooks
Zella Foos
Kaitlyn Foos
Jessica Foote
Freddie Foots
Robert Forbes
Jeffrey Forbes
Tanya Forbes
Rayann Forbes
Robert Force
Philip Force
James Forcella
Bernadette Ford
James Ford
Renna Ford
Larry Ford
Cameron Ford
Heather Ford
Amy Ford
Catherine Ford
Inza Ford
Mahaila Ford
Cynthia Ford
William Ford
Jennifer Ford
Melissa Ford
Kimberly Ford
Ashley Ford
Anita Ford
Jackie Ford
Tonya Ford
Ryan Ford
Jenee Ford
Alexia Ford
Lani Ford
Michael Ford Jr.
Ronnie Forde
Amy Fordham
Teresa Fordyce
Taryn Fore
James Foreman
Nathaniel Foreman
Jeremy Foreman
Janet Forest
Darla Forester
Brianna Forgey
Mary Forinash
Jason Formanack
Amanda Forney
Aimee Forrer
Cassie Forrest
Michael Forrest
Jeannie Forrest
John Forry
Daniel Forsgren
Michelle Forsmo-Shadid
Victor Forsyth
Orval Forsyth
Erin Forsyth
Bryan Forsyth
James Forsyth
Catherine Forsythe
Tellamecus Forsythe
John Forte
Tami Forte Logan
Caleb Fortenberry
Sarah Fortenberry
Annakay Forte-Seide
Colleen Fortin
Frank Fortino
Andrew Fortmeier
Caroline Fortner
Jeffrey Fortner
Jennifer Fortner
Matthew Fortune
Brittany Fortune
Brian Foschia
Misty Foskey
Brian Foskey
Martha Foss
Jaime Foss
Brooke Foss
Flora Foster
Tasman Foster
Bobbi Foster
Lisa Foster
Sarah Foster
Philip Foster
Chantel Foster
Meredith Foster
Robert Foster
Mia Foster
Tobias Foster
Sheri Foster
Glenda Foster
Jonathon Foster
Oveta Foster
Stephen Foster
April Foster
Arthur Foster
Sonny Foster
Lisa Foster
Brenda Foster
Anthony Foster
Jaehnae Foster
Angela Foster
Tess Foster
Ra'Nisha Foster Pickett
Christa Foster Wright
Melina Fotiou
Michelle Foucheaux
Rose Fountain
Lori Fountain
Ronald Fountain
Megan Fournier
Marissa Fournier
Eric Fournier
Natoya Fournillier
Antoinette Fourstar
John Fouts
Brian Fouts
Gina Fouvy
Monique Fowler
Larry Fowler
William Fowler
Milissa Fowler
Bethany Fowler
Justin Fowler
Kacy Fowler
Briah Fowler
Effie Fowler
Deborah Fowler
Pamela Fowler
Deborah Fowler
Kenneth Fowler
Jason Fowler
Angelica Fowler
Shalika Fox
Pamela Fox
Michael Fox
Bradley Fox
Deborah Fox
Brooke Fox
Jasmin Fox
James Fox
Tracy Fox
Chelsea Fox
David Fox
Stephanie Fox
Crystal Fox
William Foy II
Rhoda Fragd
Nichelle Fraiser
Julie Frame
Karandeep France
Amy Franceskino
Kelley Franchetto
Anthony Franchina
Janet Francis
Andrew Francis
Leslie Francis
Michelle Francis
Roslyn Francis
Candis Francis
Jessica Francis
Christina Francisco
Meghan Francisco
Jeffrey Francisco
Haruko Francisco
Edwin Franciscoramirez
Maribel Franco
Kimberly Franco
Peter Franco
Elizabeth Franco
Diego Franco Garcia
Terrie Frank
Ronnie Frank
Tandy Frank
Angela Franke
David Franke
Janee Frankel
Tamika Frank-Elam
Tonya Frankens
Nicholas Franklin
Bonnie Franklin
Renata Franklin
Belva Franklin
Michelle Franklin
Nancy Franklin
Tiffany Franklin
Ryan Franklin
Andrea Franklin
Barbara Franklin
Jessica Franklin
Yolonda Franklin
Antoinette Franklin
Kristine Franks
Amy Franks
Bethany Franson
Shamah Franzen
Gwendolyn Frasch
Dennis Fraser
Gavin Fraser
Emily Fraser-Thomson
Michael Frasure
Susan Fratazzi
Jo Ann Frawley
Carin Frazee-Taraleskof
Charity Frazier
Kimberly Frazier
Samantha Frazier
Deborah Frazier
Pamela Frazier
Shela Frazier
Shana Frazier
Wesley Frazier
Charlotte Frazier
David Frazier
Trenise Frazier
Jeannene Frazier
Christine Freche
Shelly Freckleton
Nicholas Frederic
Chris Frederic
Loralyn Frederick
Aaron Frederick
Emily Frederick
Jeffrey Frederick
Mark Frederick
Jacqualyn Frederick
Jordan Frederick
Sherri Frediani
Melvina Fredson-Cole
Stacy Free
Brian Freed
Kimberly Freel
John Freeman
Robin Freeman
Dawn Freeman
Mark Freeman
Iris Freeman
Lisa Freeman
Tanika Freeman
Roberta Frees
Deborah Freethy
Angelica Fregoso
Armando Freire
Michele Freitag
Guy Freitag
Michelle Freligh
Rodney French
Renee French
Mary French
Mayrine French
Tammy French
Clarence French III
April Freng
Keith Frenzel
Renee Frerichs
Jamie Freschezza
Desiree Frescki
Jasmine Freshwater
Frederick Frey
Shawna Friar
Molly Frick
Brooke Frick
Carolyn Frick
Marilyn Fridie-Wolfe
Kenneth Fridley
Faith Friedman
Eliyahu Friedman
Melinda Fries
Nathan Fries
Tiana Friesen
Maureen Fries-Labra
Melanie Frieszell
Diana Frisby
James Frisk
Tracy Frith-Ledoux
Ashley Fritsche
Eriko Fritts
Holly Fritz
Donald Fritz
Courtney Fritz
Noel Fritzky
Adrienne Fritzler
Gregory Frizalone
Sabrina Frizzell
Carol Froemming
Martin Frohlich
Lainy Fromm
Ronda Frontini
Jordan Fruge
Jason Fruth
Lisa Fry
Jacob Fry
Diallo Fry
Ashlie Fry
James Frye
James Frye
Vache Frye
Gail Fryer
Kierra Fryer
Zara Fucci
Shana Fuchs
Kenneth Fudala
Christopher Fudge
Adelina Fuentes
Carlos Fuentes
Lanie Fuentes
Karen Fuentes
James Fuentes
Tyler Fugate
Tatijana Fugate
Martin Fuhrhop
Diana Fukushima
Jeff Fulan
Amanda Fulbright
Manisha Fulbright
Rebecca Fulcher
Lisa Fulkerson
Haleigh Fulks
Johnathon Fullenkamp
Susan Fuller
Ashley Fuller
Dorothea Fuller
Christopher Fuller
Margaret Fuller
Joshua Fuller
Alison Fuller
Kim Fuller
Daniel Fuller
Michelle Fuller
Danielle Fuller
Paulette Fullington
Darrell Fullmer
Jeren Fullmore
Milton Fullwood Jr.
Michelle Fulmer
Melissa Fulmer
Juliette Fulton
Diana Fulton
Casey Fulton
Christopher Fulton
Belinda Fultz
Melvin Fultz
Benjamin Funaro
Lisa Funchess
Jasmin Funez
Melanie Funk
Camie Funk
Robyn Fuqua
Deanne Fuqua
Brian Furches
Dawn Furgason
Jill Furgason
Ginger Furline
Randi Furlong
Michelle Furlong
Destini Furlong
Desiree Furlow
Kenneth Furman
Deanna Furman
Holly Furness
Sarah Furnish
Dianne Furphy
Jo Furr
Miranda Furstoss
Jeffrey Furtado
Shelby Furtado
Peggy Furushima
Montica Fus
Tonya Fusco
Shawn Fusillo
Daniel Futral

Penny Gabardi
Scott Gabbard
Daniel Gabbart
Shannon Gabbert
Terry Gabbert
Jason Gabel
Candra Gabel
Steven Gabrielson
Aldwin Gacote
Richard Gadbery
Franchesca Gade
Walter Gadsden Jr.
Kelly Gadson
Rozza Gadson
Jennifer Gaeta
Michael Gaff
Wanda Gaffney
Brandon Gage
Brandon Gage
David Gagne
Melissa Gagne
Elizabeth Gagner
Daniel Gagnier
Crystal Gagnon
Jenelee Gahlman
Nita Gailey
Angel Gaillard
Teresa Gaines
William Gaines
Quandra Gaines
Franklin Gainey
Rodney Gaither
Michael Gajewski
Adil Gajraj
Melissa Galaise
Fatima Galan
George Galanos
Francine Galassa
Ashley Galassi
Erica Galasso
Carrie Galaz
Anat Gale
Danielle Galich
Miguel Galindo
Hannah Gall
Kent Gallacher
Jacquelyn Gallaga
Frances Gallagher
Eamon Gallagher
Joseph Gallagher
Christian Gallagher
Brianne Gallagher
Marie Gallagher
Jessica Gallagher
Timothy Gallagher
Tara Gallahan
Bennie Gallardo
Robert Gallardo
Charis Gallaty
Letisha Gallegos
Amanda Gallegos
Paul Gallegos
Cindi Gallegos
Joseph Gallelli
Lauren Gallimore
Kal Gallion
Krislen Gallipeau
Kathy Gallivan
Michael Gallo
Deborah Gallo
Alexandria Galloway
Stephen Galloway
Chad Galloway
Ryan Gallus
Brian Galusha
Moria Galvan
Marcus Galvan
Clara Galvan
Alexis Galvan
Tiffany Galvin
Alexander Gamache
Patricia-ann Gambill
William Gamble
Candace Gamble
Brittany Gamble
Margot Gambles
Michelle Gamboa
Candace Gamez
Eric Gamez
Vanessa Gamez Arguello
Bradley Gammey
Taylor Gammon
Hilary Gandara
Robert Ganem
James Gange
Valerie Ganiron
Ladonna Gann
Andrea Gannaway
Susan Ganther
Tanya Gantt
Karren Gantt
Lisa Gapski
Aimee Garat
Paul Garay
Jo Ann Garay
Jennifer Garbacz
Dameon Garber
Jacob Garber
Valerie Garcia
Andrea Garcia
Harry Garcia
Amber Garcia
Venus Garcia
Marisa Garcia
Rebecca Garcia
Meka Garcia
Christina Garcia
Samantha Garcia
Elizabeth Garcia
Katrina Garcia
Denisse Garcia
Carol Garcia
Amy Garcia
Andrew Garcia
Sylvia Garcia
Rena Garcia
Orlanda Garcia
Lyrsa Garcia
Armando Garcia
Michele Garcia
Starr Garcia
Margie Garcia
Kierra Garcia
LaSaundra Garcia
Lory Garcia
Adrian Garcia
Lora Garcia
Camilo Garcia
Teresa Garcia
Belinda Garcia
Diane Garcia
Krystal Garcia
Amanda Garcia
Marcela Garcia
Patricia Garcia
Connisa Garcia
Laura Garcia
Charles Garcia
Stephanie Garcia
David Garcia
Roberto Garcia
Jacinda Garcia
Kathleen Garcia
Sael Garcia
Roxanne Garcia
Mauri Garcia
Heidi-Ann Garcia
Tracy Garcia
Diana Garcia Carvajal
Jessica Garcia Diaz
Alan GarciaMagallanes
Nancy Garcia-Olivo
Theresa Garcia-Plummer
Tory Gard
Sterling Garde
John Gardener
Amanda Gardner
Jacqueline Gardner
Joshua Gardner
William Gardner
Gary Gardner
Rosalinda Gardner
Denise Gardner
Annette Gardner
Christina Gardner
Mandy Gardner
Cynthia Gardner
Trevor Gardner
Ashley Gardner
Kimberly Garee
Kathryn Gargano
Amanda Garland
Dakotah Garland
Jennifer Garland
Andrea Garmoe
Joshua Garner
Omar Garner
Enriqueta Garner
Sherri Garner
Julianne Garner
Lisha Garner
Sara Garner
Laurie Garnes
Gordon Garrand
Jack Garren
Nicholas Garrett
Cindy Garrett
Christopher Garrett
David Garrett
Jennifer Garrett
Amy Garrett
Jennifer Garrett
Robin Garrett
LaShaun Garrett
Truth Garrett
Marcia Garrett
Deborah Garrett
Susan Garrett
April Garrett
Warren Garrett
Jonathan Garrett
Ann Garrick
Eric Garris
Thomas Garrison
Timothy Garrison
Sandra Garrison
Stacy Garrison
Amber Garrity
Joshua Garry
Viviana Garry
Gayle Garski
Michelle Garst
Leslie Garsten
Jason Gartland
Clarence Gartman
Edith Gartman
Gretchen Garver
Christy Garvin
Ketrica Garvin
Kristina Garwood
Brandi Gary
Erik Garza
Edward Garza
Dallas Garza
Erasmo Garza
Valerie Garza
Kenneth Garza
Krystal Garza
Christopher Garza
Christopher Gasaway
Raquel Gasaway
Albert Gasbarra
Rebecca Gaskell
Songelyn Gaskins
Brenda Gaspard-Woody
Aimee Gaspari
Angelique Gass
Wesley Gassaway
Sherry Gassaway
Steven Gassiot
Diane Gassmann
Joseph Gassmann
Frank Gastelum
Laura Gaston
Kimberly Gaston
Hope Gaston
Tiffany Gatch
Leah Gates
David Gates
Tiffany Gates
Catherine Gates
Ginger Gates-Munkers
Anthony Gathers
Tanisha Gathright
Chansonique Gatlin
Janice Gatrell
Erin Gatto
Lisa Gattone
Sherise Gatzke
Amber Gaudet
Victoria Gaudette
Nathan Gaughan
Joseph Gaughan
Londolyn Gauldin
Melanie Gault
Theodore Gaumer
Brooke Gaunska
Matthew Gaunt
Shelly Gause
Tamra Gauthier
Judith Gauthier
Brian Gautreaux
Jean Gautreaux
Mariana Gavaghan
Kayle Gaviola
Nicole Gawbill
Nicole Gawczynski
Izabella Gawel
Jacob Gawronski
Judy Gay
Sherry Gay
Jairo Gay
Ann Gay
Michael Gay
Elizabeth Gaydosh
Jolene Gayle
Kristin Gaylor
Nicole Gaynair
Maria Gaytan
Jeffrey Gazaway
Meredith Gazlay
Erin Geades
Delilah Gearhart
Cherlean Gebara
Emily Gebhardt
Amanda Gebhart
Stephen Geddes
Irina Geddes
Karl Gedeon
Pearlicia Geer
Christin Geer
Sabrina Geesey
Erica Gehle
Dale Gehman
Cory Gehring
Jason Gehrt
Richard Geier
Conchitina Geiger
Kenneth Geisler
Lisa Geisler
Evangeline Geist
Cherlyn Gelinas
Erin Gelis
Angeline Gell
Mary Gellhause
Kimberly Gelms
Maria Gelsthorpe
Jennifer Gendron
Monty Genegabus
Shawn Gennings
Shelly Gent
Nicholas Gentile
Amanda Gentile
Marilyn Gentilly
Jenny Gentry
Antoinette Gentry-Calloway
Stephanie Gentz
Denzil Genus
Krystle George
Joshua George
Robert George
Melissa George
Deahanna George
Kembalina George
Shannon George
Jason George
Karen George
Shaun George
Sia George
Erwin George
Brooke Georgeson
Teresa Geraci
Gina Gerber
Diane Gerberding
Mary Gerbode
Julie Geremaia
James Geren
Ulysses Gerena
Angela GerhartMiller
Tammy Gering
James Gerkin
Michael Gerlovich
Aimee Germain
Christina German
Michelle German
Terressa German
Tiffiny Germann
Mary Gernstein
Joyce Geronimo Sapp
Alexandria Geronzin
Christopher Gerstbrein
William Gerth
Gerhard Gertschitz
Stacy Gerwin
Diane Geschimsky
Traci Getsinger
Lauren Gettinger
Eileen Gevers
Ryan Gewinner
Susan Geyer
Alanna Geysimonyan
Tilli Ghale
Nadine Ghanem
Edward Ghera
Debra Ghindia
Samantha Ghrist
Sarah Giacometti
Ary Gialanella
Joan Gianni
Mendy Giapapas
Mark Giarrizzo
Stephanie Gibbon
Stacey Gibbons
Heather Gibbons
Cassandra Gibbs
Valarie Gibbs
Donna Gibbs
Tammy Gibbs
Timothy Gibbs
Neysha Gibson
Teri Gibson
Alison Gibson
Kristi Gibson
Paul Gibson
Melanie Gibson
Stacie Gibson
Rebecca Gibson
Robert Gibson
Kelly Gibson
Christine Gibson
Melinda Gibson
Donna Gibson
Kimberly Gibson
Nicholas Gidcumb
Catrina Giddens
Derek Giddens
Dale Giddings
Georgia Gidney
Steven Gierhahn
Catherine Gierszewski
Chez Giertz
Rebekah Gifford
Joshua Gigliotti
Jessica Gigliotti
Claudia Gil
Kimberly Gilbert
Nicole Gilbert
Patrick Gilbert
Michael Gilbert
Daniel Gilbert
Shameka Gilbert
Jennifer Gilbert
Gia Gilbert
Joshua Gilbert
Jimmae Gilbert
Sarah Gilbert
Heather Gilbert
Aleighna Gilbert
Lori Gilbertson
John Gilbertson Jr.
Jessica Gilbreath
Eric Gilcher
Shannon Giles
Brandey Giles
Crystal Giles
Christine Giles
Lisa Giles
Christine Giles
Marquia Giles
Wilbert Gilford
Joseph Gilheany
Laerica Gill
Joanne Gill
Rebecca Gill
Clifton Gill
Arwen Gill
Debra Gill
Jaclyn Gill
David Gill
Donna Gill
Jennifer Gill
Sean Gill
Stephanie Gill
Jonathan Gill
Jessica Gilleland
Lisa Gillen
Gabriella Gillern
Meghan Gilles
Jonathan Gilles
Amanda Gillespie
Heidi Gillespie
Melissa Gillespie
Summer Gillespie
Frank Gilley
Aneesa Gilley-Timmons
Candice Gilliam
Trenice Gilliam
Candace Gilliam
Stephanie Gilliam
Silver Gilliam
Kevin Gilliard
Mari Gillies
Alan Gillies
Jacqueline Gilligan
Amanda Gilliland
Barbara Gillingham
Twyla Gillins
Christien Gillis
Michelle Gillis
Dawn Gillman
Thomas Gillotti
Max Gilluly
Malisa Gillum
Ladiwina Gilly
Rebecca Gilman
Stephen Gilman
Colin Gilman
Rebecca Gilman
Terry Gilman
Shawn Gilman
Helen Gilmartin
Jennifer Gilmore
Amanda Gilreath
Christina Gimenez
Thomas Gimlich
Robert Gindlesperger
Jessica Gingras
Kimble Gingrich
Jonathan Ginsberg
Kelsey Ginyard
Guyle Giordano
Joseph Giordano
Sheila Giordano- Reynolds
Denise Gipson
Ayla Gipson
Demetrice Gipson
Kiarra Gipson
Stacey Giraldez
Liza Girard
Marlisa Girard
Christa Girard
Ryan Girard
Anita Gist
Sharon Gittens
June Givans
Latonya Givens
Dennis Givens
Cathy Givens
Edward Gladney
Natasha Gladney
Louis Gladney
Ashley Glaser
Julia Glasgow
Rachel Glasgow
Shana Glasgow
Alton Glaspie Sr
Eric Glass
Sarah Glass
Tabitha Glasscock
Robert Glazer
Aaron Gleason
Donna Gleason
Renee Gleason
Anthony Glenn
Michele Glenn
Nikki Glenn
Patsy Glenn
Ashley Glenn
Caroline Glenn
Juanita Glenn
Christopher Glenon
Brittney Glisson
Stephen Glogowski
Thelma Gloston
Sean Gloudemans
Lecretia Glover
James Glover
Karen Glover
Michelle Glover
Angela Glover
Kimberly Glover
Sharon Glover
Pamela Glover
Niyah Glover
Justin Glover
Michelle Glover
Johnathan Glover
Timothy Glover
Charlott Glowacki
Sherri Glynn
Diana Glynn
Tammy Glynn
Charles Glynn
Janet Glynn
James Gnadinger
Laura Gobin
Dora Gochnour
Lakelya Godbolt
Oleva Godby
Tammy Godby
Donald Goddard
Kelly Goddard Vega
Debra Goddeau
Eric Godec
Jennie Godfrey
Desiree Godfrey
Lisa Godfroy
Lawrence Godin
Dustin Godnick
Adrienne Godoy Perryman
Sean Godwin
Christy Godwin
Corey Godzwa
Margaret Goebel
Tina Goeckel
Nichole Goedeck
Samantha Goepfert
Lisa Goerlich
Kristen Goertemiller
Michael Goesmann
Eddie Goetz
David Goetz
Ralph Goff
Patricia Goff
Lea Goff
William Goforth
Christopher Goforth
Siobhan Goggin
Giovanna Gogreve
Michele Gohlke
Erick Goin
Becky Goins
Ashley Goins
Damien Goins
Melanie Goins
John Goins
Greg Gold
Rebecca Gold
Lorie Gold
Jeanne Gold
Craig Gold
Tammy Goldberg
Patricia Goldberg
Mark Golden
Pamela Golden
David Golden
Charlotte Golden
Timothy Golden
Timothy Golden
Daniel Golden
Charles Golden Iv
Trudi Goldenberg
Alexandria Goldman
Sharon Goldman
Daniel Goldsmith
Nicholas Goldstein
Kellee Goldstein
Wendy Goldsworthy
Susannah Goldwater
Marsha Goldy
Tamra Goleman
John Golembiewski
Katherine Goloversic
Marcus Golston-Thomas
Tanisha Golub
Nicholaus Gombocz
Dennis Gomer
Wanda Gomez
Sherry Gomez
Raquel Gomez
Amanda Gomez
Max Gomez
Beatrice Gomez
Elijah Gomez
Antonio Gomez
Logan Gomez
Tiffany Gommel
Whitney Gomula
Megan Gonce
Valerie Gonce
Leosary Gonell
Joshua Gonet
Kevin Gong
Leslie Goni
Ryan Gonyo
Tessa Gonzales
Yvonne Gonzales
Wendy Gonzales
Jennifer Gonzales
O'Neil Gonzales
Amy Gonzales
Jacob Gonzales
Erika Gonzales
Aaron Gonzales
Tirza Gonzales
Elizabeth Gonzales
Abigail Gonzales
Roy Gonzales
Sommer Gonzales
Nancy Gonzales
Arlinda Gonzales
Donna Gonzales
Sara Gonzalez
Silvia Gonzalez
Jose Gonzalez
Arthur Gonzalez
Jennifer Gonzalez
Victor Gonzalez
Diana Gonzalez
Jennifer Gonzalez
Chantal Gonzalez
Cynthia Gonzalez
Shawnmarie Gonzalez
Damarie Gonzalez
Jessica Gonzalez
Kristine Gonzalez
David Gonzalez
Alfredo Gonzalez
Laura Gonzalez
Hope Gonzalez
Enoe Gonzalez
Juan Gonzalez
Kayla Gonzalez
Mary Gonzalez
Giselle Gonzalez
Melissa Gonzalez
Michael Gonzalez
Rene Gonzalez
Michael Gonzalez
Janet Gonzalez
Allison Gonzalez
Paul Gonzalez
Sharon Gonzalez
Gina Gonzalez
Joseph Gonzalez
Lisa Gonzalez
Katerina Gonzalez
Ashlee Gonzalez
Adonis Gonzalez
Rosalinda Gonzalez
Sergio Gonzalez
Myrna Gonzalez
Maria Gonzalez
Alicia Gonzalez De Arreola
Tomas Gonzalez Rodriguez
Erick Gonzalez-Corral
Monique Gonzalez-Scott
Marveya Gooch
Rachel Good
Debra Good
Kevin Good
Peter Goodchild
Ashley Goode
Tiffany Goode
Arthur Goode
Shaunise Gooden
Stacy Goodenough
Jo Goodenough
Marsha Goodfellow
Raymond Goodine
Sarah Goodlet
Sherri Goodman
Beth Goodman
Darrell Goodman
Vanessa Goodman
Jessica Goodman
Eric Goodman
Chanel Goodman
Kirsten Goodnow
Amy Goodrich
David Goodrich
William Goodrum
Melissa Goodrum
Cindi Goodson
Jennifer Goodson
Victoria Goodwin
Gilbert Goodwin
Jennifer Goodwin
Tamieka Goodwin
John Goodwin
Frederick Goodwin
Mark Goodwin
Kimberly Goodwin
Sonya Goodwyn
Denise Goolsby
Jennifer Goran
Dana Gordon
Courtney Gordon
David Gordon
Bradford Gordon
Felicia Gordon
Amanda Gordon
Jeremy Gordon
Kelly Gordon
Stacy Gordon
Nancy Gordon
Tracy Gordon
Earnest Gordon Jr
Aleta Gordy
Cheryl Gore
Chandreka Gore
Selman Gore
Wendy Gore
Robin Gorey
Rene Gorka
Kirsten Gorman
Thomas Gormeley
Kittie Gorrell
Sallie Gory
Brandi Gorzen
Lee Gorzen
Cindy Gose
Leo Gosier
William Gosnell
Danyale Goss
Amber Goss
Derrick Goss
Christopher Gosselin
Elizabeth Gosselin
Christyn Gossett
Melissa Gossett
Lisa Gossett
Stephen Gossett
Jennifer Gossett
Traci Gossin
Danielle Goss-Smith
John Gott
Stephanie Gott
Andrew Gottberg
Crystal Gotte
Sylvia Goughenour
Jamie Gould
Lillian Gould
Stephanie Gould
Vicky Gouliard
Heather Gourley
Tina Gouzien
Dylan Goward
Micki Gowdy
Stephanie Gower
Sarah Gowers
Lennox Gowie
Elsie Goycoolea Zuñiga
Honei Goyette
Carl Goyne
Ana Gozalo
Jenifer Gozart
Ryan Gozum
Kimberly Grabau
Jada Grabis
Stacey Grabowski
Suzanne Grace
Stephanie Grace
Meagan Gracy
April Gracyk
Katherine Grady
Olivia Grady
Ronald Graf
Jessica Graf
Danielle Graf
Marcus Graf
Patricia Graff
Kevin Graff
Mary Graff
Cindie Gragg
Judith Graham
Christy Graham
Yvette Graham
Dorian Graham
Jody Graham
Nathan Graham
Rashon Graham
Cayce Graham
Carolyn Graham
Julie Graham
Carolyn Graham
Akemi Graham
Jessica Graham
Demian Graham
Mendi Graham
Sara Graham
Carrie Graham
Sheila Grainger
Jamie Granada
Marina Grandbois
Matthew Granger
Alison Granier
Jennifer Grant
Hannah Grant
Robert Grant
David Grant
John Grant
Jeffrey Grant
Selena Grant
Sierra Grant
James Grant
Michael Grant
Shawn Grant
Sheryl Grant
Tiffany Grant
Jenna Grant
Rachel Grant
Judith Grant
Bevele Grant-Davis
Ronald Grasmick
Michael Grasser
Ericka Grate
Michelle Grate
Robin Gratiot-Vaughan
Sandra Grattan
Alicia Gravel
Jeannette Graver
Benedicta Graves
Shelly Graves
Carolyne Graves
Shelly Graves
Rafeal Graves
Jeremy Graves
Kimberlie Graves
Marcia Graves
Margo Graves
Aquanette Graves
Stacey Graves
Tarrah Graves
Jessica Graves
Kathy Graves
Olivia Gray
Sandra Gray
Denise Gray
Julie Gray
Rashell Gray
Corey Gray
Robin Gray
Jamie Gray
Romona Gray
Anita Gray
Tachia Gray
Heather Gray
Denise Gray
Kimberly Gray
Nina Gray
Nicole Gray
Krystle Gray
Rocio Gray
Scotty Gray
Lynette Gray
John Gray
Crystal Gray
Larry Gray
Marcia Gray
Diana Gray
Ashley Gray
Danielle Gray
Patricia Gray
Julie Gray
Nancy Gray
Scott Gray
Natalie Gray
Michael Gray
William Gray
Michael Gray II
Lisa Gray Siemers
Heather Gray-Jacobi
Christopher Grear
Garry Greathouse
James Greathouse
Mark Greaves
Sadie Greaves
Alexandra Grebens
Angela Greco
Latoshia Greeley
Violet Greeley
Viktoria Green
Amber Green
Lawrence Green
Rita Green
Barbara Green
Martha Green
Chinitta Green
Laderek Green
Lysette Green
Michael Green
Shallene Green
Warren Green
Amanda Green
Ashley Green
Matthew Green
Crystal Green
Anthony Green
Lenny Green
Lisa Green
Donna Green
Kadisha Green
Jacqueline Green
Jeff Green
Michelette Green
Thomas Green
Victoria Green
Misty Green
Tamra Green
Michelle Green
Lakisha Green
Chesnee Green
Holly Green
Ashlee Green
LaJoya Green
Derek Green
Audrey Greene
Brenda Greene
Maryl Greene
Tusheia Greene
Jeffrey Greene
Carmen Greene
Mariana Greene
Tracy Greene
Dominique Greene
Meghan Greene
Laura-Marie Greene
Jamie Greene
Thomas Greene
Brandy Greenhalgh
William Greenier
Jennefer Greenlaw-Wright
Alfred Greenman
Clayton Greenwell
Kindall Greenwood
Ryan Greenwood
Brad Greer
Sean Greer
James Greer
Theresa Greer
Donna Greer
Mary Greer
Cindy Greeson
Dennis Gregg
Andrew Gregg
David Gregg
Sophia Gregg
James Gregg
Natalie Gregg
Doreen Grego
Vincent Gregonis
Elisha Gregor
Elizabeth Gregor
Eleanor Gregory
Stephnie Gregory
Christina Gregory
Megan Gregory
Darren Gregory
Megan Gregory
Sylvia Gregory
Jennifer Gregory
Allison Gregory
Scott Greim
Scott Greiman
Elizabeth Greiner
Marlene Greiser
Kayla Grela
Michelle Gremler
Elizabeth Grenier
Daniel Greniewicki
Cary Grenland
Shondra Grenz
Adrienne Greth
Andrew Greulich
Michael Grewe
Lisa Grey
Shameka Grey
Carese Grey
Andrew Greydanus
Rachel Gribble
Jakob Gribble
Arthur Grice
Angela Grider
Sherron Grider
Brian Grieder II
Matthew Griego
Raul Griego
James Grier
Beckie Griesbach
Erich Griessmann
Mary Griest
Jessica Grieves
Christopher Grieves Sr.
Nyto Griffen
Patrick Griffin
Lisa Griffin
Sherri Griffin
Donna Griffin
Nicole Griffin
Traci Griffin
Wade Griffin
Tammy Griffin
Marcus Griffin
Kayla Griffin
Laura Griffin
Danielle Griffin
Brenda Griffin
Valaria Griffin
Stacey Griffin
Mindy Griffin
Kendra Griffin
Terri Griffin
Stacey Griffin
Christopher Griffin
Krista Griffin Bullard
Dawana Griffin-Major
Nitika Griffith
Zauditu-Ube Griffith
Carol Griffith
Kandi Griffith
Jamie Griffith
Harvey Jr. Griffith
David Griffith
Tania Griffith
Matthew Griffith
William Griffiths
Elizabeth Griffor
Sheena Griffy
Linda Griggs
Christina Grijalva
Randi Grillo
Maya Grim
Graciela Grimaldi
Mary Grimes
Ellen Grimes
Anthony Grimes
Rachel Grimes-Babor
Monica Grimes-Miller
Anniemarie Grimm
Jonathan Grimm
Vanessa Grimm
Jennifer Grimm
Trevor Grimm
Charles Grimmett
Diana Grinnell
Rebecca Grinnell
Rebecca Grinnell
Erica Grinsteiner-Motto
Tas Grisanti
Bradley Grismer
Cynthia Grisolia
William Grissom
Dennis Griston
Jenny Grizzle
Sarah Groark
William Grobman
Shay Groenewold
Donna Gromer
Steven Groon
Kayla Gros
Charles Grosbier
Brian Groscup
Brenda Grose
Alyssa Gross
Karen Gross
Dawn Gross
Christopher Gross
Patricia Gross
Teddy Grossman
Alysia Groth
Lauren Groth
Jodi Groth
Benjamin Grothe
Stephanie Grotheer
Vicki Grothusen
Katharine Grout
Dana Grove
Joseph Grove
Angela Grover
Kelly Groves
Terri Grubb
Stevie Grubb
Garrett Grubb
Jeremy Grubbs
Gerald Grubbs
Gregory Grubbs
Casey Grubel
Jennifer Gruber
Jane Gruber
Matthew Gruber
Melanie Gruft
Ashlee Grunau
Amber Grunden
Shanna Grunewald
Jacqueline Gruntz
Clark Gryglewicz
Neysa Grzywa
Deborah Gschwend
Jose Guadarrama
Tanya Guajardo
Rebecca Gualtieri
Juan Guardado
Christina Guarneri
Carol Gucwa
Shea Gudmundson
John Gudonis
Michelle Guebara
Dylan Guendoo
Kristin Guenther
John Guerin
Juan Guerra
Venessa Guerra
Omalee Guerra
Jennifer Guerrero
jonathan guerrero
Margarita Guerrero
Peggy Guerrero
Ashley Guerrero
Tabithia Guerrero
Cynthia Guerrini
Michelle Guertin
Mathew Guest
Amanda Guetzow
Thomas Guglielmo
Philip Guhl
Linda Guido
Aaron Guidry
Lori Guiel
Tracy Guilbault
Denise Guilbeault
Iris Guillen Mayorga
Pamela Guillermo
Mary Guillory
Addie Guillory
Heather Guillory
Rachelle Guillory
Devon Guillory
Tameka Guillory
Vernon Guillory
Jessie Guillot
Sandra Guinn
Nicole Guinn
Christina Guinn
Erin Guinn
Mikayle Guinn
Monya Guinyard
Laci Guirard
Heidi Gula
Debra Gulas
Lori Gulecki
Lori Gullet
Keri Gullett
Corey Gulley
Paul Gumm
Laura Gumm
Janis Gummel
Melissa Gummerson
Jessica Gumpher
Latisha Gunns
Jennifer Gunter
Georgann Gunter
Quentin Gunter
Jenny Gupta
Jaime Gurevich
Ashley Gurganus
Maria Gurnsey
Danielle Gurtler
Tiffany Gurule
Rita Gurule
Jennifer Gurzynski
Matthew Gussow
Kimberly Gustafson
Leslie Gustafson
Kim Gustafson
Nicholas Gustafson
Christina Gustin
William Gutenberger
Nicole Guthridge
Megan Guthrie
Rachael Guthrie
Melissa Guthrie
Kathleen Gutierrez
Raul Gutierrez
Christopher Gutierrez
Sandro Gutierrez
Dominique Gutierrez
Helen Gutierrez
Domingo Gutierrez
Claudia Gutierrez
Rhonda Gutierrez
Mayra Gutierrez
Ivan Gutierrez
Jael Gutierrez
Cristina Gutierrez
Jesus Gutierrez
Juan Gutierrez
Albert Gutmaker
Jennifer Gutman
Nicole Gutman
Sharon Guy
Lucrece Guy
Benjamin Guyton
Jessica Guzikowski
Javier Guzman
Shannel Guzman
Courtney Guzman
Francisco Guzman
Ekaterina Gvatua
Irine Gwaze
Michael Gwilt
Patrick Gwin
Analise Gwin
Rebecca Gyles
Jeffrey Gyurko

Brendon Haacke
Kristin Haas
Brian Habel
Sherri Habel
Carole Haben
Andrea Habersham
Michelle Haberstock
Bibi Hack
Clinton Hackbarth
Douglas Hackelton
Sheria Hackett
Nicholas Hackler
Michael Hackler
David Hackley
Nicholette Hackney
Michael Hackney
Ricky Hackwell
Marty Hackworth
Randy Haddix
Kelly Haddock
Leann Hadley
Stephanie Hadley
Peter Haduch
Holli Hadwin
Sandra Haedo
Alexis Haenel
Paula Haenert
Teresa Haeseker
Sarah Hafner
Crystal Hagadone
Kristen Hagan
Roxanne Hagan
Laura Hagemann
Danielle Hagemann
Darren Hagen
Kelsie Hagenow
Tammy Hager
Cindy Hager
Lane Hagerdorn
Rachel HagermanFletcher
Dennis Hagglund
Danielle Hagler
Brian Hagopian
Annamaria Hagstrom
Carrie Hahn
Leonard Hahn
Donna Hahn
Candi Hahn
Tara Haidinger
Darik Haight
John Hailar
Kimberly Haile
Robert Haines
Lynn Haines
Kalyn Hainline
Sarah Hainline
Elizabeth Hair
Megan Hajworonsky
Melissa Hakes
Howard Hakes
Andro Hakim
Michael Haldt
Paden Hale
Tammy Hale
Jennifer Hale
Joseph Hale
Kimberly Hale
Joy Hale
Darcee Hale
Syrketha Hale
Gary Haley
Beth Haley
Krystal Haley
Melissa Hall
Cristina Hall
Brian Hall
Arian Hall
Michelle Hall
Alexis Hall
Kayla Hall
Stephanie Hall
Christine Hall
Faith Hall
Stephanie Hall
Thomas Hall
Elenor Hall
Jackie Hall
Jason Hall
Melissa Hall
Erin Hall
Jasmine Hall
Jason Hall
Ambrosher Hall
Amanda Hall
Megan Hall
Elizabeth Hall
Anton Hall
Kimberly Hall
Tamela Hall
Kristopher Hall
Cristi Hall
Ashley Hall
Susan Hall
Kenna Hall
Angela Hall
Vickie Hall
Rebecca Hall
Matthew Hall
Michelle Hall
Angela Hall
Vivian Hall
Sydnee Hall
Laura Hall
Donald Hall
Christin Hall
Robert Hall
Jennifer Hall
Juanita Hall
Roseanna Hall
Douglas Hall
Kevin Hall
Joshua Hall
Rachel Hall
Alyssa Hall
Aaron Hall
Kylene Hall
Jennifer Hall
Mayra Hall
Shelby Hall
Matthew Hall
Kimelyn Hall
Daniel Halladay
William Hallam
Maureen Hallett
Benjamin Halley
Zacharia Halley
Ernest Halliday
Karen Hallman
Howard Hallman
Nicole Hallstrom
Shannon Halsey
Julie Halsey
Susan Halstead
Kristina Halverson
Angela Halverson
Danielle Halverson
Nicole Halvorson
Colette Hambright
James Hambright
Jason Hamburger
David Hamby
Jessica Hamby
Jessica Hamby
Michelle Hamer
Margaret Hamersly
Darla Hamilton
Jack Hamilton
Tanesha Hamilton
Anita Hamilton
Anna Hamilton
Porter Hamilton
Jessica Hamilton
Stacey Hamilton
Jessie Hamilton
Melissa Hamilton
Tammie Hamilton
Nickea Hamilton
Nancy Hamilton
Trudy Hamilton
Tecolia Hamilton
Serena Hamilton
Leslie Hamilton
Dawn Hamilton
Kathleen Hamlin
Zahraat Hamm
Cindy Hamm
Holly Hamm
Barbara Hamm
Christopher Hamm
Melonie Hammack
Kristin Hammack
Dawn Hammel
Karen Hammer
Anna Hammer
Bobbie Hammond
Rachel Hammond
David Hammond
Gale Hammond
Briana Hammond
Kathleen Hammond
Thaddeus Hammond
Kimberly Hammond
Robert Hammond
Kenneth Hammond
John Hammond, III
Megan Hammond-Basu
Kristan Hammonds
Jeffrey Hample
Nancy Hampson
Christopher Hampton
Andrew Hampton
Robert Hampton
VaNeshea Hampton
Elisabeta Hampton
Molly Hamstreet
Kawehilani Hanamaikai
Jonathan Hanan
Rebecca Hanan
Tony Hancock
Brenda Hancock
Michael Hancock
Tammy Hancock
Julie Hancock
David Hancock
Michael Hancock
Brandon Hancock
Cale Hand
Kenneth Hand
Gregory Handley
Jedidiah Handley
Kara Handley
Alice Handlin
Michelle Handrow
Andrew Handwerk
William Hane
Martin Hankins
Marla Hankins
Cassie Hankinson
Joshua Hanks
Erika Hanks
Justin Hanks
Joseph Hanley
Shenelle Hanley
Lori Hanlon
Debra Hanmer
Tim Hanna
Haili Hannah
Kristy Hannan
Paul Hannaway
Melissa Hanner
Joseph Hannold
Kimberly Hannon -Diczhazy
Kellen Hansen
Summer Hansen
Dawn Hansen
Terri Hansen
Adam Hansen
Rebecca Hansen
Jeffrey Hansen
Daniel Hansen
Amy Hansen
Kendra Hansen
Douglas Hansen
John Hansen III
Jacob Hanset
Jillian Hanson
Megan Hanson
James Hanson
Ann Hanson
Brodey Hanson
Andrea Hanson
Gregory Hanson
Ramona Hanson
Barbara Hanson Curtice
Stephanie Hanzlik
William Happ
William Hara
Jasmine Haralson
Lisa Harbert
Gay Harberts
Stefanie Harbeson
Delora Harbin
Terry Harbin
Cheryl Harbottle
Jason Hardee
Leslie Hardee
Holly Hardee
Melissa Harden
Joan Harden
Kande Harden
Dennis Hardesty
Tara Hardesty
Tina Hardesty
Meredith Hardesty
Jane Hardin
Jaquela Hardin
Brandon Hardin
Austin Hardin
Jimmy Hardin
Brittaney Hardin
Elizabeth Hardin
Rebecca Harding
DeAngelo Hardman
Stephanie Hardwick
Mark Hardwick
James Hardy
Jerry Hardy
Derrick Hardy
Rebekah Hardy
Jamie Hardy
Jeffrey Hardy
Adam Hardy
Kathy Harewood-Ames
Charles Harger
Mark Hargis
Keita Hargis
Elizabeth Hargis
Terry Harig Jr.
Christina Harkins
Kolin Harkins
Angel Harkless
Shelly Harlan
Devon Harle
Kayla Harless
Donna Harley
Latessa Harlin
Kimberly Harlin
Bambi Harlin
Noreen Harman
Jeremiah Harmon
Treasa Harmon
Anthony Harmon
Jennifer Harmon
Ashley Harmon
Kristy Harmon
Ashley Harmon
Shannon Harmon
Brenda Harmon
Yvette Harmon
Randall Harmon
Jodey Harmon
Sandra Harnar
Anita Harnish
Lorelei Harp
Richard Harp
Eric Harper
Vera Harper
Hilda Harper
Rochelle Harper
Charles Harper
Joseph Harper
Leslie Harper
Shanda Harper
Katherine Harper
Douglas Harper
Sherri Harper
Denise Harper
Eric Harper
Hilary Harper
Scott Harpine
Gerry Harrah
Lynn Harrell
Brock Harrell
Victoria Harrell
Tanisha Harrelson
Martin Harrie
Breanna Harrie
Sparkle Harrigan
McKennon Harriman
Carol Harrington
Dawn Harrington
Lilliam Harrington
Laura Harrington
Kevin Harrington Jr.
Darla Harris
Duane Harris
Eunice Harris
Betty Harris
Trever Harris
Patricia Harris
Hannah Harris
Gregory Harris
Shannon Harris
Clayton Harris
Cervante Harris
Anaya Harris
Josiah Harris
Clifton Harris
Cynthia Harris
Corinna Harris
Patrick Harris
Odessa Harris
Brenda Harris
Rebecca Harris
Tristan Harris
Cooper Harris
Dennis Harris
Laura Harris
Jennifer Harris
Terrie Harris
Jennifer Harris
Lois Harris
Tambra Harris
Amanda Harris
Devan Harris
Mariam Harris
Tammy Harris
Steven Harris
Shequita Harris
Amanda Harris
Ashley Harris
Oliver Harris
Jason Harris
Kathryn Harris
Joshua Harris
Debra Harris
Candace Harris
Tiaj Harris
Racheal Harris
Kilipaki Harris
Denise Harris
Sherri Harris
Kimani Harris
Daniel Harris
Margaret Harris
Heather Harris
Michael Harris
Jessica Harris
Dennis Harris
Ta'Mara Harris
Rosemary Harris
Maurice Harris Jr.
Donna Harrison
Jennifer Harrison
Brooke Harrison
Genevieve Harrison
Gregory Harrison
Constance Harrison
Tina Harrison
Shayla Harrison
Natalia Harrison
Devon Harrison
Megan Harrison
Salina Harrison
Amber Harrison
Travis Harrison
Amy Harrison
Jacob Harrison
Page Harrison
Tamiko Harrison
Brian Harrison
Christin Harrison
William Harrison
John Harrison
Freda Harrison
Cynthia Harrison
Joshua Harrison
Abraham Harrison Jr
James Harrod
Linda Harrold
Jeffery Harrolle
Timothy Harroun
Carol Harshaw
Curtis Harshman
Heather Harshman
Tabitha Hart
Peppi Hart
Margaret Hart
Diane Hart
Ashley Hart
Kimberly Hart
Jonathan Hart
Alicia Hart
Ieisha Hart
Aliya Hart
Donald Hart
Taylor Hart
Felicia Hart
Heather Hart
Sereirath Hart
Elizabeth Hartaway
Karen Hartfelder
Cindy Harthorne
Justin Hartl
Kimberly Hartleb
Beverly Hartlett
Christopher Hartley
Michelle Hartley
Toni Hartley
Jeffrey Hartley
Christina Hartman
Ginger Hartman
Melissa Hartman
Shaun Hartman
Syvellia Hartman
Erica Hartman
Abby Hartman
Christina Hartnett
Lisa Hartnup
Linda Hartong
Nichole Hartsell
EricJoy Hartsfield
Jamie Hartsock
Bradley Hartung
Cynthia Hartzell
Sally Hartzell
James Hartzog
Marta Hartzog
Kimberly Harvell
Aretha Harvell
Airrion Harvey
Dishon Harvey
Pamela Harvey
Bonnie Harvey
Heather Harvey
Patrick Harvey
Amber Hasan
Rachel Hasbrouck
Matthew Hasby
Danielle Hascall
Carolyn Hasenau
Cynthia Hasenbalg
Christopher Haskell
Robert Haskins
Christina Hass
Ann Hassaan Sobhy
Sakinah Hassan
Mourad Hassan
Gloria Hassell
Stanley Hasselman
Robert Hassin
Deborah Hastings
Betty Hastings
Rachel Haston
Debbie Haston
Joana Hasty
Jordan Hatch
Traci Hatch
Christie Hatch
Alvin Hatcher
Desirea Hatcher
Michael Hatcher
Sherry Hatcher
Clifford Hatchett
Heather Hatfield
Justin Hatfield
Mary Hatfield
Tiffany Hathaway
Denise Hathaway
Amber Hatley
Aimee Hatteberg
Steven Hatten
Andreanna Hatter
Karl Hatton
Tina Hatton
James Hatton
Meredith Hatzinikolas
Rene Haubner
Laura Hauer
Russell Haug
Monique Haugan
L Hauge
August Haughton
Blaine Hauk
Lorraine Hauschild
Emiliee Hauser
Kyle Hausmann
Wesley Hausmann
Matthew Haussmann
Lynn Hauze
Amanda Havelka
Angela Haven
Jamie Haver
Erin Haviland
Raymond Havis
Jason Havlik
Danny Hawk
Maryanne Hawkes
Robert Hawkins
Teresa Hawkins
Tanja Hawkins
Roberta Hawkins
Bobbie Hawkins
Erica Hawkins
Paula Hawkins
Jerry Hawkins
Jason Hawkins
Johnny Hawkins, Jr.
Erik Hawkinson
Diane Hawks
Cheryl Hawley
Samantha Hawley
Melissa Hawley
Rachel Haworth
Lori Haws
Keri Hawthorne
Leslie Hawy
Krista Hay
Barbara Haycraft
Greyson Haycraft
Natalie Hayden
Alvaro Haydon Haigler
Kandis Hayes
James Hayes
Kayla Hayes
Sandra Hayes
Derek Hayes
Casey Hayes
John Hayes
Rhonda Hayes
James Hayes
Esther Hayes
Deborah Hayes
Susan Hayes
Anthony Hayes
Victoria Hayes
Jonathan Hayes
Byron Hayes
Shamika Hayes
Dena Hayess-Horton
Angela Hayford
Deborah Haynes
Caretta Haynes
Michelle Haynes
Wakia Haynes
Alli Haynes
Tracey Haynes
Tianamarie Haynes
Jordan Haynes
Roger Haynes
Heather Haynes
Victoria Haynes
Terri Hays
Pamela Hays
Christi Hays
Bethany Hays
Marquietta Hayward
Todd Haywood
Kent Haywood
Susan Hazard
Sheryl Hazel
Gena Hazelton
Sibei He
Laurie Head
Christopher Head
Alisha Head
Stephanie Head
James Headington
Latoya Healey
Kimberly Healy
Shanavia Heard
Alicia Heard
Rataucha Heard
Briana Heard
Surelda Heard
Stanley Heard
Miracle Heard
Rebecca Hearl
Tiffany Heath
Jonathan Heath
Mary Heath
Tamera Heath
Jennifer Heathcock
Tammy Heaton
Vanessa Heaton
Robin Hebert
Ryan Hebert
Robyn Hebert
Cassie Hebert
Susan Hecht
Charlene Heck
Willis Heck
DeAnn Heckens
James Heckert
Lana Heckman
Kristine Heckman
Stephanie Hedger
Lisa Hedgpeth
Patricia Hediger
Elisa Hediger
Justin Hedlund
Hayley Hedlund
Mia Hedrick
Steven Hedrick
Cricket Hedrick
Kelly Hedrick
Neil Heerdink
Craig Heffernan
Fern Heffington
Lauren Hefflin
David Heffner
Laura Heffner
Peggy Hefner
Scott Hegedus
Cindy Hegenbart
Kimberly Hehamahua
Donna Heiberger
Ladonna Heidler-Koons
Vickie Heidt
Andy Heikkila
Michelle Heikkila
Gabriel Heimberg
Jessica Heimer
Melissa Hein
Christopher Heine
Randall Heinitz
Thomas Heinrich
Kimberly Heintzelman
Amanda Heisel
Kristin Heiss-Erbrick
Laura Heitink
Daniel Heitzer
Catherine Heizer
Chandra Hejduk
Gary Helberg
Christopher Held
Kenda Helfrich
Arnela Heljo
Wade Hellemn
Tanya Heller
Gerald Heller
Katrina Hellman
Megan Hellmann
Chauntelle Hellner
Patrick Hellstern
Sean Helm
Jamie Helm
Kami Helm
Vicki Helmbrecht
Jamie Helmick
Elizabeth Helmkamp
Stephanie Helms
Heather Helmstetter
Jewel Helsel
Bridget Helton
Michael Helton
Erik Helton
Jessica Hembree
Suzanne Hemenway
Kori Hemingway
Heather Ann Hemingway
Casey Hemken
Joanne Hemphill
Felix Hemphill
John Hempler
Heather Hempstead
Travis Henagan
Jorge Henao
Angela Henary
Melissa Hendershot
Jennifer Henderson
Edward Henderson
Shauna Henderson
Stacy Henderson
Heather Henderson
Jacqueline Henderson
LaTisha Henderson
Linda Henderson
Cathy Henderson
Virginia Henderson
Stacey Henderson
Nancy Henderson
Amanda Henderson
Darrell Henderson
Kelly Henderson
Lorine Henderson
Sylvia Henderson
Alisha Henderson
Sherry Henderson
Jotham Henderson
Desmond Henderson
Nolan Henderson
John Hendle
Melanie Hendley
Sara Hendrick
Tabatha Hendricks
Nikole Hendricks
Brian Hendricks Jr
Shannah Hendrickson
Melody Hendrickson
Jessica Hendrix
Nathan Hendrix
Kali Hendron
Heather Hendry
James Henley
Travis Henn
Melissa Hennen
Kerry Hennessey
Tevon Hennesy
Alexandra Hennig
Christopher Hennigan
Sarah Henning
Amber Henning
Krystal Henrichs
Mandi Henrion
Ignatius Henry
Andrea Henry
Antonio Henry
Shernette Henry
Christina Henry
Stephanie Henry
Rico Henry
Scott Henry
Della Henry
Atika Henry
Derrick Henry
Amanda Henry
Sarah Hensarling
Tina Hensel
Kelly Hensel
Lisa Hensen
Peggy Hensley
Tricia Hensley
Stephanie Hensley
Thomas Hensley
Angelia Henson
Julie Henson
Deborah Henson
Ty Henson
Kellie Henthorne
Latisha Hentz
Stephanie Henvit
Oliver Hepp
Sharron Heppel
Ann Heppler
John Heppner
Moriah Herazo
Kelly Herbert
Nancy Herbert
Tiffany Herbert
Angelique Herbest
Richard Herbin
Erik Herbrand
Kellie Herbst
Cindy Hercules
Ronald Herdman
Roberta Hergenreter
Anna Herlocher
Janessa Herman
Ray Herman
Debra Herman-Burt
Thomas Hermon
Cassie Hernandez
Elsa Hernandez
Andrea Hernandez
Anthony Hernandez
Kelly Hernandez
Melba Hernandez
Carlota Hernandez
Edward Hernandez
Jose Hernandez
Tina Hernandez
Crystal Hernandez
Noris Hernandez
Andrea Hernandez
Diana Hernandez
Veronica Hernandez
Coty Hernandez
Aurelio Hernandez
Oscar Hernandez
Amanda Hernandez
Gerardo Hernandez
Harold Hernandez
Francisco Hernandez
Roberto Hernandez
Michael Hernandez
Belen Hernandez
Joanna Hernandez
Melenie Hernandez
Jose Hernandez
Yesenia Hernandez
Jesus Hernandez
Emely Hernandez
Roger Hernandez
Tiffany Hernandez
Yavette Hernandez
Eugene Hernandez
Josie Hernandez
Nicole Hernandez
Helen Hernandez
Danielle Hernandez
Christopher Hernandez
Xavier Hernandez
Marlene Hernandez
Maria Hernandez
Fatima Hernandez-Lerena
Claudia Hernandez-Smith
Hector HernandezVera Jr.
Terri Herndon
Kienne Herne
Kent Heronimus
Brittany Heroux
Susan Herr
Khristopher Herrarte
Danielle Herreman
Rebecca Herren
Jo Ann Herren
Danielle Herrera
Manuel Herrera
Peter Herrera
Rebecca Herrera
Erik Herrera
Maria Herrera
Amanda Herrera
Elida Herrera
Angel Herrera
Chris Herrera
Justin Herrera
Brian Herrera
Ryan Herrick
Ryan Herriges
Anne Herring
Deedee Herring
Adam Herring
Lena Herrington
Jennifer Herrington
Vicki Herrmann
Kaliko Herrod
Bryanna Herron
Bobby Herron
Lyndsi Herschberger
Julie Hershberger
Kelly Hershberger
Amanda Hertig
Jessica Hertz
Kevin Herzing
Robert Herzog
Tyler Heskett
Lisa Hess
Christina Hess
Amanda Hess
Joseph Hess
Shannon Hess
Christine Hessler
Carra Hester
Matthew Hetrick
Joshua Hettinger
Victoria Hetzer
Amanda Hetzler
Dale Heuck
Casandra Heun
Amy Heusel
Shelly Heuser
Thomas Hewett
Errolyn Hewett
Shawta Hewett
Lakrystle Hewitt
Katie Lynn Hewitt
Mary Hewitt
Candace Hewitt
Angela Hewitt
Valentina Hewitt-Wedderburn
April Hey
Rhonda Heyns
Andrea Heywood
Morgan Heywood
Morgan Hiatt
Bessie Hibbitts
Melissa Hibbs
Kimberly Hibdon
Loretta Hickey
Jeffrey Hicklin
Danny Hickman
Maurice Hickman
Jamie Hickman
Wmelva Hickman
Brandy Hickok
Nicole Hickox
Kenneth Hicks
Jennifer Hicks
Craig Hicks
Tammy Hicks
Thomas Hicks
Shenick Hicks
Tara Hicks
William Hicks
Elizabeth Hicks
Kevin Hicks
Noemi Hicks
Paul Hicks
Suezette Hicks
Joseph Hicks
Rachel Hicks
Alena Hicks
Joy Hicks
Melissa Hicks
Lachelle Hicks
Nicole Hicks
Kenyatta Hicks
Vallin Hickson
Rodney Hickson
Tarasha Hickson-Smith
Jennifer Hiebert
Felisha Higdon
Amy Higdon
Amy Higdon
Tiann Higginbotham
Debra Higginbotham-Froedge
Terry Higgins
Scott Higgins
James Higgins
Alethea Higgins
Christi Higgins
Roger Higgins
Steven Higgins
Heather Higgins
Julia Higgs
Tasha High
Jenna Highfill
Traci Highley
Margaret Highsmith
Amber Hight
Kimberly Hightower
Ambrosia Hightower
Bryce Higley
Sara Hilbolt
Darlean Hilbun
Elizabeth Hilburn
Elizabeth Hildebrand
Corey Hildebrand
Jackelyn Hildreth
Bonnie Hildreth
Patricia Hile
Debra Hilerio
Mattil Hiley
Adam Hilker
Parletsia Hill
Hannah Hill
Timothy Hill
Brian Hill
Waltraud Hill
Ronald Hill
Dianna Hill
Ronald Hill
Allen Hill
Debra Hill
Diane Hill
Judith Hill
Timothy Hill
Carolyn Hill
Morgan Hill
Melinda Hill
Freedom Hill
David Hill
Whitney Hill
Lanchanda Hill
Jassmyn Hill
Tresia Hill
Jaimie Hill
Susan Hill
Genista Hill
Holly Hill
Patrick Hill
Christy Hill
Leah Hill
Lynda Hill
Theresa Hill
Stephanie Hill
Sonia Hill
James Hill
Amy Hill
Cortez Hill
Donald Hill
Temeka Hill
Michael Hillard
Melissa Hillard
Corrine Hillberry
Patricia Hill-Davidson
Sharon Hilleary
Kerry Hilliard
Tina Hilliard
Shannon Hilliard
Cedrick Hilliker
Deanna Hillman
Terry Hillock
Sabrina Hillstrand
Allison Hillstrom
James Hillyer
Marilyn Hilton
Jocelyn Hilton
Jalonda Hilton
Joann Hilton-Deas
Oday Himmo
Robert Hinderer
Grace Hindman
Kerryn Hinds
Krisane Hineman
Timothy Hines
Warren Hines
Khalif Hines
Lori Hines
Diana Hinkemeyer
Pamela Hinkle
Eric Hinks
JoAnn Hinksmon
David Hinrichs
Elizabeth Hinrichsen
Valerie Hinshaw
William Hinson
David Hinton
Joelle Hinton
Misty Hinton
Chantel Hinton
Terri Hinton
Linwood Hinton
Stephanie Hinz
James Hiott
Glenda Hipes
Shashina Hipolito
Katelyn Hippen-Smith
Brenda Hirko
Erica Hirose
Richard Hirtle
Bonnie Hise
Michelle Hisey
John Hitchcock
Corey Hite
Timothy Hite
Samantha Hite
Colleen Hiti
Diana Hitt
Frances Hitz
Deron Hix
Jonathan Hixon
Melissa Hixson
Trinette Hjelseth
Sara Hoad
Jason Hoak
Donna Hoang
Pauline Hoang
Alysia Hobaica
Christine Hobbie
Michael Hobbs
Crystal Hobbs
Cynthia Hobbs-Witmer
Justin Hobrecht
Stephanie Hobson
Rashida Hockaday
Tanya Hockaday
Bonnie Hockaday-Ward
Angela Hodge
Cynthia Hodge
Daniel Hodge
Wayne Hodge
Ukura Hodge
George Hodge
Tracie Hodge
Quran Hodge
Erick Hodge
Elisabeth Hodges
Alquon Hodges
Kristopher Hodges
Vanity Hodges
Daniel Hodgin
Brian Hodgini
Benita Hodgson
James Hodgson Jr.
Suzette Hodock
Amanda Hoefle
Lilly Hoehn
Jason Hoekema
Jeffrey Hoekstra
Vanessa Hoel
Matthew Hoeppner
Sharon Hoey
Brian Hofacker
William Hofer
Bobbie Hofer
Brandi Hoff
Dianna Hofferbert
Mildred Hoffman
Paul Hoffman
William Hoffman
Justin Hoffman
Brittney Hoffman
Jennifer Hoffman
Charlene Hoffman
Elizabeth Hoffman
Jennifer Hoffman
Scott Hoffman
Debra Hoffman
Angela Hoffman
Phillip Hoffman
Kelli Hoffman
Sidney Hoffmann
Teena Hoffmann
Carl Hoffmann
Jennifer Hoffmann
Kathy Hoffmann Yelvington
Joseph Hoffpauir
Brandi Hoffpauir
Robert Hofmann
Diana Hofstetter
Misty Hofstetter
Quincy Hogan
Sabrina Hogan
Patricia Hogan
Joyce Hogan
Janie Hogan
Kenda Hogan
Karin Hogan
Christi Hogan
Cynthia Hogan
Shanaya Hogan
Heather Hogan
Reese Hogg
Jalicia Hoggard
Sabrina Hoggard
Kim Hogue-Mccord
Tanya Hohe
Lori Hohn
Robert Hoitt
Lisa Hojnacki
James Hoke
Evan Hoke
Ronald Holbrook
Amanda Holcomb
Chadwick Holcomb
Tara Holcomb
Tara Holcomb
Tabitha Holcomb
Dawn Holcomb - Haefele
Robert Holcombe
Mary Holcombe
Devin Holcroft
Kerrie Holden
Kelli Holden
Candie Holden
Bruce Holden
Victoria Holder
Tracey Holder
Kelcee Holderby
Ashlee Holderman
Bonni Holdorf
Tanya Holdren
David Holesovsky
Kathleen Holewa
Travis Holgate
Elizabeth Holguin
Caitlyn Holguin
Alecia Holiday
Julie Holiday
Kylee Holl
Tim Holland
Mackenzie Holland
Darrell Holland
Connie Holland
Jerry Holland
Lindsey Holland
Brandy Holland
Lindsey Holland
Windy Holland
Chealsey Holland
Janet Holland
Robert Holland
William Holland
Taniko Holland
Samantha Holle
Robert Hollenbaugh
Brian Hollenbaugh
Molly Hollenbeck
Caitlin Hollenbeck
Kristine Holler
Lauren Holleran
John Holleran
Cassie Hollerud
Janice Holley
Shannon Holley
Amy Holley
Toishema Holley
Sheryl Holliday
John Holliday
Morgan Holliday
Jenai Hollingsworth
Allison Hollingsworth
Ronald Hollins
Phillip Hollins
Traca Hollis
Sheri Hollis
Nancy Hollis
Toni-Marie Hollister-Lagai
Lynne Holloman
Teresa Hollon
Valerie Holloway
Lanae Holloway
Heather Holloway
Barbara Holloway
Tandra Holloway
Dawn Holloway
Barbara Holloway
Andrea Hollstein
Sandy Holly
Nancy Holm
Joshua Holman
Michael Holman
Leesa Holmes
Elaine Holmes
Phyllis Holmes
Kellie Holmes
Jaimee Holmes
Arianne Holmes
David Holmes
Deloris Holmes
Anitra Holmes
Sierra Holmes
Allen Holmes
Chase Holmes
Dawn Holmes
Edith Holmes
Howard Holmes
Christine Holmes
Seth Holmquist
Kip Holmstead
Fatisha Holness
LaKeisha Holsey
Lynda Holst
Christine Holston
Jennifer Holt
Cheri Holt
Jennifer Holt
Danielle Holt
Susan Holt
Elizabeth Holt
Ashley Holt
Darren Holt
Donna Holt
Kristine Holter
Christopher Holton
Deanna Holtsclaw
Gregory Holtz
Kerynn Holtzman
Kristina Holubar
Jacob Holubar
Keith Holycross
Tammy Holzer
Rena Holzer
Brent Holzer
Scott Homer
Rhonda Honaker
Holly Honaker
Buckley Honeck
Rita Honeycutt
Jennifer Honeycutt
Horace Honeycutt
Cheryl Honie-Toya
Lynne Honsberger
Sean Honse
Ashley Hoobery
Chassity Hood
Domonique Hood
Kevin Hoodjer
Daniel Hoogestraat
Debbie Hoogland
Jennifer Hooks
Richard Hoon
Jennie Hoon
Evan Hoop
Amanda Hoopengarner
Kimberly Hooper
Holly Hooten
Cassie Hooten
Beverly Hooten
Mark Hoover
Susan Hoover
Hannah Hoover
Jennifer Hoover
Benjamin Hoover
Brittnee Hoover
Yolanda Hopkins
Shawna Hopkins
Erik Hopkins
Ella Hopkins
Shaun Hopkins
Kimberly Hopkins
Diana Hopp
Jena Hoppen
Justin Hopper
Albert Hopper
Randi Hopper
Maria Hopwood
Andrew Hopwood
Niki Horace
Lori Horak
Amy Horman
Bridget Hormann
Katherine Horn
Bonnie Horn
Gregory Horn
Maria Horn
Lonnie Horn
Rachel Horn
Anthony Horn
Jerry Horn Jr.
Victoria Hornbaker
Susan Hornbuckle
Virginia Horne
Theresa Horne
Jennifer Horowitz
Lea Horsfield
Tiara Horsley
Amanda Horton
Linda Horton
Damian Horton
Mary Horton
Marci Horton
Kimberly Horton
Janeen Horton
Opal Horton
Angela Horton
Crystal Horton
Kevin Horton
Stephen Horton
Ashley Horton
Mindy Horton
Adrian Horton
Melissa Horton
Shannon Horton-Garcia
Jamie Horwitz
Heather Horwitz
Nadine Hose
Jonathan Hosey
Jeanette Hosford
Jessica Hoskins
Allison Hoskins
Daniel Hoskins
Heather Hoskins
Amanda Hoss
Christopher Hoss
Tammi Hostetter
Andrew Hotchkiss
Melanie Hoth
Erin Hottle
Cory Houchens
Natalie Houck
Stephen Houck
Brenda Houck
Jaime Houck-Tomblin
Jessica Houde
Scott Hough
Kyle Hough
Angela Houghton
Brie Houghton
Kelly Houk
Michael Houk
Cayla Houle
Teresa House
Karen House
Becky House
Tony Housell
Meghan Houser
Michelle Houston
Alexander Houston
Crystal Houston
Lolita Houston
Keith Houston
Jordan Houston
Kassi Houston
Travis Houston
Julianne Hovey
Eric How
Marquitta Howard
Clay Howard
Ashlee Howard
Crystal Howard
Antoinette Howard
Christopher Howard
Janine Howard
Chanoa Howard
Melvin Howard
Shiree Howard
Lindsey Howard
Taisha Howard
Brooke Howard
Rachel Howard
Suzann Howard
Karen Howard
Charlene Howard
Matthew Howard
Yvonne Howard
Timothy Howard
Heather Howard
Temeka Howard
Nastassja Howard
Wanda Howard
Quarnesha Howard
Ramona Howard
Kevis Howard
Arnetris Howard Williams
Jaclyn Howarth
Mark Howden
Ronald Howdeshell
Silver Howdyshell
Erin Howe
Shane Howell
Gerald Howell
Rachelle Howell
Chelsey Howell
Mark Howell
Benjamin Howell
Teresa Howell
Dena Howell Barnett
Nancy Hower
Kelsee Hower
Linda Howerton
Morgan Howitt
Michael Howk
Michelle Howry
Bobbi Howsare
Susan Howser
Toni Howton
Ashleigh Hoxit
Douglas Hoy
Nickeisha Hoyes
Daniel Hoyle
Susan Hrbek
Michele Hriciso
Katie Hroncich
John Hrubo
Shing Hsu
Erika Hsu
William Hubbard
Kayla Hubbard
Micah Hubbard
Kelli Hubbard
Nakia Hubbard
Paul Hubbard
Jodie Hubbard
Jennifer Hubbard
Ok Hubble
Billiejo Hubbs
Holly Hubbs
Amanda Huber
Monica Hubert
Amanda Huck
Patricia Huckabee
Krysta Hucke
Jacob Huckleby
Alexis Hucks
Rajiv Hudek
Lasheryla Hudgins
Ivica Hudika
Susan Hudler
David Hudnall
Candice Hudson
Elease Hudson
Kristin Hudson
Ann Hudson
Amy Hudson
Jessica Hudson
Lee Hudson
Chris Hudson
Ashley Hudson
John Hudson
Violetta Hudson
Sabrina Hudson
Kari Hudson
Shundella Hudson
Karen Hudson
Dionna Hudson
Selena Hudson
Nora Hudson
Sharon Hudson
Robert Hudson
Tammra Hudspeth
Daniel Hueber
Sara Huerta
Joshua Huertas
Michael Huesca
Jessica Huett
Kimberly Huett
Daniel Huff
Jessica Huff
Rebecca Huff
Brian Huff
Leslie Huffman
Stephanie Huffman
Laura Huffman
Joyce Huffman
Eric Huffman
Rhonda Huffman
Miranda Huffman
Michael Huffman
Deborah Hufford
Christopher Huggins
Eboni Huggins
Kim Huggins
Torri Hughes
Lauren Hughes
Viola Hughes
Jerome Hughes
Nikole Hughes
Eoghan Hughes
Shannon Hughes
Peggy Hughes
Brian Hughes
James Hughes
Jane Hughes
Steven Hughes
David Hughes
Jeremy Hughes
LeeAnne Hughes
Lauren Hughes
Jeffrey Hughes
Howard Hughes
Cecilia Hughes
Andrew Hughes
April Hughes
Daniel Hughes
Brian Hughes
Wendy Hugunin
Suzanne Huha
Jovana Huitz
Shandra Hulin
Dayna Hull
Nicholas Hull
Toni Hull
Ronda Hull
Stephanie Hulse
Brenna Hulse
Michael Hulverson
Andre Humes
Amanda Huml
Michelle Humphrey
Morris Humphrey
Shanika Humphrey-Battee
Debora Humphreys
Angela Humphreys
Kimberly Humphries
Rebecca Humphries
Colby Hundley
Harry Hungerford
Julie Hungerford
Giselle Hunley
Melissa Hunsaker
Ashley Hunsinger
Jenna Hunsinger
Marquisha Hunt
Laura Hunt
Lucinda Hunt
LaRonda Hunt
Jeanna Hunt
James Hunt
Benjamin Hunt
Lesa Hunt
Dawn Hunt
Cynthia Hunt
Donna Hunt
Marion Hunt
Peter Hunt
George Hunt
Jeremy Hunt
Sheon Hunte
Brandy Hunter
Tanisha Hunter
Jennifer Hunter
Shannon Hunter
Gala Hunter
Michael Hunter
Robyn Hunter
James Hunter
Eangeline Hunter
Megan Hunter
Juanita Hunter
Mitchell Hunter
Janette Hunter
Amy Hunter
Sandra Hunter
Rachel Hunter
Ethan Hunter
Tammy Hunter
Vincent Hunter
Cynthia Hunter
Aaron Hunter
Jill Hunter
Amanda Hunter
Patricia Hunter-Norris
Lori Huntington
Richard Huntington Jr.
Brooke Huntley
Tony Huntsman
Tara Hurdle
Christopher Hurja
Amanda Hurley
Ann Hurley
Carlie Hurley
Melissa Hurst
Britni Hurst
Charles Hurst
Joann Hurt
Michelle Husband
Eric Husher
Ryan Huss
Maryam Hussain
Nafeesa Hussain Moti
Andrew Hussey
Clayton Huston
Ashley Huston
Darlene Hutcheson
Kathleen Hutchings
Margaret Hutchins
Brittany Hutchinson
Sean Hutchinson
Derrick Hutchison
Teresa Hutchison
Philip Hutsler
Latasha Hutt
Michael Hutter
Phyllis Hutton
Stephen Hutton
Cheryl Huxhold
Kevin Huxhold
Thuc Huynh
Jason Huza
Krista Hyatt
Joseph Hyatt
Melissa Hyatt
John Hyatt
Dedrick Hyche
Catherine Hyde
Elijah Hyde
Adam Hyde
Robert Hyer
Sharlene Hylton
Amanda Hyman
Kate Hytinen
Jan Hyvonen

Anthony Iacobucci
Tami Iams
Carolina Ianiro
Corin Ibarra
Fannia Ibarra
Karen Ibarrondo
Kimberly Ibinson
Nuha Ibrahim
Jeffery Ide
Mena Iese
Aaron Ihinger
Michelle Ihrig
Ashley Ihrig
Christy Ijams
Danielle Ilgenfritz
Shylonde Ilme
Stephanie Ilunga
Bobby Im
Janara Iman-Thomas
Darci Imel
Romano Imerini
Renee Imes
Crystal Imeson
Hannah Imhoff
Thresa Imler
Heather Imwalle
Brian Inboden
Daniel Ince
Rhonda Ince
Laura Ingalls
Edward Inglis
Ewa Ingold
Janet Ingram
Pamela Ingram
Gary Ingram
Sara Ingrao
Marius Inisconi
Christopher Inlow
Laura Inlow
Miranda Inlow
Danielle Inneo
Sherri Inoa
Francisco Inoa
Theresa Insinger
Candice Inskeep
Susan Intermoia
Danyella Inthalangsy
Nicol Iordanou
Eva Iorillo
Freeha Iqbal
Rene Iraheta
Charles Irby
James Irby
Randal Irby
Donita Ireland
Belkis Irias
Kelli Irish
Guadalupe Irlas
Abigail Iron Rope
Samantha Irvin
Marc Irvine
Amber Irving
Ashley Irwin
Amber Irwin-Michiels
Jones Isaac
Monica Isais
Gloria Isaza
Shelby Iselt
Christopher Isenberger
Danele Isenhower
Tatiana Isis
David Iskander
Raul Islas
Heather Isom
Elliot Israel
Joseph Italo
Joe Ithenya
Andrea Iverson
Shuwanda Ivery
Nicholas Ivey
Melissa Ivey
Debra Ivey
Walter Ivory
Michael Iwicki
Judith Iwuji
Derrick Izor

Nia Jabari
Juliana Jabbi
Gordon Jablonski
Tara Jablonski
Deborah Jacinto
Tracy Jack
Nelson Jack
Rolane Jack
Rita Jackisch-Pawlak
Heather Jacks
Lester Jackson
Loren Jackson
Shanae Jackson
Gina Jackson
Maggie Jackson
Valerie Jackson
Christopher Jackson
Shelli Jackson
Yevette Jackson
Michael Jackson
Matthew Jackson
Shawanda Jackson
Cedric Jackson
Angela Jackson
Tameika Jackson
Darryl Jackson
Russell Jackson
Charlotte Jackson
Carolyn Jackson
Rachael Jackson
Nathan Jackson
Paul Jackson
Toni Jackson
Lacey Jackson
Mary Jackson
Davina Jackson
Nicole Jackson
Teresa Jackson
Carrie Jackson
Nia Jackson
Robert Jackson
Dinah Jackson
Gina Jackson
Natasha Jackson
Zenetta Jackson
Lakeita Jackson
Michelle Jackson
Linda Jackson
JoAnna Jackson
Keturah Jackson
Danielle Jackson
Danielle Jackson
Arielle Jackson
Leslie Jackson
Kevin Jackson
Deenita Jackson
LaVonda Jackson
Brooke Jackson
Stephen Jackson
Danielle Jackson
Brandy Jackson
Brittany Jackson
Kadijah Jackson
Karen Jackson
Charles Jackson
Tyesha Jackson
Marcus Jackson
Na'Shica Jackson
Keith Jackson
Clifton Jackson
Chrystal Jackson
Jennifer Jackson
Denise Jackson
Raymond Jackson
Alissa Jackson
William Jackson
Seleste Jackson
Donna Jackson
Christina Jackson
Angela Jackson
Shandra Jackson
April Jackson
Carla Jackson
Wanda Jackson
Edward Jackson
Jacqueline Jackson
LaKeishia Jackson
Shondrekia Jackson
Kiesha Jackson
Natene Jackson
Timothy Jackson
Dominique Jackson
Keonya Jackson
Chelsea Jackson
Royal Jackson
Roydrick Jackson
Nicollette Jackson
Emily Jackson
Corey Jackson
Charkeya Jackson
Alexandra Jackson
Nicole Jackson
Marquita Jackson
MarShawn Jackson
Rhonda Jackson
Sheryl Jackson-Matthews
Wendy Jacob
Tammy Jacobi
Zhanna Jacobo
Kari Jacobs
Melinda Jacobs
Christopher Jacobs
Heather Jacobs
Jamie Jacobs
Haley Jacobs
Erin Jacobs
Darryl Jacobs
Gabriella Jacobs Pennington
Mark Jacobsen
Dianne Jacobson
Carrie Jacobson
Michelle Jacobson
Joanna Jacobson
Renee Jacoby
Rosa Jacome
Dana Jacoviello
Alan Jacovino
Della Jacques
Rivers Jacques Jr.
Misty Jacusis
Martine Jadotte
Sarah Jaecks
Joshua Jahelka
Lisa Jahn
Christine Jahns
Kathleen Jahnz
Claudia Jaime
Stacy Jaime
Douglas Jakobitz
Amanda Jakubowski
Sirisha Jala
Upu Putri Jaldairie
Carla Jamerson
Johnathan James
Kathryn James
Naomi James
Precious James
Stacey James
Glenn James
Octavia James
Asheley James
Susan James
Tony James
Corell James
Charmaine James
Julia James
Danica James
Denea James
Brandon James
Jauron James
Dakota James
Kristin James-Bowe
Claretha James-Hill
Laura Jaminet
Elizabeth Jamison
Ruthene Jamison
Norwood Jamison
Devin Jammer
Christopher Janes
Nicholas Janeway
Delores Janeway
Samantha Janiec
Meagan Janis
Leslie Jannusch
Thomas Janosik
Tiffany Janow
Trina Janowski
Jill Jansen
Darlene Janson
Joyce January
Arturo Jaramillo
Diana Jaramillo
Beth Jargo
Bill Jarman
Cheryl Jarman
Jody Jarrell
Krystal Jarrett
Amanda Jarvi
Lori Jarvis
Amanda Jarvis
Christy Jarvis
Emily Jarvis
Jozef Jasion
Ricardo Jaso
Ahren Jaszewski
Wayne Jaszewski
David Jay
Christa Jaynes
Diane Jeanette
Vladimir Jean-Philippe
Jacob Jecklin
Kassondra Jedding
Tasha Jeffcoat
Sarah Jeffcoat
Robert Jeffers
Debra Jefferson
Ronald Jefferson
Donna Jefferson
Michalene Jefferson
Markita Jefferson
Jamila Jefferson
Amanda Jeffery
Tiffany Jeffrey
Regina Jeffries
Joseph Jekel
Phillip Jelinek
John Jelks
Monica Jemison
Miranda Jenezon
Samantha Jenkins
Jessica Jenkins
Zenneah Jenkins
Jeffrey Jenkins
Leonard Jenkins
Robert Jenkins
Kentaroe Jenkins
Wendy Jenkins
Sharma Jenkins
Kaleb Jenkins
Kimberly Jenkins
Suzanne Jenkins
Sharon Jenkins
Katie Jenkins
Catherine Jenkins
Demarius Jenkins
William Jenkins
James Jenkins III
Tammy Jenkins-Carr
Lakesha Jenkins-Fields
John Jennejahn III
Marjorie Jennings
Ryan Jennings
Dwayne Jennings
Monica Jennings
Michael Jennings
James Jennings
Laurie Jensen
Candace Jensen
Jennifer Jensen
Hanna Jensen
Crystal Jensen
Angela Jensen
Kristie Jensen
Donna Jensen
Andrew Jensen
Michael Jent
William Jeric
Jamillah Jermon
Shannon Jernigan
Korene Jerome
Sabrina Jess
Julie Jessee
Michelle Jessie
Twyla Jessie
Daniel Jessup
Melinda Jessup
La'Tresa Jester
Dontay Jeter
Chavonne Jeter
Kellie Jett
Mary Jett
John Jett
Paul Jette
Anna Jewell
David Jewell
Dawn Jewell
Angelitta Jewell
John Jewell IV
James Jewett
Mark Jewett
Angela Jezek
John Jeziorske
Erica Jiles
Audrey Jilka
Julio Jimenez
Benjamin Jimenez
Jill Jimenez
Lindsay Jimenez
Yahaira Jimenez
Mirgel Jimenez
Ernest Jimenez
Silvia Jimenez
Maria Jimenez
Amanda Jimenez
Olga Jimenez
Malachi Jimenez
Jeffrey Jin
Dawn Jirak
Brenda Joash
Brittany Jobes
Kloey Jocis
Regina Joe
Tricia Joenks
Christopher Joffson
Joshua Jogminas
Leah Johansen
Jennifer Johansen
Andrea Johanson
Reynold John
Cyer John
Renee Johns
Benjamin Johns
Brian Johnsen
Leif Johnsen
Sharon Johnson
Orlando Johnson
Barbara Johnson
Vicki Johnson
Cameron Johnson
Edward Johnson
Claudia Johnson
Jamie Johnson
James Johnson
James Johnson
Stefani Johnson
Evita Johnson
Ifetoya Johnson
Crystal Johnson
Jolene Johnson
Katie Johnson
Christa Johnson
Kimberly Johnson
Joyce Johnson
Cole Johnson
Sheryl Johnson
Pamela Johnson
Gayle Johnson
Maria Johnson
Iris Johnson
Vicki Johnson
Christine Johnson
Sheree Johnson
Christopher Johnson
Kenny Johnson
Pamela Johnson
Barbara Johnson
Alan Johnson
Suzanne Johnson
Michael Johnson
Kristina Johnson
Michael Johnson
Nicholas Johnson
Robin Johnson
Jamie Johnson
Nicholas Johnson
Jeannine Johnson
Jordan Johnson
Franz Johnson
Janice Johnson
Stefawn Johnson
Katherine Johnson
Tressa Johnson
Lorraine Theresa Johnson
Nyoki Johnson
Chaquita Johnson
Jonathan Johnson
Gina Johnson
Michael Johnson
Michael Johnson
Amanda Johnson
Terry Johnson
Brandi Johnson
Jennifer Johnson
Selenia Johnson
Darryll Johnson
Michael Johnson
Kevin Johnson
Kathy Johnson
Margaret Johnson
Brandi Johnson
William Johnson
Samantha Johnson
Joshua Johnson
Ronald Johnson
Shanell Johnson
Nettye Johnson
Te'rra Johnson
Lisa Johnson
Tanya Johnson
Kevin Johnson
Thomas Johnson
Sarah Johnson
Danaijah Johnson
Dion Johnson
Anika Johnson
Jasmine Johnson
Shana Johnson
Maya Johnson
Juliann Johnson
Meliss Johnson
Deborah Johnson
Glen Johnson
Michael Johnson
Deann Johnson
Brandi Johnson
Christopher Johnson
Anetra Johnson
Rachel Johnson
Mark Johnson
Joseph Johnson
Sharon Johnson
Cerissa Johnson
Laurence Johnson
Deleana Johnson
Tiffany Johnson
Delaine Johnson
Kimberly Johnson
Nueva Johnson
Tiffanie Johnson
Antonette Johnson
Laura Johnson
Julie Johnson
Clint Johnson
Luz Johnson
Kenneth Johnson
Charles Johnson
Jennifer Johnson
Rochelle Johnson
Georgia Johnson
Deann Johnson
Celia Johnson
Natisha Johnson
Debra Johnson
Marvin Johnson
Tina Johnson
Christi Johnson
Daniel Johnson
Paul Johnson
Latrell Johnson
Kristen Johnson
Bobbie Johnson
Berlinda Johnson
Randy Johnson
Keaira Johnson
Aretha Johnson
Samantha Johnson
Andrea Johnson
Joseph Johnson
Lawrence Johnson
Barbara Johnson
Brian Johnson
Shatarra Johnson
Jo Johnson
Valerie Johnson
Jessica Johnson
Jeremiah Johnson
Vanity Johnson
Caitlin Johnson
Ryan Johnson
Megan Johnson
Florence Johnson
Holly Johnson
Paulasia Johnson
Rhonda Johnson
Amanda Johnson
Alexis Johnson
nolan johnson
Jesse Johnson
Janell Johnson
Jason Johnson
LaToya Johnson
Jayme Johnson
Heather Johnson
Rebecca Johnson
Debra Johnson
Seth Johnson
Donte Johnson
Mistyne Johnson
Hollie Johnson
Ashley Johnson
Fadia Johnson
Melissa Johnson
Yorker Johnson
Kenny Johnson
Terri Johnson
Christian Johnson
Dawn Johnson
Cathy Johnson
Felicia Johnson
Cynthia Johnson
Myrtis Johnson Daniely
Abby Johnson-Barr
Naomi Johnson-Effinger
Denise Johnson-Myers
Deconda Johnson-Smith
Rachel Johnson-Watts
Laurie Johnston
Sarah Johnston
William Johnston
Wendy Johnston
Sherrie Johnston
Mica Johnston
Amanda Johnston
Marissa Johnston
Divina Johnston
Amy Johnston
Sandi Johnston
Andrea Johnston
Rebecca Johnston
Jennifer Johnston
Tina Johnston
Melanie Johnston
Nicole Johnston
Rachel Johnstone
Jordan Joiner
Raymond Jolley
Jordan Jolley
Reynolds Jolly
Stacie Jones
Douglas Jones
Ryan Jones
Angela Jones
Jennifer Jones
Christopher Jones
Tanisha Jones
Rashida Jones
Ashley Jones
Eric Jones
Calvin Jones
Daniel Jones
Mauriese Jones
Terry Jones
Lonnelle Jones
Jeffery Jones
Ilia Jones
Calvin Jones
Ariel Jones
Micheal Jones
Annette Jones
Everette Jones
Brooks Jones
Melyssa Jones
Cynthia Jones
Theresa Jones
Casey Jones
Cynthia Jones
Roy Jones
Sherry Jones
Lynnette Jones
Tresa Jones
Reginald Jones
Jon-Michael Jones
David Jones
Timothy Jones
David Jones
James Jones
Sara Jones
Phala Jones
Kristine Jones
Khayla Jones
Jennifer Jones
Sherry Jones
Margarita Jones
Christy Jones
Christina Jones
James Jones
James Jones
Harriett Jones
Lawanda Jones
Ariel Jones
Charity Jones
Chris Jones
Vanessa Jones
Annie Jones
Krystal Jones
Tracey Jones
Dana Jones
Desiree Jones
Gena Jones
Daniel Jones
Kameesha Jones
Kaley Jones
Neeley Jones
Milanna Jones
Andrea Jones
Melissa Jones
Brittany Jones
Katherine Jones
Joshua Jones
Terry Jones
Kalesa Jones
Joshua Jones
Alyssa Jones
Shirley Jones
Charlotte Jones
Kayla Jones
Chelsea Jones
Kevin Jones
Jessica Jones
Danielle Jones
Valerie Jones
Bonnie Jones
Cedrekia Jones
Talluhah Jones
Sharmaun Jones
Tamara Jones
LaTrisha Jones
Davita Jones
Byron Jones
Austin Jones
Ebony Jones
Carol Jones
Donald Jones
Datoria Jones
Tiphani Jones
Carren Jones
Jason Jones
Pamela Jones
Robert Jones
David Jones
Stephanie Jones
Danielle Jones
Charity Jones
Shannon Jones
Tamara Jones
Kris Jones
Shelley Jones
Jamie Jones
Chakee Jones
Thomas Jones
Carolyn Jones
Jessica Jones
John Jones
Stacy Jones
Sherman Jones
Katina Jones
David Jones
Clifton Jones
Dexter Jones
Robert Jones
Carrie Jones
Tammy Jones
Jineane Jones
Shacorey Jones
Charryse Jones
Matthew Jones
Demarco Jones
Rona Jones
Norrie Jones
Ethel Jones
Leanne Jones
Kamie Jones
LeKeisha Jones
Crystal Jones
Cristopher Jones
James Jones
Derek Jones
Matthew Jones
Matrice Jones
Vernon Jones
Tami Jones
Trista Jones
Malanda Jones
Taisha Jones
Brianna Jones
Jodi Jones
Jill Jones
Carolin Jones
Lacey Jones
Amber Jones
Veronica Jones
Ashley Jones
Sandessa Jones
Jennifer Jones
Kymberley Jones
Kelleigh Jones-Coles
Georganna Jones-Linville
Amy Jones-Pepper
Katherine Jones-Tezgor
Torona Jones-Wilkerson
Rebecca Jongsma
Laura Jons
Zenita Jordan
Lori-Ann Jordan
Richard Jordan
Stacey Jordan
Sherry Jordan
Stacy Jordan
Damian Jordan
Brian Jordan
Cecilia Jordan
Katie Lynn Jordan
Kenyatta Jordan
Andrea Jordan
Marsha Jordan
Megan Jordan
Marie Jordan
Noel Jordan
Jonathan Jordan
Sadiqa Jordan
Chipella Jordan
Sarah Jordan
Stacy Jordan
Paula Jordan
Joshua Jordan
Tayoka Jordan
Ashley Jordan
James Jordan
Deborah Jordan
Ginger Jordan
James Jordan
Amanda Jordan
Susan Jordan
Beau Jordan
Martin Jordan
Brian Jorgensen
Kristen Jose
Yuhan Joseph
Velma Joseph
Lenz Joseph
Jean Joseph
Sarah Joseph
Annick Joseph
Ronnie Joseph
Grazziela Joseph
Georglyn Joseph Williams
Alosia Joseph-Hayward
Carly Josephson
Joel Joslin
Joe Joslyn
Amanda Jost
Renee Jourdan
Yola Journal
Angel Jovellana
Robert Jowers
Susanne Joy
Rivkah Joy
Heather Joy
Aimee Joyce
Shannon Joyce
Eddie Joyner
Sherri Joyner
Sandy Joyner
DeAnn Joyner
Rayven Juanengo
Cecilia Juarez
Sharyn Juarez
Robert Judd
Idellia Judge
Kayla Judge
Karen Judge-Morrissey
Liza Jukes-Blalock
Joshua Julian
Jennifer Juliano
Anthony Juliano
Sophia Julias
Hayden Julien
Wilove Julmeus
Tanya Julson
Brian Jumper
Lissete Junco
Elo Junek
Thomas Jung
David Jung
Amy Jurasek
Kala Jurik
William Justice
Barbara Justice
Amy Justice
Stephanie Justice
Cornelia Justice
Laura Juvan-George

Sarah Kaatman
Jesse Kaba
Julia Kacarka
Christy Kachline
Kiauna Kadiri
Jet Kaehn
Kelly Kaelble
James Kaffenberger
Jayna Kahler
Katrina Kahler-Wilson
Lisa Kahoano
Krista-Lea Kaidash
Wilson Kailiponi
Ellen Kaines
Ann Marie Kaisen
Benno Kaiser
Mary Kaiser
Eric Kaiser
Steven Kakowa
Stephen Kalaluhi
Kristina Kalb
Jayne Kalbfleisch
Kitrick Kalebaugh
Melissa Kalina
Jenifer Kalis
Steven Kalista
Brittaney Kallio
Christine Kalman
Shawn Kalny
Shareena Kaloti
Joseph Kalsic
Melissa Kalson
Osman Kamara
Brima Kamara
Melissa Kambourian-Kidd
Crystal Kamish
Pamela Kamman
Brandon Kammeyer
Tasha Ann Kamohai
Robert Kanaski
Aminata Kane
Patrick Kane
Jason Kane
Jaime Kanengeiser
Nicholas Kangadis
Christy Kannegiser
Tricia Kantor
Bruno Kapacinskas
Katherine Kapaska
Maria Kappell
Penelope Kapsas
Samantha Karadimas
Rozanna Karapetyan
David Karas
Nicholas Karbula
Kari Karch
Carrie Karcher
Jessica Karczewski
Tammy Karl
Christel Karl
Cathrine Karlsen
Lorianne Karney
Guy Karns
Rachel Karp
Benjamin Karp
Jessie Karpus
Victoria Karr
Thomas Karrick
Nikki Karski
Linda Karugu
Joshua Karzai
Ana Kasapovska
Katie Kaseman
Violet Kashewa
Sharon Kashiwabara
Aaron Kaspar
Cynthia Kasper
Dennis Kassan
Gerri Kassel
Gregory Kastanes
Kimberlin Katayama
David Kater
Kristi Kates
Peter Katigbak
Nicole Katz
Denise Katz
Melissa Katz
Tina Kaufman
John Kaufman
Hamidah Kaufman
Kevin Kaufman
Martina Kaufman
Bhavdeep Kaur
Caitlin Kavanaugh
William Kay
Kaitlyn Kay
Wendy Kay
Kathleen Kay
Pamela Kaye
Kelly Kaylor
Todd Kays
Joanna Kayser
Jason Kazban
Patrick Kazmer
Alicia Keahey
Patrick Kean
Johnathan Kearney
Shari Kearney
Stephanie Kearney-Quilling
Jaclyn Keathley
Timothy Keating
Jennifer Keating
Alisha Keatts
Sarah Keays
Barbara Kebanli
Kitt Keberlein
Mackenzie Keck
Virginia Keck
Dawn Keddy
Brandon Keehr
William Keeler
Laura Keeler
Spencer Keeley
John Keenan
Sheri Keenan
Martha Keene
Raymona Keene-Abernathy
Danielle Keener
Breanna Keeter
Julie Keever
Nicole Keffer
Dustin Keffer
Brodrick Kegler
Shannon Keigher
Jacqueline Keil
Donald Keiper
David Keiser
Judy Keit
Shaun Keith
Randy Keith
William Keith
Christopher Kelehan
Kelly Keleher
Zachary Kelhi
David Kell
Maricel Keller
Diana Keller
Dion Keller
Jodilyn Keller
Jennifer Keller
Ryan Keller
Dustin Keller
Robin Keller
Shanna Keller
Sara Keller
Skyler Keller
Dana Kelley
Teresa Kelley
Jean Kelley
Vanessa Kelley
Ashley Kelley
Jennifer Kelley
Julie Kelley
Joseph Kelley
Rick Kelley
Susan Kelley
Victoria Kelley
Kristen Kelley
Michelle Kellison
Preston Kellogg
Pamela Kellogg
Britney Kellum
Cynthia Kelly
Carly Kelly
Donna Kelly
Dovie Kelly
Christopher Kelly
Deborah Kelly
Paul Kelly
Ryan Kelly
Bryan Kelly
Trucee Kelly
Tyler Kelly
Damien Kelly
Michael Kelly
Jennifer Kelly
Melissa Kelly
Latoya Kelly
Kolby Kelly
Angel Kelly
Kevin Kelly
Latonya Kelly
Marion Kelly
Anne Kelly
William Kelly
Erica Kelly
Christina Kelly
Kaya Kelly
Lloyd Kelly
Megan Kelly
Lori Kelly
Brittany Kelly
Amanda Kelly
Raymond Kelso
Benjamin Kelso
Ranae Kelson
Edwin Kemereit
Tamara Kemnitz
Ursula Kemp
John Kemp
Lonnie Kemp
Linda Kemph
Jenna Kendall
Sandra Kendall
Steven Kendrick
Cassandra Kendrick
Jocelyn Kendrick
Janis Kendrick
Jacob Kendrick
John Kenealy
Chelsea Kennedy
Edward Kennedy
Michelle Kennedy
Salena Kennedy
Samantha Kennedy
Joseph Kennedy
Roger Kennedy
Evelyn Kennedy
Amanda Kenner
Karla Kenney
Nikita Kenney
Nickol Kennington
Jeremy Kennison
Porsha Kennon
Gail Kenny
Shakeita Kenon
Cheryl Kent
Jonathan Kent
Deanna Kent
Laura Kent
Eric Kent
Nicholas Kent
Quincy Kenton
Kanika Kenya
Gregory Keogh
Kuniko Keohane Celcer
Daniel Kepfer Jr
Marilyn Kephart
Joseph Kepler
Gloria Keppel
Beth Kerchner
Roseanne Kerlin
Jacob Kern
Jeremy Kern
Lindsay Kern
Regina Kernaghan
Shirley Kerner-Harmala
Jordan Kernodle
Muhisani Kerr
Brittney Kerr
Ebony Kerr
Vikki Kerr
Sondra Kerregan
Tanner Kerrigan
Joan Kersten
Melinda Kerstetter
Tracie Kertai
Aubree Kertson
Makelle Kervin
Joseph Kesler
Denita Kessack
Melissa Kestory
Amber Ketchum
Peter Ketchum
Victoria Ketterer
Ericka Kettner
Travis Keys
Mark Keyworth
Mohammed Khaki
Ameer Khan
Robin Khan
Rafiah Khan-Ali
Isha Kharrubi
Betsabe Khinno
Jessica Khosravi
Nouphonh Khottavong
Anthony Kiaunis
Michelle Kibiger
Carrie Kidd
Candy Kidd
Michelle Kidd
Elizabeth Kidd
Timothy Kidd II
Kayla Kieke
Deanna Kiel
Rachel Kier
Michelle Kiggins
David Kihl
Carol Kilbourn
Krista Kilbourn
Adrienne Kilbride
Cynthia Kilburn
Stephani Kilby
Steven Kilfoil
Eneddy Kilgore
Aquilla Kilgore
Alan Killebrew
Justin Killebrew
Jayanna Killingsworth
Ann Killmon
Stormy Killpack
Angelina Kilmer
Joseph Kilmon
Shelby Kilpatrick
Robert Kilper
Jeannie Kim
Edward Kim
Alexander Kim
Saralee Kimball
Lisa Kimball
Amanda Kimball
Candace Kimble-Johnson
Britny Kimbrell
Jared Kimbrough
Heather Kinard
Sharon Kinard
Kerry Kincade
Kalia Kincade
Chanika Kincaid
Andrea Kinchen
Harry Kindrick
Ronnie Kindrix
Matthew Kindsvogel
Tammy King
Lynn King
Rebecca King
Jessica King
Andrew King
Cassandra King
Paul King
Cynthia King
Chanelle King
Kristen King
April King
Alexander King
Joeel King
Kevin King
Jennifer King
Courtney King
Stuart King
Tresanders King
Isaiah King
Makia King
Morgan King
Levi King
Bradley King
David King
Jessica King
Sarah King
Jamie King
Ryan King
Sarah King
Brad King
Michael King
Danielle King
Eric King
Job King
Kayla King
Susan King
Travis King
David King
Kristi King
Charlene King
Margaret King
George King
John King
Justin King
Cecilia King
Jeana King
Shelby King
Justin King
Ashelle King
Andrea King
Jermaine King
David King
Arthur King
Debra King
Cynthia King
Domenica Kingsborough
Jennifer Kingsley
Brandi Kinikin
Jalena Kinlock
Erika Kinman Caro
Kindra Kinnaman-Reeves
Marcia Kinnamen
Jessica Kinnamon
Kara Kinnamon
Jessica Kinne
Victoria Kinnear
Jessica Kinnee
Hugh Kinnett
Jamey Kinney
William Kinney
Stacey Kinney
Kim-Berly Kinnischtzke
Brooklyn Kinsey
Melissa Kinsley
Nicole Kinsman
Kip Kint
Joy Kinzer
Aubrey Kinzer
Lisa Kinzer
Cassandra Kiosef
Anna Kipping
Nicole Kirby
Jennifer Kirby
Shawn Kirby
Tobin Kirk
Melinda Kirk
Dorothy Kirk
Lora Kirk
Margaret Kirk
Crystal Kirk
Desirae Kirkland
Jessica Kirkland
Brodie Kirkland
Annie Kirkley
Anna Kirkman
Lenard Kirkman
Lois Kirkpatrick
Jennifer Kirkpatrick
Elizabeth Kirkpatrick
Jeffery Kirkpatrick
Melissa Kirks
Karyn Kirsch
Kyler Kirschbaum-Leitz
Sarah Kirschke
Corvetta Kirtman
Chelsey Kirton
Sophia Kirtsopoulos
Hiroko Kirwan
Lisa Kirwin
Rachel Kiser
Marie Kishpaugh
Donna Kisiah
Michael Kiss
Dorina Kiss
Alisa Kissel
Alicia Kissinger
Taralee Kissinger
Micki Kistler
Melissa Kistler
Tracy Kita
Christina Kittell
Marieke Kittelson
Tara Kitter
Susan Kittleson
Jessica Kittrell
Corey Kitts
Rodney Kizzia
Della Kjeldson
Shari Kjos
David Klapste
David Kleber
Steve Klebs
Erin Kleefisch
Jennifer Klein
Michele Klein
James Klein
Roy Klein
Kayla Klein
Tracie Kleiner
Emily Kleist
Jesse Klemonsky
Sean Klempa
Robert Kless
Jennifer Klimek
John Klimkiewicz
Darlene Kline
William Kline
Danielle Kline
Jennifer Klingbeil
David Klink
Julie Klink
Kevin Klipfel
Jon Klipstein
Janice Kloeffler
Ashley Klohr
Kimberly Klos
Rebecca Klug
Laura Kluge
Jennifer Klundt
Gary Kluver
Thomas Kluwin
Anastasiya Klyushnik
Mirei Knapp
Kari Knapp
Jason Knapp
Darrin Knapp
Robb Knapstad
Jeffery Knauff
Ashly Knebel
Jamie Kneeshaw
Sharon Knickerbocker
Robert Knieriem
Stephanie Knight
Eli Knight
Philip Knight
Jennifer Knight
Abbey Knight
Julia Knight
Heidi Knight
Rachel Knight
Jessica Knight
Shannon Knight
Kristi Knight
Laura Knight Schumacher
Terri Knighton
Janatte Knobel
Sean Knock
Suzanne Knocke
Marion Knott
Ramsey Knowles
Juhree Knowles
Antonio Knowlton
Hannah Knowlton
Donald Knox
Frederick Knox Jr
Jason Knoxville
Angela Knudsen
Cathy Knuth
Shannon Knuth
Samantha Knutson
Brian Knutson
Alyssa Rianne Ko
Sandra Kober
Teyadorra Kobernik
Pamela Kobett
Ruth Koch
Sheri Koch
Megan Koch
Richard Koch
David Kocher
Michael Kocher
Alicha Kocher
Kevin Kocian
Merry Kocian
Ted Koclanes
Amy Kodera
Carolyn Koedding
Susan Koefoed
Chris Koeller
Jason Koelliker
Heidi Koenigsmann
Jeremy Koepfer
Erin Koepplinger
Tammy Koering
Deborah Koffler
Debra Koffski
Michael Koger
Jeffrey Kohler
Patricia Kohlmann
Shanan Kohls
Adam Kohn
Erica Kolar
William Kolegar
Taylor Kollar
Theresa Koller
Cindy Kollias
Ross Kolsrud
Angela Koltz
Courtney Kolz
Erin Komar
Tamara Komes
Tami Komperda
Kenneth Komprood
Peter Kong
Julieann Konkler
Chad Konow
Melissa Konrad
Kelly Kooiman
Cindy Kools
Ashaleenia Koomen
Timothy Koon
Kenneth Koonce
Ellen Koonce
Melissa Koporetz
Sally Koppy
Christine Koprowski
Wendy Kordik
Johnathon Korenek
Stephanie Korin
Andrea Korinkova
Carla Kornahrens
Brian Kornet
Jennifer Kortgoede
Ryan Koryciak
Kelly Koryta
David Kosick
Jason Koskie
Warren Koslowski
Derrick Kosolobov
Hope Koss
Samantha Kostamo
Tiffany Kostas
Peter Kostas
Kelly Kosteff
Edward Kostillo
Miranda Kothe
Jacob Kotula
Christopher Kotz
Jamie Kouba
Tara Koury
Mary Kousoulos
Edward Kovach
Elizabeth Kovach
Alicia Kovach
Jason Douglas Kovacs
Veniamin Kovalenko
Julie Kovalski
Jamie Koverman
Allan Kowalczyk
Mary Kowalewski
Christie Kowalsky
Jessica Koweno
Andrea Kowitz
Richard Koza
Sue Kozarevich
Mandi Koziol
Arden Kozlow
Kary Kozlowski
Merritt Kracker
David Kraemer
Anna Kraemer
Andrew Krahenbuhl
Sarah Kraholik
Julie Krainick
Jennifer Krakow
Traci Kramer
Rorrie Kramer
David Kramer
Sheralyn Krasinski
Leah Krasnov
Melissa Krause
Adam Krause
Anthony Krause
Dale Krause
Lori Krause
MaLinda Krauss
Cynthia Krautwurst
Rene Krebs
Kelsey Krebs
Helen Kreiser
Lauri Kreitner
John Krekel
Frank Kren
Eric Krentz
Britany Krenzke
Wendy Kreps
Stephanie Kresh
Jennifer Kresl
Therese Kress
Trina Kress
Arthur Kress
Sarah Kreutzer
Ines Kreuz
Jennifer Krider
Diana Kridler
Suzanne Kriegar
Stephanie Krieger
Michael Krikorian
Miranda Krill
Mark Kring
Kathleen Kringel
Miranda Krisingha
Ann-Marie Kristensen
Steve Krnich
Devon Kroeger
Amanda Kroeger
Joshua Kroeger
Mark Krogmann
Donna Kroha
Colleen Krohn
Erin Kroll
Janean Kromka
John Kroncke
Karen Kroon
Kourtlyn Krottinger
Andrew Krowsoski
James Kruckenberg
Raymond Kruckner
Eric Krueger
Sara Krueger
Leisha Krueger
Kasee Krueger
Rebecca Krueger
John Krueger
Richard Krueger
Jerry Krug
Christopher Krug
Anna Krum
David Kruppenbach
Michelle Kruse
Britney Kruse
Wendy Kruse
Nicholas Kruse-Wright
Alice Krzysik
Erica Kubick
Sharon Kucharski
Kevin Kuchera
Katie Kuczkuda
Adam Kudamik
Margaret Kuebel
Rebecca Kuebler
Rachel Kuebler
Catherine Kuehl
Rusti Kuertz
Scott Kuester
Jessica Kueter
Brett Kuhlman
Lynda Kuhn
Amber Kuhn
Timon Kuhn
Timothy Kuhn
Linda Kuhnen
Matthew Kuhns
Todd Kuikka
Danyell Kukla
Sargis Kulakchyan
Kyle Kulas
Mary Kulczyk
Timothy Kulibert
Rebecca Kulick
Nora Kulisz
Phebe Kulkarni
Timothy Kummerer
Meredith Kundrath
Jennifer Kunigus
Jeffrey Kunkel
Erin Kunkel
Robert Kunkel Jr
Amanda Kunkelman
Jay Kuns
Chad Kunsman
Cheryl Kunz
Brittney Kunz
Lisa Kunz
Jeffery Kuper
Gary Kuppenbender
Samantha Kupsky
Alexandra Kurdee
Roman Kureiko
Michael Kurilovitch
Justine Kurio
Stephanie Kurisu
Ryan Kurtz
Heather Kurvink
Matthew Kurz
Edward Kusmierski
Jim Kutak
Stephanie Kutteroff
Jennelle Kutz-Douglass
Garrett Kuwada
Kristin Kuykendall
Cynthia Kuykendall
Allison Kuzak-Cromer
Galina Kuznetsova
Robin Kwiecien
Christopher Kwilasz
Regina Kyle
Dionne Kyle
Victoria Kyles
Andrew Kylman
Denise Kypke

Cherish La Marche
Chiara La Valley
Michael Labarge
Stephanie Laberge
Vivian LaBonte
Stephanie Labonte
Brenda Labranche
Kelly Labranche
Quintin Labs
Tommie Lacas
David Lacey
Denise Lachapelle
Danielle Lachney
Grace Lack
Nicho Lackey
Jessica Lacombe
Kristine Lacoste
Jennie LaCour
Cymoril Lacour
Diana LaCroix
Angela Lacroix
Andrea Lacuesta
Tammi Lacy
Michelle Lacy
Theresa Laczo
Brenda Ladd
John Ladd
Kerri Ladehoff
Lisa Ladner
Laura Ladoski
Justine Ladowski
Rebekah Ladue
Casandra Lafayette
Joseph LaFera Jr
Chelsea LaFever
Rowan Laffoday
Derek LaFitte
Crystal Laflamme
Tia Laflesh
Brandy Lafleur
Tara LaFleur
Magalie Lafont
Janelle LaFord
Xenlee LaFountaine
Kimberly LaFragola
Cynthia LaFreniere
Matavia LaGarde
Holly Lagasse
Sharla Lagasse
Michael Lager
Ashlea Lagger
Teresa Lagrange
Jamie LaGuardia
Akemie Laguerre-Joseph
Raelynn Lail
Corey Lail
Lindsay Laine
Megan Laipple
Karla Lair
Candace Laird
Winfred Lairson
Dawn Lairson
Michelle Lajara
Linda Lake
Donita Lake
Dominique Lake
Julia Lake
Brendon Lake
Susan Lake
Rebecca Lake
Carolyn Lake
Chyla Lalic
Walter Lall
Mary Lally-DeAlba
Magdalena Lam
Tammara LaMar
Michael Lamarco
Sandra LaMasa
Keri Lamb
Jennifer Lamb
Robert Lamb
Lisa Lamb
Claire Lamb
Crystal Lamb
Brian Lambert
Mark Lambert
Kavonte Lambert
Vera Lambert
Michelle Lambert
Sheila Lambert
Vanessa Lambert-Kaminski
Nicholas Lambert-oswald
Kathryn Lambie
Shannon Lambka
Tiffany Lambo
Stephanie Lamkin
Percee Lammie
Christin Lamon
Andrea Lamonds
Richard Lamonica
Christina LaMonica
Sharma Lamontagne
Sean Lamonzs
Renalda Lamour
Kashanda Lamoureux
Benjamin Lamp
Cynthia Lampe
Elizabeth Lampert
Brittney Lampe-Zaic
Jolene Lamphere
Patricia Lampman
John Lamson
Donny Lancaster
Jerry Lancaster
Melissa Lance
Kathleen Lancia
Teneuss Land
Jessica Land
Rebecca Land
Jessica Landis
John Landis
Demesha Landis Harris
Vicki Landman
Teresa Landreth
Ciana Landrum
Lori Landrum
Tammie Landry
Amanda Landry
Teresa Landry
Jondralyn Landry
Suzanne Landry
Joel Landskroner
Gail Landuyt
Cooper Landvatter
Kelly Lane
William Lane
Ronica Lane
Heather Lane
Claire Lane
David Lane
Heidi Lane
Ashley Lane
Lee Lane
Travles Lane
Thomas Lane
Rashea Lane
Jason Lanehart
Misty Laney
Angela Lang
Lucinda Lang
Vanessa Lang
Vada Lang
Joshua Lang
Nancy Langaard
Jill Langan
Heather Lange
Jacqueline Lange
Bernice Langel
Paul Langenstein
Howard Langenstein
Ruby Langford
Brian Langford
Frank Langford
Julie Langham
Diane Langhorn
Debra Langhorn
Gloria Langley
Korrin Langley
Kurt Langley
Clifford Langley
Charles Langloss
Danylle Langoski
Madison Langsdorf
Robert Langston
Craig Langwell
Jennifer Lanhart
Erica Lanier
Katrice Lanier
Sandra Lanigan
Carol Lannon
Zachary Lanphier
Taylor Lansdon
Gregory Lansky
Yani Lantigua
Anita Lantz
Sarah Lantz
Karen Lanxon
Kevin Lanxon
Nicole Lanza
Preston Lanzieri
Mindy LaPanne
Lanai Laperna
Roberson Lapierre
Jeff Lapinski
Amber Laplant
Michelle LaPlante
JhanÃe Laplante
Robert LaPort
Melissa LaPorta
Larry Laporta
Alyssa LaPorte
Charlie Lara
Yolanda Lara
Luciano Lara
Arturo Lara
Sonya Laramie
Blair Larch
Francois Larche
Caprice Larimer-Musty
Barbara Larios
Minerva Larios
Kelly Larivee
Sylvester Larkin
Richard Larkin
Robert Larkin
Margaret LaRocca
Michelle LaRoche
Corey Larrabee
Amanda Larrabee
Ashley Larsen
Richard Larsen
Christine Larson
Christy Larton
David Lary
Sandra Larzelere
Sharon Lasco
Jillian Lasecki
Charles Lash
Terry Lasher
Steonee Laskey
Crystal Lasley
Angela Laslie
Jennifer Lasly
Dale LaSonde
Stephanie Lasoski
Laura Laspee
Melisa Lassiter
Summer Lassiter
Roxanna Lassiter
Amanda Lassoued
Ashley Laster
Elizabeth Lasyone
Brandi Latham
Shawna Lathan
Renee Lathom
Aaron Lathrop
Tara Lathrop
Susan Lathrop
Arthur Latiker
Melissa Latini
Anne Latourelle
Andrea LaTourette
Alina Latshaw
Crystin Latta
Christine Lattimore
Paul Lattimore
Laurie Lau
Kathleen Lauderdale
Dawn Lauer
Karen Lauer
Jessica Lauer
Mary Laungayan
Stacy Launsdale
Lisa Laureltorres
Shanna Lauri
Judithanne Lauria
Sherry Laurn-Adams
Stacie Lause
Sharon Laushway
Joseph Lausier
Gutu Lauti
Kimberley Lauver
Jennifer Lavalley
Michelle Lavalley
Shayne Lavalley
David Lavalley
Suhail Lavecchia
Toni Lavely
Donna Lavender
Michael Lavender
Jonathan Laventure
Travis Laverne
Nicole Laverty
Leonie Lavigne
Gary Laviolette
Dawn Lavoie
Paul Lavoie
Kelly Law
Jason Lawhead
Stephanie Lawler
Ashley Lawley
Michael Lawrence
Flossie Lawrence
Geoffrey Lawrence
Jedidah Lawrence
Zachary Lawrence
Twylite Lawrence
Leah Lawrence
Janine Lawrence
Meghan Lawrence
Donna Lawrence
Kimberly Lawrence
JB Lawrence
Jana Lawrence
Cherese Lawrence
Crystal Lawrenz
Laurie Lawrenz
Terrence Lawson
Vicki Lawson
Thomas Lawson
Catherine Lawson
Cynthia Lawson
Clyde Lawson
Sri Lawson
M'kayla Lawson
Garry Lawson
Tamaria Lawson
Gloria Lawson
Cinnamon Lawson
Tina Lawson
Kay Lawson
Deborah Lawson
Robert Lawson
Jonathan Lax
Rachelle Laxgang
James Laxton
Jennifer Laxton
Jennifer Lay
Aaron Lay
Rachael Laycock
Matthew Layden
Jeremiah Layman
Kevin Laymon
Terri Laymon
Kevin Layne
Brittany Layne
Kelssey Layton
Amanda Layton
Phillip Layton
Sheila Lazenby
Dominique Lazo-Johnson
Rebecca Lazor
Thuy Le
Vivian Le
Karmalee Le Sieur
Maury Leach
Michael Leach
Jeremy Leach
Karen Leach
Anna Leach-Beeching
Stephen Leadbetter
Dawn Leahy
Jamie Leal
Nicole Lear
Alicia Lear
Nicole Lear
Aaron Leasure
Jody Leavens
Owen Leaver
Eric Leavitt
Tricia Leavitt
Michael Leazer
Aaron Lebaron
Marcia Lebeau
Patrick Lebert
Jaime LeBlanc
Chelsea LeBlanc
Paula Leblanc
Dena LeBouef
Cynthia Lebron
Veronica Lebron
Jonathan Lechner
John Leclair
Nicholette LeClair
Joni Lecompte
Richard Ledbetter
Christina Ledbetter
Melissa Ledesma
Lauranell Ledford
Victoria Ledford
Helen Ledgewood
Amy Leduc
Jill Leduc
Adam Ledwozan
Michael Lee
Larry Lee
Melinda Lee
Laurie Lee
Bruce Lee
Claude Lee
Lynn Lee
Jayme Lee
Larry Lee
Elizabeth Lee
Lasonia Lee
Kevin Lee
Sharon Lee
Tabetha Lee
Chee Lee
Nicole Lee
Yolanda Lee
Shalanda Lee
Tami Lee
Eric Lee
Elisa Lee
Jason Lee
Chong Lee
Jamie Lee
Leslie Lee
Roger Lee
Brittany Lee
Sherwanda Lee
Justin Lee
Florenza Lee
Nichole Lee
Ryan Lee
Linda Lee
Stephen Lee
Sarah Lee
Vanessa Lee
Gwen Lee
Raheem Lee
Holly Lee
Patricia Lee
Bonnie Lee
Michael Lee
Jeffrey Lee
Michelle Lee
Kimberly Lee
David Lee
Matthew Lee
Saundra Lee
Beverly Lee Harris
Karin Lee-Householder
Edna Lee-Jackson
Pa'oneakai Lee-Namakaeha
Heather Leer
Carmona Leerdam
Louise Lees
Sarah Lees
Katie Lee-Yang
Jessica Lefebvre
Eddie Lega
Marilynn Leger
Jason Legere
Joshua Leggitt
Alejandra Legis
Michael Legrand
Jill Lehman
Robert Lehman
Chad Lehman
Lisa Lehman
Rebecca Lehmkuhl
Samantha Lehmkuhl
Joseph Lehning
Shaun Lehr
Tawnya Lehtinen
James Leibee
Peter Leibham
Carrie Leigh
Brandy Leigh
Errika Leigh
Danielle Leinen
Brooke Leininger
Breanna Leininger
Samantha Leip
Laura Leister
Misty Leistikow
Sharon Leitch
Alissa Leith
Renee Lelie
Brittney Lembas
Rebecca Leming
Jennifer Lemke
Sally Lemke
Elaina Lemke
Kelly Lemke
Carole Lemley
Erin Lemley
Terry Lemmon
Michelle Lemmon
Cynthia Lemmon
Joseph Lemmonds
April Lemmons
Sarah Lemoine
Lucas LeMoine
Shannon Lemond
Jacqueline Lemons
Jessica Lemons
Elana Lemos
Sally Lemos
Amanda Lenamond
Jennifer Lenau
Terri Lenc
Heather Lenero
Tammy Lengel
Caryn Lengkeek
Karyn Lenhardt Betts
Theresa Lenhart
Susan Lenhart
Melinda Lenhart
Kaitlin Lenington
Joyce Lennon
Bryan Lenox
Stephanie Lentell
Ned Lentz
Leanne Lentz
Kassie Lentz
Cathy Leon
Miriam Leon Saiz
Brigit Leonard
Patricia Leonard
Samantha Leonard
Michael Leonard
Reginald Leonard
Kristina Leonard
Alex Leonard
Sheri Leonard
Nathan Leonard
Larren Leonard
Abigail Leonard
Diane Leone
Thomas Lepetri
Elizabeth Lepore
Olivia Lerario
Mary Lerouge
Kristina Lesikar
Tiffany Leslie
Holly Leslie
Billie Leslie
Kristi Lesmann
Nicole Lesmeister
Ana Lesquives
Marilyn Lester
Tammy Lester
Nathan Lester
Imanni Lester
Sylvia Lester
Jami Lester
Kurt Letendre
Constance Letendre
Janae Lethcho Ben-Shabat
Jason Letourneau
Wendy Letourneau
Jamyal Lett
April Lett
Herman Lett
Jennifer LeVan
Keshia LeVan
Matthew Levanduski
Tonya Leveille
Joshua Levesque
Shawn Levesque
Samantha Levine
Anne Levine
Kathleen Levins
Zipporah Levi-Shackleford
Rosemarie Levit
Dominique Levy
Rachelle Lew
Gerald Lewandowski
Amber Lewin
Courtney Lewis
Michele Lewis
Terra Lewis
Emily Lewis
Jade Lewis
Joseph Lewis
Paul Lewis
Albert Lewis
Laurie Lewis
Lori Lewis
Sasi Lewis
Mary Kay Lewis
Roderick Lewis
Jennifer Lewis
Clarence Lewis
Jaime Lewis
Stacy Lewis
Cynthia Lewis
Roger Lewis
Tamiko Lewis
Allen Lewis
April Lewis
LaRhonda Lewis
Jasmine Lewis
Ivan Lewis
Jesse Lewis
Dwight Lewis
Sheila Lewis
Richard Lewis
Teena Lewis
Audrey Lewis
Melanie Lewis
Eric Lewis
Willieminia Lewis
Celia Lewis
Johnna Lewis
Eugene Lewis
Kyesha Lewis
Christopher Lewis
Tamara Lewis
MaLisa Lewis
Carrie Lewis
Steven Lewis
Joshua Lewis
Renada Lewis
Donald Lewis
Earnest Lewis
Cindy Lewis
Ladora Lewis
Sharon Lewis
Davia Lewis
Charise Lewis
Laretha Lewis
Connie Lewis
Alexas Lewis
Daryl Lewis
Frances Lewis
Tiana Lewis
Kyle Lewis
Wendy Lewis
Julia Lewis
Morgan Lewis
Karla Lewis
Joseph Lewis
Michael Lewis
Jack Lewis
Benjamin Lewis II
James Lewis III
Adine Lewis-Kwimba
Monique Lewis-Williams
Stacey Lewitzke
Karen Lexa
Christi Leyva
Stormy Leyva
Zhen Shun Li
Mei Na Li
Kelly Liay
Kashondra Liberty
Larenie Licausi
Wendi Lichtenegger
Gary Lichty
Christina Lickfold
Raelynn Licoan-Jones
Tamara Lidster
Sean Liebman
Drew Liechty
Karen Liedtka
Rosalina Lieffring
Jamie Liegey
Jerlin Lieurance
Tonisa Lifsey
Jennifer Liggett
Jamie Light
Patricia Lightburn
Mike Lightner
Danny Liles
Valerie Liles
Michelle Lilje
Jennifer Lilleby
Ericka Lilly
Rachel Ann Lim
Christina Lima
Michael Limiac
Amber Lin
Alvin Lin
Evelyn Linares
Teresa Lincecum
Jonathan Lincoln
Kayshala Lincoln
Heather Lincoln Lia
Tracy Lind
Heather Linden
Edward Lindenhofen
Angela Linderleaf-Smeltzer
Aisha Lindsey
Danny Lindsey
Ronald Lindsey
Kevin Lindsey
Shandi Lindsey
Yvonne Lindus
Marlissa Linebach
Stephanie Lineback
Christine Linke
Heather Linker
Danielle Linn
Kristen Lins
Laura Linscomb
Vicki Linta
Serena Linthacum
Tina Lintner
AmberRose Linton
Janet Linton
Jeffrey Linton
Rose Lintz
Jack Linzay
Carmen Liotta
Jennifer Lipford
Stephen Lipginski
Teresa Lipinski
Nicholas Lipisano
Jobi Lipkovitch
Elizabeth Lipps
Tamika Lipscomb
Christopher Lipscomb
Anthony Lipsie
Terri Liptak
Gretchen Lira
Rudolph Lisac
Judith Lisac
Philip Lisak
Becky Lisak
Geneva Lisane-Watson
Ellarie Lisbon
Noble Lisenbee
Roxanne Lisenby
Rhianna List
Tracy List
Elizabeth Litherland
Tasia Little
Destiny Little
Charity Little
Treasa Little
Skye Little
Marcus Little
Sarah Little
William Little
Adam Little
Arlene Little
Robert Little
Daniel Little
Tanya Littlefield
Cassandra Littleton
Erin Littrell
Jinjoo Liu
Britta Lively
Crystal Livers
Lisa Livingston
Jesse Livingston
Kimberly Livingston
Scott Livingston
Wendy Lizardi
Eric Ljung
Jan Michael Llarenas
Dawn Llewellyn
Rebecca Llewellyn
Ryan Lloyd
Rebecca Lloyd
Keitha Lloyd
Anna Lloyd
Ray Lloyd
Heather Lloyd
Gregory Lloyd
Robert Lobato
Heather Lobdell
Andrew Lobdell
Joann Lobello-Ruf
Michael Lobisch
Jennifer Locascio
John Lock
Kelsey Lockard
Shanna Lockard
Mary Locke
Khadijah Lockett
Kia Lockett
Arnita Lockett
Heather Lockhart
Martin Lockhart-Weaver
Jacqueline Locklear
Michael Lockman
Christopher Lococo
Paul Lodge
Rhonda Loew
Violetta Loewe
Melinda Lofgren
Kaitlynn Lofgren
Amos Lofing
Kristen Lofquist
Tamra Loftis
Otha Lofton
Jennifer Lofton
Otessia Lofton
Lynnette Loftus
Sandra Loga
Dawn Loga
Elizabeth Logan
Leah Logan
Brian Logan
Mark Logan
Amber Logan
Jennifer Logan
Gerald Logan
Eugenia Logan
Jacqueline Logan
Rebecca Logan
Tracey Loggins
Michael Logiudice
Frank Logue
Jeramie Lohan
Richard Loheide II
Wayne Lohf
Johann Lohrmann
Roger Lolly
Mark Lomas
Chantal Lomasney
Summer Lomax
Timothy Lomba
Rosanne Lombardi
Therese Lombardo
Billi Jo Lombardo
Mary Lombrano-Holt
Ronald Lomeli
Tammy Lomme
Vincent Lommen
Gina Lonay
Judy London
Linnet Long
Allison Long
Christy Long
William Long
Letina Long
Candace Long
Angela Long
Wanda Long
Shelby Long
Kelly Long
Joshua Long
Steve Long
Rachael Long
Kelly Long
Renee Long
Nancy Long
Shelly Long
Shirley Long
Joshua Long
Virginia Long
Lorenzo Long
Sandra Longcor
Monica Longley
Kristina Longmuir
Ashley Longstreth
Michelle Lonigro
Dorsey Lonsinger
Rose Loomis
Linda Loomis
Matthew Loomis
Sarah Looney
Jonathan Looney
James Looney
Jennifer Looney
Melissa Loparo
Tiffany Lopatinsky
Lisa Lopez
Marisa Lopez
Yvonne Lopez
Reyna Lopez
Pilar Lopez
Ramon Lopez
Andre Lopez
Jennifer Lopez
Angela Lopez
Jennifer Lopez
Francisco Lopez
Christina Lopez
Mary Lopez
Jennifer Lopez
Javier Lopez
Anthony Lopez
Gabriel Lopez
Adalberto Lopez
Elena Lopez
Christian Lopez
Maria Lopez
Evonne Lopez
Jennifer Lopez
Daisy Lopez
Cynthia Lopez
Dana Lopez
Omar Lopez
Brittany Lopez
Paytin Lopez
Muang Lopez
Kristine Lopez
Andria Lopez
Krystal Lopez
Lana Lopez
Ernesto Lopez Falcon
Josue Lopez Minas
Mayte Lopez-Acosta
Yaddira Lopez-Garcia
Maria Lopez-Ruiz
Guadalupe Lopez-Santini
Emmanuel Lopp
Jennifer LoPresti
Adam Lopuk
Gwyn Lorch
Sarah Lord
Andrea Lord
Kimberly Lord
Kimberly Lord
Scott Lorenze
Michelle Lorenzen
Wildeliz Lorenzo
Terri Loria
Gregory Lormore
Sandra Lorrey
Jess Losa
Kyle Losee
Shannon Losey
Ashley Losey
Tia Lotier
Lorrie Lotter
Kristen Loudenburg
Jeanette Loudy
Lisa Louis
Veranthia Louis-Whiters
Michelle Lourenco
Arthur Loustalot
Melody Louviere
Alecia Lovci
Aimee Love
Jasmine Love
Jamika Love
Dante Love
Tawainna Love
Shauna Love
Christopher Love
Arlean Love
Don Love
Nychole Love
William Love Jr.
Roy Lovegrove
Lisa Lovejoy
Jeremie Lovejoy
Kerri Lovelass
Rachel Loveless
Melody Lovell
Daniel Lovely
Vanessa Lovett
Rodney Lovett
Charday Lovingfoss
Grace Lovio
Darien Lovley-Wert
Lucas Lovvorn
Cassandra Lowe
Pamela Lowe
Matthew Lowe
Stephanie Lowe
Alison Lowe
Joseph Lowe
Lisa Lowe-Clarke
Paula Lowery
Elizabeth Lowery
Kimberly Lowery
Lindsay Lowery
Robert Lowman
Betty Anne Lown
Kimberly Lowrey
Michelle Lowry
Janice Lowry-Pick
Susan Loy
Michael Loy
Naama Loya
Jose Loya
Marsha Loyal
Marcia Loyd
Donna Loyd
Maria Loza
Sonja Lozada-Henderson
Kristina Lozano
Tenelle Lozano
Katherine Lozano
Yahaira Lozano
Joshua Lozano
Moses Lozano
Tabatha Luallen
April Luallen
Scott Lubag
Andrew Lubbers
Latisha Lucas
Gregory Lucas
Susan Lucas
Maya Lucas
Jeremy Lucas
Frederick Lucas
Brittney Lucas
James Lucas
Alicia Lucas
Angelia Lucas
Cinthia Lucas
Betty Lucas
Kevin Luccitti
Christine Luce
Tanya Luce
Cassandra Luce
Jennifer Lucero
Arturo Lucero
Lorie Luciano
Steven Lucido
James Luck
Angela Luckey
Enjolia Luckey
Brooke Luckhardt
Grace Lucky
Karla Ludwig
Bridget Ludwig
Angel Luehrman
Matthew Luensmann
Ginger Luetge
Aminadab Lugo
Kathy Lugo
Julian Lugo
Michele Lugo
Puanani Luhia
Melissa Luis
Ivislady Lujan
Daniela Lujan
Monica L. Lukas
Jennifer Luke
Kirby Luke
Joset Luke
Meredith Luke
Patricia Luke
Angela Lukehart
Brenda Lukehart
Kristine Luken
Lamikia Lumpkin
Janice Lumpkin
Joseph Lumpkins
James Lumpkins
Rachel Luna
Sarah Luna
Anita Luna
Susana Luna
Tanya Luna
Sandra Luna
Mireya Luna
Brandon Luna
Santiago Luna
Enrique Luna
Christine Lunceford
Melyn Lund
Judith Lund
Deborah Lund
Nicole Lundeen
Delia Lundeen
Maria Lundie
Ronald Lunk
Jada Lunn
Jason Luntz
Yuechiang Luo
Zhen Wang Luo
Mary Lupardus
Trisha Lupercio
Brian Lupo
Olivia Luque
Samantha Lusk
Ashley Lussier
Ashley Lust-Morton
Robert Lutch
Mary Luther
Curtis Lutman
Eric Lutz
Alicia Lutz
Kristine Lutzo
Terry Luzader
Michael Lyerla
Mistell Lyles
Jayme Lyles
Leah Lynch
Katherine Lynch
Patrick Lynch
Shawn Lynch
Christopher Lynch
Emmit Lynch
Ian Lynch
Ronda Lynch
Lissette Lynch
Ashley Lynch
Keely Lynch
Karen Lynch
Kelly Lynch
Joseph Lynes
Daniel Lynes
Misty Lynes
Kristin Lyng
Katherine Lynn
James Lynn
Ralph Lyon
Angel Lyon
Barbara Lyon
Jody Lyon
Teresa Lyons
Crystal Lyons
Melanie Lyons
Barbara Lyons
Susan Lyons
Carolyn Lyons
Dawn Lyons
Samantha Lyons
Robert Lyons
Michael Lyter Sr
Nicole Lytle
Kean Lytle
Jeremy Lytle

Yen Ma
Long Ma
Kevin Maas
Jennifer Maas
Glenda Mabe
Katie Mabry-Rairigh
Neil Mac Donald
Lisa Macallister
Fidel Maccio
Kristine MacDonald
Heidi Macdonald
Robin MacDonald
Carissa Macdonald
Patricia MacDonald
Michelle Macdonald
Kelly Ann MacDougal
David Mace
Christian MacEwen
Gweneth Macfadyen
Hilliary Machado
Richard Machinski
Abigail Machmut
Elizabeth Machurek
Grace Macias
Heather MacIntyre
Edwin Maciosek
Simona Mack
Sandra Mack
Wilmart Mack
Sharon Mack
Janelle Mack
Joshua Mack
Jessica Mack
Sha Rondaelecia Mack
Keasha Mackendrick
Dawn MacKenzie
Nicholas Mackey
Prentice Mackyeon
Hugh Maclaren
Patrick MacLaurin
Kathleen Maclean
John MacLeod
Taniqua Maclin
Chris Macnamara
Rhonda MacNaughton
Dean Macnicol
Danielle Macomber
Carol Macon
Angela Maconaughey
Christina Macro
Megan Macy
Whitney Madden
David Maddon
Cynthia Maddox
Monte Maddox
Krzysztof Madej
Elizabeth Madeline
Jaclyn Mader
Ovidio Madera
Katelyn Madere
Marquita Madison
Damien Madrid
Raul Madrigal
Desiree Madril
Alfredo Madriz
Steven Madsen
Leah Maeder
Cynthia Maertz
Robert Maestas
Steven Maez
Bobbie-Jo Mafnas
Vicente Magana
Maria Magana
Adam Magee
Laura Magee
Eldridge Magee
Gregory Maggard
Michael Maggio
Michelle Maghalyan
Alexandra Magie
Shannon Magill
Johnetta Magleby
Gloria Magnan
Gary Magnelli
Renee Magnuson
Janice Magruder
Karen Maguire
Tammy Mahaffey
Shawn Mahan
Arielle Mahan
Don Mahana
Lisa Mahar
Susanna Mahase-Wilson
Sumit Mahendru
Melissa Maher
Najla Mahmoud
Mathew Mahon
Jackie Mahon
Destinee Mahone
Ryan Mahoney
LeeAnn Mahoney
Yvonne Mahoney
Brian Mahoney
Kevin Mahoney Sr.
Matthew Mahr
Michelle Mahurin
Jason Mai
John Maier
Brianne Maijala
Theresa Maile
Sean Mailey
Anthony Mainenti
Damian Mair
Nancy Mair
Leon Maitland
Logan Maitrejean
Neda Majidimehr
Zsarineth Majillo
Yolanda Major
Robin Major-Oliphant
Ashley Majoros
Natalya Makarova
Lynzie Makey
Jesse Maki
Amanda Maki
Catherine Makos
Sandra Makowski
Scott Makowski
Jemima Malacara
Susan Malacari
Claire Malady
Jeffrey Malan
Carmine Malanga
Shyla Malapaya
Moises Maldonado
Jennifer Maldonado
Benjamin Maldonado
Adelaida Maldonado
Hope Maldonado
Carmen Maldonado
Adel Maldonado
Derek Malecki
Angela Malek
Gretchen Malessa
Kyle Malewicz
Jeffery Malherek
Andrew Mallace
Sylvia Mallari
Douglas Mallary
Ashley Mallory
Canndise Malloy
Briana Malloy
NaVisa Malloy
Brandon Malloy
Leslie Malnar
Nyana Malone
Robert Malone
Michael Malone
Joyce Malone
Destiny Malone
Kevin Malone
Paula Maloney
Sean Maloney
Cynthia Maloney
Stephanie Maloy
Doran Maltba
James Maltby
Jessica Malumay
Kirsten Malwin
Marsha Mammenga
James Mamone
Blanch Mancillas
Dominic Mancini
Danielle Mancuso
Ellen Mandarino
Deborah Mandero
Culleen Mandigo
Shannon Mandolesi
Rokhaya Mane
Vincent Manfredi
Sheena Mang
Orquidea Mangal
Christopher Mangano
Amanda Mangano
Raveena Mangat
Kim Mangham
Aaron Mangin
Deuce Mangine
Claire Mangonon
Danielle Manintin
Victor Manjarrez
Floyd Manley
Tiffany Manley
Dalis Manley
Yolonda Mann
Crystal Mann
Latyshia Mann
Jermanez Mann
Jordan Mann
Kevin Mann
Jonathon Mann
Randolph Mann
Caitlynn Mann
Patrick Mannarino
Melissa Mannery
Ryan Manning
Timothy Manning
Tina Manning
Donald Manning
Jami Manning
Kelley Mannix
Korinne Manno
Stacy Manns
Danetta Manos
Misti Mansell
Michael Mansfield
Shayna Manshoory
Sara Manson
Marva Manson
Ashley Manson
Rosemary Mantanona
Terri Manthey
Renaldo Manuel
Kelsey Manuel
Jonathan Edward Manzala
Stacie Manzano
William Manzara
Mary Manzel
Nicholas Manzella
Megan Maple
Kristen Maple
Carolyn Mapp
Natasha Mapp
Cecil Mapp
Sabaenia Marache
Moises Maramba III
Jeffrie Marangco
Trina Maras
Amanda Marburger
Jennifer Marcano
Monica March
Jesse Marchand
De'Airra Marchbanks
Wendy Marchegiano
Kelly Marchena
Daniel Marchesseault
Jessica Marchette
Nicole Marchio
Vanya Marcial Hunt
Shara Marconi
Tiffany Marcotte
LisAnn Marcum
Stephanie Marcum
Meaghan Marcus
Amber Marder
Dustyn Marek
Nathan Mares
Rachel Margrave
Lisa Mari
Lawrence Marible
Kaitlyn Maricle
Joy Marie
Rebecca Marikano
Annette Marin
Mark Marino
Anthony Marino
Dominic Marino Jr.
James Marinucci
Gina Marion
Ramon Marion
David Mariott
Brenda Mariucci
Jason Mark
Arlet Markarian
Bethany Markey
Cheryl Markgraf
Erica Markham
Amber Markham
Harry Markham
Tamara Markiewicz
Robert Markiewicz
Diedra Markiewitz
Aaron Markley
Brandie Markos
Kornelia Markov
Rosanne Markrush
Jamie Marks
Anisha Marks
Shelley Marks
Stephen Marks
Nancy Marks
Yessica Marks
Michael Marks Jr
Scott Markstrom
William Markum
Heidi Markwalder
Michele Markwell
Bernard Marler
Katrina Marler
Diana Marlette
Brandon Marlette
Steven Marlette
Julie Marley
Susan Marley
Brenda Marlo
Stephani Marlow
Julie Marlow
David Marlow
Michele Marlow
Robert Marmet
Angela Marmet
Ryan Marquardt
David Marquez
Tammy Marquez
James Marquis
Linda Marr
LaQueshia Marrilla
Tamara Marriott
Elliott Marroquin
Ana Marroquin
Mary Mars
Marlanges Marseille-Simar
Donna Marsh
Stephanie Marsh
Jennifer Marsh
Destiny Marsh
Sarah Marsh
Melissa Marsh
Melanie Marsh
Adam Marsh
Sharmini Marshall
Melissa Marshall
Malena Marshall
Teresa Marshall
Sonia Marshall
Thomas Marshall
Suzanne Marshall
Nicole Marshall
Jared Marshall
Elizabeth Marshall
Delvin Marshall
Shane Marshall
Cassandra Marshall
Tara Marshall
Yolanda Marshall
Sheryl-Ann Marshall
Veronica Marshall
Jodee Marshall
Jonathan Marshall
Kermit Marshall
Megan Marsolais
Christopher Marstall
Cheryl Marston
Kelly Marston
Natividad Marte
Thomas Martell
Brenda Marteney
Whitney Marteney
Michael Marthinsen
Brian Martin
Chloe Martin
Brandi Martin
Misty Martin
Crystal Martin
Kelli Martin
Beverly Martin
Kelly Martin
Towanda Martin
Anna Martin
Deborah Martin
Amber Martin
Chelsea Martin
Patrick Martin
Joanna Martin
Rachel Martin
Dillard Martin
Donald Martin
Shree Martin
Debra Martin
Gregory Martin
Paula Martin
Betty Martin
Magdalena Martin
Dina Martin
William Martin
Wendy Martin
Michael Martin
Alvin Martin
Christopher Martin
Amber Martin
Misty Martin
Rebecca Martin
Daniel Martin
Denise Martin
Jordan Martin
Rosemary Martin
Samantha Martin
Jessica Martin
Robin Martin
Sarah Martin
Linda Martin
Kari Martin
Cassondra Martin
Carrie Martin
Marea Martin
Dante Martin
Gregory Martin
Thomas Martin
Jennifer Martin
Marina Martin
Kelsey Martin
Eric Martin
Jaime Martin
Amanda Martin
Bethany Martin
Jasmine Martin
Savannah Martin
Shayla Martin
Trent Martin
Julie Martinage
Sherry Martinek
Kelly Martinez
Jesus Martinez
Jimmy Martinez
Miguel Martinez
Judith Martinez
Megan Martinez
Veronica Martinez
Juan Martinez
Samantha Martinez
Anaiz Martinez
Lori Martinez
Lorena Martinez
Racheal Martinez
Mid Martinez
Diana Martinez
Benjamin Martinez
Zoe Martinez
Eric Martinez
Melissa Martinez
Yolanda Martinez
Rachel Martinez
Marisol Martinez
Rosalia Martinez
Abigail Martinez
Robert Martinez
Massiel Martinez
Tisha Martinez
Isidro Martinez
Jennifer Martinez
Karly Martinez
Hazel Martinez
Lanora Martinez
Rebecca Martinez
Vincent Martinez
Richellette Martinez
Jessica Martinez
Amy Martinez
Thomas Martinez
Crystal Martinez
Erick Martinez
Yarabi Martinez
Michael Martinez
Martin Martinez Jr.
Luz Martinez-Arriaga
Mona Martinez-Hensley
Pilar Martin-Henry
Claudia Martini
Cynthia Martinko
Luana Martino
Tiffany Martinolich
Jose Martins
Joseph Martonosi
Susan Marturano
Virginia Marty
Tsovinar Marukyan
Victor Marzan
Daniel Masaveg
Becky Mascarenas
George Mascarenas
Carole Mascari
Jennifer Mascola
Mykola Mashtalov
Amber Masingo
Scott Masino
Marthine Mason
Heather Mason
Timothy Mason
Michael Mason
Jeffrey Mason
Christina Mason
Barbara Mason
Carla Mason
Michael Mason
David Mason
Michelle Mason
Patricia Mason
Andrea Mason
Jaelinne Mason
Colleen Mason
Joseph Mason
Terence Mason
Michael Mason
Emily Mason
Katherine Mason
David Massaro
Veronica Massey
Mendy Massey
Alissa Massey
Kenna Massey
Ashley Massey
Imir Massey
Lagacie Massingill
Julie Massingill
Melissa Mast
Jodie Masteller
Nicole Masters
Patty Masters
Kayle Masters
Kelly Masters
David Masterson
John-Paul Masullo
Ashlee Masullo
LeVina Maswadeh
Gail Maszka
Luis Mata
Tiawna Mata
Christina Mata
Francis Matanane
Brooke Matanguihan
Chandale Mateo
Mary Matera
Mark Matheis
James Matherly
Ryan Mathes
Shelly Mathewis
William Mathews
Steven Mathews
Lisa Mathews
Georgia Mathews
Rebecca Mathews
Joby Mathews
Cheyenne-Racquel Mathias-Ortiz
Charissa Mathiesen
Shawn Mathis
Tiffany Mathis
Cynthia Mathis
Heather Mathson
Adrian Mathurin
Joel Matias
James Matits
Nelda Matlock
Melissa Matos
Kimberly Matos
Stephanie Matos
Michael Matrisch
Benjamin Matro
Joshua Matson
Kai Matsukawa
Teresa Matteson
Thomas Matthews
Carla Matthews
Keia Matthews
Brian Matthews
Sylvia Matthews
Tammy Matthews
Jeffrey Matthews
Lortorya Matthews
Leigh Matthews
Spencer Matthews
Denise Matthews
Bailey Matthews
James Matthews
Sylvana Matthews
Anthony Matthews
Jessica Matthews
Ahren Matthews-Johnson
Joy Matthias
Denise Matthieu
Allison Matthys
Clayton Matthys
Michael Mattice
James Matticks
Sophia Matticola
Laura Mattingly
Daniella Mattioli Knight
Theresa Mattison
Jennifer Mattoon
Rolland Mattoon
Courtney Mattox
Gerald Mattox
Gloria Mattro
Barry Mattson
Mellissa Matuewezski
Mark Matula
Sara Matusak
Samantha Matuszewski
Rebekah Matviak
Stephen Matzura
Nona Mauk
Andre Mauldin
Shannon Mauldin
Blair Maule
Stacy Maurer
Janelle Maurer
Scott Maust
Dimitris Mavroforakis
Tasha Maxon
Tami Maxwell
Jeffrey Maxwell
Ryan Maxwell
Tara Maxwell
Christopher Maxwell
Camille Maxwell-Nery
Naomi May
Lori May
Nicholas May
Tracy May
Michael May
Alice Maybee
Heather Mayberry
Ashley Mayberry
Amber Mayer
Jeffrey Mayer
Amanda Mayer
Juliana Mayes
David Mayes
Toby Mayfield
Richard Mayfield
Ainsley Mayfield
Crystal Mayfield
Tukeila Mayhan
Nickel Mayhue
Jennifer Mayn
Tara Maynard
Joshua Maynard
Heidi Maynes
Linda Maynor
Jacenta Maynor
DoLoris Mayo
Anthony Mayo
Steven Mayo
Kathy Mayo
Raigan Mayo
Raumond Mayo
Amanda Mayo
Tara Mayotte
Clifton Mays
Elizabeth Mays
Tracy-Ann Mays
Jennifer Mays
Miranda Mays
Darrell Mays
Christopher Mays
Amanda Mays
Hassan Mazaheri
Jennifer Maze
Sean Mazeres
Jeffry Mazurek
Rian Mazza
Lari Anne Mazzitello
Darlene Mazzoni-Sanchez
Mario Mazzuca
James Mc Coy
Justin McAfee
Summer McAleese
Nicole Mcalister
Anna McAllister
Crystal McAllister
Patrick McAnally
Justine Mcardle
Nickiea McArthur
Jamie McArthur
Julia Mcateer
Lillian McAteer
Ted McAuslan
John McAvoy
Charlene McBean-Freeman
Diane McBird
William McBird
Christopher McBrady
Carrie McBrayer
Sherrie Mcbride
Chris McBride
Erica McBride
Kendall McBride
Amanda McCabe
Matthew McCabe
Gail McCachren
Richard McCafferty
Stephanie McCaffry
Cimmaron Mccain
Chere Mccain
Jamie McCain
Marlynn Mccall
Desiree Mccall
Sharon Mccall
Brian Mccall
Russel McCallister
Amy McCally
Elaina Mccalmont
Ted McCammant
Alanya McCandless
Christie Mccann
Crystal Mccann
John McCann
Cynthia McCann
James McCann
Katherin Mccardle
William Mccarren
LaTonya McCarroll Smith
Billie McCarron
Nicole McCartan
Rebecca McCarthy
Heidi McCarthy
Peggy McCarthy
Marion McCarthy
Brittany McCarthy
Mariah McCarty
Phillip Mccarty
Molenda Mccarty
Joshua Mccarty
Marcia McCarty
Tamara Mccaskill
Katie McCaslin
Shawn McCastle
Joanna McCauley
Shawn Mccaw
David Mcchessney
Jessie McClain
Ashly McClain
Tracy McClanahan
Michael Mcclanathan
John McClean III
Tina McClearn
Sammie McCleary
Nancy McCleary
Nakia Mcclees
Michael Mcclellan
Alexandria McClellan
Angela McClellan
Marquise McClelland
Carrie Mcclendon
Theresa McClendon
Corietta Mcclendon
Jonathan Mcclendon
Daniel McCleskey
Tiffany Mcclintock
Tina McClintock
Dwayne McClinton
Melinda Mccloud
Terra Mcclung
Kimberly Mcclure
Jack McClure
Thomas McClure
Kathryn McClure
Leatha McClure
Samuel McClure
Kimberly McColl
Lashaun Mccollough
Monty Mccollum
Jamie McCollum
Andrew Mccollum
Toni McCollum
Desiree McComb
John McComic
Laura Mcconnell
Janette Mcconnell
Morgan McConnell
Christan McConnell
Catherine McConnell
Travis Mccord
Kathryn McCord
Wesley McCord
Tory McCord
Misti Mccord
Pamela Mccorkle
Toyia McCormack
Maria Mccormack
Jessica McCormick
Mimi McCormick
Elizabeth Mccormick
Jenefer McCormick
Amber McCormick
Lisa McCormick
Michael McCormick Jr.
Zachary McCorriston
Dawn McCourt
Nakeyia Mccowan
Savannah McCowan
Denise Mccowan-King
Rebecca Mccoy
Catherine McCoy
Amanda McCoy
Brittany McCoy
Brent McCoy
Karen McCoy
John McCoy
Ysa McCoy
Matthew McCoy
James McCoy
Alison McCoy
Bonnie McCoy
Lamont Mccoy
Jessica McCoy
Jennifer McCoy
Jessica McCoy
David McCoy Jr.
Amanda McCracken
Sharon McCracken
Cherly McCrary
Ellisia McCraw
Deborah McCraw
Tameka Mccray
Monyisha McCray
Amber McCray
Leotis Mccray
Tanika McCray-Bellinger
Carol Mccrea
Lydia McCreary
Claudelle McCreary
DeLancy McCrorey
Thomas Mccrory
Christopher McCrory
Bonnie McCuen
Julia Mccullough
Shea McCullough
Cindy McCullough
Michael McCullough
Michelle McCullough
Bryan McCullough
Virgil McCullough
Pamela McCully
Heather McCumber
Michael McCune
Scott Mccune
Michael McCurdy
Jonnee McCurley
Elizabeth McCurry
Jolene McCusker
Alison Mccusker
Steve Mccutchen
Willie Mccutchen
Dean McDaniel
Christina McDaniel
Ashley Mcdaniel
Katy McDaniel
Gregory McDaniel
Juliane McDaniel
Douglas Mcdaniel
Carolyn McDaniel
Tammy Mcdaniel
Carolyn McDaniel
Stephanie McDearmont
Cynthia McDeid
MaryLynn McDermott
Thomas Mcdermott
Alisha McDevitt
Rachael McDivitt
Jill McDole
Jacqueline McDonald
Jenny McDonald
Cathy Mcdonald
Jacquelyn McDonald
Kellie Mcdonald
Amy McDonald
Angela McDonald
Chirstol McDonald
Jeff McDonald
Deborah McDonald
Karen McDonald
Keri Mcdonald
Ronald Mcdonald
Heidi McDonald
Patricia McDonald-Baker
Timothy McDonell
Andrew McDonnell
Johnathan McDonough
Kristina McDougall
Katherine McDougall-Mason
Dexter Mcdougle
Patrice McDougle
Scott McDowell
Erika McDowell
Kendall McDowell
Nakisha Mcdowney
Rhonda McDuffie Toure
Kimberly Mcelhaney
Brandi McElheney
Stephanie McElligott
Yata McElrath
Olivia McElrath
Eryn McElroy
Bruce McElroy
Virginia McElroy
Jennifer McElwain
Megan McElwee
Steven McElyea
Marguerite Mceniry
Timothy McEntee
Jennifer McEuen
Eliza McEwan
Amber McEwen
Tina McFadden
Rhonda Mcfadden
Taffeny McFadden
Demetria Mcfadden
Kimberly McFadden-Johnson
Patricia McFall
Casey McFall
Libbee McFall
Shelley McFarland
John McFarland
Kyle McFarland
James McFarland III
Sandrene McFarlane
Shelly Mcfarlane
Ashley McFern
Tessa Mcfry
Crystal Mcgaha
Jennifer McGahey
Amy McGalin
Robert McGarr
Daneen McGarry
Magda McGarvey
Cristy McGaughey
Yulanda McGaughy-Holman
Charlissa Mcgauley
Bre McGeachy
Erin McGee
Daniel McGee
Stephen McGee
Dione Mcgee
Matthew Mcgehee
Gordon Mcghee
Rachel McGhee
Abby McGhee
Emily McGhee
Morgan McGhee
Don McGhee Jr
Jessica McGill
Rachel Mcginnis
Sonya McGinnis
Ravyn McGinnis
Janice McGinnis
Karen McGinnis
Kathryn Mcginniss Aguilar
Nicholas McGirr
Deborah Mcglennon
Sean McGoffin
Lori-Anne Mcgowan
Rochelle McGowan
Zachary McGowan
Michael McGrady
Amanda McGrane
Leah McGrath
Kim McGrath
Perry Mcgrath
Daniel McGrath
Sheila McGrath
Dolores McGrath
Heidi McGraw
Olivene McGregor
Alessandra McGuckin
Mark McGuinn
Caroline Mcguire
Miles Mcguire
Kyle McGuire
Donald Mcguire
Kelli McGuire
Ashley Mcguire
Eric McGuire
Sarah McGuire
BethAnn McGurn
Kaleb McHale
Phoenix McHenry
Michael McHenry
Mark McHugh
Stephanie McHugh
John McHugh
Benjamin McInnis
Leo McInnis
Destini McInnis
Nancy Mcintire
Carol McIntire
Sabrina McIntosh
Vicki McIntosh
Meghan McIntosh
Lutanya McIntosh
Nicole McIntyre
Nannette McIntyre
Eric McIntyre
Lonnie McIntyre
Maiya McIntyre
Sarah McIntyre
David McJimson
Timothy McKay
Leslea Mckee
Zavorah McKee
Kyle McKee
Anne McKee
Amy McKee
Carol Mckeen Morgan
Jodi Mckeever
Heather Mckelvey
Jonathan McKelvey
Allen McKenna
Therese McKenna
Kelly McKenna
Audrey McKenzie
Patricia McKenzie
Lisa Mckenzie
Gail McKenzie
Arlene McKenzie
Cynthia McKenzie
Courtney Mckenzie
Adrian McKenzie
Joseph Mckenzie
Eric McKenzie
Jason McKeogh
Judith Mckeon
Lori Mckeon
Kim McKersie
Rachel Mckethan
Misty McKinley
Jason McKinley
London Mckinney
Robyn McKinney
Daron McKinney
Kierra McKinney
Wayne McKinney
Michele McKinney
Megan McKinney
Avis Mckinnie
Kristin Mckinnon
Tiffany McKinnon
John McKinnon
Adelle McKnight
Susan McKnight
Kenneth McKnight
India McKnight
Jamie Mckusker
Heather McLain
Britten Mclain
Kathlyn Mclane
Dorrel McLaren
Patricia McLaren
Bridget McLaughlin
Angela McLaughlin
Terry McLaughlin
Bret McLaughlin
Kimberly Mclaughlin
Charlotte Mclaughlin
Pollyanna Mclawrence
Donna McLean
Elisabeth Mclean
Gabriel McLean
Va'Shawnda McLean
Jessica McLean
Melissa McLean
Makiera McLean
Betty McLean
Jennifer McLear
Freda McLemore
Kimberly McLemore
Max Mcleod
Kelsey McLeod
Elizabeth McLeod
Katrina McLeod
Feresa Mcleod
Anthony McLetchie
Erin McLoughlin
Kellee Mcmackin
Katrina Mcmahan
Jason McMahill
Angela Mcmahon
Kevin Mcmakin
Selena McManama
Teresa McManigal
Kenneth Mcmann
Casey Mcmann
Noah McManus
Christina Mcmanus
Michelle Mcmichael
Valerie Mcmicken
Rebekah McMillan
Aprille Mcmillan
Cheryl McMillan
Rebecca McMillen
Whitney McMillian
Angela McMillion
Keisha McMillon
Jennifer McMoran
Mary McMorris
Jamie Mcmullen
Jessica McNabb
Samantha McNabb
Samantha McNair
Jelaya McNair
Michelle Mcnally
Regina McNally
Jennifer McNamara
Michael McNamara
Krystal Mcnamara Melton
Teresa McNamara-Freeman
Haley McNeal
Jimilia Mcneal
Kyle McNeal
luviashia McNealey
Candice McNealy
Tina McNear
Kurt McNeely
Angela Mcneese
David Mcneil
Lindsey McNeil
Michael Mcneil
Clare McNeil
Martia Mcneill
Misty McNeill
Tequita McNeill-Townsend
Laura Mcnellis
Robert McNerney
Michael McNerney
Michael Mcney
Jessica McNutt
Lori Mcoscar
Christina McPeak
Virginia McPeak
Joynel McPhee
Mark McPherson
Nichole Mcpherson
Carolyn McPherson
William Mcquade
Norma McQuagge
Wilma McQuarters Traylor
Patricia McQueen
Veronica McRant
Timothy McRorie
Lisa McShane Lloyd
Paulette McTaggart
Lynda McTaggart
Brandon McTeer
Josee Mcvadon
Rochelle McVietty
Lynne Mcwatters
Cheryl Mcwhorter
Nick McWilliams
Jackie Mead
Melissa Mead
Edith Meador
Jessica Meador
Jeanene Meadow
Christopher Meadows
Brian Meadows
Michele Meadows
Michele Meadows
Anthony Meadows
Katie Meadows
Michelyn Meadows
Kristen Mealor
Trena Mealor
Victoria Means
Jan Means
Hope Means
Corey Mear
Carol Mearig
Wade Mears
Amber Mears
Amy Mears
Tamara Mease
Thomas Mease
Martha Meazell
Kari Meckling
Autumn Mecum
Tracy Medellin
Lara Medellin
Alfonso Medero
John Medici
Ruth Medina
Michale Medina
Aimee Medina
Sandra Medina
Elias Medina
Eleanor Medina
Carlos Medina
Jairo Medina-Pineros
Stefanie Medlin
John Medlin
Kenneth Medlock
Aaron Mee
Dawn Meehan
Terri Meek
Raquel Meeker
Brendon Meeker
LaShendra Meeks
Michael Meeks
Daniel Meeks
Paula Meeks
Angel Meeks
Zachary Meenach
Kelli-anne Meenan
Beverly Meetze
Kathleen Mehaffey
Sharleen Mehemed
Jayne Mehner
Sheila Mehok
Alan Mei
Tiffani Meier
Tasha Meier
Sherri Meisberger`
Richard Meistad
Amanda Mejean
Tiffany Mejia
Anna Mejia
Ricardo Mejia
Tamara Mejia
Lyessa Mejia
Yessika Mejia-Marin
Katherine Mejia-Reyes
Craig Melanson
Joyce Melbourne
Ellyn Melby
Laura Melcher
Cindy Melchior
Zulimar Melendez
Annette Melendez
Rachael Melendez
Cynthia Melendez
Andre Melendez
Jacqueline Melendez
Mandy Melland-Silva
Vida Melling
Anne Mellinger
David Mello
Laura Mellon
Dania Mellott
Rebecca Mellum
John Melnick
Jeffrey Melody
Jeffrey Melson
John Melton
Alisha Melton
Jon Melton
Kellee Melton
Jenna Melvin
Matthew Melvin
Angela Melvin
Jean Melvin
Cynthia Melzer
Vickie Memmer
Christopher Mempin
Naomi Mena
Shana Mena
Catherine Mena
Sandra Menard
Corey Mendel
Mandy Mendelkow
Audrey Jane Mendenhall
Andy Mendez
Linda Mendez
Elisa Mendez
Viria Mendez
Leticia Mendez
Giovannie Mendez
Dolores Mendez
Viridiana Mendez
John Mendiola
Janeth Mendiola
Bethany Mendoza
Melanie Mendoza
Erin Mendoza
Raquel Mendoza
Nichole Mendoza
Denys Mendoza
Victoria Mendoza
Jesus Mendoza
Lisa Mendoza
David Mendoza
Jessica Mendoza
Hector Mendoza
Cynthia Mendoza
Christina Mendoza
Stephanie Mendoza
Shelly Mendrin
Jeff Meneely
Tracy Menelas
Rena Menendez
Jennifer Menendez-Hupp
Ronald Menges
Scott Menhennet
Catherine Menig
Kelly Menke
Charles Menken
Sharon Mensah
Gary Mensch
Barrie Menser
Randall Menser
Shelly Mensinger
Tammra Mentele
Sonya Mentz
Victor Mercado
Armondo Mercado
Aurora Mercado
Libcel Mercado
Abigail Mercado
David Mercado
Marivic Mercado
Joshua Mercer
Andrea Mercer
Douglas Mercer Jr
Hiram Merchant
Amanda Merchant
Jessica Merchant
Angela Mercier
Laura Meredith
Jennifer Meredith
Dawn Meredith
Dawn Meredith
Janet Meredith
Hilda Merejo
Brittney Merens
Kimberly Mergile
Treena Merk
Richard Merkert
Garret Merkley
Kerry Merlo-Poole
Martin Merlos
Michael Merrell
Elnora Merridy
Allen Merrifield
Nicole Merrill
Kimmy Merrill
Jeffrey Merrill
Anna Merrill
James Merrill
Nadara Merrill
Lora Merriss
Amy Merritt
Kim Merritt
Jeremy Merritt
Heather Merritt
Kimball Merriweather
Jennifer Merry
Brandon Merry
Jason Merryman
Angela Merryman
Alice Merschen
Wayne Mertz
Jason Mertz
Marysol Mesa
Jamie Mesler
Candace Messecar
Julia Messer
Curtis Messer
Bruce Messer
Gretchen Messer
Michael Messerly
Katherine Messerschmitt
James Messick
Naomi Messier
Wendy Messina
Christy Messina
Robert Messing
Sara Mestas
Matthew Mestaz
Mildred Mestril
Aimee Metayer
Simone Metcalf
Candace Metcalf
Andrea Metcalf
William Metcalf
Gethro Metellus
Jenna Metheny
John Metts
Andrew Metz
Susan Metzger
Rachel Metzger
Dianne Metzmeier
Stephen Meunier
Matthew Meyer
Krystina Meyer
Kathleen Meyer
Suzanne Meyer
Sylvia Meyer
Megan Meyer
Janette Meyer
Alan Meyer
Allison Meyer
Melissa Meyer
Shirley Meyer
Richard Meyer
Misty Meyers
Laura Meyers
Theresa Meyers
Maria Meyers
Alyssa Meyers
Arianne Meza
Korena Meza
Stacey Mezenen
Danielle Mezo
Nicholas Miano
Michael Michael
Jennifer Michael
Amber Michael
Catrina Michael
Jeffrey Michael
Jennifer Michael
Richard Michael
Robin Michael
Patty Michael
Cynthia Michael
William Michaelis
Heather Michaels
Stephanie Michaels
Zheni Michalaris
Heather Michaud
Robert Micheau
Jessica Micheletti
Andrew Michels
Kimberly Michels
Germaine Micheo Hernandez
Keya Mickel
Nicole Mickelson
Rochele Mickey
Gina Micourt-Glenn
Randall Middaugh
Kandie Middlebrooks
Danye Middlebrooks
Timothy Middleton
Laura Middleton
Crystal Middleton
David Middleton
Gail Middleton
Bradley Middleton
Krista Middleton
William Middleworth
William Midgett
Mirei Midorikawa-Boothe
Sandra Miele
Scott Mielke
Josh Mieritz
Sibel Miglino
Donna Migliore
Dera Migranian
Sophia Miguel
Alice Miguez
Heather Migura
Mark Mihalko
Corrine Mike
Lisa Mikel
Michael Miketta
Joanna Mikielska
Jennifer Mikka
Rene Mikluscak
Daniel Mikolajczyk
Kimberly Milan
Matthew Milcarek
Darlene Milek
Cynthia Miles
Christina Miles
Bryan Miles
Maegan Miles
Jonathan Miles
Ashley Miles
Joshua Miles
Jamie Miles
Paula Miles
Tamika Miles
Deloma Miley
Bryant Milhouse
Ada Milian
Dennis Milius
Michelle Millan
Kayla Millar
Tonya Millard
Amy Miller
Jason Miller
Benjamin Miller
Esther Miller
Margie Miller
Lisa Miller
Lakara Miller
Roseanna Miller
Myka Miller
Sherlein Miller
Kyle Miller
Robyn Miller
Shanna Miller
Jolene Miller
Larissa Miller
Donna Miller
Lorena Miller
Ashley Miller
Angie Miller
Elaine Miller
Dawn Miller
Carl Miller
Leslea Miller
Karen Miller
Timothy Miller
Amy Miller
Rebecca Miller
Ronda Miller
Nikiha Miller
Judy Miller
Tracy Miller
Amber Miller
Debra Miller
Chad Miller
Jonathan Miller
Tonja Miller
Ashley Miller
Matthew Miller
Shalla Miller
Amber Miller
Jessica Miller
Annastasia Miller
Molly Jane Miller
Kathleen Miller
Jennifer Miller
Ashley Miller
Amanda Miller
Joshua Miller
Tina Miller
Charles Miller
Harry Miller
Brandi Miller
Jaime Miller
Tiffany Miller
Rachael Miller
Cristin Miller
James Miller
Kathryn Miller
Elizabeth Miller
Abigail Miller
Carolyn Miller
Justina Miller
Vanessa Miller
Keith Miller
Paul Miller
Mark Miller
Paquita Miller
Angela Miller
Roosyati Miller
Steve Miller
Krystal Miller
Lisa Miller
Shannon Miller
Clarence Miller
Catherine Miller
Holly Miller
Jason Miller
Deborah Miller
Michelle Miller
Brandi Miller
Betty Miller
Valerie Miller
Robert Miller
Mary Miller
Leonard Miller
Catherine Miller
Erica Miller
Shaletta Miller
Bridgett Miller
Justin Miller
Stephanie Miller
Kylie Miller
Martina Miller
Bonnie Miller
Terrell Miller
Daniel Miller
Jamie Miller
Blanca Miller
Nylasha Miller
David Miller
Danielle Miller Kavanagh
Kathleen Miller-Hubbard
Sharon Miller-Reeb
Michelle Millett
Mark Millham
Gretchen Millhollon
Latrice Millhouse
Ruth Millican
David Milligan
Wydona Milligan
Gregg Milliken
Chantelle Milliken
Cynthia Millner
Robert Mills
LaShawn Mills
Shayla Mills
Jason Mills
Jacob Mills
Johnathon Mills
Steven Mills
Tekia Mills
Emily Mills
Letha Mills
Marc Mills
John Mills
James Mills
Burke Mills
Danette Mills
Kathleen Mills
Virginia Millsaps
Janice Millwee
Cytina Milner
Danielle Milnes
Tyler Milnes
Melissa Milo
Jessica Milo
Catherine Milone
Craig Milton
Grace Milun
Stephen Mims
Andraea Mims
Dedrick Mims
Hae Min
Gina Minally
Kirk Minckler
Melika Mindemann
Matina Mindrum-Boock
Andrew Minehart
Kari Miner
Jeffery Miner
Robert Miner
Christina Miner
Karina Miner
Katrina Miner
June Minge
Ashley Mingo
Michael Mingus
Joan Minick
William Minik
Carla Minney
Mathew Minnick
Nicole Minnis
Brandy Minor
Chastity Minor
Marvin Minor
Tracie Minor
Melissa Minotti
Rennee' Marie Minsch
Richard Minter
Jennifer Minyard
Luna Mirabal
Karyn Miracle
Marijane Miral
Enrique Miranda
Samantha Miranda
Stephanie Mirelez
James Miron
Matthew Mirro
John Misenheimer
Rochelle Misner
Mary Mistretta
Ione Mitchell
Bernadette Mitchell
Etonda Mitchell
Janey Mitchell
Jennifer Mitchell
Lamar Mitchell
Stacy Mitchell
Brandon Mitchell
Myra Mitchell
Melissa Mitchell
Charlotte Mitchell
Melvonique Mitchell
Michele Mitchell
Towanda Mitchell
Yam Mitchell
Jennifer Mitchell
LaVetta Mitchell
Delores Mitchell
Laura Mitchell
Richard Mitchell
Michael Mitchell
Amy Mitchell
Dana Mitchell
Whitney Mitchell
Tamika Mitchell
Donna Mitchell
Nancy Mitchell
Karie Mitchell
Noel Mitchell
Bridget Mitchell
Kerri Mitchell
Joseph Mitchell
Kim Mitchell
Roniel Mitchell
Michael Mitrousis
Kim Mittan
Jennifer Mix
Velvet Mixon
Christopher Mizenko
Lilli Mizner
Tyler Mizvitowicz
Kristi Mobley
John Mobley
Reva Mobley
Deborah Modawell
Karla Modersitzki
Denia Modesette
Kayode Modeste
Willow Moe
Christopher Moehl
Scott Moehlmann
Meagen Moeller
Rachelle Moeller
Kenneth Moellering
Melissa Moenning
Samuel Moffett
Krysten Moffitt
Angela Moffitt-Jones
Jodi Mogel
Amanda Mohammed
Nizamuddin Mohammed
Andrew Mohl
Dana Mohney
Beth Mohney-Cook
Rebecca Mohr
Barbara Mohs
Tina Mohseni
Darlene Molina
Dina Molina
Lori Molina
Elisa Molina
Diane Molina
Christina Molina
Nancy Molina
Meagan Molina
Lydia Molina
Diana Molina Acevedo
Lisa Molina-Armstrong
Halley Molina-Yepsen
Dorothy Molino
Brenda Molitor
Jamira Mollon
Diane Molloy
Helene Molnar
Ashley Momiyama
Bridget Momodu
Joseph Monachello
Olivia Monahan
Ann Monbeck
Mitchell Moncel
Cherie Mondrella
Moshe Mondrowitz
Taylir Monestine
Brian Monigold
Justin Monllor
Carlton Monroe
Danielle Monroe
Darnell Monroe
Isaiah Monroe Jr
Christina Monroig
Kimberly Monsalve
Seth Monsen
Anthony Monser
Larry Monson
Tani Monson
Anna Monson
Isaac Monson
Jeffrey Monssen
David Montag
Sidney Montalvo
Linda Montano
Natalie Montas
Jessica Montecinos
Amanda Monteiro
Evette Monteith
Jasmin Montella
Lasky Montero
Roxanna Monterrosa
Thelma Monterrosa
Amanda Montes
Laura Monteverde Dewalt
Robert Montez
Juann Montez
Charles Montgomery
Dana Montgomery
Jeffery Montgomery
Kenyada Montgomery
Shelby Montgomery
Leila Montgomery
Lisa Montgomery
Jon Montgomery
Rhonda Monti
Janet Montiel
Brittany Montijo
Yasmin Montilla
Harold Montilla
David Montoya
Whitney Montoya
Nissie Montoya
Jennifer Montoya
James Montoya
Naoko Montoya
Alexander Montoya
Tiffini Montoya
Damaris Montúfar
Jennifer Montville
Jared Monzon
Jennifer Moody
Ruth Moody
Yuliya Moody
Kristen Moody
Heather Moody
Charity Moog
Susan Mookhram
William Moon
Teresa Moon
James Moon
My-Trang Mooney
David Mooney
James Mooney
Nancy Mooney
Sherry Moore
Theresa Moore
Stacey Moore
Antoinette Moore
Joanne Moore
Brandi Moore
Johnny Moore
Julie Moore
Lashata Moore
Ashanti Moore
Kelly Moore
Tammy Moore
Shauna Moore
Jennifer Moore
Ryan Moore
Christina Moore
Cassidy Moore
Mary Moore
Trinia Moore
Garry Moore
Marie Moore
Nichole Moore
Tineshia Moore
Kelly Moore
Bradley Moore
Woodard Moore
LaDeria Moore
Deborah Moore
Patricia Moore
Brianna Moore
Ebony Moore
Ronda Moore
Nathan Moore
Darlene Moore
Andrew Moore
Seldrick Moore
Angel Moore
Samaria Moore
Mark Moore
Sarah Moore
Wendy Moore
Breanna Moore
Chasity Moore
Heidi Moore
Robin Moore
Tara Moore
Terry Moore
Diana Moore
John Moore
Melanie Moore
James Moore
Michelle Moore
Zerian Moore
Teresa Moore
Shelley Moore
Dari Moore
Shelba Moore
Sylvia Moore
Jennifer Moore
Stephen Moore
Keisha Moore
Mary Moore
Cyndi Moore
Betty Moore
Theresa Moore
Karissa Moore
La Sharne Moore
Richard Moore
Tiffany Moore
Rebekah Moore
Stephanie Moore
Ashley Moore Cruz
Serena Moorer
Misty Moorhead
Thomas Moorhead
Karen Moorhead
Kristina Moors
Brandon Moquin
Brande Mora
Zulema Mora
Miguel Mora
Karla Mora
Nicole Morain
Jasmin Morales
Crystal Morales
Zoraida Morales
Jorge Morales
Evelin Morales
Melissa Morales
Jamie Morales
Rosalio Morales
Theresa Morales
Bernice Morales
Francisco Morales
Elisha Morales
Carlos Morales
Jeremy Morales
Jaime Morales Hernandez
Shauna Moramarco
Nicholas Moran
Kristi Moran
Ashley Moran
Kristie Moran
Bobbi Moran
Ora Moran
Kimberly Moran
Julie Moran
Valerie Moran
Larry Morando
Kimberly Morano
Lisha Morant
Vanessa Morasky
Joann Moravac
Angela Morawa
Patricia Mordacq
Robin Moreau
Stephen Moreau
Dante Morehead
Steven Moreira
Thelma Moreland
Jennifer Moreno
Silvia Moreno
Amber Moreno
Edward Moreno
Paul Moreno
Karensa Moreno
Erinda Moreno
Jessica Moreno
Ramon Moreno
Autumn Morenzetti
Alycia Moretti
Stacey Moretti
Jesse Morey
Robert Morgan
Susan Morgan
Anita Morgan
Marsha Morgan
Shannon Morgan
Erica Morgan
April Morgan
Adam Morgan
Richard Morgan
Sarah Morgan
Shanita Morgan
David Morgan
Leonard Morgan
Janet Morgan
Mary Morgan
Kelly Morgan
Wesla Morgan
Kira Morgan
Leanne Morgan
Penny Morgan
Stephanie Morgan
Paul Morgan
Michael Morgan
Trixie Morgan
Jolene Morgan
Kristy Morgan
Matthew Morgan
Laura Morgan
Y'Keia Morgan
Batricia Morgan
Theresa Morgan
Lisa Morgan Mcnaney
Angelina Morgante
Erica Morgera
Rachel Mori
Allyson Morin
Sherry Morin
Jennifer Morkis
Melissa Morley
Janet Morlock
Erin Morotti
Heather Morphis
James Morra
Lauren Morrin
Geree Morris
Nancy Morris
Keewaju Morris
Diana Morris
Rodney Morris
Angela Morris
Lynn Morris
Kathleen Morris
Joshua Morris
Cayla Morris
Maria Morris
David Morris
Lauren Morris
Pamela Morris
Servetta Morris
Sylvester Morris
Tracy Morris
Michael Morris
Norma Morris
Janet Morris
George Morris
David Morris
Jennifer Morris
Tressa Morris
Michael Morris
Allen Morris
Jessica Morris
Elizabeth Morris
Grace Morris
Nicole Morris
Amber Morris
Lynn Morris-McEwan
Donald Morrison
Elaina Morrison
Matthew Morrison
Rhiannon Morrison
Alicia Morrison
Adam Morrison
Barbara Morrison
BreAnne Morrison
Billy Joe Morrison
Shane Morrison
Marsha Morrison
Shannon Morrison
Daniel Morrissey
Stephanie Morrone
Joseph Morrone
Mallory Morrow
Veronica Morrow
Andrea Morrow
Jarrod Morrow
Charles Morrow
Jaymi Morrow
Kai Morsay
Robert Morse
Shawn Morse
Lisa Morse
Kory Morse
Aindrea Morse
Michael Morsilli
Scott Mort
Garry Mortensen
Jennifer Mortenson
Jaclyn Mortier
Dayna Mortinsen
Joya Morton
Rhonda Morton
Fernice Morton
Stephen Morton
Patrick Morton
Erika Morton
Curtis Morton
Bethany Morton
Kerri Morvant
Debra Morwood
Thouria Mosa
Melissa Mosby
Leah Moschetta-Ayala
Yanisha Moseley-Shaw
Jimi Mosely
James Moser
David Moser
Heather Moser
Deric Moser
Amber Moser
Donald Moses
Julie Moses
Michael Mosher
Cindy Mosher
Charles Moshier
Irasema Moshier
Michael Moskus
Karla Mosley
Kevin Mosley
Carey Mosley
Robert Mosqueda
Gerardo Mosqueda
Christopher Moss
Lucas Moss
Kimberly Moss
Virginia Moss
Russell Moss
Dominique Moss
Nicole Moss
Brad Moss
Kristal Moss
Bryan Moss
Kevin Moss
Patricia Moss
Stephenie Moss
Christopher Moss
Luke Mossburgh
Scott Mossing
Marcy Mossman
Herman Mosteller
Jill Motcheck
Julie Mothorpe
Keisha Moton
Rebecca Mott
Lynn Mott
Melissa Mottolo
Mary Moua
Hicham Moujahid
Kelli Mouk
Maryam Moulds
Cindy Moulton
Jennifer Moulton
Robert Mounts
Edward Moura
Patricia Mousch
Tifanie Mousley
Patricia Moussa
Constance Moustakas
Anthony Mouton
Jean-Pierre Mouzon
Noel Movido
Frances Movido
Artak Movsesyan
Brian Mowry
Kahle Mowry
Steven Moxley
Wayland Moy
Scarlett Moya
John Moyanah
Jeremy Moyer
Samuel Moyer
Kathy Moyer
Vanessa Moyer
Frank Moyer
Alzada Mozee
Athena Mrozik
Kimberly Mruk
Wendy Mthembu
Dennison Muczynski
Tracy Mueller
Kathleen Mueller
Mark Mueller
Joseph Mueller
Jessica Muench
Jeff Muenchrath
Geoffrey Mugwe
Khalil Muhammad
Danielle Muhammad
Abdul-Rahim Muhammad
Eric Muhammad
Jill Muhaw Gembecki
Lisa Mujica
Deborah Muldrow-ONeal
Matthew Mulhall
Richard Mulkearn
Scott Mulkey
Melissa Mull
Tonya Mull
Diane Mull
Delores Mull
Patrick Mullally Jr
Eileen Mullen
Matthew Mullen
Gabriel Muller
Cathy Muller
Michelle Muller
Stephen Mullet
Susan Mulligan-Cataldo
William Mullikin
Amanda Mullinax
Charles Mullins
Cornelius Mullins
Charity Mullins
Tammy Mullins
Shannon Mullins
Dawn Mullins
Elizabeth Mullins
Christopher Mullins
John Mullins
Denessa Mullins
Connie Mullins
Julena Mullis
Sean Mulvanny
Carol Mumaw
Chelsea Mumford
Debra Mummy
Angella Mumper
Laura Munari
Jason Munday
Adam Mundine
Michelle Mundy
Daniel Munger
Carol Munger
Latoya Mungin
Michelle Munier
Rebecca Muniz
Asuncion Muniz
Veronica Munoz
Consuelo Munoz
Katrina Munoz
Francisco Munoz
Kristina Munoz
Louis Munoz
Yuko Munoz
Anna Lee Muñoz
Estela Munoz
Chandra Munoz
Diego Munoz II
Nikole Muns
Judith Munson
Kathryn Muntean
Megan Munzert
Kingsley Muonuagha
Rigoberto Muralles
Jerry Murcks
Emily Murden
Timothy Murdoch
Sean Murdoch
Desiree Murdock
Summer Murdock
Veronica Murillo
Daniel Murillo
Derrel Murkerson
Barry Murner
James Murnik
Angel Muro
Lorenza Muro
Danielle Murolo
Michelle Murphey
Rebecca Murphey
John Murphy
Crystal Murphy
Christina Murphy
Cori Murphy
Jacqueline Murphy
Tamisha Murphy
Mary Murphy
Samantha Murphy
Lynnette Murphy
Nadine Murphy
Sherry Murphy
Ezra Murphy
Tamiko Murphy
Jennifer Murphy
Jessica Murphy
Ryan Murphy
Janet Murphy
Cynthia Murphy
Edward Murphy
Debra Murphy
Candi Murphy
Jacqueline Murphy
Jennifer Murphy
Daniel Murphy
Patrick Murphy
Kevin Murphy
Christopher Murphy
Evette Murphy
Darla Murphy
Laura Murphy
Sheena Murphy
April Murphy
Akilah Murphy-Sharp
Candace Murray
Janet Murray
Steven Murray
Mark Murray
Joshua Murray
Mallory Murray
Jennifer Murray
Debra Murray
Patrick Murray
Sherrie Murray
Tobie Murray
Stefani Murray
Janice Murray
Lori Murray
Rhiannon Murray
Jalissa Murrell
Kaya Murrell
Monnette Murriel
Rebecca Murway
Susan Musgrave
Cassandra Musgrave
Penny Music
Jennifer Music
Lance Musicant
Aaron Musick
Ryan Musil
Sabrina Musko
Lori Mussatto
Sara Musti
Philip Mutter
Marius Mutu
Laura Muzquiz Solis
James Myatt
Kaila Myatt
Shea Myatt
Monica Myers
Karen Myers
Chasity Myers
Kristen Myers
Marilyn Myers
Brandi Myers
Heidi Myers
Ben Myers
Cadie Myers
Judith Myers
Victoria Myers
Shana Myers
Rebecca Myers
Chatima Myers
Jared Myers
Thomas Myers
Daniel Myers
Timothy Myles
Rasheda Myles
Tanya Myles
Cristynn Myles
Selena Myrick
Jeanne Myrie
Michelle Myslinski
Lorri Mytar

Shante Na
Ashanti Naantaanbuu
Randy Naatz
Claire Nabors
Melissa Nace
Jessica Nace
Angel Nace
Kyle Nachtrieb
Andy Nadarewistsch
Larissa Naepflin
Thahbia Nafe
Craig Nagaoka-Smith
James Nagel
Angela Naghavi Sadat
Mariana Naglosky
Mitra Naini
Reese Nakagawa
Shaneil Nakamoto
Morris Nakao
Brent Nakihei
Sarah Nall
Matthew Nama
David Namm
Lisa Namm
Tony Nance
Bethany Nance
Shauna Nance
Shalonda Nance
Khemraj Nandkumar, Jr.
Joseph Napier
Melanie Napolitan
Jessica Naputi
Moniqueconnie Naputi-Duchene
Susan Naranjo-Doyle
Cheryl Narayan
Denese Narayanan
Jennasen Narciso
Anthony Nardella
April Nardozzi
Amanda Narducci-Maltz
Vincent Narisi
Benjamin Narro
Mardi Narron
Kamaria Nash
Charles Nash
Lonnieshya Nash
Desree Nash
Damian Nash
Samantha Nash
Alina Nash
Christa Nash
Margaret Nasholts
Rohina Nasrahti
Ashley Nasti
Michelle Natal
Rosalind Natale
Donna Natale
Michele Natiello
Shaloe Nations
Mary Nations
Marlene Nau
Jaime Naughton
George Naugle
Amanda Nault
Maria Nava Bresciani
Claudia Navarrete
Marla Navarrete
Luis Navarrete
Lucia Navarrete
Niza Navarro
Belinda Navarro
Elmer Navarro
Albert Navarro
Juan Navarro
Lydia Navejar
Julie Navone
Maria Naylor
Belinda Naylor
Tina Nazarian
Justine Nazworth
Cecilia Ndaba
Kimberly Neace
Michael Neal
Renee Neal
Lindsay Neal
Jennifer Neal
John Neal
Timothy Neal
Denise Neal
Cody Neale
Jessica Nealer
Korie Near
Jennifer Near
Jonathan Neary
Brandy Neasbitt
Christine Neault
Shannon Neaverth
Jamie Nebel
John Neciosup
Daniel Nedzweckas
Lindsey Neece
Erika Neefe
Jessica Neeley
Jennifer Neeley
Raulf Neelis
Jennifer Neely
Calisha Neely
Merideth Neff
Kristen Neff
Brendan Neff
Marlene Negrete
Roger Neher
Cheryl Nehrkorn
Lacey Neill
Taylor Neininger
Lesley Neira
Anita Neitzel
Francesca Nella
Bryant Nellermoe
Mary Nelligan
Olga Nellis
Whendy Nellums
Kristina Nelon
Daryn Nelsen
Julie Nelson
Brian Nelson
Christopher Nelson
Lynette Nelson
Jessica Nelson
Andrew Nelson
Daniel Nelson
Christopher Nelson
Catherine Nelson
Tracy Nelson
Andrew Nelson
Sheri Nelson
Kourtney Nelson
Rhiannon Nelson
Ashley Nelson
Michelle Nelson
Stephen Nelson
Karen Nelson
David Nelson
Karen Nelson
Kathryn Nelson
Kathryn Nelson
Tamma Nelson
Kristen Nelson
Le Anna Nelson
Dennis Nelson
Rosario Nelson
Elena Nelson
Denise Nelson
Sara Nelson
Virginia Nelson
Krystal Nelson
Charlotte Nelson
Stephen Nelson
Anethea Nemechek
Donna Nemechek
Stephanie Nephew
Dania Nero
Pamela Nesmith
Angelique Nespoli
Anna Nesterowicz
Krystal Nestor
Jennifer Netherton
Hannah Nethken
Gordon Nettles
Shari Nettles
David Nettles
Jennifer Neu
Summer Neubaur
Kathleen Neubert
Marc Neubert
Douglas Neudeck
Renee Neuenkirk
Kirk Neufeld
Melissa Neufeld
Rhiannon Neufell
Ryan Neujahr
David Neuman
Monica Neumann
Robert Neumann
Dawn Neuner
Christine Neupert
Erich Neuroth
Jillian Neustadter
Jennifer Neustaedter
Edith Nevarez
Priscilla Nevarez
Adrienne Nevarez
James Neves
Bradley Nevins
Kevin New
Bonnie New
Lisa Newbern
Rhonda Newberry
Kerry Newbold
Christine Newcomb
Lisa Newcomb
Peter Newell
Peter Newell
Kacy Newell
Rhonda Newell-Porter
Tara Newhall
Teri Newhouse
Ronald Newhouse
Theresa Newkirk
Amanda Newkirk
Carol Newland
Lyssa Newlin
Kevin Newman
Jodi Newman
Judith Newman
Jennifer Newman
Laura Newman
Van Newman
Brandon Newman
Ashley Newman
Carol Newman
Jonathan Newman
Sheila Newman
Alisa Newman
Regina Newman
Lori Newman
Heather Newman
Adam Newquist
Diane Newsham
Shane Newsom
Jennifer Newsom
Mahogany Newsome
Melanie Newton
Kelly Newton
Shawndell Newton
Jamie Newton
Robert Newton
Jasmine Neyland
Robert Neymeiyer
Alex Hui Ming Ng
Sadie Ng
Long Ngo
Anna Truc Linh Ngo
Trang Nguyen
Lori Nguyen
Katelynn Nguyen
Viviane Nguyen
Lang Nguyen
Xuan Nguyen
Kim Nguyen
Tuyet Nguyen
Aminata Niang
Jinnis Nibbs Francis
Monique Niblet
Robin Niceta
Gennadiy Nichiporuk
Andrew Nichol
Erika Nicholas
Kristen Nicholas
Mindy Nicholas
Elizabeth Nicholas
Stephanie Nicholls
Enid Nichols
Michelle Nichols
Danielle Nichols
Brittany Nichols
Christina Nichols
Anetta Nichols
Sarah Nichols
Erica Nichols
Laurette Nichols
Richard Nichols
Deborah Nichols
Tracy Nichols
Lindsey Nichols
Kathryn Nichols
Ronneesha Nichols
Bevin Nicholson
Jessica Nicholson
Kim Nicholson
Alessandra Nicholson
Dayna Nicholson
Caroline Nicholson
Earnest Nicholson
Richard Nick
Katherine Nickell
Janis Nickerson
Steven Nickerson
Linda Nicklin
Jacinta Nickson
Jaime Nicoletti
David Nieburger
Megan Niec
Kenneth Niederhauser
Ashley Niehoff
Kristin Nielsen
Joy Nielsen
Christopher Nielsen
Shannon Nielsen
Juanita Nielsen
Tracy Nielsen
Kimberley Nielson
Nicole Niese
Phyllis Niese
Stacey Nieto
Rebecca Nieto
Mirielys Nieto
Mariano Nieto
Victoria Nieto
Bonnie Nieves
Yeshenia Nieves
Leida Nieves
Francisco Nieves Gotay
Rebecca Nighswonger
Amy Nigreville
Alireza Niknejad
Julie Nikolaou
Jeff Niles
Lindsay Niles
Laebetz Niles-Holmes
Nicole Nilles
Katrina Nilsen
Jessica Nilsen
Rhonda Nilson
Jeniece Nimmons
Kevin Niner
Jamie Nink
Cindy Nishihara
Tonya Nishio
Cindy Nissen
Carlos Nisthal
Liana Nitti
Andrea Nivet
Clifford Nix
Keisha Nix
Brittany Nixon
Jeffery Nixon
Laura Nixon
Jolisa Nixon
Amy Nixon
Regena Nixon-Louis
Kelechi Njiribeako-Josephs
Oriaku Njoku
Julia Noalis
Deana Noble
Misty Noble
Angela Noble
Trina Noble
Rebecca Noble
Glyndora Nobles
Lisa Nobles
Hannah Noblett
Yoshiki Noda
Antoine Noe
Monica Noedel
Kenneth Noel
Nicole Noel
Rebecca Noel
Mildred Noell
Randall Noggle
Veronica Noguera
Stephanie Nohl
Catherine Nolan
Amber Nolan
Ian Nolan
Ashley Nolan
Belenda Nolan
Maurice Nolet
Julie Nolin
Daniel Noll
Robert Nolte Jr
Michael Noon
Richard Noon
Sehar Noor
Sandra Nootenboom
Derek Nord
Tanya Norden
Michael Norgaard
Debbie Norman
Matthew Norman
Sherice Norman
Kate Norman
Sara Norman
Amber Norman
Charlene Norman
Jerome Norman
Danna Normand
Matthew Normile
James Normore
Amy Norr
Paul Norris
Joshua Norris
Nicholas Norris
Jamie Norris
Lee Norris
Siobhan Norris
Diane Norris
Latoya Norris
Sandra Norris
Caitlan Norris
Shannon North
Timothy Northcutt
Christy Northon
Debra Norton
Jennifer Norton
Danielle Norvick
Kevin Norville
Brittany Norwalt
Shalonda Norwood
Petra Noska
John Nothdurft
Lisa Notini
Marion Nott III
Heather Nottingham
Stephanie Nouman
Pamela Nourvle
Catherine Novak
Arturo Novela
Erick Novela
Teresa Novelli
Shaun Novitske
Jeanette Nowak
Cynthia Nowak
Jeffrey Noyes
Darlinda Nuby
Candace Nugent
Ashley Nuhfer
Amy Null
Sandra Nunes
Rose Nunes
Michelle Nunes
Roxanne Nunez
Maria Nunez
Raymond Nunez
Nadine Nunez
Cheri Nunley
Sandra Nunnally
Terrie Nunnery
Jean Nunnery
Hilton Nunnery
Stephanie Nuno
Jordan Nussbaum
Letisha Nutt
David Nuttall
Crystal Nutter
Michael Nutting
Rubby Nwaizu
Ikemefula Nwangburuka
Stephanie Nwokeuku
Susan Nyamora
Nathan Nye
Rachel Nygren
John Nygren
Mireya Nyirenda
Jodi Nystrom

Heather Oakley
Daniel Oandasan
Colton O'Banion
Tara OBannon
Tara Oberfield
Brandy Oberg
Merritt Oberg
Ashley Oberhofer
Dyana Oberle
Lyndsey O'Blia
Steven OBrien
John O'Brien
Joshua O'Brien
Catherine O'Brien
Kathryn O'Brien
Luke O'Brien
Irene O'Brien
Tina O'Brien
Heather O'Brien
Tiya O'Brien
William O'Brien
George O'Brien
Michael O'Bryant
Brandy O'Bryant
Xochitl Ocampo
Lisareli Ocegueda
Debra Ochmanowicz
Jonathan Ochoa
Idalia Ochoa
Oscar Ochoa
Maggie OConnell
Colin O'Connell
William Oconnor
Maureen O'Connor
Steven O'Connor
Lisa O'Connor
Teresa O'Connor
Kody O'Connor
Shelly O'Day
Melissa Odell
Patricia O'Dell
Jayna O'Dell
Karen Odems
Robert Oden
Jaeleen Oden
Matthew O'dierno
Matthew Odom
Vickie Odom
Megan Odom
Christopher Odom
Andrea Odom
Patricia Odom
Danielle O'Donahoe
Rebecca ODonnell
Jessica Oehlert
Jane Oesterling
Delbert Gene Ofalla
Susan O'Farrell
Carolina Offenbacker
David Offerman
Megan O'Flaherty
Harold Ofstie
Porsha Ogawa
Melita Ogden
Chance Ogden
Valerie Ogden
Corilyn Ogimoto
Paul Oglesby
Jeffrey Ogren
Patricia Ogundare
Peter O'hanlon
John O'Hara
John Ohene
Joshua Ohl
Jessica Ohl
Rowena Ohly
Regina Ohnstad
Tamara Okada
Lisa Okes
Rose Okombo
Selina Okyere
Kassandra Oldacre
Starr Older
Kenneth Oldford
Reginald Oldham
Denise Oldham
Amber Oldham
Vonceil Olds
Kayla O'Leary
Roberta O'Leary
Michael Olech
Jazmine Olguin
Stephanie Olhava
Peggy Olig
Angel Olin
Christina Olinger
Alisha Oliphant
Todd Oliphant
Nancy Oliva
Andres Oliva
Matthew Oliva
Rubie Olivas
Adriane Olive-Fields
Jillian Oliveira
William Oliver
Sharon Oliver
Kim Oliver
Trinette Oliver
Jennifer Oliver
Jessica Oliver
Sarah Oliver
Ricky Oliver
Lisa Oliver
Talisha Oliver
Mark Oliver
Peter Olivero
Makaila Oliverson
Cirsey Olivier
Rolando Olivo
Michael Olorunfunmi
Megan Olsen
Sheri Olsen
Suzanne Olsen
David Olson
Chris Olson
Jonathan Olson
Jeffrey Olson
Shannon Olson
Justin Olson
Chad Olson
Monica Olson
Deborah Olson
Dennis Olson
Koby Olson
Joel Oltman II
Felissa Olukayode
Zyalicia Olvera
Brian O'Mahony
Kristin O'Malley
Thomas O'Malley
Rhonda O'Mara
Mark O'Mary
Steven On
Amy O'neal
Kerri Oneil
Bethany O'neil
Thomas Oneill
Tracey O'Neill
Laurie O'Neill
Kevin Oneth
Theresa Onsager
Martha Ontiveros
Eli Ontiveros Gonzalez
Linda Onwuegbu
Ronald Opp
Jeffrey Orange
George Ord
Robin Ordelheide
Daniel Ordeneaux
Jonathan Ordonez
Heather Ordway
Angelina Orejel
Elva Orejel
Valerie Orendoff
Michelle Orenstein
Stacy Orgeron
Michael Oriolo
Priscilla Orlando
Margaret Orlando
Lacey Orlando
Amy Orlando
Michelle Orlandos
Maxine Ormsby
Amber Ornelas
Heather Orner
Janet Orokunle
Dora Orona
Orlando Orona
Hector Oros
Kathleen ORourke
Elizabeth O'Rourke
Luis Orozco
Bailey Orozco
Kathleen Orozco
Jan Orr
Belinda Orr
Elizabeth Orr
Stephanie Orr
Cheryl Orsan
Christopher Orsi
Natasha Orsini
Anna Ortega
Sherry Ortega
Robin Ortega
Stacy Ortega
Mark Ortega
Sarah Ortega-Russell
Callieann Orten-Ortega
Barbara Orthman
Charles Ortiz
Linda-Anne Ortiz
Francisco Ortiz
Chelseyrheyann Ortiz
Casandra Ortiz
Teah Ortiz
Selena Ortiz
Mark Ortiz
Maria Ortiz
Jesus Ortiz
Michael Ortiz
Adriana G. Ortiz
Alyssa Ortiz
Laura Ortiz
Antonio Ortiz Perez
Maritza Ortiz-Patino
Bethany Ortiz-Sanchez
Robert Orton
Charles Ortt
Gregory O'Saben
Jared Osborn
Sheri Osborn
Amanda Osborn
Denver Osborn
Katherine Osborn
Donald Osborne
Jessica Osborne
Dean Osborne
Jason Osborne
Joseph Osborne
Todd Osborne
Larry Osburne
Tomas Osccorima
Ronald Oschner
Tonya Osgood
Nova Osha
John OShaughnessy
Jennifer O'Shay
Julie Oshea
Ryan O'Shea
Codette Oshel
Jeannie Oshia
Allison Oshier
Oluwafemi Oshikanlu
Alex Oshiro
Glenn Oskvarek
Kevin Osland
Adam Osmer
Jaime Osornio
Daniel Ossewaarde
Darren Ossi
Abbiola Ossipov
Cindy Osson
Donna Ostendorf
Bonnie Osterman
Devan Ostman
Mary Ostroski
Rachel Ostrow
Susan Osuna
Marla Oswald
Miranda Oswald
Brenda Oswalt
Julie Oswalt
Tonya Oswalt
Lance Otani
Leandra Otero
Eden Otlewski
Jessica O'Tool
Karen O'Toole
Mary Ott
Lucas Ott
Brian Ott
Daniel Otto
Nikita Otto
Lindy Oubre
Ashley Oughton
Samantha Oughtred
Fatma Ouled Salem
Shenika Outlaw
Paul Outzen
Poonam Ovalekar
Yolanda Overbey
Davyda Overby
Christina Overby
Elisa Overstake
Terrance Overton
Nadesha Overton
Kevin Owen
Cathy Owen
Amanda Owen
Denver Owen
Timothy Owen
Alicia Owen
Tanya Owen
Krystal Owens
Jeremy Owens
Yvonne Owens
Donald Owens
Elizabeth Owens
Sharee Owens
Jamie Owens
Kirsten Owens
Kirby Owens
Nicholas Owens
Lee Owens
James Owens
Carrie Owens
Tonya Owens
Jenny Owens
Larry Owens
Denise Owens
Tonya Owens
Nicole Owens
Angela Owens
Brian Owens
Desirae Owens
Jonathan Owens
Kimberly Owens
Katherine Owens
Kurt Owens
Alexis Owens-White
Jesse Owings
James Owings
Denyael Owsley
Amanda Oxendine
Valerie Oxford
Stacey Oyer
Armando Ozuna

Neil Paben
Alicia Pace
Worley Pace
Christal Pace
Erika Pace
Veronica Pace
Alena Pacheco
Anibal Pacheco
Tamara Pacheco
Helene Pacheco
Michele Padalino
Juan Padilla
Adriana Padilla
David Padilla
Jenifer Padilla
Cynthia Padilla
Dana Padilla
Matthew Padilla
Jody Padlo
Cynthia Padnuk
Cristina Padron
Urbano Paet
Jorge Paez
Danielle Paez
Maryann Pagan
Claudia Pagan
Lydia Pagan-Limardo
David Pagano
Michael Page
Adam Page
Sarah Page
Cindy Page
Deirdre Page
Deborah Page
Anitra Page
Kirby Page
Stephanie Pagels
Kenneth Paggett
Maile Pahoa
Michelle Paige-Owyang
Lance Painter
Arlene Pais
Christopher Pait
Kristin Paiva
Jacob Paiz
Roy Palacios
Doris Palacios
Edward Palasthy
Christopher Palazzoli
Tina Palecek
Thomas Palella
Susan Pallares
Rhonda Pallas
Franchessca Palm
Leslie Palma-Medina
Christopher Palmer
Tammy Palmer
Heather Palmer
Jena Palmer
Letticia Palmer
Kyle Palmer
Barbie Palmer
Brenda Palmer
David Palmer
Kevin Palmer
Joanna Palmer
Bobby Palmer
Elizabeth Palmieri
Keren Palomino
Michelle Palovick
Theresa Palumbo
April Palya
Jacquie Pancake
Lavinia Pandis
Brendeen Pangelinan
Jo Pangerl
Tricia Paniagua
Jordan Paniagua
Anthony Panichelli
Mario Panicucci
Karen Panik
Tiffanie Pankey
Heather Pantley
Misty Pantoja
Rene Pantoja
Solomon Pantuch
Donna Paoletti
Sarah Papesh
Matthew Papillion
Jandy Papineau
Denise Pappagallo
Nicholas Pappas
Teresa Pappas
Karla Paquette
Roger Paquin
Keith Paquin
Erica Paradis
Pamela Paradis
Jessica Paradiso
Krystal Paramo
Manuel Paramo
Daniela Paravano
Mark Pardee
Benjie Pardick
Patricia Pardio
Patriciann Pardy
Thomas Pare
Patricia Paredes
Cristina Paredes
Jean Parent
Addison Parenteau
Juanita Parham
Ernest Parham
Bronte Parham
Beronica Parham
Wendell Parham
Shandiin Parhm
Heather Paris
Kimberly Paris
Mindy Paris
Danielle Paris
Philip Parise
Helen Parish
Kirstie Parish
David Parisi
Jennifer Parisi
Nabin Pariyar
Soojin Park
David Park
Elizabeth Park
Stephanie Park
Maria Parker
Katherine Parker
Daniell Parker
Sue Parker
Kathleen Parker
Stacie Parker
Stetson Parker
Michael Parker
Ruth Parker
Bradley Parker
Ronald Parker
Andrew Parker
Teresa Parker
Jamie Parker
Aaron Parker
Joseph Parker
Melanie Parker
Patricia Parker
Roselynne Parker
Aveyon Parker
Kristine Parker
Elizabeth Parker
Carmen Parker
Karla Parker
Natasha Parker
Marishka Parker
Jennifer Parker
Benjamin Parker
Jennifer Parker
Kimberly Parker
Patricia Parkes
Connie Parkin
April Parkins
Deborah Parkinson
John Parkinson
Dawn Parks
Mary Parks
Richard Parks
Gabrielle Parks
Shunda Parks
Marilyn Parks
Theresa Parks
Jutta Parks
Alan Parks
Stephanie Parks
Samantha Parliman
Tyler Parmelee
Jessica Lynne Parmiter
Gina Parnell
Ernest Parr
Yolanda Parra
Mayumi Parrado
James Parris
John Parris
Tiffany Parris
Sandra Parrish
Kiera Parrish
Lynn Parrish
Trinell Parrish-Brown
Richard Parron III
Tana Parson
Kaylie Parsons
Roberta Parsons
Jenny Parsons
Tamara Parsons
Tasha Parsons
Randall Joseph Partee
Terina Partin
Nathan Partin
Matthew Parton
Raymond Parton
Heather Parton
Jason Parvin
Brett Parvin
Aimee Paschall
Andrei Pascu
Andrew Pasichny
Jennifer Paskiewicz
Kathleen Pasquin
Karina Passmore
Hope Passmore
Amanda Pastore
Carlos Pastrana
David Patch
Rose Pate
Betty Pate
Adrianna Pategas
Krishna Patel
Rishi Patel
Imtyaz Patel
John Pater
Melita Patillo
Bridget Patrick
Sereta Patrick
Ricky Patrick
Theresa Patrick
Laura Patrick
Michael Patrick
Kisna Patrick
Joshua Patro
Ronald Patten
Shavasha Patten
Sean Patterson
Akiko Patterson
Renford Patterson
Debra Patterson
Joanne Patterson
Kimberle Patterson
Bobbie Patterson
Eric Patterson
Antoinette Patterson
Amy Patterson
Christian Patterson
Krista Patterson
Donisha Patterson
Dominique Patterson
Viyae Patterson
Jessica Patterson
Virginia Patterson
Sharla Patterson
Crystal Patterson
Kimberly Patterson
Charles Patterson
Christel Patterson
Cindy Patterson
Barbara Patterson
Alyssa Pattinson
Ellen Patton
Sandra Patton
Tiffany Patton
Rhonda Patton
Rebecca Patton
Daniel Patton
Catherine Patton
Stevie Patton
Kurt Patton
Christy Patton
Brittany Patton
Donovan Patton
Savannah Paukner
Cameron Paul
Dessie Paul
Christopher Paul
Cory Paul
Steven Paul
Brynner Paulette
Catherine Pauley
Craig Paulhus
Colette Paulino
Kathleen Paulson
Randolph Paulson
Tara Paulson
Brittany Paulus
Jodilynn Pautz
Michelle Pautzke
Danielle Pavard
Buffy Paveloff
Anastacia Paver
Timothy Pavey
Staci Pavia
Deborah Pavich
Donna Pavin
Amanda Pavlik
Scott Pavlock
Nicolette Pawelczak
Michele Pax
Jesse Payano
Kim Paylor
Jami Payne
Kendra Payne
Cynthia Payne
Katherine Payne
Angela Payne
Thad Payne
Leslie Payne
Joyanne Payne
Amber Payne
Paul Payne
Kristi Payne
Joseph Payne
Michael Payne
Philip Payne
Christopher Payne
Phyllis Payne-Allen
Nefritia Payne-Pridgen
Rebecca Payseno
Todd Payton
Angela Payton
Roxonne Peabody
Sherry Peace
Jessica Peach
Roberta Peach
Donn Peacock
Joanna Peacock
Joel Peacock
Matthew Peacock
Mark Peacock
Raquel Peacock
Jacqueline Peake
Christopher Peapea
Tess Pearce
Lisa Pearce
Penny Pearce
Lisa Pearl
Brian Pearsall
Caleb Pearson
Jacquelyn Pearson
Mary Pearson
Lori Pearson
Dayna Pearson
Charles Pearson
Cleo Pearson
Leslie Pease
Jessica Pease
Lindsay Pease
Elizabeth Peaslee
Dejata Peay
Lisa Peckham
Morgan Peckol
Gail Pecoraro
LeeAnn Peden
Melody Pedersen
Jessica Pedersen
Erik Pederson
Deborah Pedrosa
Carlene Peebles
Chaya Peebles
Ciara Peebles
Tracy Peed
Erin Peek
Jennifer Peek
Kellie Peel
Tangela Peele
Tanya Peeler
Tamara Peeples
Kaylin Peer
David Peerenboom
Faith Peerenboom
Philip Peevy
Denise Peitz
Fariborz Pejman
Sarah Pelaccio
Shiela Mae Pelante
Xochil Pelayo
Joanna Pelayo
Lyndsay Pelchat
Sean Pelfrey
Cory Pelisek
Sara Pelky
Erin Pell
Tracy Pell
Nathan Pellegrin
Jalynn Pelletier
Vicki Pelletier
Angelique Pelletier
Laura Pellior
Dava Pelny
Nicholas Peloquin
Paula Peltier
Neil Peltier
Camille Peluso
Thomas Peluso
Jason Pemberton
Shayne Pemberton
Taylor Pementil
Jaime Pena
Juan Pena
Leannah Pena
Michelle Pena
Jessica Pena
Brian Pena
Maria Pena-Cavallini
Christopher Pence
Jennifer Pencille
Leni Pender
James Pendergast
Nathan Pendleton
Ashley Pendleton
Wendy Pendry
Madalyn Penhollow
Katrina Penman
Kandyz Penn
Tamiko Penn
Staci Pennartz
Faye Pennington
John Pennington
Brian Pennington
Carrie Pennison
Debra Pennock
Corey Penny
Julia Penrod
Muriah Penrose
Dana Pensado
Whitney Pensinger
Kimberly Penwell
Alexandra Peoples
Sharon Peoples
Quiana Peralta
Lia Peranio
Ronetta Percival
Kayli Perdue
Daniel Perdue
Christina Perdue
Tanya Pereira
Jorge Pereira
Olga Pereira
Jacob Pereschuk
Makaila Perez
Anna Perez
Danielle Perez
Jose Perez
Iris Perez
Ritika Perez
Stephanie Perez
Eleazar Perez
Teri Perez
Rodolfo Perez
Adriana Perez
Onnica Perez
Eva Perez
Alisah Perez
Stephanie Perez
Erica Perez
Rita Perez
Maria Perez
Argeline Perez
Gabriel Perez
Jaynie Perez
Mahida Perez
Claudia Perez
Arnold Perez
Yolanda Perez
Ashley Perez
Chelsea Perez
Christian Perez
Erick Perez
Bernardo Perez
Amanda Perez Rodriguez
Tara Perfect
Sheryle Perkins
Michelle Perkins
Tamara Perkins
Ralph Perkins
Jennette Perkins
Katrina Perkins
Cory Perkins
Brady Perkins
Denise Perkins
Christopher Perkins
Heather Perkins
Lee Perkins
Samantha Perkins
Sandy Perkins
Ruth Perkins
Janne Perkins
Mindy Perkins
Nicole Perkins
James Perkins Jr
Jason Perkovich
Bernadette Perle
Tanailyn Pernell
Adam Perone
Jamie Perrier
Terry Perrin
Ryan Perrine
Christopher Perry
Heather Perry
Ashley Perry
Victoria Perry
Sabrina Perry
Julius Perry
Chelsea Perry
Brianna Perry
Shelley Perry
Robert Perry
Elyse Perry
Thomas Perry
Tiana Perry
Kevin Perry
Eric Perry
Cynthia Perry
Michael Perry
Nathanette Perry
G. Octavious Perry
Brenda Perry
Archine Perry
Lora Perry
Jenne Perryman
Brittany Persic
Theresa Persinger
Chaunte Person
Angela Persons
Nykole Pertell
Mirissa Pesapane
Camille Pesce
Beth Peter
Todd Peter
Jane Peters
Sarah Peters
Heather Peters
Chad Peters
Brett Peters
Araceli Peters
Ferris Peters
Kimberly Peters
Rebekah Peters
Tabatha Peters
Timothy Peters
Deborah Peters
Anne Petersen
April Petersen
Susan Petersen
Janet Peterson
Gregg Peterson
John Peterson
Elizabeth Peterson
Nanette Peterson
Michael Peterson
Juri Peterson
Angela Peterson
Katherine Peterson
Cory Peterson
Shanetria Peterson
Kelly Peterson
Rebecca Peterson
Bryan Peterson
Tasha Peterson
Christen Peterson
Daniel Peterson
LaVarne Peterson
Beverly Peterson
Nichole Peterson
David Peterson
Tracy Peterson
Steven Peterson
Bradley Peterson
Deborah Peterson
Michelle Peterson
Tanya Peters-Osborne
Natasha Pethick
Deborah Petkus
Jo Ann Petosa
Sonya Petre
Rebecca Petrella
Lance Petrich
Barbara Petro
Michael Petrofsky
Sharla Petros
Gregory Petrosh
Amanda Petroski
Amanda Petroski
Jacquelyn Petrovic
Katie Petrovich
Traci Petrow
Andrea Petrucci
Paula Petsel
Neil Pettersen
Antony Petti
Nadine Petties
Natalie Pettigrew
Carol Pettine
Erica Pettrey
Tracey Pettway
Jakiesha Pettway
Michael Petty
Alecia Petty
Alexander Petty
Tiffany Petzold
Beth Peura
Candace Pewanick
Daniel Pexton
Ellen Pfannenstiel
Nicole Pfeiffer
Pamela Pfertsh
Jennifer Pfleger
Kim Phagan
Joseph Phair
Kathleen Phalen
Jimmy Pham
Jimmy Pham
Aaron Pham
Lae Phanda
Sondra Phelps
Brandon Phelps
Bridget Phelps
Todd Phelps
Marvin Phelps
Shakee Philbert
Laura Philips
Erin Phillippe
Kathleen Phillips
Ross Phillips
Roxanne Phillips
Vickie Phillips
Laci Phillips
Silvia Phillips
Brandon Phillips
Stanley Phillips
Jennifer Phillips
Millard Phillips
Carrie Phillips
Kathy Phillips
Christine Phillips
Erin Phillips
Robin Phillips
Heather Phillips
Teresa Phillips
Nicole Phillips
Tammy Phillips
Vicki Phillips
Ann Phillips
Karen Phillips
Charolette Phillips
Shamika Phillips
Tayla Phillips
A'Via Phillips
Derek Phillips
Kathy Phillips
Joel Phillips
Alisa Phillips
Sonya Phillips
Tony Phillips
Catheryn Phillips
Karie Phillips
Beverly Phillips
Elizabeth Phillips
Ciceley Phillips
Jamela Phillips
Rhapsody Phillips
Kathryn Phillips
Melissa Phillips
Tara Phillips
Linda Phillips-Hendryx
Amanda Philmon
Doyle Philmon III
Joshua Philpott
Lori Phippin
Dona Phipps
Brooke Phipps
Kristyn Phipps
Cynthia Phipps-Roman
Lindsay Phizacklea
Aaisha Phoenix
William Phrampus
Melissa Phy
Toni Picard
Michael Picard
Gino Picart
Dennis Picasio
Kelly Piccinetti
Robert Piccioli
David Piccoli
Michael Pickard
David Pickard
Christine Pickel
Iasha Pickens
Paul Pickens
Linda Pickett
Wanda Pickett
Heather Pickett
Chandler Pickett
LeiAn Pickett
Melissa Pickham
Hilda Pickney
Yvonne Pickup
Leonor Pidhayny
Patricia Pieart
Richard Piech
Gina Piemontese
Gloria Pieper-Gagliardi
Jason Pierce
Jennifer Pierce
Edna Pierce
Gillian Pierce
Michael Pierce
Robin Pierce
Shawneen Pierce
Megan Pierce
Stephanie Pierce
Vincent Pierce
Billie Pierce
Amanda Pierce
Bethany Pierce
Michael Piercy
Melissa Pieringer
Brittney Pierre
Carrie Pierrelus
Alisa Pierson
Keith Pierson
Karen Pierson
Joniesha Pierson
Tanya Pierson
Emily Pietz
Eric Pigg
Carol Pigott
Jana Piimauna
Damonian Pike
Svetlana Pikulev
Leanne Pikulski
Heather Pilarski
Lisa Pilato
Stephanie Pilgere
Kellie Pilgreen III
Marc Pillar
Robert Pillars
Tammy Pillsbury
Kimberly Pilya
Amanda Pimentel
Kevin Pinder
Trysten Pine
Guadalupe Pineda
Carisa Pinel
Wynelle Piner
Shea Pines
Kristina Pingleton
Timothy Pinkney
LaKaya Pinkney
Lacharlotte Pinkston
Myesha Pinkston
Keri Pinner
Sokunthea Pinzon
Brenda Pious
Gail Piper
Amy Pipes
Krystal Pipkin
Antonio Pipo
George Pippen
Elanda Pippens
Marilyn Pippin
Reginald Pippin
Bobbi Pippins
Carly Pirani
Ronald Pire
Deborah Pirillo
Gina Pisciotta
Erika Piscopiello
Jacob Pitt
Marjorie Pittard
Evelyn Pittman
Kiyada Pittman
Casheema Pittman
Tia Pittman
Talonda Pittman
Sharon Pitts
Brandie Pitts
Kiara Pitts
Danny Pitts
Nicole Pitts
Donald Pitts
Lawrence Pitts
Kimberly Piwinski
David Piwinski
Enrique Pizano
Teresa Pizarro
Julian Pizarro
Maria Pizzo
Ray Placencia
Christopher Plachno
Preeti Plaha
Alison Planco
Tammy Plante
Carla Plaster
Carrie Plaster
Justin Platt
Jamie Platt
Christine Platt
Tiara Platt
Vanessa Pleasant
Danielle Pleasant
Shante Pledger
Megan Pless
Jessica Ploeger
Miranda Ployhar-Mickelson
Michelle Plueger
Jessica Plum
Christine Plummer
Hope Plummer
Jeremy Plummer
Staci Plunk
Michele Pluta
John Pobitschka
Joseph Podoba
Stacey Poe
Henry Poe
Lajauna Poe
Sandra Poe
David Poelvoorde
Joshua Pogue
Kevin Pohle
Kim Point
Cathy Poire
Robin Poirier
Jacqueline Poitier
Sandra Pokorny
Nicole Pokorzynski
Liliana Polanco
Brittany Polanco
Tricia Poland
Constance Poland
Amy Polander
Cheryl Polek
Toby Poleszak
Nicole Policky
Vanessa Polifroni
Amanda Polizzi-Dunn
Joreatha Polk
Shanekia Polk
Thalia Polk
Candace Polk
Anittra Polk
Paula Polk
Dawnette Polland
Tellers Pollard
Carmen Pollard
Daylynn Pollard
Henry Pollard
Lesley Pollard
Jonathan Pollard
Antonino Pollaro
Michael Polley
Chevita Pollock
Nicola Pollock
Brandy Pollock
Jennifer Poloa
Rachelle Polohonki
Jessica Pomeroy
Jennifer Pomrehn
Bernave Ponce
Rosa Ponce
Meghan Ponce
Janet Pond
Travis Pond
Kirsten Pond
Billie Ponder
Amy Pono
Garry Pontius
Matthew Pontones
Deborah Pool
Christy Pool
Lakeishsa Poole
Richard Poole
Coleman Poort
Cara Pope
Lori Pope
Randall Pope
Garnett Pope
Tiffany Pope
Felicia Pope
Sabra Pope
Derrick Pope
Charles Popielarz
Nichole Popko
Brittney Poppe
Amanda Poppell
Barbara Porcher
Emely Poroj Vasquez
Cynthia Porras
Freddy Porras
Christy Portee-Callahan
April Porter
Nathan Porter
Helen Porter
Juanita Porter
Ashley Porter
Teresa Porter
Jessica Porter
John Porter
Malissa Porter
Miriam Porter
Darlene Porter
Danielle Porter
Khristianna Porter
Rebecca Porter
Nicole Porter
Kathy Porter
Sequoia Porter
Jennifer Porter
Kristin Porter
Ashlea Porter
Rashaan Porter
Shannon Porter
Kirsten Porter
Carlos Portillo
Terra Portillo
Albert Portillo
Stephanie Portillo
Raymond Portillo
Monica Portley
Steve Porzio
Danielle Posada
Gabriella Pose
Mary Posey
Noel Posey
Jeffrey Posival
Samuel Post
Rebecca Post
Hannah Post
Penny Postel
Katherine Poston
Heather Potee
Darnell Potter
Julie Potter
Harold Potter
Roger Potter
Brandi Potter
Billy Potter
Alex Potter
Kathy Potter
Polly Pottridge
Danielle Potts
Sendy Potts
Casey Potts
Megan Potwin
James Poulos
Bobbie Poulsen
Amanda Poulton
Peggy Pounds
Christopher Pousson
Tara Pouttu
James Powell
Dana Powell
Krystal Powell
Renita Powell
Pamela Powell
Dwayne Powell
Robert Powell
Andrea Powell
Aneisha Powell
Elaine Powell
Katherine Powell
Matthew Powell
Kandance Powell
Emmanuel Powell
Nicole Powell
Deonte Powell
Tameka Powell
Garrick Powell
Ayanna Powell
Keresa Powell
Sharon Powell
Stefanie Powell
Michele Powell
Jeffrey Powell
Terry Powell
Margaret Powell
Lance Power
Jamie Powers
Hope Powers
Shannon Powers
Adriane Powers
Lori Powers
Jessica Pownell
Mary Poynterthomas
Mary Pozdol
Shirley Pradarelli
Tiffany Prado
Katrina Prater
Cionte Prater
Charla Pratt
Crystal Pratt
Amy Pratt
Carla Pratt
Robert Pratt Jr.
Darlene Pray
Loretta Pray-Waggoner
Gabrielle Prebula
Jesse Preciado
Jeremy Preister
Phillip Prejean
James Prentice
Sandra Prentiss
Alison Prescott
Sierra Prescott
Brian Presley
Taylor Preston
Jainine Preston
Jessi Preston
Heather Preston-Weeks
Sara Prete
Christopher Prevatte
Mark Prewitt
Darnelle Priar
Adrienne Price
Michelle Price
Steven Price
Lisa Price
Virginia Price
Larry Price
Sherry Price
Martha Price
Henrietta Price
William Price
Chivi Price
Paula Price
Shelley Price
Robin Price
Christopher Price
Van Price
Tyler Price
Lisa Price
Joseph Price
Conor Price
Tiffany Price
Vontressa Price
Kenneth Price
Malikah Price
Micah Price
Mindy Price
Tammy Price
Ryan Price
Jennifer Price
Ayesha Price
Marquetta Price
Rebekka Price
Cynthia Price
Gary Price
Arquilla Price
Elisa Prichard
Eileen Priddy
Kristi Priddy
Laura Pride
Cory Pride
April Priest
Nicholas Priest
Tiffany Priestley
Chandler Primak
Jennifer Primus
Cynthia Prince
Wendy Prince
Elizabeth Prince
Elizabeth Prince
Darius Prince
Belinda Pringle
Peter Pringle
Tenise Pringle
Georthandra Pringle
Margaret Pringle
Stacey Prinz
Latesha Prioleau-Graves
Teresa Prisco
Natvel Pritchard
Pamela Pritchard
Judith Pritchard
Donna Pritchett
Rebecca Pritchett
Stephen Pritchett
Maria Privado
Barbara Prizer
Kelsie Probst
Lisa Probst
Misti Prochnow
Kimberly Procknow
Shayla Procopio
Kay Procopio
Sandra Procter
Wanda Proctor
Michelle Proctor
Amy Proffitt
Kari Proka
Heather Proske
Jennifer Proton
Christine Prouty
Dawn Prouty
Shaquia Providence
Sharee Provins
Carole Provo
Jonathan Pruden
Karla Prudhomme
Colleen Prue
Kelly Pruett
Terry Pruitt
Roger Pruitt
Jennifer Pruter
Rae Pryjda
Sandra Pryor
Lori Pucciarella
Niki Puchalski-Hadden
Regan Puckett
Suzanne Puckett
Hilda Puebla
Ana Puentes
Juan Puentes
Emily Puerner
Michelle Puetz
Lisa Puffenbarger
Scott Pugh
Valoree Pugh
Asha Pugh
Louis Pugliese
Shae Pugliese
Thomas Puglisi
Gina Puglisi
Lorena Pula
Diane Pulda
Patricia Puliah
Luis Pulido
Elizabeth Pulido
Cristina Pulido-Lopez
Robert Pullen
Indigo Pullen
Bruce Pullens
Ramone Pulley
Rubennia Pulliam
Sherri Pullian
Rosanna Pullido
Erica Pullins
Taucia Pullins
Lindsey Pullman
Dana Pullum
James Pults
Christopher Pumphrey
Jaime Puphal
Christopher Purcell
Deborah Purcell
Eric Purcell
Bryan Purdie
Cheryl Pursell
Ernest Purser
Kaylene Pursley
Rebecca Purtee
Robert Purtiman Jr.
Bridget Purviance
Amanda Purvis
Amy Purvis
Linda Puryear
Eric Puryear
Roy Pusey
Michael Puterio
Robert Putnam
Lisa Putnam
Holly Putt
Bradley Putzstuck
Maria Puznowski
David Pyatt
Christopher Pyles
Kimberly Pyrett

Mona Qafisheh
Donna Quade
Paul Quaife
Michael Quail
Demonta Quailes
William Qualls
Megan Qualls
Britany Qualls
Jennifer Qualters
Nicholas Qualters
Adrian Quant
Travis Quarles
Dawn Quarles
Tess Quarles
Bryan Queen
Yolanda Quevedo
Gladys Quezada
Tanesha Quick
Andrew Quick
Timothy Quick
Lucy Quick
Renixa Quijano
Jeffery Quillen
Vella Quillin
Jonathan Quilling
Mark Quimby
Irene Quincy
Traci-lyne Quinn
Laura Quinn
Karen Quinn
Cara Quinn
Michele Quinn
William Quinn
Catherine Quinn
Antonio Quinones
Charles Quinsay
Rebekah Quintana
Adrian Quintana
Andre Quintanar
Cristal Quintanilla
Natllely Quintero
Sara Quintero
Thalia Quintero
Renea Quire
Jeri Quiring
Krystal Quiroz

Kathy Raab
Jeffrey Raab
Kristine Raber
Margaret Rabicki
Thomas Rabicki Jr.
Krystle Rabida
Guy Rabuck
Antonia Racanelli
Robert Racca
Steven Raccuglia
Angelica Rachal
Lori-Ann Racki
Dale Rackley
Daniel Radcliffe
Bethany Radcliffe
Amy Raddatz
Allisa Raddatz
Duane Rader
Richardi Radford
Kori Radloff
Sylvia Radosevich
Roxanne Radtka
Yasser Rady
Noriel Rafael
Lori Ragas
Marcus Ragasa
Angelica Ragland
Mark Ragsdale
Margene Ragsdale
David Ragsdale
Amanda Rahmadi
Christopher Raiford
Deanna Raihl
Robert Raines
Reginald Raines
Jessica Raines
Tasha Raines
Catrina Rains
Dora Rains-Sanders
Deborah Rainwater
Joyce Rairdon
dalia rais
Kodi Raisor
Chrishneil Raj
Anantheshwara Raju
Patricia Rakes
Jay Raley
Nicholas Ralph
Debra Ralph
Jodi Rama
Steven Ramage
Christina Ramage
Stacy Rambow
Priscilla Ramcharan
Somawatie Ramdass
Shelley Ramer
Shawn Ramey
Julia Ramey
Misty Ramey
Steven Ramga
Ermina Ramic
Fernando Ramirez
Frank Ramirez
Jennifer Ramirez
Laura Ramirez
Ruben Ramirez
Rocky Ramirez
Elizabeth Ramirez
Nicole Ramirez
Samantha Ramirez
Karen Ramirez
Tino Ramirez
Wendy Ramirez
Alicia Ramirez
Crystal Ramirez
Lindsay Ramirez
Kathleen Ramirez
Vicki Ramirez
Regina Ramirez
Roberto Ramirez Jr
May Ramirez-Xiong
Russell Raml
Earl Ramlow
Lucinda Ramon
Jacqueline Ramos
Jose Ramos
Christine Ramos
Melanie Ramos
Tiffany Ramos
Loraine Ramos
Pedro Ramos
Elyse Ramos
Migdalia Ramos
Jennifer Ramos
Tatiana Ramos
Brenna Ramos
Eva Liis Ramos
Moses Ramos
Yaritza Ramos
Cecilia Ramos
Lisett Ramos
Eduardo Ramos Lopez
Kenneth Ramsby
Lesley Ramsey
Sean Ramsey
John Ramsey
Adrianna Ramsey
Nichole Ramsey
Deandrea Rancher
Margaret Rancourt
Matthew Randall
Austin Randall
Tamikia Randall
Ametha Randall
Alyssa Randazzo
Marcia Randazzo
Susan Randle
Demetrius Randle
Garry Randles
Sally Randolph
Jean Randolph
Angela Raney
Agustin Rangel
Jennifer Rangel
Brian Ranger
Ilia Raniere
Rose Rankin
Brenton Rankin
Richard Rankin
Clyde Rankins III
Jeannette Ransaw
Jonathan Ransdell
Bernadette Ransom
Suzanne Ranta
Matthew Ranucci
Zachary Rapadas
Marise Raphael
Ariel Rapoza
Amanda Rapp
Patricia Rarick
Jon Raseley
Stephanie Rasmon
Alyssa Rasmussen
Wendee Rasmussen
Devin Rasmussen
Denise Rasmussen
Barbara Rasmussen
Dustin Rasmussen
Karley Rasmussen
Olivia Rastello
Amanda Ratcliff
Shakeydra Ratcliff
Erin Ratcliffe
Jilliann Rath
Mellisa Rathbun
Simone Ratley
Tricia Ratliff
David Ratliff
Carl Ratliff
Destini Ratliff
Matthew Rau
Mathew Raub
Vanessa Raulston
Jayson Ravago
Amy Ravelo
Teya Ravenell
Kathryn Ravenscraft
Alexis Ravuri
Joshua Rawdon
Felicia Rawles
Eddie Rawlings
Karlene Rawlins-Millard
Sharon Rawls
Teresa Ray
Sandra Ray
Kyle Ray
Sharon Ray
Colby Ray
Mariah Ray
Marcia Ray
Brittany Ray
Shannon Ray
Earl Ray
Pamela Ray
Michael Ray
Vanessa Rayburn
Kristina Rayburn
Linda Rayford
Jakelinee Raygoza
Tai Raymond
Jodi Lynn Raymond
Zeketha Raymond
Chelsea Rayner
Deanna Rayner
Jamie Raynor
Wendy Raynor
Richard Rayos
Edgar Razo
Glenda Razzano
Nathan Razzi
Tiffany Reader
Melissa Reali
Melissa Ream
Nicole Reardon
Ricardo Rebisso
Racheal Rebolloso
Gerald Recella
Elizabeth Recinos
Daniel Recker-Dizon
David Reckling
Benjamin Rector
Steven Rector
Dana Redburn
Brittney Reddick
Shantae Reddicks
Renita Redding
Devon Redding
Beth Reddy
Derek Redfield
Robin Redington
Lorie Redivo
Lisa Redl
Doug Redlevske
Simmon Redman
James Redmon
Brien Redmon
Justin Redmon
Jaime Redpath
Donna Redus-Neal
Michael Reebe
Shannon Reece
Miko Reece
Lauren Reece
Eboni Reece
Kver Reed
Rebecca Reed
Matthew Reed
Shantell Reed
Nicolas Reed
Tamara Reed
Mendi Reed
Mia Reed
Teri Reed
Faunda Reed
Jason Reed
Wesley Reed
Joseph Reed
Mary Reed
Vincent Reed
Christopher Reed
Ingrid Reed
Christine Reed
Gloria Reed
Christopher Reed
William Reed
Christine Reed
Matthew Reed
Daryl Reed
David Reed
Jennifer Reed
Robyn Reed
Angela Reed
Alan Reed
Carl Reed II
Robert Reed II
Coleen Reeder
Candice Reeder
Virginia Reeder
Kenneth Reedy
Mandi Reedy
April Rees
Ashley Reese
Daniel Reese
Theresa Reese
Mildred Reese
Glenda Reese
William Reese
Richard Reeves
Stephanie Reeves
Sharona Reeves
Beth Reeves
Jaclyn Reeves
Melina Reeves
Rebecca Reeves
Letty Regan
Kathleen Registe
Adam Rego
Thomas Rehak
Lindsey Rehmert
Erika Reichard-Lawton
David Reichers
Ashley Reichstadt
Judith Reid
Roland Reid
Dave Reid
Courtney Reid
Sarah Reid
Timiri Reid
Donn Reid
Beverly Reid
Alice Reid
Paula Reid
Shannon Reid
Gregorio Reid-Marius
Susan Reigel
Debra Reilly
Jillian Reimann
Stephanie Reimer
Kathleen Reina
Hannah Reinert
Jeanette Reinhardt
Marcia Reinhardt
Shannon Reinhart
Beth Reinhart
Nathan Reinhold
Jessica Reints
Joseph Reis
Mark Reisenbigler
David Reisig
Paul Reitano
Todd Reiten
Melanie Reiter
Kelly Rekart
Matthew Relle
Beau Remaly
Roderick Rembert
Jason Rembert
Rocky Rembert
Amber Rembowski
Angelica Remick
Jamie Remillard
Dillard Remines
Craig Rempel
John Remsen
Marsha Renaud
Randall Renaud
Michele Renaud
Jason Renda
Kimberly Rende
Heather Reneau
Michael Renehan
Robert Renforth
Donna Renfro
Cheri Renfro
Ellie Faith Renfro
Antoinette Renfroe
Gregory Renkenberger
Andrew Renner
Clifford Renner
Susan Rennert
Michael Rentz
Corey Renwick
Jamie Renz
Nicole Reposa
Kevin Reschke
Tony Resendez
Amber Resendiz
David Reshaw
Jon Respress
Alexis Restko
Heather Restrepo
James Restucci
Richelle Retana
Tonya Retherford
Andrew Retter
Stephen Rettino
Suzanne Reuben
Tracy Reusch
Karen Revels
Connie Revers
Frances Rewis
Robert Rexroad
Konnee Rexroat
Amalia Rexroat
Sarah Rexrode
Amy Rexroth
Cynthia Reyes
Michael Reyes
Jennifer Reyes
Orlando Reyes
Joe Reyes
Marcela Reyes
Susette Reyes
Cynthia Reyes
Diane Reyes
Kimberlie Reyes
Gisela Reyes
Angel Reyes
Raquel Reyes
Samantha Reyes Uvario
Jackeline Reyes Vasquez
Carmen Reyes-Smith
Tabitha Reyna
Cornel Reynaud
Michael Reynolds
David Reynolds
Scott Reynolds
Jennifer Reynolds
Annette Reynolds
Dinah Reynolds
Andrea Reynolds
Jessica Reynolds
Michael Reynolds
Jeremy Reynolds
Jessica Reynolds
Lisa Reynolds
Shun Reynolds
Melissa Reynolds
Carol Reynolds
Chloe Reynolds
Nahkiah Reynolds
Rosani Reynoso
Ana-Frances Reynoso
Alfonso Reynoso
Tiffany Reynoso-Hardwick
Jose Rezex
Carrie Rhamy
Courtney Rhem
Janice Rhett
Gwendolyn Rhine
Renee Rhinerson
Shannon Rhoades
Sarah Rhoads
Jonathan Rhoden
Jocelyn Rhoden
Montrella Rhodes
James Rhodes
Lawanda Rhodes
Terry Rhodes
Frederick Rhodes
Ryin Rhodes
Marci Rhodes
Lauren Rhodes
Pamela Rhodes
Jason Rhodes
Clayton Rhodes
Michael Rials
Michael Ribas
Ryan Ribellia
Jorge Ribera Pedraza
Danielle Riccardi
Jennifer Ricci
Harvey Rice
Xavier Rice
Cindy Rice
Philistine Rice
Elsie Rice
Christopher Rice
Jacqueline Rice
Georgina Rice
Crystal Rice
Sandra Rice
Joanna Rice
Zandra Rice
Elizabeth Rice
Charles Rice
Luther Rice
Richard Rice
Lisa Rice
Jennifer Rice
Kimberly Rice
Thomas Rich
Andrea Rich
Kimberly Rich
Dylan Rich
Chad Rich
Lauren Rich
Angel Richard
Melissa Richard
Kendra Richard
Pamela Richard
Coy Richards
Raymond Richards
Misty Richards
Amanda Richards
Tami Richards
John Richards
Michael Richards
Brittany Richards
Kristin Richards
Elizabeth Richards
Sandra Richards
Frank Richards
Beverly Richards
Tara Richards
David Richards
Michael Richards II
Mark Richardson
Angela Richardson
Jenny Richardson
Barbara Richardson
Daryl Richardson
Jennifer Richardson
Nicole Richardson
Leanna Richardson
Russell Richardson
Kimberly Richardson
Garrett Richardson
Denise Richardson
Shaquilia Richardson
Ashley Richardson
Kimberly Richardson
Angela Richardson
Candace Richardson
Mark Richardson
Jaimie Richardson
Monica Richardson
Constance Richardson
Vivian Richardson
Tamara Richardson
Terry Richardson
Lisa Richardson
Joyce Richardson
Comfort Richardson
Tynisa Richardson
Renita Richardson
Alan Richardson
Jacquelyn Richardson
Kovi Richardson
Martha Richburg
Meredith Rich-Byberg
Diana Richey
Richard Richison
Audrey Richman
Caleb Richmond
Sydnee Richmond
Nadine Richmond
Latisha Richmond
Breah Richter
April Rick
Jaime Rickard
Jennifer Rickeard
Kelli Rickelman
Kristin Ricker
Audrey Rickers
Kemberlyn Rickett
Tania Rickey
Angela Rickman
Jesse Rico
Amanda Riddle
Jeremy Riddle
Karina Rider
Candice Ridge
Robin Ridgway
Denielle Ridings
Sandra Ridings
Shevon Ridley
Carrie Ridner
Robert Riedel
Angela Rieger
Brenda Riels
Victoria Ries
Casandra Ries
Cheryl Rieves
Alan Riffin
Cheryl Riga
Gregory Rigali
Christine Riggins
Timothy Riggins
Andreas Riggins
Hollie Riggle
Jeanna Riggleman
Toni Riggs
Jennifer Riggs
Tyler Riggs
Ricky Riggs
Michael Riggs
Belinda Riggs
Vincent Righter
David Rigo
Tanya Riley
Brennen Riley
Monnencia Riley
Sharla Riley
Austin Riley
Samara Riley
Shellie Riley
Quentin Riley
Christopher Riley
Lashea Riley
Tiana Riley
Nathan Riley
Chantelle Riley-Watson
Candy Rilling
Angela Rimmer
Joseph Rinehart
Thomas Rinehart
Keren Riner
William Riney
Jonathon Ring
Cortney Ringer
Gregory Ringering
Regina Ringling
Ashleigh Rinkenberger
Michelle Rinkwalker
Victor Rios
Ronell Rios
Eddie Rios
Abel Rios
Rhonda Rios
Bonnie Rios
Patricia Rios
Trina Rios
Barbara Ripley
Bennette Riporti
Danica Rippy
Jarrett Risenhoover
Edward Risner
Loretta Risner
Carol Ristaino
James Ritchie
Erica Ritchie
Jenifer Ritenour
Melissa Rittel
Genevieve Rittenhouse
Domenick Rittenhouse
Denise Ritter
Stacey Ritter
Lori Ritter
Earla Ritz
Mark Ritz
Lauren Ritzmann
Tony Rivas
Jill Rivera
Fatima Rivera
Abigail Rivera
Brandy Rivera
Jorge Rivera
Carmen Rivera
Mayra Rivera
Gilberto Rivera
Daniel Rivera
Eduarth Rivera
Tiffany Rivera
Daniel Rivera
Crystal Rivera
Angelina Rivera
Jessica Rivera
Kimberly Rivera
Debbie Rivera
Angel Rivera
Juan Rivera
Alfonso Rivera
Beatriz Rivera
Shaminka Rivera
Iris Rivera
Isabel Rivera
Jose Rivera
Axel Rivera
Karla Rivera
Robert Rivera
Alexandria Rivera
Ruth Rivera
Katerina Rivera
Rachelle Rivera
Cristy Rivera TingKang
Hector Rivera Vazquez
Lara Rivera-Aguayo
Ruth Rivera-Bitter
Tracie Rivera-Clarkson
Alexia Riveracorrea
Erica Rivera-Fauver
Yuliam Rivero
Shelia Rivero
Ashley Rivers
Jumoke Rivers
Barbara Rivers
Betsy Rivers
Travis Rivers
Chelsea Rivers
David Riviere
Nancy Riviotta
Bridget Rivney
Jose Rizo
Mireille Rmeih
Shari Roach
Katherine Roach
Larrissa Roach
Jason Roach
Quartarius Roach
Marsha Roache
Henry Roan
Roberta Roane
Angela Roark
Misty Robben
James Robbins
Danna Robbins
Grace Robbins
Michele Robbins
Jon Robenhagen
Darlene Roberson
Tiara Roberson
Latonya Roberson
Ainka Roberson
Tammy Roberson
Walter Roberson
Christa Roberson
Andrea Roberson
Ebony Robert
Nicole Roberts
Geoffrey Roberts
Christina Roberts
Jennifer Roberts
Heather Roberts
William Roberts
Victor Roberts
Angela Roberts
Kimberly Roberts
Destiny Roberts
Rachel Roberts
Elizabeth Roberts
Dorry Roberts
Salisa Roberts
Karese Roberts
Gabriel Roberts
Michelle Roberts
Maredith Roberts
Yvonne Roberts
Nancy Roberts
Tjurra Roberts
Catherine Roberts
Julie Roberts
Dorothe Roberts
Mary Roberts
Jennifer Roberts
Bryan Roberts
Rachael Roberts
Joannie Roberts
Autumn Roberts
Jessica Roberts
Kristen Roberts
Lisa Roberts
Audrey Roberts
John Roberts
Jodi Roberts
Jeremy Robertsen
Kenneth Robertson
Tiffany Robertson
Scott Robertson
Debra Robertson
Ian Robertson
Tara Robertson
Shyia Robertson
Johnnell Robertson
Dina Robertson
Christel Robertson
Mindy Robertson
Kayleigh Robertson
Cory Robertson
Elizabeth Robertson
Chere Roberts-Potter
Cary Robidoux
Janet Robin
Lisa Robinett
Robert Robinette
Rikki Robinette
Brian Robinson
Shumeka Robinson
Sena Robinson
Linwood Robinson
Shawn Robinson
Maria Thelma Robinson
Tonya Robinson
Diemetria Robinson
Amy Robinson
Miranda Robinson
Kimberly Robinson
Kashanda Robinson
Sarah Robinson
Cristina Robinson
Anita Robinson
Katiesue Robinson
Ebony Robinson
Lakeya Robinson
Sierra Robinson
Sherri Robinson
Cyndi Robinson
Felisha Robinson
David Robinson
Kathi Robinson
Oleathia Robinson
Rowan Robinson
Tiffany Robinson
Leanna Robinson
Nikia Robinson
Lynette Robinson
Mary Robinson
Jessie Robinson
Constance Robinson
Sheri Robinson
Andrew Robinson
Kandi Robinson
Armentia-November Robinson
Tina Robinson
Teresa Robinson
Sharonda Robinson
David Robinson
Adron Robinson
Kevin Robinson
Ashley Robinson
Tamara Robinson
Shawna Robinson
Derek Robinson
Bradley Robinson
Tevon Robinson
Wendy Robinson
Octavia Robinson
Keith Robinson
Temeka Robinson
David Robinson
Dakisha Robinson
YaSheca Robinson
Michael Robinson
Demetrius Robinson
Shelley Robinson Cruz
DeWayne Robinson Sr
Mary Robinson-Banks
Tiffany Robinson-Harvey
Elizabeth Robison
Eric Robledo
Yvonne Robledo
Raquel Robles
Gwendolyn Robles
Elsa Robles
Alex Robles
Marilyn Robles
Hillary Robson
Elmo Roby
Jennifer Roby
Jill Rocha
Benjamin Rocha
Allyson Rocha
Keri Roche
Johnna Roche
Yvonne Roche
Joanne Rochevot
Bettina Rochford-Hinkle
Ajani Rock
Eric Rock
Cathryn Rock
Bradley Rock
Sandra Rocker
Dawn Rockhill
Michelle Rockhold
Robert Rock-Klotz
Sara Rockov
Holly Rockwell
Patricia Rockwell
Amelia Rodea
Crystal Rodela
Janell Roden
Felecia Roderick
Lynda Rodgers
Robert Rodgers
Robert Rodgers
Joan Rodgers
Harriette Rodgers
Alexander Rodgers
Arnette Rodgers
Sarah Rodgers
Ashley Rodney
Ryan Rodrigues
Jaylene Rodrigues
Sarah Rodrigues
Jacquelyn Rodrigues Biskupski
Maria Angelica Rodriguez
Eric Rodriguez
William Rodriguez
Sara Rodriguez
Cruz Rodriguez
Vanessa Delilah Rodriguez
Norene Rodriguez
Juan Rodriguez
Lucinda Rodriguez
Kim Rodriguez
Luis Rodriguez
Irici Rodriguez
Ricardo Rodriguez
Fernando Rodriguez
Devra Rodriguez
Amy Rodriguez
Ezekiel Rodriguez
Glorya Rodriguez
Anthoney Rodriguez
Adam Rodriguez
Richard Rodriguez
Arisleyda Rodriguez
Mei-Ling Rodriguez
Allison Rodriguez
Adriane Rodriguez
Maria Rodriguez
Alexandrea Rodriguez
Orlando Rodriguez
Bailey Rodriguez
Pamela Rodriguez
Christine Rodriguez
Terese Rodriguez
Chelsea Rodriguez
Miriam Rodriguez
Elaine Rodriguez
Heather Rodriguez
Kenneth Rodriguez
Javier Rodriguez
Ruben Rodriguez
Tania Rodriguez
Stacy Rodriguez
Viviana Rodriguez
William Rodriguez
Lana Rodriguez
Tiffany Rodriguez
Dale Rodriguez
Gary Rodriguez
Carlos Rodriguez
Cesar Rodriguez
Alvaro Rodriguez
Christina Rodriguez
Ronald Rodriguez
Cecilia Rodriguez
Laura Rodriguez
Leticia Rodriguez
Heather Rodriguez
Karen Rodriguez
Joseph Rodriguez
Joel Rodriguez
Evelicia Rodriguez
Danica Rodriguez
Anna Rodriguez Barban
Jose Rodriguez Talavera
Michelle Rodriguez-Vega
Maxwell Rodriquez
Ashley Rodriquez
Nicholas Rodriquez
Cynthia Rodzewich
Faatupu Roe
Autumn Roe
Jennifer Roeben
Benjamin Roeber
Shaunna Roeber
Michael Roebuck
David Roed
Lydia Roeser
Lindsey Roeske
Lynn Roesner
Tammy Roethle
Lea Roets
David Roff
Vicky Roganish
Lindsay Rogers
Cindi Rogers
Janae Rogers
April Rogers
Leola Rogers
Tracy Rogers
Donald Rogers
Alexandra Rogers
Christine Rogers
Richard Rogers
Doris Rogers
IIsha Rogers
Presyce Rogers
Joanna Rogers
Henrietta Rogers
William Rogers
Casandra Rogers
Elizabeth Rogers
Alyssa Rogers
Staci Rogers
Alexandria Rogers
Jeffrey Rogers
Jolene Rogers
Jolene Rogers
Casey Rogers
Meshell Rogers
Courtney Rogers
Alyssa Rogers
Anne Rogers-Degeer
Adrienne Rogerson
Amber Rohan
Maryah Rohde
Christopher Rohloff
Nathan Rohn
Jeffery Rohr
Ana Rojas
Daniel Rojas
Priscilla Rojas-Tice
Jennifer Rojo
Tamara Roland
Peter Rolfe
Sandra Rolin
Jennifer Roling
Amy Rollar
Sonya Rolle
Dennis Rolle
Donetta Rolling
Patricia Rollins
Britny Rollins
Timothy Rollins
James Rollins
Colleen Roloff
Jane Romack
Mike Roman
Daniel Roman
Patricia Roman
Shirley Roman
Genia Roman
Juliana Romani
Stephanie Romaniello
Angelique Romano
Christopher Romano
Deborah Romans
Ned-Jeline Romelet
Oscar Romero
Cynthia Romero
Mary Romero
Rachel Romero
Nataly Romero
Jonelle Romine
Ana Romo
Brandi Romo
Sabrina Romo
Lori Rompolski
Joseph Ronaghy
Kristy Ronald
Tyler Ronconi
Allyson Ronning
Carson Ronski
Jessica Rooney
Laura Root
Matthew Root
Tiffany Roots
Carma Roper
Diana Roper
Shawna Roper
Robert Rorick
Alyssa Rorrer
Sabina Ros
Richard Rosa
Bernadette Rosa
Eric Rosa
Donna Rosado
David Rosado
Juliette Rosado
Kathy Rosales
Jamie Rosario
Myda Rosario
Catherine Rosario
Nafiza Rosario
Angelica Rosas
Amber Rose
Stephanie Rose
Brian Rose
Cheri Rose
Cortney Rose
Valerie Rose
Clinton Rose
Jessica Rose
Shawna Rose
Michelle Rose
Heidi Rose
Crystal Rose
Julie Rose
Anthony Rose
Heather Rose
Paul Rose
Jennifer Rose-Alcauter
Loren Roselynch
Micah Rosen
Arthur Rosenberg
Laura Rosenberg
Cynthia Rosenberg
Edward Rosenberg
Jenifer Rosenberg
Yvonne Rosenberg
Wendy Rosenberger
Barbara Rosenberger
Jodie Rosendal
Bonnie Rosenfeld
Katherine Rosenhammer
Daniel Rosenhan
Caitlin Rosica
Mitchielyn Rosier
Kimberly Rosinski
Nikki Ross
Ben Ross
Cornelia Ross
Gwenette Ross
Ashley Ross
Shawnalea Ross
Rebecca Ross
Tamara Ross
Ebony Ross
Randy Ross
Karis Ross
David Ross
Nichelle Ross
David Ross
Anthony Ross
Michelle Ross
Christine Ross
Latonia Ross
Paula Ross
Loren Rosser
Jim Rosser
Chloe Rossi
Deana Rossi
Christopher Rossi
Stacy Rossi
Brooke Rossio
Ty Rossiter
Adam Rossiter
Samantha Rossitto
Jennifer Rossman
Terri Rosso
Lisa Roten
Madison Roth
Kathryn Roth
Micki Roth
Jennifer Roth
Heather Rothe
Jennifer Rothenbush
Rochelle Rothstein
Julie Rottinghaus
Victoria Roudebush
Jill Rougeau
Stefanie Rouleau
Michelle Roulhac
Kathleen Rounds
Amanda Rounds
Tracey Rounds
Sarah Rounsborg
Shawn Rountree
Yolanda Rountree
Cynthia Rountree
Cassandra Rountree
Rhonda Rouse
Brenda Rouse
Tracy Rouse
Tyler Roush-Wallace
Melissa Roussin
Jonathan Route
Amy Routten
Justina Rowan
Melissa Rowan
Marcie Rowan
Elizabeth Rowe
Jana Rowe
Kayona Rowe
Christen Rowe
Rebecca Rowe
Joseph Rowe
Steven Rowe
Damian Rowe
William Rowell
Dawn Rowland
Stephanie Rowland
Matthew Rowland
Ruth Rowland
Julianne Rowland
Georgene Rowland
Michelle Rowley
James Rowley
Brandon Roy
Rosalind Roy
Christine Roy
William Roy II
Sherman Royal
Joshua Royce
Carolyn Royce
Jennifer Royer
Kimberly Royston
Douglas Royston
Galina Roytshteyn
Ewa Rozanski
Paul Rozelle
Ingrid Rozier
Douglas Rozier
Anna Rubenstein
Stephen Rubingh
Eileen Rubio
Shelly Rubio
Carrie Ruble
James Ruby
Deanna Ruby
Andrew Rucker Jr
Jayne Ruckman
Devin Rudd
Jessica Rudd
William Rudd
Willis Rudder
Lance Ruddy
Kevin Rude
Nora Ruder
Jennifer Rudeseal
Erica Rudolph
Annmarie Rudolph
Amber Rudy
Daryl Rue
Cesar Rueda
Zachary Ruemelin
Susan Rueschhoff
Cassie Ruetz
Rose Ruff
Tamekia Ruffin
Brian Rugg
Chanel Rugg
Jeffrey Ruggiero
Rebekah Ruggles
Janelle Ruggs
Megan Ruhl
Erica Ruiz
Benjamin Ruiz
Jessica Ruiz
jesus ruiz
Courtney Ruiz
Stephanie Ruiz
Karen Ruiz
Debbie Ruiz
Nicole Ruiz
Manuel Ruiz
Alicia Ruiz
Stacie Ruiz
Luis Ruiz
Santiago Ruiz Leon
Alicia Ruiz-Martinez
Cortni Rumbold
Timothy Rump
Jessica Rumph
Darrel Rumsey
Kimberly Rundel
Kathy Rundell
Kirsten Rundell
Jeffery Runion
Bobi Runk
Katina Runnels
Tiwona Runyon
Brianna Ruocco
Gwendolyn Rupert
Heather Rusas
Jonathan Rush
Jimmy Rush
Patricia Rushing
Jill Rushing
Amanda Rushing
Lauren Rushing
Crystal Rushton
James Rushton
Jason Rusk
Christina Russell
Consuella Russell
Patricia Russell
Roni Russell
Gershon Russell
Tanya Russell
Mary Russell
Candice Russell
Denise Russell
Jonathan Russell
Kelly Russell
Terry Russell
Darrell Russell
Jo-Ann Russell
Sheldon Russell
Sarah Russell
James Russell
Tina Russell
William Russell
Ronnie Russell
Janis Russell
Sturgal Russell
Karen Russell
Samantha Russell
Katlyn Russell
Christopher Russo
Timothy Russo
Alfred Russomano
Richard Russon
Patrick Russum
Kimolly Rust
Brian Rusthoven
Brian Rustmann
Yvonne Rutherford
Michelle Rutkowski
Ryan Rutledge
Faith Rutledge
Karen Rutledge
Patrick Ryan
Torie Ryan
Rachelle Ryan
Christopher Ryan
Gloria Ryan
Matthew Ryan
Deborah Ryan
Virginia Ryan
Kathryn Ryan
Kristy Ryan
Sherry Ryan
Laura Ryan
Danielle Ryan
Chad Ryan
Kelly Ryan
Avery Ryans
Mike Rybinski
Tony Rybinski
Matthew Ryder
Adam Ryerson
Melissa Rys

Reina Saabedra
Tammy Saad
Dorothea Saadeldin
Ammar Saadiq
Jennifer Saavedra
Juan Carlos Saavedra Morales
Tiffany Sabb
Shannan Sabby
Lisa Sabella
Matthew Sabie
Melody Sabie
Karen Sabin
Katelyn Sabler
Jennifer Sacco
Gregory Sackett
Bernadette Sacksteder
Amanda Sadenwasser
Salome Sadera
Tracy Sadler
Stephanie Sadler
Craig Sadler
John Sadler
Andrew Sadowski
Cheng Leo Saechao
Patricia Saenz
Thon Saetern
Kao Saeteurn
Tzeng Saeyang
LeShawne Safford
Helen Saffran
Marysella Saffron
Jamie Safran
Brandilynne Sager
Amy Sager
Dennis Sagmiller
Noreen Sahs
Mecca Said
Charity Saieva
Melissa Saint Geours
Udeismy Sainz De La Torre
Stephanie Saiz
Crystal Sakaguchi
Rosemarie Sakey
Etienne Sakouhi
Erin Salamon
Cynthia Salas
Heather Salas
Rebecca Salas
Raquel Salas
Toby Salas
Terry Salat
John Salazar
Norma Salazar
Martin Salazar
Nicole Salazar
Damian Salazar
Roxana Salazar
Jessica Salazar
Helaina Salazar
Carmen Salazar
Emily Salazar
Nancy Salcedo
John Salcido
Anona Salcido
Rafael Salcido
Katherine Saldana
Lydia Saldana
Nilza Saldate
Siham Saleem
John Salek
Simahr Salem
Adam Salemi
Teresa Sales
Diana Salgado
Shannon Salgado
Claudia Salgado
Angel Salgado
Ralph Salgado
Peter Salicco
Akayla Salido
Gilles Salies
Darlene Salih
Sonya Salihu
Brenda Salinas
Kari Salinas
Ana Alicia Salinas
Edisson Salinas
Dawn Saling
Thomas Salisbury
David Salisbury
Andrea Salisbury
Mira Salisbury
Katherine Sallas
Heather Sallee
Donna Sallee
Chandra Sally
Joan Salmond
Sage Salonga
Monica Salter
Christopher Salter
David Saludes
Jennalyn Salvatera
Michael Salyer
Susan Salyer
Summer Salyer
Stephanie Samaniego
Lanora Samaniego
Jazmin Sambula
Frank Sammons Jr
Sean Samms
Jennifer Samms
Janelle Anne Samonte
Megan Sampey
Latoya Sample
Latarri Sample
Tami Samples
Terrell Sampson
Jami Sampson
Gayle Sams
Diane Sams
Hannah Sams
Sedigheh Samsani
Bonnie Samuel
Tiesha Samuel
Cassandra Samuel
Tia Samuels
Michael Samuels
Janelle Samuels
Michael San Juan
Kristoffer San Luis
Shivana Sanasee
Sofia Sanborn
Brett Sanborn
Janie Sanbower
Tina Sanchez
Eric Sanchez
Lauren Sanchez
Sarah Sanchez
Kayla Sanchez
Melissa Sanchez
Nicole Sanchez
Jennifer Sanchez
Jesus Sanchez
Denise Sanchez
Alma Sanchez
Marisol Sanchez
Steven Sanchez
Christina Sanchez
Christina Sanchez
Kiana Sanchez
Carlos Sanchez
Kristen Sanchez
Pedro Sanchez
Trisha Sanchez
Victoria Sanchez
Jaime Sanchez
Melissa Sanchez
Feliciano Sanchez
Misty Sanchez
Diego Sanchez
Stephanie Sanchez
Adriana Sanchez
Breanna Sanchez
Miguel Sanchez
Damian Sanchez Aguirre
Mareli Sanchez Aviles
Kayla Sanchez-Hawkins
Lillian Sanchez-Perez
Michelle Sanchious
Alicia Sanciprian
Jesus Sandate-Sanchez
Steven Sandberg
Tracy Sandell
Brian Sanderlin
Trischa Sanders
Michele Sanders
Wilberta Sanders
Nikki Sanders
Nicole Sanders
Booker Sanders
Byron Sanders
Jasmine Sanders
Bobby Sanders
Sharrelga Sanders
Cynthia Sanders
Cody Sanders
Elizbeth Sanders
Michael Sanders
Jeraldine Sanders
Jason Sanders
Jason Sanders
Cynthia Sanders
Carlos Sanders
Nateesha Sanders
Madaline Sanders
Gabrielle Sanders
Sandra Sanderson
Anne Sandheinrich
Michael Sandidge
Jodi Sandifer
Briavael Sandine
Robert Sandness
Peter Sando
Jaime Sandoval
DeeAnn Sandoval
Aaron Sandoval
Stephanie Sandoval
Loretta Sandoval
Susan Sandoval
Helen Sandoval
Bernard Sandridge
Derrick Sands
Gina Sands
Veronique Sanford
Kristina Sanger
Lynn Sanger
Nadia Sanguinetti
Leslie Sanker
Christy Sankey
Daniel Sannar
Kristina Sanner
Diana Santa Cruz
Christina Santa Maria
Mary Santamaria
Therese Santana
Cynthia Santellan
Ricardo Santiago
Jorge Santiago
Joseph Santiago
Tatia Santiago
Tatiana Santiago
Ivelis Santiago
Derreck Santiago
Alicia Santiago
Jeanna Santiago
Madelyn Santiago
Vincent Santiago
Noimie Santiago-Serrano
Lynda Santino
Jeffrey Santohigashi
Christopher Santos
Sweeney Santos
Angela Santos
Sandra Santos
Rachel Santos
Roberto Santos
Ernest Santos Jr
Viravanh Saokho
Cassandra Saphore
Robert Sapp
Jessica Saravia
Nancy Sarette
Sussana Sarfo
Danny Sargent
Whitney Sargent
Deborah Sarhan
Jeffrey Saribalis
Cyndi Sarigianopoulos
Michele Sarkauskas
Anthony Sarmiento
Ann Sarmiento
Christina Sarne
Levi Sarnicki
Crystal Sarpy
Angela Sartain
Sarah Sartor
Deborah Sarver
Annette Sas
Paul Sass
Samantha Sasser
Michell Satcher
Sonja Sato
Nancy Satre
Renee Satterlee
Lisa Satterly
Curtis Satterwhite
Jaclyn Satzke
Joseph Sauble
Marisa Saucedo
Raymond Saucedo
Tavoris Saucier
Melissa Sauget
Teresa Sauls
Michael Saunders
Robert Saunders
Todd Saunders
Melanie Saunders
Wesley Saunders
Casey Saunders
Earnest Saunders
Valerie Saunders
Shannon Saunders
Debra Saur
Jason Saurer
Christopher Sauser
Melyssa Sava
Michael Savage
Galia Savage
Samantha Savage
Christine Savage
Tywanna Savage
Stephen Savage
Phillip Savage
Ryan Savage
Zuri Savage
Heather Savage
Rose Ann Savea
Sydney Savino
Erica Savoy
Melanie Savysky
Sherri Sawyer
Jade Sawyer
Jerry Sawyer
Tammy Sawyer
Douglas Saxour
Pamela Saxton
Alyssa Saxton
Susan Sayers
Chae Sayers
Michael Sayles
Kimberly Saylor
Patricia Saylor
James Saylor
Suzette Sayre
Melissa Sbragia
Dana Scacco
Jason Scachette
Francesco Scafuro
Raymond Scahill
April Scales
Jessica Scales
Stacey Scalf
Jacqueline Scalf
Jayme Scammahorn
Matthew Scandrol
Kaley Scanlan
Rebecca Scannell
Brittany Scarberry
Robert Scarborough
Ruby Scarbrook
Jessica Scates
Christina Scaturro
Cassandra Scearce
Billy Scearce
Rebecca Schaal
Tammy Schaale
Brooks Schaar
Sandra Schabert
Jamie Schaecher
Mary Schaefer
Jodie Schaefer
Rebecca Schaeffer
Donald Schaening
Amanda Schafer
Karen Schafer
Carmen Schafer
Cynthia Schaller
Cathleen Schaller
Daniel Schaller
Alix Schamberger
Brianne Schankin
Audrey Schanning
Deborah Schardinger
Elizabeth Scharnhorst
Vickie Schaub
Kristen Schaub
Emilee Schaumann
Nathan Schaurer
Lynette Scheid
Laura Scheidt
Matthew Scheiner
Belinda Schell
Lindy Schenberger
Jenny Schenck
Victoria Schenck
Lee Schenck
Phillip Scherer
Daniel Scherer
Lori Anne Scherer
Kamila Schertel
Dylan Schesso
Summer Scheuer
Justin Scheumann
Sara Schibel
Peter Schichtel
Becky Schiedeck
Dusten Schiefert
Jeanmarie Schields
Keith Schiesz
Toni Schiesz
Kathryn Schill
Sheryl Schill
William Schill
Marcia Schillermann
Teresa Schindler
Eric Schindler
Lyndel Schipper
Brianna Schiraldi
Todd Schissel
Yvonne Schlangen
Amanda Schlegel
Kelle Schleis
Sheron Schley
Kayla Schlipf
Debora Schlueter
Samantha Schmahl
Jacklyn Schmetzer
Sierra Schmetzer
Paul Schmick
Susan Schmid
Christopher Schmid
Eric Schmidt
Anna Schmidt
Kurt Schmidt
Ryan Schmidt
Michelle Schmidt
Hannah Schmidt
Michelle Schmidt
Kathleen Schmidt
Kathleen Schmidt
Michael Schmidt
Donald Schmidt
April Schmidt
Aaron Schmidt
Paul Schmidt
Sarah Schmidt
Adam Schmidt
Jeffrey Schmidt
Patricia Schmidt Moore
Corrina Schmierer
Sarah Schmitt
Elise Schmitt
Linda Schmitthausler
Kimbrilee Schmitz
Katrina Schmude
Bobak Schnackel
Nicole Schnarrs
Danny Schneeweis
Janet Schneid
Erin Schneider
L'oreal Schneider
Janelle Schneider
Nicholas Schneider
Megan Schneider
Laurie Schneider
Jolene Schneider
David Schneider
Amber Schneider
Amber Schneider
Priscilla Schneider
Kristen Schnepel
Sherri Schnipke
Melissa Schnoop
Miranda Schober
Leeanna Schoeder
Shannon Schoene
Stefany Schoener
Deborah Schoewe
Jessica Schofield
Edward Scholl
James Schomer
Matthew Schoonover
Judy Schrader
Michele Schrader
Thomas Schram
Paulette Schrank
Viola Schrantz
Candice Schreckengost
Sara Schreiber
Philip Schreuders
Candice Schreuders
Trenton Schreyer
Ava Schrimsher
Kara Schriner
Robert Schrock
Alan Schroeder
Connie Schroeder
Kelsi Schroeder
Lisa Schroeder
Laura Schroeder
Charlotte Schroeder
Martha Schroer
Laura Schrop
Max Schubert
Terry Schuenemeyer
Jason Schueren
Bobbi Schuermann
Robin Schuett
Leanne Schuetz
Julia Schulenburg
Todd Schuller
Pamela Schulman
Andrea Schulte
Matthew Schultheis
Sheila Schultz
Sara Schultz
Heather Schultz
Michael Schultz
Theresa Schultz
Victoria Schultz
Carolynn Schultz
Jacqueline Schultz
Bradford Schultz
Francesca Schulz
James Schulz
Ronda Schulz
Paul Schulz
Kimberly Schulz
Eric Schulz
Garth Schumacher
Nancy Schumacher
Isaiah Schumacker
John Schumann
Timothy Schuneman
Dawn Schutt
Jennifer Schutte
Zachary Schwab
Morgan Schwall
Audrey Schwandt
Dominique Schwartz
Michael Schwartz
Jennifer Schwartz
Jodi Schwartz
Bethany Schwarz
Rebecca Schwarze
Nelda Schwegman
Kimberly Schweihs
Marie Schwein
Dawn Schweitzer
Nicola Schweitzer
Diana Schweitzer-Garlow
Susan Schwend
Tianna Schwendiman
LaDona Schwertman
Paul Schwertner
Holly Schwieger-Hoak
Melissa Sciacca
Angela Sciarrino
Patricia Science
Linda Scipione
Elizabeth Scoggins
Cynthia Scothorne
Carroline Scotland
Glenda Scott
Sheila Scott
Ruth Scott
Brandy Scott
Dana Scott
Marcia Scott
Petress Scott
Wendy Scott
Angel Scott
Andrea Scott
Sandy Scott
Patricia Scott
Zandra Scott
David Scott
Phillip Scott
Jessica Scott
Colleen Scott
Sara Scott
Jennifer Scott
Sharwanda Scott
Charles Scott
Carleen Scott
Judith Scott
Aretha Scott
Lisa Scott
Jalon Scott
Tadasha Scott
Kanika Scott
Brianna Scott
Paul Scott
Christopher Scott
Cindy Scott
Alice Scott
Kristen Scott
Henry Scott
Amanda Scott
Tamara Scott
Rebecca Scott
Rita Scott
Angela Scott
Susan Scott
Courtney Scott
Cynthia Scott
Arianna Scott
Sabrina Scott
James Scott
Angela Scott
Megan Scott
James Scott
Stephanie Scott-Lewis
Virgil Scragg
Kearson Scriven
Lyndsay Scriver
Maria Scroggins
Shelby Scroggs
Sandy Scrubb
Cindy Scruggs
Rebecca Seabert
Tasha Seabron
Lora Seabury
Annie Seagraves
Charles Seagroves
Teria Seah
Chandra Seal
Elizabeth Seale
Lesley Seale
Stephanie Seales
Ikeira Sealie
Shelby Sealock
Tara Seals
Sterling Seals
Tatiana Seals-Jackson
Troy Seaman
Jennifer Seamans
Nanette Seann
Aizia Searcy
Nathaniel Searl
Richard Sears
Patricia Sears
Cindel Sears
Lakesia Sears
Teresa Sears
Robert Seaton
William Seaver
Mark Seay
Heather Sebak
Courtney Sebastian
Audra Sebastian
Ramon Sebastian
Dennis Sebastian
Michelle Sebastian-Simon
Lee Sebel
Joann Sebetka
Desirae Sechrest
Laverne Seck
Rachel Seckler
Megan Seckman
Jeffrey Secrest
Thomas Sederstrom
David Sedillo
Robert Sedillo
Benjamin Sedley
Alyxandria Sedlock
John Sedor
Douglas Seeger
Amy Seeger
Heather Seeger
Melissa Seehausen
Richard Seeley
Amy Seely
Jenelle Segno
Maddison Seib
Chad Seibert
John Seibert
Jeri Seibert
Amy Seibert
Faith Seibert-Hickman
Autumn Seidenstricker
Shannon Seider
Rachel Seidner
Tera Seidov
Felix Seier
Barbara Seifert
Terry Seigfried
Jennifer Seigrist
Scott Seiler Jr
Bret Seipel
Stephanie Sejersen
Sean Sejersen
Laura Sekula
Duke Sekyere
Angela Selby-Pagan
Ronald Seldon
Joseph Seldon
Sylvia Selinger
Jeremiah Sell
Teresa Sellers
Stephanie Sellers
Meldon Sellers
Jeremiah Sellers
Kimberly Sellers
Michael Sellers
Michael Sellers
Mary Sellers
Brinton Sellers
Amanda Selman
Christina Selmos
Thomas Selner
Brandie Selover
Stephen Selph
Melekije Selvaggio
Samantha Semcho
Freda Semones
Preston Sempel
Jennifer Semro
Dawn Sengstacken
Linda Senical
Carmen Senior
Jason Senior
Julie Senior
Amy Sensat
Douglas Sensenbrenner
Jamie Sentney
Jaimie Sepulveda
Anthony Sere
Jason Serfas
Katrina Sergent
Diane Seri
Terri Serjern
Evelyn Sermino
April Serna
Kari Serna
Christie Serns
Camille Serrano
Nicholas Serrano
Samuel Serrano
Beth Serrano
Jonathan Serrano
Christopher Serrano
Cindy Sersig
Theodore Serve
Philana Servin
Martha Sesma
Angela Sesma
Tracy Sessions
Jason Sessions
Shamara Sessom
Kenny Sessoms
Walter Seth
Samantha Settembrino
Jessica Settle
Jennie Settles
Scott Severance
Lynda Severson
Wanda Sexton
Aaron Sexton
Fabienne Sexton
Cassie Seybold
Beatrice Seymore
Keya Seymore
Katie Seymour
Staci Seymour
Mira Sgondea
Tracey Sgroi
Jeffery Shackelford
Victor Shackelford
Mary Frances Shaddix
Deanne Shaddrick
Jeannette Shade
Tina Shadow
Christopher Shadrick
Tina Shafer
Kenneth Shafer
Korianne Shafer
Tommy Shafer
Kathryn Shaffer
Debra Shaffer
Lauren Shaffer
Michael Shaffer
Mira Shah
Rebecca Shahan
Briana Shahan
Daracia Shaheed
Atessa Shahkar
William Shain
Beth Shaknaitis
Stanley Shambley
Elayne Shamitz
Ekaterina Shandina
Yolanda Shands
Justin Shane
Kathleen Shaniuk
Melissa Shank
Steven Shankland
Paulette Shanks
Felicia Shanks
Joel Shankula
Steven Shanley
Sarah Shannon
Morghan Shannon
Brian Shannon
Latrisha Shans-Bryson
Amanda Shapard
Christie Sharda
Fazreen Shariff
Kara Sharkey
Beth Sharma
Kenneth Sharp
Charles Sharp
Shawn Sharp
Wayne Sharp
Casie Sharpe
Amanda Sharpe
Stephanie Sharpe
Annette Sharpe
Phillip Sharpton
Andrea Shartzer
Laura Shattuck
Stephanie Shattuck
Heidi Shaulis
Mary Shave
Jeanette Shaw
Christopher Shaw
Patricia Shaw
Leigh Shaw
David Shaw
Zachary Shaw
Loni Shaw
Teresa Shaw
Sarah Shaw
Carla Shaw
Alexis Shaw
David Shaw
Cory Shaw
Richard Shaw
Samuel Shaw
Barbara Shaw
Reginald Shaw
Earl Shawley Jr.
Amy Shaw-Moody
Robert Shay
Linda Shay
Adam Shea
Patryce Shea
Timothy Shea II
Melissa Sheaffer-Thrasher
Antamia Sheard
Ruth Shearer
William Shedrick
Mary-Ellen Sheehan
Shannon Sheehan
Angela Sheehan
Stacy Sheer
Jennifer Sheese
Daniel Sheets
Bridget Sheets
Hannah Sheets
Rebecca Sheets
Kurt Sheffield
Justin Sheffield
Victor Sheifer
Subhanvali Sheik
DeLani Shelby
Bambi Shelby
Erica Shelby
Misty Shelby
Christopher Shelby
Deborah Sheldon
Cindy Sheldon
Ashley Shell
Annette Shelley
Brian Shelley
Patricia Shelly
Carlos Shelmire
Jannie Shelnutt
Jennifer Shelnutt
Arianna Shelswell
Johnny Shelton
Vikki Shelton
Danny Shelton
Eric Shelton
Vernessa Shelton
BeLinda Shelton
Sandra Shelton
Kristen Shelton
Karstin Shelton
Deborah Shelton
Wayne Shems
Jason Shepard
Ponce Shepard
Charlie Shepard
Darcy Shepard
Victoria Shepard
Angela Shepard
Linda Shepard
Brynelle Shepeck
Jennie Sheperd
Jeremie Sheperd
Joel Shepherd
Laura Shepherd
Dawn Shepherd
Michael Shepherd
Janet Shepherd
Leroy Shepherd
Anthony Shepherd
Brook Shepherd
Cristina Sheppard
Lowell Sheppard
Jennifer Sheppard
Tonya Sheppard
Katherine Sheppard
Dwight Sheppard
Maria Sheppard
Tamralyn Shepphird
Melanie Sher
Rae Sherk
Daphne Sherlock
Dawn Sherman
Autumnne Sherman
Justin Sherman
Lori Sherman
Charles Sherman
Monya Sherman
Gladys Sheron
Dana Sherrer
Alina Sherrett
Lisa Sherretts
Angela Sherrill
Jessica Sherrill Wickman
Jacob Sherrock
Edna Sherron
Jessica Sherwood
Kristen Sherwood
Chase Shetler
Tina Shick
Shela Shields
Richard Shields
Jeffrey Shields
Tametta Shields
William Shields III
Susan Shier
Patrick Shiflett
Beverley Shillingford
Kiyomi Shimabukuro
Allyson Shimasaki
Crystal Shimono
Nicholas Shine
Michelle Shinkovich
Maureen Shipbaugh
Virginia Shipes
Mary Shipley
Amanda Shipp
Melissa Shires
Esther Shires
Jamie Shirey
Stacie Shirk
Crissy Shirkey
Samantha Shirkhanbaigi
Daniel Shirley
Tilor Shirley
Brittainy Shirley
Paul Shirley
Christopher Shirley
Leah Shirley
Luz Shirron
Terra Shishido
Crystal Shively
Jessica Shivers
Elizabeth Shoals
Tegan Shock
Deborah Shock
Corey Shockey
Wayne Shockley
Robin Shockley
Angela Shoecraft
Stacy Shoemaker
Samantha Shoemaker
Joshua Shoenberger
Rita Sholar
Amanda Shongo
Stephen Shook
John Shook
Mark Shope
Renee Shores
Christina Short
Dustin Short
Tina Short
Dalillah Short
Dawn Short
Angelique Short
Korelle Short
April Short
Steven Shotwell
Gladys Shoup
Christine Shoup
Jessica Shoup
Terra Shouse
Chester Showalter IV
Scott Showers
Tammy Showers
Amber Shown
Rochelle Shrake
David Shrimp
Donna Shrout
Donald Shroyer
Geramie Shrum
Megan Shuback
Max Shubin
Penny Shuey
Stacy Shuffler
Summer Shugart
Cynthia Shugart
Quavis Shuler
Jenna Shultz
Christine Shultz
Susan Shultz
Naomi Shumaker
Shaylynn Shumway
Leanna Shuster
Joyce Shutts
Larry Shy
Amy Shy
Jennifer Shy
Shayna Siano
Serina Siano
Artie Sias
Christy Sibbald
Gina Sibert
Allana Sibille
Rhiannon Sibley
Vincent Sicilia
Michelle Siciliano
Donna Sidden
Michelle Siddles
Heidi Sidle
Felicia Sidney
Adrienne Noelle Sidney
Theresa Siebenlist
Rachel Sieber
Rebecca Sieber
Teresa Siebold
Adam Siegel
Etta Siegel
Dena Siegert
Kathlyn Siegler
Sandra Sierra
Alma Sierra
Victoria Sierra
Sandy Sierra
Amanda Sifferath
Paula Sifuentes
Stephanie Sifuentes Smith
Tammy Sigmon
Benjamin Signor
Kortney Signor-Sager
Kelcey Sihanourath
Christopher Sikes
Shelly Sikora
Sandra Silk
Andrew Sill
Jamie Sillas
Michelle Siller
Cecilia Silsby
Seth Silsby
Lindsey Silva
David Silva
Michelly Silva
Ana Silva
Melissa Silva
Carrie Silva
Manuel Silva
Carmen Silva
Verna Silva-Pablo
Jean Silvas
Gloria Silver
Karen Silvera
Dino Silvera
Morgan Silverman
Curtis Silvers
Angela Silvers
Sondra Silvers
Matthew Silvey
Tanya Silvia
Anastajia Silvia
Parris Silvis
Chenoa Sime
Chris Ann Simek
Cristie Simens
Jordan Simerson
Scott Simerson
Ashley Simkins
Charnita Simmonds
Cherrice Simmons
Daniel Simmons
Jeffrey Simmons
Heidi Simmons
Shannon Simmons
James Simmons
David Simmons
Delores Simmons
Michael Simmons
Willie Simmons
Raynard Simmons
Christopher Simmons
Brandon Simmons
Sara Simmons
Brittany Simmons
Megan Simmons
Jessica Simmons
Charissa Simmons
Jymme Simmons
Tina Simmons
Jennifer Simmons
Meverette Simmons
Justin Simmons
Patricia Simmons
Lucinda Simmons
Katherine Simmons
Kelsie Simmons
Matthew Simmons
Angela Simmons-Jones
Pebbles Simms
Destiny Simms
Linda Simms
Timothy Simon
Jeannine Simon
Jamie Simon
Margaret Simon
Douglas Simon
Kimberly Simonalle
Kris Simonds
Jessica Simoneau
Christina Simonelli
Tracy Simonetta
Emily Simons
Krystle Simonsen
Erica Simonson
April Simonton
Pierre Simonvil
Selena Simpkins
Kari Simpkins
James Simpson
Kim Simpson
Issaac Simpson
Rebecca Simpson
Amy Simpson
Noor Simpson
Pamela Simpson
Paul Simpson
Tammy Simpson
Matthew Simpson
Tina Simpson
Keli Simpson
Raandi Simpson-Goss
Jamila Sims
Hope Sims
Theressa Sims
William Sims
Kelly Sims
Sherice Sims
Tiana Sims
Terrence Sinapati
Marlane Sinclair
Quantasha Sinclair
Brent Sinclair
Amber Sincock
James Sines
Michael Singer
Heather Singer
Ravinder Singh
Loveleen Singh
Prabjot Singh
David Singh
Sarah Singletary
Tamyra Singleton
Treva Singleton
Robert Singleton
Danielle Singleton
Amanda Singleton
Stephanie Singleton
Laura Singleton
Teresa Sink
Jessica Sinkel
Holly Sinkkanen
Sharon Sinnett-Kelly
Scott Sinprasith
Heather Sinyard
Justine Siple
Bonnie Siracuse
Jessica Sirek
Brittany Siroki
Heather Sirotkin
Ashley Sisino
Ashley Sisk
Jodi Sisneros
Andrea Sisson
Erin Sisson
Bethany Sisson
Bougain Sistak
Vivian Sistrunk
Elaine Sites
Anousith Sithammavong
Claudia Sithy
Allen Sivels
Darrel Siver
Cherokee Sixx
Traci Sizemore
Christy Sizemore
Stacey Sjostedt
Nicholas Skaggs
Timothy Skaggs
Kathleen Skaggs
David Skelton
Hope Skibitsky
Michael Skidmore
Chad Skidmore
Nancy Skidmore
Cariann Skiff
Lucas Skillman
Shawna Skinner
Marvin Skinner
Michelle Skinner
James Skinner
Kristen Skinner
Laura Skinner
Lauren Skinner
Jessica Sklenar
Rachel Skora
John Skorija
Robert Skorupski
Jeffrey Skourtis
Brian Skowronski
Daniel Skurka
Terri Skutt
Delphi Skysong
Heather Slack
Kevin Slack
Tamela Slade
Darlene Slagle
Timothy Slater
Jennifer Slater
Terisa Slater
Sean Slater
Alexis Slater
Karly Slattery
Kristal Slay
Christina Slay
Jonathan Slayton
Clarissa Sledge
Andrew Slegl
Shelva Slifer
Lanai Slifka
Kaitlin Sliger
Heather Sloan
Douglas Sloan
Melissa Sloan
Terry Sloan
Lisa Sloan
Crystal Slomovitz
Christopher Slone
Maria Slone
Harry Slone
Kelly Sloniger
Roy Slootheer
James Slough
Jacqui Slowe
Heather Slowik
Rodney Slupe
Nickoala Slupe
Denise Smalley
Leslie Smalley
Katherine Smallman
Kathleen Smart
George Smart
Bryan Smart
Nicole Smartt
Kathryn Smathers
Jackquelyn Smeal
Gary Smedley
Scott Smejkal
Lisa Smid
Craig Smidt
Jessica Smidt
Joseph Smiley
Daniel Smiley
Leah Smit
Earl Smith
Elizabeth Smith
Diane Smith
Hillary Smith
Pamela Smith
Patrick Smith
Heather Smith
Carey Smith
Sylvia Smith
Aydra Smith
Richardo Smith
Sarah Smith
Floyd Smith
Tamanique Smith
Rose Smith
Kamesha Smith
Natalie Smith
Heather Smith
Kimberly Smith
Joleen Smith
Sharon Smith
Catherine Smith
Rebecca Smith
Leon Smith
Jeffrey Smith
Valerie Smith
LaToya Smith
Harold Smith
Jonathan Smith
Elaine Smith
Lynda Smith
Rebecca Smith
Beth Smith
Pattie Smith
Jeanette Smith
Lynda Smith
Lakia Smith
Michael Smith
Gary Smith
Shannon Smith
Jennifer Smith
Breia Smith
Laurie Smith
Krystal Smith
Nikki Smith
Jennifer Smith
Priscilla Smith
Tanya Smith
Andrea Smith
Crystal Smith
Valerie Smith
Patricia Smith
Matthew Smith
Georgia Smith
Rebecca Smith
Dapheney Smith
Roseanna Smith
Jason Smith
Kelsey Smith
Willona Smith
Marilyn Smith
Antonia Smith
Erin Smith
Delena Smith
Tamara Smith
Phyllis Smith
Donald Smith
George Smith
Jason Smith
Nathasa Smith
Danielle Smith
Jason Smith
Harry Smith
Wayne Smith
Justina Smith
Tiffany Smith
Allen Smith
Valeria Smith
Sandi Smith
Elizabeth Smith
Brittany Smith
Megan Smith
Tammy Smith
Charles Smith
Maxwell Smith
Tejuana Smith
Ronina Smith
Jennifer Smith
Ryan Smith
Tina Smith
Tyrone Smith
Sarah Smith
James Smith
Micheal Smith
Amy Smith
Diane Smith
Brett Smith
Negar Smith
Suzanna Smith
Garylle Smith
Jaunita Smith
Deandra Smith
Patricia Smith
Jason Smith
Kevin Smith
Eric Smith
Jeremy Smith
Meagan Smith
Alicia Smith
Zakeenah Smith
Julia Smith
Danielle Smith
Kenosha Smith
Petra Smith
Adam Smith
Terneal Smith
Caleb Smith
Michael Smith
Joseph Smith
Michael Smith
Erika Smith
Luther Smith
Cathleen Smith
Tanisia Smith
Yvonne Smith
Lance Smith
Joshua Smith
Donna Smith
Tonya Smith
Linda Smith
Vincent Smith
Renae Smith
Carrie Smith
Stephanie Smith
Daryl Smith
Marianne Smith
Linda Smith
Barbara Smith
Marion Smith
Ronald Smith
Denita Smith
Kathy Smith
Kasey Smith
Stephen Smith
Owen Smith
Cheryl Smith
Rebecca Smith
Shawn Smith
Eric Smith
Joshua Smith
Geoffrey Smith
Terry Smith
Beth Smith
Dawn Smith
Brian Smith
Danielle Smith
Charles Smith
Robert Smith
Misty Smith
Gloria Smith
Jerone Smith
Lanetta Smith
Tiffany Smith
Todd Smith
Candace Smith
Rachel Smith
Tracey Smith
Jennifer Smith
Carlton Smith
Scott Smith
David Smith
Douglas Smith
Gail Smith
Richard Smith
Michael Smith
Shiekkera Smith
Loretta Smith
Amanda Smith
Tonya Smith
Jessica Smith
Jaclyn Smith
Andrew Smith
Sarah Smith
Lisa Marie Smith
Trena Smith
Bonnie Smith
Susan Smith
Clifford Smith
Gary Smith
Marcia Smith
Deborah Smith
Gloriel Smith
Michelle Smith
Andria Smith
Sarah Smith
Stephen Smith
Karen Smith
Monica Smith
Laquisha Smith
Kelly Smith
Timothy Smith
Shannon Smith
Randy Smith
Amber Smith
YoSonjia Smith
Ashley Smith
Gerald Smith
Ashley Smith
Shaina Smith
Ronald Smith
Lakeisha Smith
Kenneth Smith
Larinna Smith
Rainey Smith
David Smith
Elizabeth Smith
Holly Smith
Scott Smith
Renalta Smith
Tasjma Smith
Jonathan Smith
Brandon Smith
Cody Smith
Terrance Smith
Desiree Smith
Theresa Smith
Eric Smith II
David Smith Jr
Daryl Smith Jr.
Jeffery Smith Jr.
Clarence Smith, Jr. III
Cherish Smithart
Soja Smith-Crockford
Charlene Smith-Echols
Jessica Smithers
Sierra Smith-Henry
Linda Smithies
Patricia Smith-McClay
Trella Smithson
Darrell Smoot
Rosie Smoots
Nicole Smosny
Robert Smotherman
Monica Smothers
Michelle Smothers
Jennifer Smullen
Heather Sneed
Zipporah Sneed
David Sneed
Willie Snell
Brian Snell
Tracy Snell
Ashley Snell
Brandi Snider
Robin Snider
April Snider
Lindsey Snodgrass
Kassandra Snoke
Alissa Snook
Brooke Snook
Gina Snow
Jeremy Snow
Karl Snow
Denise Snow
Jared Snow
Amber Snow
Abigail Snow
Timmy Snow
Thomas Snowden
Ann Snuffer
Keith Snuffin
Mary Snyder
Christopher Snyder
Cassandra Snyder
Kenneth Snyder
Ruth Snyder
Samuel Snyder
Corey Snyder
William Snyder
Denise Snyder
Dawn Snyder
Roxanne Snyder
Cherish Snyder
Heidi Snyder
William Snyder
Jamie Snyder
Tammy Snyder
Holly Snyder
Stephen Snyder
Dawn Snyder
Kelci Snyder
Travis Snyder
Alexandria Sobalvarro
Myles Sobczak
Jenna Sobelman
Karla Sobenes-Desme
Eduardo Socorro
Jason Soenksen
Lindsey Soffiantino
Amanda Sokol
Jake Sokol
Armin Sokolovic
Renee Solano
Darlene Solano
Thomas Solanto
Leah Solari
Danielle Soldner
Kirsten Soler
Elvis Soler
Jaime Solis
Gladys adeline Solis
Ana Solis
Mary Solivan
Anthony Soliz
Harmony Sollock-Downing
Krystal Solomon
Krystal Solomon
Jonathan Solomon
Brianna Solomon-Turay
Demencio Solorzano
Brittany Soltese
Lynn Somenauer
Susan Somers
William Somerville
Shanita Somerville
Wilhelm Sommer
Jennifer Sommers
Sharon Sommers
Stephani Sommerville
Carmen Sommerville
Bismark Somuah
Julie Sonderegger
Christina Sondrini
Rosemarie Songsong
Andre Sonne
Letitia Sonnenberg
Kimberly Sontag
Glora Sooman
Kelly Soper
Erinne Sopko
Senetha Sopko
Adam Sorci
Jennifer Sordia
Tribbie Sorensen
John Sorensen
Wade Sorensen
Gail Sorensen
Carlos Soria
Heather Sornig
Michael Soroka
Monica Sorrell
Kate-Lynne Sorrell
Rebecah Sorrell
Alison Sorrells
Crimson Sorrels
Martha Sosa
Jorge Sosa
Diana Sosa Morales
Julie Sossamon
Laura Soto
Daniel Soto
Ivania Soto
Roberto Soto
Monica Soto
Taelor Soto
Lorena Soto
Abbey Soto
Edward Soto
Bobby Soto
Adan Soto
Angel Soto Jr.
Teresa Soto-Gomez
Jorge Sotomayor
George Sotomayor
Amber Soucy
Laura Soukup
Kyle Soule
Kelly Soule
Alfonis Sound
David Sousa
David Sousa
Heather Soutar
Andrew South
Kerisha South
Lee Ann Southall
Lori Southwell
Barry Southworth
Linda Souza
Marcia Souza
David Sowards
Jake Sowders
Jon Soyring
Esteban Soza
Kim Sozio
John Spada
Stephanie Spaeth
Colleen Spahn
Shelly Spain
Terisa Spain
Darius Spall
Nicole Spang
Kara Spang
Erica Spangler
Brenda Spangler
Carolyn Spangler
Samantha Spann
Kimberly Spanton
Andrea Sparks
Rebecca Sparks
Patricia Sparks
Nicholas Sparks
Jeffry Sparrow
Tommy Speakman
Lisa Speaks
Rachel Spear
Janice Spears
Justin Spears
Jennifer Spears
Nikki Spears
Kemesha Spears
Dawn Spears
Therese Speas
Eric Specht
Julie Speck
Jacki Speck
Douglas Speeckaert
Jamion Speed
Clinton Speer
Matthew Spees
Dennis Speicher
La Tanya Speight
Felicia Speight
Percetta Speight-Marrs
John Spell
Sherry Spence
Verldon Spence
Kathleen Spence
Jeremy Spence
Elizabeth Spencer
Dana Spencer
Sherletrice Spencer
Kathleen Spencer
Nina Spencer
Francesca Spencer
Chantel Spencer
Jeremy Spencer
Hilary Spencer
Cynthia Spencer
Jamie Spencer
Monica Spencer
Erin Spencer-Priebe
Amanda Spence-Sullivan
Suzanne Sper
Kimberly Speranza
Lynette Speroni
Donna Sperounis
Eileen Spetz
Audrey Spica-Hunley
Abigail Spiegel
Jerome Spies
Tracey Spies
Rena Spinar
James Spinks
Elizabeth Spinnato
Joi Spirlock
Natanielle Spitz
Kenneth Spitzer
Eli Spitzer
Karen Spivey
Deborah Spotts
Brenda Spradlin
Tammara Spraggins
David Sprague
Lindsey Sprague
Nicole Sprague
Steven Sprague
Melanie Sprang
Sean Michael Spranger
Stephanie Spriggins
Joy Spriggs
Tiffenie Spriggs
Kevin Spring
Jennifer Springer
Tessa Springer
Michael Sproull
Larisa Sproul-Minjiras
Brandon Sprowl
Nichole Spurbeck
Andrea Spurling
Nichelle Spyke
Laurie Squyres
Jennifer Sroka
Holly St Andrews
Melissa St John
Peter St Onge
Rino St Pierre
David St. John
Flaviana St. Luce
Charlene St. Sauveur
Shaun-Michael St. Vincent
Theresa Staaf
Ashlee Stabile
Loretta Stabler
George Stacey
Cassandra Stack
Manasseh Stackhouse
Robert Stacy
Leslie Stacy
Kelsie Staeheli
Mary Staffeld
Temera Stafford
Amanda Stafford
Brooke Stafford
Haley Stafford
Adam Stafford
Robert Stage
Nania Staggers
Jamie Staggs
Kerrie Stahl
Maria Stahl
Regina Staie
Lauraann Stainsby
Cheryl Stallard
Jamie Stallcup
Kristine Stalling
Allyson Stallings
Sherita Stallings
Kevin Stallworth
Lakesha Stallworth
Sydney Stallworth
Damien Stallworth
Anna Stalnaker
Brian Stalnaker
January Stalons
Anita Stalvey
Dennis Stamey
Daniel Stamper
Keshia Stamps
Alicia Stamps
Lindsey Stamsek
Amanda Stanbarger
Harold Stanberry
Lisa Stanco
Sara Standel
David Stander
Joseph Standifird
Ronny Standish
Darcy Standish
Alisa Standley
David Standley
Shannon Standridge
Joseph Stanford
William Stanford
Keith Stanger
Amanda Stangl
Heather Stanick
Faith Stankovic
Jennifer Stanley
Lee Stanley
Jeffrey Stanley
Karen Stanley
Cara Stanley
Heidi Stanley
Donna Stanley
Julie Stanley
Amy Stanley
Wolf Stanley
Robert Stanley III
Cassandra Stanphill
Elizabeth Stansel
Cynthia Stansell
Bethany Stanton
Keshia Stapleton
Breanna Stapleton
Martin Stapleton
Kathleen Stark
Kelsey Stark Mazzacone
Maggie Starkey
Denton Starkweather
Kimberly Starling
Stacy Starling
Kerry Starnes
Sandra Starns
Jennifer Starr
Brandy Starr
Christopher Starr
William Starr
Shandi Starr
Matthew Starr
Ashley Starrett
Jennifer Starr-Lugo
Samantha Stasik
Loretta Staten
Brittany Staten
Bryan Stater
Leah Staton
Shanna Staton
Lisa Staves
Shawna Stearns
Kameran Stearns
Bruce Stebbins
Erik Steckel
Jamie Stedge
Cynthia Stedman
Darryl Stedman
Gerald Steele
Elizabeth Steele
Samantha Steele
Kathryn Steele
Erin Steele
Laurie Steele
Margarette Steele
Brittany Steele
Jenny Steen
Megan Steen
Austin Steen
James Steenburg
Diana Steers
Mary Steever
Justin Steffans
Krystal Steffensen
Paul Stegall
Bonita Steger
Brandi Steiger
Richard Steigerwalt
Kiersten Stein
Ericka Stein
Lisa Steinbaugh
Christine Steinberger
Dale Steinek
Erica Steiner
Kurt Steiner
Emily Steiner
Karen Steines
Jason Steinhauer
Elizabeth Steinke
Ashley Steinman
Jacqueline Stellema-Herrera
Victoria Stemen
Tammy Stemeye
Bryan Stempowski
Amanda Stenfors
Lisa Steng
Heidi Stentz
Norman Stentz
Wayne Stepan
Jessica Stepanski
Virginia Stephan
Stephanie Stephan
Docklure Stephanus
Mortiz Stephens
Carla Stephens
Shilloy Stephens
Jennifer Stephens
Lawrence Stephens
Jessica Stephens
Linda Stephens
John Stephens
Tina Stephens
Stephanie Stephens
Kandie Stephens
LuAnn Stephenson
Johnathan Stephenson
Linda Stephenson
Rodney Stephenson
Nicholas Stephenson
Theresa Stephenson
Tina Stephenson
Victoria Stephenson
Amber Stepp
Kizer Sterbinsky
Melanie Sterling
Dorothy Sterling
Kimberly Sterling
Andrea Sterling-Queen
Eric Sterman
Katelynn Stermel
Timothy Stern
Jeanette Stern
Kathleen Sterner
Jennifer Sternthal
Jessica Stetson
Jennifer Stetson
Sylwia Stetz
Torree Steve
Michelle Stevens
Sarah Stevens
Deanna Stevens
John Stevens
John Stevens
Tonya Stevens
Will Stevens
Michael Stevens
Madison Stevens
Jeanne Stevens
Colleen Stevens
Todd Stevens
Carolyn Stevens
Nancy Stevens
Emile Stevens
Darlene Stevens
Denise Stevens
Christina Stevens
Paul Stevens
Gerrodd Stevenson
Toya Stevenson
Lillie Stevenson
Reginald Stevenson
William Stevenson
Latosha Stevenson
Rodrick Stevenson
Jessica Steverson
Sean Steward
Karen Steward
John Stewart
James Stewart
Lisa Stewart
Cynthia Stewart
Victoria Stewart
Russell Stewart
Crystal Stewart
Latonya Stewart
Javonda Stewart
Tammy Stewart
Ashley Stewart
Breanna Stewart
Chessica Stewart
Kathryn Stewart
Joshua Stewart
James Stewart
Don Stewart
James Stewart
Sheryl Stewart
Robert Stewart
Sheila Stewart
Brandy Stewart
Jeanie Stewart
Marcus Stewart
Candy Stewart
Melissa Stewart
Robert Stewart
Karen Stewart
Kareem Stewart
Taylor Stewart
Lakishia Stewart
Michael Stewart
Joseph Stewart Jr
Diana Stibak
Lillian Stibor
Gideon Stibor
Laura Stidd
Stephanie Stidham
David Stidham
Tammy Stiemke
Joseph Stier
Tracy Stiers
Lacie Stifflemire
Samantha Stiffler
Carolee Stiffler
David Stiffler Jr.
Christopher Stigall
Arika Stiles
Jodeana Stillings
Danielle Stills
Tanya Stimpson
Debra Stimson
Kera Lynn Stinchcomb
Leonard Stinson
Darryl Stinson
Nils Stinson
Denise Stinson
David Stinson
Karena Stipp
Anne Stirling
Michael Stites
Brandi Stites
Andrew Stitt
Jennifer Stock
Sabrina Stock
Alison Stocking
Bonnie Stockstill
Lisa Stockwell
Nicole Stoddard
Susan Stoddard
William Stoddard
Dana Stoeckel
Melissa Stoeckle
Sam Stoecklin
William Stoeffler
Lindsay Stoever
Theresa Stoffer
Emily Stogdill
Wanda Stokely
Candice Stokes
Delane Stokes
Alicia Stokes
Jennifer Stokes
Valicisa Stokes
Heidi Stone
Denise Stone
Carisa Stone
Angela Stone
Rokeya Stone
Patrick Stone
Susan Stone
Brandy Stone
Melody Stone
John Stone
Christie Stone
Ronnie Stone
Sharon Stone
Nathan Stone
Abrielle Stone
Heath Stone
William Stone Jr.
Kenneth Stoneback
Beverly Stonum
Heather Stopera
Joseph Stopka
Kristy Storm
Timothy Storms
Brittany Story
Adrienne Story
Tamara Stotler
Susan Stott
Debra Stotts
Robbie Stoudenmire-Hawkins
Kara Stoughton
Susannah Stout
Jennifer Stout
Matthew Stout
Elizabeth Stout
Vicki Stout
Shelby Stout
Tina Stoute
Clayton Stovall
Dominique Stovall
Stephen Stovall
Nanci Stover
Trishanda Stowe
Gloria Stowe
Marla Stowell
Michael Stoxstill
Scott Stoy
Anne Stoyer
Joseph Stoyko
Kendall Stoyle
Eddie Stoyle
Michele Stradford
Bonnie Straight
Jeffrey Strainer
Joshua Straiton
Kellene Strandberg
Jordan Strange
William Strange IV
Kimberly Strassburger
Clifford Stratton
Carrie Strawder
Ashley Strawser
Ashley Strayer
Nina Strayer
William Streaker
Lynda Streeper
Andrea Street
Cassandra Street
Shana Street
William Streitfeld
Sarah Strejcek
Lynne Strembel
Brant Stremmel
Tamara Strenke
Kelli Strese
Joshua Strickland
Juliane Strickland
Tia Strickland
Stacey Strickland
Christina Strickland
Charlette Strickland
Cindy Strickland
Connie Stricklin
Kimberly Strine
Jennifer Stringer
Malia Stringham
Dennis Strissel
Eugenia Strockis
Stephanie Strodtman
Donna Strodtman
Mark Stroisch
Patricia Stroman
Sarah Stroman-Howard
Talitha Stromberg
Elinore Strong
Joannie Strong
Barbara Strong
Kerry Strong
Helen Strong
Kindra Strong
April Strong
Heather Strong
Arsenio Strong
Gregory Strong
Joshua Strope
Jennifer Strope
Shannon Stroschein
Elizabeth Strother
Rachel Strother
Timothy Strother
Christy Stroud
Jill Strube
Angela Strube
Patricia Struck
George Strutzel
King Stuart
Anastasia Stuart
Lana Stuart
Rachel Stuart
Tracy Stuart
Kellen Stuart
Crystal Stubblefield
Marilyn Stubblefield
David Stuckey
Marcie Stuckey
Andrea Studnicki
Ashlee Stuehrmann
Mathew Stuesser
John Stueve
Connie Stufflestreet
Kristina Stulce
Katherine Stull
Lee Stump
Erica Stump
Susan Sturgeon
Nathan Sturgis
Jeffrey Sturm
Damien Sturt
Rebecca Stutzman
Vicki Styburski
Christina Styer
Sherrial Styles
Barcado Styles
Jerri Styles
Iolanda Suamataia
Maxine Suarez
Ashley Suarez
Oscar Suarez
Nikelle Suarez
Kristin Suarez
Noemi Suarez
Christian Suarez
Francesca Suarez
Alex Suazo
Karen Suchon
Elizabeth Suckley
Michael Sudik
Linda Suen
Gloria Suero
Yukie Sugahara
Kyla Sugars
Alan Suggs
Summer Suggs
Deltra Suggs
Chandra Sugitaya
Holly Suhr
Yvette Sulano
Brandy Sulewski
Karen Sullenger
Shauna Sullins
Eileen Sullivan
Hannah Sullivan
Trenton Sullivan
Vicki Sullivan
Brenda Sullivan
Cecelia Sullivan
Brett Sullivan
Kenyetta Sullivan
Amanda Sullivan
Lee Sullivan
Hannah Sullivan
Nicole Sullivan
Amber Sullivan
Thomas Sullivan
Scott Sullivan
Cara Sullivan
Brigitte Sullivan
Christopher Sullivan
Denae Sullivan
Dawn Sullivant
Melissa Sullo
Sean Sulski
Erica Summerfield
Shawna Summerford
Monique Summers
Laurie Summers
Robert Summers
Matthew Summers
Michael Summers
Derek Summers
Gina Summers
Tasha Summerson
Marilyn Summers-Stephens
Zachary Summy
Suzann Sumner
Hilary Sumnicht
David Sumpter
Catherine Sumrall
Ryan Sund
Louiko Sunday
Michael Sundberg
Joseph Sunderland
Amanda Suppes
Rachel Surber
Sharon Surface
Alyssa Surgeon
Stacy Suriano
Elisa Surowiec
Manoucheka Surpris
Margaret Surratt
Janay Surratt
Renee Sus
Nikki Susigan
Dominic Susino
Vanessa Sussman
Debora Suszek
Jane Sutherland
Kathleen Sutherland
Michelle Sutherland
Connie Sutherland
Erin Sutliffe
Melissa Sutphin
Lana Sutton
Jennifer Sutton
Regina Sutton
Anthony Sutton
Kimberly Sutton
Anita Sutton
Jessi Sutton
Elizabeth Suydam
Jessica Suzano
Ashley Svare
Raquel Svec
Gabriel Svetcos
Scott Svetkovich
Debbie Swafford
Angela Swafford
Meuy Swafford
Teresa Swaim
Susan Swain
Diane Swalley
Diana Swallows
Steven Swan
William Swaney
Dane Swanger
Michael Swango
Jennifer Swann
Jade Swann
Marlys Swanson
Alfonso Swanson
Mary Swanson
Bradley Swanson
Sasha Swanson
Hila Swanson
Noah Swanson
Patricia Swanson
Kirk Swanson
Sarah Swanson
Sharon Swanson
Jessica Swanson
Stephanie Swanton
Carol Swapp
Ronald Swarthout
Christine Swavely
Tabitha Swearingen
Trudy Swearingen
Karen Sweeney
Laveeta Sweeney
Zachary Sweeney
Francine Sweet
Kelly Sweet
Latosha Sweet
Cody Sweet
Tyson Sweet
Gloria Sweeting
Cozette Sweetman
Mara Sweets
Kenna Sweglar
Lynelle Swensen
Patrice Swenson
Tammy Swenson
Tiffany Swift
Stephan Swimmer
Caitlin Swindle
Jane Swindler
Kimberly Swindoll
Meghann Swiney
Cheryl Swinford
John Swink Jr.
Michele Swisher
Mary Switras
Laceyjay Switzer
Lance Swofford
Randy Swope
Meghan Swords
Von Swygert
Sherryvonne Sy
Cheryl Sydnor
Zia Syed
Bradley Sykes
Rebekah Sykes
Tomeka Sykes
Jennifer Sykes
Bridgetta Sykes
Rebecca Sykes
Nichole Sykes
Gregory Sykes
Jamey Sykes
Kelly Sylvester
Jasmine Sylvester
Adam Syme
Crystal Symington
Dosha Syner
Todd Synoground
Kathaleen Syphax
Rebecca Szarek
Claudine Szczepaniak
Jullie Szikszai
Jason Szybka
NancyJoy Szymczak

Fa'apusa Ta'afua
Laura Tabarez
Vera Tabb
Lisa Tabet-Chavez
Jeremy Taboada
Ame Tabor
Jessica Tabor
Alicia Tabor
Troy Tabor
Carolyn Tabunar
Daniel Tachick
Christopher Tacke
Johnathan Tackett
Robert Tackett
Elisa Tacy
Jaynis Tadlock
Kimberli Taft
Xavier Taggart
Jennifer Tagle
Ashley Tague
Gilbert Tahanian
Fogafoga Tai-Gray
Laura Tajalle
Rochelle Takata
Maxwell Takyi
Sean Talamas
Sheila Talavera
Amy Talbert
Jerry Talbert
Lisa Talbott
Stephanie Taliaferro
Serena Talledo
Judith Tallmon
Joshua Talltree
Franklyn Tamarez
Peggy Tamayo
Kelly Tamborski
Pamela Tamlyn
Jim Tams
Gail Tan
Cristina Tanase
Michelle Tancrede
Alexie Tandy
Lisa Tandy
Michael Taney
Stephanie Tanguay
Rhonda Tangye
Sarah Tankovich
Betty Tanner
Jill Tanner
Galen Tanner
Richard Kevin Tanner
Tracey Tanner
Sara Tant
Yolanda Tapia
Theresa Tapley
Jessica Tapscott
Caleb Taratuta
Brian Tarbill
Raymond Tarbox
Deborah Tarcza
Kiara Tardy
D.Anthony Tarin
Shaista Tariq
Crystal Tarro
Sandra Tart
Deborah Tarter
Kyle Tassi
Larry Tate
Ronald Tate
Jessie Tate
Dawn Tate
Marquetta Tate
Jasmine Tate
Wendi Tate
Jason Tate
Joyce Tate
Bill Tate
Miki Tate
Katy Tate
LaShonda Tate-Johnson
Laura Tatman
Julia Tatro
Germaine Tauati
Megan Taufi
Josephine Tauoa
David Taurman
Makalina Tausinga
Vanessa Tave
Ariel Tayler-Smith
Tanya Taylor
Joshua Taylor
Tameka Taylor
Christina Taylor
Jeri Taylor
Drew Taylor
Rebecca Taylor
Jason Taylor
Shavonne Taylor
Janice Taylor
Anitra Taylor
Jay Taylor
Tanya Taylor
Cindy Taylor
Brannon Taylor
JoAnn Taylor
Deborah Taylor
Dennis Taylor
Jeffrey Taylor
Seirra Taylor
Cheryl Taylor
Matthew Taylor
Cheryl Taylor
Megan Taylor
Alisa Taylor
Jennifer Taylor
Keisha Taylor
Stephan Taylor
Angela Taylor
Lacole Taylor
Jessica Taylor
George Taylor
Sandra Taylor
Dylan Taylor
Quentin Taylor
Brittany Taylor
Stephanie Taylor
Jonah Taylor
Megan Taylor
Kimberly Taylor
Robyn Taylor
Timothy Taylor
Robert Taylor
Derrick Taylor
Stephanie Taylor
Ronald Taylor
Jennifer Taylor
Amanda Taylor
Shaunelle Taylor
Brian Taylor
Brandye Taylor
Amy Taylor
Katrina Taylor
Darryl Taylor
Maciel Taylor
Brenda Taylor
Angela Taylor
Dawn Taylor
Lesley Taylor
Heather Taylor
Kristi Taylor
Carol Taylor
Rebecca Taylor
Felicia Taylor
Deanna Taylor
Karen Taylor
Celeste Taylor
Katherine Taylor
Melody Taylor
Jerome Taylor
Marilyn Taylor
Robyn Taylor
Victoria Taylor
Jalaire Taylor
Nicole Taylor
Shagala Taylor
Marsha Taylor
Charita Taylor
Cynthia Taylor
Christina Taylor
Brandy Taylor
Zachary Taylor
Tricia Taylor
Cara Taylor
Brandy Taylor
Julie Taylor
Ibn Taylor
Tiffany Teachout
Jessica Teachworth
Starr Teague
Ruth Teague
Keyona Teamer
Linda Teasdale
Erica Tedder
John Tedford
David Tee
Kara Teele
Pamela Teer David
Christian Teeter
Crystalynn Teeters
Sharon Teets
Deanna Teitsma
Stephanie Teitz
Anna Tejada
Ginger Tejada
Giovanni Tejada
Jose Tejeda
Grace Telles
Lori Tellez
Erik Tellin
Jerome Tellis
Sheryl Tello
Adevlyn Temple
Angela Templemire
Eric Tencza
Esther Tenenbaum
Sarah Tenison
Tracy Tennant
Barbara Tennant
Patricia Tennessee
Lorilyn Tenney
Abby Tenney
Danielle Tenney
Alexandra Tennison
Laura Tentler Latragna
James Tepelides
Katherine Tepp
Robin Teran
Maria Terc
Thomas Terhune
Teresa Terpstra
Recca Terral
Jacquelyn Terrell
Ashley Terrell
Mary Terrones
Torey Terrones
Ryan Terry
Mary Terry
Zackery Terry
Jerrilynn Terry
Shawn Terry
Paige Terry
Michele Terry
Kimberly Terry
Felisha Terwilliger
Gregory Terwilliger
Jecole Terzano
Sherry Tesar
Fikre Tesfaye
Julia Teska
Seimoyne Teson
Shawn Testa
Leah Testone
Ebenezer Tetteh-Ahinakwa
Loren Tetzlaff
Bruce Tetzloff
Melissa Texley
Nicole Thames
Clara Thames
Yeng Thao
Shoua Thao
Juanita Thatcher
Matthew Thatcher
Theresa Thaxton
Lisa Thayn
Becky Thebes
Kate Theil
Karen Theise
Jeffrey Thelander
Kelli Themel
Jobeth Theno
Jason Theriault
Elizabeth Theriault
Chad Theriault
Jennifer Thexton
Raigene Thibaut
Jennifer Thibaut
Jennifer Thibeault
Christine Thibodeaux
Shirley Thibodeaux
Lanette Thibodeaux
James Thicksten
David Thiede
Alecia Thien
Melanie Thierjung-Laing
Brittany Thies
Marquita Thigpen
Ciarra Thogerson
Tirus Tholen
April Thoma
Delores Thomas
Farideh Thomas
Krista Thomas
Robert Thomas
Gloria Thomas
Cristy Thomas
David Thomas
Amy Thomas
Terriya Thomas
Mary Thomas
Alana Thomas
Cassandra Thomas
Timieka Thomas
Diane Thomas
Janel Thomas
Corina Thomas
Maria Thomas
Amanda Thomas
Cindy Thomas
Katrina Thomas
Samantha Thomas
Caryann Thomas
Brandy Thomas
Earl Thomas
Daniel Thomas
Tony Thomas
Sharshay Thomas
Loreal Thomas
Bryan Thomas
Jarrod Thomas
Richard Thomas
Nancy Thomas
Elton Thomas
Shameka Thomas
Latricia Thomas
Laura Thomas
Somer Thomas
Caprial Thomas
Crystal Thomas
Daphne Thomas
Corinne Thomas
Michael Thomas
Diane Thomas
Melanie Thomas
Crystal Thomas
Aric Thomas
Otis Thomas
Charles Thomas
Cynthia Thomas
Carrie Thomas
Calvin Thomas
Loretta Thomas
Angela Thomas
Marie Thomas
Cheryl Thomas
Beatrice Thomas
Ethel Thomas
Jarrell Thomas
Redus Thomas
Aaron Thomas
Carol Thomas
Heather Thomas
Tracy Thomas
Deborah Thomas
Jaime Thomas
Natasha Thomas
Kortnee Thomas
Violet Thomas
John Thomas
Tammy Thomas
Gregory Thomas
Odessa Thomas
Chioma Thomas
Aisha Thomas
Patrick Thomas
Larry Thomas
Robert Thomas
Johnnie Thomas
Sabrina Thomas
Airica Thomas
Melissa Thomas
Bobbi Thomas
David Thomas
Gilden Thomas II
William Thomas IV
Jamie Thomason
Alaina Thomassie
Queosha Thomas-Williams
Scott Thome
Andrew Thome
Gene Thomlinson
Keiska Thompkins
Winston Thompson
Robert Thompson
Karen Thompson
Andrea Thompson
Tracy Thompson
Seth Thompson
Teresa Thompson
Laurie Thompson
Mary Thompson
Earlene Thompson
Michael Thompson
Georgina Thompson
Caressa Thompson
Janice Thompson
Lindsay Thompson
Shantay Thompson
Shelly Thompson
Kevin Thompson
Scott Thompson
Dania Thompson
Angela Thompson
Naomi Thompson
Justin Thompson
Elizabeth Thompson
Karla Thompson
Ashley Thompson
Amber Thompson
Ira Thompson
Racene Thompson
Elizabeth Thompson
Jessica Thompson
Stephanie Thompson
Adison Thompson
Nicole Thompson
Jessica Thompson
Jennie Thompson
Caroline Thompson
Sherry Thompson
Bryan Thompson
Nicole Thompson
Kyle Thompson
Kristen Thompson
John Thompson
Bobbie Thompson
Reza Thompson
Tamsyn Thompson
Karen Thompson
Catherine Thompson
Dennis Thompson
Karen Thompson
Kevin Thompson
Mari Thompson
Mary Thompson
Brenda Thompson
Denise Thompson
Mitchel Thompson
Cathy Thompson
Diana Thompson
Quatonia Thompson
Colleen Thompson
Cassandra Thompson
Corey Thompson
Hannah Thompson
Renida Thompson
Elizabeth Thompson
Edward Thompson Jr
Mary Thompson-Appiah
SaVanna Thompson-Cowart
Kevin Thomsen
Tiffany Thomson
Alexander Thomson
Danielle Thorn
Brian Thorne
Michele Thorne
Kelly Thorne
Samuel Thorne
Ashley Thorne
Kenneth Thorne
Mayleen Thorne
Tammy Thornhill
Nichole Thornlimb
Melanie Thornton
Tracy Thornton
Sanganyika Thornton
Michael Thornton
Shane Thornton
Donald Thornton
Gara Thornton
Pamela Thornton
Denise Thornton
Debra Thornton
Michael Thornton
Robin Thornton
Kelley Thorpe
Michelle Thorpe
Elizabeth Thorup
Colleen Thrailkill
Heather Thrappas
Shawnita Threats
Deidre Threatt
Shonya Threatts
James Thrush
Isabella Thull
Aaron Thurman
Elaina Thurman
Catherine Thurston
Cory Thurston Lallo
Haley Thyng
Karen Tibbetts
Dahlian Tibbs
Alicia Tice
Kyle Tice
Melissa Tice-Crawford
Shawn Tidd
Teresa Tidwell
Sharon Tiedeman
Jeremy Tietjens
Analie Tigert
Valerie Tijerina
David Tikkanen
Riana Tilford
Joshua Tiller
Jennifer Tiller
Crystal Tillery
Beverly Tilley
Sharon Tillison
Lucille Tillman
Stephanie Tillmann
Carl Tilman
Leandra Tilson
Rebecca Tilton
Heidi Timer
Mirinda Timm Frazier
Derek Timmer
Jacqueline Timmerman
Debra Timmons
Gypsy Timmons
Nicole Timms
Shandy Timp
Nicholas Tina
Aracely Tinajero
Lisa Tindal
Marsha Tindall
Joy Tindell
John Tingle
Lynnette Tinsley
Kevin Tinsley
Ana Alicia Tippit
Audrey Tippy
Bryson Tirado
Fabiola Tirado-Bickhardt
Frank Tiscareno
Samuel Tisci
Robert Tisdale
Monika Tittmann
Sean Titus
Henry Tjarks
Christopher Tkal
Helena Tlusty
Natalie Tobin
Jodie Toby
Christopher Todd
Kameha Todd
Diane Todd
Sarah Todd
Reba Todd
Karri Todd
Lisa Todd
Tiffany Todd
Scott Todd
Laurie Tohom
Bryan Tokarski
Joshua Tokarsky
Secelia Tolbert
Tamia Tolbert
Veronica Tolbert-Ware
Sarah Tole
Julie Toler
Kristynn Toliniu
Melissa Tolios
Carrie Toliver
Kimberly Tolley
Dwayne Tolliver
Leah Tolliver
Zazil Toma
Mark Tomaino
Karlene Tomassetti
Cynthia Tomei
Alison Tomko
Keli Tomlinson
Barbara Tomlinson
Carla Tommasetti
Kristin Tompkins
Christina Tompkinson
Gigi Tomsu
Kathryn Tona Bonilla
Samantha Tonelli
Shryl Toner-Whitesell
Eric Toney
Tracy Tonkovich
Wayne Tooker
Tyler Tooley
Amber Toomey
Michele Toon
Gretchen Too-Pauulu
Angela Topito
Tonya Topolinski
Alexander Torelli
Delina Torelli
Mirta Toro
Cindy Toro
Richard Toro Asins
Susanne Toro-Davis
Cynthia Torosian
Anja Torrence
Louis Torres
Madeline Torres
Raphael Torres
Ruth Torres
Kandy Torres
Iris Torres
David Torres
Johnna Torres
Michel Torres
Jennifer Torres
Amy Torres
Marcela Torres
Emily Torres
Anna Lisa Torres
Amber Torres
Victor Torres
Edith Torres
Zamira Torres
Katherine Torres
Julia Torres
Luis Torres
Lemuel Torres
Ruben Torres
Alfredo Torres
Marla Torres
Christina Torretta
Armando Torrez
Roberto Torrez
Christian Torrie
Jamie Torrigino
Nancy Tortora
Randy Tortorelli
Hilda Toscano
Joy Toshio
Melissa Toth
Amanda Toto
LeAnn Totten
Dallas Totten
Oscar Tovar
Mechele Towe
Jonna Tower
Terri Towery
Angela Towler
Travunty Towles
Tracie Towner
Danielle Towner
Andrea Towns
Lana Towns
Vernon Townsend
Latia Townsend
Ronald Townsend
Arlene Townsend
Breanna Townsend
Diane Townsend
Shaunda Townsend
Kendall Townsend
Elizabeth Townsend-Saeteros
Daphne Townzen
Lawrence Towver
Pamela Tozer
Jeanine Tracey
Jamie Tracey
Gary Tracy
Tracy Trader
James Trader
John Trader
Kerry Trafton
Melissa Trahan
Erica Trahan
Jennifer Trahan
Keith Trahan
Brooklyn Trail
Kashanna Trammell
Jenny Tran
Dawn Tran
Jenny Tran
Lana Tran
Danny Tran
Ann Tran
William Trapp
Gina Trapp
Karla Trask
Jeremy Trask
Samantha Traubel
Jeffrey Trauthwein
Annie Travers
Marshall Travis
Kathryn Travis
Christina Travis
Tianne Travis
Michelle Travis Haynes
Steven Trawick
Brandi Trawick
Tawnia Trayers
Johnathan Traylor
Jessica Treadaway
Cary Treanor
Connie Tredway
Amber Trejo
Cilia Trejos
Heather Tremaine
James Trent
Andrea Trent
Megan Trenz
Jason Trenz
Corey Trepanier
Felisha Tresler
Lisa Trevino
April Trevino
Yvette Trevino
Leanne Trevino
Shandee Trevino
Mark Trevithick
Summer Trevor
Tanisha Triche-Chapman
Breanna Triebe
John Trigueiro
Michael Trillo
Jennifer Trim
Whitney Trimble
Marcy Trimble
Katrina Trinidad
Amy Trinkaus
Latasha Triplett
Lorrie Triplett
Adrienne Triplett
Mallory Triplett
Anthony Triplett
Crystal Trivolis
Felix Troche
Grant Trochesset
Whitley Trochesset
Michelle Trogdon
Joseph Trojacek
Jared Trombley
Dale Trombley
Danielle Tron
Memory Trosper
Shannon Tross
John Troup
Megan Trout
Elizabeth Troutman
Diana Troutman
Phillip Troutman
Lisa Trovato-Powers
Earl Trower
Andrea Troxel
Cynthia Troxell-Pawling
Timothy Troyer
Jessica Truax
Cory Trueblood
Ashley Truelove
Jacquelyn Truesdale
Brandi Truett
Deanna Trujillo
Elena Trujillo
John Trujillo
Amber Trujillo
Chris Trujillo
Amber Trujillo
Juan Trujillo
Chrystina Trulove-Reyes
Stephanie Truly
Faye Trumbold
Anthony Trumpy
Christopher Truncellito
Angela Trunick
Maria Trunzo
Jeremy Truscello
Lisa Trush
Jackie Trussler
Kristine Tsai
Angelo Tsaousis
Robert Tschida Jr.
Sharon Tsosie
Elizabeth Tsoukalas
Milton Tuairau
Tatiana Tubbs
John Tubbs
Michael Tubbs
Timothy Tubbs
Michael Tuccillo
Joshua Tuccolo
Daryel Tucker
Juanita Tucker
Tina Tucker
Garey Tucker
Joan Tucker
Jeremy Tucker
Ashlie Tucker
Jill Tucker
Marcus Tucker
Clifton Tucker
Trisha Tucker
Nicole Tucker
Temeka Tucker
Andrew Tucker
Vanessa Tucker
Nicholaus Tucky
Serena Tuepker
Ariana Tufariello
Alicia Tuft
Georgiana Tufts
Craig Tuggle
Brandi Tuggle
Elizabeth Tuholski
Valerie Tuinei-Flora
Edward Tuli II
Judy Tullier
Darrin Tullis
Julie Tully
Melissa Tumbleson
Larry Tumlin
Joseph Tumminello
Lorraine Tunzi
Carrie Tuomala
Phillip Turano
Amy Turbe
Jimmy Turbeville
Reina Turcios
Susan Turkmen
David Turley
Christi Turley
Cathleen Turnbow
Peter Turner
Jeremy Turner
Cynthia Turner
Jacqueline Turner
Christine Turner
Quinn Turner
Rozetta Turner
Danita Turner
Tana Turner
Tiffaney Turner
Sharon Turner
Correy Turner
Nanette Turner
Katherine Turner
Sharon Turner
Toni Turner
Kay Turner
Joyce Turner
Lisa Turner
Kristilyn Turner
Felicia Turner
Erin Turner
Tina Turner
Peggy Turner
Patricia Turner
Suzy Turner
Germani Turner
Celeste Turner
Tammy Turner
Maria Turner
GiCynda Turner
Dearndra Turner
Arica Turner
Shelley Turner-Riley
Joshua Turnmire
Elliott Turpen
Debbie Turpit
Pamela Turrentine
Natalia Turturica
Giustina Turturro Souter
David Tuscany
Jeffrey Tuscany
Jennifer Tustin
Alysha Tutein Velez
Diana Tuten
Kimberly Tuten
Heather Tuttle
John Tuttle
Samantha Tuttle
Michelle Twidwell
Bonnie Elizabeth Twietmeyer
Autumn Twist
Yvonne Tye
Herbert Tyler
Jeffrey Tyler
Lori Tyler
Pamela Tyler
Javonda Tyler
Anna Tyler
Anne Tyler
Jeremy Tyler
Kevin Tyler
Charles Tynes
Robert Tyo
Teresa Tyree
Randall Tyson
Jane Tyson

Marci Uchytil
Kamini Udairaj
Christian Ufkin
Benjamin Uher
Clarhens Uhl
Erin Ullom
Bobbie Ullom
Ashlei Ulmer
Jena Ulrich
Mary Ulrich
Norma Uludag
Susanne Ulvi
Shelly Umana Martinez
Nicholas Umble
Frederick Umipig
Jessalyn Ummel
Darlene Unale
Michelle Underhill
Robert Underwood
Amanda Underwood
Les Underwood
Kelley Underwood
Ashley Underwood
Ciara Underwood
David Underwood
Rabshakel Underwood
Jacob Underwood
Carolyn Unger
Dawn Unger-Czarnecki
Natasha Unland
Jeffrey Updyke
Scott Upham Jr.
Jeanette Upright
Edward Uptagrafft
Susan Uptain
Sherry Uptmore
Stacy Upton
Ashley Upton
Dee Dee Uranga
Lori Urban
Louis Urban
Priscilla Urbina
Dyan Jede Urboda
Donna Urchak
Matthew Urdan
Juan Urdiales
Chrystal Urdiales
Roman Uribe
Jennifer Urich
Tiffany Urland
Dalaine Urquiola
Nicholas Urrutia
Leeza Urrutia
Trina Usher
Tammy Usher
David Ussery
Kenneth Utley
Christopher Utter
Brian Utterback
Mark Uzelac

Terri Vacek
Rachael Vacharasovan
Bethanie Vachon
Melanie Vaden
Fritzie Vader
Ruth Vaghela
Richard Vagnoni II
Amy Vail
Sara Vajgrt
Tuu Valaau
Wayne Valcour
Norman Valdes
Marisol Valdez
Hipolito Valdez
Rene Valdez
Estella Valdez Delgado
Sarah Valdivia
Katherine Valdivia
Salvador Valdivia
Russell Valdivia
Lourdes Valdivia
Melissa Valencia
Mariana Valencia Parra
Cristina Valenciatorres
Vanessa Valente Perryman
Jessica Valentine
Whitney Valentine
Debera Valentine
Connie Valentine
Serra Valentine
Angela Valentine
Autumn Valentine
Vanise Valentine
Ashley Valenzuela
Stephanie Valenzuela
Lisa Valenzuela
Julian Valenzuela
Roseann Valenzuela
Glenn Valis
Katherine Valle
Nicole Valle
Felipe Val'le Ly
Stephanie Vallejo
Katherine Vallejo
Jaime Valles
Lisa Valley
Serena Vallier
Timothy Vallin
Andrae Valmond
Dritan Valteri
Daisy Valtierra
Nathalie Valverde
Shareeha Van
Kurt Van Buren
Haylee Van Dalen
Samantha Van Daley
Louis Van De Mark
Sara Van De Water
Gladys van den Berg
David Van Der Wekken
Craig Van Diest
Tabatha Van Dunk
Kim Van Ellison
John Van Eps
Kathleen Van Etten
Brandi Van Gils
Carrie Van Hoesen
Jessica Van Horn
Christopher Van Horn
Tracy Van Kampen
Nanette Van Kirk
Angelique Van Meter
Cynthia Van Metre
Terra Van Osdell
Toby Van Osdell
Michael Van Pelt
Jeremy Van Pinxteren
Phillips Van Sant
Brianna Van Sickle
Jennifer Van Straten
Johnna Van Veen
Martha Van Vliet
Jacob Van Wagoner
Colby Van Wagoner
Jennifer Van Wanzeele
Paul Van Zeumeren
Amber Van Zeyl
Michael Vana
Betty VanAlstyne
Christopher Vanalstyne
Jo Vanblaricum
Beth Vance
Catherine Vance
JJ Vance
Tracy Vance
Shirley Vance
Michael Vanchieri
Margaret Vancuren
Raydena Vandam
Sandra Vandaveer
Crystal Vandegrift
Robert VanDenburgh
Darlene Vander Beek
Micah Vander Tuig
Lore Vanderbusse
Diana Vandergraph
Kristen Vanderhoof
Mary Vanderpool
Kodi VanderPool
Sandra VanderToolen
Cassi Vandewater
Chasity Vandiver
Reynaldo Vanegas
Anthony Vanek
Andrea Vanek
William Vanek
Mai Shoua Vang
Xue Vang
Alan VanGuilder
Tyler VanHecke
Asa Vann
George Vann
J'Nay Vann
Brenda Vann
Vicki Vann
Angela Vannest
Lacy VanNorman
Danielle Vanover
Patricia VanPelt
Thelma VanSile
Amy Vanslyke
David VanSlyke
Youlonda Vantrees
Leigh VanWinkle
Michael Vanzandt
Timothy Vap
Kristin Varallo
Althea Varela
Manuel Varela
Erika Varela
Christopher Varga
Patricia Varga
Maria Vargas
Donna Vargas
Jennifer Vargas
Amanda Vargas
Alyssa Vargas
Filadelfia Vargas
Craig Vargas
Joshua Vargas
Ruth Vargas
Donna Vargo
Robin Varnado
Bethany Varney
Tia Varni
Lisa Varrato
Jacob Varughese
Alyssa Varvarezos
Vasilis Vasilakis
Cindy Vasilie
Michele Vasold
Courtney Vasques
Marcos Vasquez
Melissa Vasquez
Kathleen Vasquez
Sindy Vasquez
Andrea Vasquez
Jesus Vasquez
Jason Vasquez
Donna Vassallo
Jennifer Vatousiou
Allen Vaughan
William Vaughan
William Vaughn
Chad Vaughn
Everette Vaughn
Joanne Vaughn
Kianay Vaughn
Terrie Vaughn
Patriciea Vaughn
Jalene Vaughn
Carol Vaughn
Sandi Vaughn
Suzanne Vaughn-Guy
Kerry Vault
Dawn Vavroch
Stephan Vayda
Jesus Vazquez
Victoria Vazquez
Pablo Vazquez
Frankie Vazquez
Lyanna Vazquez
Andrew Veach
Joyce Veasey
Courtney Veazey
Deborah Vecchiarello
Jennifer Vedenoff
Paige Vedsted
Bernice Veeder
Michael Veenendaal
Frank Vega
Stephanie Vega
Laura Vega
Daniel Vega
Eileen Vega
Ramon Vega
Jenifer Vehon
Colleen Veillon
Shannon Veitch
Shawnna Veitenheimer
Melissa Vela
Julie Velasco
Maria Isabelle Velasco
Joseph Velasquez
Segundo Velastegui
Peter Velazquez
Daisy Velazquez
Monica Velazquez
Roxana Velazquez
Clay Velazquez
Mary Velcich
Amy Veldstra
Jorge Velez
Amanda Velez
Evelyn Velez
Erick Velez
Michael Veloza Jr
Krystal Venable
Samantha Venable
Lori Venable
Tawnya Venable
Jessica Venable
Tanya Venazio
Michael Venditto
Kyrica Veney
April Veney
KathleenAnne Vengco
Maria Venneri
Kayla Ventura
Colleen Venyak
Luis Vera
Stephanie Vera
James Verbonitz
Anthony Verdicchio
Barbara Verdonck
Marlene Veres
Priscila Vergara
William Verge
Jodi Verhoeven-St John
Jonathan Verna
Christina Vernacchia
Heather Vernier
Stephanie Verostek
John Verrecchio
Anne Verret
Nancy Verrett-Rivers
Keith Vershay
Evelio Versoza
Jennifer Vertlieb
Erlynda Vessup
James Vest
Jennifer Vest
Paul Vestal
Michael Vetter
Geoffrey Veytia
Saige Via
Tracey Viator
Rebecca Viboolsittiseri
Dorn Vichcales
Shannon Vick
Chad Vick
Murneka Vickers
Jayme Vickers
Roza Vickers
Holly Vickers
Andrea Vickers
Gregory Vickers
Allison Vickrey
Debra Victor
Sarah Victoria
Amanda Vidal
Pamela Vidato Jordan
Virginia Vidaurri
Jose Vidaurri
Hersson Vides
Alissa Vieau
Christine Viele
Leah Viera
Deborah Vierra
Lori Vigesaa
Christopher Vigil
Tanya Vilano
Jessica Vilchis
Jamie Vildosola
Aida Villa
John Villacis
John Villagomez
Cristy Villagomez
Allison Villalobos
Irma Villalobos
Celeste Villalobos
Isidra Villalobos
Christopher Villani
Holly Villanueva
Beatriz Villarejo
Alfredo Villarreal
Jennifer Villarreal
Blanca Villarreal
Jessica Villarreal-Mock
Jeannette Villatoro
Olivia Villegas
Amanda Villegas
Sergio Villela
Destiny Vilmont
Savannah Vinardell
Savita Vinas
Kemly Vincent
Ana Vincent
Kristin Vinecke
Leah Vines
Bernard Viney
Heather Vinnie
Tanae Vino
LaDawna Vinson
April Vinson
Greta Vinston
Denise Vinton
James Vinup
Stephanie Viol
Rhonda Viola
Cassandra Violette
Ravyn Violette
Lyndsey Virga
Gia Virgadamo
Melissa Visage
Irina Vishnevskaya
Christopher Viso
Jennifer Vissering
Kimberly Vitale
Jessica Vitjathorn
Von Aaron Vivar
Luis Viveros
Jessyka Voepel
Justin Vogl
Jaycie Vogt
Brian Vogt Jr
Kimberly Voichescu
Tara Voigt
Sequoia Volk
Samantha Volker
Cynthia Volkmann
Jennifer Vollmer
Heather Volosin
Gerta Voltaire
John Volturo
Douglas Von Dohre
James Lee Von Dorsten
Jane Von Duering
Michelle Von Duhn
Rick Von Linsowe
Kathy Vong
Tycorrie Vongvirath
Angela VonSchmittou
Jessica Voorhees
Michael Voorhees
Nealie Vore
Beau Vore
John Vorhees
Gary Vorous
Mary Voss
Frances Vosti
Melissa Vovillia
Melissa Voyles
Jennifer Vozzo
Krin Vredenburg
Trung Vu
Julie Vu
Veronica Vuittonet
Sejfo Vukovic
John Vuletic
Janeen Vurro

Michael Wachob
Kyle Wachtstetter
Kayla Waddell
Brenda Waddell
Thomas Wade
Leah Wade
Richard Wade
Renee Wade
Darlene Wade
Natasha Wade
Heather Wade
Cindy Wade
Jennifer Wade
Cheryl Wade
Katie Wade
April Wade
Barbara Wade
Pamela Wade
Tamika Wade-Trott
Todd Wadkins
Jennifer Wager
Cami Wagers
Ronny Wagner
Corey Wagner
Kevin Wagner
Dawn Wagner
Jessica Wagner
Jennifer Wagner
Kathy Wagner
Rhoda Wagner
Timothy Wagner
Sarah Wagner
Daniel Wagner
Sheila Wagner
Jason Wagner
Kimberly Wagner
Douglas Wagner
Amie Wagner
Denise Wagoner
David Wagoner
Katherine Wagoner
Alisia Waguespack
Jennifer Wahl
Tandi Wahlsten
Amy Wailes
Michelle Wain
Joyce Wainwright
Katherine Wakefield
Bethany Walbaum
Sharlaine Walchly
Jennifer Walde
Brenda Waldeland
Brook Walden
Ellen Walden
Erika Waldo
Marla-Jo Waldo
Nicole Waldoch
Denise Waldrep
Kevin Waldron
John Waldron
Joanne Waldron
Maiya Waldrop
Tyna Walenski
Elisabeth Wales
Ronald Waline
Barbara Walker
Hope Walker
Melissa Walker
La Keisha Walker
Doretha Walker
Audra Walker
Janee Walker
Karena Walker
Sarah Walker
Walter Walker
Diamond Walker
Britney Walker
Marquita Walker
Jeff Walker
Terri Walker
Scott Walker
Martin Walker
Robert Walker
Jolanda Walker
Joanie Walker
Susan Walker
Alecia Walker
Charnita Walker
Kimberly Walker
Barbara Walker
Robert Walker
Sarah Walker
Michael Walker
Heather Walker
Calvin Walker
Deric Walker
John Walker
Julie Walker
April Walker
Lina Walker
Anthony Walker
Elizabeth Walker
Amber Walker
Yalonda Walker
Miranda Walker
Melissa Walker
Samuel Walker
Bethesda Walker
Rebekah Walker
Kevin Walkup
Blake Walkup
Natalie Wall
Desiree' Wall
Tamara Wall
Ryan Wall
Nichole Wall
Amy Wall
Melissa Wall
Stacey Wall
Misty Wallace
Dassin Wallace
Kimberly Wallace
Martha Wallace
Christopher Wallace
Carmen Wallace
Katherine Wallace
Rohan Wallace
Jennifer Wallace
Timothy Wallace
Darrell Wallace
Heather Wallace
Jo Ann Wallace
Edwin Wallace
Nikala Wallace
Robert Wallace
Nicole Wallace
Christine Ashley Wallace
Diana Wallace Murillo
Malori Wallace-Tolliver
DaShonda Wallach
Taylor Wallen
Tracy Waller
Gary Waller
Michael Waller
Teisha Wallinger
Delia Wallin-Gill
Joshua Walmer
Jessica Walmsley
Katherine Walrath
Regina Walsh
Brittany Walsh
Amandalea Walsh
Sean Walsh
Gabriela Walsh
Michelle Walsh
Cathryn Walsh
Billie Walsh
Justin Walsh
Brianna Walston
Amanda Walter
Alan Walter
Brittany Walter
Adrian Walter
Dawn Walters
Tangela Walters
Bobbi-Ann Walters
Keren Walters
Diana Walters
Pamela Walters
Kyle Walters
Tabatha Walters
Thomas Walters Jr.
Joanne Walther
Carole Waltimyer
Tammy Waltman
Kristina Waltmire
Michael Walton
Kristine Walton
Marquetta Walton
Misty Walton
Dawn Walton
Tracia Walzer
Tara Wampler
Shannon Wanamaker
Jillian Wanamaker
Cari Wandrey
Adriane Wane
Weiting Wang
Adrienne Wanless
Lisa Wansley
Linda Warburton
Damian Warburton
Christy Warchol
Anna Warczok
Rebecca Jo Ward
Dawn Ward
Tamara Ward
Lashawnda Ward
Ashley Ward
Nicholas Ward
Amber Ward
David Ward
Kimbralynn Ward
Michael Ward
Nicole Ward
Lisa Ward
KaVan Ward
Kelly Ward
Paula Ward
Mary Ward
Zena Ward
Justin Ward
Daniel Ward
Sean Ward
Nicole Ward
DeCoffette Ward
Jessica Ward
Breanna Ward
Tracine Ward
Isaac Ward
Joe Ward
Havilah Ward
Dannielle Ward
India Wardell
Roy Wardinski
Susan Ware
Jarhonda Ware
Ronny Ware
Chauncey Ware
Tracy Ware
Frank Wareyko
Jennifer Warfel
Carol Warford
Gianna Warhop
Angela Waring
Amena Warith Edres
Robert Warminsky
Jenny Warne
Kristina Warner
Sarah Warner
Laura Warner
Michael Warner
Ashley Warner
Carmeita Warner
Michael Warnick
Danny Warning
Jennifer Warr
Alecia Warren
Rebecca Warren
Stephanie Warren
Rachel Warren
Christy Warren
Sara Warren
Marisin Warren
Elizabeth Warren
Christine Warren
Joseph Warren
Kasey Warren
Andrea Warren
Heather Warren
Melissa Warren
Robert Warren
Carla Warren
Jacob Warren
Linda Warren
Avraham Warshaw
Jennifer Warshawsky
Salina Warthen
David Warwick
Kristi Waryas
Marcia Wasden
Diane Washburn
Nathan Washburn
William Washington
Sean Washington
Chrisner Washington
Christina Washington
Marco Washington
Violet Washington
Cynthia Washington
Sherri Washington
Whitney Washington
Kelisha Washington
Mianna Washington
Myrna Washington
Tonya Washington
George Washington
Damien Washington
Beth Washington
Delita Washington
Terry Washington
Erica Washington
Sonja Washington Stuart
John Washko
Sarah Wasicki
Douglas Wasilauski
Emmit Waskom
Karen Wassenberg
Tracy Wassman
Brittany Waterbury
Rosemary Waterfield
Craig Waterhouse
Elliot Waterkotte
Joseph Waterman
Kenneth Waters
Jill Waters
Beth Waters
Keith Waters
Sonia Wates
Kevin Watkins
April Watkins
Christopher Watkins
Kionna Watkins
Lyda Watkins
Erica Watkins
Dallas Watkins
Juanita Watkins
Malinda Watkins
Jessica Watkins
Amanda Watkins
Rhonda Watkins
Glissandia Watkins
Stacy Watkins
Khafre Watkins
Linda Watkins
Melanie Watkins
Brian Watson
Ieasha Watson
Ruanne Watson
Ashley Watson
Quenton Watson
Steven Watson
Heather Watson
Jerry Watson
Richard Watson
Lexia Watson
Christopher Watson
Jamie Watson
Carla Watson
Dennis Watson
Lillian Watson
Jerry Watson
Garey Watson
Paul Watson
Maurice Watson
Sheila Watson
Matthew Watson
Rowan Watson
Jessica Watson
Melvin Watson
Terri Watson
Shawn Watson
Brandi Watson
Kimberly Watson
Lynnae Watson
Justin Watson
Ian Watterson
David Wattles
Marcus Watts
Jennifer Watts
Anita Watts
Brenda Watts
Thomas Watts
Romona Watts-Ring
Ryan Way
Kelsey Wcela
Karen Weatherby
Rebecca Weatherford
Michael Weathersby
April Weatherston
Joby Weatherwax
Jennifer Weaver
Darryl Weaver
Paula Weaver
Heather Weaver
Regina Weaver
Jill Weaver
Vernon Weaver
Jennifer Weaver
Heidi Weaver
Mary-Kathryn Weaver
Sonya Weaver
Kendra Weaver
Maryanne Weaver
Cadilena Weaver-Jones
Jennifer Webb
Victoria Webb
Tammy Webb
Melisa Webb
Mia Webb
Karen Webb
Ryan Webb
Samantha Webb
Selah Webb
David Webb
Joseph Webb
Tracy Webb
Amanda Webb
Catherine Webber
Megan Webber
Sheryl Webb-Mosby
Amy Weber
Cara Weber
Bridget Weber
Bradley Weber
Kimberly Weber
Sandra Weber
Allison Weber
Linda Weber
Olga Webstad
Stormy Webster
Sherry Webster
Chastity Webster
Andrew Webster
Raelle Webster
Tyenishia Webster
Timothy Webster
George Webster
Timothy Webster
Lindsey Webster
Dana Weckstein
Julie Weckwerth
Philip Wedderburn
Varshala Weddle
James Wedge
Lynn Wedin
David Wedington
Kia Weed
Chantelle Weed
Brittany Weekley
Amanda Weeks
Amanda Weeks
Odessa Weeks
Lacey Weeks
Melissa Weems
Paul Weese
Jessica Weger
Timothy Wegner
Robert Wegner
Adam Wegner
Ashlee Wegner
Jennifer Weichers
Jeannie Weider
Robert Weidlein
Heather Weigandt
Sheryl Weigant
Richard Weigl
Melissa Weikel
Jason Weiland
Brandy Weiland
Jessica Weiler
Bethany Weimer
Lee Weinberg
Maria Weiner
Danielle Weiner
Denise Weingand
Erik Weingartner
Teryl Weinmeister
Sarah Weinreich
Jazmyn Weinzatl
Denise Weir
Samantha Weir
Shona Weirich
Leslie Weisenberger
Jessica Weiser
Emma Weiss
Alejandra Weiss
Susan Weiss
Trenson Weissgerber
Kelly Wejmar
Joyce Wekesser
Tiffany Welch
Jennifer Welch
Melanie Welch
DeLinda Welch
Deah Welch
Kristin Welch
Amber Welch
Michael Welch
Matthew Weld
Jennifer Welde
Jillene Weldon
Brian Weldy
Jacqueline Weller
Mary Weller
Joshua Weller Traulsen
Chameria Wellington
Lucas Wellman
Ashley Wells
Marsha Wells
Susan Wells
Sean Wells
Betty Wells
Eushaunda Wells
Chardinique Wells
Aurianna Wells
Allyson Wells
Sarah Wells
Melissa Wells
Patricia Wells
Christopher Wells
Shelly Wells
Jeffery Wells
Chris Wells
Emily Wells
Christina Wells
Jennifer Wells
Valarie Wells
Rebecca Welman
Julian Welmas
Steven Welsh
Jeannette Welsh
Candice Welsh
Roger Welsh
Christina Welsh
Stephen Welsh
Bobbie Weltch
Lori Welter
Douglas Wemple
Melany Wendeln
George Wendleton
Kelsey Wendlinger
Jaime Wendt
Joseph Wengler
Jade Wenrich
Christina Wentworth
Margaret Wenzel
Mari Wenzel
Trisha Wenzel
Erick Werbecki
Nicholas Weremblewski
Mandy Werlinger
Krista Werne
Kierra Werner
Alexander Wernsman
Kimberly Werring
Emily Werth
Michael Werthmann
Cheryl Wertman
Shauna Wesley
Douglas Wessel
Jonathan Wessman
K'Zell Wesson
Shelley West
Michael West
Gary West
Deloris West
Edward West
Randy West
Jeffrey West
Heather West
Robert West
Jessica West
Rachel West
Jontue West
Gary West
Robert West
Stephanie West
Adam West
Guy West
Heath West
Catherine West
Latina West
Katherine West
Meagan West
Treyvon West
Christine West
Pamela West
Vanessa Westberry
Rebecca Westbrook
Pamela Westbrook
Melaney Westbrook Barber
James Westdorp
Clayton Westercamp
Tia Westerman
Jennifer Westerman
David Westerman II
Derek Westfall
Billie Westfall-Elliott
Helen Westley
Brandon Westmoreland
John Westmoreland
Adam Weston
Amber Westra
David Westwood
Hans Wethal
Jamie Wetherald
Tina Wetherbee
Cynthia Wetli
Mandi Wetter
Jamie Wetzel
Missy Wetzel
Alicia Wexler
Judith Weyant
Kathy Whalen
Susan Whaley
Ryan Whaley
Shameka Wharton
Donald Wharton
Steven Wharton
Tammy Wheatley
Chelsea Wheeland
Jennifer Wheeler
Shelley Wheeler
Robin Wheeler
Tiffany Wheeler
Jaclyn Wheeler
Debra Wheeler
Danielle Wheeler
Joel Wheeler
Marybeth Wheeler
Kelsey Wheeler
Donna Wheeler
Tina Wheeler
Ambria Wheeler
Christopher Wheeler
Berkley Wheeler
Margaret Wheeler
Robert Wheeler
Carla Wheeler
Chandra Wheeler
Cassandra Wheeler
Melissa Whelan
John Whelan
Dorothy Whelan
Robyn Whetstone
Nancy Whetstone
Kayla Whetstone
Tamara Whidby
Jody Whipple
Wanda Whipple
Lawrence Whiston
William Whitaker
Nikki Whitaker
Kelley Whitaker
DawnaLee Whitaker
Cheryl Whitaker
Jonni Whitaker
Rebecca Whitaker
Todd Whitchelo
Tracy Whitcomb
Jennifer Whitcomb
Aric White
Kelly White
Teresa White
Evan White
Jaclyn White
Meagan White
Penny White
Michelle White
Varita White
Christopher White
Amy White
Debbie White
Daniel White
Druzella White
Cherisse White
Takara White
Julia White
Latonya White
Ryan White
Susan White
Marlana White
Tamika White
Melissa White
Erin White
Carlton White
James White
Joseph White
Anthony White
Karlena White
Nikole White
Julia White
Cheron White
Gerrall White
Anastasia White
Kyle White
Nathan White
Keisha White
Teresa White
Angela White
DeAnna White
Kimberly White
Shannon White
Dawn White
Melinda White
Bonnie White
Lesa White
Delynn White
Mary White
Jaired White
Phillip White
Shelly White
Penney White
Preston White
James White
Jennifer White
Sarah White
Ashley White
Jennifer White
Rachel White
Donald White
Richard White
Dustin White
Dwayne White
Alicia White
Sheila White-Asberry
Megan Whited
Janen Whitehead
Marie Whitehead
Martha Whitehead
Valorie Whitehill
Travis Whitenight
Steven Whitesell
Lisa Whitesell
Caron Whiteside
Chad Whiteside
Scarlet Whitesides
Jacquanna Whitfield
Justin Whitfield
Jennifer Whitfield
Barton Whitfield
Nathan Whiting
Harold Whitley
Melissa Whitlock
Andrew Whitlock
Denise Whitman
Rebecca Whitman
Sabrina Whitmer
Melanie Whitmore
Brandon Whitney
Sarah Whitney
Jeffery Whitney
Taylor Whitney
Amanda Whitney
Dorothy Whitney
Ernest Whittaker
Wendy Whittaker
Sandra Whittemore
Heather Whitten
Heather Whittington
Christopher Whittington
Cheryl Whittington
Deanna Whittington
Ryan Whittle
Robert Whittle
John Whitworth
Foy Wiard
Debra Wiarek
Melissa Wical
Mandi Wichman
Justin Wick
Susan Wickenden-Goldstrom
Joshua Wickham
Charissa Wicklund
Tanya Wicks
Veronica Wicks
Kevin Wicks
Mark Widdoss
Anthony Widener
Christopher Widener
Samantha Widmer
Robert Wiebbecke
Lisa Wiecerzak
Christi Wiedenhoffer
Julie Wiegand
Carl Wiegel
Jennifer Wieland
Paige Wiemers
Lisa Wienhoff
Amy Wiessinger
Kyle Wiessinger
Kimberly Wiggins
Roberta Wiggins
Shelby Wiggins
Antonia Wiggins
Natalie Wiggins
Carmisha Wiggins
Andrea Wiggins
Kristina Wiggins
Donelle Wiggs
Michael Wilbanks
Genevieve Wilbanks
Sabrina Wilbur
Robert Wilbur
David Wilburn
Gabriel Wilch
Marcia Wilcox
Royal Wilcox
Erin Wilcox
Virginia Wilcox
Rory Wilcox
Brian Wilcox
Dejenabe Wilcox
Susan Wild
John Wilde
Candy Wilder
Rebecca Wildman
Rebecca Wildrick
Doran Wildridge
Judy Wiles
Jeremy Wiles
Cynthia Wiley
Henryetta Wiley
Erica Wiley
Stephanie Wilfong
Jeremy Wilfred
Sacha Wilharm
Theresa Wilhelm
Jessica Wilhelm
Vicki Wilhelm
Tamara Wilhite
Shaun Wilke
Sheila Wilkerson
Cassandra Wilkerson
Micah Wilkerson
Jordan Wilkerson
Shawntray Wilkerson
Jane Wilkerson
Dustin Wilkerson
Roberta Wilkerson
Chad Wilkerson
Tiffany Wilkerson
Rebekah Wilkerson
Kathleen Wilkes
Tara Wilkey
Michele Wilkie
Joyce Wilkie
Andrew Wilkins
Terri Wilkins
Steven Wilkins
Margaret Wilkins
Greg Wilkins
Verdonna Wilkinson
Shaun Wilkinson
Patricia Wilkinson
Becky Wilkinson
Harry Wilkinson
Jasmine Wilkinson
Andrew Wilkow Jr.
Lindsey Willard
Lori Willers
Ronald Willett
Angela Willey
Jenny Willhoit
Joyce Williams
Amy Williams
Tracy Williams
Telly Williams
LeChelle Williams
Christi Williams
Cynthia Williams
Jessica Williams
Linda Williams
Angela Williams
Rebecca Williams
Roxanne Williams
Anthony Williams
Chad Williams
Yvonne Williams
Meaghan Williams
Velma Williams
Marie Williams
John Williams
Heather Williams
Utikie Williams
Ariel Williams
Michelle Williams
Valerie Williams
Marva Williams
Timeka Williams
Kristina Williams
Gerald Williams
Dana Williams
Isaac Williams
Meredith Williams
Shannon Williams
Zona Williams
Joel Williams
Michael Williams
Christy Williams
Damien Williams
Carla Williams
John Williams
Jefferson Williams
Tammye Williams
Jeffery Williams
Sheahan Williams
Kyle Williams
Grace Williams
Gillian Williams
Vanetia Williams
Ryan Williams
Lyndsey Williams
Michael Williams
Melissa Williams
Billie Williams
Kimberley Williams
Leo Williams
Bettye Williams
Terra Williams
Jamie Williams
Charles Williams
Kenneth Williams
Thaddeus Williams
Lisa Williams
Ashley Williams
Khadijah Williams
Maria Williams
Brittney Williams
Kari Williams
Shar'ann Williams
Sheila Williams
Austin Williams
Billie Williams
Darren Williams
Tyler Williams
Jerrel Williams
Sarah Williams
Erika Williams
Alexis Williams
Winston Williams
Maurey Williams
Kevin Williams
Michael Williams
Stephan Williams
Crystalin Williams
Champaynne Williams
Christine Williams
Amanda Williams
April Williams
Patrick Williams
Cassandra Williams
Paul Williams
Latravearcia Williams
Carol Williams
Emmanuel Williams
Darnell Williams
Carl Williams
Jamie Williams
Lajoan Williams
Jaclyn Williams
Derrick Williams
Charlotte Williams
Khelli Williams
Linda Williams
Penny Williams
Jonathan Williams
Emma Williams
Danielle Williams
Denise Williams
Shelly Williams
Raymond Williams
Fabiola Williams
Shaconda Williams
Wray Ann Williams
Michael Williams
Melanie Williams
Amanda Williams
Keith Williams
Emma Williams
Carmen Williams
David Williams
Kathleen Williams
Arvie Williams
Deborah Williams
Katherine Williams
Wendi Williams
Roan Williams
Lance Williams
Berlinda Williams
Adele Williams
Lisa Williams
Gregory Williams
Claudette Williams
Dan Williams
Angela Williams
Cody Williams
Lakeisha Williams
Penny Williams
Debbra Williams
Aldino Williams
David Williams
Stacy Williams
Troy Williams
Amy Williams
Latarsha Williams
Dana Williams
Tony Williams
John Williams
James Williams
Valorie Williams
Carol Williams
Timothy Williams
Diana Williams
Daniel Williams
Jacqueline Williams
Breanne Williams
Akilah Williams
Travounce Williams
Clemencia Williams
Michelle Williams
Victoria Williams
Willie Williams
Anna Williams
Caleb Williams
Gina Williams
Chelsey Williams
Amanda Williams
Kashika Williams
Rhonda Williams
Yolanda Williams
Kimberlyn Williams
Johnathan Williams
Gordon Williams
Walter Williams III
LaShon Williams Moton
Nadirah Williams Taveras
Sheri Williams-Farve
Mirrlees Williams-Niles
Carrie Williamson
Christeena Williamson
Margaret Williamson
Justin Williamson
Denise Williamson
Emily Williamson
Robert Williamson
James Williamson
Kenneth Williams-Prades
Nefertti Williams-Ward
Ebony Willies
Tori Williford
Dawn Willingham
Holly Willingham
Alan Willis
Tina Willis
Tazmin Willis
Stacey Willis
Megan Willis
Nissa Willis
Helena Willis
Stella Willis
Terry Willis
Jennifer Willis
Kevin Willis
Judson Willis
Sabrina Willis
Jessica Willis
Michelle Willis
Kanada Willis
Stephanie Willis
Paton Willis
Bruce Willis
Eleanor Willis
Brandon Willis
Justin Willis
Virginia Willis
Christina Willmore
Robert Willoughby
Erick Willrich
LeAnn Wills
Shelsa Wills
Satin Wills
Julia Willson
Julie Willter
Christopher Wilmot
Louis Wilmoth
Carol Wilson
Nicholas Wilson
Wendy Wilson
Wayne Wilson
Cynthia Wilson
Catherine Wilson
Meilani Wilson
Rose Wilson
Kelly Wilson
Nina Wilson
Karrie Wilson
Celena Wilson
Robert Wilson
Joshua Wilson
Marcella Wilson
Cheryl Wilson
Tanya Wilson
Theressa Wilson
Gloria Wilson
Kristi Wilson
Jeremiah Wilson
Alisha Wilson
Eric Wilson
Christine Wilson
Mia Wilson
Charles Wilson
Jeremy Wilson
Jeri Wilson
Juneniss Wilson
Elfrem Wilson
Ryan Wilson
Devon Wilson
Misty Wilson
Sandra Wilson
Gabriel Wilson
Geraldine Wilson
Kelvin Wilson
Tausha Wilson
Damian Wilson
Kegan Wilson
Victoria Wilson
Ramona Wilson
Kerri Wilson
Nathanael Wilson
Kalyn Wilson
Chance Wilson
Christopher Wilson
Teedra Wilson
Jamie Wilson
Marcia Wilson
Shirley Wilson
Jennifer Wilson
Angela Wilson
Diana Wilson
Shannon Wilson
Lois Wilson
Kathleen Wilson
Sandra Wilson
Kathy Wilson
Maria Wilson
Christy Wilson
Shelia Wilson
Laura Wilson
Steven Wilson
Jennifer Wilson
Catherine Wilson
Tanica Wilson
Madlaine Wilson
Jeffory Wilson
Bangie Wilson
Casandra Wilson
Marcella Wilson
Kimberly Wilson
Courtney Wilson
Alesha Wilson
Jessie Wilson
Elisha Wilson
Brandy Wilson
Tiffiney Wilson
Keith Wilson
Deena Wilson
Robert Wilson
Chelsea Wilson
Ashley Wilson
Ray Wilson
Amy Wilson
Thomas Wilson
Eric Wilson
Robyn Wilson-Anderson
Tracy Wimberly
Christopher Wimberly
Vijelisa Winbush
Zachary Winch
Kathryn Winchell
Christopher Winchester
Cheryl Windbiel
Joshua Winder
Diana Windley
Victoria Windsor
Ruth Windsor
Jane Windt
Terri Wineberner
Ben Winfield
Laquetta Winfield
Antoine Wingard
Alicia Wingate
Tracy Winget
Morris Wingo
Anthony Wingo
Pamela Wingren
Racheal Winkelblech
Samantha Winkelman
Jimmel Winkfield
Christina Winkleblack
Melaney Winkleblack
William Winkler
Patrick Winkler
Jacqueline Winkler
Sheila Winkler
Kristen Winn
Amanda Winn
Stephanie Winscher
Kirsten Winship-Peck
Paul Winslow
Ashley Winston
Judy Wintemute
Chanah Winter
Brandan Winter
Ami Winter
Geoffrey Winters
Samantha Wirth
Aleshia Wisch
Emily Wise
Nicole Wise
Scott Wise
Brandon Wise
Keonte Wise
Mackenzie Wise
Jason Wise
Cory Wise
Daniel Wise, Jr
Lauren Wisecarver
Mackenzie Wiseman
Dana Wiseman
Cynthia Wiseman
Carly Wisner
Annette Wisniewski
Jennifer Wisnowski
Julie Wiswell
Cortincia Witcher
Ashley Witherell
Andrew Withers
Kaye Witherspoon
Kassandra Withrow
Frank Witmer
Tonja Witmer
Cindi Witt
Emily Witt
Tanya Witt
Jacob Witt
Tiffany Witt
Justin Witte
Jody Wittemann
Jennifer Wittenberg
Paige Wittenbrook
Jaime Wittkamp
Martha Wittner-Chaidez
David Witz
Kathryn Wizieck
Rebecca Woerner
Edna Wofford
John Wohlbrandt
Daniel Wohlleber
Jeffrey Wohlrab
Nancy Wohlsen
Michelle Wojnar
Diane Wojtaszek
Kari Wojtysiak
Kevin Wolcott
Paige Wold
Beth Wolert
Cindy Wolf
Tiffany Wolf
Jennifer Wolf
Curran Wolf
Misty Wolf
Rebecca Wolf
Christine Wolf
Mary Wolf
Christina Wolf
Jane Wolf
Matthew Wolfangel
Michael Wolfe
Kimberly Wolfe
Mary-Louise Wolfe
Duane Wolfe
Amanda Wolfe
Renee Wolfe
Lee Wolfer
Bernadette Wolff
Brett Wolff
Brooke Wolfley
Dale Wolkenhauer
Lauren Wolosyk
Carol Wolther
Elizabeth Womack
Brian Womack
Mikayla Wombacher
Kevin Wonderly
Christina Wong
Sandra Wong-Allen
Jeffrey Wonser
Lynne Wood
Carole Wood
David Wood
Michael Wood
Karen Wood
William Wood
Suzanne Wood
Tanya Wood
Derek Wood
Fabian Wood
Stayshe Wood
Megan Wood
Brittany Wood
Jessica Wood
Ciera Wood
Jennifer Wood
Jason Wood
Khristyanna Wood
Tony Wood
Lonnie Wood
Marsha Wood
Richard Wood
Shona Wood
Heather Wood
Sherry Wood
Eugene Wood
Emily Wood
Lisa Wood
Paul Wood Jr
Daquann Woodall
Angela Woodall-Fengler
Erin Woodard
Tobias Woodard
Trudy Woodard
Linda Woodard
Theresa Woodberry
Rakenya Wooden
Katie Woodring
Malia Woodruff
Jenny Woods
Amber Woods
Dwain Woods
Sandra Woods
Deshan Woods
Barbara Woods
Gary Woods
Artiesa Woods
Monica Woods
Shaterrica Woods
Curtis Woods
Andrew Woods
Deirdre Woods
Richard Woods
Karen Woods
Christopher Woods
Angella Woods
Tiffany Woods
Rhonda Woods
Mandy Woods
Phillip Woods
Babetta Woods
Mary Woodson
Mark Woodward
Andrea Woodward
Elizabeth Woodworth
Deborah Woody
Amy Woody
Angela Woolcot
Jason Woolery
Matthew Woolf
Ernestina Woolford
Kimberley Woollett
Donald Woolley
Rebekkah Woolridge
Theresa Woolsey
Jennifer Woolsey
Deborah Wootson
Tasha Worcester
Rachel Wordelman
Kristie Worden
Erin Woriax
Audra Workman
Sheena Works
Judy Worley
Tammara Worley
Amber Worley
Sandra Worley
Rachyl Worrall
Kristyn Worrell
Brian Worrell
Justina Worry
Quanita Worsley
Susan Worth
Deborah Worthington
Jack Worthington JR
Jean Worthy
Alicia Worton
Michele Worton Caillier
Kensey Worwood
Shaunna Wozab
Jammie Wozniak
Elizabeth Wragg
Michele Wrasse
Linda Wray
Jody Wray
Erica Wriggins
Troy Wright
Chermaine Wright
Mark Wright
Debbie Wright
Nicole Wright
Loretta Wright
Karen Wright
Mollie Wright
Heidi Wright
Michelle Wright
Brandon Wright
Jamel Wright
Shaundrika Wright
Jason Wright
David Wright
Jessica Wright
Richard Wright
Christopher Wright
Krystle-Ashley Wright
Jeannie Wright
Teresa Wright
Kim Wright
Alisa Wright
Paul Wright
Elizabeth Wright
Jlonda Wright
Laurie Wright
Chantelle Wright
Denise Wright
Arlie Wright
Katrina Wright
Pamela Wright
Tamika Wright
Suzan Wright
Tracy Wright
April Wright
Kinyetta Wright
Warren Wright
Keshanna Wright
Anastasia Wright
Wayne Wright
Katrina Wright
Carli Wright
Danice Wright Hudgins
Autumn Wright-Spruill
Alexandria Wright-Walker
Takasha Wroten
Alaric Wu
Andrew Wucher
Amanda Wucher-Aller
Deborah Wuerflein
Echo Wuest
Stephany Wulf
Karna Wulf
Jill Wunderlich
Brad Wurmser
David Wurzbach
Amber Wuttke
Ashley Wyatt
Staci Wyatt
Nicole Wyatt
Ivy Wyatt
Shanda Wyatt
Vie Wyatte
Patrick Wycoff
Michele Wykes
Laura Wyman
Mark Wyman
Antoinette Wyman
Michael Wymer
Robert Wymer
Gerri Wynn
Monique Wynn
Elizabeth Wynn
Jermaine Wynn
Leeona Wynne
David Wyrick
Nickole Wyse
Lowell Wyum

James Xaycosy
Jason Xenos
May Xiong
Cindy Xiong
Susan Xiong
Maisee Xong

Gary Yackel
Mary Yaden
Kelly Yahaya
Deena Yaist
Andrew Yake
Andrew Yakel
Gina Yaklin
Sean Yaklin
Nicole Yale
Barry Yamamoto
Jason Yamamoto
Brian Yamamoto
Melody Yamanaka
Breann Yamraj
Nicole Yancey
Rebecca Yancy
Emelina Yanez
Stella Yang
Cherri Yankee
Gerald Yann
Jayson Yanni
Nichole Yanok
Hassan Yapul
Derick Yara
Catherine Yarbrough
Brian Yarbrough
William Yarlett
Natalia Yarmoshik
Lisa Yarolem
Sheila Yarpezeshkan
Arwyn Yarwood-Hoeppner
Cynthia Yates
Timothy Yates
Victoria Yates
Timothy Yates
Teresa Yates
Tinita Yates
DeLinda Yatskevich
David Yawn
Carise Yazzie-Gonzalez
Deborah Ybarra
Daniel Ye
Brandon Yeadon
Tram Yeany
Michael Yearwood
Chen Yeh
Shannon Yelder
Joshua Yeley
Abigail Yellen
Netti Yellock
Tiffany Yenchus-Holcomb
Mary Yepez
Kenneth Yeung
Heidi Yi
William Yockell
Daniel Yoder
Scott Yoder
Jonathan Yoder
Rebecca Yohn
Morgan Yok
Tammy Yokel
Danene Yokeum
Alishia Yonce
Angel Yonker
Kendra Yonts-Bonville
Davis Yoon Jr.
Joni York
Patricia York
Amanda York
Matthew York
Carrie York
Ryutaro Yoshikawa
Vanesis Yost
Laurie Yost
Krysta Yost
Angela Youckton
Jessica Youell
Linda Youell
Clayton Younce
Joshua Young
Ora Young
Wendy Young
Katherine Young
Jeffrey Young
Jason Young
Loretta Young
John Young
Angela Young
Cara Young
Christopher Young
Benjamin Young
Michelle Young
Cynthia Young
Bridget Young
Samantha Young
Catherine Young
Vanessa Young
Peter Young
Benjamin Young
Michael Young
Meshelle Young
Colin Young
Wendy Young
Kelly Young
Patricia Young
Susan Young
Aron Young
Benjamin Young
Patricia Young
Gregory Young
Gretchen Young
Melissa Young
Charmaine Young
Nicole Young
Wayne Young
Robin Young
Aggie Young
Thomas Young
Janage Young
Terron Young
Mercedes Young
Christopher Young
Tiant Young
Robin Young
Whitney Young
Brandy Young
Carol Young
Christopher Young
Christi Younger
Melanie Younger
Krysten Younger
Dana Younkin
James Yount
Toni Yount
Aubrey Yows
Lisa Yriarte
Rosa Yriarte
Angela Yu
Michael Yureck
Roberta Yurkovich
Leilani Yvellez

Kristina Zabala
Gloria Zabawa
Dustin Zabinski
Daniel Zaboth
Catherine Zaccardelli
Leah Zachery
Crystal Zaehler
Joseph Zaehler
Robert Zaepfel
Scott Zaffram
Catherine Zagar
Amber Zaharoff
Farah Zahrah
Jacqueline Zak
Claudia Zakem
James Zakem
Sarah Zaki
Karen Zakrzewicz
Alyssa Zaleon
John Zambrano
Jennifer Zambrano
Christina Zamora
Melinda Zamora
Hortencia Zamora
Eduardo Zamora
Philip Zamora IV
Rosa Zamudio
Megan Zander
James Zangara
Evangelina Zapata
Joseph Zapata
Michael Zappitello
Kerem Zaragoza
Michelle Zarate
Trudy Zarnowiec
Sarah Zaske
Sharleigh Zavaglia
Christopher Zavala
Koko Zaw
Carol Zawislak
Jessica Zayas
Roberto Zayas
Jose Zazueta
Eric Zea
Kristen Zecca
John Zegarelli
Kimberly Zehler
Deidre Zeh-Rahk
Charlene Zeigler
Terra Zeigler
Shannon Zelkowski
Tracey Zeller
Virginia Zellner
Carolyn Zeltner
Aimee Zemke
Cherie Zendarski
Jesse Zenitram
Roy Zenon Jr
Jesse Zentz
Brandie Zerangue
Lori Zettler
Daniel Zetts
Alison Zeuschel
Julie Zewicke
Evan Zhang
Amy Zick
Glenn Ziegler
Gina Ziemba
Nicole Ziemer
April Zieroth
Terri Zigler
Cheri Zikeli
Jonathan Zimmerman
Rebecca Zimmerman
Lisa Zimmerman
Terrie Zimmerman
Tabitha Zimmerman
Jeremy Zimmerman
Larry Zimmerman
Edward Zimmermann
Stephen Zimmermann
Debbra Zimny
Katrina Zinck
Leona Ziner
Tamera Zink
Nancy Zion
Unhye Zipay
James Zito
Jamie Zitoun
Steven Zittle
Lawna Zlotkin
Jennifer Znaniecki
Michael Zochert
Kari Zohfeld
Katherine Zollman
Christopher Zoltowski
Kristin Zook
Stephanie Zook
Shannon Zook
Nathan Zook
Ruth Zorgdrager
Tamara Zuckerman
Steve Zudonyi
Nicole Zudonyi
Andrew Zuehl
Kady Zuidema
Cody Zuidema
Lisa Zukowski
Jeannie Zulauf
Stephanie Zuniga
Joanne Zuniga
Kim Zuniga
Pamela Zuppo
Catherine Zura
Heather Zurek
April Zusman
Brittany Zwak
Christina Zweckbronner
Edward Zylstra
Honorary Members
Winter 2015
Elaine Alden, Program Chair, College of Liberal Arts
Holly Heatley, Core Faculty Online, Department of General Education
Karen Bakuzonis, Program Chair, College of Health, Human Services, and Science
Bradley Thames, Assistant Professor, Department of General Education
Mingzhen Bao, Associate Dean, College of Liberal Arts
Sandra Rebeor, Instructor, College of Health, Human Services, and Science
Richard Pattenaude, President of Ashford University (former)
Stephen Brewer, Assistant Professor, College of Health, Human Services, and Science
Stephanie Young Gonzaga, Program Chair, Forbes School of Business
Kenneth Edick, Program Chair, Forbes School of Business
Katie Thiry, Program Chair, Forbes School of Business
Christine McMahon, Program Chair-Assistant Professor, College of Health, Human Services, and Science
Adam Sellhorst, Executive Dean, College of Liberal Arts
Tony Farrell, Executive Dean, College of Education
Lorraine Williams, Provost (former)
Fall 2012
Dr. Mihaela Tanasescu, Executive Dean of the College of Health, Human Services, and Science(former)
Dr. Suzanne Power, Executive Dean of the College of Liberal Arts (former)
Spring 2012
Dr. Andrew Shean, Executive Dean of the College of Education (former)
Dr. Michael Reilly, Executive Dean of the Forbes School of Business (former) 
Fall 2011
Dr. Rebecca Wardlow, Ashford University Provost (former)
Mike Burton, JD, Forbes School of Business Assistant Professor (former)
Spring 2011
Brooke Judkins, Associate University Professor
Harry "Chip" Jennings, Professor
Vanessa Schoenherr, Lead Student Development Specialist (former)
Kimberly Jones, Student Affairs Manager (former)
2009
Dr. Barbara Philibert, Dean of the College of Health, Human Services, and Science (former)
2008
Dr. Joen Rottler, Dean of the College of Education (former)
Mr. William Davis, Lead Faculty
Mr. Rick Reed, Faculty
2007
Dr. Jane McAuliffe, Former President
Dr. Elizabeth Tice, Executive Vice President for Academic Affairs (former)
Dr. Hope Gardina, Vice President of Academic Affairs (retired)
Dr. Curt Lowe, Dean of the College of Arts and Sciences (nka College of Liberal Arts)
Dr. Charles Minnick, Dean of the Forbes School of Business (former)
Sr. Kathleen Holland, Academic Operations Specialist (former)
Dr. Karen Conzett, Director of Prior Learning Assessment (former)
History
Alpha Sigma Lambda was founded in 1945 to honor those dedicated adult students who, while adroitly handling their life responsibilities, achieve and maintain high scholastic standards. Alpha Sigma Lambda is not only the oldest, but also the largest, chapter-based honor society for full- and part-time students.
Constitution
Read the official constitution of the University of Arizona Global Campus chapter of the Alpha Sigma Lambda National Honor Society, called the Alpha Lambda Chapter. Note that the chapter was originally founded at Ashford University which is reflected on the letterhead of the constitution. A future renewal/iteration will reflect University of Arizona Global Campus.
Charter Members
The Alpha Lambda chapter of the University of Arizona Global Campus was established on April 9, 2007. Charter members are:
Dr. Karen Conzett, Director of Prior Learning Assessment (former)
Dr. Hope Gardina, Vice President of Academic Affairs (retired)
Sr. Kathleen Holland, OSF, Adult Accelerated Program Coordinator (former)
Dr. Curt Lowe, Dean of the College of Liberal Arts (former)
Dr. Jane McAuliffe, Bridgepoint Education Executive Vice President/Chief Academic Office (former)
Dr. Charles Minnick, Dean of the Forbes School of Business (former)  
Dr. Barbara Philibert, Dean of the College of Health, Human Services, and Science (former)
Dr. Elizabeth Tice, Ashford University President (former)
Membership Criteria
Membership into the Alpha Lambda chapter of the Alpha Sigma Lambda National Honor Society at the University of Arizona Global Campus is by invitation only and open to students in online programs at the University of Arizona Global Campus. A student must meet all the following criteria to be eligible for membership at the time of screening (typically January 1 or July 1 of the membership drive year):
Be currently enrolled in their first Bachelor's Degree program
Be in the top 20% of their student cohort
Have completed a minimum of twenty-four (24) credits at the University of Arizona Global Campus
Member Privileges
Through Alpha Sigma Lambda Society:
Alpha Sigma Lambda honor society typically offers a yearly scholarship opportunity. For more information about Alpha Sigma Lambda, including scholarships they offer, please visit the Alpha Sigma Lambda website.

Through the University of Arizona Global Campus:
Any Alpha Sigma Lambda member who participates in the University of Arizona Global Campus in-person commencement ceremony will be distinguished as a member by wearing Alpha Sigma Lambda regalia. Induction must be completed at least one week prior to commencement in order to receive regalia.
All members will also receive a certificate suitable for framing. It is typically delivered within a few months of induction.
Questions? Request More Information