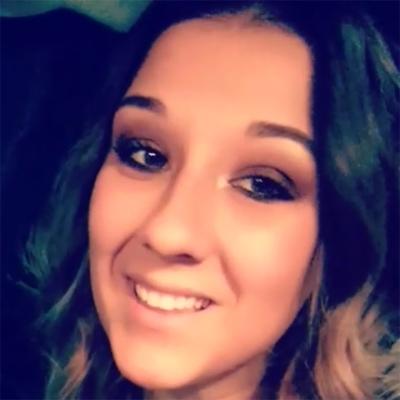 Biography
Onalee Devereaux is not afraid to push herself. The 25-year-old spent six years in the military before signing up for duty as a police officer, investigator, and investigative support technician. But intellectual curiosity and a desire to reach her full potential prompted Onalee to head back to school and pursue a college education.
"I think it is most people's goal to become the best version of themselves," she explains. "Earning a degree helps us grow toward this goal in many ways – it's not just book smarts." 
Looking for a way to apply her passion for literature to her academic pursuits, Onalee chose Ashford University's* Bachelor of Arts in English program, with a minor in History. She acclimated quickly to Ashford's online format.
"I have to work a full-time job, so being able to do courses online from home or work helps me tremendously," she says. "I feel Ashford is set up so we are getting the best learning experience we can and the teachers are very helpful."
Onalee found herself quickly climbing the ranks as one of Ashford's most gifted undergraduate students. Because of her stellar academic record at Ashford, Onalee was eligible to apply to the Honors College.
It turned out to be everything she had hoped for.
"I wanted to take my education to the next level," she explains. "To be honest, it wasn't only about my academics but also the connections I would make in the Honors College. You meet not only fantastic students, but some of the best teachers as well."
The Honors College curriculum consists of three lower division courses and three upper division courses. Onalee says she enjoyed every one of them, and she felt empowered with knowledge that would allow her to take the next step in both her professional and personal life.
"I was excited to do my schoolwork every day," she says. "I would catch myself logging in multiple times a day just to see if someone posted something new in the discussion [forum]."
Although online students and instructors don't interact face to face, there's a special bond that develops in the online classroom. As Onalee explains, she formed a very strong relationship with Dr. Eric Klein, the Dean of the Honors College.
"His classes really made you step out of your comfort zone," she says. "It wasn't just memorizing a book and writing papers but engaging conversation. Not only did the students engage in discussion, but Dr. Klein did as well. I felt like we were graded more on 'Did we learn?' rather than 'Did we get a perfect answer?'"
In addition to being accepted to the Honors College, Onalee earned invitations to Ashford's Alpha Sigma Lambda and Golden Key International honor societies, and she's become a member of the CHAMPS Peer Mentoring program, so she can pass on what she's learned at Ashford to new students.
Onalee is poised to complete her degree in 2019, and she believes her experience at Ashford has reshaped her opinions about school.
"I wasn't a huge fan of school when I was younger and honestly wasn't that great of a student," she says. "I was reluctant to start college but as soon as I did, I have not regretted it. Ashford has given me that foundation to succeed in my academics."
* Ashford University is now the University of Arizona Global Campus