If you have the opportunity to speak to Joe Karpinski, Jr., a theme will arise. While his accomplishments are great, longevity as a student is notable, and his professional career has no lack of high points, his true motivation comes from serving others, teaching others, and knowing that he's made an impact. 
He says he cares deeply about helping others forge their own path and hopes that sharing his experiences may provide a path for them.
Joe has been a part of the University of Arizona Global Campus (UAGC) family, formerly Ashford University, longer than many of the faculty and staff, having started his first degree program in 2008. 
Though he initially began his higher education journey in 1999, things didn't click for him right away. 
"I always did well in school," he recalls. "I used to sit in my room and draw all the time, and my mom always said, 'You're either going to be a commercial artist or an engineer.' I always had a knack for that kind of creativity."
He attended a vocational high school, where each afternoon he was able to focus on drafting and design. He was exposed to CAD systems and excelled academically. Everything added up for him to go on to college and succeed when he graduated.
 
"I literally graduated high school on a Friday and started summer school on Monday," he remembers. "I took a full 18 credits. I think I just burned myself out, to be honest." 
Made in America
After leaving school, he got a job as an entry-level draftsman and he did well. Joe got to know the industry and do the things that came naturally to him in high school, setting the stage for a successful career in manufacturing. 
I wanted to give back to the country that provides me all the wonderful things that I have.
Then, at the age of 29, Joe joined the United States Naval Reserve†. He says he recognizes that he started his military career later in life than many service members. 
"I had two children, and I was about to turn 30 years old," he says. "I wanted to give back to the country that provides me all the wonderful things that I have."
He saw an opportunity to pursue a degree and decided to take advantage of his military education benefits to earn a certificate in computer technology. Then, in 2008, coinciding with his transition to the Air Force Reserve Command, he decided to utilize his military benefits once again and pursue a BA in Organizational Management at Ashford University.* 
"They took all my military credits and my previous educational credits, and I literally started off as a sophomore," he affirms. "I was blown away by that."
With military benefits still available, it seemed like a no-brainer to stick around and earn his MA in Organizational Management. 
After earning his master's degree, Joe was promoted to a production manager position at the family-owned tool and die company. With nearly 100 employees, he has a lot of responsibility, and on a daily basis, he's likely to interact with customers, employees, and vendors. 
In 2014, Joe was honorably discharged from the 911th Airwing. "I had a lot of great experiences, I got to see a lot of things, got to meet a lot of awesome people," he says. "I would never take back the 13 years I spent."
Through his education in management and leadership, as well as his military experience, he has adopted a servant leadership philosophy. "I try to live it," he says firmly. "I didn't know what 'servant leadership' meant until about halfway through my career. I can equate it to just leading by example."
He says he believes that relationships should be held up by a foundation of respect in both directions, and he wanted others to know that he has their back. "No matter what my title or rank was, I wanted to get things done, and I wanted people to know I was there for them," he says. "I was approachable, and if I didn't have an answer, I would go find an answer for them." 
Joe wants his team to know that he's still willing to do the hard work they do, whether it's unloading a truck or working late. "To me, that pays dividends because that's how I appreciated those I worked for and worked with," he says. "I'm only as good a manager as the people around me."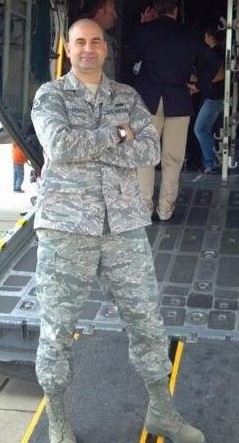 Joe is proud to have served his country in the U.S. Naval and Air Force Reserves.
Leading Through Education
In addition to his success as a manager at his manufacturing job, Joe also landed a teaching‡ job in a drafting and design program after he earned his first master's degree. He was able to bring his servant leadership philosophy to the classroom, and he was able to share his experiences with students from all walks of life. 
"It's the same concept, but in a different environment," he explains. 
He said he would tell his students, "I may be the subject matter expert, but I want to learn as much from you as you do from me."
His experience in the classroom was a driving reason for him to return to school and get his second master's degree in 2018. 
When Joe started his master's degree, he chose the instructional design program. Thanks to some insight from his instructor, Lisa Johnson, he realized that wasn't quite where he was meant to be. "She said, 'I know you've done well in school, and you're doing well in my program. I don't think it's the right program,'" he recalls.
She directed him to Dr. Michelle Warn and the MA in Teaching and Learning with Technology program.** Joe ultimately changed his degree program, and he credits this keen insight for the direction he's ultimately taken. 
"I'm much happier where I'm at now," he affirms.
Dr. Warn also encouraged Joe to pursue his PhD in Education, which he began only a few short months after completing his MA in Teaching and Learning with Technology. 
With his background in manufacturing and his college credentials, he is preparing to begin another teaching journey at an education institution based in Arizona. He says he hopes that his combination of experiences will provide a new perspective for students and if he hears a student say, "I learned so much from you," his time and effort will have been worth it. 
"I set the bar high for myself, and I don't want to let anybody down," he admits.
A True Mentor 
Joe's competency as a student and capacity to help others did not go unnoticed by UAGC faculty. He was a natural fit for the CHAMPS program and is now part of the Distinguished Member Council. 
"I've done mentoring and coaching throughout my professional career and when I was in the military," he describes. "I think about all the people who took time to help me, and the only way I could give back is to be a mentor."
I hope to inspire any individual that is doubting themselves because they cannot see themselves in a different light.
While he never had a mentor himself, he says he knows firsthand the value of having someone in your corner because that has been his experience with his instructors, and he takes his responsibilities seriously. 
"I want the people to hear I went through this," he says. He even wrote a letter of recommendation for a mentee who was appealing an academic dismissal hoping to return to school. 
Outside of academic mentorship, he has volunteered his time and his engineering and design experience to mentor and coach high school robotics teams. 
"These kids are way smarter than I was at their age," he concedes. "I enjoy seeing the kids succeed and sharing my knowledge with them."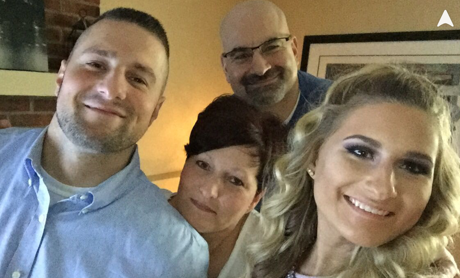 Joe and his wife met in high school and have been married for almost 30 years. Together, they have two kids - Jordan and Zoey.
Whether it's in his professional life, via his responsibilities as a CHAMPS mentor, or coaching high school students, for Joe, it's the people around him and their accomplishments that make him successful.
Now, he knows what he wants his future to hold for him, and he plans to incorporate his professional history with his academic future by showing younger generations the possibilities that exist within the world of manufacturing, especially with all the capabilities that come with emerging technology. 
"I want the next generation to know you can do whatever you want in the manufacturing environment. You can build a career there," he says. "People forget that you don't have to stop learning, especially with the way technology is nowadays."
Currently, Joe is scheduled to complete his PhD in 2023. But he's not celebrating just yet.
"My biggest celebration will be when I get a call from a college or university, and they say, 'Hey, we want to bring you on board,'" he admits. 
"I hope to inspire any individual that is doubting themselves because they cannot see themselves in a different light," he says. "That light being higher education or landing their dream job."
--
Whitney Bradford is a UAGC content specialist and former University academic advisor.
Certain degree programs may not be available in all states. 
*Ashford University is now the University of Arizona Global Campus.
** This program is no longer accepting new enrollments. Please see the catalog for the current available degree programs. 
†The appearance of U.S. Department of Defense (DoD) visual information does not imply or constitute DoD endorsement. 
‡An online degree from the University of Arizona Global Campus does not lead to immediate teacher licensure in any state.