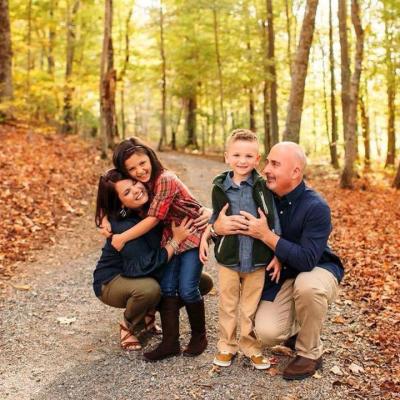 Jackie Carpenter
BA in Business Leadership
Biography
There are many reasons people put off college immediately following high school. Obstacles like cost, family obligations, or even having a job lined up can prevent high school graduates from continuing their education right away.
For Jackie Carpenter, college didn't seem like a viable path simply because there was something inside him that said he wasn't smart enough to go to college. It would take nearly 30 years for Jackie to silence that voice inside and prove that he was indeed college material. At the age of 47, Jackie began pursuing his college degree at Ashford University*.
"I wanted to set an example for my children," explains Jackie, a minister and full-time digital media professional who lives in Kingsport, Tennessee with his family, including two kids under 8 years old.
Although Kingsport is home to satellite branches for several universities, Jackie found the structure of Ashford's online classes allowed him to "have a positive balance between school, work, and life," as he pursues his Bachelor of Arts in Business Leadership.
"The challenge I faced was to discipline myself on a daily basis to set aside enough time to complete my school work," he explains. "My family and I agreed that in order to be successful, I needed a set time each day to begin school and that this time should be uninterrupted. With their agreement, daily discipline became a habit."
Jackie was also able to take advantage of Ashford's Full Tuition Grant, a program in which his employer partners with the University, allowing him to attend school without student loan debt.
Once he enrolled, Jackie discovered he had the talent to succeed in school all along. After maintaining a 3.95 GPA throughout his early classes, he was eligible to apply to the Honors Progam, allowing him to take certain courses in order to add a special distinction to his degree and resume.
"I was surprised to be accepted into the Honors College," he says. "And surprised as well that I actually love learning!"
Now, having joined the Honors College and earned his way into Ashford's Alpha Sigma Lambda honor society, Jackie is experiencing something he thought was out of his reach years ago.
"I see earning a degree first as a personal goal," he says. "[And] secondly as a means to open opportunities that otherwise would not be available."
Jackie's not the only one taking advantage of educational opportunities long after high school. According to the National Center for Education Statistics, the number of college-aged students 35 years or older is on the rise, with the numbers expected to increase through 2026.
Many of those non-traditional learners are likely to follow Jackie's path. He now realizes that he definitely belongs in college, and he wants his success and confidence to inspire the next generation.
"I hope that my children look at what I am doing as a positive example and understand that if I can accomplish this, so can they," he says. "I am, today, and forever will be, grateful for the opportunity to pursue my education at Ashford University."
* Ashford University is now the University of Arizona Global Campus