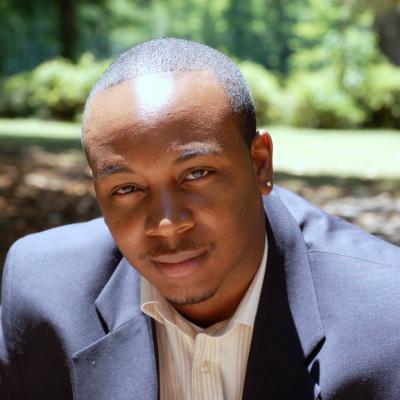 General Irvin Barrett, II
2018
Doctor of Philosophy in Education
Biography
Although many of his coworkers may not know they'll be able to call him "Dr. Barrett" by 2021, Ashford* student General Irvin Barrett, II, is already putting his passion for educating others to use. 
This Greenville, North Carolina, native works with a local government health resource agency helping people with mental health conditions, intellectual and developmental disabilities, and substance use disorders get the help they need to live better lives. 
His job is one-part facilitating access to the resources these North Carolinians need and one-part educating. As he works toward getting his Doctor of Philosophy in Education, this current Golden Key International Honour Society member says he is excited to see the fruits of his efforts paying off in his career. 
"Educating individuals at work or being a subject matter expert on the philosophies of how people learn has already come in very useful, and I find myself already using it daily during my interactions at work," he says. 
As an undergrad at Elizabeth City State University (ECSU), a historically black university in North Carolina, General started his studies as a McNair scholar in a federal program that prepares predominantly first-generation college students to get their doctorate eventually.  
This proud Vikings fan and former ECSU Mighty Vikings football player was an active member of the student body and an avid writer who had some of his work featured in the school's literary magazine. 
In 2009, General enrolled in a master's degree program but ultimately needed to take a break. 
"As my pastor would say, life flipped on me," says General. "I took some years off, trying to find my way professionally and academically. I never lost sight of finishing my degree." 
In 2018, he graduated from the University of the Rockies with a Master of Arts degree in Psychology, specializing in Educational Leadership.
Through it all, this devoted husband and father of two was (and still is) an active and involved member of his community and is passionate about making a difference in others' lives. 
"From church volunteering to community service projects, community advocacy, and leadership, I live life optimistically, facing every challenge with determination and faith," says General. 
However, when he thought of going for his Ph.D., General admits his biggest personal challenge was believing in himself.
"When it came to the academics, I knew I could excel in the coursework," explains General. "After I got over the hump of personal faith in myself, I took on all challenges with God in mind and power inside my heart."
The day before he started the doctorate program, General dug out old photos from his days in the McNair Scholars Program and discovered the support had been there all along. With support from the program faculty, director, fellow McNair scholars, and continuous encouragement from family members such as his wife Andrea, he unlocked newfound confidence to go for the ultimate degree he had always wanted. 
And so, at 37, General took the plunge and began his doctoral journey. 
He acknowledges that time management and creating an academic rhythm that friends and family could respect were both among the challenges of attending school online. 
"It takes total discipline to apply yourself to the online environment and study with so many other distractions," says General. "I have had to really manage my time, missing other functions to finish assignments, and taking the necessary time to read course material. This discipline has enhanced my personal life, as well."
General says one of the most exciting aspects of getting his doctoral degree was the caliber of people he met during Ashford's doctoral in-residency workshops. 
"After finding classmates who enrolled in the same courses that I had enrolled in, and then seeing them for the first time, I became more invested in sustaining and growing that relationship because we all were after the same thing academically," he notes. 
Now halfway through his studies, General stays connected with a close-knit group of fellow students (including another inspiring Ashford Student of the Month, Avonlea Schemmer). The group checks in on each other regularly using humor, gentle encouragement, and empathy to keep each other motivated as they focus on achieving something less than 5% of people in the U.S. have – their doctoral degree. 
Through it all, General kept sight of the mantra: Sky Above. Earth Below. Peace Within.
"I just know that you can only go as high as the sky, and you can only go as low as the earth, so if you understand you have no control except what you give and what you accept, then you won't be worried about everything else."
As busy as his family, work, and community involvement keeps him; General has also continued with his lifelong love of writing. He recently published his first book, "The Rise and Fall of Love's Gravitational Pull" through Pendium Publishing, and he has several other projects in the works. 
When it comes to family, one of General's end goals in getting his Ph.D. is to inspire his children, Lucas and Jordan, to understand the value of hard work in achieving their dreams. 
"They are very smart and aware," says General. "I hope that one day they look at the energy and determination to complete coursework over a period of time and understand the significance of that journey." 
Eventually, General says he'd love to be a professor or work in administration at a historically Black college or university such as the one he attended as an undergrad. 
"I want to inspire Black men specifically to believe in themselves, despite the universal negative narrative," he explains. "The value of education is great, and I plan to be a key advocate for individuals who do and do not look like me to capitalize on educational value."
* Ashford University is now the University of Arizona Global Campus