February has come and gone, and you made it through another month. Whether you are a seasoned student or you have just returned to college and completed your first course, you pushed beyond the challenges of the day-to-day and rose to the academic occasion. Life is full of unexpected twists and turns, but if you have the right mindset, you can do anything. This month's #TenacityMade superstars are proof.
We are #TenacityMade
Recently, we asked our UAGC Facebook followers how they overcame obstacles to achieve their goals. Here's how they responded. Read on and find your inspiration to be #TenacityMade.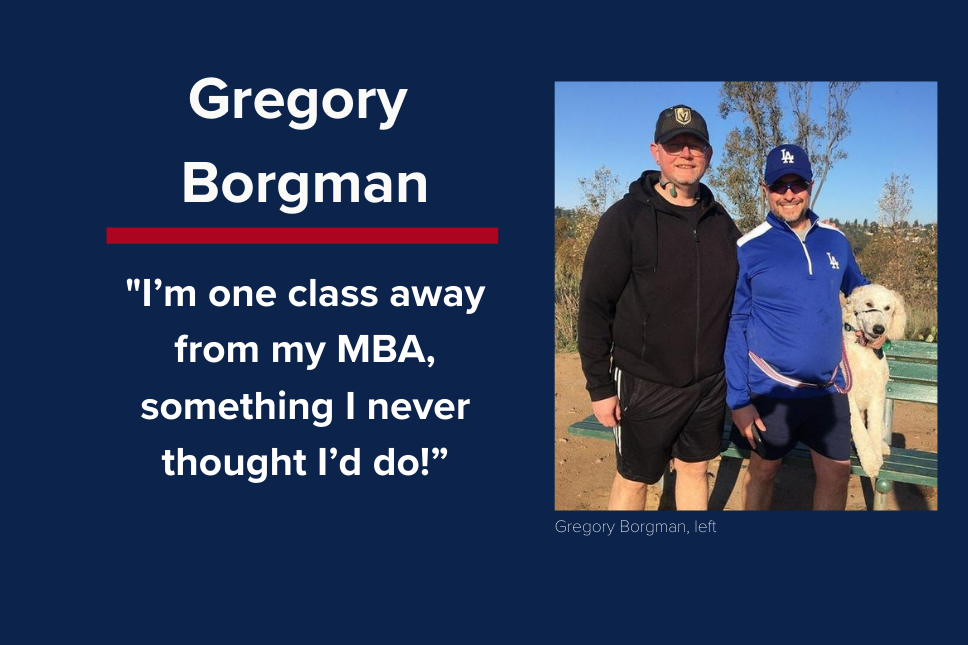 1. "I took a break from a paper to hike with my husband and our golden-doodle, Blanche. I'm one class away from my MBA, something I never thought I'd do!" – Greg Borgman
2. "Trying to homeschool three kids, potty training a toddler, and keeping up a home, all while trying to keep up with school work and get good grades — it isn't easy, but nothing worth having comes easy. I work hard to make sure I stay on the Dean's List while trying to make sure my family and home are taken care of. I couldn't do it without the support of my husband and help from my oldest daughter." – Annie Ashlock
3. "I work around the clock as an early childhood director*, I have two amazing kids that are both a handful, I'm married, and I'm still managing to log on and get these classes done. As long as you take it one day at a time, you'll be done before you know it!" – Val Stepclem
4. "Working on my fitness/health/grad school/kids virtual learning/potty training my youngest by goals, taking one step at a time each day. Positive vibes." – Latesha Carter
5. "Perseverance through every situation! School has helped me get a grip on my future with my son!" – Chumekka Fishback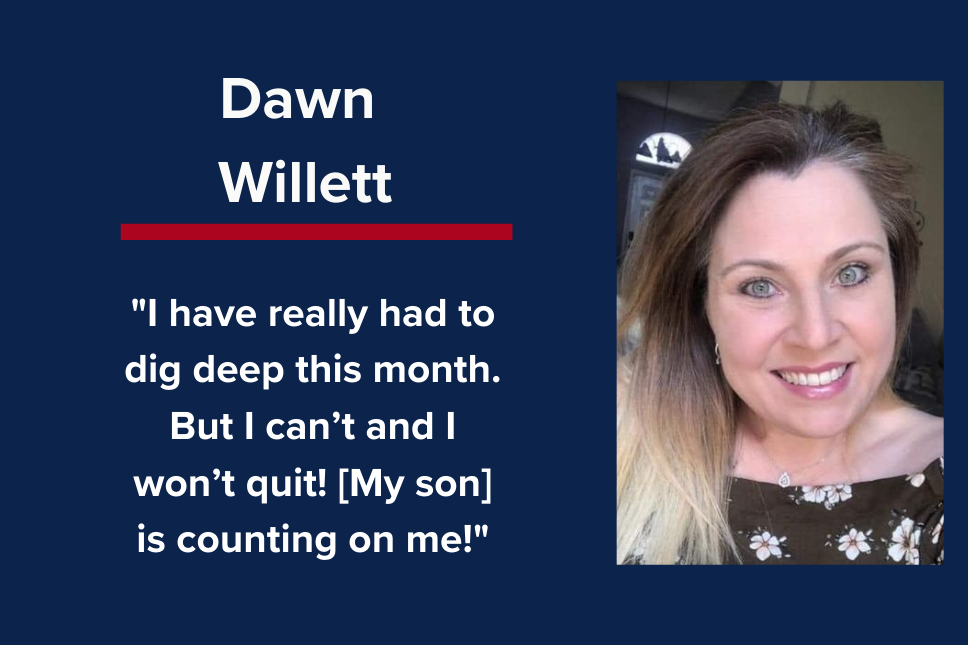 6. "I have really had to dig deep this month. Juggling my full schedule with UAGC, pushing myself to complete as many additional courses through Sophia simultaneously, all while preparing for an interview for an amazing opportunity with my employer. (The position required that I had a minimum of 60 credits, and in January I only had 45…I now have 68!) All of this while caring for my 26-year-old son who has been struggling with his autism more frequently the last 45 days. But I can't and I won't quit! He is counting on me!" – Dawn Willett
7. "Six University of Arizona Global Campus courses to go! Full week of ECE training, work, three beautiful kids, and life! Here I come BA in Early Childhood Education Administration!" – Nicole Hinton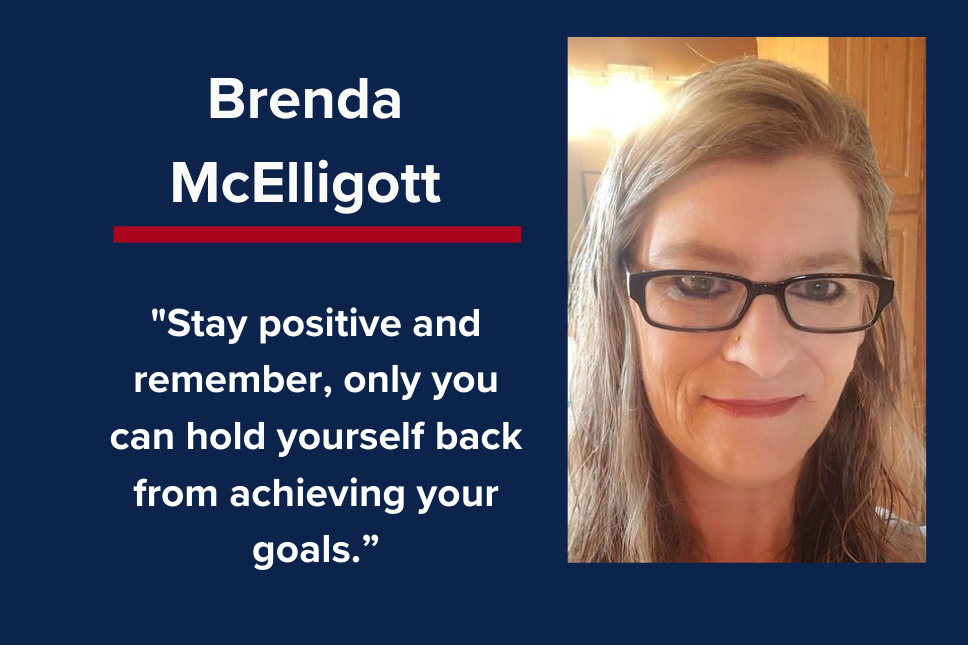 8. "After having a stroke just over a year ago, I had to learn how to relearn mobility. I decided to return to college to get my master's degree in psychology for two reasons: 1) It was a lifelong goal, and 2) I had to prove that one should never let go of their dreams just because they were knocked down a time or two. Remain healthy through brain food and exercise. Stay positive and remember, only you can hold yourself back from achieving your goals." – Brenda McElligott
9. "Going back for my academic degree after so many challenges. My first attempt in 2006 was short-lived due to Hurricane Katrina when my family lost many personal belongings and had to rebuild from the ground up. However, May 2018 was the beginning of a wonderful chapter when I talked to an enrollment counselor who encouraged me to stop thinking and move forward to turning my dream into a reality. I'm now 25 credits short and in the home stretch. I will be a UAGC graduate October 23 with a bachelor's degree in English." – Donna Green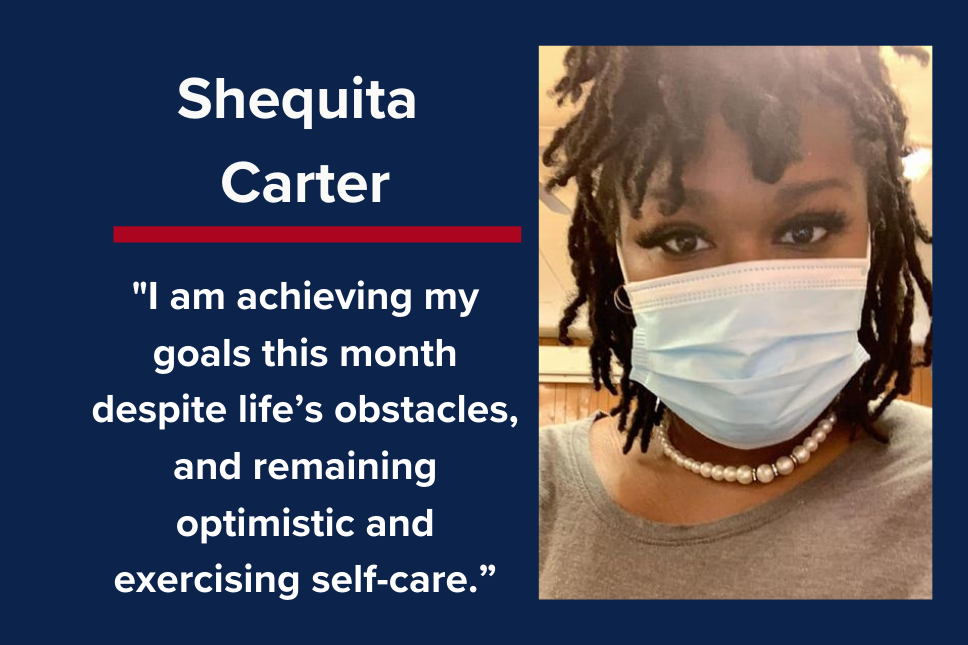 10. "Despite being a full-time mom to three young children, full-time student, full-time Head Start teacher, and volunteering with Habitat for Humanity, I am achieving my goals this month despite life's obstacles, and remaining optimistic and exercising self-care." – Shequita Carter
Keep the Conversation Going
Be sure to join the conversation, and tell us why you are #TenacityMade. Each week, head over to Facebook, Instagram, or Twitter and post a picture or video along with a sentence about what motivates you to stick with your plan, and tell us how you represent #TenacityMade.
--
Certain degree programs may not be available in all states.
* An online degree from the University of Arizona Global Campus does not lead to immediate teacher licensure in any state.