The Dean's List. It's an accomplishment every determined UAGC student hopes to attain. Released twice a year for the spring and fall, it recognizes undergraduate students who earn a cumulative grade point average (GPA) of 3.50 or higher and who have completed 12 or more credits – including at least one course since the time the previous Dean's List was published.
Maintaining this GPA is no simple feat. A 3.5 GPA is equivalent to an A average, and may be a challenge, especially for adult learners who are balancing school with work, family, and other life responsibilities. 
That certainly doesn't mean it's not possible. Just ask the 9,500 students who recently earned their place on this prestigious list. 
Take Louie Victorio Santos, for example, who appeared on the fall 2020 Dean's List, marking the fourth time he achieved this goal. Louie earned a Bachelor of Arts in Finance in 2020 and now is pursuing his MBA and follows the scaffolding technique to tackle his assignments. 
"Break down a big task into small tasks and stick to the plan," he recommends, adding that time management is key.
Louie isn't the only student who has solid advice on how to earn your place on the Dean's List.
Read along for some more insightful tips and motivating recommendations on how you, too, can get your name onto the next UAGC Dean's List.
Tips for Making it Onto the Dean's List
Recently on the UAGC Facebook page, we asked students and alum to offer advice on how they made it onto the Dean's List so that others can gain some inspiration and follow in their footsteps. Here are the top answers we received. Which tip (or tips) do you plan to follow so you can make it onto the list? 
1. "Take breaks to walk, dance, and escape. Take one an hour or whatever works best. Your mind is like an engine, so you need to keep it active. It's also like a muscle because fatigue is hard to come back from." - Nikki McPherson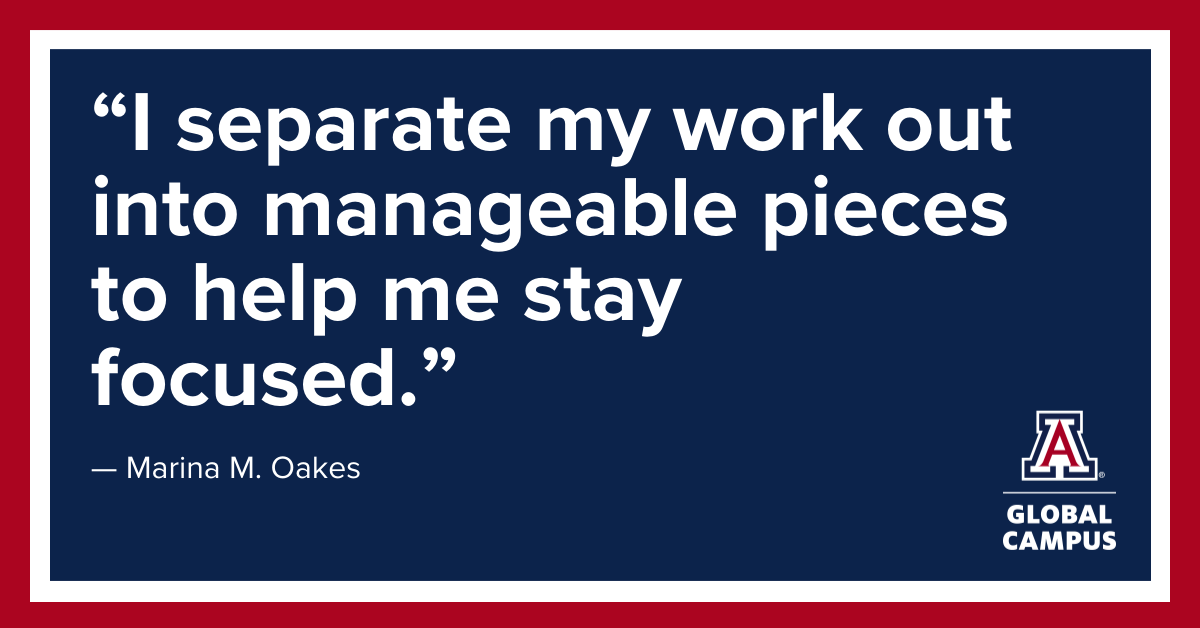 2. "I have made the Dean's List every semester so far! I definitely find the calendar and reminders so helpful to stay on top of everything! I also have a written planner that I copy all of my due dates into so that they are easily seen. Also, I make sure to separate my work out into manageable pieces to help me stay focused during my busy schedule." - Marina M. Oakes 
3. "I use the grading rubric as a starting point for writing my paper outlines." - Leanne Schuetz 
4. "I was shocked when I received the email that I made the Dean's List and so proud of myself! I think what helped me achieve it is time management and writing down what's due and when. Also don't hesitate to contact your professors when you need help. I did a few times, and they were very helpful! Lastly, I stayed positive even when I felt like giving up. I remembered why I couldn't and kept my goal in mind!" - Danielle Manor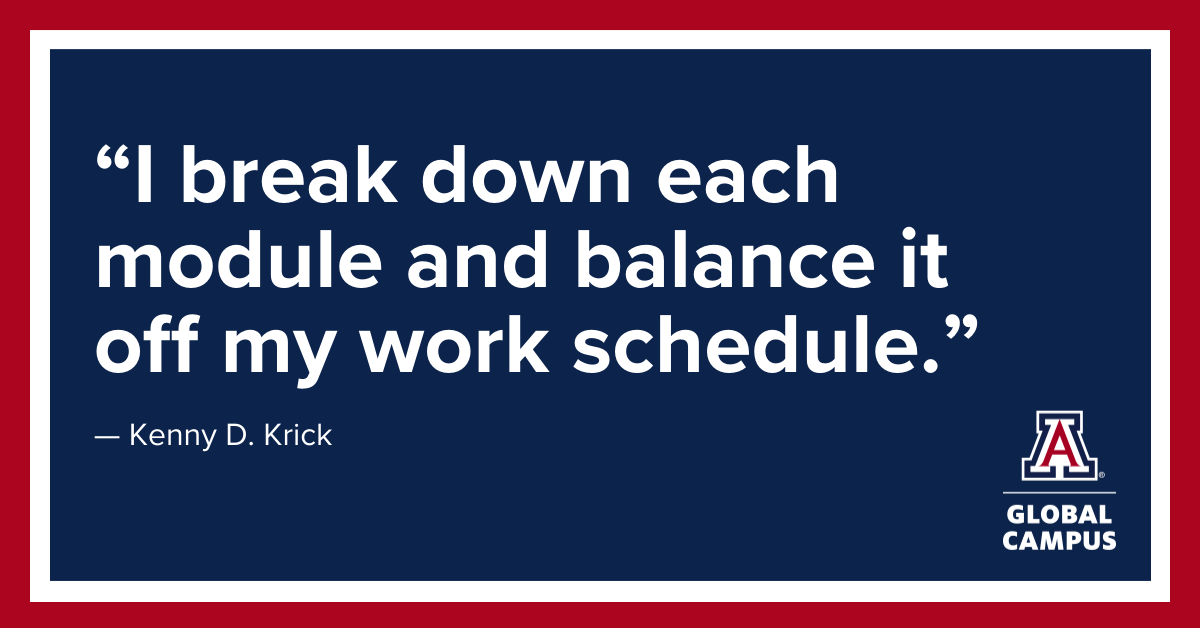 5. "Let's be honest. We all attend this great school because of the leisure of completing work on our own time. What I like to do at the beginning of each class is enter the classroom right away on that Friday it's available. I then break down each module and balance it off my work schedule. This way I know exactly what needs to be done daily, this includes research and study time!" - Kenny D. Krick 
6. "The biggest advice I can give is to never turn in an assignment late and do your best on it by following the directions and rubrics. Grammarly is also extremely helpful and try being ahead of due dates." - Kelsey Wheeler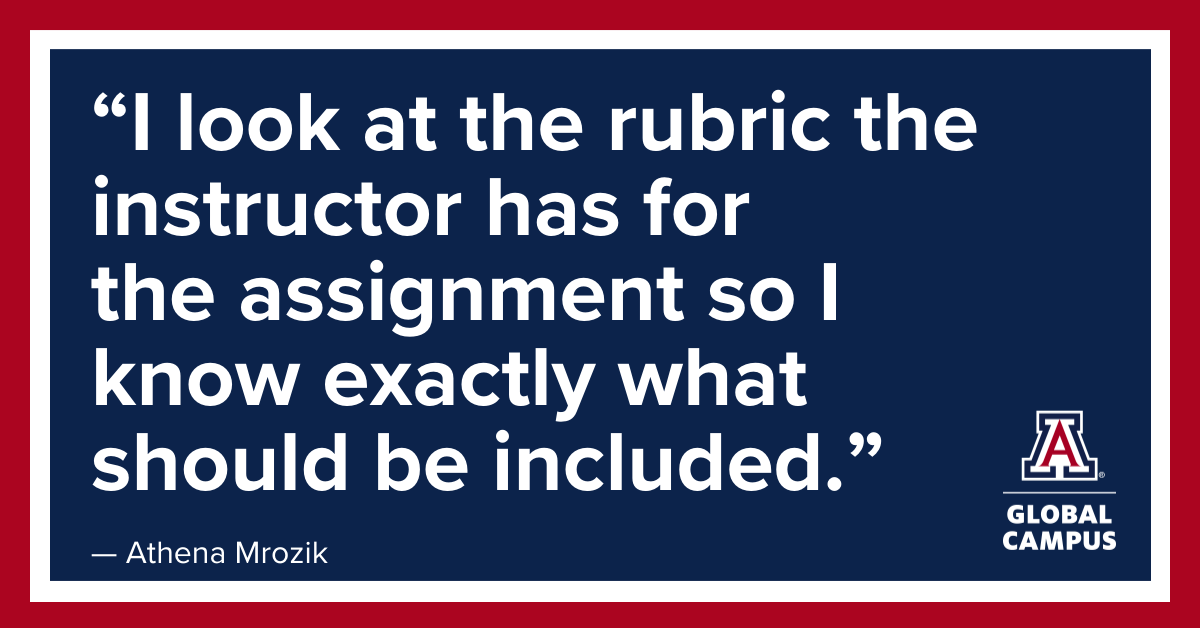 7. "I have committed days that I study or do homework. Regardless of how I feel about doing an assignment, I sit and get it done. I also look at the rubric the instructor has for the assignment so I know exactly what should be included. Finally, I look at the instructor guidance listed for the week. Each assignment is broken down with tips on how to do the assignment. I've followed these steps since I began at school 2.5 years ago and I have a GPA of 3.98." - Athena Mrozik 
8. "Time management is the best. But even that doesn't work for me all the time. Things happen that you just can't stop, so you just roll with it. Make sure you work a little every day so it doesn't get piled into one or two days, otherwise you just feel worse and overwhelmed." - Simone Foss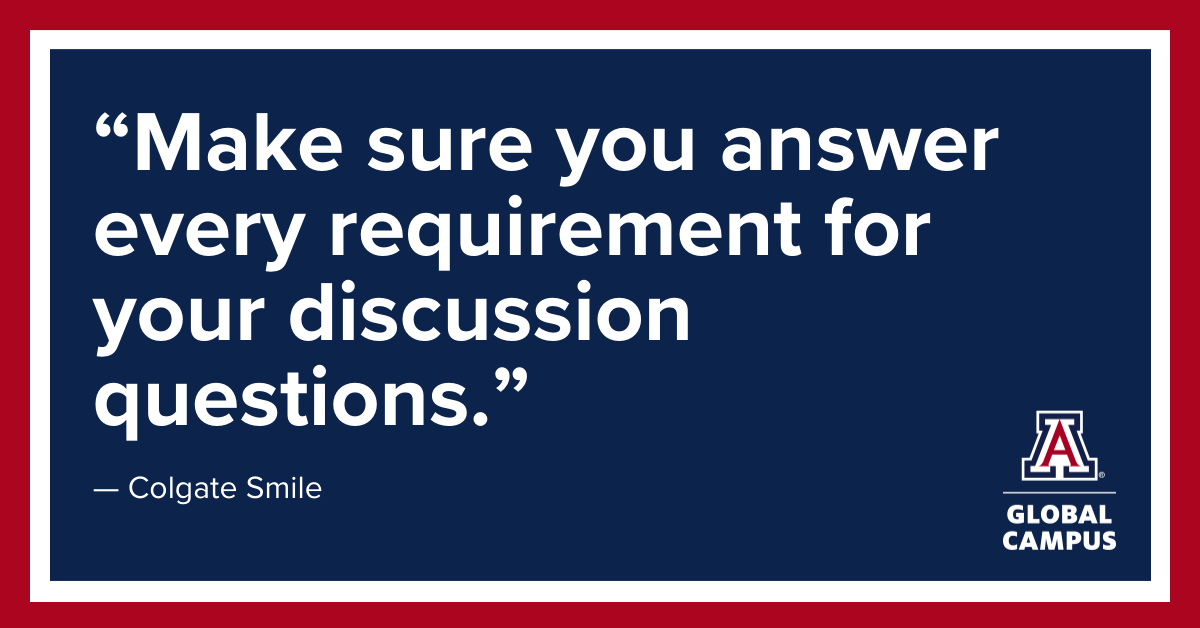 9. "My advice would be to make sure you answer every requirement for your discussion questions. Always keep a line of communication open with your professor, especially if you don't understand something. Also try and work ahead so you don't have to rush to complete an assignment. Stay focused at all times and let nothing deter you from your goals!" - Colgate Smile 
10. "I have toddlers that don't understand I'm doing schoolwork, so I schedule it before they wake up, during nap time, and when they're asleep. I also recommend scheduling personal and family time. I pick one day out of each week to not do any schoolwork. Making sure that you get a break to focus on yourself and your family is just as important as studying." - Kelly K. Russell 
11. "Check in and do something every single day! If only for 20 minutes — read a chapter, do a discussion answer, make sure your quizzes are all done, re-read the directions for the assignment due at the end of the week, every single day. If you do that, you'll be compelled to get everything done without being too stressed." - Ashlee Oakley 
12. "My advice is never begin and finish a weekly written assignment in one sitting. Break it into three different study times: brainstorming, organize, and final draft." - Myriam Andres Finner 
13. "First and foremost, it's important to surround yourself with support, be it someone else or just you cheering on yourself. I have scheduled times where I work on my homework with my phone off and all distracting programs on my computer set to be temporarily blocked during my school time. And don't be afraid to utilize the Writing Center no matter how small the assignment! It's a great advantage given to us and has really helped me elevate my paper writing." - Leannah Rae Pena
14. "Get your assignments done by setting a 'do' date—that way, when the actual 'due' date comes around, you're ready to submit." - Vicki Kim 
15. "Do not fear making mistakes. That is how you will learn, so do your best and submit your best work!" - Kerem Zaragoza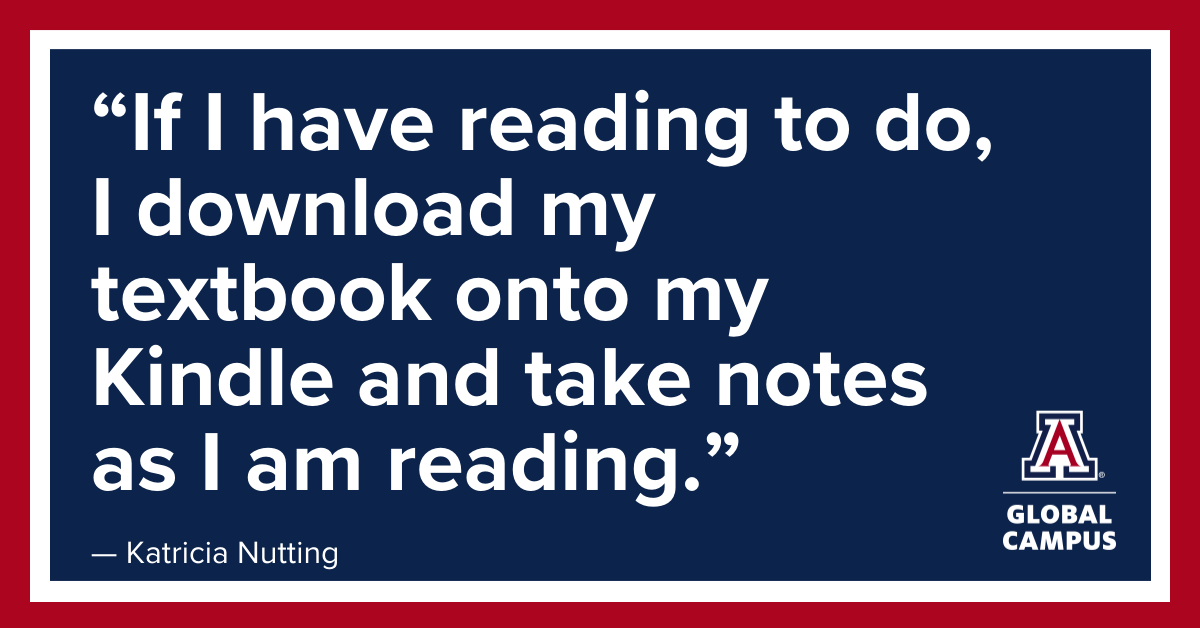 16. "I do my homework when everyone in my house is asleep. I put in some earbuds, turn on some Pandora, and start typing away. If I have reading to do, I download my textbook onto my Kindle and take notes as I am reading. And most importantly, if I get stuck, I go to TutorMe and ask for help. The tutors are great." - Katricia Nutting
17. "To keep me on track, I print out the list of assignments for the whole five weeks. I make a check mark on the items I have completed, and I cross out the assignment that I have uploaded for grading or when I am finished replying to discussion posts. Visually looking at items crossed off makes me feel like I am staying on track." - Sharone Taggart-Pickle 
18. "Paste the requirements for each discussion or assignment into a Word document so as you are completing the work, you are sure to answer everything." - Darrell Fullmer
Looking Ahead
Although your true goal should be to do the best work you can do, it's always great to have a target in mind, and striving to make it onto the Dean's List is an excellent motivator. As you work toward this and any other goals, remember that you are not alone on your journey. Be sure to take advantage of the many resources available to you, including the Global Campus Writing Center, Library, and tutoring services. You can also join one or more of the UAGC Facebook groups or a UAGC organization to network with your peers. Just remember, you can do it!