The University of Arizona Global Campus Writing Center has upgraded its 24/7 Live Writing Tutoring and Paper Review experience.
The tutoring services at the Global Campus Writing Center, including Paper Review and 24/7 Writing Tutoring, are now easier than ever to use through the new platform, TutorMe. You can still find all the same useful Writing Center services through the Writing Center & Library link in your Canvas course, and our services are available 24/7 and are 100% free to all UAGC students. However, the process of submitting and retrieving a paper, or accessing live tutoring services, has changed. 
Here's everything you need to know.
What is TutorMe?
TutorMe offers interactive instruction boards for live tutoring sessions, which allows you and the tutor to work together using updated functions such as file sharing for standard and Google Docs, as well as a blank whiteboard for freeform writing and drawing. TutorMe has it all:
It's easier to use, with a seamless experience across all UAGC tutoring services. 
Paper reviews are returned faster — within 12 hours or less.
Students receive a link to their papers and a summary of tutor feedback via email.
When working with a live writing tutor, more options are available, including video chat, screen sharing, and live text-editing capabilities.
You can still access the new writing tutoring and paper review in the classroom within the Writing Center & Library tab. Follow the prompts provided to either submit a paper for review or chat with a writing tutor.
How to Use Paper Review
Anyone who has used the Writing Center's Paper Review service for help on an assignment understands why it is the most used resource on the Writing Center website: it works! Students who report having regularly used Paper Review have a pass rate of 94%, which is 23 points higher than those who report not using the service (71%), according to the 2019 SupportU Tutoring Report. With results like these, you might want to submit your work to Paper Review right away. 
Submit your paper early so you'll have time to read the feedback from your tutor and make revisions before your paper is due.
To submit a paper to Paper Review, follow the instructions listed on the Writing Center's Paper Review resource.
Once your paper is ready, you will receive an email from TutorMe. The email will contain a summary of feedback that you can read to get an overview of the tutor's suggestions to improve your paper. You can retrieve your paper directly from the link listed within that email.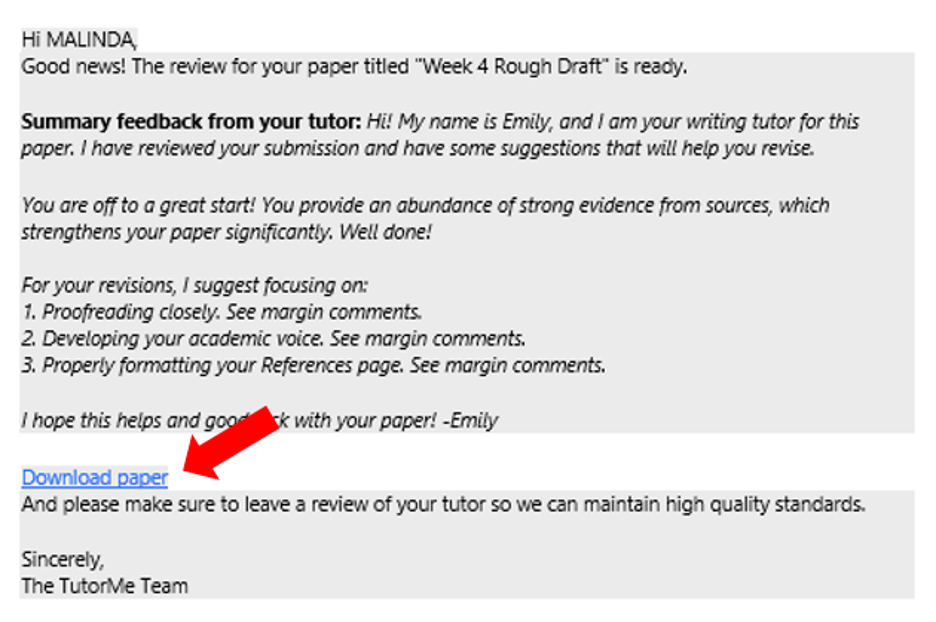 You can also retrieve your current or past reviewed papers by visiting your TutorMe dashboard, which you'll find by following the directions on the Writing Center website. 
Not sure what to do when you receive your reviewed paper? 
Visit the Applying Feedback web page for guidance on how to apply the feedback that you receive from your tutor to your paper. You can also review the feedback with one of our 24/7 writing tutors.
Using 24/7 Live Writing Tutoring
To access free 24/7 Live Writing Tutoring, follow the instructions listed on the Writing Center's 24/7 Writing Tutoring page.
The Global Campus Writing Tutoring service offers you the opportunity to learn the way that works best for you. You can chat with a tutor in your preferred learning style by typing in Text Editor, uploading your assignment, typing in the chatbox, or using audio or video features. 
Use the free tutoring support at the Writing Center to be sure you are receiving safe and trustworthy advice on your assignments. View the following blog to learn more about the pitfalls of using online tutoring services outside of the University of Arizona Global Campus: Use Free and Trusted UAGC Tutoring for Reliable Help
Visit the new Writing Center's TutorMe platform today!
-- 
Written by University Staff