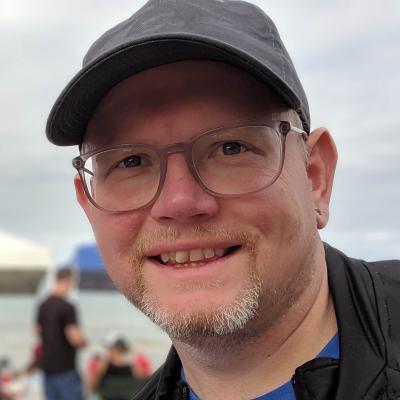 Gregory Borgman
Master of Business Administration MBA
Biography
Gregory Borgman has come to a realization. He's busy. Very busy. He's a full-time leader at work, an avid volunteer in his community, VP of his neighborhood condominium association, devoted husband, and a pet parent to two much-loved pups (9-year-old Schotzie and 10-month-old Blanche). And now he's getting an MBA at Ashford*. 
Gregory has very little downtime, but that's just how he likes it. What's his secret to getting it all done? Waking up insanely early. 
"At 3 am, I get up, make myself a cup of tea, and start doing my homework," he explains. "I try to have it all done by the time my husband gets up so that the day is ours." 
Maintaining this schedule has been critical to his success and is what has helped him overcome numerous obstacles in pursuit of his career goals. 
In 2018, after more than 15 years of working in management at a mutual funds company, Gregory was laid off. He discovered the job search was a different beast than it had been back when he was in his twenties. 
True to his stay-busy nature, he went all-in, applying to as many jobs as he could and going on countless interviews. 
"It was hard," recalls Gregory, who is in his 40s. "You're competing with people who are fresh out of school or younger than you. There's a lot of competition." 
In addition to his job hunt, Gregory had a lot going on personally — both good and bad. He married his husband, Paul, shortly before losing his job, and they managed to pay off their mortgage. However, he also experienced the loss of his brother, who unexpectedly passed away on Thanksgiving in 2018.
"It was a lot to deal with," he admits. "I took some time off to process as best I could and then had to continue with looking for a job."
After more than a year of searching, he landed a position as a contract administration supervisor in an industry he had never before worked in — at a medical diagnostics company.
His new company offers a generous benefits package that includes a grant for employees who want to continue their education. 
His husband encouraged him to utilize the grant and pursue his MBA, but Gregory thought he was too old to go back to school. Ultimately, he realized the opportunity was too good to pass up.
"Never ever fall into the trap that you're too old to do anything," he says. "It's challenging as an older student because life is a lot more complex. But it's doable."
What he likes best about Ashford is that it's a structured environment that gives him no excuse not to show up for class. It also allows him and his husband to continue to do the things they enjoy outside of work and school. The couple predominantly volunteers through initiatives with Paul's work, contributing to beach cleanups, feeding the homeless, and working with animal welfare charities. Gregory also enjoys volunteering as an outreach volunteer with the LGBTQ Center in Orange County and has created and led several diversity and inclusion groups in his workplace.
In order to fit in time for everything and everyone else, he carries strict time management over into every aspect of his life, using a calendar to plot everything out in advance and plan his life around his schooling, including dog walks, lunches, and other activities.
"Ashford is giving me the ability to earn my degree with the type of flexibility that allows me to be able to continue to give my time to others," he says. "Ultimately, that type of structure is one of the big reasons I chose to go here, so I could continue to have time to give back."
* Ashford University is now the University of Arizona Global Campus