Dr. Amjad Alkilani discovered his unique teaching talent when while in the second year of his Information Technology (IT) undergraduate program in his home country of Jordan. It didn't take long for him to realize he had helped 15 appreciative classmates learn the computer programs and languages he had already mastered effortlessly.
"I have the ability to see the big picture and know how to connect the dots," says the program chair for both the Bachelor of Science in Information Technology (BSIT) and the Bachelor of Science in Computer Software Technology (BSCST) programs in the Forbes School of Business and Technology® at the University of Arizona Global Campus (UAGC).
"Because of my love to program, I see things maybe other people cannot see and this is where I start these trainings. This is where I realized maybe I am a good teacher."
By the time Dr. Alkilani graduated with his bachelor of science in IT, he had completed more than 80 trainings and helped nearly 200 students and members of his community by using a proprietary way of teaching he developed himself. Called "full-stack training," it teaches programmers the five key areas of programming in just one month. Typically requiring several months or even years, taking classes one-by-one in the rapidly evolving world of technology can take so long that students can fall behind on current technology.
"At that time, I felt that goal was to obtain a PhD so I could teach programming to as many students as possible," Dr. Alkilani recalls. "I still remember my feeling when I walked into that training classroom for the first time. I can't deny that I was nervous, but I would not forget how eager I was to explain to my colleagues all the knowledge they needed to help them build their applications using a popular programming language."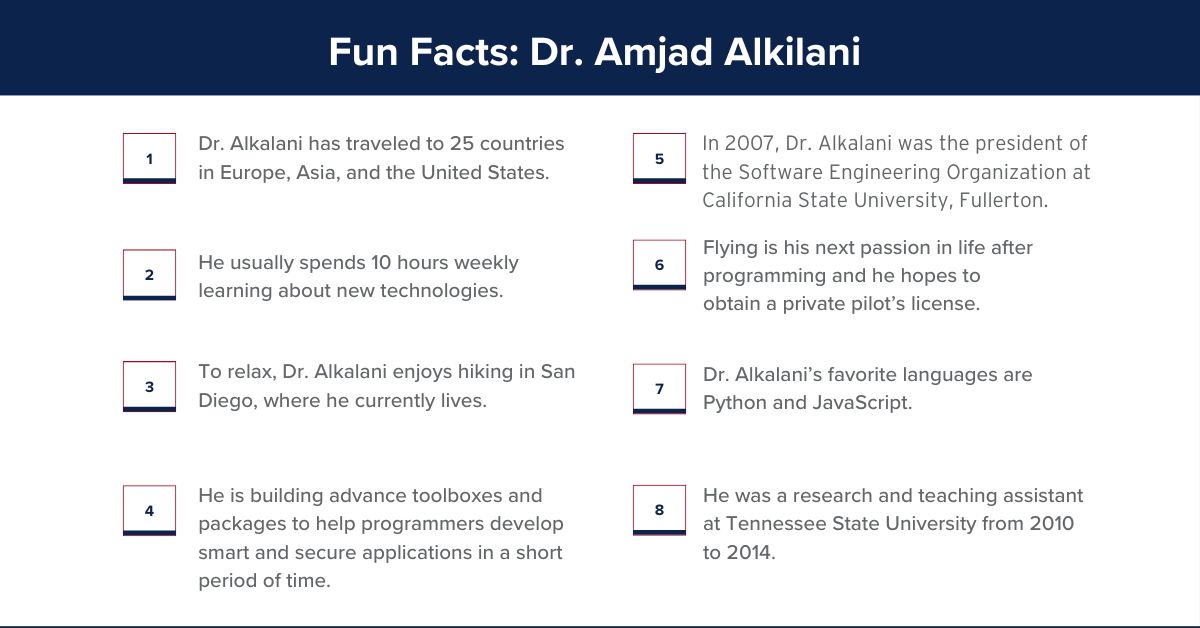 After earning his Bachelor of Science in Computer Science in 2003, he spent one year working in Dubai, United Arab Emirates, as a software engineer. With confidence gained, and more experience under his belt, Dr. Alkalani made the move to the United States to further his education and pursue his dream of becoming a college professor.
After earning his master's degree in software engineering from California State University Fullerton, he started working for Los Angeles County as a software engineer. At the same time, he started to offer full-stack training locally to college students, further perfecting the program.
A full scholarship to Tennessee State University led Dr. Alkilani to Nashville, Tennessee, for a few years to pursue his dream to become a professor. His PhD dissertation research on establishing an intellectual framework for semantic tracking and characterization of victim group activity in order to protect suspicious activity before it happens caught the attention of the State of Tennessee Homeland Security and led to a job. It also led to a 4.0 GPA in his PhD in Computer and Information Systems Engineering in 2014. 
"I consider myself lucky because I got the chance to work on many distinct projects," Dr. Alkalani says. "But graduating with a 4.0 GPA is one of my greatest achievements." When he was honored on his graduation day, he was told it had been 10 years since a student graduated with a 4.0 GPA. In honor of his effort, Dr. Alkalani became a member of the Golden Key International Honour Society.
In 2016, Dr. Alkalani joined UAGC and brought with him more than 10 years of higher education teaching experience and an impressive 16 years of industry experience in the field of software development and engineering with demonstrated proficiency in managing, directing, architecting, designing, and implementing highly complex, secure AI solutions. 
He has directly contributed to the curriculums for the BSIT and BSCST programs, leveraging his strong academic and industry experiences in software engineering and in programming.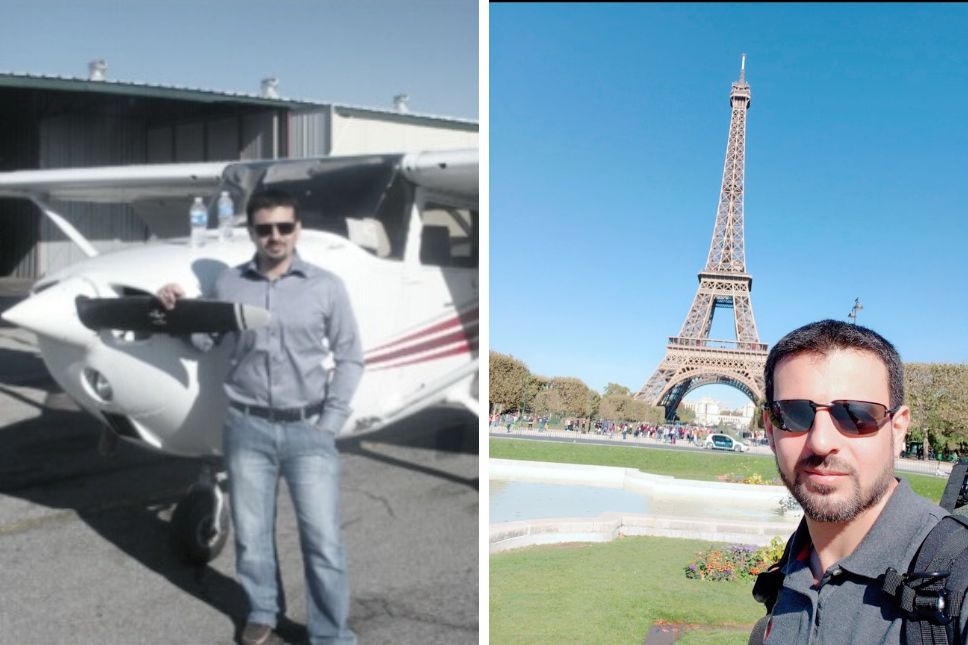 Left, Dr. Alkalani is passionate about flying and is working on obtaining his private pilot's license. Right, he has traveled all over the world and loves exploring new places.
Getting to Know Dr. Alkalani
We recently sat down with Dr. Alkalani to get to know more about him and his experience in the world of IT. Check out our interview to learn more about this amazing UAGC professor and program chair.
UAGC: What challenges have you experienced in your professional life and what steps did you take to overcome them?
 
Dr. Alkalani: The biggest challenge I have experienced is to build a single training that combines all the skills that any programmer needs to build an integrated application and teach this training in the best suggested educational methods to enable programmers to acquire the technical skills and soft skills that companies need.
When you develop applications, there are five different sets of skills you need to understand in in order to build one single application: CSS, HTML, JavaScript, Node.js, and GraphQL, and each one of these technologies have been offered in separate trainings. Because I already mastered these technologies, I took from each one the importance and I showed the connection between these programs. This was the beginning of offering full-stack training. 
I start offering full-stack training for tech students and new graduates to help them become professional developers in one month. Developing any application requires many skills, such as building the database, developing a server to handle user requests, and developing the user interface to allow users to interact with the application. The biggest challenge I experienced at that time is how to cover all these required technical skills in one month and how I can teach the students the soft skills that will help them improve their research, critical thinking, and problem-solving because there is technical skills and competencies in addition to the soft competencies, which is actually equivalent to the technology. Technology is evolving so quickly. If we don't teach the developers how to learn something new, they will not be successful. 
UAGC: How would you describe your role in keeping your students engaged and interested in the world of technology?
 
Dr. Alkalani: As a program chair, I believe that my role is important in keeping my students interested and motivated to learn everything new in the world of technology, and this is the main reason I want to be a professor. My role starts from first, designing curriculum that adopts the latest technology and programming languages, and second, building project-based courses with hands-on experiences. What encourages students to learn a specific technology is the job opportunities available to those who are proficient in this technology or programming language. Therefore, I think that my role is important in identifying the most adopted programming languages in order to give my students an opportunity to learn a technology that will help them to find jobs. 
UAGC: What are you most proud of as program chair at the University?
 
Dr. Alkilani: As a program chair and program developer, I view my job as a responsibility because the future of the students in my programs depends directly on the curriculum I design and the technology that I adopt in the courses I developed. Therefore, this requires me to keep updated with state-of-the-art technology in order to ensure students learn all the skills required by companies to help them compete in the labor market.
I designed the Bachelor of Science in Information Technology and the Bachelor of Science in Computer Software Technology programs six years ago, and my most important priority for that time was to obtain recognition from AVID. Last year, our Bachelor of Science in Information Technology program was accredited by AVID, and currently I am working to obtain recognition for the Bachelor of Science in computer software technology program.
AVID is the Accreditation Board for Engineering and Technology Programs and they have accredited more than 3,000 programs at more than 600 universities worldwide, and this accreditation provides evidence that our BSIT program has met certain quality standards established by the IT industries to produce quality students. This was huge for us.
UAGC: Why did you choose to teach computer software and programming?
 
Dr. Alkalani: As a program chair, my role is important in keeping my students interested and motivated to learn everything new in the world of technology. This is one of the biggest reasons I wanted to be a professor. Since the IT world is evolving so quickly, and there are always new things to learn, I would say to students that learning how to learn is the most important thing you will ever learn. The IT students really need to learn certain technical skills to be able to complete certain tasks. Most importantly, they need certain soft skills as well. If I didn't have this position, I would not be able to share this knowledge with students and there will be a gap. I am really helping them to bridge this gap, and since I already have a solid professional experience and background, I want to share my professional knowledge in the classroom.
UAGC: What are some words of wisdom you have for students seeking to enter the field of computer programming?
 
Dr. Alkalani: I'm sure making time for college is challenging when having to balance with everything else in life, so my advice to students is to stay focused on the task at hand, and set a schedule for the week, and get organized. Students should plan segments of time for study, family, exercise, and other tasks that need to get done. Finding a good balance between work, life, and school will benefit them personally, professionally, and academically.
UAGC: What do you love most about UAGC?
 
Dr. Alkalani: It's an online school and teaching online was the key for me. It's really shaped my teaching style. You have to learn how to communicate effectively and know what kinds of questions to ask students to see if they understand or not. These skills are very important because I can't see their reactions. I have learned a lot. Teaching programming is not easy at all. It's unlike when you teach face to face. 
--