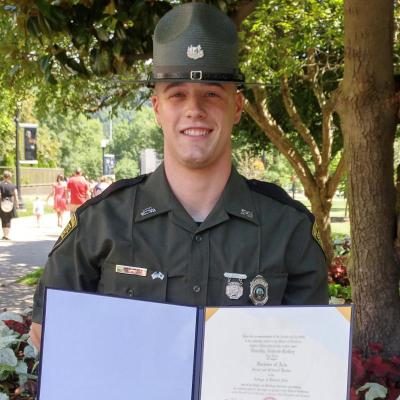 Timothy Cathey
2019
BA in Social and Criminal Justice
Biography
When Timothy Cathey graduated high school in 2012, he didn't consider himself much of a student. As such, earning a college degree just didn't seem to fit into his life plan. 
Instead, Timothy joined the U.S. Air Force right out of high school and became an Aerospace Propulsion Technician. It was while he was in the service that he began thinking more seriously about his future and how education might play an important role in securing a career after the military. 
"I met many great role models and they mentored me, eventually convincing me that I needed to further my education," he says. 
Another huge influence: his oldest brother, Isaac, and his wife, Elizabeth. 
"I have always been very close to Isaac and when we would talk, he and Elizabeth would ask me about school, my classes, and what I wanted to do with my life if the Air Force didn't work out for me."
Although it seemed clear to Timothy that a college education could benefit him, he still found it hard to buckle down at the Community College of the Air Force. He soon decided to take a long break from school – until a supervisor, who was enrolled in Ashford* at the time, suggested he look into the University. This helped to solidify his decision. 
Timothy took his first class in March of 2015. From there, he decided to become a full-time student and study social and criminal justice – a degree he felt would help set him up for a future career in law enforcement. 
Thanks to the school's credit transfer policy, Timothy was able to apply 35 credits from his previous experience and education toward his degree.
Timothy found the support and flexibility he needed in order to work toward a degree while serving as an active member of the Air Force. During the remaining two years of his military contract, he regularly took college courses. 
"I even deployed to the Middle East for six months and continued my classes throughout my time there," he explains.
Something had clicked, and Timothy was finally able to focus on finishing his education. He says the online learning experience created for him allowed him to unlock his inner student.
"I had so many great instructors that provided me with meaningful feedback along the way," he recalls. "My student advisors were always just a phone call away, and they had the right answers to my questions."
When his time with the Air Force was up, Timothy enlisted in the Pennsylvania Air National Guard and began to search for his dream job as a law enforcement officer. He applied to become a West Virginia State Trooper and was accepted. But there was one problem – his projected enlistment date for the state police was January of 2019 and his degree wouldn't be complete until the spring. Although his degree is not a requirement for the position, he needed to focus on one or the other. Not wanting to give up either opportunity, he called his academic advisor and asked for help. Ultimately, he had his degree plan accelerated to accommodate his plans. 
"I submitted my final capstone project on January 6 and started training the next day," he says. 
Timothy received his Bachelor of Arts in Social and Criminal Justice and graduated Cum Laude, something he says an 18-year-old Tim didn't think was possible. 
As he began his professional journey, Timothy realized that the things he studied in college, including criminal law, forensics, and the U.S. Constitution, as well as his military background were all instrumental in helping him compete the rigorous police academy training. In June of 2019, he graduated and earned the title of West Virginia State Trooper.  
* Ashford University is now the University of Arizona Global Campus