Thomas Stallworth II never imagined he would have a job working with a sports team he has cheered for since he was a child growing up outside of Atlanta.
Granted, he has been a fan of athletics ever since he can recall. His father played baseball; his grandfather was a huge fan of the sport; Thomas grew up playing football and baseball; and it became somewhat of a tradition in the family to watch games together. 
"I remember seeing Deion Sanders on the Falcons and playing on the Braves when they had the old baby blue uniform, and being able to go to a game with my father was really meaningful," recalls Thomas, who was heading to an Atlanta Braves baseball game with his own son when he called in to speak with UAGC about his professional successes.
Yet, in February 2021, Thomas took on the role of a lifetime when he became the head strength and conditioning coach for the Atlanta Falcons, the first head position he has held with the National Football League (NFL).
"Not in a million years did I think I would be a strength and conditioning coach let alone coaching for the Falcons," admits Thomas, who earned his Doctor of Psychology with a specialization in sport and performance psychology from UAGC in 2021. "To think I'm working for my hometown team is surreal."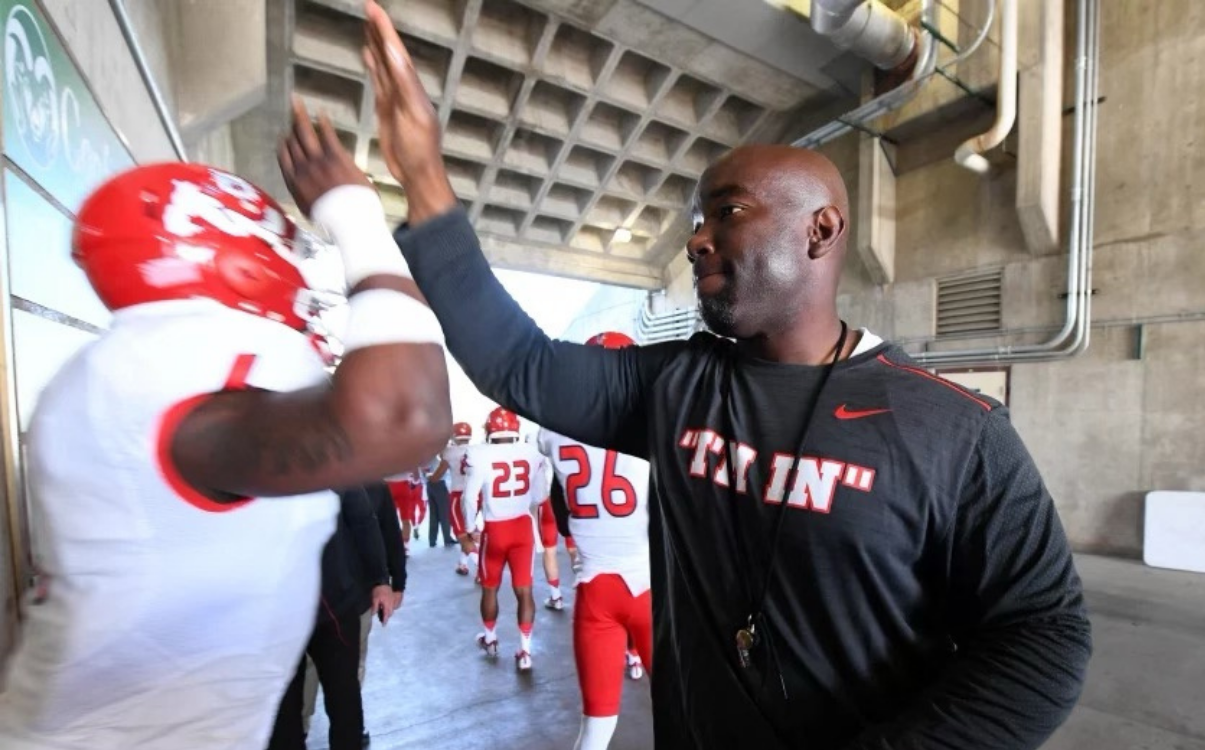 Thomas Stallworth II high-fives a player before taking the field.
Although his path has led him to a distinguished career, Thomas initially dreamed of following in the footsteps of his two uncles who worked as civil and architectural engineers.
That all changed when the lifelong athlete began his college education at the University of Tennessee, where he also played as a linebacker for the highly ranked and competitive football team from 1997 to 2001.
"During my time at Tennessee, I learned real fast that playing football and being an engineering major just don't go together," he acknowledges. 
Eventually, Thomas changed his major and ultimately earned his bachelor's degree in sports management with a minor in business while he began considering an alternate goal.
"I was mentally preparing to go to law school and my mind was on becoming a sports agent," he explains. "But at that time, our team was highly ranked, and being able to be part of a winning athletic program opened my eyes to a career in coaching." 
Initially, he wasn't easily convinced it was the proper route for him. But after continuous encouragement and recommendation from his mentor – the team's then strength and conditioning coach, Roderick Moore, Jr. – Thomas once again changed gears and sought to apply his passion for fitness and sports in a different way.
It was a solid move. Shortly after earning his master's degree in sports administration from the University of Tennessee, Thomas received his first job offer as a strength and conditioning coach in 2004 from South Carolina State. He accepted the position and has been a rising star in the niche field ever since.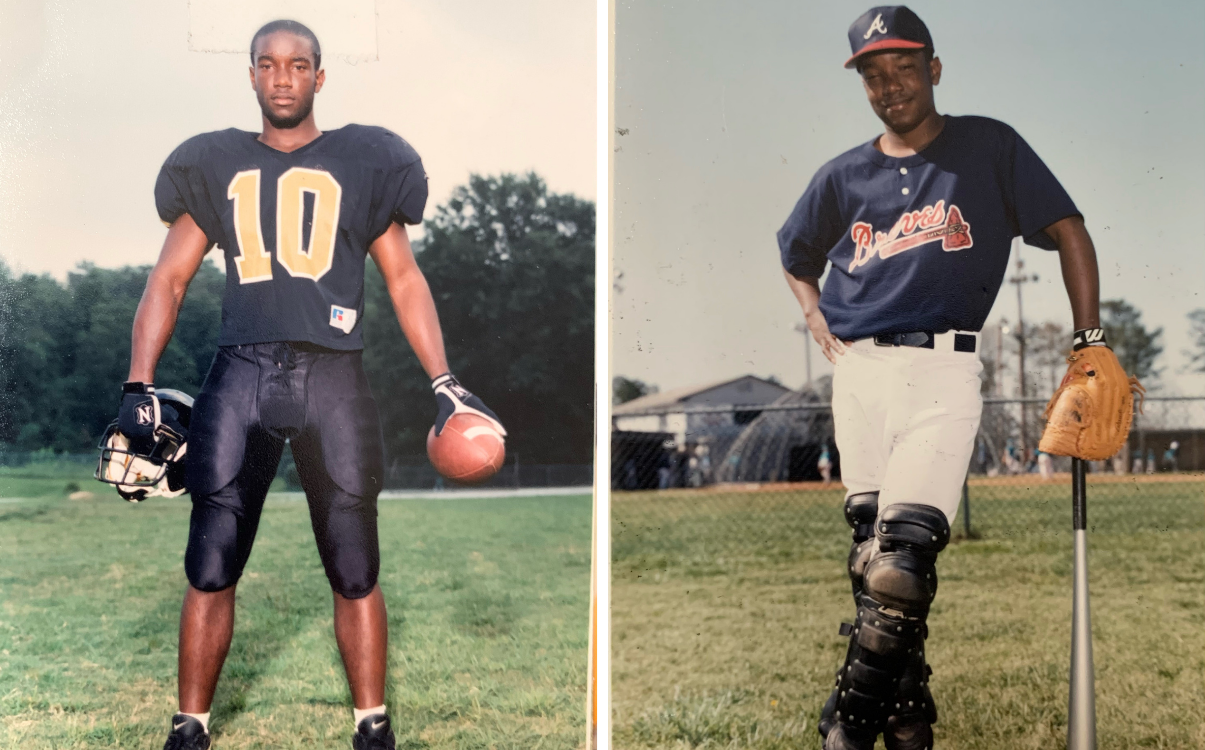 Thomas Stallworth has been a passionate athlete since he was a young boy growing up in Atlanta.
Ahead of the Game
At 42 years old, Thomas has had a fulfilling — and busy — life as well as a career in the world of athletics. All told, the husband and father of two has held nine positions as a strength and conditioning coach, a common number given the fluctuating nature of his occupation. He has been a part of numerous collegiate franchises including South Carolina State, Fresno State, Western Kentucky University, and Mississippi State, where in 2014 the team earned its first Orange Bowl berth since 1941. Most recently, he served as the assistant strength and conditioning coach for the NFL's New York Giants for three years before joining the Atlanta Falcons.
However, it was during his time at Mississippi State when Thomas realized he would need to enhance his credentials if he wanted to move up to a head coaching position – or have a solid Plan B in the event he left the field. 
When his boss vacated the head coaching position, there was a staff transition, and Thomas, who at the time was his assistant, assumed he would be chosen for the role. But that's not what happened. 
"I got passed up," he recalls. "That experience was a tipping point professionally. That's when I made up my mind to do something to distinguish myself if it ever got to that point again." 
Of course, his competitive nature didn't hurt his aspirations, either. One of three children, Thomas has an older brother and an older sister both who are successful in their respective fields. His brother is the chief of a jail in Florida, and his sister, 12 years his senior, is a judge. In fact, it's she who inspired Thomas the most to earn his doctoral degree after witnessing his sister attend law school.
With some friendly family "competition," Thomas set his sights on earning his doctoral degree. 
Society tells you that Black men are X, Y, and Z, yet I am A, B, and C, so I'm the polar opposite of what society says, and I really make it a point to disprove that as much as possible.
Juggling a family while working in a busy industry and going to school wasn't always easy for Thomas, and the transitions between his multiple jobs would often get in the way of his assignments. 
"When I was moving, there were times my family would be left behind and my computer would be left behind, or it would be hard to find a good place to work because it was challenging to do schoolwork at the team facility" he explains. "With most of those transitions, I would have to take a break so I could get to where I was to get a lay of the land and then re-enroll."
However, UAGC's online program provided the ideal solution to his unique lifestyle and allowed Thomas to adjust his schedule and pivot when needed, so he could continue to focus on his career and family without giving up on his goal to earn his degree.
His faith also played a major role in getting him through the rough patches.
"My wife always told me 'God is preparing you for a position, and this is part of your destination, so you need to finish,'" he says.
As a member of the Omega Psi Phi fraternity, he also holds true to its cardinal principles of scholarship and perseverance.
"When you talk about staying educated and always continuing to grow and learn, and the perseverance aspect, once you start something, you never quit," he encourages.
He didn't. It took him longer than the usual three to four years, but Thomas kept his focus and never backed down, giving him the opportunity to joke with his sister.
"She has her juris doctorate and I have my Doctor of Psychology, so we're even," he laughs.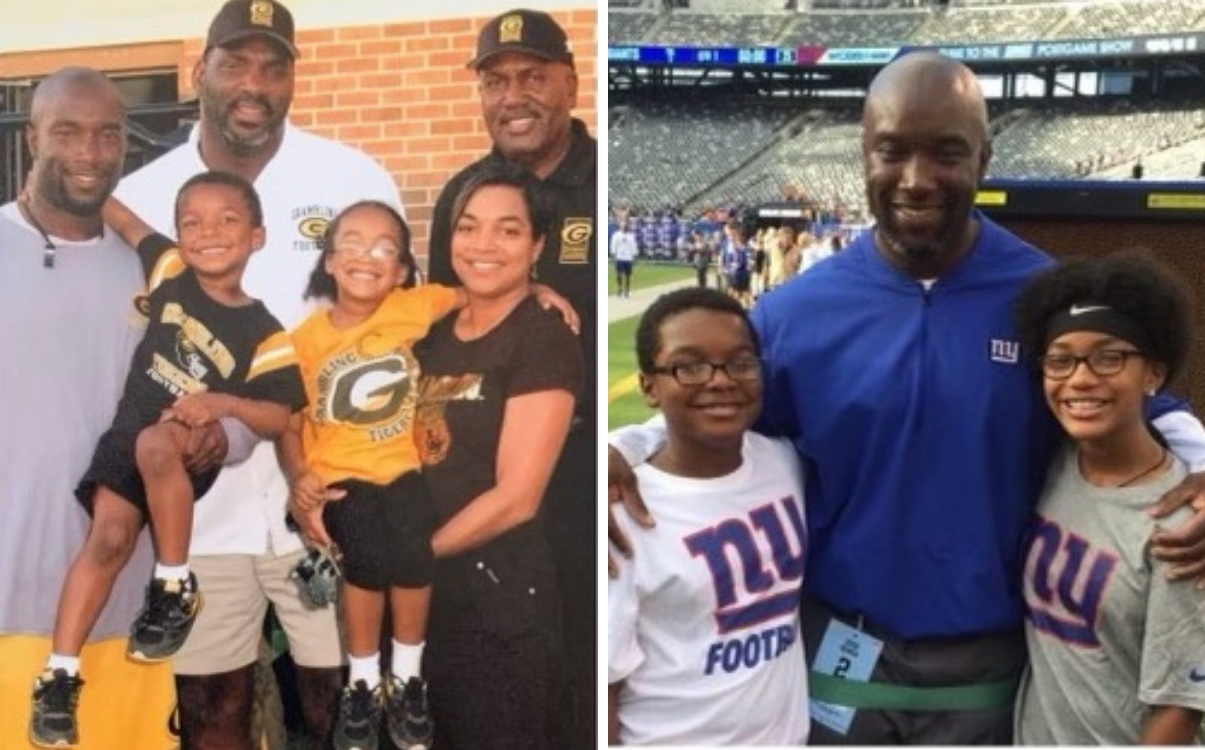 Family is very important to Thomas Stallworth II, shown at left with his wife, kids, and coworkers several years ago while serving as the head strength and conditioning coach for Grambling State University. At right, he poses on the field of the Meadowlands in New Jersey with his son and daughter during his tenure as the assistant strength and conditioning coach for the NY Giants.
Now, with his doctorate firmly in hand, Thomas sits among an elite group in the NFL, a niche within a niche, one might say. Of the 32 head strength and conditioning coaches in the NFL, he is only one of four to have a doctoral degree and one of four to be Black.
I understand the need for the psychological skillset and the importance of psychology in the Black community. I have been exposed to a lot of things, and I'd love to be able to sit down and talk to some of these players as they transition through life and help them navigate their own lives.
"That's where I get my biggest sense of pride because, especially in this current landscape that we live in, society tells you that Black men are X, Y, and Z, yet I am A, B, and C, so I'm the polar opposite of what society says, and I really make it a point to disprove that as much as possible."
In general, he says he is pretty unassuming, but he is happy to let people know of his accomplishments: "My name is Dr. Thomas Stallworth II," he says.
Mind Over Matter
Establishing himself as an authority in his field is just part of the significance of his degree. As a strength and conditioning coach, his role extends beyond the physical component. Yes, there is training and recovery – and the psychology that goes along with helping athletes understand that an injury is not fatal or the end of their career. In reality, his job is more relationship-based than anything else.
It's the life coach aspect of his work where Thomas shines. Player development and engagement has become a major focal point in his career, and he spends a great amount of time getting to know the athletes off the field. 
"In college, you are dealing with 18-year-olds from many different backgrounds, and they have no idea what they have in store," he says. "You are trying to help break down barriers, break down walls, and break down stereotypes."
When it comes to professional athletes, the job changes from teaching life lessons to teaching them how to be a professional athlete.
One of the most challenging parts of his job is building trust with these athletes, he admits, but he relies on the knowledge and research he gained from earning his doctorate to work through some of the more complex issues.
"Most coaches only care about players when they are being productive for the team," he says. "Very seldom do they care about these players individually. When athletes understand you have their back and you are supportive of them, they will go to any length to push hard and put in the work to be successful."
It's not a coincidence that Thomas places an emphasis on the psychology part of his position. It's an issue that is of great importance to him personally. Both of his parents have suffered from mental illness, and Thomas openly talks about his family history in an effort to inspire and influence others. Thomas's mother suffered from depression and committed suicide when he was 10. His older sister eventually helped to raise him, quitting her job to act as his surrogate. His father, who served in Vietnam and Operation Desert Storm, has PTSD. Both experiences left a lasting impression on Thomas and have given him a sense of direction.
"I understand the need for the psychological skillset and the importance of psychology in the Black community," he says. "I have been exposed to a lot of things, and I'd love to be able to sit down and talk to some of these players as they transition through life and help them navigate their own lives," he says.
Today, he also is using his degree to guide youth and encourage those who may need help to seek it.
Recently, he was invited back to South Carolina State to do a presentation for students, faculty, and staff on mental health in the Black community, specifically the challenges of dealing with stress and how to manage it. This is something he hopes to focus on more in the future. Looking ahead, he intends to work with veterans suffering from PTSD as well.
"Psychology and studying people is so interesting to me because there are so many layers to people," he says. "This is part of who I am and part of why I wanted this degree."
-
Erin Ansley is the content manager for UAGC.
Certain degree programs may not be available in all states.