Susanna Toomey is a leader, but she's not the kind of leader who hopes for a big office on the 11th floor. Her goal is to build connections and trust, and to ultimately set an example and inspire.
However, this Pittsburgh, Pennsylvania native didn't even think she would find her way to a college degree, let alone develop her own leadership philosophy. 
"I had started community college right out of high school, and while I liked school, I couldn't afford it once I had moved out of my parents' house and in with a roommate," she explains. "So, I stopped pursuing my education and began working as much as I could."
In order to make ends meet, Susanna worked retail and call center customer service jobs.
"It's one thing to talk to people over the phone, but when you have to problem-solve in person, I think it definitely helps you grow," she says of her previous work experience. 
The First Step is What Matters Most
At the age of 31, having a stable job, Susanna excelled and worked her way up to a management position, and with a solid support system of family and friends behind her, she started feeling that it may be possible to finish what she started in community college. 
Through a mentorship program at her company, she got the final push she needed. Susanna connected with a mentor who was finishing his master's degree while also working full-time and raising his two kids. 
"If he can do it and have enough time for a full-time job, I shouldn't complain," she laughs. "I should just jump right in."
Susanna admits she was nervous. She thought maybe it had been too long and she wouldn't be able to manage it all on her own. Luckily, her mentor helped her overcome her fears and with some simple, yet wise advice, he encouraged her to simply start the process. 
"He said, 'In reality, the worst that can happen is you fail, and you learn from that, too,'" Susanna recalls.
She realized that with her employer's education benefits, she didn't have much to lose. So, she took the first step and spoke to an advisor. Wanting to grow in her management and leadership skills and drawn to the one-class-at-a-time schedule, she enrolled in the Bachelor of Arts in Business Leadership program at Ashford University,* now the University of Arizona Global Campus (UAGC). 
"As someone with an already busy life, I knew that this would allow me the focus I needed," she knew.
Learning on the Job
For Susanna, having a supportive employer has made a huge difference. Her manager and her mentor have continued to check on her progress, and they encourage her to put her business leadership knowledge into practice at work. 
"If there is ever anything I've learned that I want to share, they are super excited to let me do that, too," she says. 
In fact, she uses what she's learned on a daily basis at work.
"Most recently, I have really been focusing on learning the individual motivations of my direct reports in order to support them more effectively," she explains.
One way she's refining her skills is through the Association for Leadership Professionals (ALP) at UAGC, where she was even elected as a club officer. 
"It's a really good opportunity to practice the skills I'm learning in the leadership degree," she affirms, adding that she loves connecting with fellow students of different backgrounds and fields.
Through her involvement in ALP, Susanna has also been able to get to know and learn from faculty outside of the classroom environment. An instructor who has made an especially big impact on her is Dr. Jennie Walker. 
"Dr. Walker's demeanor, encouragement, support, and knowledge have been so helpful," she says excitedly. "She sets a great example of a leader with emotional intelligence."
Over the past few months, Susanna has been thrilled to be involved in coordinating ALP's leadership speaker series, where she has been able to further develop her public speaking skills by being an emcee at one of the events, and she even designed a flyer. Naturally, she took these skills to her job and began leading meetings and putting her new artistic design skills to use for her company. 
A favorite part of the series for her was Ellie Parvin, whose talk on "The Power of Listening" gave her a fresh perspective on what it really means to listen. 
"She had some insight on how to physically input listening into your conversations," she recalls. 
One of these valuable lessons is the power of the pause. 
"After the person who is talking to you is done, wait a minute, pause physically. Just get used to awkward silences because they might not be done," she explains. "Also, realize that not everyone who's talking to you is looking for a solution."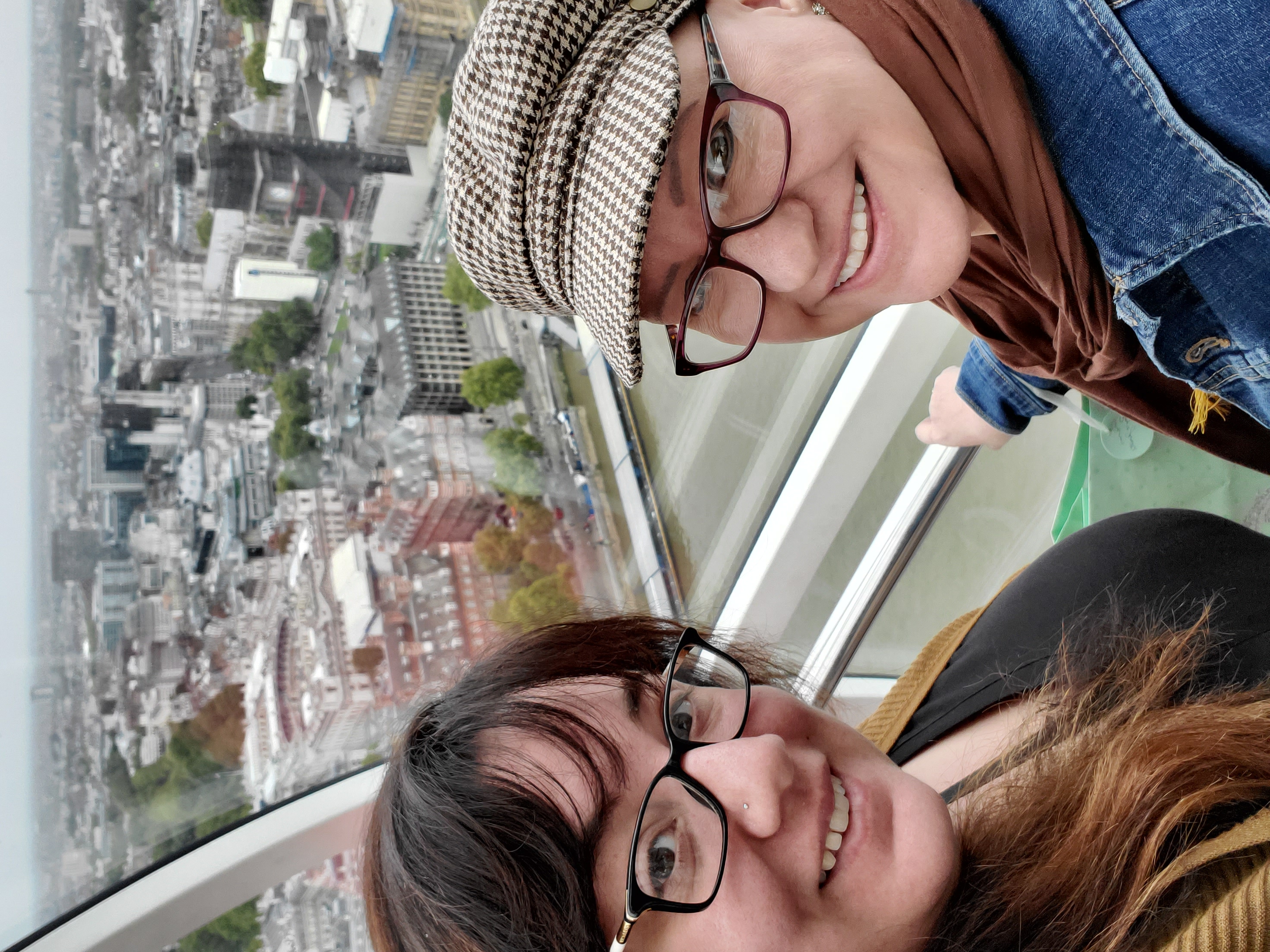 Susanna (left) says she is very proud of her mom (right) who recently completed her bachelor's degree in nursing.
Leading Through Connection
With eight direct reports, Susanna is able to put her skills and knowledge to the test every day, especially listening. She fosters an "open-door policy" with her employees and does her best to be easily accessible to them. 
So, when one of her employees recently approached her with a personal concern, her first instinct was to send links or provide resources, but she was able to pause and understand what they were really looking for. 
"They just wanted someone to talk to," she realized. 
Susanna says she knows that organizations need good leaders, and she says she knows what kind of leader she wants to be – one with some heart. 
Making connections is where Susanna excels and thrives, and while she knows that it would make sense for her to seek higher management or even director positions, she doesn't want to lose the ability to connect with those on the front lines like she does now. 
"Companies who are successful have leaders who care about their employees," she said she believes. "They figure out how to motivate them on a personal level." 
While she recognizes that all leaders have different styles, strengths, and weakness, Susanna also knows what is most important to her and how she does and does not want to lead. More than promotions or a higher salary, she strives to create a work environment that people want to be part of and be proud of, and she plans to continue to utilize knowledge gained at UAGC. 
"I want people to see me as someone they can connect with, that they aren't afraid to mess up around, and they can ask questions from," she says. "I just want to be really approachable."
Susanna strives to be leader who is focused on people more than profits or a bottom line. She says she understands that goals are important, but her philosophy is that if you focus on the people, the rest will come. It's all about balance.
As she continues to use what she's learned to work toward being the kind of leader who makes a difference in peoples' lives, Susanna knows she can feel proud that her journey to higher education has already inspired someone very important in her life – her mom. 
"She is a nurse in the emergency department and after I went back to school, she saw how well I was doing, and she started classes a few months later," she says. "She just completed her last course working toward her bachelor's degree in nursing, and I am so proud of her." 
With only three classes to complete before her own graduation, Susanna looks back on how far she's come and what it took to get here. 
"Balancing work, life, and school was not always easy, and there were some weeks I just wanted to throw in the towel," she admits. "However, I focused on how much effort I had already put in and how much I wanted this degree."
She aspires to set an example for anyone considering pursuing their education. 
"I hope that my story inspires others who are nervous about going back to school later in life. I say just jump in!" she exclaims. "Take that step, talk to an advisor, ask for help when you need it, but do it! You will be so happy that you did!" 
"Overall, I think that this process has showed me I am so much more capable than I believed I could be," she says. "The confidence I have gained from this experience is invaluable."
--
Whitney Bradford is a UAGC content specialist and former academic advisor for Ashford University.
*Ashford University is now the University of Arizona Global Campus.
Certain degree programs are not available in all states.