As an accomplished triathlete, author, public speaker, UAGC instructor, and board member for the Center for Women's Leadership at the Forbes School of Business and Technology® at the University of Arizona Global Campus, Dr. Jennie Walker has never been one to shy away from a challenge. 
She's lived in Spain, Argentina, and Chile, worked in Mexico and Peru, and has visited about 25 countries. Passionate about leadership development and helping people succeed, she's worked with Fortune 500 organizations across the globe. 
However, if you ask Dr. Walker what the scariest moment of her life was, she'll likely say it was when she had her first child. 
"I'd never even held a baby before that," she recalls. Now a single mother to four amazing kids, she's a pro. 
"My daughter is also the greatest gift of my life — along with my other children."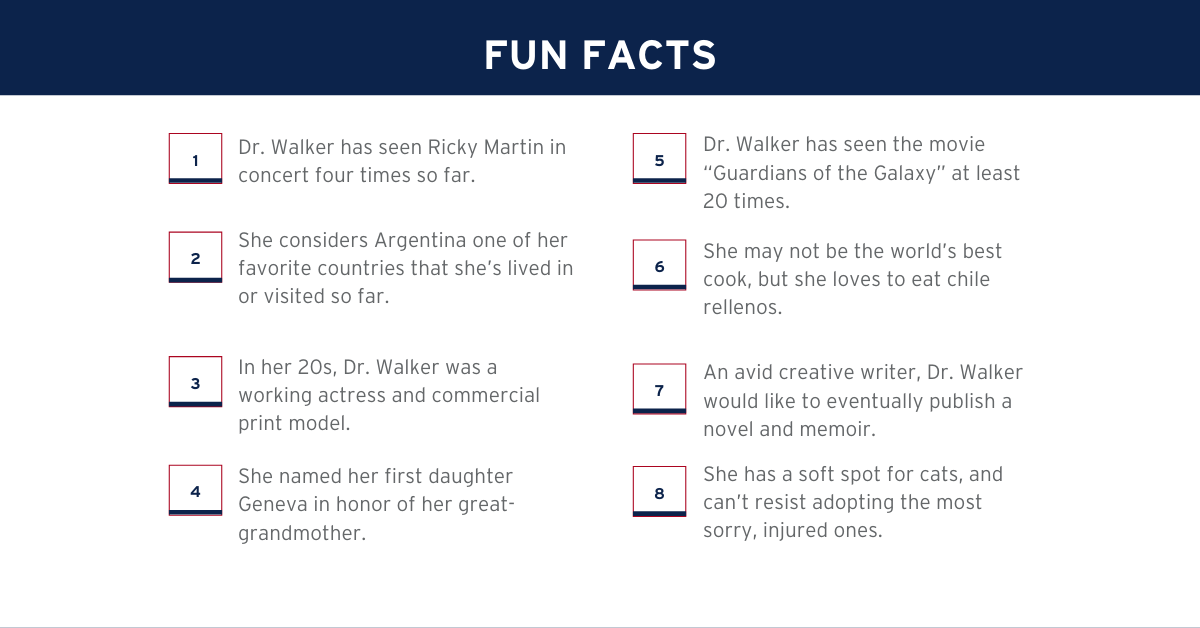 Currently living just north of Santa Barbara, California, Dr. Walker and her children are all animal lovers and share their home with a menagerie of pets, including four cats, a hamster, two snails, and a tank full of guppies. The family loves getting away to the beach whenever possible and Dr. Walker hopes to one day teach her children how to SCUBA dive. 
"I taught recreational SCUBA diving for 12 years, from basic certification through instructor-level," she says. "There's nothing more rewarding than helping people overcome their fears and perceived limitations to explore such a beautiful part of our planet. The ocean can be unpredictable, and when students panic underwater, you have to keep your cool and respond quickly to keep everyone safe. There are a lot of great leadership lessons in SCUBA diving!"
With a career that began in journalism — working at The New York Times, The Denver Post, and CNN — Dr. Walker soon discovered her communication and presentation skills made her uniquely suited for a career in corporate leadership development. 
"I've dedicated the last 20 years to developing leaders across industries," she explains. "I've provided professional education and coaching in leadership development, talent management, and organizational effectiveness within Fortune 500 organizations, as a professor and executive in higher education and as a consulting partner to many organizations across the world." 
She was drawn to the field because she saw a real opportunity to make a difference. 
"My passion for working in leadership development has often been fueled by the inhumanity and injustice I see in organizations and societies," explains Dr. Walker. "We can do better. As the great Maya Angelou said, 'Do the best you can until you know better. Then when you know better, do better.' It may not always work out that simply in life, but I see it as a good place to start. So, for me, leadership education is the foundation for a more humane and just world."
Getting to Know Dr. Jennie Walker
Today, Dr. Walker is fostering growth and inspiring the next generation of leaders as an associate professor at the Forbes School of Business and Technology®. Get to know more about her approach to education and how she's helping both students and the UAGC community at-large find success.
UAGC: What are some of the key takeaways you've learned through your work in the corporate world that could apply to people in any profession or stage of life?
Dr. Walker: "In my coaching work with employees at all levels of organizations — from entry level to senior executive — I find that they are often struggling with similar life issues. I've heard some of the most 'accomplished' people in the world wrestling with self-esteem, fear, loss, and disappointments in life. At work, we tend to identify each other by formal titles and roles, but ultimately, we are all imperfect people with hopes and dreams. Remembering our shared humanity is often the bridge to stronger relationships and a kinder workplace."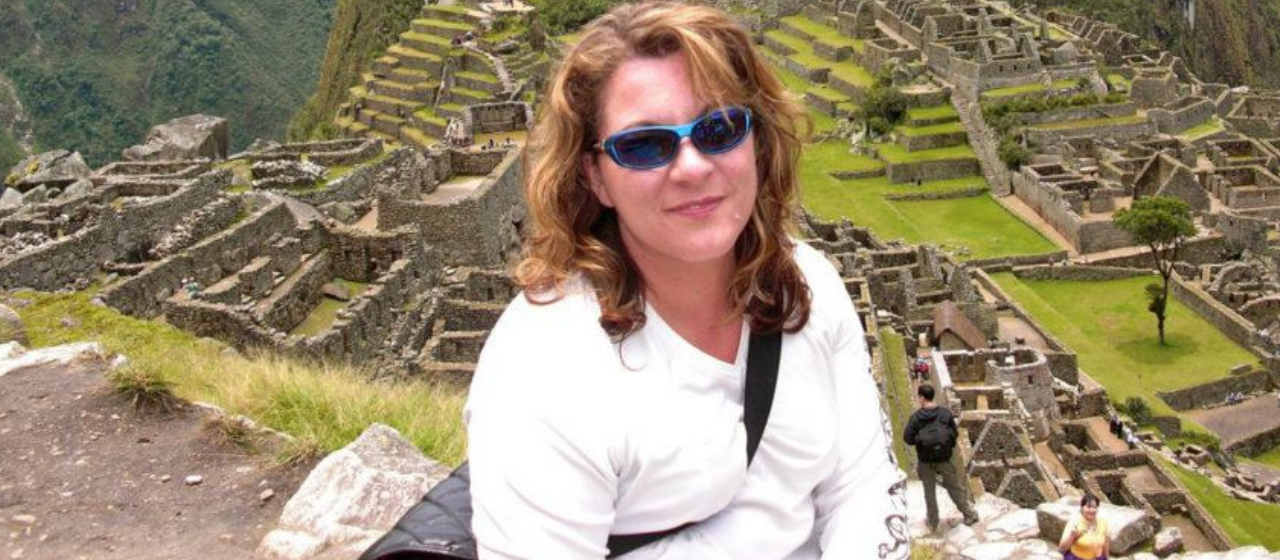 Dr. Walker has traveled around the globe, including to Peru, where she is shown here. Her children are half Peruvian and she says Spanish is important in her household.
UAGC: In a similar vein, what's the greatest advice you like to share with people who are seeking to become more successful in the business world specifically?
Dr. Walker: "Every person has multiple abilities and unique talents. Focus on your strengths and what brings you joy. That may mean volunteering for a task, taking on an extra project, or trying out a new role. Find ways to showcase your talents, because when you do what you are good at and love, there is a spark that people notice. Support others in doing this, as well."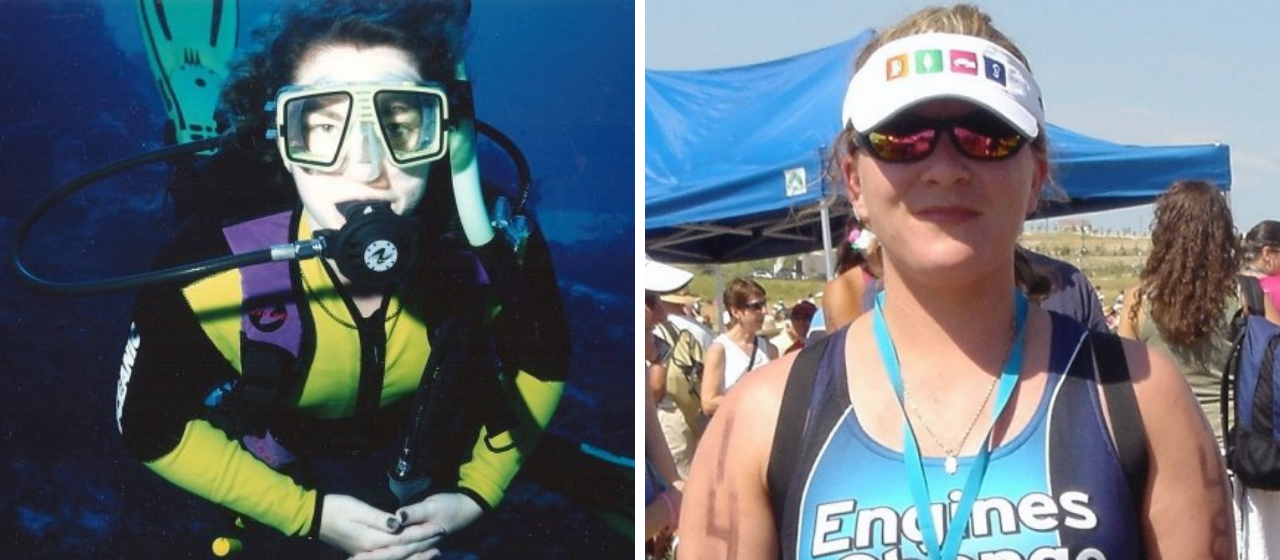 Left, Dr. Walker is a certified SCUBA instructor. Right, she is shown finishing one of eight triathlons and has competed for three national teams.
UAGC: Tell us more about the Center for Women's Leadership at the Forbes School of Business and Technology® and your work with the organization.
Dr. Walker: "In 2019, I became a board member for our Center for Women's Leadership at the Forbes School of Business and Technology®. I co-lead our events and research committees and really enjoy the partnerships with other faculty to shine a light on the ongoing gender inequalities in organizations and society at large. 
To prepare for the Center launch in June 2020, our research team performed an in-depth research review to better understand current findings on gender equity. Frankly, the research is shocking on how little progress we've made as a society in this regard. Across organizations and industries, women remain poorly represented and underpaid. However, there is a perception by some that gender equality has been 'fixed.' Research definitely shows much work remains to be done. My contributions at the Center are aimed at providing our community with resources that help further turn the tide."
UAGC: Can you talk about your approach to teaching and your philosophy when it comes to education?
Dr. Walker: "My approach to teaching is shaped by my work in corporate leadership development, where I learned the importance of developing strong, positive relationships with class participants. There is not a traditional hierarchy of teacher and then student. It is more of a peer-to-peer mentor relationship, where we share and learn from one another. 
My philosophy on education is that it alone does not produce learning. While it may provide important foundational information, on its own it may do very little to engage students in learning more about a topic — or more importantly, to help them translate the information for practical application. That is why I think it is critical to tap into perspectives, dispositions, motivations, interests, and values in meaningful ways."
UAGC: What are some of your favorite aspects of your job?
Dr. Walker: "I love the exchange of life experiences, stories, and genuinely getting to know my students and colleagues. It is also a joy to see students make connections between learning and their work and lives. It is these connections that spark new ideas, innovation, and positive change."
UAGC: Do you have any other advice that you'd like to share with UAGC students on the road to achieving their goals?
Dr. Walker: "My advice is to follow your heart. I don't mean that in a cliché kind of way. I mean it quite seriously. If your dream keeps following you, it matters. Dreams are persistent visitors, reminding us of what we really want to be, do, or experience. Studies show that at the end of life, the regrets people have are often to do with what they didn't do, not mistakes they made."