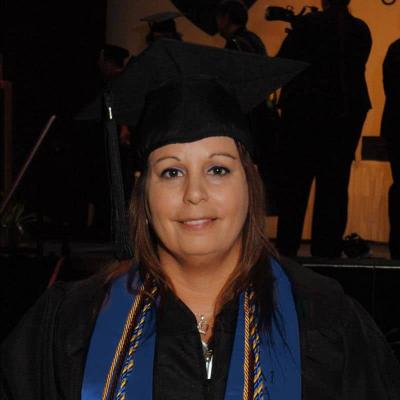 Monica Hubert
2014
BA in Applied Behavioral Science
2014
BA in Applied Behavioral Science
2017
BA in Applied Behavioral Science
Biography
Monica Hubert is well-versed in drawing inspiration from struggle.
As a newly-wed teen military spouse, she moved to upstate New York with her then-husband after he finished basic training. Although Monica was an honor student with plans to complete her senior year and attend college, she says her new local high school banned her from enrolling without parental supervision. 
"I was so focused on graduating," she recalls. "It was a major blow to my plans and self-esteem."
Still, Monica earned her GED and focused on taking care of her growing family. Of her three children, two were diagnosed with an Autism Spectrum disorder. As a stay-at-home mom, she navigated several cross-country moves while her husband worked multiple deployments in Iraq, Saudi Arabia, Bosnia, and more. In 2005, he was medically discharged with PTSD, a condition that eventually contributed to the demise of their marriage. 
Wanting to better understand the psychological challenges affecting her family, Monica developed a strong interest in human behavior and mental health. But her first priority was to provide for her children. She entered the workforce and began taking a real estate licensing course at the local community college.
"Completing this course was instrumental in my decision to go to Ashford*," Monica says. "I was warned that most people failed the state test, and I passed it on the first try. I told myself that if I could pass a test where the majority do not pass on the first try, I could be successful in college, too."
Monica began an online search for reputable colleges and selected Ashford University because it was military-friendly and offered both online and brick and mortar options that allowed her flexibility to work full time. She enrolled at 36 years old, and by 43, she had earned two bachelor's degrees and one master's degree within the social and behavioral science program.
Monica excelled in her studies, which she attributes in part to responsive professors and helpful online resources such as the Ashford Library and Writing Center. Her favorite class was psychopathology, which provided insightful information on the mind and human development of the brain. 
"The only real challenges I had were my own insecurities," she says. "But I refused to give up. I had a mantra: one class at a time."
In 2014, Monica was inducted into Alpha Sigma Lambda and the Golden Key International Honour Society. She also earned magna cum laude recognition for her undergraduate studies. Monica proudly participated in the commencement ceremony, a moment she was unable to experience as a high school student.
"When I walked across that stage, it was the absolute best feeling in my life," says Monica.
Monica's educational accomplishments translated to professional opportunities that opened the door to the career of her dreams. She currently works as a youth and family counselor for at-risk children in a local emergency youth shelter and in public schools. 
"My life has absolutely changed since attending Ashford," she says. "It changed how I view struggles I have in my life and taught me to never quit."
* Ashford University is now the University of Arizona Global Campus