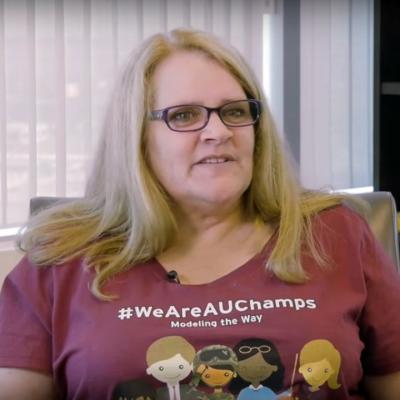 Machele Ruiz
2016
BA in Organizational Management
2018
BA in Organizational Management
Biography
Students often credit supportive parents for their academic and professional achievements. For Machele Ruiz, it's the other way around.
Machele's oldest son, Jeremy, attended Ashford University* between 2008 and 2009 while serving in the military. She admired her son's academic endeavors and watched from afar while she focused on her job as an office manager for a cat hospital in Southern California. An animal lover, Machele weighed her career advancement options and decided to pursue a Certified Veterinary Practice Manager license (CVPM). However, doing so required a bachelor's degree. The idea of attending college seemed daunting to Machele, who battles dyslexia and struggled through special education classes to narrowly graduate from high school.
"I was surprised I finished and never imagined going to college," she admits.
Inspired by Jeremy's hard work, and with his support, Machele began reaching out to community colleges only to be rejected for various reasons.
Jeremy encouraged his mother to contact an enrollment advisor at Ashford University, but Machele had become so discouraged by her previous failed attempts that she gave up her pursuit of a degree.
"No one would let me start at their school," she says. "When the community colleges kept turning me down, I thought it was a sign to give up."
Instead Machele focused on her work at the cat hospital while continuing to support her son, who was on track to become the first member of her family to earn a bachelor's degree.
Sadly, that day would never come. In 2010, Jeremy passed away, and in an instant everything changed, including Machele's priorities.
"Since Jeremy's passing I kept feeling as though there was something I needed to do, however I was not sure what it was," she explains. On the second anniversary of her son's death, and at the age of 48, her mission became clear: to earn her college degree. 
"I told myself I was going to do everything I could in honor of my son," she says. "I wanted to follow in his footsteps."
A noble endeavor, but there was just one catch — Machele couldn't recall the name of the university her son had attended and once insisted she contact. Call it fate or kismet, or maybe just the powers of Google, but one quick search online led her to Ashford University.
"I called immediately and within a few weeks I had started my own class," she says.
At first, attending college while dealing with the pressures of everyday life was overwhelming for Machele, but she changed her mindset and began viewing her journey as an adult student through a different lens.
"When I first started, I kept looking at how many classes I needed to take in order to graduate," she recalls. "Then I told myself, 'Don't look at how many classes you still need to take. Instead, look at how many you have completed. Once I adopted that attitude, the time went by so quickly."
In 2015, Machele was invited to join UAGC's CHAMPS mentor program, where she was able to share her positive outlook with fellow students and ultimately discovered her true passion — helping others.
"After the first few months as a mentor, I realized I really enjoyed helping students overcome their hurdles in life," she explains.
At the time, she had still been working toward a career as a CVMP. After two years as a volunteer mentor, however, her path changed when she accepted a position as program coordinator for CHAMPS. Ultimately she earned her MA in Organizational Management with an Organizational Leadership Specialization, also at Ashford University.
"I found my niche," she says. "There wasn't a CHAMPS program when I started at Ashford, and I felt lost. I don't want others to feel that way. It's been a great way to give back to the students what my son had given to me," she says.
In this role, Machele encourages students to utilize the many resources available to assist them, including our Writing Center and Career Services, as well as to join student organizations like the Golden Key International Honour Society and Sigma Beta Delta, of which she is a member.
 
"There is a light at the end of the tunnel, but you must continue to dig and not give up," she says. "Every day I thank my son for finding Ashford and for letting me know about the school. Today, I live the dream that he once had."
* Ashford University is now the University of Arizona Global Campus