Like many people, Kia Selvaggio's career aspirations were shaped by the family that surrounded her as a child. Growing up in a coastal town in New Jersey, Kia's parents owned a pizza parlor on the Jersey Shore, her aunts owned Italian restaurants, and her grandparents founded the famed Richie's Deli and Pizza on the campus of Temple University in 1969. 
Kia's parents put her and her siblings to work early in life at the family business, stocking refrigerators with soda, bagging meals for delivery drivers, answering phones, taking orders, and even cooking cheesesteaks and pizza.
"From the age of nine, I knew the value of hard work," Kia recalls. "We worked just as hard as hired employees because there was no difference to my parents. We were not treated special. If anything, we had the more difficult tasks. As a result of the example my parents set for me, I knew from an early age I was going to be a businesswoman."
Despite working a full-time job and taking care of her younger siblings, Kia enrolled in community college at age 19 and started working toward her business degree. She was the first member of her family to attend college and having seen and experienced the value of work at a young age, she was committed to finding meaning in her career and pursuing her dream of "carrying a briefcase, viewing charts and graphs, wearing suits, and sitting in boardrooms."
A Dream Delayed
Not long after Kia started school, she and her mother were struck by a car during a snowstorm. The accident required her to undergo physical therapy, and she was forced to put college on hold while she went back to work and paid the bills to help support her family.
"Family always comes first," Kia explains. My mom fell ill and couldn't work for an extended period of time. I had to cover my expenses, recover from physical injuries, and chip in at home." 
College had to wait. "I was bummed," she admits.
Kia's family remained supportive, reminding her if she continued to work hard, she would be rewarded one day. Without the business education she desired, however, it was difficult for her to find a place where she felt like she belonged, she says. She tried retail and banking, reminding herself that she could do anything if she set her mind to it. 
Though Kia exceeded expectations at every turn, something was missing. "It was one thing to be good at a job. It was another to feel like I was part of a family," she says.
Finding Her "Family" and More
By the time Kia was 25, she was married with a 6-month-old daughter. Personally, she was surrounded and loved by family, but professionally she still struggled to find the same feeling. That's when her sister-in-law suggested she apply for a role at Holman, an automotive company based in New Jersey. She'd never worked in the auto industry but wanted a change of scenery, so she applied.
"December 2015 was the start of something great," Kia says. "I found the missing piece that drove my passion for working – being part of a family. The first thing I noticed about Holman was the family dynamic, the principles, good morals, and feeling like I belonged somewhere."
Though she started in the company's licensing and compliance department with no knowledge of the business, Holman's training program helped Kia excel beyond her position. She eventually developed an interest in project management and began to take the lead on some of Holman's largest initiatives. Many of the projects she worked on revolved around the company's marketing and commercial strategies, and that's when things really started to click. 
"That piqued my interest in applying for the Chief of Staff for our Holman Commercial Team, supporting our Chief Commercial Officer, which is where I have been for the past two months."
For the first time in a long time, everything in Kia's life was aligning. She had found the professional family that she desired in an industry that excited her.
Then one day, a director in her department praised her work on a project and asked what degree she'd earned in school.
"I turned red," she recalls. "How could I tell them that I had no formal education? I was so embarrassed. When I said I never completed my degree, they said, 'Why? And don't say time or money because we can always make time, and we have a tuition reimbursement program.' "I shyly said, 'Time and money.'"
That moment motivated Kia to go back to school. Though she'd been making things work, successfully juggling her budding career and her infant daughter, a degree was the last piece of the puzzle, and she wanted to finish it.
Every Piece Falls into Place
With very little spare time, Kia needed a program that would afford her the most flexibility. She chose to earn her Bachelor of Arts in Project Management at the Forbes School of Business and Technology® at the University of Arizona Global Campus (UAGC), knowing the five-week course structure would fit her schedule and allow her to complete her degree on her timetable. Her sister-in-law was also returning to school at the same time, so she knew she'd have someone to lean on for support if it got challenging.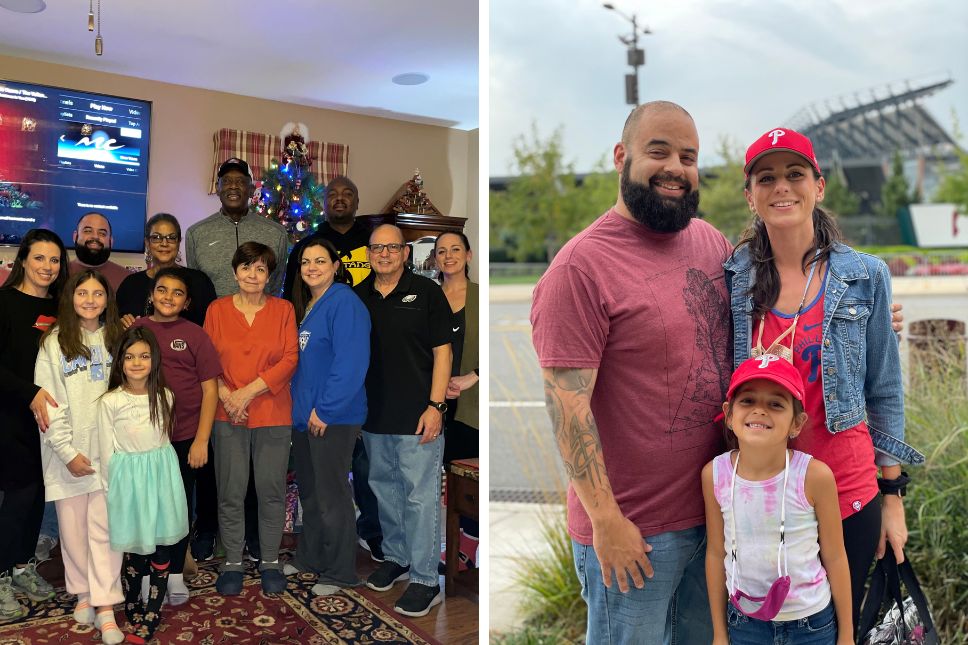 Family plays a major role in Kia's life and is central to everything she does at home, work, and school.
Immediately, Kia says started to see the benefits of a college education pay off. "Every time I started a class, I was able to apply the knowledge that I was learning to my work, and vice versa," she explains. "When I was in a public speaking class, I had started my role in the strategy office, which gave me the confidence to present in my first strategy meeting. When I was in my organizational change class, I was leading a massive change management project [at work]."
Kia has even started applying the "Today I Learned" (or TIL) concept learned in her business classes to her career. She emails her team every day, and they discuss what they're focusing on as a department. Concepts like these not only enhance her leadership credentials but they bring her team closer together – like a family – and help them learn new ways to communicate with each other.
"UAGC has provided me with the tools I need to be successful in my career while also sharing that knowledge with peers and colleagues," Kia says.
Surrounded by Family and Success
Kia is on track to complete her project management degree in November 2023, and keeping in line with her reputation for going above and beyond, she'll do it as a member of the University's Honors College. 
With much of her coursework focused on environmental management and sustainability, Kia is eyeing an even larger, long-term role at Holman. 
"I would like to oversee our sustainability initiatives and our corporate social responsibility," she says. "The cool thing about my current role is electric vehicles, and sustainability is part of an area I oversee. I want to change the way people perceive automotive and focus on more environmentally friendly things."
Being part of the Holman family, Kia says, is the closest she's ever felt to her childhood experiences working in her family's business. But she also found that feeling at UAGC, notably in the classes taught by assistant professor and veteran business leader Bill Davis.
"He went above and beyond to make me feel part of the journey," she says. "Throughout our relationship, he has connected me with some amazing people and has celebrated my career success along the way."
Kia admits her eyes start to swell with excitement when she talks about all she's accomplished. Despite all her personal struggles, she never wavered from her goal, and now she's surrounded by family on all sides.
"Everything I dreamt of is coming true, little by little, day by day," she says. "Except for the whole suit and briefcase thing. As I got older, I realized book bags are so much better on my back."
--