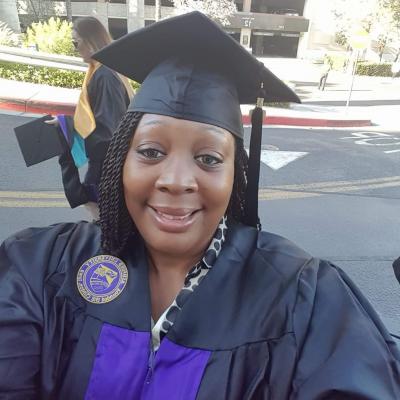 Katalina Scott
2013
BA in Organizational Management
2017
BA in Organizational Management
Biography
Good intentions and determination were not enough to earn Katalina Scott a bachelor's degree the first time around. 
She began her college education at Southern Texas University and transferred to Lamar University in Beaumont, Texas, after becoming pregnant with her son at age 19. Having stopped and restarted her coursework there several times, Scott was two credits shy of earning a business degree when she was informed she couldn't resume classes because the school didn't have her high school transcripts. 
Scott had to quickly rethink her next steps.
"I had two cousins who had graduated from Ashford*," she recalls. "And they said, 'Just go to Ashford.'" 
She took their advice and enrolled to obtain her undergraduate degree in organizational management from the Forbes School of Business and Technology™. Despite an easy transition, Scott eventually was dealt another unpleasant surprise when she encountered issues with financial aid. 
"I had failed a couple of classes and needed more time. I thought it was over," she admits. 
However, Scott worked closely with her academic advisor, who she credits for getting her back on track. 
"My academic advisor went to bat for me and helped me get on a payment plan," she says. "Ashford is so amazing. Everything was so smooth. It was nothing like going to school on campus. You don't have to go to all these different departments to make sure all the forms are signed. It was so simple."
When Scott started attending Ashford, she had been working as a school bus driver. While earning her business degree, she began working at a housing facility for children with special needs. Once she obtained her bachelor's degree — 13 years after she started at Southern Texas — she got promoted from administrative assistant to housing manager. Ultimately, she moved on to a children's mental health clinic, where she was inspired to become a case manager. 
Scott decided quickly to continue her education, enrolling to pursue her master's degree in psychology at Ashford's College of Health, Human Services, and Science.
"I went straight through," she says. "I didn't take any breaks. I didn't fail any classes." 
When Scott finished her coursework in 2017, her community rallied around her so she could attend commencement.
"My mom sold dinners, a friend paid for airfare, my pastor paid for the hotel room," she says. "I was so glad I went. It was a beautiful weekend. Ashford had everything set up. I never felt so special in my life."
Scott plans to pursue a doctoral degree in psychology and says she is thrilled she can do it through Ashford now that it will merge with University of the Rockies and be able to offer doctoral degree programs.
"Ashford is always making all the right moves," she says.
Now that Scott is on her way to earning a doctorate, she has some advice for anyone trying to pick a university: "You are a grown adult. You have regular life going on, and you want a degree — go to Ashford. It's made for grownups. They want to see you win. They want to see you make it through," she says. 
* Ashford University is now the University of Arizona Global Campus