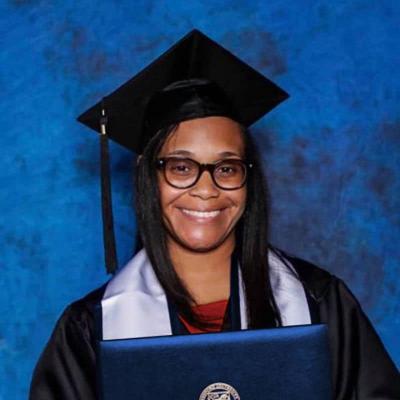 Kasey Coleman
2019
MA in Health Care Administration
2020
MA in Health Care Administration
Biography
Sometimes, one of the healthiest things you can do as a parent is invest in yourself. For Kasey Coleman, a single mother of three, that investment was finally finishing her bachelor's degree. 
Kasey, who had her oldest two children at age 16 and 17, found motivation in overcoming the negative stigma and statistics of young mothers. 
She first began working toward her college degree at age 22, but attending classes on a campus became too difficult because it took time away from home and her family several nights a week. Eventually she stopped school and didn't revisit the idea of finishing a degree until a decade later when her mother, who valued a college education, passed away. 
"Being a college grad was one thing that my mother wanted to see me accomplish," Kasey says. "After her death, to be honest, I didn't think that I would have the strength to go back to school. However I did it for my mother, for my children, and for myself." 
In May 2015, Kasey enrolled at Ashford*. As a first-time online student, she wasn't sure what to expect. 
"I was originally opposed to going to school online, thinking that I wouldn't be able to grasp the work that was assigned as I was more of a hands-on type of learner," she explains. "I thought I needed to have staff in front of me in order for me to fully learn the information, but to my surprise, online schooling has been just as beneficial as a classroom setting." 
After attending Ashford courses, Kasey went from skeptic to firm supporter. "I'd never step foot in a classroom again unless I had no other option," she explains.
Kasey found Ashford's introductory period especially helpful because it allowed her to get comfortable with an online classroom. 
"Those first three weeks set the stage for my success with online learning," she says. "The advisors were awesome. They were always checking in, making sure I was grasping the concept, etc."
Having the freedom to learn and do coursework from anywhere gave Kasey the flexibility she needed in order to be there for her kids while still working toward a degree. 
"Being able to take my laptop to my son's games to complete homework etc. was very beneficial," she says. "This allowed me to handle my mommy duties while still completing my weekly studies."
On May 4, 2019, Coleman graduated with a bachelor's degree in healthcare administration. 
"I was able to finally reach the finish line," she says. 
Earning a degree allowed her to advance her career in the healthcare field, going from a medical biller and coder to a senior claims processor at a medical insurance company. 
But Kasey doesn't plan to stop there. She's currently enrolled in the MA in healthcare administration degree program at Ashford with an expected graduation date in fall 2020. Her goal is to use her master's degree to advance in her career to a management position, she adds. 
Kasey's hard work and investment in her future serves as an inspiration to those around her. Several family members already are following in her footsteps, including her younger sister. Her son is pursuing his bachelor's degree in exercise science at Upper Iowa State University, where he plays on the football team.
* Ashford University is now the University of Arizona Global Campus