You might say working with young children is a calling for graduate student Heather Salas, even though she wasn't sure she'd ever earn a bachelor's degree, let alone be on the way to achieving her master's degree. 
It wasn't until much later in her life when she sought higher education, but Heather let her love of children and guiding them through their own learning lead her every step of the way.
"I volunteered to teach religious ed classes at my church," she remembers. "I absolutely loved it!" So began her online education journey. 
Social Butterfly
Heather grew up in a very small town of about 3,000 people in the panhandle of Texas. Although she says she enjoyed high school, she mostly liked the extracurricular activities. She especially loved the social aspects. 
"I was not there to get an education," she admits. "This was the 80s, and there were no cell phones," she points out. "If you want to know what's happening, you have to go to school."
So, she participated in every extra activity she could. "I was a cheerleader, I ran track, I played basketball," she lists. And that list would go on to include student council, Future Teachers of America, and more. 
One important part of high school Heather says she missed was learning how to study. Still, after she graduated, she went on to college and even received an art scholarship. With no extracurricular activities to hold her interest, Heather struggled to stay engaged, and without the study skills she needed to succeed academically, her courses suffered.
"I felt like I didn't know what I was doing," she says. "I kind of fell flat on my face." Heather dropped out of college after one semester and got married, which she says was the right decision for her at the time — despite it upsetting her mom, who always wanted her to achieve a degree.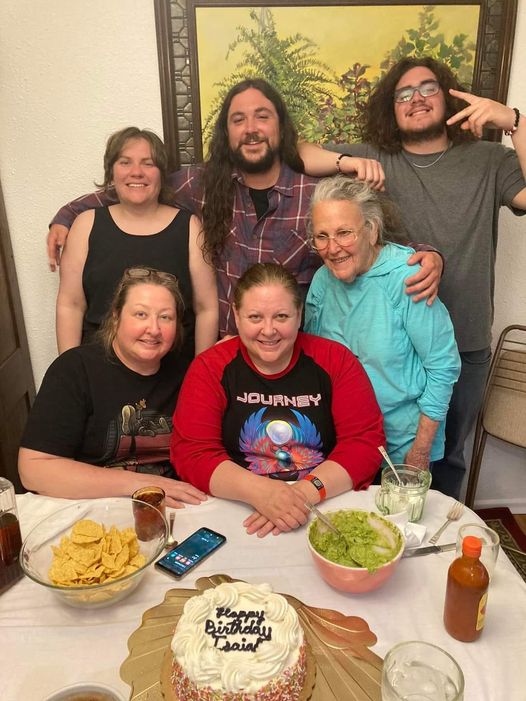 Heather says she has received great support from everyone in her family.
Discovering Her Passion
Heather later moved from her small hometown to a city just outside of Dallas, and without her family nearby to help care for her two kids, she was faced with having to use childcare services for the first time. The transition was difficult for the kids, particularly her young son.
Though Heather had been working for Child Protective Services for about 13 years, she had surprisingly come to find joy volunteering at her church's Sunday School. She decided she needed to explore this love of working with children, which would end up solving more than one dilemma. First, she had a desire for a new career. Second, her son was having difficulty acclimating to his new environment. Working in childcare meant she could have a new career and be with her son, who she would simply be able to take to work with her. 
"I started at a small 'mom and pop' childcare center and worked there for three years, then moved to a large corporate center," she explains. She loved it. 
"I was officially addicted to the 'ah -ha' moments when a child accomplishes something for the first time," she says. "I love helping them find answers to their questions – and four-year-olds have a lot of questions! I also marvel at children's immeasurable potential. I feel very honored to be invited into their world every day."
Beginning her career in childcare is also what would lead her back to the classroom when she decided to earn her Child Development Associate (CDA) in 2018 thanks to a scholarship from Texas Workforce Solutions, the government agency in Texas that provides employment benefits and services. 
"I was going to class with five teachers from my center," she explains. "We had so much fun, so here I am again with the camaraderie and the social side of it."
Having loved her experience earning her CDA and wanting to fulfill her mother's wish for her to get a degree, she thought, "I wonder if I should go back and finish."
She started to explore financial aid and potential schools where she could earn her bachelor's degree in child development. Drawn to the one-class-at-a-time schedule, she enrolled at Ashford University, now the University of Arizona Global Campus (UAGC).
She was excited, but knew she had some things to catch up on before starting. Pursuing a bachelor's degree at age 51, she found, can certainly ignite some insecurities. 
"I think I was just worried I wouldn't be able to finish," she admits. She was also concerned there would be a large age gap between her and classmates and that she wouldn't find much in common with them. Instead, she says she always finds all kinds of people in her classes, including others close to her age.
Then there was the actual schoolwork. "I didn't know how to write papers, I didn't know how to use [Microsoft] Word, I didn't know how to use PowerPoint," she says. "My daughter helped me learn how to do that stuff." 
Heather also credits some of her instructors as well as the UAGC Writing Center for helping her learn how to properly write a college paper.
"I have a little green folder, and I printed out all of those pages about how to cite, how to write the paper, and the setup," she says. "Those pages are like cloth; they are so gently loved."
While Heather may joke about her extensive use of pages and pages of notes, she says she understands how fortunate she is to have access to the tools and resources that aid in her success.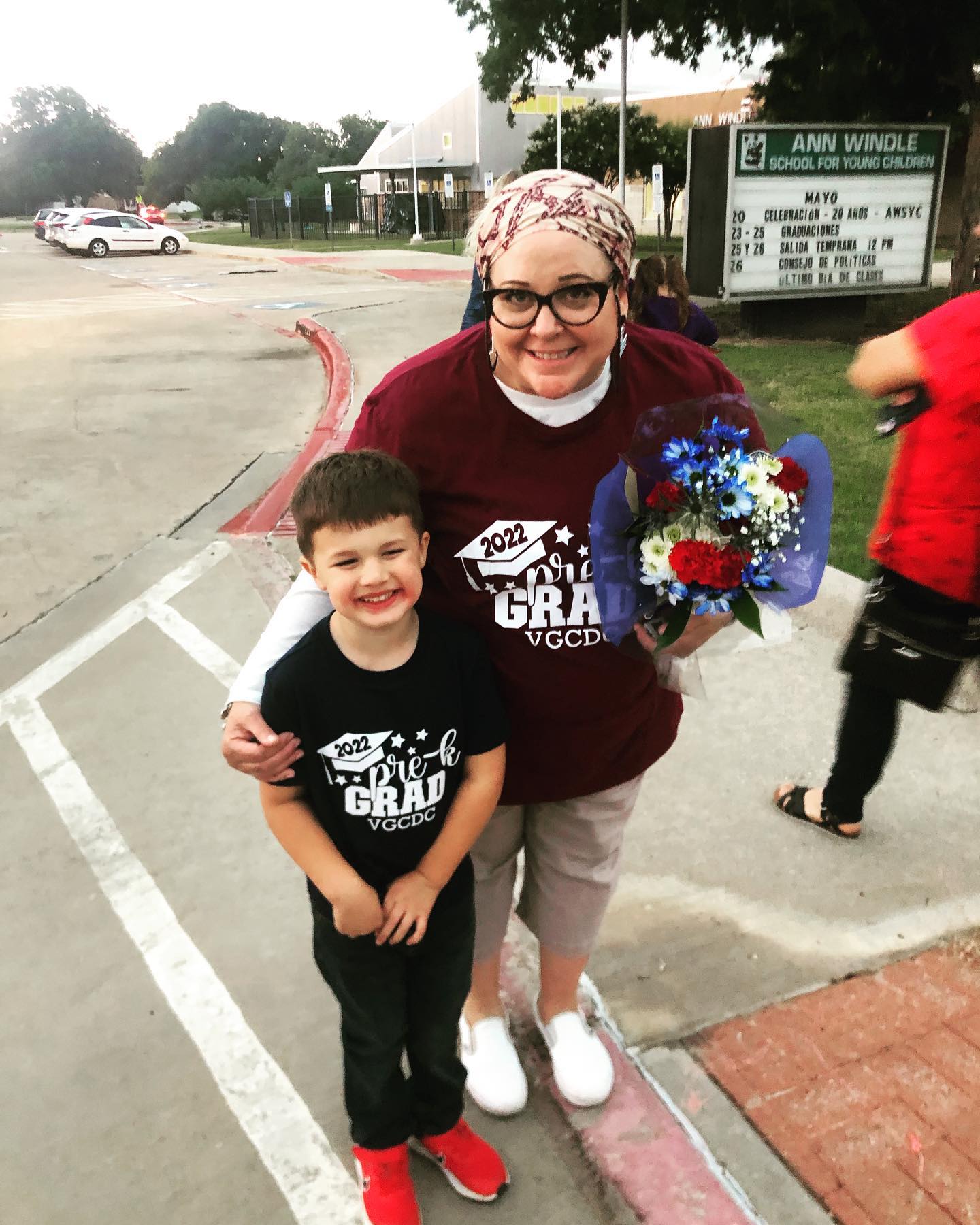 Heather says she marvels at children and is honored to be a part of their learning.
Master It
As she approached the final stretch of her bachelor's degree, Heather's confidence grew, and she was ready for more. After completing her bachelor's degree in 2021, she would go on to pursue her Master of Arts in Education at UAGC with a little help from the SMART Track Program, which allowed her to take master's-level courses as part of her elective requirement in her undergraduate degree.
"I started getting a sad feeling toward the end of my degree," she describes. "I'm not ready to stop doing this."
She counted down the credits in her bachelor's degree program until she was eligible for the SMART Track program and enrolled as soon as she could. Then, with the head start she had gained from her SMART Track courses, she immediately enrolled in the master's degree program.
Fortunately, she's found the social connection she loved so much in her early school days is possible, especially at the master's level.
"Now it's really fine-tuned to where it's people just like me," she says of the interaction she experiences with her classmates. "I really like the discussion questions, because you get to talk to people."
Alongside her master's degree, she's working toward her teaching certification through a Texas state alternative licensure program.*
If that weren't enough of an undertaking, Heather is also about a year into recovery from a health scare that she says made her realize how precious time is. A little over a year ago, she went to the emergency room thinking she was having an anxiety attack and left with a stint due to a clogged artery. 
"I had never had health problems like that before," she says, adding that she had to go to rehab a few times a week to build up her cardiovascular function again, making the flexibility of her online program that much more valuable.
Looking back, it seems everything has come full circle. Heather remembers her mother's desire for her to earn her education and pursue her goals, and now that she is on a path she loves, she says she is grateful for the example that was set for her.
"I watched my mother go from being a housewife to a real estate agent and then an appraiser having two businesses on her own," she remembers. "I told her, 'Thank you for showing me what being a strong woman looks like.'"
Now, she hopes to set the same example for her three kids. 
"I definitely hope to inspire my children," she says. "I hope they will know that they can also take on any challenge or dream regardless of their age or situation. I also hope to inspire other women in the same manner."
--
Whitney Bradford is a senior content specialist and former University Advisor. 
* An online degree from the University of Arizona Global Campus does not lead to immediate teacher licensure in any state. If you want to become a classroom teacher, contact your state's education authorities prior to enrolling at the University of Arizona Global Campus to determine what state-specific requirements you must complete before obtaining your teacher's license. UAGC graduates will be subject to additional requirements on a state-by-state basis that will include one or more of the following: student teaching or practicum experience, additional coursework, additional testing, or, if the state requires a specific type of degree to seek alternative certification, earning an additional degree. None of the University of Arizona Global Campus online education programs are accredited by the Council for the Accreditation of Educator Preparation (CAEP), which is a requirement for certification in some states. Other factors, such as a student's criminal history, may prevent an applicant from obtaining licensure or employment in this field of study. All prospective students are advised to visit the Education Resource Organizations Directory (EROD) and to contact the licensing body of the state where they are licensed or intend to obtain licensure to verify that these courses qualify for teacher certification, endorsement, and/or salary benefits in that state prior to enrolling. Prospective students are also advised to regularly review the state's policies and procedures relating to licensure as those policies are subject to change.
Certain degree programs may not be available in all states.