In 2013, Flory L. Seidel's life and career path were changed forever when he was hit on his left side by a large truck and suffered major trauma to just about his entire body. 
His teeth were crushed, his ribs were broken, he had multiple lacerations, and he had major injuries to his hand, arm, knee, and leg.
"He hit me, blasted me across the street, and then drove over me," Flory recalls about the accident. 
He was taken to the hospital, but he didn't stay long. 
"I checked myself out and tried to go back to work the next day," Flory admits. "My coworkers told me I was crazy." 
Flory says he was so committed to his family (and desperately needed the only paycheck in the family) that he did the same thing after he had hand surgery. And, again, after he had knee surgery. And, again, after he had arm surgery. He also endured a bone graft in all four quadrants of his mouth in an 8-hour surgery and went back to work the next day.
"My family is the most important thing to me," Flory says. 
Many may have ended their story on such a tragedy, but this UAGC Alum of the Month has rewritten his future, conquering some of life's greatest challenges. 
Family First
Next to his family, one might say it's Flory's education that is top priority. Much like his drive to provide for his family, he has pursued his college degrees with passion and fervor: all four of them. The first in his family to graduate from college, Flory holds an associate degree, a bachelor's degree, an MBA, and is pursuing a doctorate, the latter three of which he earned at Ashford University* and/or is pursuing at the University of Arizona Global Campus (UAGC).
Admittedly, his road to college graduate wasn't easy and often was filled with hurdles, strife, and pain. But it also was one guided by the loving support of his family – something that would be a constant theme for him.
Born in New Jersey, Flory is the oldest of four, and is the fifth generation in his Italian family to carry the name Flory. His mom was adopted, raised in the foster system, and also had a rough childhood. His dad was a U.S. Navy Seal who served in Vietnam. After retiring, Flory's dad worked as a school custodian when he was diagnosed with cancer. 
Without being asked, Flory helped his dad several times.
"No one knew about it, but I would help him at night, and then I'd walk home, and then I would go to school in the morning," he explains. 
Just after Flory graduated from high school, his dad became gravely ill. Flory had enrolled at a local community college but was forced to withdraw after only one semester.
"When he got really sick, I ended up dropping out of college to work full time and take care of my family," Flory says. "I was the breadwinner, the brother, the father, sister, mother, librarian, cop, EMT. I wore 800 different hats, and I still do," he says.
Eventually, Flory would return to school, and it was due, in part, to his father's past encouragement.
Flory's dad would always tell him, "You need to get your education, school is very important. You gotta go back to school." 
However, Flory was hesitant to return, knowing how difficult it was to work and attend school. He did go back to college and received his associate degree soon after his dad passed away.
"Always have a framework," he advises. "Try to figure out what you want to do and build your education around what you want to do but also around what's marketable. Be successful, be marketable, but don't lose yourself in that goal." 
Flory continued supporting his mom and three siblings, working his way up at a major Fortune 500 retailer, but says he decided that a desk job just wasn't for him and he needed a change.
"The change came in the way of joining a prestigious law enforcement agency helping to both protect and serve my community," Flory recalls, referring to his interest in a career with the New York Port Authority Police Department. He had already passed the difficult admissions test in 2007 and was patiently awaiting a call to start the interview process that would not come for another several years.
Just before the accident, Flory received the long-awaited call from the Port Authority. 
He aced the first interview and was preparing for the second when the accident occurred. He was forced to abandon his dream, but little did he know, he was about to embark on a new journey with a much different ending.
A New Road
Flory's brother, Adam, was a U.S. Marine and introduced him to a military advisor at Ashford University who suggested Flory go back to school to get his bachelor's and master's degrees. 
Once again, Flory was hesitant, but this time it was because of the online college stigma.
"Starting out, online education was a new and evolving tool," Flory says. "People had a negative perception because they would see online as being for people who are giving up, people who want the easy road, and I also felt the same way when I first started. 
"I thought, 'This is not going to be taken seriously. This is going to be a joke. People are going to laugh,'" he recalls. "But that couldn't be further from the truth."
That's not to say going to school and working full time was easy for Flory.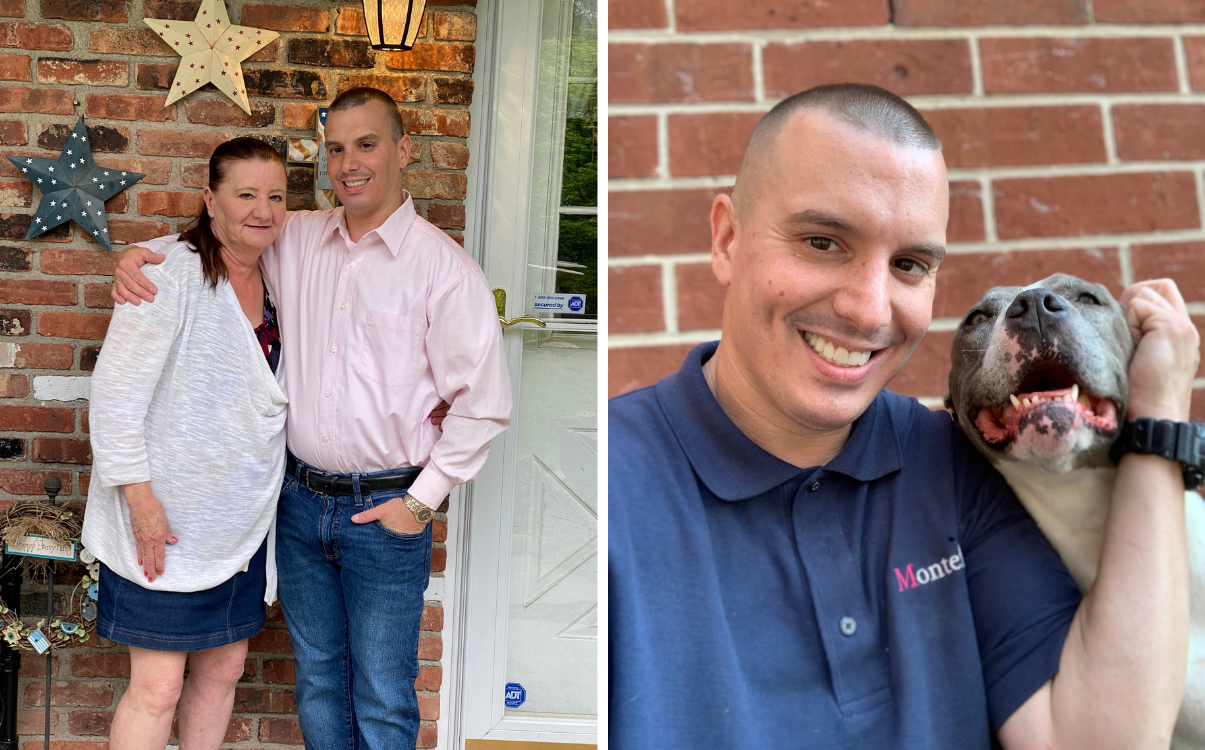 Flory, shown with his mother on the left, puts family first, and that includes his dog, shown on the right.
He says he faced new challenges with time management and learning to be responsible for his deadlines. Eventually, he got the hang of it. "I'm very diligent," he acknowledges. 
About the time he enrolled in the criminal justice program, he also started working full time at a hospital in South Bronx — a minimum one-and-a-half-hour car commute each way from his home in Morris County, New Jersey. With only his associate degree in hand, Flory started at the bottom, working long hours doing physically demanding construction work.
"It was the most miserable time of my life," Flory admits. 
"Personally, this education has created a sense of accomplishment and confidence. Professionally, it has allowed me to become a thought leader.
Despite the obstacles, he earned his BA in Social and Criminal Justice in 2012.
Then the accident occurred.
Eventually, Flory picked up the pieces and returned to school to get his master's degree. However, because his teeth had been crushed, and he was still enduring painful surgeries while attending school, working, and supporting his family was tough.
"After I got in the accident, I felt ugly and I couldn't talk," Flory recalls. 
Nevertheless, he had a specific plan and refused to let the obstacles stand in his way.
"I have always wanted to understand psychology and what better way to create understanding than to take on the role of researcher within?" he asks, explaining why he chose to pursue his BA in Social and Criminal Justice.
Plus, criminal justice is very marketable, Flory adds. "I wanted something that would be dynamic with both my undergraduate work and my master's degree."
Flory explains that it helped for him to have a bit of a road map to help him decide what would make him marketable across the board.
"Always have a framework," he advises. "Try to figure out what you want to do and build your education around what you want to do but also around what's marketable. Be successful, be marketable, but don't lose yourself in that goal." 
Flory continued to work his way up at the hospital, getting up at 3:45 am every day, working 6–7 days a week, while earning his bachelor's and master's degrees. 
It was when he was going through his many surgeries that Flory says he decided to go back to school to earn his doctorate. 
The Next Chapter
In January 2016, about four years after being hit by the truck, Flory returned to college to earn his Doctor of Psychology with a specialization in Criminology and Justice Studies degree, while drawing inspiration from his full-time job at the hospital.
Nearly every day, a violent act occurs on the street corner near the hospital where Flory works. 
"There's a killing or a shooting," he says. "It's prolifically violent."
He says he also sees starving kids. 
It is on these experiences that Flory based his dissertation "The Proclivity of Crime Within a Fatherless Home: An Urban Perspective." 
Through his research related to criminality and childhood, he hopes to help end the systemic cycle of poverty and crime.
"I want to teach those around me that you can make it through opportunity," he says. 
After all, Flory is proof that if given a chance and with hard work, anything is possible.
At age 36, Flory submitted his dissertation for publication andreceived final approval to conduct his oral defense. 
He credits the flexibility of the online program for the ability to enhance his life and career.
"Given the need to support my family, education would have been a pipe dream, rather than the reality it has become," he says. "Personally, this education has created a sense of accomplishment and confidence. Professionally, it has allowed me to become a thought leader."
    
Now that his doctorate is soon in-hand, Flory's got another big goal to meet: find his dream job in government or aerospace in operations, program management, and/or mission support systems.
And, with his surgeries behind him, and a full supply of diligence, Flory is ready to take on the world and be referred to as "Dr." Flory L. Seidel.
Although his dad passed away before he could see Flory earn any of his college degrees, finishing his programs was a family effort that certainly would have made his dad proud.
"It feels good to smile again!" he adds. 
--
Charlene Melson is a contributor to the Forward Thinking blog.
*Ashford University is now the University of Arizona Global Campus.
Certain degree programs may not be available in all states.