If there is anything Denise Soltero believes in, it is her education. She knows firsthand that when you stick to your goals and work through obstacles, the rewards you reap are that much sweeter. She has carried that mindset with her through her early life and education to her college journey at the University of Arizona Global Campus (UAGC).  
Denise's belief in her education and in her future, along with support from those around her, began to lift her up from a young age, when at 16 years old, she became pregnant. While she had always enjoyed school and was a very engaged and active student, her senior year became a struggle. 
"I was always involved in sports, clubs, and social functions in high school," she describes. "That year, I had a lot of exposure because I was senior class president."
Denise explains that she could have finished high school early, as she was ahead in her requirements to graduate. However, she decided to stay and complete the year with her class.
 
"I think I wanted to feel like I belonged to something," she says. "Then I faced all the bullying."
She found that her pregnancy was not welcomed by many of her classmates, so she leaned on those around her who offered support, like her principal and a few of her teachers.
"She gave me a job part-time in her office just doing administrative stuff," she recalls about her principal. "I remember one of the teachers really teaching me how to control my anxiety by showing me breathing techniques."
With a few supportive adults and some close friends by her side, Denise successfully made it through her senior year. 
After high school and with a newborn son, Denise went on to community college, but she struggled to find the support she needed at school and at home. 
"I had received a full scholarship to the community college, but upon attempting my first semester, I found support at home dwindled," she says. "I was kind of left to navigate the waters independently as a student, as a mom." 
So, Denise left school and entered the workforce as a young, single mom. 
"I really felt like I was a small fish in a big pond," she recalls.
School was always in the back of her mind, but without support resembling what she had to help her complete high school, it didn't feel possible. 
"Because I had to work, raise my son, and support us financially, my options for attending school were very limited," she explains.
It was the advent of online education, and Denise believed that it would be the way of the future. She recognized the benefit that the increased flexibility would present for people like her. However, she found that some employers did not feel the same and said they required she have a more traditional education to advance her career. 
If your mind is strong and you're exercising that with all of these different things, then you're able to focus when your plate is full.
Going West
Feeling stuck, Denise left her home in Arizona and traveled west to California, where her eyes were opened to the opportunity that exists and that not all employers shared the same view of education requirements. In California, she took a job with an entertainment lawyer. 
"I learned a lot, a lot about business, and I wanted to continue on that path," she says. "I learned how to be an entrepreneur and take calculated and smart risks."
She realized that her education and where it would lead was up to her. She returned to Tucson and started going to school and did it her way. 
First, inspired by the exposure to alternative healing practices, she earned her massage therapy license. During her training, she was reminded of her teacher, who taught her about managing anxiety through breathing techniques. She explored yoga, meditation, and other mindfulness practices. 
Denise values time with family. Here, she spends time with her son (far right), daughter (center), and nephew (far left).
Though it may seem that learning more about mindfulness is miles from her interest in business, Denise believes that a strong mind increases your ability to address stress in your life, and this training set her up to be able to handle workplace challenges. 
"It really helps in your overall wellbeing," she affirms. "If your mind is strong and you're exercising that with all of these different things, then you're able to focus when your plate is full."
And her plate was full. When she gave birth to her daughter, making her a single parent to two children, she needed more stability. She returned to a corporate environment and continued to take massage clients while supporting her family.
She also decided it was time to explore her interest in business further, so she enrolled in and completed an online associate degree program at another institution before enrolling in her BA in Organizational Management at Ashford University.*
"The online platform – that's what works for me," she states. "I don't care what anybody says because at the end of the day, I know my value, and I know my skillset."
While Denise was completing her bachelor's degree, what stood out to her the most was the support she received from advisors. 
"In that period, I got divorced and my dad was diagnosed with terminal cancer," she explains. "The advisors really kept me on-track."
She says she knows that the level of support she's received is unlike what she would have gotten at a traditional university, and she completed her bachelor's degree in January of 2020. 
Then the pandemic hit.
"COVID did a lot of damage," she notes. "The job market tanked."
However, the turn the job market took brought some unexpected benefits for Denise. Similar to the undergraduate experience she sought, she wanted the flexibility of working from home, and she was also thinking about taking her education even further. She knew she would need flexible work in order to pursue her master's degree.
With the shift in the job market to increased remote work options, she got the opportunity she was looking for in November of 2020. She took a job in the health care field as a project coordinator, where she is able to use her business knowledge for a company that aligns with her personal values and commitment to healthy living.
"I fell into something that I have a passion for," she confirms.
Leveling Up
With her job in place, it was time to take the next step in her education. She enrolled in her Master of Business Administration (MBA), which she expects to complete next year.
"I really felt like it nicely connected at the right time," she says. Her degree will also put her on pace with her siblings who already have graduate degrees.
Between her job, school, and family, Denise says she's enjoying the balance she's able to achieve by doing everything from the comfort of her home, even when unexpected challenges arise.
Being agile and flexible is the new way of how companies are wanting to work anyway. I feel like we add a lot more value.
She hopes that the pandemic forces companies and educational institutions take a closer look at online learning. 
"I definitely think the old way of looking at working and going to school through virtual platform – the harsh stigma of online schooling – COVID crushed that," she believes. "Those that did not adapt quickly struggled to keep the momentum with COVID."
Her familiarity with online learning and ability to manage her time between all of her responsibilities helped her succeed where others faltered. Her ability to pivot came in especially handy when her 14-year-old daughter transitioned to online learning, and she helped get her set up in her courses. 
"Being agile and flexible is the new way of how companies are wanting to work anyway," she elaborates. "I feel like we add a lot more value."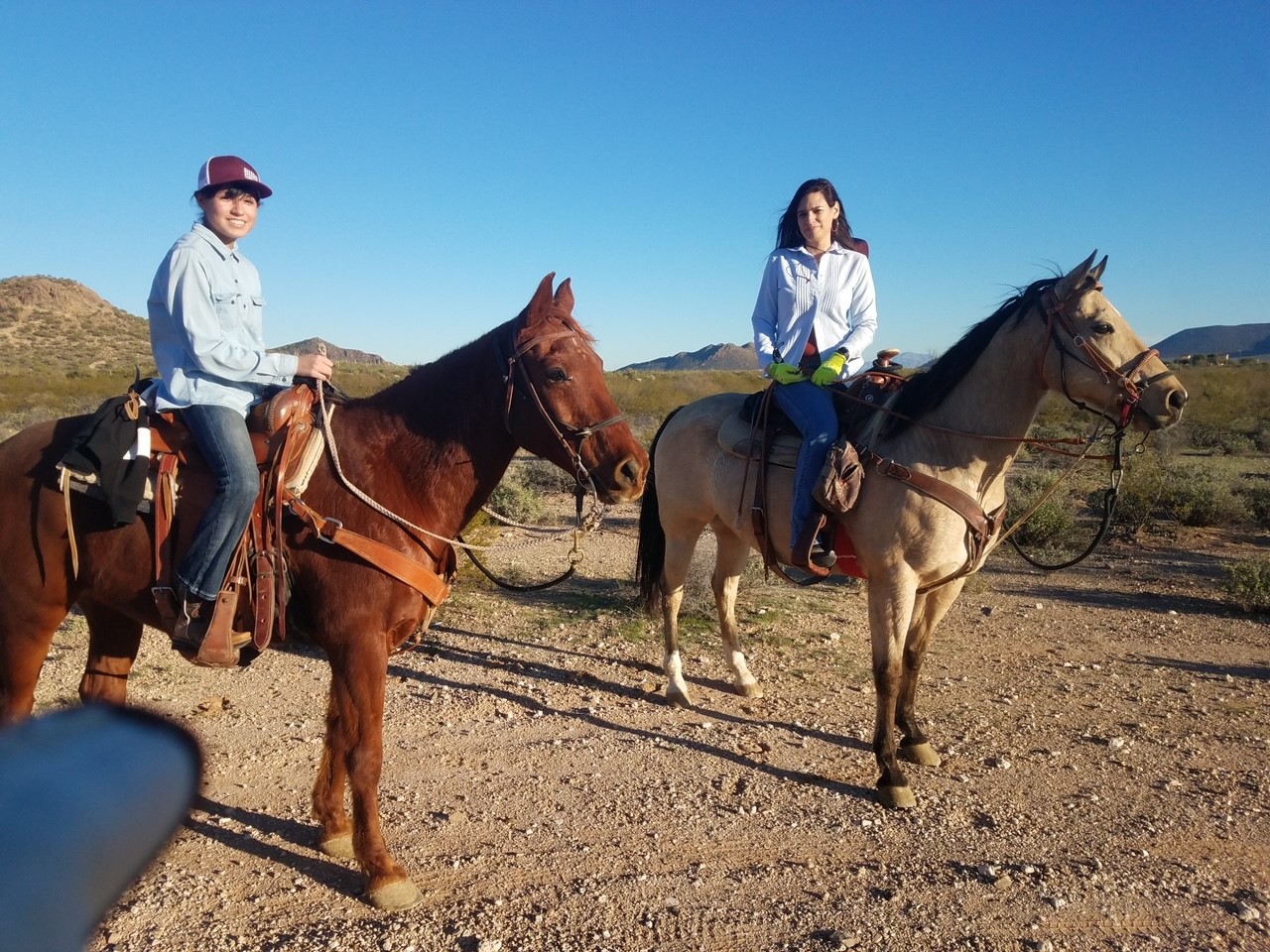 Denise and her daughter enjoy riding horses together.
She's also made it a point to devote some of her attention to volunteering. She recently started mentoring youth who are aging out of the foster system. 
"If I can help any individual who wants to pursue school and doesn't know how – I just want to be able to help people," she says.
"The fruits of education are so giving, and they have made me want to be a better human being," she says of her college journey. "It has improved my overall wellbeing by being a smarter, more resourceful, adaptable professional. I strive to be a better version of myself every day and to be the best mother and role model my children and family members can rely on."
--
Whitney Bradford is a UAGC Content Specialist and former University academic advisor.
Certain degree programs may not be available in all states. 
*Ashford University is now the University of Arizona Global Campus.