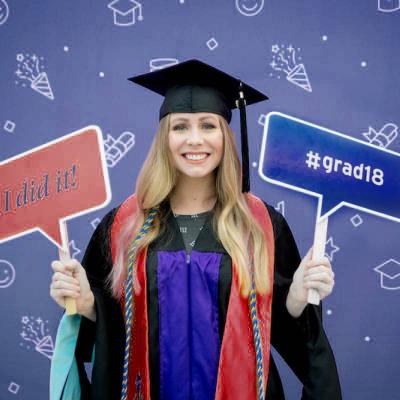 Cara Nickels
2018
MA in Special Education
Biography
At 29 years old, Cara Nickels of Keller, Texas, enjoyed the unique experience of being a teacher* and a student at the same time. Cara was employed at Degan Elementary School in Lewisville, Texas, when she decided to pursue her Master of Arts in Special Education. Because she worked at a No Excuses University (NEU) school within the Lewisville Independent School District, Cara was able to apply for the NEU Teacher Scholarship in January 2017. That March, Cara was awarded a full scholarship and started attending classes at Ashford** four weeks later. 
"I had heard many positive things regarding Ashford's high academic standards and innovative curriculum," Cara says. "NEU worked in partnership with Ashford to provide the scholarship, and I was thrilled to attend." 
Even though she is a self-proclaimed over-achiever who maintained a 4.0 GPA throughout graduate school, Cara's journey toward graduation was not without obstacles. Perhaps her biggest challenge was ensuring she had a balance between her career, personal life, and staying on top of her school work. Cara was able to strike that balance, however, thanks in part to the flexibility Ashford University offers. 
"This university is perfect for busy adults that live in the real world," she says. "You can create a schedule and time frame that is conducive to your busy life. I was working as a teacher while also being a student. It was a unique opportunity that I could apply what I was learning in my courses into my own Kindergarten classroom." 
Another obstacle Cara described was self-doubt. It had been a decade since she graduated with her bachelor's degree and had also experienced several life changes in the interim, experiences that caused her concern.
"It would have been easy to say, "I don't have time or confidence to participate in graduate school,'" she acknowledges.  Nevertheless, she faced these fears head on.
Cara cultivated additional confidence with the help of many resources Ashford University provides, particularly the Writing Center. 
"My first few classes, I was fearful because I hadn't written a paper for college since my undergrad in 2009," she admits. "They answered my dozens of questions non-judgmentally and helped me transition back into writing papers from a student role again."
As for the quality of education, Cara was highly impressed. In particular she says she was surprised by the constant communication and personal support of the professors in every course. 
"I felt like each professor genuinely wanted to see each student succeed and went above and beyond to help us," she says.  
One of her favorite classes was Amy Rogers. 
"She would schedule weekly phone conferences or Facetime calls to answer any questions or provide feedback for weekly assignments or discussion posts. She created a collaborative classroom environment."
Cara completed her coursework in July 2018 and graduated that October as a member of the Golden Key Honor Society. As a result of receiving her master's degree at Ashford University, she says she has acquired her dream job as  a social emotional learning teacher for five different elementary school campuses. 
"I utilize every piece of knowledge I gained at Ashford on a daily basis in my career," she says. "I feel much more confident in my differentiated instructional strategies, my ability to implement effective behavior interventions, my capability to interpret federal legislation, and my skills to develop collaborative relationships with colleagues and parents."
Cara is not only grateful for the education she received, but she also encourages higher learning for those around her. 
"I have recommended Ashford to everyone in my life who wants to go back to school," she says. 
-
*An online degree from the University of Arizona Global Campus does not lead to immediate teacher licensure in any state.
**Ashford University is now the University of Arizona Global Campus