Master of Arts in
Human Services
Master of Arts in Human Services
Questions? Request Information
Online Human Services Masters Degree Program
Gain the skills to be a leader at service organizations with your master's degree in human services from the University of Arizona Global Campus. In this degree program, you will be taught by qualified human services faculty members as they help you develop an understanding of the different values, goals, and lifestyles of service consumers and employees. You will also learn how to guide the work of others to deliver services effectively and make a real impact on the lives of others.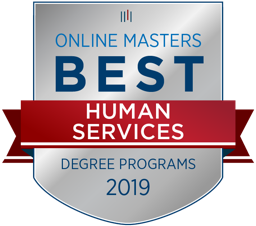 Online Masters, a trusted source for unbiased graduate program information and higher education planning, recently named this program as one of the best Master's in Human Services programs for 2019 with the distinction of Best Technical Support.
The master's in human services will teach you how to navigate the structure and operations of service organizations. You will develop your own management skills, with an emphasis on topics such as grant-writing, planning, managing budgets, implementing information systems, and leading people. Your human services coursework also includes an integrative project, where you will apply your knowledge in a practical way to solve a human services problem. Upon completion of your online Human Services degree you will be able to:
 
Develop a historical context of human services
Evaluate various human systems as they relate to the human services field
Explain human service delivery systems in relation to populations served, organizations, and models of service delivery
Develop research and written communication skills applied to the human services field
Construct a program plan, program review, and community-needs assessment
Explain knowledge, theory, and skills pertaining to interventions and direct services
Examine operational, organizational and administrative aspects of human services
Explain the need to ethically remain mindful and respectful of each client's values 
Synthesize values and personal world views for self-awareness, professional development, and personal development
Your Courses
in Human Services
The courses in the Master of Arts in Human Services will help you to embody the values of the human services profession – its history, ethics, and professional standards. You will also have an opportunity to add further focus to your human services degree by choosing a specialization, or you can decide to pursue the Standard Program of Study. Because this master's degree is offered one class at a time and is completely online, you can complete the coursework whenever and wherever, giving you more flexibility in comparison to traditional brick and mortar colleges.  
 
Core Course Requirements: (24 credits, all courses are 3 credits.)
Specializations
in Human Services
To add further focus to your master's in human services, you will select a specialization in a specific area of human services or choose to follow the Standard Program of Study. Each specialization is 9 credits. Choose from the following specializations: 
Standard Human Services
Careers
in Human Services
The Master of Arts in Human Services can serve as preparation for many careers in the social services and human services fields. If you are interested in a career in one of these fields, this master's degree can provide the necessary skills to advance your career, especially when selecting one of the unique specializations. Take a look at some of the career paths you may be able to follow with a master's in human services: 
Need more information? You Got It.