Request Information
About Our Degree Programs
Get Involved: UAGC Online Military Communities
Discover the numerous resources available for military-affiliated students and take part in a variety of programs and organizations that provide networking and academic opportunities for active-duty students, veterans, their spouses, and dependents.
Meet Your
Military Support Team
From the time you enroll to graduation and beyond, there is a military support team marching alongside you every step of the way on your academic journey.
CHAMPS Peer Mentoring
The CHAMPS Peer Mentoring Program offers the Military Academic Preparedness & Career Transitioning plan, which is designed exclusively for military students seeking to enhance their utilization of learning resources at UAGC within the context of their military background.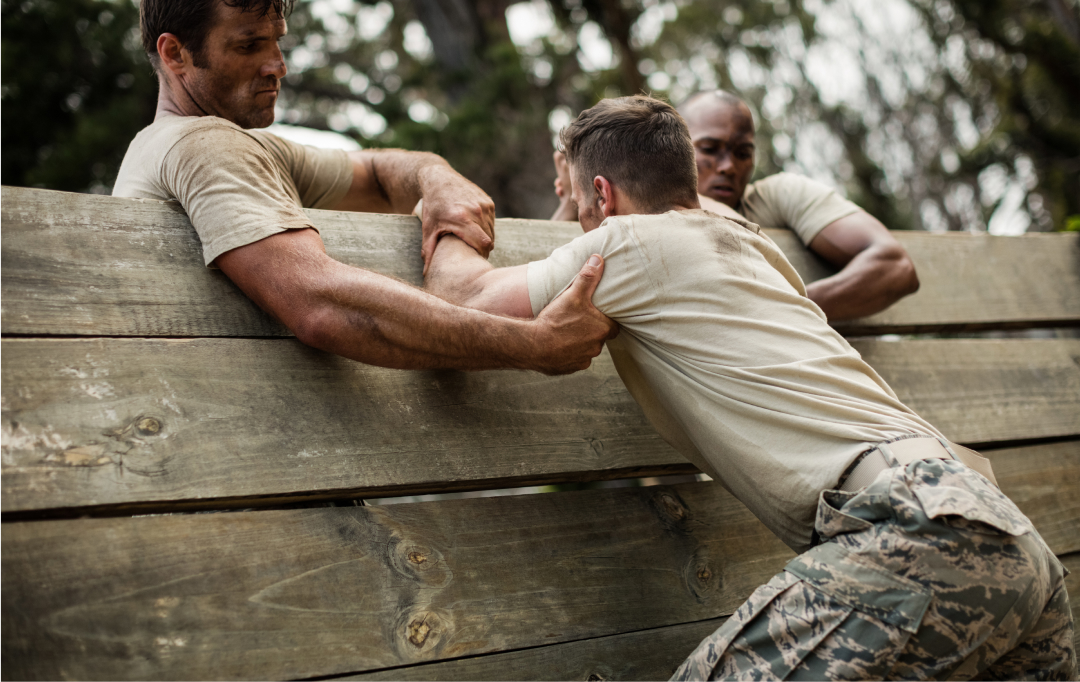 Career Services for Life
UAGC students and alumni have access to support from the Career Services team for life. Whether you're active-duty military, transitioning out of duty and looking to begin your career in the civilian workforce, a veteran, or a military or veteran spouse, you can use this resource for assistance with a variety of services including resume help and career planning.
SALUTE Honor Society
SALUTE, which stands for stands for Service, Academics, Leadership, Unity, Tribute, and Excellence, is the first honor society created for student veterans and military students at two- and four-year higher education institutions nationwide.
The UAGC Military & Veteran Facebook Group
The UAGC Military Facebook Group is a supplement to the official UAGC University Facebook page. It is intended to provide a dedicated space for our military students and is aimed at increasing your connection to the University and to one another.
Military Installation Graduation Recognition Ceremonies
As an active-duty service member or veteran, you may have an opportunity to participate in a military installation graduation ceremony recognition program. Follow these steps to attend one of these memorable events.
1. Contact your local military installation's education center to confirm that they host a graduation recognition ceremony. Make note of the ceremony date. Please e-mail the University's Military Alliance Manager, Gene Larue, at [email protected] with information about the ceremony. He will follow-up with the education office to see how the University may be able to support the event.
2. If the military installation hosts a ceremony and you want to attend, order your University of Arizona Global Campus cap and gown from the University of Arizona Global Campus' authorized vendor. On the registration page, select "not attending" for the University of Arizona Global Campus Ceremony.
3. If your undergraduate cumulative GPA is 3.5 or above or you belong to any honor societies, email [email protected] to request the applicable honors regalia. Please include your studentID and a mailing address. Any applicable honors regalia will be sent to you in 7-10 days.
NOTE: Master's students do not qualify for Latin University academic honors. The Master's gown and hood, which are different from undergraduates, indicate the academic distinction as a Master's level graduate.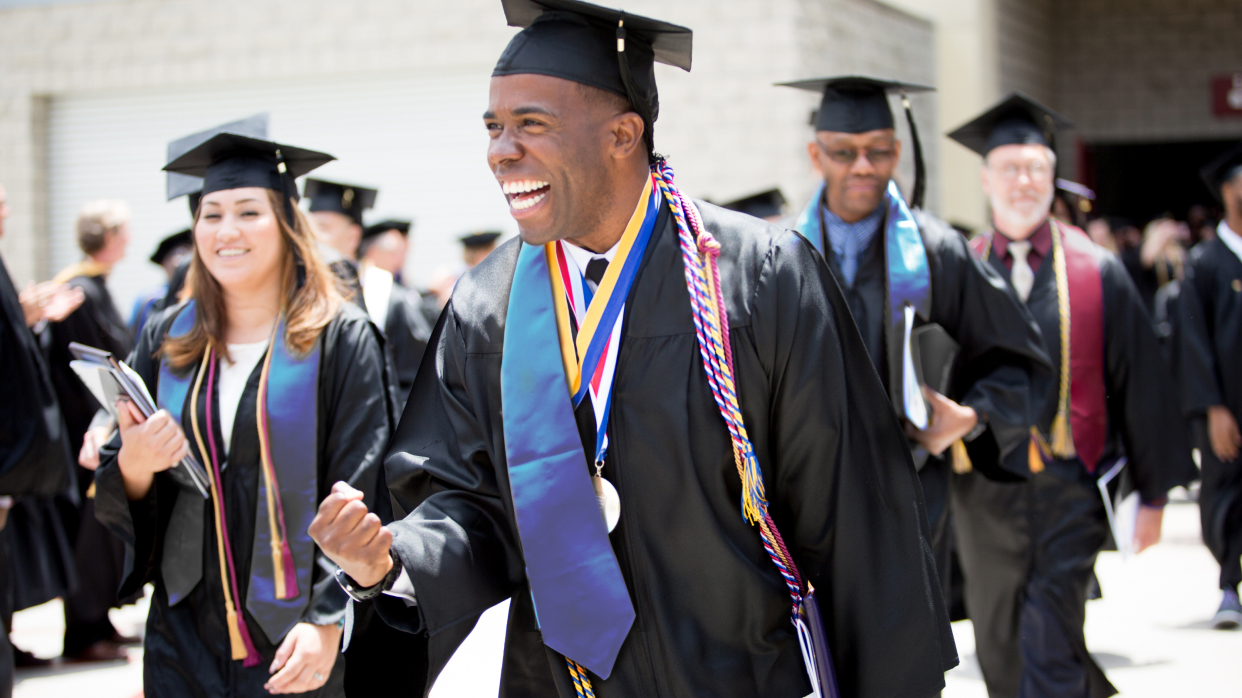 Ceremony in Less Than 5 Weeks?
If the timeframe from the date of order to the ceremony date is less than 5 weeks, DO NOT ORDER FROM THE WEBSITE. Instead, please email [email protected] with the following information:
Degree
Major
Height
Weight
Date of Ceremony
Mailing Address
Phone number
Email address
Military FAQs
No. You can enroll in an online Associate's or Bachelor's degree program at the University of Arizona Global Campus if you meet all of our admission requirements, even if you have never attended a college or university before.

No, you get to choose when and where to log in for participation in your class, which allows you to fit your class requirements into your busy schedule. Your online classroom takes place in an asynchronous environment, which means that you are free to participate at your own pace, so long as you meet the minimum attendance and academic participation requirements for your courses.

Students taking online courses at the University of Arizona Global Campus are expected to attend every week of the course. Attendance is defined as posting in a graded discussion forum or submitting a written assignment, journal entry, quiz, or exam. In most cases, you should expect to academically participate in your course at least two times per week. Failure to meet academic participation requirements may negatively impact an assignment or course grade. 

In addition, you must meet minimum attendance requirements. Students enrolled in undergraduate introductory courses must attend at least once in any seven consecutive day period. Students enrolled in non-introductory courses must attend at least once in any fourteen consecutive day period in order to avoid being administratively withdrawn. 

Failure to meet academic participation requirements may negatively impact an assignment and/or course grade.

Yes, University of Arizona Global Campus is accredited by WASC Senior College and University Commission, 1001 Marina Village Parkway, Suite 402, Alameda, CA 94501, 510-748-9001, www.wscuc.org. You can find the current list of other regionally accredited colleges by WSCUC on that website.

Regional accreditation is more widely recognized than national accreditation. Regionally accredited schools place a different emphasis on their coursework in comparison to nationally accredited schools that focus on trade and vocational offerings.

You will have your own personal Military Enrollment Services Advisor who will support you through the entire process, and to whom you can direct your questions. You will find all your instructors very understanding, supportive, and easy to contact. Since the University of Arizona Global Campus online degree programs are specifically designed for adult learners, these academic support systems are built in to help you succeed in your classes.

Call us today toll-free at 1.800.798.0584. An experienced Military Enrollment Services Advisor is ready for your call.

If you are eligible for Military Tuition Assistance and/or veterans education benefits, you will have the opportunity to work with one of our experienced Military Financial Services Advisors to move through the process. 

To determine your eligibility for military tuition assistance please consult your base education office. While you are there, many education offices provide scholarship and grant information specifically created for service members, spouses and DoD employees. 

If you find you still need additional assistance, the University of Arizona Global Campus' Military Financial Services Advisors can determine whether you can benefit from the various financial aid options offered. Financial aid programs include the Federal Stafford Loan, the Federal PLUS Loan and in some cases, the Federal Pell Grant.

Yes, the University of Arizona Global Campus recognizes your experience. Talk to your Military Enrollment Services Advisor to see how much credit your experience is worth.  

There are three ways to apply transfer credits toward your degree program. 1) Prior Learning Assessment (PLA) allows you to earn credit for college-level learning that occurs outside a traditional classroom. 2) Transfer up to 75 credits** from approved national testing programs such as CLEP (College Level Exam Program) and DSST (DANTES Subject Standardized Tests). 3) Military and training experience is of great value and may also help you get closer to a degree. Transfer up to 75 military credits** to UAGC where experience in the military is recognized. ** Transferring credits is always subject to the UAGC transfer credit policies and requires the submission of official transcripts. The official transcripts will be evaluated to determine the credits that will officially apply toward a UAGC degree program.
The appearance of U.S. Department of Defense (DoD) visual information does not imply or constitute DoD endorsement.
Certain degree programs may not be available in all states.
*
The transferability of credits is subject to the University of Arizona Global Campus transfer credit policies, and requires the submission of official transcripts. The official transcripts will be evaluated to determine the credits that will officially apply toward a University of Arizona Global Campus degree program.