As America's health care system grapples with a severe nursing shortage, there is an urgent demand for as many as 194,500 new nursing recruits every year through 2030. That's a great opportunity for anyone who aspires to make nursing their career, but getting there requires significant thought and research.
There is no single path to becoming a nurse. However, your overall career goals – beyond the immediate desire to secure a nursing position – should factor greatly into your decision. For many, the choice comes down to an RN (Registered Nurse) or a BSN (Bachelor of Science in Nursing). The former is the shorter path, but may not offer the long-term stability you're seeking, while the latter is a foundational education that can offer greater flexibility in the long run. 
What Is an RN? 
You may already know that RN stands for Registered Nurse – a licensed health care professional who provides patient care and emotional support to patients and their families. An ADN, or an associate degree in nursing, is typically a 2- to 3-year program that is offered at vocational schools and community colleges. An associate degree is one of the most convenient ways for prospective nurses to get their education in a shorter time and start their careers. 
As an RN student, you may take courses that include:
Nursing fundamentals
Physiology
Introduction to psychology
Microbiology
Gerontology
Pharmacology
Ethics in nursing
Care transitions 
After completing your associate program, you must pass the National Council of State Boards of Nursing's National Council Licensure Examination (NCLEX) in order to then earn your license and become a registered nurse, though licensing requirements vary by state. 
You may also consider adding a certification to your resume. Nurses who hold an ADN can pursue a number of certifications, including: 
 Ambulatory Care Nursing
Cardiac Vascular Nursing
Gerontological Nursing
Medical Surgical Nursing
Nursing Case Management
Pain Management Nursing
Pediatric Nursing
Psychiatric Mental Health Nursing 
Following graduation and licensing, you will be qualified for entry level roles in nursing. However, employers and state governments continue to evaluate and evolve the educational standards for nurses. New York State, in particular, passed its "BSN in 10" law in 2017, raising the bar for registered nurses by requiring them to obtain a bachelor of science in nursing within 10 years of receiving their initial RN license.
What Is a BSN?
The RN to BSN, or Bachelor of Science in Nursing, is a four-year degree program specifically designed to educate licensed registered nurses who have earned an associate degree in nursing or completed a diploma program in nursing. The program is meant to further develop your ability to lead and practice with a higher level of intellectual, ethical, and critical-thinking skills in order to care for a diverse and aging population.
The aforementioned "BSN in 10" law is just one push to encourage registered nurses to earn a bachelor's degree in order to keep up with the country's fast-changing health care needs. Further, the RN to BSN is intended to prepare registered nurses for leadership roles in health care settings both large and small. 
For example, as an RN-BSN* student at the University of Arizona Global Campus (UAGC), you will learn how to:
Apply nursing leadership concepts and skills to promote quality care and patient safety across a variety of health care settings
Apply current evidence, critical thinking, and assessment skills to professional nursing practice
Use technological and informatics systems related to health care to promote quality patient care
Synthesize local and federal policies that affect health, health care delivery, and health care management
Use inter-professional communication and collaborative skills to interact with and educate peers, health care professionals, patients and their families, and the community
Assess health and wellness beliefs and practices to promote health and disease prevention among individuals, families, groups, communities, and populations
Articulate the value of pursuing practice excellence through lifelong learning and engagement, to grow professionally
Integrate holistic nursing knowledge, values, skills, and attitudes into practice across the lifespan and continuum of health care environments
As the BSN is intended for registered nurses who have already completed their NCLEX licensing exam, you may also be able to shorten your path to graduation when you choose a four-year education. Some schools, such as UAGC, allow incoming BSN students to receive up to 20 non-traditional elective credits for completing their exam through Prior Learning Assessment (PLA). 
A bachelor's degree can also open the doors to opportunities that you may not have considered. Among the career possibilities that you could pursue with a BSN:
 Clinical director
Director of nursing
Nurse manager
Practice administrator
Program manager
Public health nurse
School nurse
Nurse educator
Home health nurse
Telehealth nurse 
What are the Differences and Similarities Between an RN and a BSN?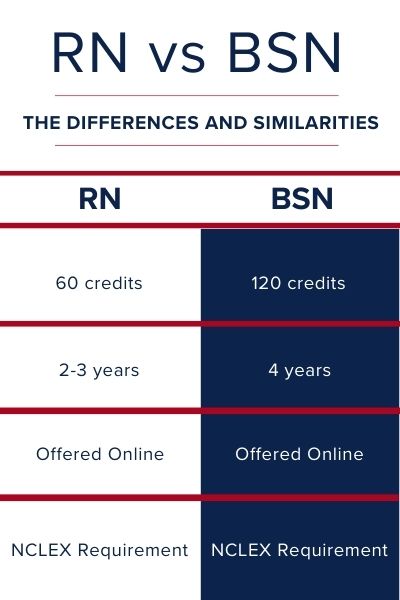 While a diploma or an associate degree is enough to get your foot in the door, there's evidence that fewer nurses are relying on the two-year program to carry them throughout their careers. According to the most recent National Nursing Workforce Study, the number of bachelor's degree-holding nurses has been rising steadily for much of the past decade – nearly 50% in 2020. Meanwhile, the number of nurses with only an associate degree or diploma is steadily declining. 
That same survey found 42% of registered nurses reported a BSN as the degree that qualified them for their first U.S. nursing license. That number is also up significantly from 35.5% in 2013.
What Is My Earning Potential with an RN or BSN?
When it comes to the question, "What is an RN vs BSN?" and the decision about college in general, one of the largest factors to consider is salary. While your take-home pay may be impacted by everything from the company you work for to the state you live in, it's well-documented that workers with an associate degree earn less than colleagues with a bachelor's degree. 
While the data doesn't show specific salary differences for those with an RN vs. BSN, the U.S. Bureau of Labor Statistics (BLS), the agency tasked with analyzing and reporting employment numbers, found that the median annual wage for registered nurses was $75,330 in May 2020, with the lowest 10% earning less than $53,410, and the highest 10% earning more than $116,230. 
Why a Nursing Education Matters
In the coming years, employers will continue to depend on educated, qualified nurses to meet the country's health care demands. Employment of nurses is projected to grow 9% through the end of the decade, according to the BLS. The increase, the agency reports, is due to multiple factors:
An aging population that requires more medical services than younger Americans
Education and care for patients with chronic conditions
More people admitted to long-term care and rehabilitation facilities
Demand for nurses in outpatient care facilities that provide same-day chemotherapy and surgery
If you're prepared to meet the challenge and join a fast-growing workforce of bachelor's degree-educated registered nurses, contact an advisor about your Bachelor of Science in Nursing* today.
--
Written by UAGC Staff
Certain degree programs may not be available in all states.
*Applicants to this program must have earned a nursing (hospital) diploma or associate degree in Nursing from a regionally accredited or approved nationally accredited college or university including the following coursework or equivalent: Microbiology (with lab).
Applicants must possess an active, unrestricted license to practice as a Registered Nurse or its equivalent in at least one U.S. state. All students must maintain this licensure throughout the program of study. Failure to do so will result in dismissal from the program. Students are responsible for informing the University of Arizona Global Campus of any change to the status of their RN license. In addition, Global Campus may perform routine, periodic validations of student RN licenses to ensure compliance with this requirement.