You've knocked out your general education classes, crushed your major courses, and declared victory over your major capstone project. Time to graduate, right? Not just yet. You may still have some electives to fulfill before you earn your degree at UAGC.
As a former Academic Advisor, I've had countless conversations with students about the best way to get their electives out of the way, and the truth is that the best option really depends on your interests, goals, and the number of credits you need to meet your individual requirements. Here, I offer advice and insight on the six ways you can fulfill your electives.
What are College Electives and Why Are They Important?
First, let's talk about what electives are. Electives serve the important purpose of creating a well-rounded college experience. Similar to general education courses, electives provide knowledge outside of your field of study that you can take into life and the workforce. Plus, you have several options to complete them, so they can be the ideal — or even fun way — to finish out your bachelor's degree. You also have the option of taking them earlier in your program if you'd like.
The number of elective credits you need will depend on your degree program and any traditional or non-traditional credits you may have transferred to UAGC. You can find your required elective credits* on your Degree Progress Report, listed under your major course requirements.
Refer to your degree progress report and look for the Required Credits and Earned Credits fields to determine what you still need to complete. The total number of required elective credits varies by program.
Six Ways to Fulfill Your Electives
Understanding how to choose your electives may feel overwhelming. There are many options, but I'm here to help you understand the process better so you can make informed choices and complete your degree with confidence. Let's take a closer look at the ways you can select your electives.
1. Choose classes that interest you
Are you a business administration student who enjoys watching documentaries about the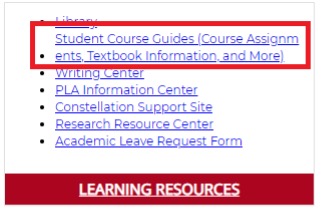 American Revolution in your spare time? HIS 205: United States History I might be the perfect class to add to your program. Maybe you're a psychology student who wants to learn more about the roots of climate change. Check out ENV 100: Introduction to Environmental Studies. There are so many course options to choose from. Look out for prerequisites, remember that undergraduate courses are levels 100-400, and talk to your Academic Advisor to schedule the courses you want to take.
You can see a full list of courses and descriptions on the UAGC website. For a more detailed overview of a course, access the Student Course Guides through your student portal. Look for the Learning Resources section in your Student Portal.
2. Add an emphasis
Adding an Emphasis can be a great way to give your degree that extra something to set you apart. Dive into how humans learn and make decisions – valuable knowledge in any field – with the Cognitive Studies Emphasis. If state or local government is a career you've set your sights on, the Public Administration Emphasis might be the perfect complement to your declared major. You even have the opportunity to explore emphases in the growing field of drone aviation.
Emphases consist of up to four courses and range from nine to 12 credits, and you're not limited to choosing only one. Depending on how many elective credits you left to complete, you can choose multiple areas of interest. 
If adding an emphasis sounds like the right option for you, talk to your Academic Advisor about submitting an Area of Study Declaration form to add an emphasis to your degree plan.
3. SMART Track
If a UAGC master's degree program is in your future, you can use SMART Track to not only fulfill elective credits in your bachelor's degree program, but also save time and money on your master's degree and build confidence along the way. Undergraduate students who meet the criteria are able to enroll in up to nine applicable graduate-level credits to fulfill elective credits. These classes will then be applied to their master's degree program upon enrollment.
In order to apply and be scheduled for SMART Track courses, you must: 
Have at least a 2.75 cumulative GPA
Be a senior-level student with 108 credits or more
Meet any prerequisite requirements for each master's degree-level course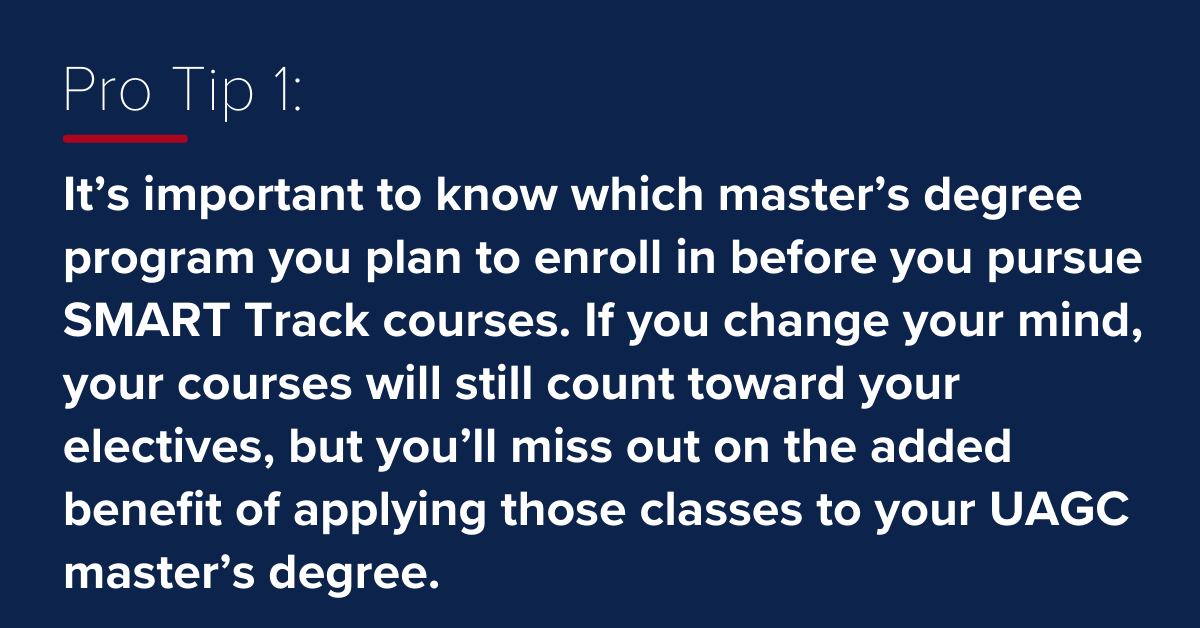 4. Transfer Partnerships 
UAGC has partnered with online education platforms that allow students to take transferrable courses at their own pace and often at a lower cost. Not only can you find courses to transfer in to fulfill elective credits, you can also find courses that meet general education and even major course requirements. And you can take them simultaneously with your UAGC courses. Our transfer partnerships include:
Sophia Learning
Straighterline
Study.com
Before you register with any transfer partners, talk to your Academic Advisor about your remaining requirements.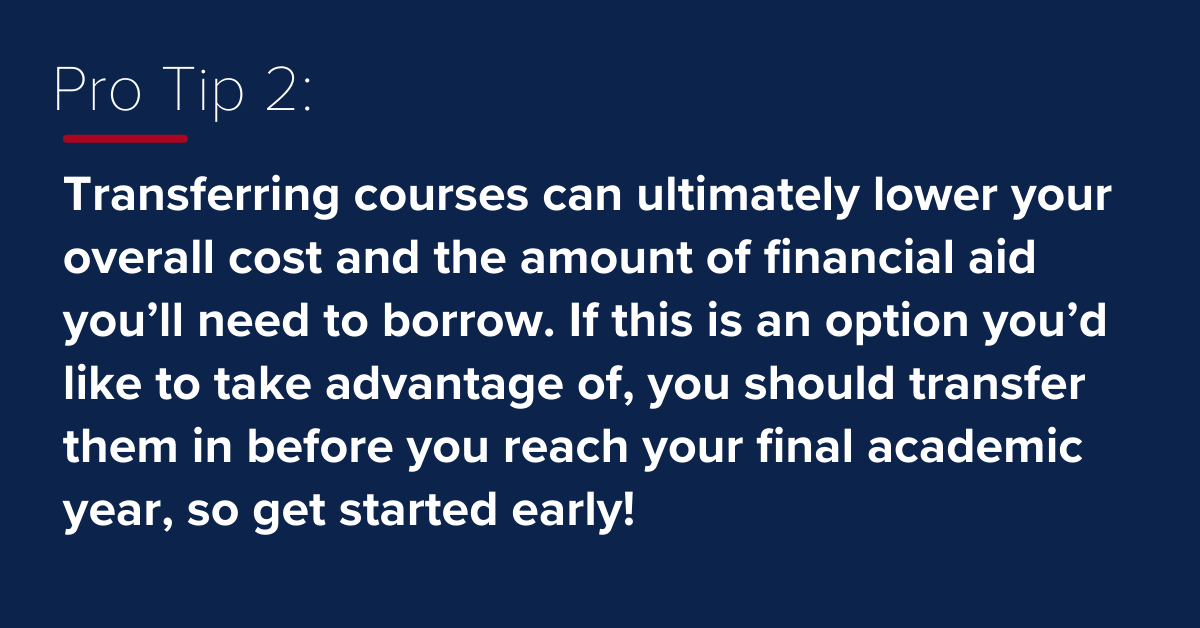 5. Prior Learning Assessment
Now is the time to think about any experience you have outside of traditional college credits or how you can leverage your experience as a student to help someone else and earn elective credit towards your degree. 
Prior Learning Assessment offers a path for previous learning like work experience, corporate trainings, or continuing education units to be evaluated for credit through Sponsored Professional Training or Experiential Learning Credits. 
You can also explore the option to become a CHAMPS Mentor and earn elective credit by meeting the requirements set by the CHAMPS program. 
If you have questions about turning your experience into credits, e-mail [email protected].
6. The Honors Program
The Honors Program is an opportunity for academic high performers to explore topics like leadership, innovation, and global perspectives, while adding some flair to their degree and fulfilling electives. 
To apply to the Honors Program, you must have a cumulative GPA of at least 3.75, and submit an essay, a current resume, and two letters of recommendation with your application. 
Applicants will have the option to select the Scholar option, which includes three upper division honors courses, or the Fellow option, which includes all six honors courses. Make your selection according to what you have room for in your elective pool.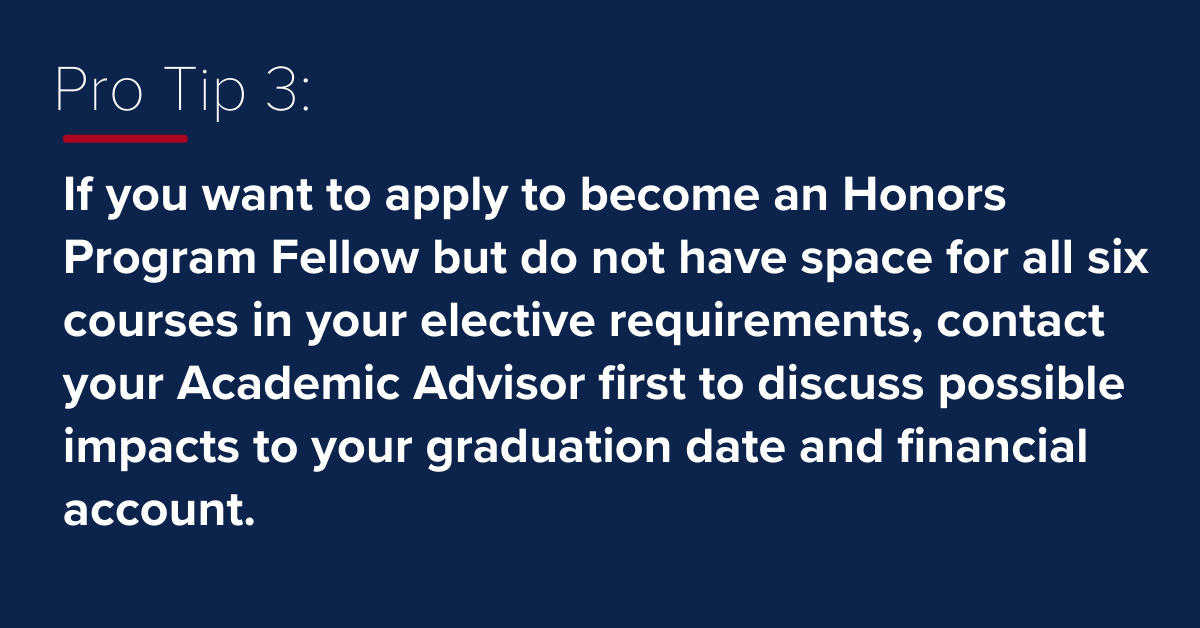 Next Steps
And there we have it – some great ways to fulfill electives, enhance your knowledge, and maybe even flex those academic muscles while you're at it. You have a number of options at UAGC and understanding them will empower you to move forward with your courses with a greater sense of purpose. Of course, even with this insight, you may still have uncertainties, and that's ok. As always, if you have questions about your options, your Academic Advisor is ready to help! 

--
Whitney Bradford is a UAGC Content Specialist and former Academic Advisor for Ashford University.*
*Ashford University is now the University of Arizona Global Campus.
Certain degree programs may not be available in all states.