Editor's Note: We asked Global Campus students and alumni on social media to name their favorite instructors, and we received a very large number of diverse and noteworthy names from which to choose. Bill Davis, program chair and assistant professor at the Forbes School of Business and Technology™, overwhelmingly earned the most mentions and is the first to be highlighted in the inaugural edition of our new Faculty of the Month series. Stay tuned as we bring a new faculty spotlight to you each month.
Anyone who knows Bill Davis is aware of his deep affinity for sports, especially baseball and the Chicago Cubs. What they may not know is that he, too, once had high hopes of becoming a professional athlete. 
"I was a catcher but got hurt my junior year in high school," he recalls. "I dislocated my right knee and wore a cast all summer. I later played for Lewis University, a good baseball college, as a walk on, made the JV team and played for one year, but I still had problems. It was fun, but I knew I was not going to make a living playing baseball and gave up the dream."  
Davis eventually traded in the baseball uniform for another. He left college after one year and turned his summer job with Joyce Beverage, where he filled 7-Up Trucks for $6 a cargo load, into a blossoming career. At age 19, he borrowed $15,000 from his grandmother, purchased a truck, a route, and inventory, and from 1975 to 1983 operated his own successful B-2-B 7-Up distribution business in Illinois with upwards of $600,000 in annual sales.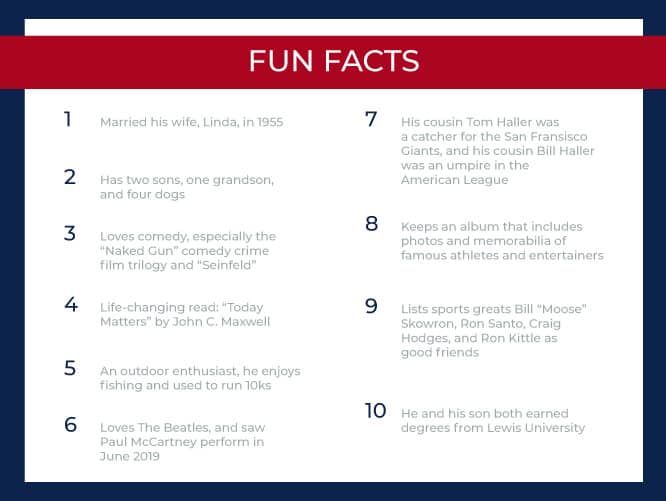 When the opportunity arose for a position with Pepsi, Davis took a chance and applied for the role of district manager at the Aurora, Illinois, sales branch. He landed the job, and his 33-year stint with one of the world's largest soft drink brands was born. 
"I went from being an independent distributor to having full profit and loss responsibility for a major profit center for Pepsi," he says. 
It was a role he transitioned into with ease. A savvy businessman, Davis rose quickly through the ranks and received countless awards and recognitions for his service and acumen, a trait he carried on in his career as an educator. Some of his many accolades include the 2008 Commission for Accelerated Programs in Higher Education Excellence in Accelerated Teaching Award, a 2017 Forbes School of Business and Technology Outstanding Faculty Excellence in Teaching Service Award, and the 2016 Distinguished Ashford Presidents Award for Outstanding Faculty Service, to name but a few. As a business executive, Davis held a variety of positions and received numerous promotions, from sales manager and branch general manager to division marketing manager, director of sales and marketing and ultimately vice president/general manager at Pepsi in Rock Island, Illinois.
Read Some Forward Thinking Blogs by Bill Davis
Learning at the Ballgame: Three Skills for Managerial Success »
Why Passion Matters to Adult Learners »
Motivation: An Interview with Dr. Emad Rahim »
The Value of Purpose, Passion, and Vision, and How to Achieve Success »
Throughout his career, Davis never forgot the lessons he learned as a youth playing baseball and applied the principles to how he approached management. 
"Baseball really gave me the foundation, and when I put my uniform on for my routes, and later as a manager at Pepsi, it was like I had on a Cubs uniform," he explains. "It was game time. I was a participative-type manager and always considered myself a coach."
Coaching and leading came naturally to Davis, and in 2005 he applied these principles to his teaching position as an associate faculty member at Ashford University. In 2009 he left Pepsi, joined Ashford full time and has never looked back.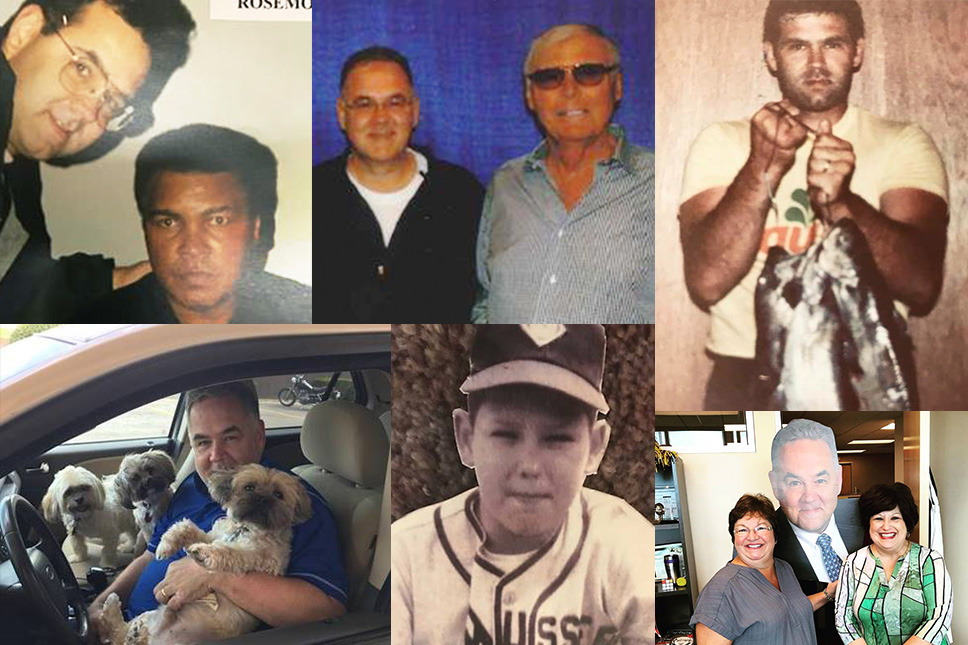 Getting to Know Bill Davis
Today, Davis continues to draw from his experiences as a baseball enthusiast and veteran of the beverage industry to help guide Global Campus students to success. As an advocate of the student and a vocal proponent of online education, we wanted to learn more about the man behind the 200-plus courses he has taught since 2005. Here, Davis sheds light on some of his approaches to education, business, and life.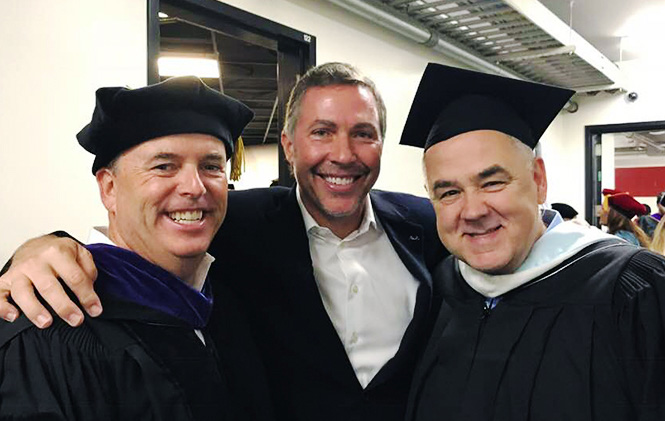 Bill Davis (far right) with Marty McAuliffe, assistant professor in the College of Liberal Arts (far left) and Bridgepoint Education CEO Andrew Clark, during a commencement ceremony.
Global Campus: How did you go from a career in the beverage industry to teaching?
Davis: I never forgot about trying to chip away at my education and eventually took some marketing and management courses at night at Joliet Junior College. In 1990, I returned to Lewis University and completed my BA in Business Administration in 1993. I attempted to earn my master's there, too, but after a year I left to accept a position for Pepsi in Indiana. Two years later, I enrolled in an accelerated Master of Organizational Leadership program at St. Ambrose University. I graduated in 2003 and approached the dean about the possibility of teaching. I went through eight months of training and went on to teach six courses for the institution. The same dean, Dr. Hope Gardina, left St. Ambrose to become the VP of academic affairs at Ashford, when it was just starting out in 2005, so I transitioned to Ashford then, too.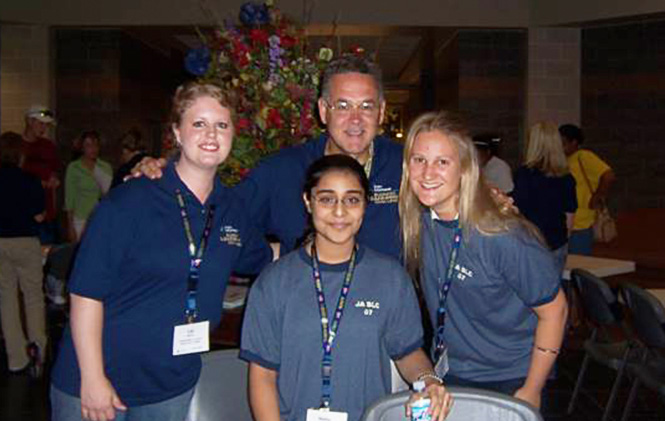 Bill Davis with some of the St. Ambrose University students he led on a team for the Junior Achievements Business Leadership Challenge in 2007 and 2008.
Global Campus: What is your favorite thing about being an instructor? 
Davis: I believe I exist because of the student and sincerely try to serve to the greatest level. I'm at the right place at the right time now, and I'm doing something that I love. I enjoy being able to see student success, when they have that "aha" moment, think critically, draw good conclusions, and better themselves. Students don't care how much you know till they know how much you care. A student once told me this and later gave the quote to me in a frame along with a "thank you" letter. I still have the frame on my desk.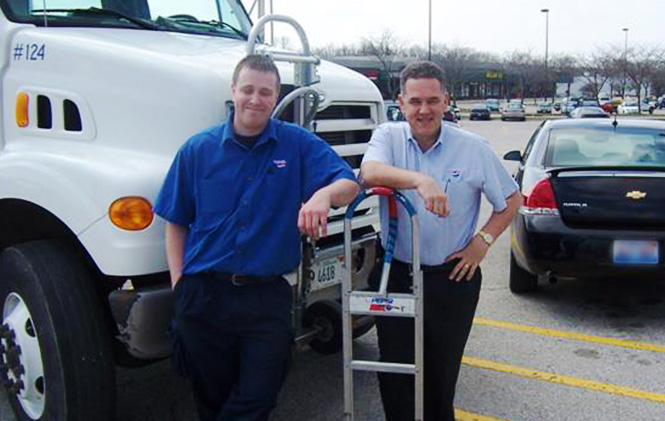 As a director of sales and marketing for Pepsi, Bill Davis would join an employee for a route once a month to work a delivery, service accounts, and meet and greet customers. Here he is in 2007 with one of his team members.
Global Campus: What is the most challenging aspect of teaching?
Davis: It's not really a challenge; you just have to adjust and flex to the student and their learning styles. Some learners are visual, some are auditory, others are kinesthetic. Some are extroverts, introverts, etc, so we need to use emotional intelligence to understand our classroom dynamics. I work to bridge the gap of theory and practice so students can understand and apply more and create real-world application.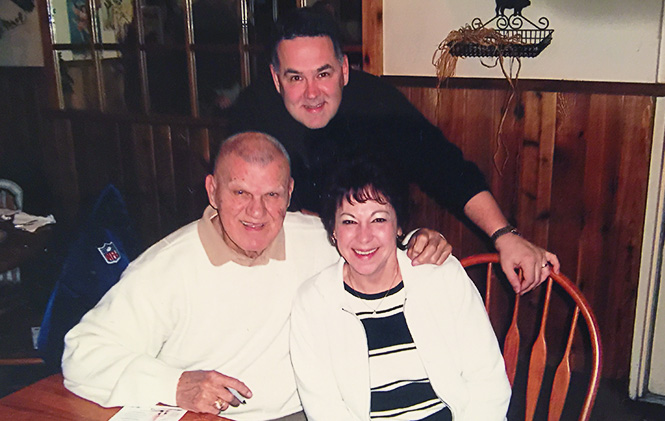 Bill Davis (center) with his wife and good friend, the late Bill "Moose" Skowron, a former professional baseball first baseman.
Global Campus: What are your core values?
Davis: Faith, family, job. When I manage and teach, I am always working to be ethical and fair. I think about ethics as a system and code of conduct based on moral and legal duties and obligations. I want to deliver a meaningful and gratifying learning experience and continue to align and support the mission of the Global Campus. That is my mission every day.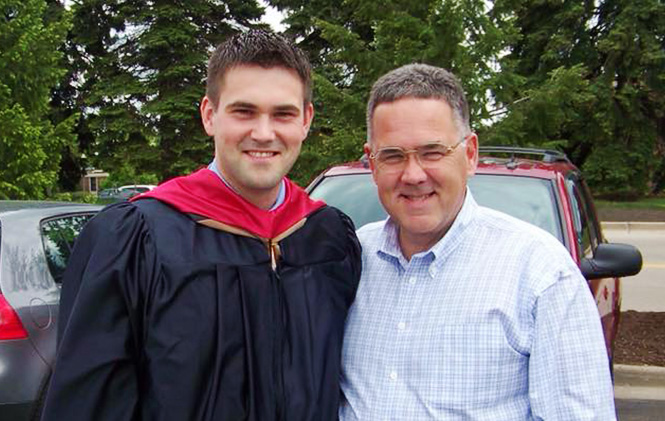 Bill Davis celebrates his son John's graduation from Lewis University in 2010.
Global Campus: What are some of your tips for success?
Davis: Find something you are passionate about, and follow the 30-60-90 model. Ask yourself "What do I want to do in the next 30 days, 60 days, and 90 days?" When the first 30 days pass, reevaluate, tweak, and reset your goals. It's all about constantly managing your time and keeping balance with your roles. Be sure to celebrate the milestones, and find the good in all you do. Keep your objectivity, and continue to revisit your 30-60-90. Plan your work, and work your plan. Everything starts with a vision. Life is a work of art.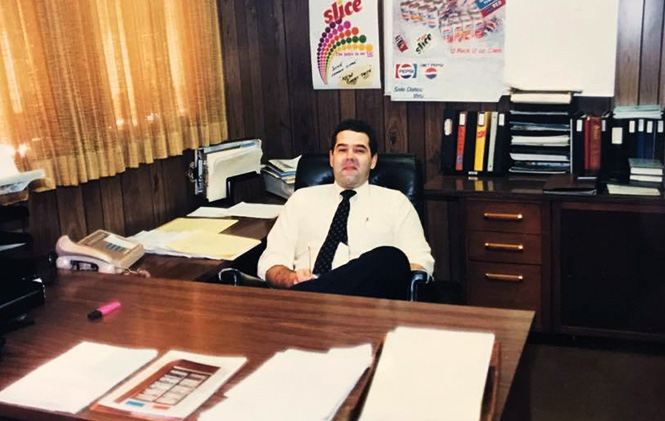 Bill Davis in his office after a promotion to sales manager of Pepsi's Aurora Sales Division in 1986.
Global Campus: What is the most practical advice you can offer a student?
Davis: You have to have a can-do attitude. Just like anything else, life comes in stages. Know what stage you are in, and make the best of it. Above all else, center yourself around people who have shared, likeminded views and values. They will lift and encourage you, and you will lift and encourage them.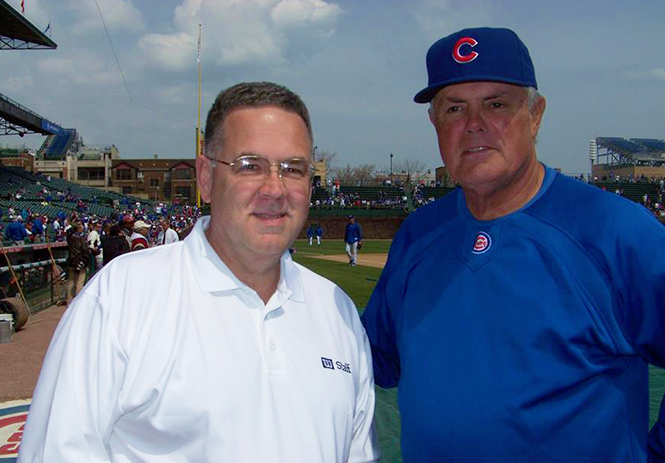 Bill Davis with former Chicago Cubs manager Lou Pinella.
Global Campus: What do you tell students who are afraid of failure?
Davis: We all fail. Don't be too hard on yourself. Fail forward. By that, I mean keep the momentum going forward. Evaluate objectively. Find a sponsor or mentor, keep an eye on the prize, and focus. I believe in serendipity, and those moments happen when you are working hard.