Less than a year ago, a post from Dr. Jennie Walker in an International Leadership Association forum led Dr. Misty Resendez to an adjunct position within the Forbes School of Business and Technology® at the University of Arizona Global Campus (UAGC), and a few months later, she received a full-time position teaching in the Bachelor of Arts in Business Leadership program where she not only teaches but works with adjunct instructors to better support their own students. 
As an educator, Dr. Resendez has a unique and valuable perspective, having learned English as a second language, growing up in foster care from the age of eight, and becoming a mother at 16. All of these experiences influence how she interacts with students and how she supports adjunct instructors in their own classrooms.
As a young child growing up in the foster care system, Dr. Resendez says she experienced a lot of change, little stability, and she had no reliable support system. She was also acutely aware of the lack of anyone's expectations for her to achieve anything in her life, let alone success.
"I knew I excelled in school and was always a good student," she remembers. Despite the instability outside of school, she focused her attention on her academic achievement at school.
She says it was certainly not easy, but she continued to excel academically — even when she gave birth to her daughter when she was in high school. She utilized resources available at her school and worked at night while her daughter was with her father.
As she began higher education, she looked to colleagues and observed people around her to set examples and provide the support and direction she lacked in her home life. She listened intently to conversations and asked a lot of questions. She was determined. "I would keep going until I found the way," she states. 
Finding Her Own Path
Though Dr. Resendez admits she didn't have a career path in mind when she started college, let alone one in higher education, one could argue that she has landed exactly where she was meant to be. But, she started with an undergraduate degree in criminal justice.
"I spent the majority of my career working social services," she says. "I took a criminal justice course, and I loved it. I had been through the court system as a kid growing up in foster care." She said she felt she had found her calling.
She went on to an internship in probation, where she worked with people who were looking for a second chance at life. "I always tried to give them hope," she describes. "People make choices, but they can always make changes."
Realizing she wanted to be in a leadership role, Dr. Resendez immediately went on to earn her master's degree in Organizational Leadership and also earned a certificate to be a drug and alcohol counselor to better support the population she often saw in her probation work, leading her to a career in substance abuse counseling.
Dr. Resendez relocated to a city that lacked Spanish-speaking services for people dealing with substance abuse issues. She got a job as a program director at a large hospital and moved into executive leadership, all while earning her PhD in Organizational Leadership.    
"In my role, I was responsible for program development, which entailed opening four new satellite offices in various locations and creating new programs," she explains. "I authored a marijuana education program for first-time offenders and created programming for Spanish-speaking clients."
Opening the satellite locations is a career accomplishment Dr. Resendez says she is most proud of. "It allowed for populations who couldn't afford to go to the main campus to get the same quality of treatment in their regional locations," she explains. 
Dr. Resendez is proud to have opened facilities for underserved communities to receive the treatment they need.
A New Door Opens
While she was working on her PhD, she was asked to adjunct – opening the door to her teaching career. 
She never envisioned higher education would be where she would end up, but she's glad it is. "I felt that I could help effectuate change and help develop leaders on a bigger scale," she says.
While she has taught in other business areas at other institutions, topics surrounding leadership are her passion.
"I love teaching leadership courses," she beams.
Dr. Resendez says she feels her position at UAGC is her "sweet spot." Not only is she able to help develop future leaders in her courses, but she is also co-chair of the UAGC Center for Women's Leadership (CWL), where she conducts research and helps to support and develop women seeking advancement in leadership. Some of her responsibilities include recruiting speakers and planning events for community members. 
Her life experiences have led her to foster nurturing and supportive classrooms. "I think I'm more empathetic and more understanding," she states, adding that because she was a non-traditional student herself who juggled work and motherhood along with her studies, she is able to relate to what some of her students may be dealing with day-to-day.
She's also able to provide a unique kind of support for students who have learned English as a second language, focusing on providing resources and looking primarily for content and understanding of concepts in their coursework.
Mother. Educator. Leader. Advocate.
Outside of teaching, Misty enjoys spending time with her fiancé and his kids, who she refers to as her "bonus sons," and her own three children – the youngest of whom is in high school – and her grandson. "I spend a lot of my free time watching my daughter play lacrosse, and my bonus sons play basketball at the high school and college level," she says of her busy family life.
If that weren't enough, Dr. Resendez is a circuit speaker, giving talks with the International Leadership Association and the Society for Human Resource Management (SHRM) on the topic of diversity, equity, and inclusion in leadership locally and even internationally. "I focus on belonging, the intersectionality of women, and diversity," she says.
What does she believe to be the biggest gap for women in the workforce? It's simple, yet a huge problem – women lack a voice. 
Women also do not have the same opportunity for advancement. "A lot of people say, 'Yes, we have women,' but they don't prepare them for leadership roles," she explains. "We call that the glass cliff."
There are, of course, also still gaps in pay between women and men who do the same job. And for Women of Color, the disparities are even more glaring. 
Dr. Resendez says she hopes the CWL can serve as a place for any student or alumni to find resources to support achieving or advancing their leadership career. "The barriers that exist for women are different from men," she notes. "Women don't have the kinds of networks available to them because there aren't very many people in those spaces."
 
As a first-generation Mexican American with a PhD, Dr. Resendez knows all too well the challenges that come from having a limited network of people who can truly relate to her experiences and the barriers she has faced. 
As she continues her career in higher education, Dr. Resendez says she hopes to continue to advance her research and has aspirations of writing a book about belonging in the workplace and to continue to be a mentor for her students and for women who get involved in the CWL. 
Most of all, she says she hopes to be a source of encouragement. Her advice: "Life happens. Just keep going. Don't let anybody steal your joy."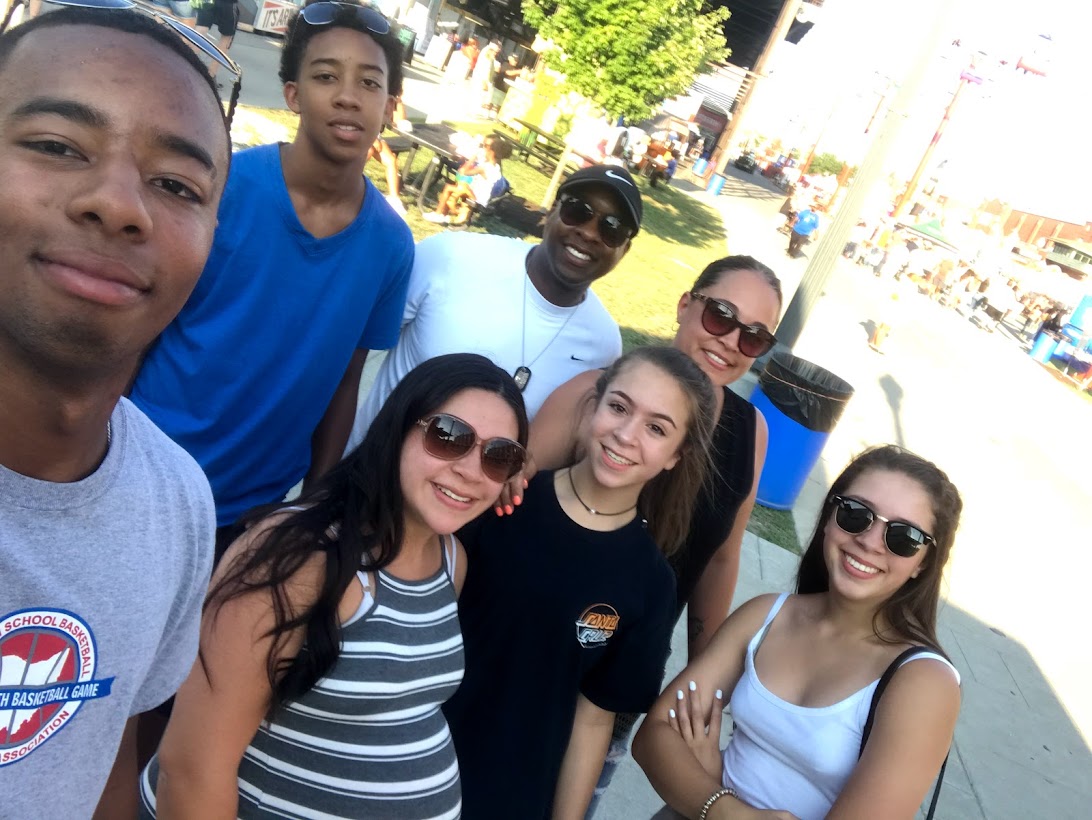 Dr. Resendez loves spending time with her family.
Getting to Know Dr. Resendez
UAGC: What advice do you have for students seeking higher education for whom English is their second language? 
A: My advice to students for whom English is their second language is to reach out for help. Faculty love to support their students, so email your professor and share your challenges/barriers and how we as faculty can best support you. One example is a student reached out, and I was able to get them a book in their primary language. Faculty have tools for students to be successful. I personally understand that language barriers can create self-esteem and confidence issues. 
UAGC: How does your experience growing up in foster care impact how you interact with your students? 
A: I believe my past experience of being in foster care allows me to have a greater understanding of some of our students' experiences that they might face attending school, working, and at times managing a family. Therefore, I am intentional about connecting with students. For example, a student wrote in a journal assignment some of their barriers to learning, and I personally sent them a message of encouragement. I then followed up with a personal message to the student for the remainder of the course. Sometimes just knowing one person cares can mean the world to a student. 
UAGC: What are qualities you believe make a good leader? 
A: I believe in having emotional intelligence, cultural intelligence, empowerment, and the ability to promote psychological safety. To be a great leader today, leaders need to have the ability to speak up and challenge the status quo. They are committed to developing their team. They continuously seek to learn, listen, inquire, and have empathy.
UAGC: In your experience, what obstacles do Women of Color have to overcome to realize their full potential as leaders?
 
A: There are many obstacles that WOC experience. We need to stop using our comfort zone as a benchmark that we are doing well. For me personally, I am not used to being confident as it feels like arrogance. Or being assertive can feel like aggression. Even prioritizing yourself feels selfish because I am used to not getting my needs met. Women of Color have to overcome our self-imposed obstacles so we can realize our full potential as leaders.
UAGC: Who is your greatest inspiration? 
A: My greatest inspirations are my daughters (Malinda, Natalia, and Olivia), grandson (Noah), and bonus sons (Dylan and Logan). I want them to know that they can accomplish anything they desire. I want them all to be proud of the barriers that I have overcome and the glass ceiling that I will continue to shatter. I want them to chase their dreams and reach for the stars. 
UAGC: What is your biggest regret? 
A: I do not believe in regrets. I focus on what I can learn from my past decisions in order to move forward. Regrets are like chains and will hold you back from moving forward. 
--
Whitney Bradford is a UAGC senior content specialist and former University advisor.
Certain degree programs may not be available in all states.