A "convoluted" background, as Dr. Lynne Trevisan humbly describes it, can hardly begin to cover her accomplishments in the field of health and wellness. Fighting against the odds–in particular, against socioeconomic and gender biases–has helped shape who she is and what she wants out of her career. She has made it her mission to give others the opportunities she was never guaranteed.
The setting: Dr. Trevisan grew up poor, the youngest of three children. It was a time when divorce was as uncommon as a woman having credit without a man's approval. However, her parents divorced in 1970, and she was automatically labeled unfit for college. 
"My mom worked three and four jobs at a time to keep her home and keep food on the table for us," Dr. Trevisan describes of her home life as a high school student with her brothers. It was enough for her guidance counselor to draw the conclusion that she would not be successful in college. Instead, they recommended that she pursue a career as a homemaker.
Much later in life – well after completing her Doctorate degree, she realized his statement was based on both sexism and socio-economic biases because her family could not afford a college education for a girl.
Ultimately, my goal as a teacher is to guide others in their growth to reach their highest and greatest good. Diversity and treating everyone with respect has been a lifelong focus of mine. Every person from every background should have the opportunity to get a good college education.
Despite the foregone conclusions, Dr. Trevisan went on to complete not only one college degree, but her master's degree and a Doctor of Chiropractic degree as well. Later she established her own successful business, a chiropractic office, which she operated for a decade while teaching anatomy and physiology classes on the side. In 2009, Dr. Trevisan joined Ashford University* part-time and became a full-time faculty member in 2013. Today, she is a lead faculty – associate professor in the College of Arts and Sciences, where you can find Dr. Trevisan teaching classes in the Bachelor of Arts in Health Care Administration program covering just about every topic in the discipline. 
In addition, she serves on the Student Academic Progress appeals committee and the Credit Hour Analysis committee. She previously served on the Student Community Standards, Discussion Policy Task Force, and Originality Matters committees. She is a reviewer for Prior Learning Assessment submissions.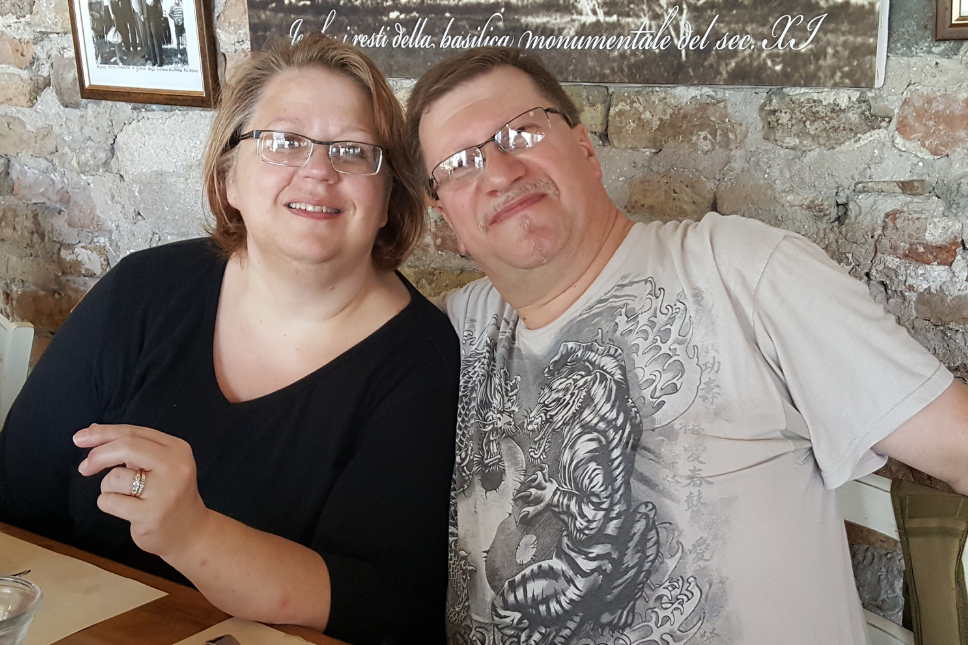 Dr. Trevisan and her husband Pierluigi enjoy traveling and have visited Italy, where her husband is from, and Germany, as well as a variety of locations in the U.S.
Getting to Know Dr. Lynne Trevisan
We recently spoke with Dr. Trevisan about her career and experience working in the field of healthcare and online education. Read on to learn more about this passionate UAGC faculty member.
UAGC: You have experienced so many aspects of life and achieved great success despite the adversity you've faced. What motivated you then and what continues to motivate you now?
Dr. Trevisan: One of the things that has motivated me throughout my life is adversity–whether that be race or gender, ethnicity, or socioeconomics or ability or size. I'm a plus-size woman, I have been all my life. And so, I have felt that size-ism my entire life. And as I've gotten older, you know, dealing with ageism, but also now, arthritis and disability because of arthritis. The whole perspective of diversity–and then being othered because of how you look or your social, economic standing, your zip code, how that impacts our physical and mental well-being–all of those things have been really important to me. And that's been across my lifetime. I will say these past few years have really focused on that for me.
UAGC: What are your thoughts on the current events we're facing in this country? What do you think they mean for diversity?
Dr. Trevisan: Between COVID and the racial injustice, events that have really come to light more so over the past few years, especially George Floyd, was a turning point for our country. His death was a turning point for our country, where people are really finally talking about it genuinely. And to me that genuine conversation brings so much. To be able to learn and grow from those honest, really brutal conversations means that I can carry that information forward and share it with others and help them learn and grow. And ultimately, my goal as a teacher is to guide others in their growth to reach their highest and greatest good.
UAGC: What role does online education play in creating these opportunities for students?
Dr. Trevisan: I was a first-generation college student in my family. And I think that online education has particularly opened the door for a lot of students who would never have had the opportunity to be a college student because they're working full time, or they have transportation issues, or they have children, or, you know, they're working multiple part-time jobs. Or even full time and part time, I see that a lot as well. Where they're such a distance from a college campus that they can't get there. And the fact that students can log in 24 hours a day and do their work on their timeline, as opposed to showing up to a college campus at specific hours and having to find childcare or get time off from their work or find transportation–any of those things that are required as part of a face-to-face campus environment. We've overcome those barriers through online learning. 
Are there still barriers for students with online learning? Absolutely. They have to have a working computer, they have to have reliable internet service. Yes, they may need to have childcare while they're studying or doing their work, but the ability to do work for a college education in an online setting allows them to juggle their schedule, whereas on-campus classes don't have that opportunity. That's not to take away the work that campuses are doing to overcome some of those barriers, but they're different in that regard.
UAGC: Name something you have accomplished in your career that was both challenging and rewarding.
Dr. Trevisan: I revised a textbook in 2018 and created an entire new chapter in the book. While this was one of the hardest writing experiences I ever had, it was also one of the most rewarding experiences. Having the feedback from the editor immensely helped my writing skills and I pass along that knowledge to students.
UAGC: Tell us about some ways you have contributed to your community.
Dr. Trevisan: When I was 26, I joined a women's chorus. The purpose of the chorus was to bring entertainment and social growth through music. The group was a not for profit organization that donated concert proceeds to community organizations that aligned with the chorus' mission of diversity, equity and inclusion. I served on the steering committee of the group for three years, and the chorus recorded three CDs I was a member.
I was a Girl Scout as a child and a co-leader of a Girl Scout troop as an adult. I worked at the Girl Scout camp's health lodge for two summers, and as a co-leader of a troop, I was also the region's registrar and signed up new and renewed existing Girl Scout registrations. Helping girls and young women realize their possibilities is a lifelong goal and passion of mine.
UAGC: What is your favorite course to teach?
Dr. Trevisan: I don't have a favorite topic, per se. What I love about teaching is engaging with students and seeing their internal lightbulb come on. I love to see students deeply engage with the material. I also recognize and appreciate the students who are juggling their life and fitting in education where they can. 
UAGC: How do you help prepare students for success?
Dr. Trevisan: The course content in the Bachelor of Arts in Health Care Administration program is created in a way that prepares students to be successful in their profession. We incorporate a variety of assignments that provide real-world experiences they will see as well as having to create assignments that align with what they will do in the field.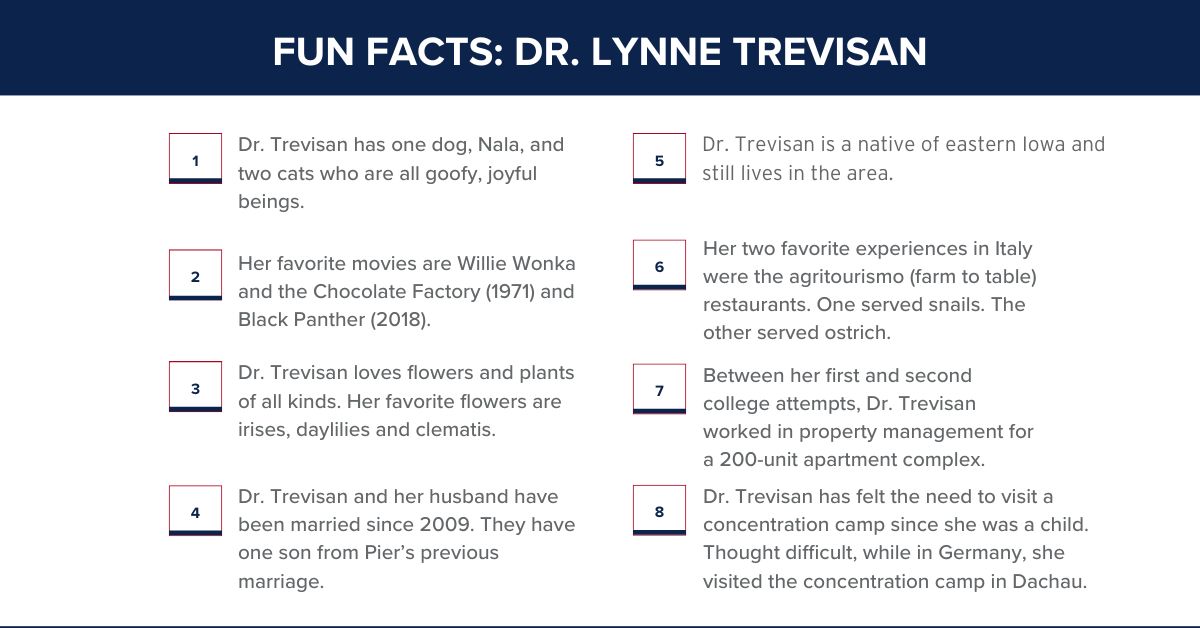 UAGC: Do you have any advice for students in the program?
Dr. Trevisan: Never let fear stand in your way of learning. I have heard from many students over the years that they are afraid to reach out to me with questions because they know I am busy. I always tell them I want them to ask! This is their education, and students are always my first priority. It is frustrating to attempt to do something when there are more questions than answers. Oftentimes, getting a quick response to a question gives perspective and opens the path to success. 
UAGC: What other initiatives are you involved with at UAGC?
Dr. Trevisan: In 2017, I was one of a group of full time faculty who worked together to revise the credit hour analysis tool used across the university. That project was completed in late 2019. A great deal of research and planning went into the new tool as well as the training materials. That project brings me a great deal of pride. It is relatively easy to use, and it impacts the University on many levels from course content to assessment to accreditation. 
In 2022, I participated as a proposal reviewer and tech host for the UAGC Teaching and Learning Conference (TLC) as well as presenting Canvas classroom accessibility: Tips and hints to ensure your classes are accessible during the conference. Having an understanding of the how and why behind the scenes allows me to support others in the future who are doing similar work. 
In 2022, I participated as an advisory board member for Ultimate Medical Academy (UMA), which offers associate degree programs. My advising related to the health sciences program offerings. UAGC is a partnership university with UMA in that UMA students can transfer their credits toward the completion of their four-year degree. 
Course revisions are a big part of my work at UAGC. I participate in the Development Dish with Jenn and Trish where faculty meet to discuss problems and brainstorm solutions. We also learn about new methods of development and the processes to follow to successful course launch. This meeting is my favorite hour of the week. We call this collaboration, but it is so much more! 
UAGC: How did you get into teaching? 
Dr. Trevisan: When I was a small child, I would find pieces of chalk and take them home. I would then write on my bedroom walls pretending to be a teacher. I may have taken a twisted road with many turns in it, but this is definitely my dream career, and I love my work. The method of teaching I do now doesn't look anything like writing on the walls of my bedroom as a child, but the rewards are much the same.
UAGC: How did you come to UAGC?
Dr. Trevisan: It was a serendipitous change of life when I began working at UAGC. My time in chiropractic was coming to a close due to the continual micro-traumas that occur as a chiropractor. I needed to switch careers and education is a perfect fit for me. In 2009, a friend who worked here told me about a job opening. I applied and was hired. Initially, I started as an instructional specialist. In 2012, I became an assistant professor. 
UAGC: What do you love about teaching?
Dr. Trevisan: Helping students grow so they can reach their highest and greatest good and bringing real life examples to the classroom through course development to ensure students are ready to step into their professional role. 
UAGC: What are your motivations in working with students?
Dr. Trevisan: Diversity and treating everyone with respect has been a lifelong focus of mine. Every person from every background should have the opportunity to get a good college education. I am a first-generation college student in my family and the first – and only – person in my family with a terminal degree. I grew up poor and in a timeframe where women did not and could not do what they wanted to do as autonomous individuals. Those lessons have stayed with me and informed my work. 
UAGC: Beyond teaching, in what other ways do you contribute to the future of education?
Dr. Trevisan: I love course development. I love working with students who are truly engaged in the content and are soaking up as much knowledge as they can possibly get. I also recognize and appreciate all my students who are doing everything in their power to change their life in major ways, who are motivated by their babies, to be an example, to improve their own life, whatever. Whatever their motivation is, I recognize it and I respect it. I see my students who are struggling, and I'm so grateful that I can be the one to reach out and give them a lift up. 
--
*Ashford University is now the University of Arizona Global Campus.