The UAGC 2022 Major Matchup has a winner! It's been an exciting five weeks, and after some upsets and surprises, a new major has been crowned the victor. In this fifth edition of our annual game, students, faculty, and alumni voted for the top 8 faculty pitches and the majors they represent from the Forbes School of Business and Technology® and the College of Arts and Sciences at the University of Arizona Global Campus. Over the course of the past several weeks, the 16 faculty members went head-to-head in the ultimate academic showdown. But only one degree could emerge victoriously. Read on to find out which faculty member and their major won this year. 

Announcing the Winner of the 2022 Major Matchup 
Congratulations to Bill Davis, the Forbes School of Business and Technology®, and the operations management and analysis major! You made your case, rallied the support of students, alumni, faculty, and fans, and earned the top spot. Now it's time to celebrate (and maybe even brag a little!).
"Personally and professionally, I am very pleased to have the Operations Management and Analysis be recognized," Davis says. "The whole Major Matchup program was fun and productive. We offer so many great programs here at UAGC and Major Matchup gave us all a chance to learn more about all of the wonderful degrees."
Davis recognized that he and operations management were up against some tough competition.
"In the final event, Dr. Dana Dillard did a fantastic job communicating the value her psychology degree program* provides and I am surprised to have gotten the nod," he admits. "Dr. Dillard was outstanding!" Thanks to this win, Davis says he was able to help build increased awareness of a well-rounded degree program that equips students for future success. "Students in the BAOMA will be prepared to meet future challenges in business, operations management, supply chain management, and in marketing. The program furthers our student's knowledge and increases their skill sets and builds increased capacity," he explains. "Bottom line, the operations and management program adds value!" he concludes.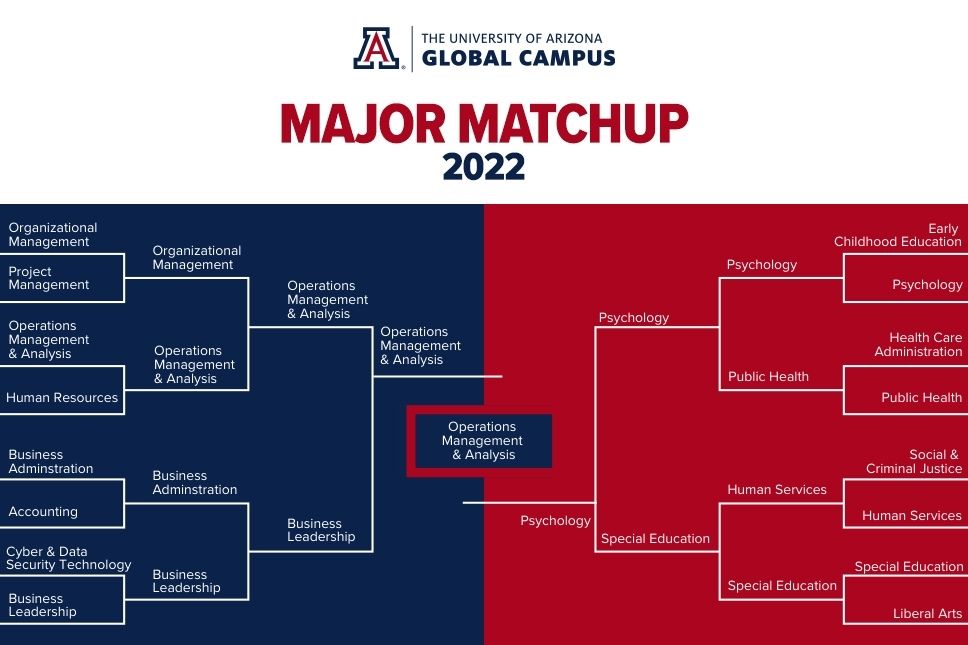 A Look at the Competition
This year, we began with 16 UAGC majors and faculty from each college. Ultimately, it came down to two fan favorites: psychology, with Dr. Dana Dillard representing the reigning champion, and Bill Davis, who made his debut in the Major Matchup along with the major her represents, operations management and analysis.
Both presented convincing arguments for why their major should take home the title of champion, which is what helped propel them to the finals. In her video, Dr. Dillard offers an energetic and spirited look at the field of psychology, while Davis delivered a practical yet compelling argument for his area of expertise: operations management and analysis.
In the final match, they both brought their A-Game during a Facebook Live Event. 
Take a look back at the live event:
What is a Degree in Operations Management & Analysis?
In the end, the votes were tallied, and operations management and analysis became this year's ultimate fan favorite.
So, what exactly is a degree in operations management and analysis, and what do you learn in these programs?
Watch Davis's original video pitch:

In addition to this personal take on the Bachelor of Arts in Operations Management and Analysis, below we take a closer look at the degree offered at UAGC.
With your online bachelor's degree in operations management and analysis from UAGC, you will be prepared with the analytical, problem-solving, and behavioral management skills needed to improve systems, diagnose problems, and communicate and gather support for required system improvements that contribute to an organization's success. You will learn the impact of globalization on supply chains and production. Your operations management courses include such topics as production control, total quality management, decision modeling, and systems analysis. 
Upon completion of your Bachelor of Arts in Operations Management and Analysis degree program, you will be able to:
Apply systems analysis to management decisions and operational success
Assess methods of quality management, product and service development, and learn processes in business operations
Develop skills in managing projects and programs
Examine globalization effects on the organization's operations, supply chain, and product or services production
Analyze effective decision-making, problem-solving, and technical skills required in management
When you complete your Bachelor of Arts in Operations Management and Analysis degree, you can pursue a number of careers in which systems analysis and problem-solving skills are a must. Just a few of the many fields and positions where this degree might apply include:
Production Control
Inventory Control
Operations Management
Distribution Management
Quality Management
Supply Chain Management
Business Operations Manager
Purchasing Manager
Materials Manager
Operations Research Analyst
Business Analyst
Master Production Scheduler
Production Planner
Project Management
What's Next?
If you're looking for a challenging and rewarding path, the following opportunities should pique your interest based on your degree level.
Whether you choose to pursue a Bachelor of Arts in Operations Management and Analysis, UAGC has the flexibility you need to earn your online degree while balancing school with life. 
Interested in learning more about this program? Contact an advisor today.
--
Certain degree programs may not be available in all states.
*Successful completion of the Bachelor of Arts in Psychology degree by itself does not lead to licensure or certification in any state, regardless of concentration or specialization. Further, UAGC does not guarantee that any professional organization will accept a graduate's application to sit for any exam for the purpose of professional certification. Students seeking licensure or certification in a particular profession are strongly encouraged to carefully research the requirements prior to enrollment. Requirements may vary by state. Further, a criminal record may prevent an applicant from obtaining licensure, certification, or employment in this field of study.