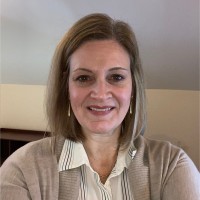 Christine Hardy
Senior Vice President of Enrollment
Biography
Christine brings more than 20 years of experience in higher education to UAGC. Most recently, she oversaw admissions operations at Southern New Hampshire University for both their campus and online programs. Prior to that, she also served in admissions roles at Intercoast Career Institute, Premier Education Group, and Career Education Corporation.
Christine brings a collaborative spirit, a strong track record of data-informed decision making, and a long-standing commitment to diversity, equity, and inclusion. As a master of scale and input, she can build synergy with people, process, and technology to optimize business output and help to position UAGC for even greater success in recruitment, retention, and in our overall enrollment strategy.
Christine is known for investing in the growth and development of her people and strongly believes in providing access to quality education. As the new UAGC leader of enrollment management, Christine will work closely with me and other senior leaders to craft and implement compliant enrollment strategies designed to accomplish the equity and access goals which form the foundation of the University's mission and vision.
She also will strategically plan, develop, execute, and assess a fully compliant enrollment plan for entering students, keeping in mind retention and student success; effectively use data and cutting-edge technology to improve overall efficiency of enrollment and marketing processes; lead, motivate and empower staff; and champion the recruitment of diverse student populations and educate others on how to support them, among other responsibilities and expectations.
Meet Our
Esteemed Leadership
Questions? Talk with an Advisor