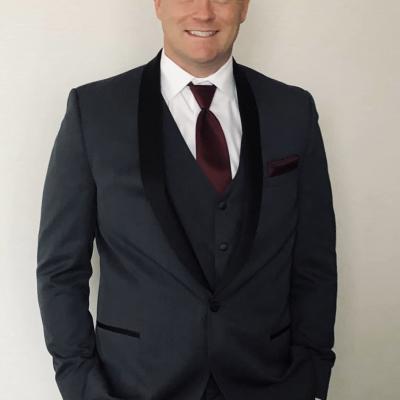 Biography
After eight years of service in the United States Navy, including six years in Japan and "a good portion" of Asia, Weston Warr started to contemplate beyond the armed forces. 
"Getting a college degree has always been one of my bigger life goals," he says, adding that a degree would help him provide "a proper life" for his family after a career of service. 
Knowing that his military commitment would soon come to a close, Weston decided to give college a second shot. It hadn't worked out initially after high school, and the lack of a degree had always been his "biggest regret" despite all that he'd achieved in the Navy. 
"In today's job market, to be competitive, you have to have a degree," he says. 
After a friend recommended Ashford University*, Weston started researching the Forbes School of Business and Technology™, and in August 2017 he chose a degree that he felt was aligned with his breadth of global experience: the Bachelor of Arts in International Business. 
The program, which helps students build a foundation of skills in international business affairs, gave Weston the opportunity to expand on the cultural knowledge he'd acquired during his time overseas. Courses such as International Business course – which examines functional areas of business from an international perspective – as the class that "truly made me feel like I had picked the correct degree path."
There were quite a few times Weston felt frustrated during the international business course, but he says Dr. Marvee Marr continually challenged him to learn a number of important lessons and valuable information. 
"Dr. Marr is a demanding teacher who pushes you to truly understand and grasp the concepts being taught," he says. 
Given Weston's prior experience at a "traditional" university, he was certain that attending a brick-and-mortar college campus would prevent him from achieving a healthy work/life/school balance. Ashford University online courses, despite being a brand new experience, fit his lifestyle in ways he wasn't expecting. 
"It conformed to my schedule, and I was truly in charge of my school load," he says, adding that he's doubled up on his classes – rather than taking one course at a time – with a goal of completing the program by July 2019. 
Weston is even giving future employers a heads up on his LinkedIn page, letting them know he's "determined and motivated" to start his career in business operations and international affairs.
With a BA in International Business, Weston will not only have advanced knowledge of foreign markets and enhanced communication skills, but he also will have the opportunity to make a difference for companies operating on a global scale. 
"Throughout my studies I have noticed that my ability to gather research and better comprehend situations that require critical thinking has elevated quite a bit," he says. "I have also noticed that my ability to manage my time has become more strategic."
Additionally, Weston's service in the Navy allowed him to take advantage of the Military Grant, which offers benefits in the form of reduced tuition for undergraduate and doctoral courses. By combining the Ashford Military Grant with his G.I. Bill benefits, Weston ensured that he did not have any gaps between his courses. 
With a wife who is currently working toward her master's degree, and children he hopes to inspire with his accomplishments, Weston's family is looking ahead to a bright future and the "amazing sense of accomplishment" that comes with being an Ashford graduate.
"I think that a quality education is an instrumental portion of the foundation to a great life," he says. 
 
* Ashford University is now the University of Arizona Global Campus