For Shayna Nichole Todd, family always comes first. When she earned her associate degree in early childhood education from the University of Arizona Global Campus (UAGC) in May 2022, Shayna and her entire family drove from their home in El Paso, Texas, to McHale Memorial Center in Tucson, Arizona, for the spring commencement ceremony.
She wanted to make sure her 4-year-old son Easton and newborn daughter Everly saw her receive her degree, despite being too young to understand the importance of the moment.
"I graduated Magna Cum Laude, and the night before my graduation, I decorated my cap," Shayna recalls. "It says, 'My degree, your future,' for my kids."
Love of family is what motivated Shayna to go back to school in 2020, and it's the reason she's continuing her education and is on track to graduate with her Bachelor of Arts in Education Studies in 2024. 
"I chose these degrees because I have always loved working with children and I want to make a difference in their lives," she explains.
The degree will be her greatest educational achievement to date and the culmination of what she describes as a complete turnaround – a one-time C student in high school who is now earning As and Bs at UAGC.
Young and Motivated
Shayna and Justin met and fell in love at Red Mountain High School in Mesa, Arizona. The couple graduated in May 2014 and married seven months later. Shortly thereafter, they relocated to Fort Campbell on the border of Kentucky and Tennessee, where Justin was beginning his military career with the U.S. Army.
After struggling in high school, Shayna didn't want to return to the classroom to attend college, admitting she was "too afraid to start school again, afraid of not being able to pass, afraid of making a mistake."
Instead, she put the focus on her family and supported her husband through his early years in the military when her income as a preschool teacher was enough to help them get by. 
"I married young, moved away young, and it was time to work, not go to school," Shayna says. 
Shortly after her son, Easton was born, she began to focus more on her future and what she was capable of achieving. 
"I was motivated to go back to school because of my husband," she says. "He had just gotten back from a year in Korea – he left when our son was two months old and came back when he was 15 months – and every day, I watched him get up and push himself to be the best he can be for his career and his family. 
"I decided that I needed to do the same. It had to start with my degree."
For Shayna, the first accomplishment would be overcoming the fear that kept her away from college until she was 24 years old. The encouragement of her husband – coupled with the commitment she'd made to her kids and the support system that's offered to every UAGC student – gave her reasons to believe she could succeed.
Still, there were times she said she felt scared and discouraged.
"When it came time to do math, I was terrified!" she says. "I looked at the first discussion and instantly got sick to my stomach, and after that, I couldn't eat or sleep for three days. 
"Then, an advisor came along and helped me find a better math class and I passed that math class with an A. I actually enjoyed the math class and looked forward to the next assignments. When I tell you I loved it, I mean I looked forward to doing my assignments. I've passed a lot of my classes with As."
Putting Her Skills To the Test
Shayna's life as a stay-at-home military spouse and mom of two is so different from so many of her classmates. She's held her family together through Justin's deployments – long periods of absence while he was in Afghanistan and later Korea – and their move from Fort Campbell to Fort Bliss in El Paso. Though it hasn't been easy, she's been relying on her classes to ground her and give her direction as she considers her future in and outside of the home.
"A lot of what I learn, I actually use as a mom," she explains. "Right now, I'm doing Learning and the Brain, and understanding how my children's brains work.
"For example, if your child is in a place where they don't feel secure, they're not going to learn. I'm learning how to communicate with children, and I'm also around a lot of other military spouses with kids. I'm able to help those moms understand how to communicate and approach their kids."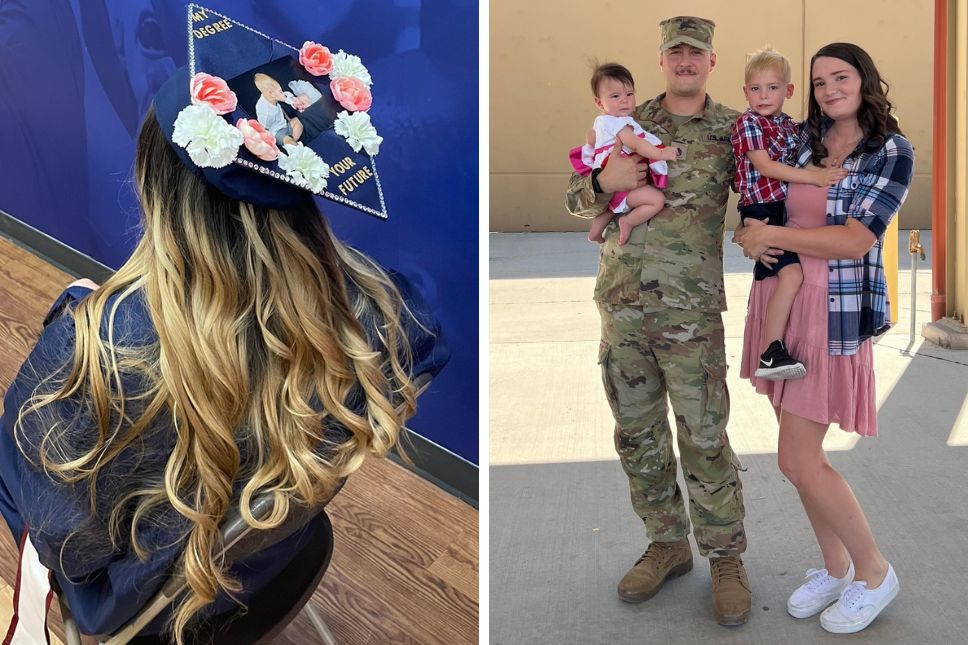 She's also helping Justin as he completes classes in the Army, and many nights, 4-year-old Easton will sit with her and do his schoolwork while she's typing assignments for UAGC. 
Being a stay-at-home mom has been a full-time job for Shayna, though she's considering a return to the workforce after completing her bachelor's degree. Because she's always worked around children, she's interested in pursuing a career in the education field, but in an office setting rather than a classroom. Having enjoyed her time at UAGC, she's inspired to help others reach their goals.
"I've thought about being a student advisor," she says. "Talking with the advisors has been great. They really helped me decide the best path for me – not just as a student, but as a mom and wife.
"UAGC has really turned the tables on my education. I should have quite a few doors open after I get my degree."
"The Hardest Thing We've Ever Faced"
Finishing her bachelor's online is not only critical given the responsibilities Shayna has at home, but it provides the flexibility she needs when it comes to the next challenge facing her family.
In May, her husband starts drill sergeant school, and the family is also preparing for another move with the destination still unknown. 
"It will be the hardest thing we've ever faced because he'll be at work from 3 a.m. to 9 p.m., seven days a week," she explains.
Justin has been absent from the family before during deployments, but Shayna says she feels drill sergeant school could be even tougher on the family. Not having Justin there to continue pushing her to finish her degree will be difficult, she adds. 
"My kids are going to struggle being away from their dad, and I'll be trying to do my school while thinking about their schooling," she says. "He won't be home, and when he is home, he'll need to sleep, so it will be the kids and me most of the time," she says. 
To get through it all, Shayna plans to enjoy her time with her kids, lean on her UAGC support system, and continue to pursue photography as a hobby in her spare time.
Keeping busy through the changes and transitions of her life and building up her credentials – an education that's already helping out at home – will give her peace of mind, Shayna says.
School, after all, has helped her conquer her fears and made her more optimistic about the future.
"If I could do it all again, I wouldn't change anything, because going back to school online was the best decision I ever made," she says. "For me, being a military spouse, it makes all the sense in the world." 
--
An online degree from the University of Arizona Global Campus does not lead to immediate teacher licensure in any state. If you want to become a classroom teacher, contact your state's education authorities before enrolling at the University of Arizona Global Campus to determine what state-specific requirements you must complete before obtaining your teacher's license.